Benefits of Time Tracking
There are many benefits to time tracking as a freelancer whether your client is paying you hourly or per project. You can track time to report to your client, or for your own internal purposes to better understand how profitable your time and business is.
Time tracking can also be valuable when you're starting to work with other freelancers and subcontracting some of your work to make it easier to gauge how long they're working on the project and if they're in line with projected hours.
Whether you're starting out freelancing, experienced, beginning to subcontract, knowing the different types of time tracking apps out there and their features can greatly support you.
Types of Time Tracking Apps
Multi Tools (3+ Tools in One)
Some time tracking apps have much more than just time tracking functionality. Tools like Indy have time tracking, invoicing, getting paid, tasks, and contracts. These tools all integrate with each other so you can manage your full freelancing business from one tool set. If you're managing multiple clients, this is a great idea to use to help you spend less time on the business side of things, and more doing what you love.
Indy
Indy is a great option for if you're looking for time tracking and to integrate it within your other business functionalities like invoicing and getting paid. With Indy, you can pay for the tools that you need, and be able to have access to the free version of other tools. Indy is easy, flexible, and affordable and built specifically for freelancers.
Hello Bonsai
Hello Bonsai has a lot of tools including time tracking. They also include proposals, contracts, taxes, expenses, invoices and payments, as well as a few others. Hello Bonsai doesn't have a freemium option, and this more robust toolset starts at $16 per month.
Single/ Double Tools
Single tools are focused on more advanced functionality of time tracking and expanding it to multiple team members. These aren't always necessary for freelancers - but if you're only looking for a time tracker, or maybe a time-tracker and invoicing combo, there are some great freemium options for these tools.
Harvest
Harvest provides both time tracking and invoicing. It also allows for expenses to be tracked. It offers unlimited invoices and estimates and has a lot of integrations with other apps. If you're price conscientious this is a great option for freemium that allows for one person and two projects.
Invoicely
Invoicely offers time tracking, expenses, and invoices, however, this is only at their paid option of $9.99 per month. Depending on how often you're invoicing, and the functionality that you use, it may make more sense to go with a freemium option.
Toggl
Toggl is another time tracking option that allows for many different types of reporting. You can see if you're hitting timelines and budgets and where your time has the most amount of value. Toggl no longer offers a freemium model, so if you're looking for additional information on timelines and budget you'll have to pay $10 a month.
Clockify.me
Clockify is a tool that's forever free. It's a simple time tracker that includes time management, reporting, and team integration. You can choose to pay a monthly option and get additional features like branded reports, reminders, and time rounding. This tool seems much simpler compared to some of the other tools on the market, but if budget is a concern, and you don't need much additional functionality, this can be a great tool.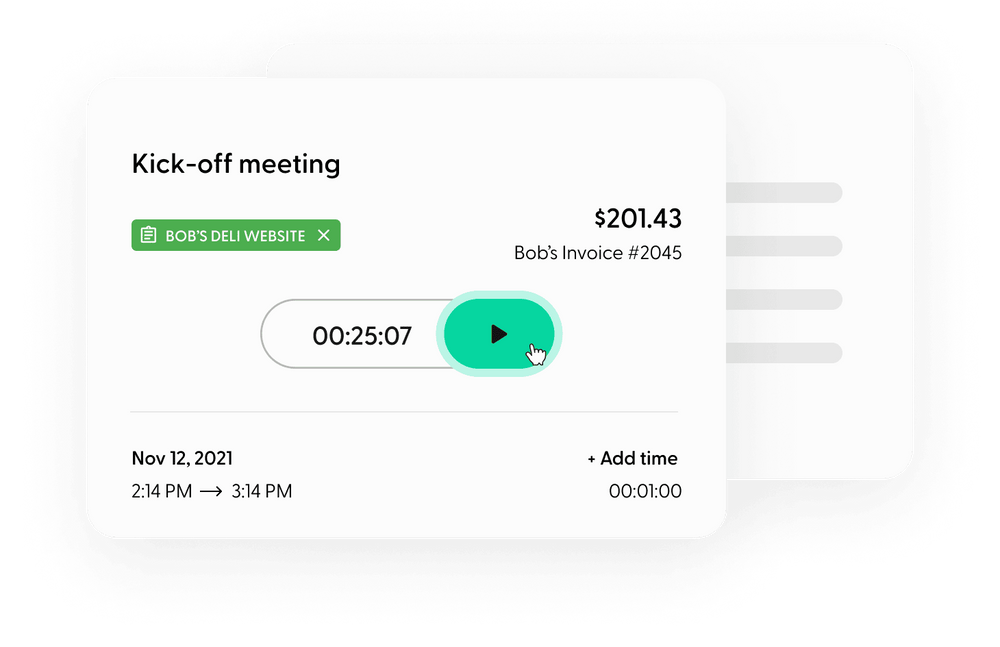 Looking for an easy way to track your time?
Get paid for every minute with Indy's Time Tracker. Connect tasks and projects and start tracking time. Add unbilled hours to any invoice in one or two clicks.
Set up a free account to track time to get paid
TrackingTime
TrackingTime is a simple time tracker software for freelancers and teams. Keep track of progress and billable hours. Assign tasks and manage user permissions. Control employee attendance. Create online timesheets and share professional business reports. Track time from any device or in 30+ online services.
DeskTime
DeskTime is an automatic time tracking app that focuses on measuring your productivity, based on the use of apps you've indicated as productive or unproductive. In addition, DeskTime has reporting, shift scheduling, invoicing, and project management features. DeskTime not only helps to keep productivity standards high but also helps to avoid overworking and reminds users to take regular breaks.