Benefits of sending an invoice through email
There are many benefits of sending an invoice through email as opposed to the mail. It mostly comes down to speed and efficiency. Sending an invoice through email is the fastest way to get paid and can offer a variety of benefits. Some of these benefits include making it easy to track the status of invoices, offering your clients easy ways to pay directly from the email, and can help save you valuable time.

These days the majority of clients will expect you to send your invoices via email and will either pay you online or will send a check in the email.
What to include in the invoice
When you're creating an invoice to send online, there are a few things you need to ensure you're including. These invoices should have:

Invoice Number
Invoice Date
Due Date
Payment Terms
Payment Methods Accepted
Client's Company Name & Address
Your Company Name (if applicable) & Address
Details of What You're Billing For
Total Amount Billed (listed hourly or summarized)
Sending an invoice as an attachment

If you're sending an invoice as an attachment, there are a couple of things to consider. You can send the invoice as a PDF or attach it within a link to Google Drive or Dropbox. You want to make sure that it's easily accessible and your client won't have any challenges accessing it.

Making sure that you find a way to systemize sending your invoices makes it easier to keep track of the paid, due, and overdue invoices. Properly label the attachment with details on the invoice number and due date for easy reference.
Using a tool for sending invoices through email
At Tispr, we've found that using a tool to send invoices makes life a lot easier. Instead of having to worry about finding a template, iterating upon, wondering how you're going to get paid, or tracking payments manually, a tool like Tispr combines all these features for you.

Using a tool can make payments go through much quicker as everything is automated and included within one step.

In the example below, we've included what Tispr's invoicing tool looks like. It includes all of the information that is important for invoices. It also allows you to choose your payment method, so you can get paid as quickly and efficiently as possible.
One other consideration is the type of fees that are charged by payment processors when sending an invoice. Here is an article with a list of different payment processor fees so determine if you're going to being covering these or their your client's responsibilities so there aren't any surprises.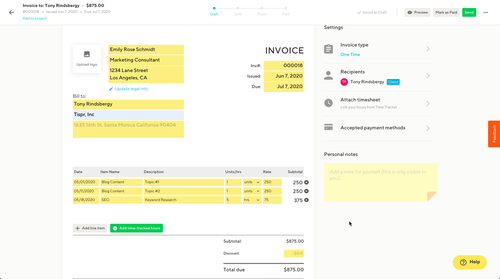 There are several companies that also help the automation process, so do your research to find out what company and tool is best for your needs.
Templates for email when delivering an invoice
When delivering an invoice, there are several different types of messages you can share. Below we've included a few different example emails for you to copy and paste to your clients.

Template #1
Subject: Invoice [#] for [Project] Due [Date]

Dear [client],

Please find attached Invoice [#} for your review. This covers [insert date range or project] as specified in our scope.

For ease of reference, the payment terms are net [x] days and is for [$].

If you have any questions, please don't hesitate to reach out!

All the best,
[name]

Template #2 (For one-off projects)
Subject: Invoice [#] for [Project] Due [Date]

Hi [client],

I really enjoyed working with you on this project. Please find attached the invoice for the delivered work which includes the amount we discussed, payment terms, and full details.

Please let me know if there is someone on your end I should send this to.

In the meantime, if there's any additional work that arises, I'd be happy to help support your team.

Thanks,
[name]

Whether this is your first time sending an invoice, or you've been doing it for years, keep a friendly tone, share the pertinent information, and you'll be paid in no time.