Congratulations on getting your first freelancing gig! You got the client, made a contract, executed the work, and now it's time to finally invoice. Yay! Except, small problem, you've never actually created or sent an invoice. It's okay, we've got you fam.

In this article we'll highlight all the things you need to include in your invoices and give you some examples to get started. (And shameless self plug - you can sign up for Tispr for free to fill in an invoice template and get paid all in one go. Good deal, right?!)
What to include in every invoice
Your information and your client's information
This is simple and straightforward. On the top of your invoice, you should include information on yourself and your client. Both of your names, addresses, and phone numbers can be included here.
Date
Include the date the invoice is being sent. This will be the official date that the payment terms go off of - for example if your payment terms are net 14 or net 30, the count begins on the date the invoice was delivered.
Invoice Number
The invoice number on freelancing invoices and all invoices are important because it makes it an easy way to keep track and reference the invoices if payments haven't come in. These are typically counted chronologically, so start with one and move up from there.
Description of services
The description of services is what you accomplished during the initiative. This information will vary if you're charging your client per hour or per project. For hourly breakdowns, giving an overview of what you worked on during the hours is considered standard.

For projects where there was a specific deliverable for a total cost, you can broadly outline what you did during that time, like how you outlined it within your contract and the associated cost.
Cost
The cost can either be on an hourly rate or for the project basis. This is simply the dollar value of the project and goes in tandem with the description of services.
Payment Options, terms, and due date
The last item to be sure to include are the payment options, terms and the due date. Payment terms are how many dies the client has to pay the invoice, like net 15, net 30, etc, and may also include information on if any late fees will be established.

The payment options are the different ways you'll accept payment. Would you prefer to be paid through PayPal, wire transfer, venmo, etc, and if it wasn't outlined in the contract, who is responsible for payment fees, if applicable.

The last area is the due date. This is typically based around the terms and laid out for convenience and ease.

It's that simple!
Invoice Example
We don't want to leave you hanging, so we've included some invoice examples so you can better understand what this looks like. And don't forget, you can click here to use this template on your own for free.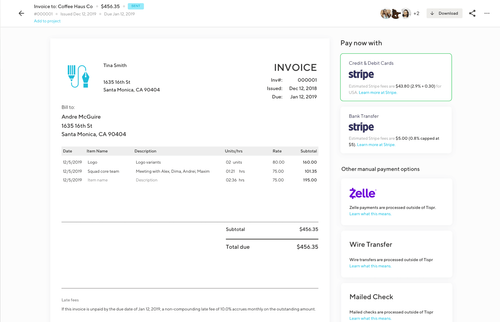 ‍
If you're interested in learning more, check out our blog on How to send an invoice via email to get paid faster. The other important thing to consider when sending invoices is better understanding late fees. We've got you covered there as well with the Top 5 Things to Know About Late Fees for Freelancers.