Mailchimp is one of the best email marketing tools in the world. You can use your Mailchimp account to keep in touch with various mailing lists, send transactional emails, and grow your business with ease.
However, most of us use a number of different tools to create our email marketing campaigns. It can be difficult to keep a handle on everything you have to do, let alone manage every new lead Mailchimp sends your way. Fortunately, you can connect Mailchimp to a host of exciting tools that will help you convert your new Mailchimp subscribers, collect and organize data collected through signup forms, and manage your various tools through automation. In this article, we'll look at some of the best Mailchimp integrations on the market.
What is Mailchimp?
Mailchimp has been the leading email marketing player for many years, but they've improved their product even more through the addition of exciting turnkey e-commerce, automation, and CRM features. (They even offer website hosting and design!). Mailchimp offers Website & Commerce plans that include service booking features, the ability to create online stores, and an SMS marketing channel.
Mailchimp does offer a few integrations of its own, but if you really want to make the most of the tool, you need Zapier. Zapier is an online platform that can automate workflows by connecting the apps and the services you use. If you integrate Mailchimp with Zapier and Twitter, for example, Zapier will automatically send a tweet to let your customers know to keep an eye on their inbox for the latest news. You can decide exactly what these tweets should look like and when they should be sent; Zapier will do the rest.
These integrations are known as Zaps, automated workflows consisting of triggers and actions. Every Zap gets activated while running the desired action when a trigger event occurs.
Let's take a look at some of the best Zaps you can use to connect Mailchimp to other apps and streamline your operations.
Best Mailchimp integrations for freelancers and small business owners
There are more than 5,000 possible integrations you can use to make the most of your Mailchimp audience and streamline the way you do business.
Here are just a few of our favorites:
Shopify is an e-commerce platform that enables anyone to start, grow, and manage a business online. If you have your own e-commerce platform or handle the marketing campaigns of an e-commerce store, this integration can help you personalize and grow your Mailchimp list. You can add a note when someone has purchased a specific item so that you can segment paying customers from those who haven't made a purchase yet. You can add someone to a mailing list after they've taken action on your store or remove them from a list. Either way, you can target existing and new subscribers with more personalized and relevant messages through this simple integration.
Slack is a messaging app that helps connect teams so they can collaborate through instant messages, documentation, and video huddles. It is one of the most popular web apps for remote teams. If you spend a lot of time on Slack or use Slack to stay in touch with clients, this Mailchimp integration will be a massive timesaver. Instead of tracking every email campaign and messaging customers when an email has gone out to their contacts, Zapier will automatically send a notification to the appropriate channel whenever a new campaign has been sent or created. Clients will stay in the loop without you lifting a finger. You can even use Slack to follow open rates, subscribers, and click-throughs.
Podio is a project management tool that aligns your content, conversations, and processes into a single, unified collaboration point. Instead of manually adding your campaigns to your Podio tool, you can set up a Zap to automatically create a new entry whenever an email campaign is built or sent.
ManyChat sends instant, interactive, and automated messages to users on Instagram, Facebook Messenger, Whatsapp, or SMS. This smart little chatbot is a great way to connect to your Mailchimp subscribers on multiple platforms. For example, you can instantly send a message offering additional content to a user who opened an email or subscribed to a newsletter or send a message to someone who has unsubscribed, asking if you can change their mind or improve your service. It's a great way to reach your audience across multiple channels.
Segmenting your audience based on the actions they've taken in an email isn't that easy in a Mailchimp list. Luckily, there's a Zapier integration with Google Sheets you can use. You can automatically track users' actions in Google Sheets, which you can then turn into a new Mailchimp list to personalize your campaign even further. There's no need for coding or manual data entry—Zapier does it for you.
Facebook Lead Ads (now called Meta Lead Ads) help you find people who may be interested in you or your clients' services and collect information from them through instant forms. You can collect email addresses, phone numbers, and names quickly and easily. Why go through the hassle of manually adding these new leads to your email marketing campaigns, though? You can use a Zap to automatically add or update subscribers in Mailchimp whenever a new lead has been generated through Facebook Lead Ads.
LinkedIn is one of the most popular professional networking sites in the world. It's a great place to connect to new clients or find collaborators. If you are branching out to new customers or a new industry, why not let your followers and network know on LinkedIn? Zapier will automatically create a company update when you create a new audience list in Mailchimp, so you can prompt interested parties to sign up.
If you are a freelancer, you've definitely used Zoom for discovery calls and client meetings. Zoom is a popular virtual meeting tool that offers screen recording, instant video chat and conferences, and webinar capabilities. Whether you are hosting a training session or small web event or just want to create a mailing list for clients that have already completed a discovery call, you can automate your workflow with Zapier. For example, if one of your subscribers has completed a discovery call, you can add a note to the contact so you can exclude them from future discovery call mailer prompts.
Hubspot is a fully integrated CRM platform. It contains everything you need to manage your marketing, sales, customer service, and operations in a single tool. You can even use Hubspot to build your website. If Mailchimp is your email marketing tool of choice, you can still log any of the engagements or actions in Hubspot through a simple Zap. That way, you don't have to manually enter or import data between the two apps. You can gain a complete picture of your marketing metrics in real-time at any time.
Xero is a cloud-based accounting software solution that is perfect for small businesses and freelancers. If you use Xero for accounting, you can thank customers for paying their bills or purchasing a product automatically by creating custom events in Mailchimp and linking them to Xero using a Zap.
Final thoughts
Keeping track of multiple tools and data sets can be a challenge for any freelancer, which is why these integrations can transform your email marketing efforts and save a considerable amount of time and money.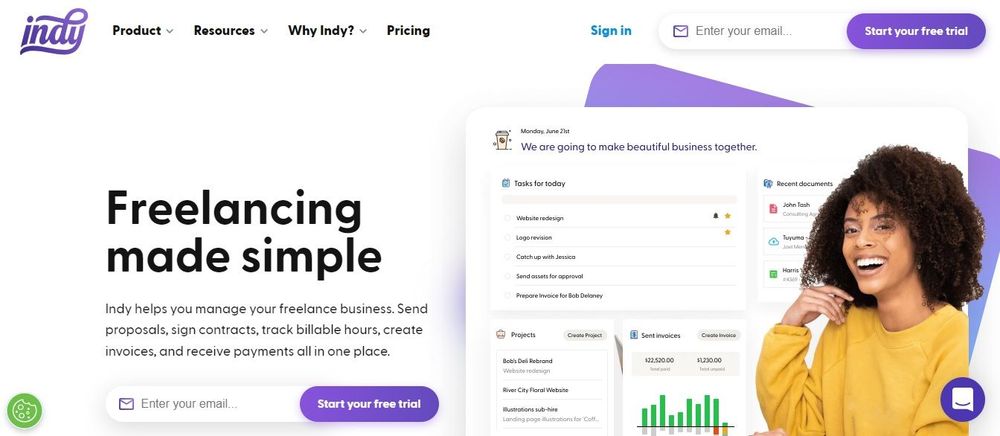 Indy is another time-saving and productivity management tool that freelancers absolutely love. Indy is a workflow platform that offers independent professionals a reliable set of business administrative tools as well as the resources they need in order to run a successful business.
You can use Indy to create and send invoices, use email templates designed especially for freelancers, and even track your billable hours automatically—all on the same platform.
Indy is launching an integration with Zapier now, so you can connect Indy with Mailchimp or any other app that you love using.
Check out how Indy can streamline your business, and get started today for free.