Record your time with a click
Recording your time is as easy as clicking a start button. Pause anytime to take a break and add the details whenever is convenient for you.
Input your time manually
Would you rather track your time the old fashioned way? No sweat. You can do that, and still enjoy all the other functionality Time Tracker has to offer.
Organize your time
Time tracks are organized by sessions with multiple entries. You can also add time tracks to projects and create payable time sheets.
Bill your clients for your time
Time Tracker sessions and entries can be added to your invoices as line items for easy billing.
Time is precious.
Time Tracker helps you manage it wisely.
Every minute matters when it comes to getting paid. When you aren't keeping track of time, you're leaving money on the table. Time Tracker makes sure you never miss another minute you should be paid for. You can even attach time tracks to a billable invoice with just a couple of clicks.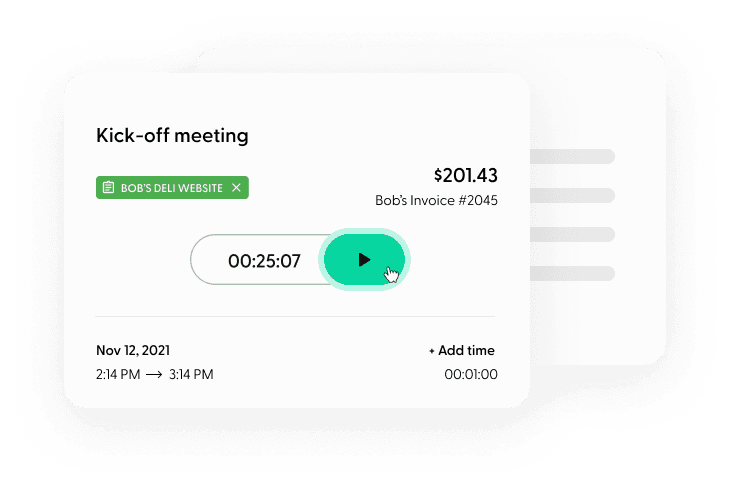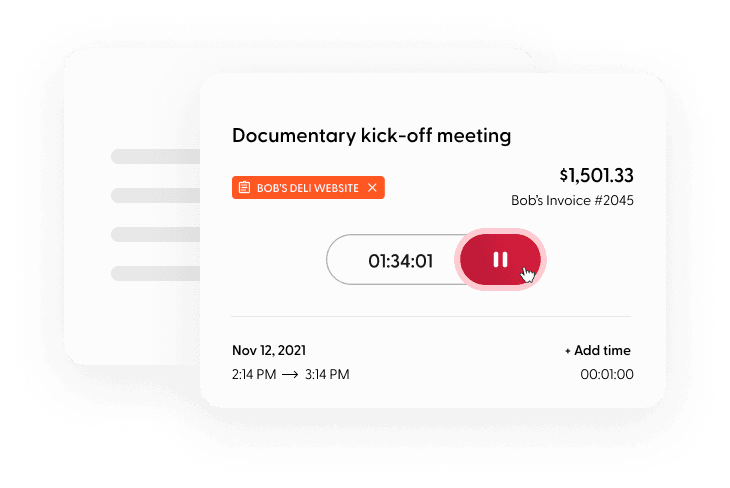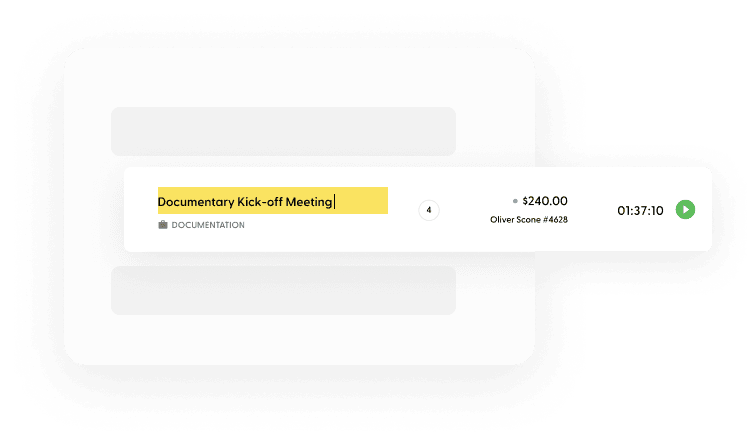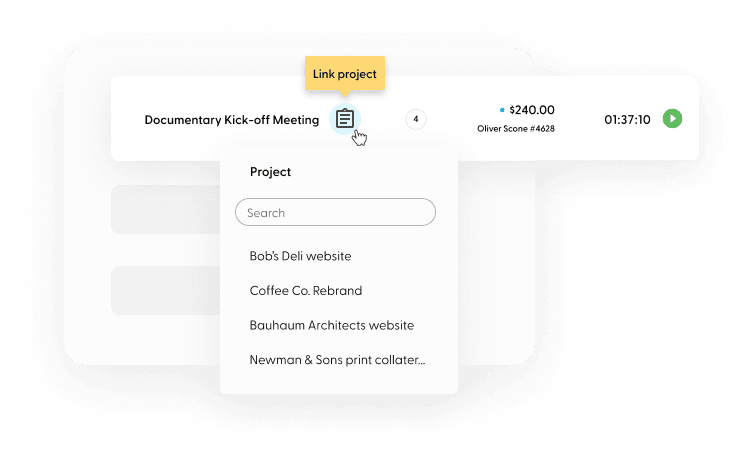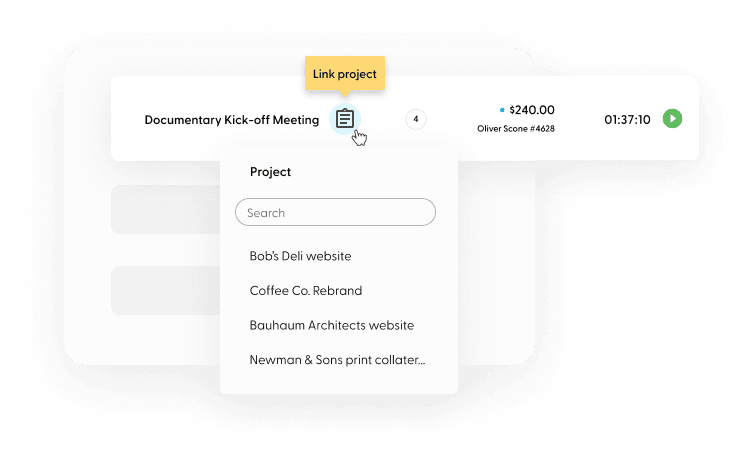 Attach your time to projects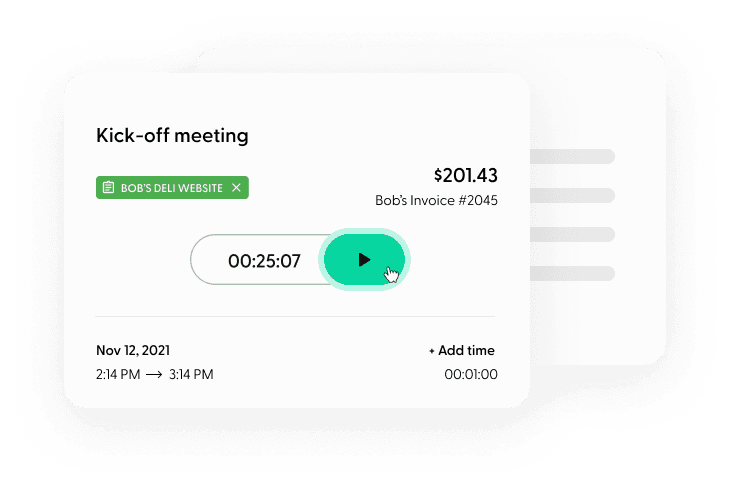 Start a timer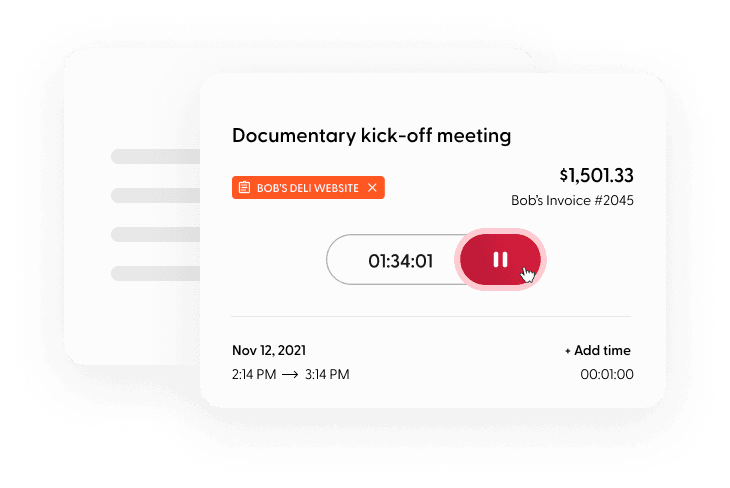 Pause when you need a break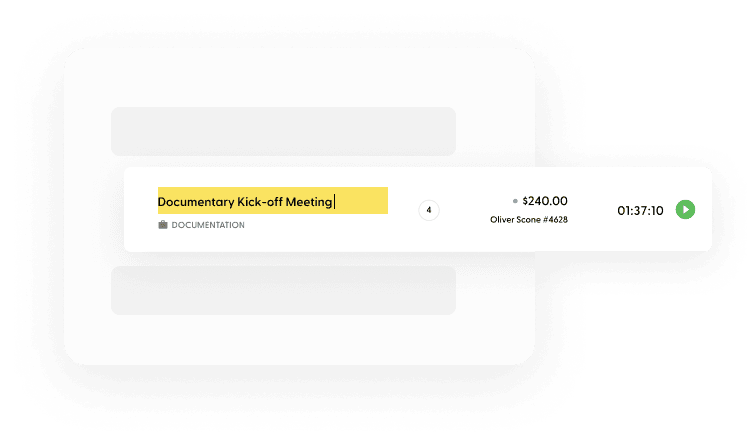 Add details to remember what you did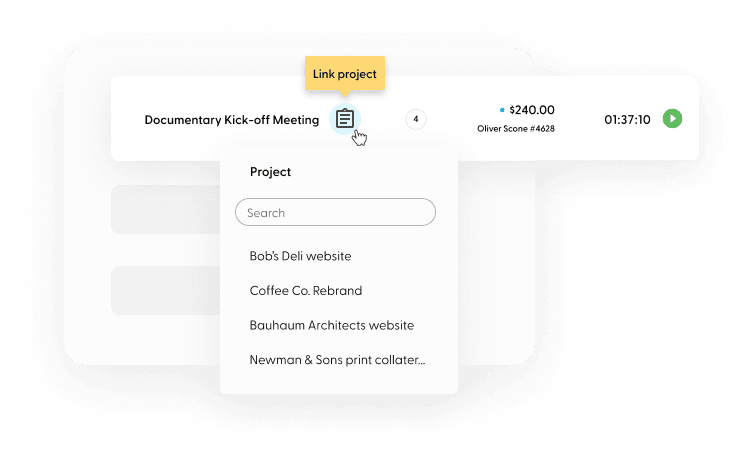 Attach your time to projects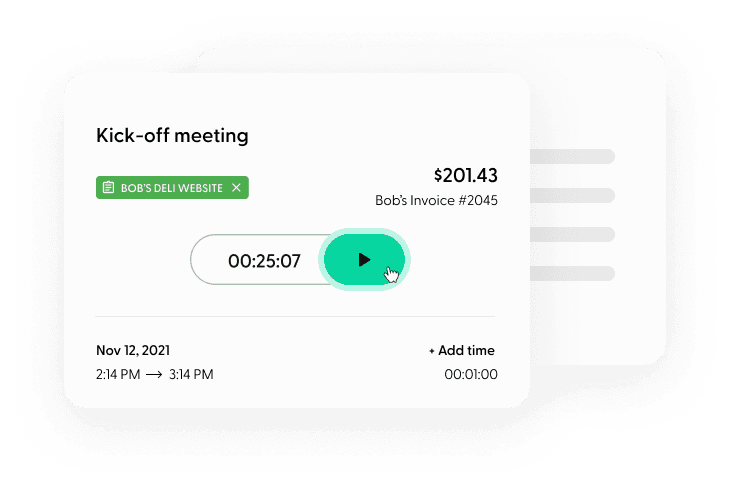 Start a timer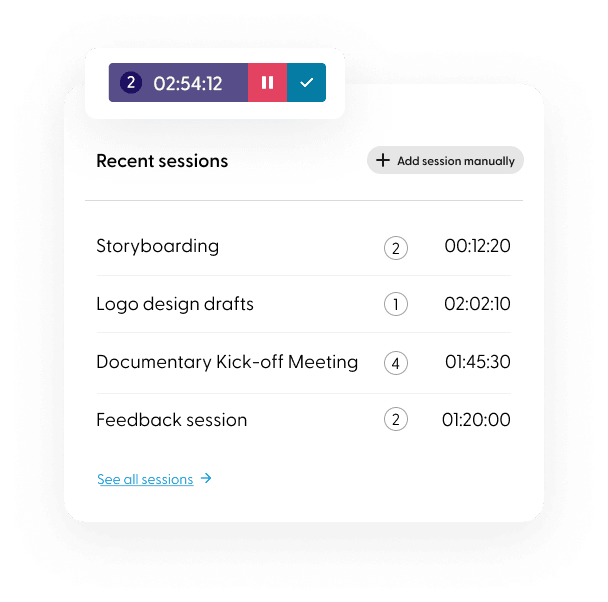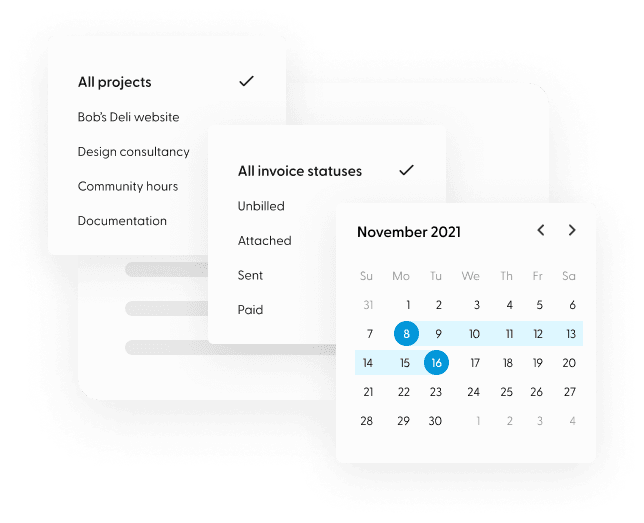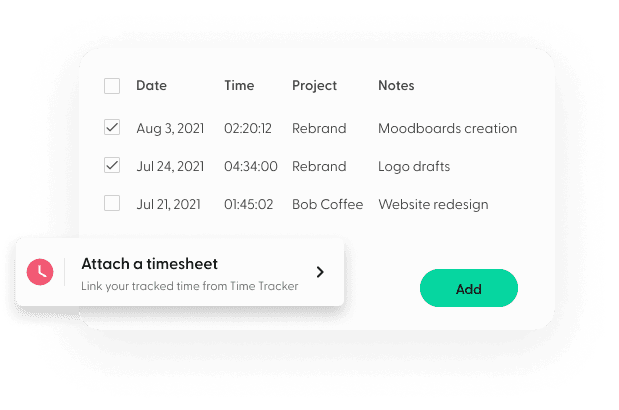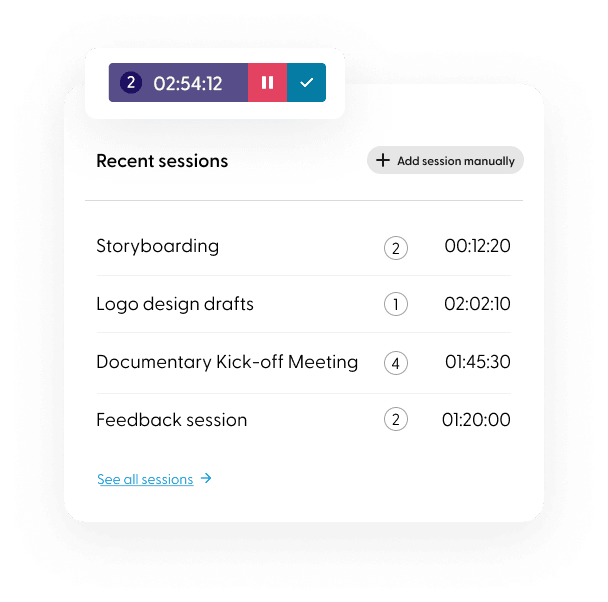 Take control of your time.
Track time with a single click, hit the pause button to take a break, and jump back in when you're ready.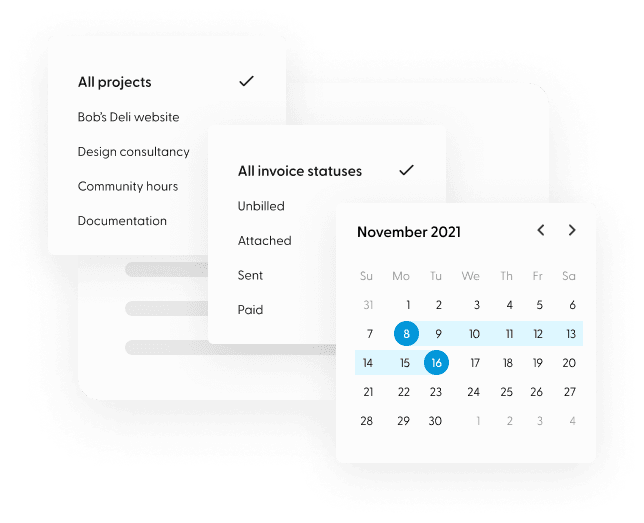 Get a clear view of your time.
Filter timesheets by project, date range, and invoice status to see how you're spending your work hours.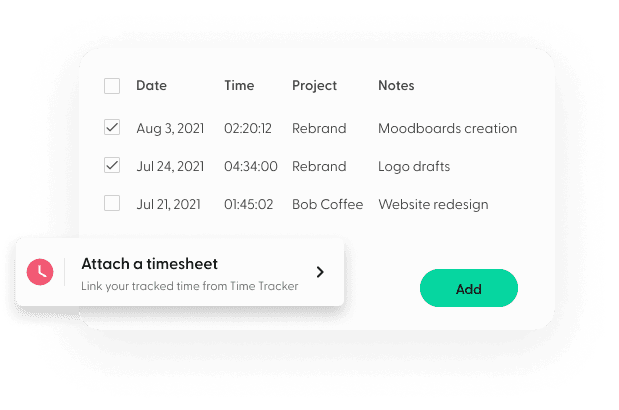 Get paid for your time.
Streamline the process of getting paid. In just a few moments you can add a time track to an invoice, specify your hourly rate, and send it off to your client for payment. Easier done than said.
WHAT'S INCLUDED
Simple time management tool
Record your time
Built-in timer
Ability to manually add time
Take note of what you worked on
Organize your time
Time tracking is organized by sessions containing entries
Add time tracks to projects
Filter time tracks by project, date range, and invoice status
Get paid for your time
Add time tracks to your invoices for easy billing
Time Tracker FAQ
Why is time tracking important for freelancers?
Time is money, so losing track of time isn't an option. Tracking time helps you understand how much time you spend on each task. This helps you plan future tasks so you can provide estimates and proposals that are more accurate. It also makes billing more transparent. For freelancers, it's critical that you have an efficient and reliable way to keep track of hours, so you get paid quickly, fairly, and accurately.
How does Indy help with time tracking?
Time tracking is more efficient than ever with Time Tracker. Fire up the clock with the click of a button. Time Tracker records every second that you work until you tell it to stop, even if you accidentally close out of the app. Forgot to start the timer? No problem. You can still add work hours manually. Never miss another second of work you should be paid for. We'll keep our eyes on the clock, so you can stay focused on the work.
How can I organize time tracks?
Take back control of your time with easy-to-organize time tracks. Give each session a name and description that makes sense for you. Then attach tracks to specific projects to keep them all sorted. You can filter time tracks by project, date, range, and invoice status to quickly find any time track you're looking for. With Time Tracker, you'll have a perfect record of what you worked on, when you worked on it, and exactly how long. Now that's timekeeping!
How does Time Tracker help me save time?
Recording time without Time Tracker can be tedious. You have to monitor the clock, mark down the time, and fight to keep all your time sheets organized. And that's just half the battle. Then you have to remember where you left all those timesheets and manually add each one into an invoicing system. All while hoping you didn't leave anything out, missing out on hard-earned money. Getting paid should be fun, not stressful! Time Tracker takes the pain out of time tracking by making it as quick as two clicks. One to start the clock and one to stop it. It's that easy. Indy is a one-stop shop for tracking, filing, and billing your hours, saving you time one click at a time!
Does Time Tracker integrate with Indy's other tools?
One of Time Tracker's best features is how it seamlessly integrates with our invoicing system. You can easily add time tracks to an invoice in seconds to make invoicing fast. Even cooler? Once you attach the hours to an invoice and send it, your time tracks will now show the invoice number next to them. You'll never have to worry about leaving any time tracks out or accidentally billing a client twice. Time Tracker and Invoices work in perfect harmony, so you can be the conductor of your business and win the applause of your clients.
Is Time Tracker available on desktop and mobile devices?
Right now, you can use our time tracking software in our desktop app. The mobile version is currently in Beta, where you can quickly digest all of your recorded time tracks in a read-only version. More mobile capabilities will be coming soon! In the meantime, you can record time tracks on desktop.
Does Indy have any free online time tracking tools?
Yes! Indy's Time Tracker tool is available in the Free plan. You can record unlimited time tracks and create unlimited projects. For advanced functionality, you can sign up to Indy Pro and streamline your workflow by attaching time tracks to an invoice in just a couple of clicks.
Who needs a time-tracking tool?
Time-tracking tools are important for anyone who pays by the hour or project, wants detailed reports of their time, or simply wants to improve their productivity and efficiency. Recording time has many benefits. It helps you:
See the amount of time you spend on projects
Track billable time to create invoices
Handle expense tracking
Manage project budgets
And much more!
There's no shortage of ways you can use time-tracking apps.
How easy is it to use time-tracking software?
Recording time is as easy as the click of a button. There's virtually no learning curve to get started. Just hit the record button to start the timer, and click it again to stop it. When you're finished with a task, you can add a title to the recorded time track and move on to the next task. That's it! Any time tracks you create can be attached to projects to keep them organized. Indy's intuitive design makes it the best time-tracking software for anyone who's looking for simple yet powerful tracking apps for freelancers. And if you sign up for Indy Pro, you get access to advanced features that streamline your workflow—add time tracks to a billable invoice in just a couple of clicks!
What should I look for in a time-tracking app?
The best time-tracking apps will have both automatic and manual time tracking options. There should also be a way to view how many hours you've tracked over the previous days, weeks, and months, along with an option to view how many of those hours have been paid or still need to be billed. Indy's free time tracking app makes it easy to view the total number of hours you've recorded. And if you upgrade to Indy Pro, you can streamline your workflow from time tracking to payment by attaching those billable hours to an invoice with just a couple of clicks!
What happens if I forget to track time for a project or client?
While we recommend using our automatic time-tracking tool to record accurate reports of your billable hours, you can also add in time manually if you forget to push the record button.
What if I don't charge by the hour? Should I still use a time-tracking app?
Time-tracking apps have many other benefits beyond recording billable hours. You can increase productivity by seeing which areas you excel in and which areas you need to improve efficiency. By knowing how much time certain tasks take, you can better manage your schedule and prioritize the most important tasks. Finally, by monitoring the amount of time you spend on projects, you can better determine which projects are worth your time and which projects should be turned down in the future. This helps you choose your projects wisely so you can maximize profits.