In the age of social media, being an influencer is much more than a few sponsored posts. Influencer marketing is an effective way to amplify brand awareness and increase conversions.
But, what is influencer marketing?
A brand uses an influencer's authority and reach to build brand awareness, boost visibility, and increase audience engagement.
Brands can greatly benefit from influencers because they:
Spread the word about the brand: Influencers share content and lead their audience to the brand's website, content, or social accounts as part of their role in marketing.
Become a brand's spokesperson: Influencers can become brand ambassadors and, as part of this, will regularly talk about the brand on their channel. In this case, a brand ambassador contract is a must!
Write about a brand: Influencers write about a brand's products or services, promoting them.
That said, establishing a formal contract between an influencer and a brand can be tricky.
As with any marketing role, it is essential to set clear key performance indicators (KPIs) and layout terms before commencing a contract.
Creating an influencer marketing checklist helps you establish some ground rules and goals for both parties involved. So, if you're looking for guidance on how to create your influencer agreement, we have you covered.
Below, find Indy's influencer marketing checklist with 12 points to bring into practice for your brand's marketing success.
What is an influencer contract, anyway?
If you're new to influencing, you may not have realized you need to create an influencer marketing agreement.
The good news is, it's not as complex as it all sounds. In fact, by using Indy's contract templates and by following the tips laid out in this article, you can create an influencer contract efficiently and effectively.
Simply put, an influencer contract is a legally binding agreement used by brands working with celebrity and social talent bloggers and vloggers as part of a broader marketing campaign.
Now let's move onto what you should cover in your influencer contract to establish the best influencer relationship and bring results!
Your 12 point influencer checklist
Having a good influencer checklist to hand is your first step in writing a solid influencer marketing contract.
You'll have everything you need to get what you want from your contract with a marketing influencer with the following tips:
1. Start with the basics (e.g., names, dates, and campaign description)
The basics of any contract are often considered the most crucial. So, a good starting point is to include the parties' names alongside a brief description of the campaign.
Most contract templates, including ours at Indy, give you a space to outline these details at the beginning of the contract.
Our tip here is to ensure you are transparent when handling this critical information. What we mean is: Don't make things too complex, and use easy-to-understand language.
2. Contract duration
As part of influencer contracts, it is essential to include details about the length of the working relationship. Influencer marketing is more effective over time; however, you might have a specific time period in mind.
Think about how long you want the influencer relationship to continue. Before deciding, ask yourself questions regarding whether it is a one-off campaign and be sure to capture your intention. No matter the length of your campaign, state dates clearly.
3. Salary
Most influencers expect payment for their work. Depending on what you aim to achieve with your influencer marketing campaign will impact how much you pay.
As a general rule, influencers should be paid for their content but not necessarily for endorsements.
Think about the type of remuneration you want to offer for influencer content. Depending on how established the influencer you're working with, they may have high expectations about payment rates.
4. Payment terms & structure
Many freelancers, including social media influencers, expect some deposit upfront. We advise setting up a compensation structure that is not considered risky.
State how much you are willing to pay upfront to the influencer and when they can expect the remaining payment. And always remember only to pay when both parties have signed the influencer agreement.
Furthermore, ensure you manage expectations when it comes to payments being made. Whether this is a 14-day payment period, 30-days, or even a flat fee, it is at your discretion what you agree with influencers.
5. Include details of creative briefing
Behind all good influencer's work lies collaboration and the ability to create compelling content that speaks to the audience.
For this reason, it is always wise to hold a creative briefing session before commencing any work. You, the brand, will need to explain the core goals of the influencer campaign and give the influencer a real sense of what you're about.
Think about your KPIs and how the influencer will help you with them. The influencer contract template mentions the creative briefing and indicates when it is due to be held/payment terms.
6. Approval procedures
Before hiring any influencer, carefully screen them first. You want to make sure their brand values align with your own and that they have direct access to the audience you intend to reach.
In addition, outline disclosure agreements as part of the influencer contract. If you have an approval process in place, make this for the influencer to refer to. Where possible, have a conversation with your influencer of choice ahead of issuing the contract.
7. Content ownership
This point is probably one of the most important elements of any influencer agreement. You want the influencer agreement to include a section whereby you can modify and adapt the content they create.
On top of this, a typical influencer agreement includes the right to use the influencer's name, photo, and company logo to connect the work produced.
Make sure to state how long you and your associated brand have this right during the working relationship. That is an integral part of the influencer agreement, so don't overlook it!
8. Due dates
Set clear expectations for the influencer in the contract in terms of due dates and frequency of content.
Be sure to state the kind of content you wish to see posted on social media platforms and by when. In this way, the social media influencer should have the information they need and know how often they should post and what. Further, you may decide to use their services multiple times or only once. Whatever the case, be explicit with your expectations, however.
9. Disclosure guidelines
Influencer agreements are a good place to remind influencers about non-disclosure agreement rules and regulations in the jurisdiction where the content will be published. This ensures that any promotions follow the federal trade commission guidelines.
You won't negate any repercussions if the branded content is ruled illegal by regulators, if the information is captured in writing, and applicable laws are breached.
Nonetheless, the disclosure agreement stays fixed in both parties' minds. As well as showing good faith, it also establishes a relationship based on mutual trust.
10. Exclusions
Exclusions are clauses prohibiting any mention of brands or competitors, unless you explicitly allow it. However, sometimes, influencers don't recognize who your competitors are, so ensure you clearly define the competitive brands. And to be completely covered, request written confirmation that they aren't working with any of them.
11. Termination and morality clauses
No brand can protect itself from influencers making bad decisions. That said, this risk can be reduced significantly.
Influencer management is a dynamic process. The relationship doesn't begin and end with identifying online creators by using algorithms. Instead, brands should measure how well influencers' values align with their own, both at the brand and corporate levels.
Additionally, brands should include morality clauses and cancellation clauses for extra safety.
You don't want to keep cooperating with an influencer that breaches every more code or exposes your brand's sensitive information, right?
12. Image manipulation
Make sure the sponsored content has not been passed through post-production techniques that might exaggerate the effects of the advertised product.
Consumer watchdogs may consider these types of advertising claims (including visuals) misleading.
Make your influencer aware of this when creating the contract, and be clear with the consequences should this happen.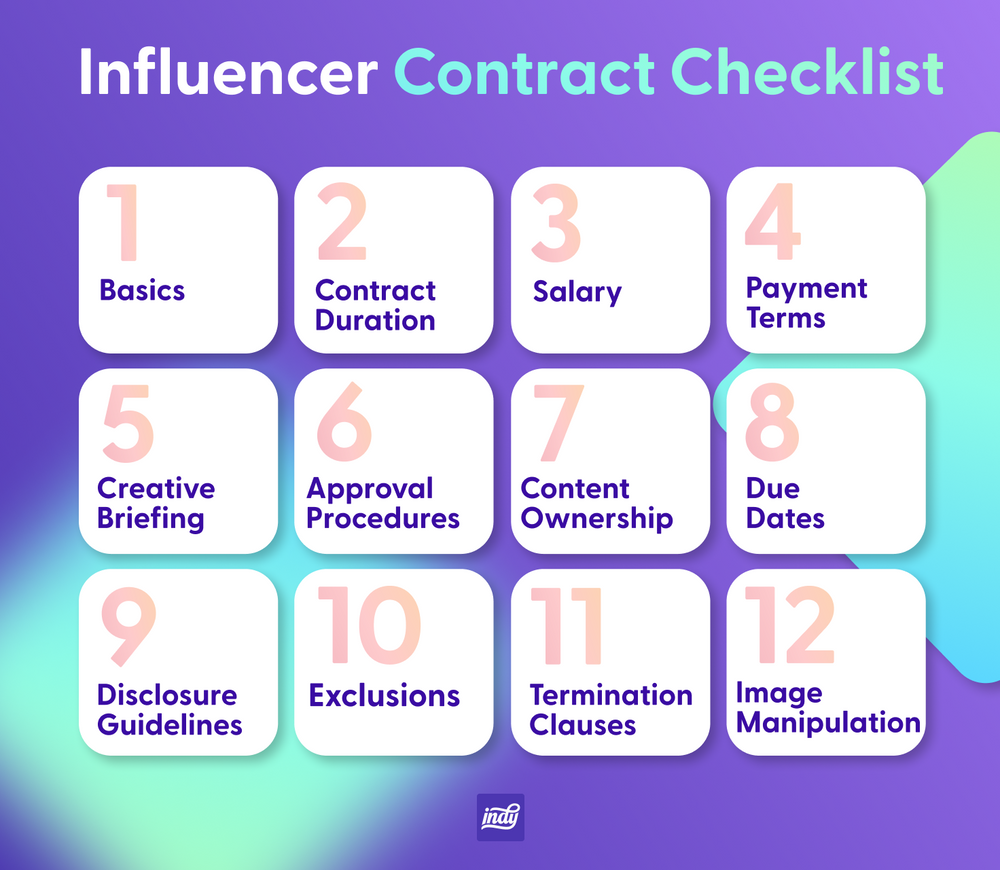 Choosing your influencer
Deciding to use an influencer as part of your online marketing campaign can be immensely valuable. The service works well for those looking to promote particular products and their brand as a whole.
Many influencers offer companies their services, making it challenging to identify which service is best for your brand.
When choosing an influencer, there are a few things to keep in mind that can help you establish whether they're a good fit for your campaign, like:
Comment volume
Comment sentiment
Engagement rates
Audience demographics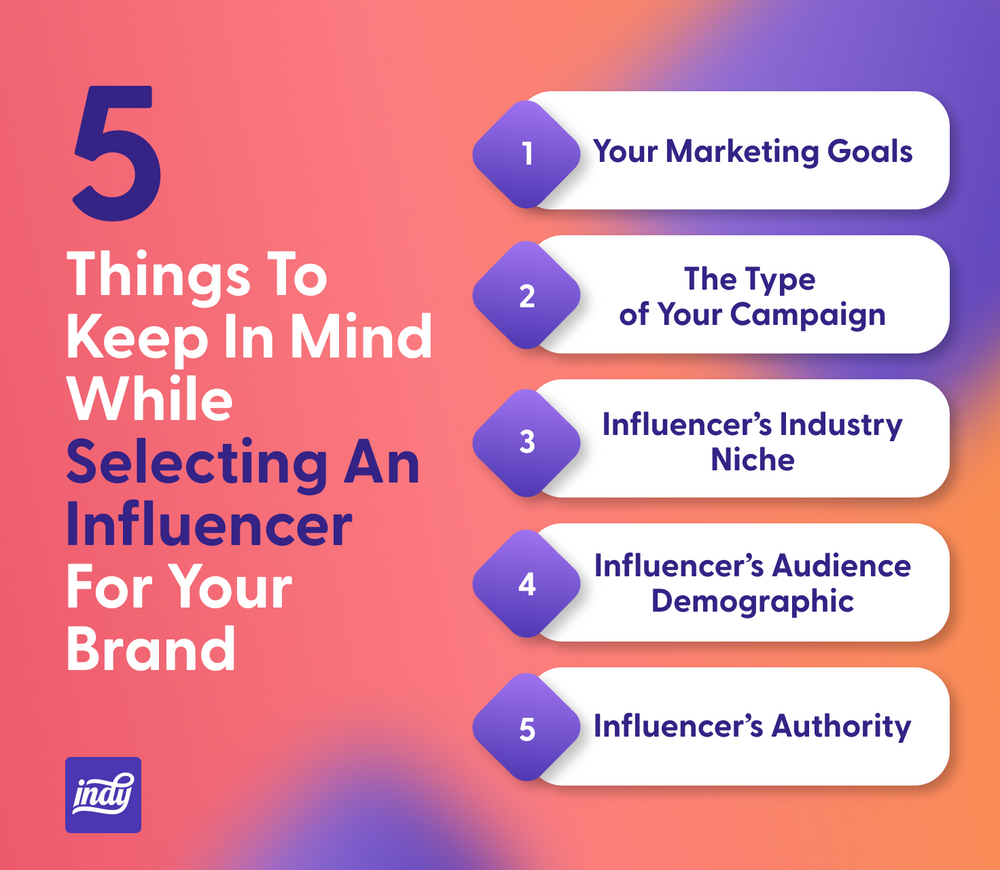 As we're reaching the end of our article, we've also included 5 tips on selecting a great influencer for your brand:
1. Know your marketing goals
The right influencer must be able to help you reach your goals and target audience. For this reason, outline what your campaign's aim is with defined marketing objectives.
Whether you're focused on raising brand awareness or lead generation, you can identify the best influencer for your needs by establishing goals.
2. Know the type of campaign you wish to run
Think about what type of campaign you wish to run. That will help you to determine which influencer is going to fit with what you're looking for.
3. Find influencers in your industry niche
Start with well-known social media figures within your industry and think about how they would spread your brand's message.
We recommend working with an influencer that knows your industry well and can demonstrate this!
4. Find influencers with your audience demographic
Influencers don't have to be involved in your industry exclusively. However, they should have access to your target audience.
As a result, such influencers help you get more potential leads and reach your goals.
5. Understand the influencer's authority
When establishing if an influencer is a right fit for your campaign, you should evaluate their authority.
Look at whether they have enough reach to help you accomplish your marketing goals. If so, take it as a sign to collaborate!
How to know if an influencer's followers are real?
So, you've found a few influencers who would make a great fit for your brand. Great news! But before you send them an influencer contract, it's a good idea to perform a quick background check first. Influencer marketing campaigns are only as effective as the influencer's authority and reach. Unfortunately, it's fairly easy for people to fake their follower counts by using bot accounts.
Here are 3 ways you can check if an influencer's following is real:
Examine the engagement
Investigate their followers
Analyze with an automated tool
1. Examine the engagement
Follower engagement is the biggest indicator of how real, or active, an influencer's following is. You won't find this information on Google Analytics, but you can tell pretty quickly just by clicking on a few posts and comparing how many comments and likes they get against their follower count. Engagement can fluctuate from post to post, but if the engagement is consistently low, that's a red flag that their following could be faked or they've lost their influence over time.
2. Investigate their followers
Next, you'll want to take a look at their followers' profiles. Are their profile pictures left blank? Do they leave spam comments? Are they not engaged with other people's profiles besides said influencer? These are all signs that these accounts could be bots. Almost everyone on social media, whether they want to remain private or not, has a profile picture. It could be related to their favorite movie, show, singer, or anything else. So, if an account hasn't uploaded a picture, it could be a red flag. Especially if they aren't active.
3. Analyze with an automated tool
Finding influencers to promote your brand can be a powerful way to build buzz, but it can also be time-consuming to investigate multiple accounts. You can save time by using automated tools like FakeCheck and HypeAuditor. These tools do the work for you by scanning profiles to determine how many followers are fake.
Once you've found a match and run a background analysis, it's time to reach out, develop a relationship, and send them an influencer contract!
Influencer marketing is so much more than just a sponsorship, it can be the beginning of a fruitful business partnership.
On a final note
A social media influencer agreement does not need to be a stressful document to create. You're already halfway there when you implement the above tips and advice and use a reliable, quality influencer contract template from Indy.
At Indy, customize one of our influencer agreements in a few simple steps by simply signing up for an account, launching our contracts tool, and entering your contact details.
Indy is an all-in-one project management, contract, invoice, proposal, task, chat, and file-sharing platform bound to level up your freelancing career. With Indy, you can manage your entire workflow in one platform and for one price, too.
Good stuff, right? Click here to learn more.