Get paid quickly

and easily with Indy's online invoice software

You work hard for your money. Get it faster with simple invoices that look great and are easy to send and pay.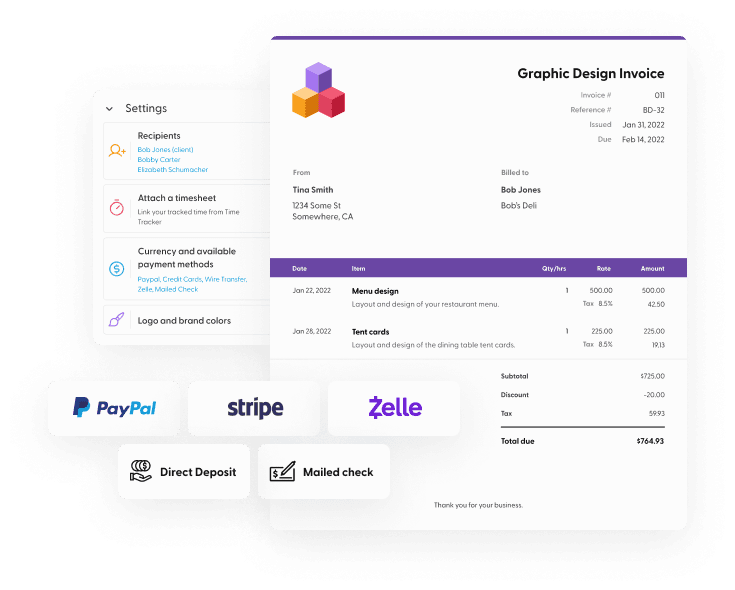 Easier. Better. Faster. Simpler.
With Indy, you can build your invoices in minutes and send them in seconds. Your recipients can pay with ease from any of their devices.
Set them and forget them
Recurring invoices help you keep the cash flowing without needing to manually create them.
Flexible payment options
Clients will appreciate all the invoice payment options you offer, including top credit and debit cards, checks, wire transfers, direct deposits, and more.
Your brand in the spotlight
It's easy to add your logo, brand color, and choose from over 50 fonts to make sure your invoice looks on-brand.
Create invoices in a snap
Take the hassle out of invoicing with an invoice generator that produces a template in seconds and streamlines your workflow from proposal to time tracking to payment—like magic.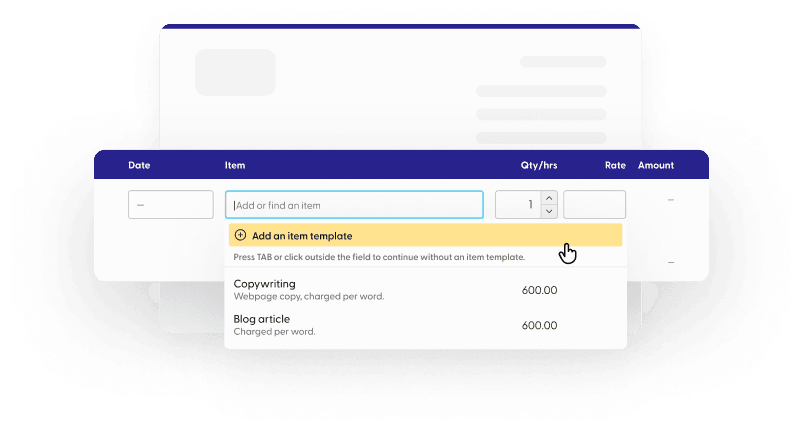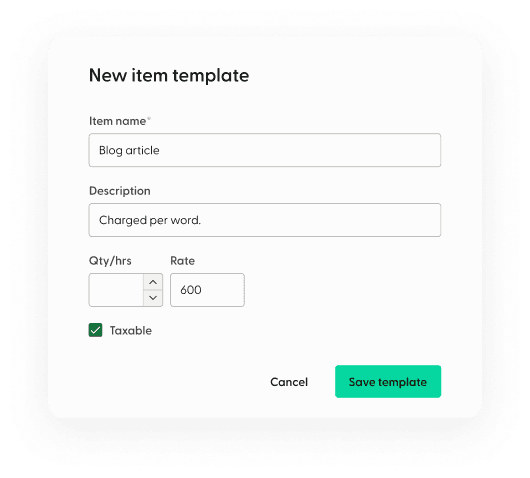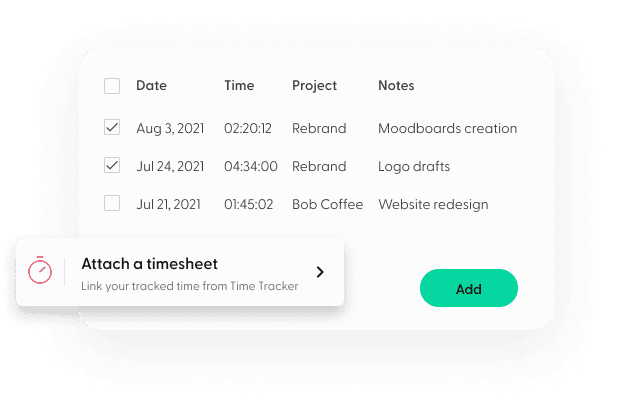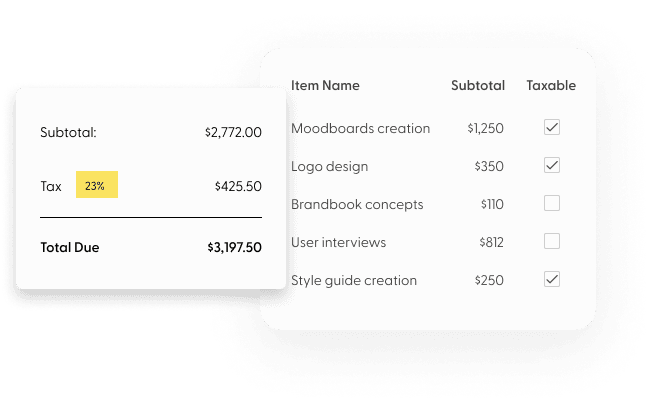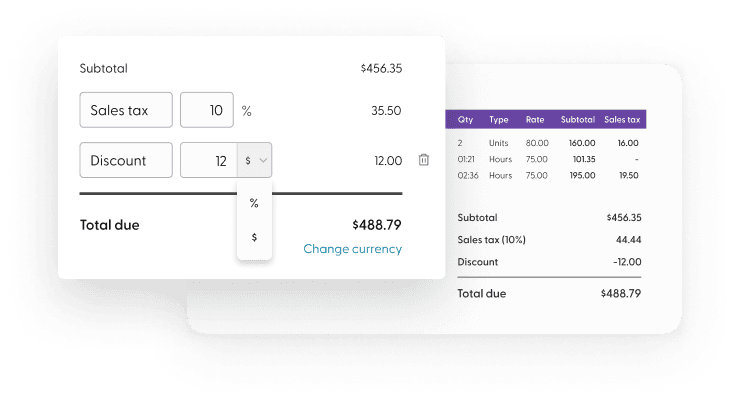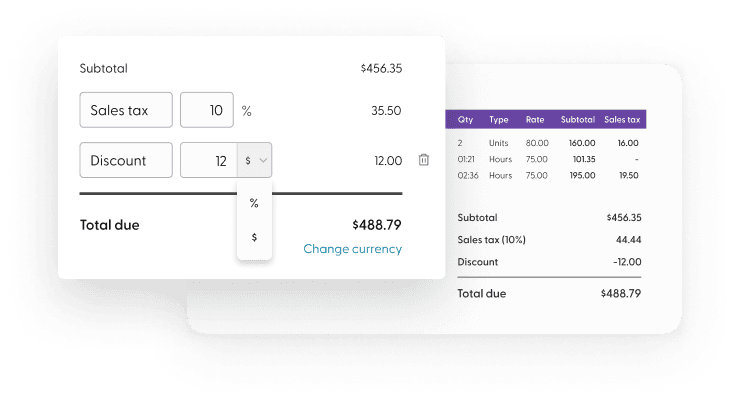 Include a discount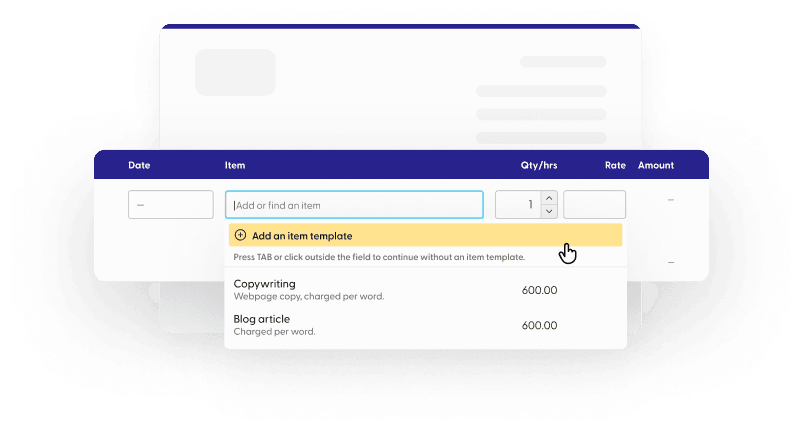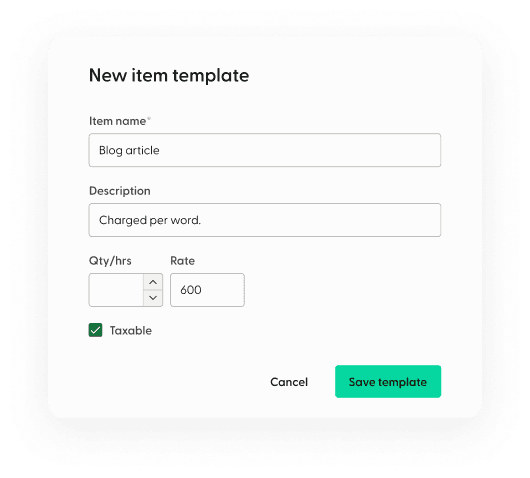 Save line items as templates
Pro feature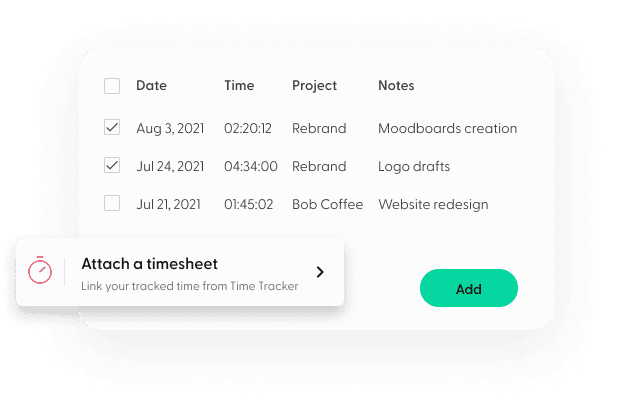 Add unpaid time tracks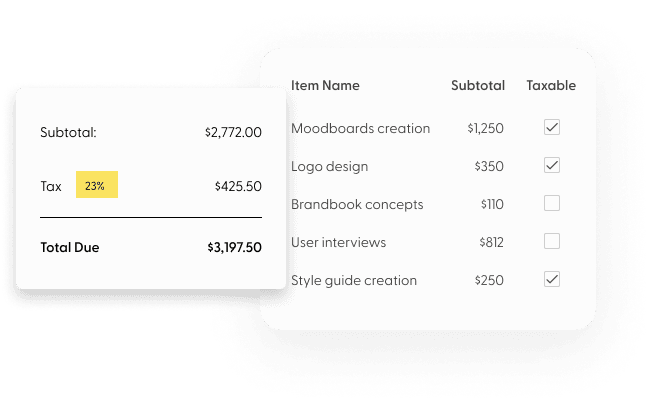 Set the tax rate and taxable items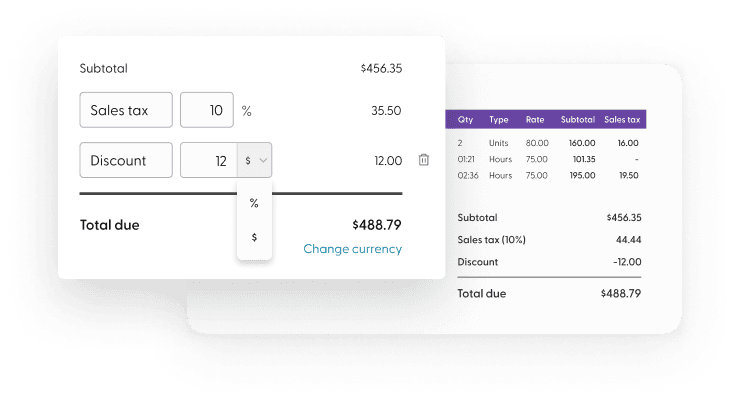 Include a discount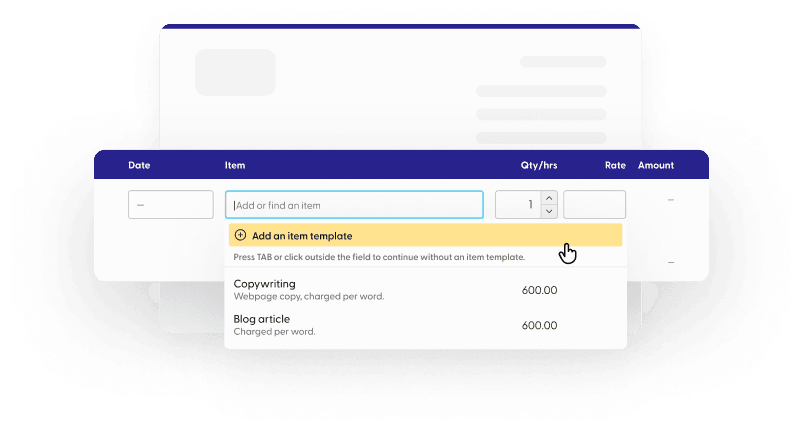 Customized Invoices on demand
Building a strong brand is half the battle of attracting clients. Indy makes it simple. Create a professional, customized invoice that leaves a lasting impression.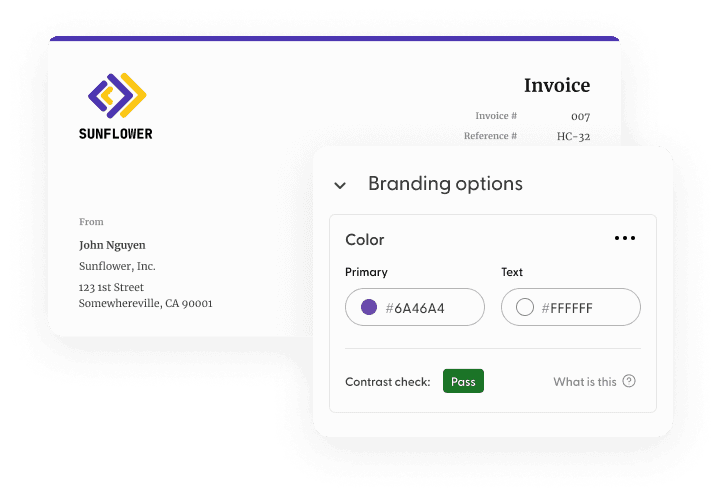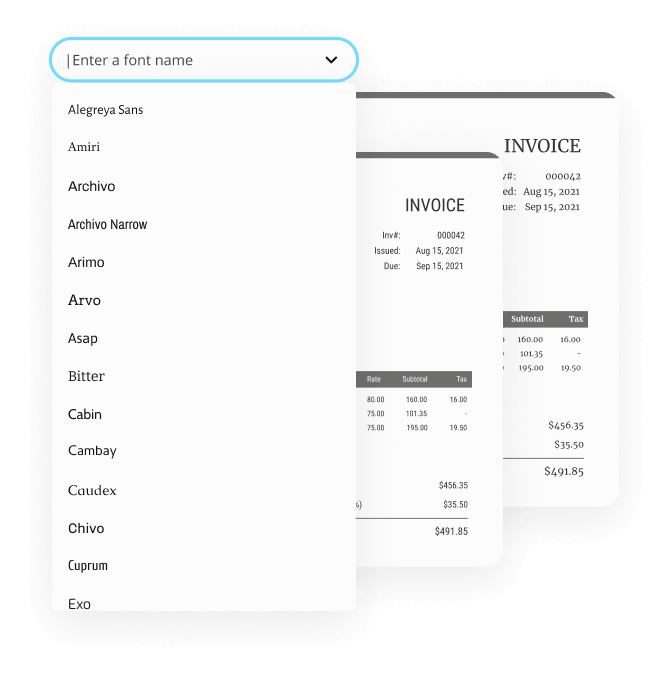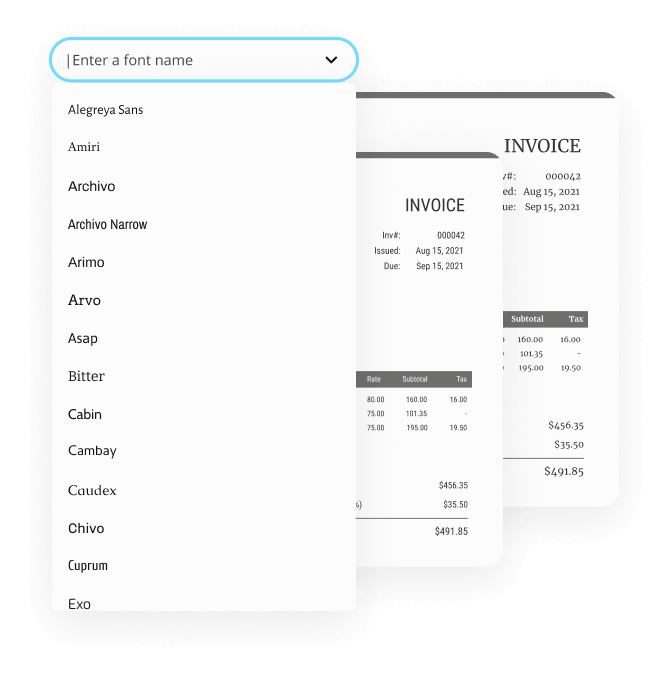 Choose from over 50 fonts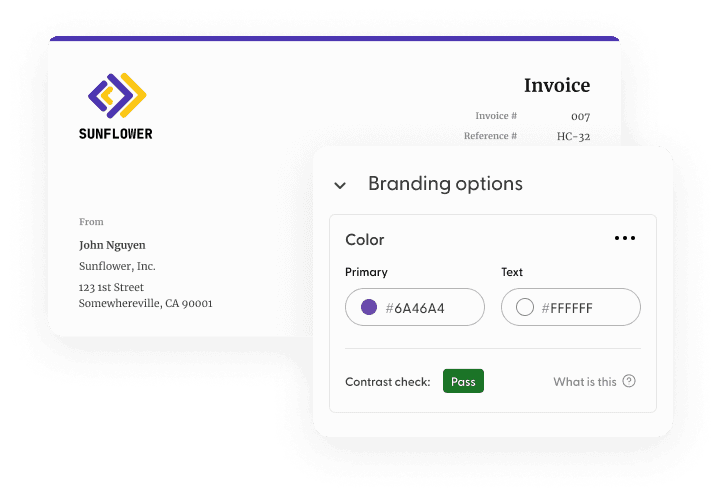 Add your logo and color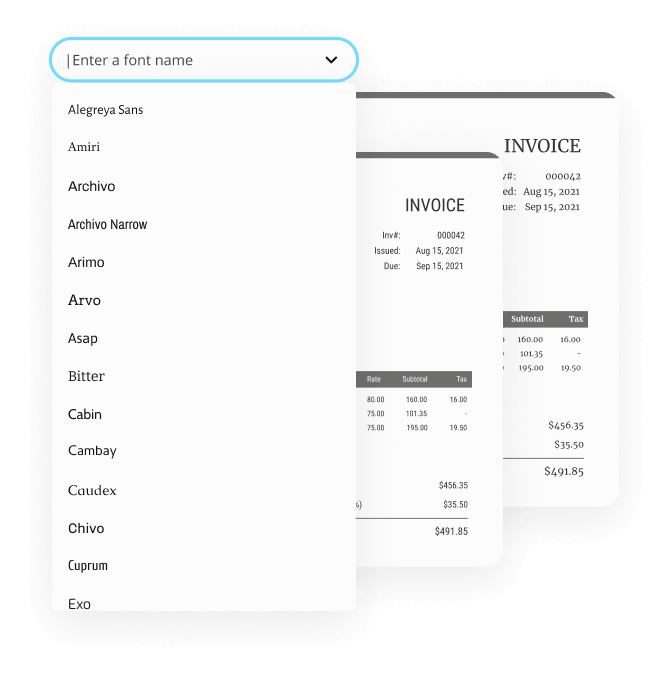 Choose from over 50 fonts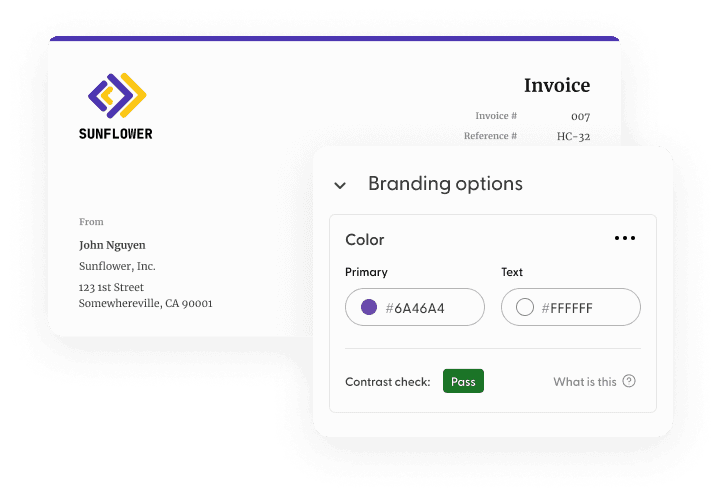 Add your logo and color
Get paid fast
29% of invoices are paid late by clients and 1 out of 10 invoices never get paid. Make late payments a thing of the past with flexible online (and offline) payment options, automated payment reminders, and status updates that notify you the moment invoices get paid.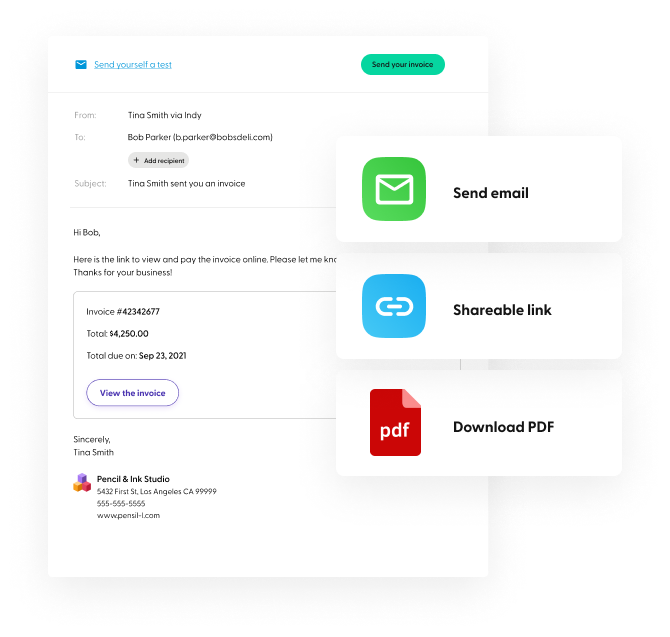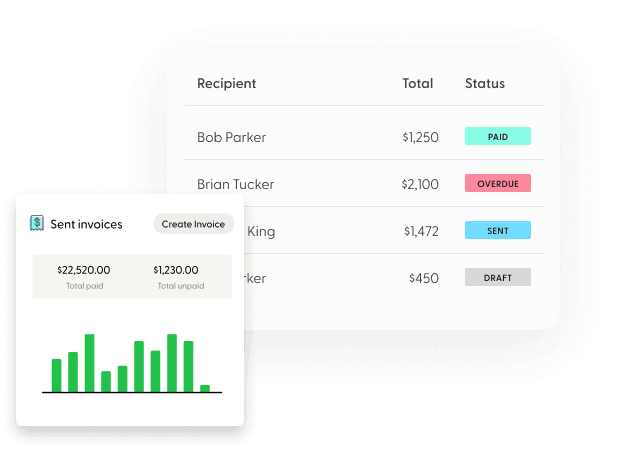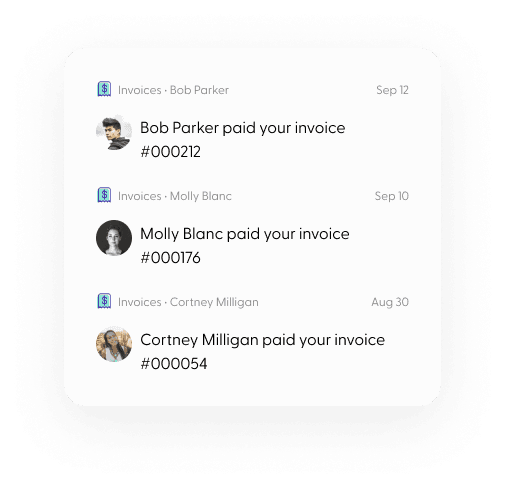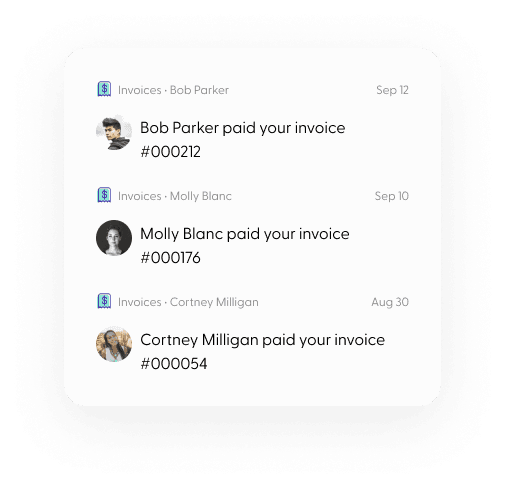 Watch the money roll in and celebrate 🎉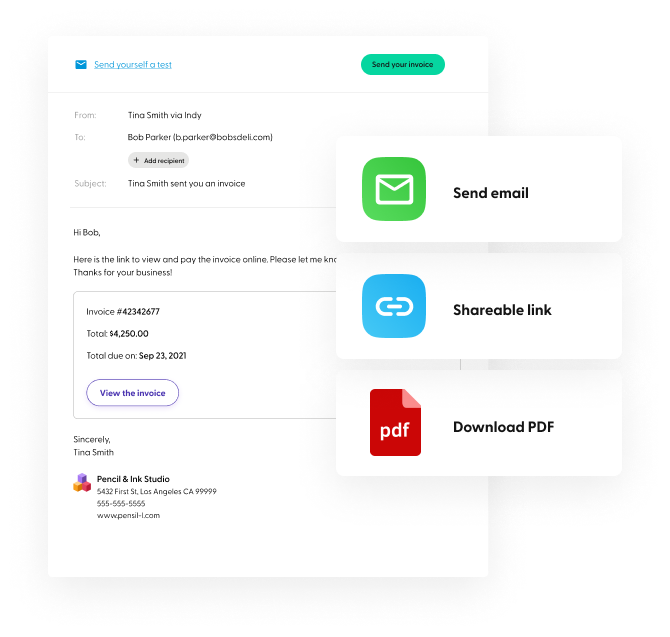 Send your invoice in just few clicks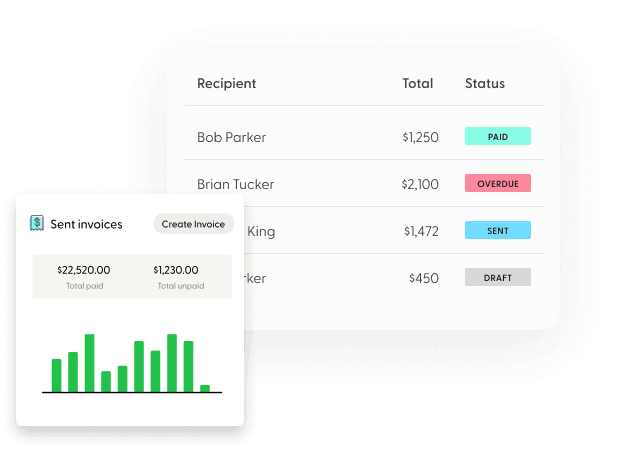 Monitor the status of each invoice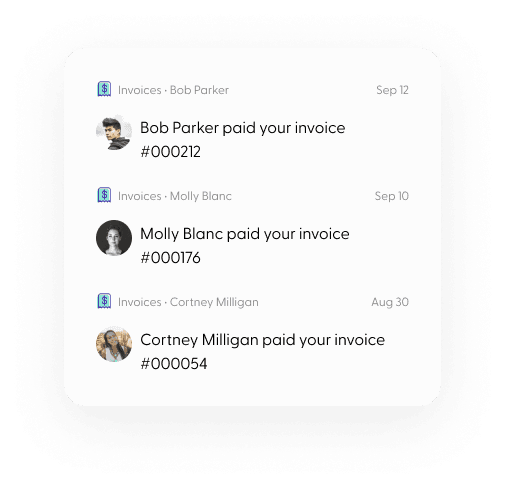 Watch the money roll in and celebrate 🎉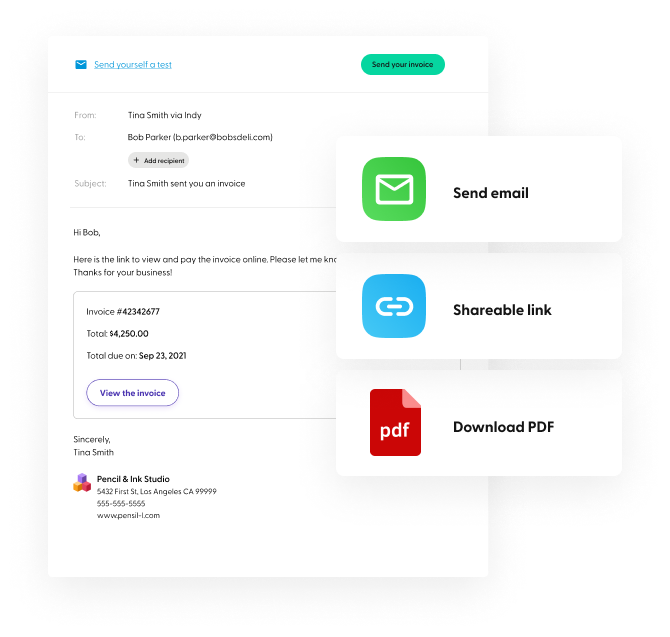 Send your invoice in just few clicks
Bill with the internet's most trusted online payment solutions
AUTOMATED
Integrated online payment
Accept major credit and debit cards. Also, we don't charge additional fees.
MANUAL
Direct deposit or via mail
Easily and securely store your bank info or other payment details with Indy.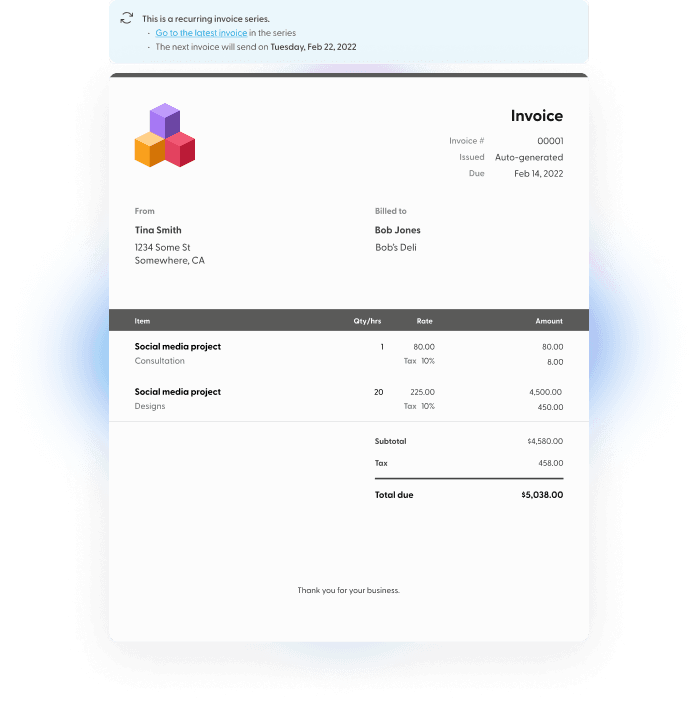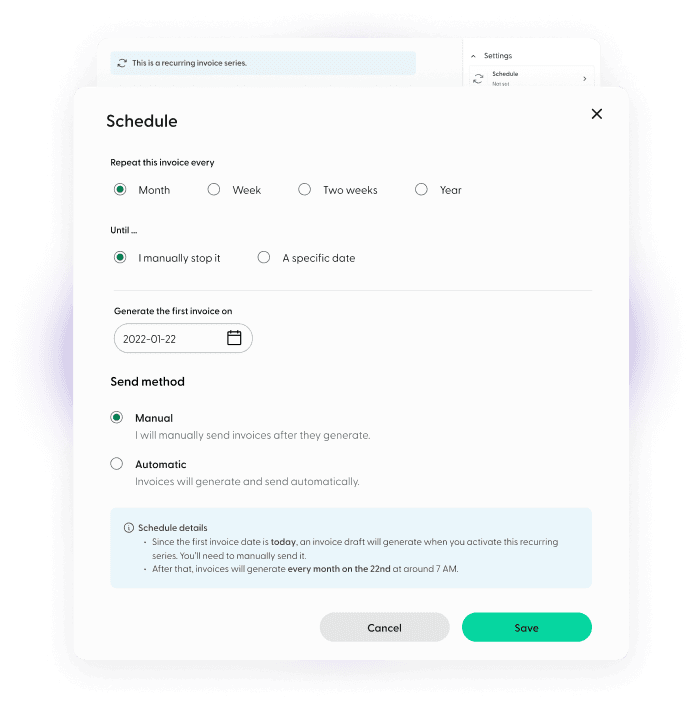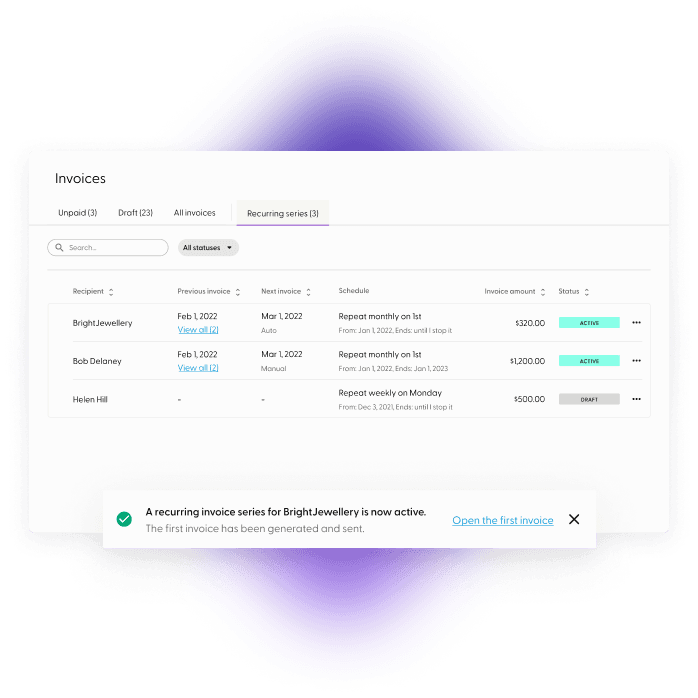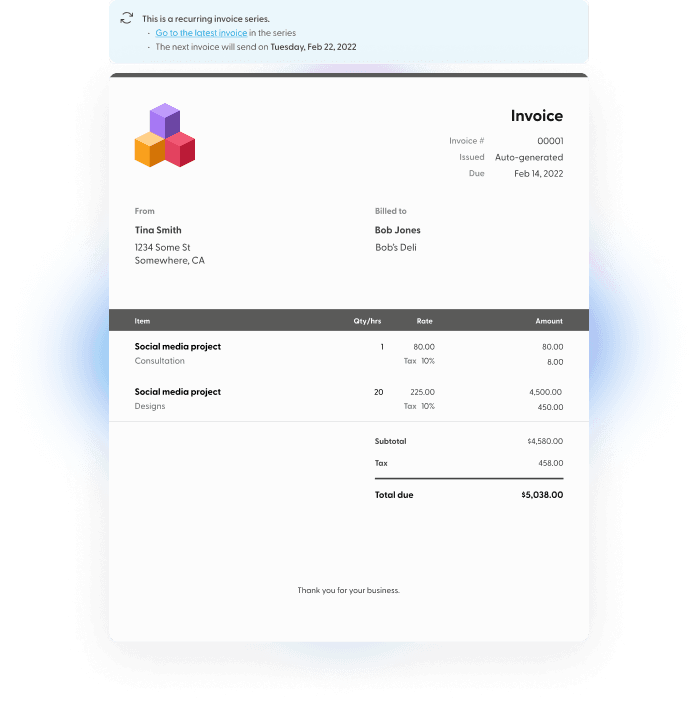 As simple as creating a single invoice
It's easy to create your invoice template and set a schedule. You can choose when you'd like the series to stop running or stop it yourself at any time.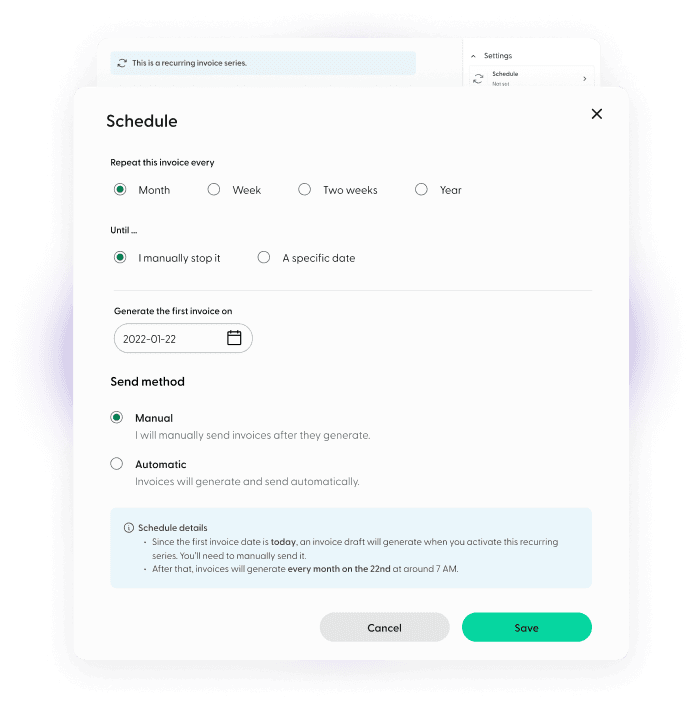 Auto-sends, roll out!
With both automatic and manual sending options for recurring invoices, you can choose the method that's best for the project and your client.
You have control over the frequency and start and end dates of auto-sends, even if that means having them run indefinitely. You can stop them at any time.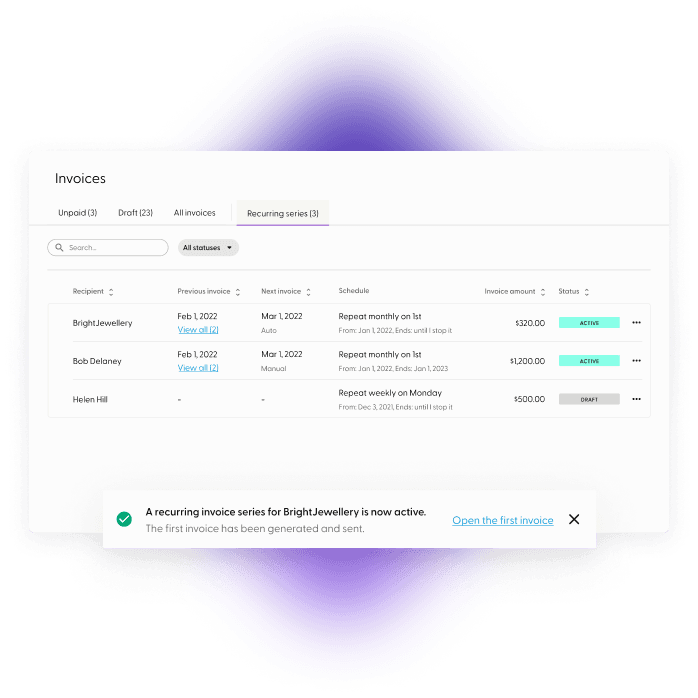 Recurring series control center
The "Recurring series" tab on the Invoices page displays the series you've created and gives you a single place to manage them.
New
Welcome to a simplified client communication process
Tired of questions and comments getting lost in email threads? With Indy, your clients can leave feedback for you right on each invoice. With discussions happening contextually, you won't need to go digging for them ever again.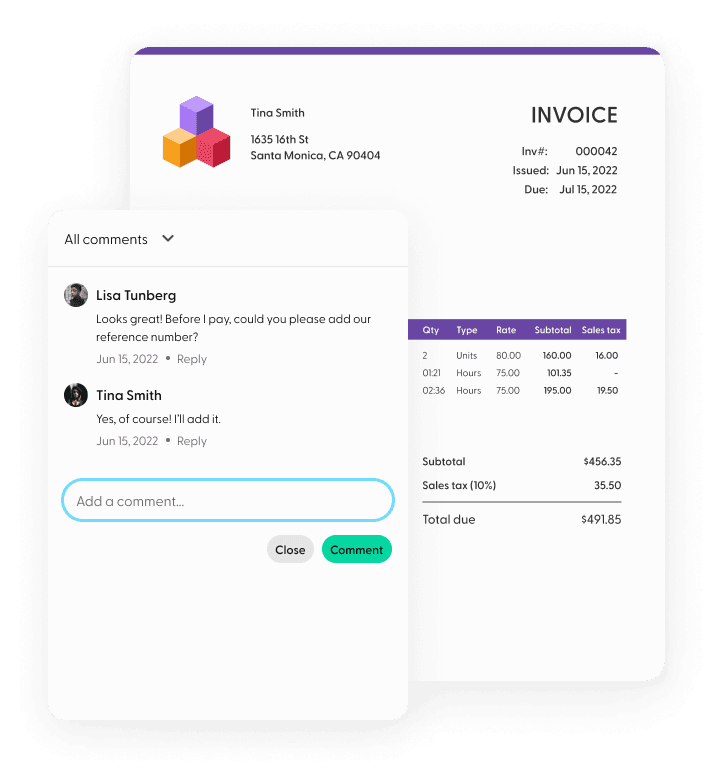 "The Invoice tool improved the speed I send my clients their invoices and let's be honest it looks so professional."
Quenia Batista
International Student Consultant
WHAT'S INCLUDED
Invoicing made simple
Accept popular payment options
Stripe: credit, debit, bank transfer
Paypal
Zelle
Wire transfer
Direct deposit
Choose your payment currency with global currency support
Customize your invoices
Add your logo
Your business info
Your brand color
Choose from over 50 fonts
Plus...
Single invoices

Recurring invoices

Generate invoices automatically from your estimates in Proposals
Attach invoices to projects for better organization
Automatic, sequential numbering with each new invoice
Manually mark invoices as paid
Add notes for the recipient and private notes for your eyes only
Invoices FAQs
How can Indy help with invoice creation?
Indy makes invoicing a breeze with our auto-generated invoice template. It's as easy as 1, 2, 3. First, fill in the template with your personal details; then fill out your line items; choose a recipient and payment option; and now all that's left to do is hit send. Blast off! Your client will instantly receive the invoice while our system monitors the payment status. Need to add a tax percentage to line items? Include a discount? Request a deposit? Add a late fee? Indy's invoicing system gives you plenty of ways to customize your invoice template–from payment terms to a variety of personal branding options–making each invoice feel more like you! You can even accept online payments such as PayPal and Stripe for credit, debit, and bank transfers right through our platform. Or, choose a manual payment option that can be configured for Zelle, wire transfer, or a mailed check. Indy makes invoicing simple, so you can focus on making money without the hassles of trying to create invoices from scratch.
How do my clients see the invoice I sent?
Invoices will be delivered to your client's email where they can open it on the web. They'll be able to view all the line items and time tracks you've added to it, as well as the payment amount and when it is due. You'll also be given the option to include a personalized message to the recipient so that you can continue nurturing a positive client relationship. If you want to see exactly how your invoices will look from your client's view, you can preview them any time and even send yourself a copy for a quick test run.
What are the benefits of using online invoicing software?
Traditional invoicing methods are needlessly tiresome to fill out manually. With an online invoicing software, you can automate the tedious stuff. And if you happen to make a mistake, you can quickly swap out the information without needing to discard the draft. There's no paperwork, no envelope, no postage, and no risk of an invoice getting lost in the mail. You can even monitor whether the invoice has been viewed thanks to our advanced tracking capabilities. Online invoicing gives your freelance business an extra level of professionalism that helps instill more confidence in your clients as you stay on top of the latest technologies. Not only that, but it's actually easier for your clients. And when invoicing is easier for your clients, it'll be easier for you to get paid!
How can you save time generating invoices?
With Indy's online invoicing software, you can send invoices in mere minutes by using a ready-made template that makes invoicing more efficient. Plus, our invoices integrate with Time Tracker so you can seamlessly add them and bill for the time you've spent working with a couple of clicks.
Does Indy support recurring invoices?
Yes we do! Recurring invoices are a powerful way to save time while billing clients and is as simple as creating a single invoice. Recurring invoices can be sent as often as you want and however you want thanks to manual and automatic roll-outs. And with automatic scheduling, it's truly a "set it and forget it" system for you to get paid without wasting any more time on the least fun parts of invoicing. Even better? They can be stopped at any time. Recurring invoices are the perfect option for retainer work, on-going projects that need to be paid in intervals, or to cover monthly or yearly expenses that a client owes you.
How does Indy help me represent my brand?
Indy knows how essential branding is when it comes to leaving your mark on the freelancing world. Mix and match over 50 fonts with your business colors to capture your unique brand. You can also upload your business logo to invoices so that clients know exactly who you are. And to further personalize your invoices, you can choose to remove Indy's logo from your email footer so that only your business logo will be represented. With our customizable invoice template, you can save time drafting invoices without losing any of the customization that makes a strong impression on clients.
Does Indy have free invoicing software?
Yes! Indy has free invoicing software with the Free plan. You can create and send 3 invoices per month. We support multiple currencies with global currency support. You can also customize your invoices in our free invoicing software with plenty of branding options, like fonts, colors, and business logos. For unlimited invoices, advanced functionality and additional time-saving features, you can upgrade to Indy Pro and save line item templates, attach time tracks to invoices, set up a recurring invoice series, and even create custom workflows that automate your processes! Indy Pro has a free 7-day trial for you to try out. Between our Free and Pro plans, Indy is the best invoicing solution for small business owners and freelancers.
Can I automate my invoices with Indy?
Absolutely! While our free invoicing software helps you create invoices and get paid fast, Indy Pro lets you automate email follow-ups (like automatic payment reminders) to clients, connect Indy's tools to over 5,000 popular apps, and accept payments through PayPal and Stripe. If you're looking to get paid without the hassle of invoicing, Indy Pro is the plan for you!
Who should use online invoicing software?
An invoice generator is the perfect solution for anyone who owns a business! Whether you're a freelancer or a small business owner, online invoicing software lets you create professional invoices and saves you the time and hassle that paper invoicing causes in our digital age. It's much easier to track expenses, conduct double entry accounting reports, and it makes invoice tracking a breeze with status updates.
Does Indy have any additional payment processing fees?
Nope! Indy will never nickel and dime you with extra fees. We do not charge any additional fees for online credit card payments or wire transfers. This makes Indy's invoicing software a flexible option for getting paid. (Make outstanding invoices a thing of the past!)
What payment options does Indy have?
Indy has multiple online and offline payment options that you can accept: PayPal, Stripe, Zelle, direct deposit, mailed check, and wire transfers. Our flexible payment options make it easy for clients to pay you. And with global currency support, you can accept multiple currencies. While many project management software force you to use PayPal, Stripe, or their own payment service, we're not as restrictive. Get paid online in the way that works best for you!
Does Indy provide invoice templates?
Definitely! Beyond our free invoice software, we have downloadable PDF templates that you can use for your business. While you won't get the flexible invoicing features, like the ability to monitor transactions, create recurring payments, time tracking, or the tools that manage projects, you can certainly send the free template to a client. But we recommend signing up for our Free plan so that you can create customized invoices and have access to unlimited invoicing.