Effective digital marketing is not just a "nice to have" element of business. It's imperative for businesses—both large and small—to stay competitive in the market and build better relationships with their customers. Adapting and reconfiguring your strategies is essential to ensure a wider reach of your target audience and better promotion for your brand.
In the digital age, where the majority of consumers have access to smartphones and online channels, digital marketing is paramount to business success. In this lesson, we'll examine what exactly the role of a freelance digital marketer entails and why it is so important in today's digitized world. We'll also examine why so many businesses use digital marketing to launch their brands and to ensure better consumer engagement.
What Is a Freelance Digital Marketer?
A Freelance Digital Marketer is an independent professional who specializes in providing comprehensive marketing services and strategies to their clients.
Simple, right? But before we understand what exactly a freelance digital marketer does, it is important to understand the digital marketing sphere as a whole. So, what is digital marketing, you might ask? Well, simply put, it is an essential component of marketing in today's digital world.
Freelance digital marketers use the internet and various online platforms to promote brands. Digital marketing allows them to gain a wider reach and communicate with their target audience. In turn, brand awareness grows and hopefully business booms.
These campaigns can be accessed by consumers on various devices, including desktop computers, laptops, mobile phones, and tablets. This ensures that digital campaigns have a wide reach and are accessible to new clients and existing ones.
Essentially, digital marketers use various digital channels and tools to communicate with clients, promote various products and services, and increase brand awareness. These marketing unicorns certainly have to hone a vast range of skills, and the job entails a formidable combination of innovation, strategy, digital-savvy knowledge, and tip-top planning.
A freelance digital marketer is a professional who uses their skills in digital marketing in a remote capacity. Generally, a digital marketing freelancer will be accomplished in a few different types of marketing techniques, as well as the work that it takes to run their own business (invoicing, filing business taxes, and generating leads).
What does a freelance digital marketer do?
Here are some of the digital marketing services that fall to a digital marketer, to give you a better idea of the day-to-day:
Develop a digital marketing strategy
Set up and track key performance indicators (KPIs) to optimize activities and monitor objectives
Generate blog content to communicate stories to the target audience
Social media marketing
Develop promotional materials and graphics
Host webinars or develop case studies
Increase the likelihood of action from customers
Maintain a company's social media platforms and ensure consistency across all pages
Manage a company's online shop to increase the likelihood of purchase
Increase presence in Google and other search engines
Manage ad campaigns, including pay-per-click (Google Ads campaign for example)
Curate and maintain a brand
Analyze and report on what is working and what needs to change
Every digital marketer is unique in the services they choose to offer, so it comes down to your skill set and your interests. Regardless of how you choose to position yourself, use these tips to help you launch your freelance marketing career.
Benefits of Digital Marketing
Before we unpack how to get started as a digital marketer, it's important to think about why freelance professionals might embark on a freelance digital marketing career. Digital marketing endeavors connect businesses with prospective customers and are hugely effective in a myriad of industries.
If you want to become a freelance marketing professional, it's worth knowing why your trade is so sought after. Some top benefits of choosing digital marketing for business include:
Affordable: Compared to other marketing initiatives, digital marketing is pretty affordable. This means that businesses can get more bang for their buck, and their advertising expenditure will go much further.
Flexible: One of the best parts of digital marketing is the flexibility factor. Embarking on this career opens many possibilities, including content marketing, social media management, email marketing, banner ads, and more. This means that digital marketers can find their unique niche and embark on a career that piques their interest and delights.
Accessible via mobile applications: According to the Pew Research Center, around 85% of Americans own smartphones, and many of these individuals use their devices to access social media, news, and various other activities. Digital marketing is therefore a brilliant way to reach the masses from their homes, without the stress of having to pay for television, radio, or newspaper ads. People can engage with your digital marketing from the comfort of their homes, thus broadening their reach.
Easily trackable: One of the greatest perks of digital marketing is that it is so trackable. While it might be difficult to track who is watching television ads, online analytics offer digital marketers some fantastic tools through which they can analyze their data and see who has been engaging with their content. These tools enable marketers to perfect their digital marketing campaigns and improve with every data check.
Engagement by influencers: Pop culture is often promoted by influencers, and if an influencer gets on board with your product or service, they will likely share it on their social media platforms and channels. These influencers usually have a large-scale following, and this does wonders when it comes to spreading brand awareness. Digital marketing—via blog posts and social media content—can channel a huge following via these individuals.
In a nutshell, digital marketing has these tip-top benefits, and therefore so many choose a career in digital marketing:
Low cost but high flexibility
Access people who rely on their smart devices to glean knowledge on new products and services
Allows freelancers to access many types of media and marketing tools
Enables marketers to track analytics and view client interaction
Offers an opportunity to connect with influencers and gain potential endorsement
How to become a freelance digital marketer?
To become a successful freelance digital marketer, you need to have a thorough understanding of the digital marketing industry and create your own personal brand as part of your freelance business. Developing key skills such as social media marketing, content writing, search engine marketing, advertising, and having knowledge of other marketing channels will help you to stand out in the digital marketing industry.
Additionally, building an engaging platform that showcases your services is also beneficial when starting out in the freelance digital marketing business.
Tips for Getting Started in Freelance Digital Marketing
The chances are that if you talk to ten digital marketing freelancers, you'll get ten different stories of how they began their careers and reached the point where they are today. The digital landscape is certainly a vast one, and as new innovations in the digital marketing realm unveil themselves, digital marketers have to change and adapt their digital marketing services.
While everyone's journey is unique, many digital marketing professionals used these steps to build a strong foundation. Before embarking on your digital marketing career, it is imperative to consider the following factors and boost lead generation. Here we explore some top ways to find your path in the world of digital marketing, build your brand, and attract potential clients.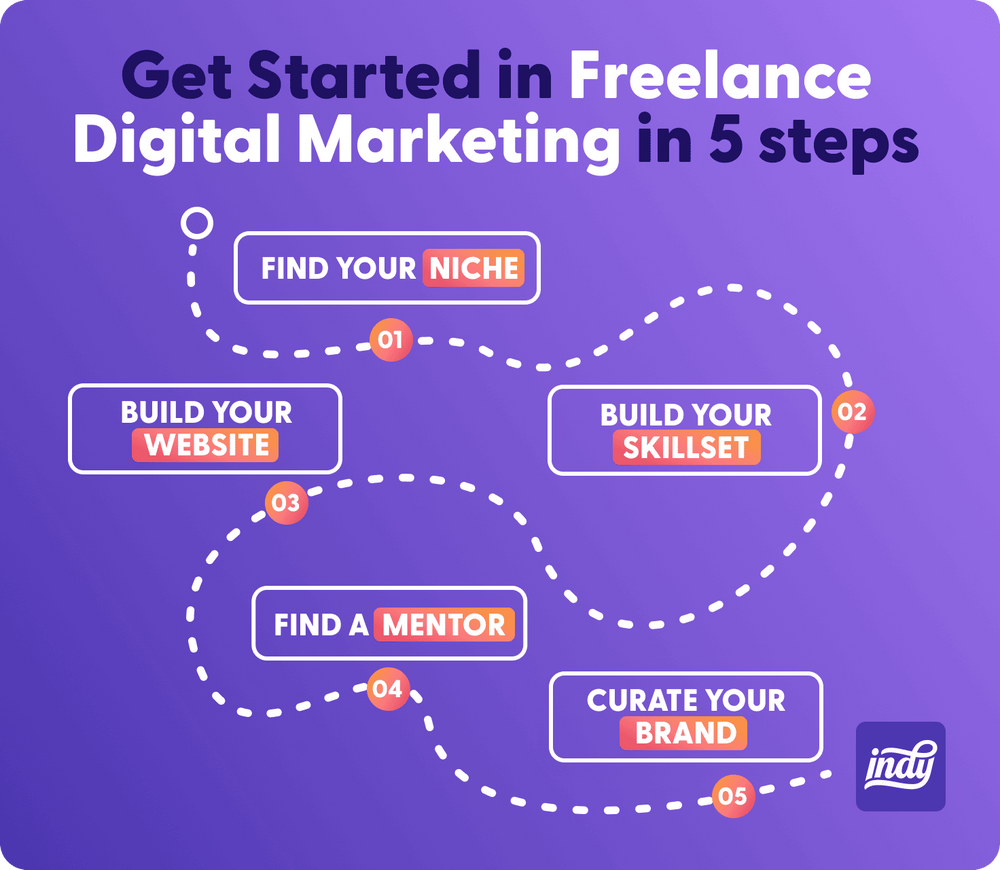 Find your niche
Content marketing and digital analytics are both critical components in an effective and comprehensive marketing strategy. But it's highly unlikely that any organization enlists the same person to perform both of these roles. There are some questions you need to answer if you want to build your freelance digital marketing career.
Are you more creative, or do you like digging your fingers into data and tracking campaign performance? While some marketing professionals can do it all, others have to find their specialized niche and draw on their strengths to become the best in the business.
Potential clients are seeking experts, which means that identifying where you can effectively position yourself as an expert will lead to a more fruitful freelance career. Look at it this way: would you rather hire someone who is kind of good at everything or a proven authority in the area you need the most?
Finding your niche might require some dabbling. You want to get a feel for every aspect of the marketing landscape so you can see where you really shine. A great way to do this is to chat with fellow digital marketing freelancers and ask them about their experiences.
If time and funds allow, you might even consider interning at a digital marketing agency or shadowing a marketer in the field. This will give you in-depth knowledge of the possibilities available and allow you to make an informed decision on where you want to go as a freelance marketing consultant.
Excitingly, there are so many options as the digital age has opened up a world of great possibilities.
Build your skillset
While having a degree can be helpful, it is not necessary to break into the digital marketing world. Initiative and hands-on experience are the most important things to succeed. To get started, you may take on an entry-level role with a company.
This will provide you the stability and structure to learn the necessary skills. If you are still studying, you might consider interning at an agency to gain some real-world experience and boost your digital marketing skills.
The digital marketing world is evolving rapidly. Even if digital isn't necessarily your specialty, ensure you're staying up to date with trends and know which skills are most in-demand. Seek out certification courses online to learn the newest technologies and tools.
While some courses will cover a specific element of marketing (for example, search engine optimization or paid ads), others will offer marketers a broader overview and take them through a wide range of digital marketing initiatives.
More general courses might be useful when starting out, and as you find your niche within digital marketing, you can specialize in specific aspects of the profession.
Here are some valuable resources for continually learning and improving skills:
Building up your skills as a digital marketing professional is a life-long process, and given the recent growth of digital marketing technologies, you'll want to keep on your toes and expand your repertoire.
The more up to date your digital marketing knowledge, the more sought after you will be as a digital marketing consultant. Since it is an ever-changing terrain, you will want to upskill yourself regularly and strive to learn new tricks every year.
If you don't have the funds to pay for a course, you are in luck. There are also some amazing free online courses and digital marketing resources that are totally free, and a simple Google search will unleash some fantastic results.
Explore YouTube, read blogs, follow successful digital marketers on social media, and watch TedTalks about the art of digital marketing. In the age of the internet, pertinent information is only a click away, and this means you can learn something new every day if you so choose.
Work on your business skills
As a freelance digital marketer, it is essential to develop the necessary business skills to attract new clients and build a successful career in this ever-evolving digital marketing landscape.
To maximize your digital marketing efforts, you should have a thorough understanding of how to effectively manage your freelance digital marketing services, promote yourself online, create value for potential clients, and find ways to differentiate yourself from other freelancers.
Having the right business skills not only helps you build trust with your clients but also gives them confidence that their business will be in great hands. Furthermore, expanding your network and leveraging relationships can help unlock numerous opportunities in the industry and open up new paths for success.
Build your website
One great way to get started as a digital marketing freelancer is by building your own website. This could be an online portfolio where you house your content writing and a place where you demonstrate good SEO practices by optimizing your own website.
You could ensure your website features for numerous rich results (an enhanced Google search result with extra interactive or visual features) such as Featured Snippets, People Also Ask, FAQs, etc. This, in turn, would aid your visibility in the SERPs. For this, you can leverage tools like Attrock's Schema Markup Generator.
Your website will serve as one of the greatest advertisements of your skills in the digital marketing realm. If your website is user-friendly, innovative, exciting, and boosts your brand awareness, prospective clients will most likely want to engage with you and utilize your skills.
If you run a freelance business, you will want to dedicate a good amount of energy and time into creating a brilliant website. While you might initially not be able to pay a professional to build your site, you can use platforms like WordPress and their built-in themes to start. Once you build up your contacts and gain more regular work, you can invest in upgrading your website and, in turn, entice more clients.
A portfolio illustrating your work is also invaluable to being taken seriously as a digital marketing freelancer. As you get started, you might consider taking on pro-bono or low-priced projects to acquire the experience and build up an impressive portfolio.
When you meet with prospective clients, you can easily showcase your work and give them tangible examples of the skills you can offer. This is a fantastic way to bid for digital marketing projects and highlight your skillset.
Another great way to build up your portfolio and brand is to take up blogging on your site. It's a relevant skill to digital marketing, and you can get started quickly without having to source any clients. You can illustrate your writing style, familiarity with the industry and practices, and values to prospective clients.
This content will also go a long way in establishing your brand and sharing your story with prospective clientele. Your website and the stories you tell are a great way to build your personal brand and entice prospective job prospects.
Locate beginner-friendly jobs
This can be the most difficult part of launching any freelance career. But according to Upwork, the freelancing industry in the United States accounts for over $1 trillion of income every year, making it a larger part of the economy than construction. This means a whole lot of jobs are sitting there waiting for you.
There are several different places you can look to get started:
Freelance websites, like Upwork or Fiverr: These are online job boards catered to freelancers. If you don't have a strong portfolio, you can find smaller gigs to build that portfolio and continually increase the level of projects and clients you get.
Keep in mind, however, that these sites do charge significant fees and commissions, so use them with caution. Actively search for freelance digital marketing jobs, and set alerts when these opportunities come up.
Facebook groups: There are many Facebook groups for freelancers. These are communities that uplift fellow freelancers and provide information related to potential work. It is also beneficial to network with other freelancers when you start out.
Creating a community of like-minded professionals can expand your expertise when it comes to running a business, and make you feel less alone when you encounter stumbling blocks or challenges with regards to freelance jobs.
Social media: Post on LinkedIn about your freelance services. Make sure your bio states that you're a freelance marketer. Social media is a powerful tool for connecting with prospective clients and getting the word out about how you can be of benefit to businesses seeking marketing help.
LinkedIn is the world's largest digital professional network, with over 774 million users. You can get more meaningful employment by optimizing your LinkedIn profile. Every minute, four people are hired on LinkedIn, and 87% of recruiters use LinkedIn on a regular basis.
LinkedIn also offers several online marketing courses on its e-learning platform (for $16.99 per month), with a free one-month trial available. Additionally, LinkedIn offers free less extensive online marketing training.
Offer affordable packages
Don't undersell yourself or your work when reaching out to prospective clients, but make sure that you aren't as rigid as a rock when it comes to negotiation, especially when starting out.
Go into meetings with a figure prepared, but be open-minded in regard to final pay rates. Building a relationship with a client that pays more over time is more valuable than not pursuing a project because it is slightly under your goal rate.
Nonetheless, you also need to know your worth, and if after you've built an impressive portfolio you want to set your sights on better paying jobs, you should certainly aim for more lucrative projects that will bolster your career and transform your small business into a thriving one.
One great way to attract new clients is by offering website design packages. By breaking down the cost of digital services and organizing them into several easy-to-understand pricing tiers, freelancers can help clients quickly decide what services they need and how much they need to budget.
Clear packages and pricing have another advantage. When freelancers offer clear pricing options and different level packages, they can drastically reduce the amount of time it takes to convince clients to hire them.
Social media management and virtual assistant, email marketing campaigns, content production and administration, and entire digital marketing strategy are some prominent package categories for freelance digital marketers. These services demand a lot of work, so don't take on too many assignments at once.
For example, a digital marketing package be something like:
"Entry level digital marketing package - ideal for small businesses:
Service 1: Search engine optimization
Service 2: Social media management
Service 3: Keyword research and integration."
Find a mentor
As you learn the ropes of digital marketing, having a mentor can be a valuable resource. A mentor might be someone who has worked in the field you're aspiring toward or an individual who has accomplished the things you'd like to accomplish.
Mentors can speak from experience and provide you with a firsthand account of how best to succeed. They're in your court and will help advocate for you, perhaps through networking opportunities. It's never too early to start networking, and it will set you up for success. While it may feel uncomfortable seeking out someone to aid your professional career, it's a great experience for both parties.
As Canadian lecturer and author Bob Proctor once said, "A mentor is someone who sees more talent and ability within you, than you see in yourself, and helps bring it out of you."
These people can ignite huge inspiration and help you to pave the way toward a lucrative and successful digital marketing career. Once you have built up a successful enterprise, you can of course pay it forward and mentor other beginners in the field. When it comes to starting and running a freelance business, connections and shared wisdom are irreplaceable.
Curate your brand
Creating your personal brand is essential if you want to build a successful business and become a successful freelancer.
Seth Godin, the famed dot com executive and author, defines a brand as:
"The set of expectations, memories, stories and relationships that, taken together, account for a consumer's decision to choose one product or service over another."
When you build a strong and reliable brand, people will naturally gravitate toward your product or services. Working in digital marketing means knowing how to highlight the best features of a product or service so as to increase the likelihood of action in your target market. In the same vein, you need to know how to sell yourself.
If your job is all about boosting brands, enticing prospective clients, and being a marketing whiz, you need to embody these traits within your own brand too, and show your prospective clients that you are the best person for the job.
Utilizing social media and LinkedIn as well as your own website will help put you in front of your target market and show your best features. What sort of work do you do? Why are you qualified to help them with their project? Do you have any positive feedback to share? These are the types of features that play into your "brand."
Locking it down early will help you prepare your pitches in future consulting meetings, and it may just be what pushes you over the edge into a contract. As you'll likely be using these channels to market your clients, this will also help in familiarizing yourself with how best to use these platforms.
Building your brand is essential for client recognition and respect, and marketing the brand is paramount if you want to get your message into the world.
Julie Cottineau, author of TWIST: How Fresh Perspectives Build Breakthrough Brands, highlights the connection between marketing and branding. She divulges:
"Branding is your fundamental promise of whom you serve, how you make them feel and what's different about how you deliver. Marketing is how you get this message out there once you have defined it."
Stay in touch with email marketing campaigns
Email marketing is key—you'll meet many new contacts as you move along, and you'll want to maintain those relationships to build upon opportunities in the future, be that repeat business or referrals. Sending regular emails to stay on the client's mind will serve you well, while also illustrating your capacity to market to them (and ultimately, for them).
Provide an opt-in strategy on your website to add them to your newsletters and communications. Have each of your emails be strategically purposeful, and be sure to give them a catchy headline to increase the likelihood of engagement.
Some of the key benefits of specialized email marketing campaigns include:
Personalized content that speaks to your target audience and speaks to their needs
Greater credibility when you engage with clients who have given you permission to contact them via email
Enhanced recognition of your brand as you build your brand identity through regular communication
Email marketing can result in boosted sales. In fact, HubSpot highlighted that email campaigns can offer a huge return on investment (ROI), with every $1 spent resulting in an estimated $36 (as of 2023).
When it comes to your digital marketing strategy, emails are a great way to stay connected and build your brand.
Get referrals
There are no bigger advocates than happy clients. When you start getting your projects completed, don't be afraid to ask your clients if they have any contacts that could also benefit from your freelance services. The chances are that they know someone. Leverage the contacts you already have to find new clients and avoid spending hours cold emailing and scanning job boards.
It's also a great idea to share testimonials from happy clients on your websites and ask past clients to give you reviews on social media channels or freelance job boards. While sharing your portfolio and showcasing your amazing work is hugely important, you will also want to highlight your success through unbiased reviews. This speaks to the authenticity of your product and brand and will offer prospective clients' greater peace of mind.
Launching your freelance marketing career
No successful marketer reached their peak overnight. It takes time to build your business, establish a strong foundation, and truly get your freelance marketing career going. It can take far less time, though, if you make use of the wisdom from those who have already been in your shoes. Try the tips and strategies above to get your career off on the right foot.
Tips for Staying Relevant in Freelance Digital Marketing
Now that you've taken the first steps of your freelance digital marketing journey, here are a few additional tips on staying relevant and networking your brand.
Network to build a client base
When just starting out, the task of networking and finding clients may feel daunting. Here are some tips on where to find clients.
Start with people you know. The best way you can spread the word about a new freelancing business is by starting with your current network. You may be able to get some work from them directly, or they may give you referrals for potential clients. Share your digital marketing website and portfolio, and create a shareable post on your own social media channels.
Market yourself on social media. Facebook has countless professional groups for every industry as well as freelance groups. It's a great place for connecting with potential clients and other freelancers to learn about job opportunities. There may also be local freelancer groups in your area or city, and in the age of remote working, you might even find jobs further afield.
LinkedIn, as the largest professional network, is great for making connections, building relationships, and paving the way for job opportunities. There is also LinkedIn Profinder, a paid service where freelancers can find work and businesses can find contractors.
Members receive notifications about opportunities and can submit proposals for work. Sometimes you have to give a little to get a little, and investing in your digital marketing career and small business can often result in a great return on investment.
Try cold emailing or cold pitching to potential clients. It's one of the most traditional methods freelancers use to find work, but it is still relevant today. For more advice on cold emailing, check out some tips on how to write a cold email that will actually get a response.
Network with other freelancers
One of the best ways to boost your career as a freelance digital marketer is to network with other professionals in your field and in complementary fields. This will enhance your professional network and allow you to meet like-minded professionals who might add great value and insight into your business.
Work at a coworking space. Coworking spaces are a great idea for small business owners who want to boost their contacts and engage with other like-minded professionals. One of the greatest perks of these spaces is that you'll meet people who you might not have encountered in day-to-day life, and since they're running their own businesses or projects too, they might need your skills as a freelance digital marketer. You can share skills, collaborate on projects, and recommend fellow freelancers for jobs if big projects allow.
Join freelance social media groups. A great way to network is to join online freelance social media groups. These can be found on Facebook, Instagram, and LinkedIn, to name a few. These platforms are fantastic for new freelancers who are ready to dip their toes into the freelancing waters. Use the platform to chat with fellow professionals, ask questions, gain insight on lead generation, and even find potential collaborators who you can work with.
Attend networking events. Networking events are a great way to meet freelancing professionals and prospective clients. These events can boost your knowledge and confidence as a digital specialist, allow you to gain deeper knowledge and insights, raise your professional profile, strengthen those all-important business connections, and allow you to access potential job opportunities.
Operate like a business
Freelancing 101: You are your own business. Ensure you treat yourself like one.
Operating as a business—and treating yourself accordingly—is a more sustainable mindset than thinking of yourself as solely a freelance marketer. Freelancers take one-off gigs and make money here and there. But a business owner ensures that their clients think of them when in need of help.
Having a growth mindset will prevent you from plateauing early on and instead keep you growing—and excited—about the freelance marketing business you're good at.
Automate processes where possible
Part of running a business is having to deal with the daily administrative tasks. Escaping the constraints of a traditional 9-to-5 has many perks—hello to being your own boss and living life on your own terms—but there is also much to consider with regards to managing every element of business. This is where automation software can add a great level of professionalism to your brand and meet the needs.
Conclusion
No successful marketer reached their peak overnight. It takes time to build your business, establish a strong foundation, and truly get your freelance marketing career going. It can take far less time, though, if you make use of the wisdom of those who have already been in your shoes. By staying on top of new trends in the field and constantly upskilling yourself and expanding your knowledge, you can ensure you stay ahead of the game when it comes to all things digital marketing.
Moreover, using a small business management platform like Indy can take away the daily stress and hassle of running a small business. While Indy's powerful automated software takes care of the daily admin, you can work on building your skillset, networking with new clients, and innovating in your field.
Frequently Asked Questions (FAQ's)
How much should I charge for freelance digital marketing?
Depending on your talents and expertise, most freelance marketers charge between $50 and $200 per hour.
The amount of money freelance marketers make is determined by a variety of factors, including the number of chargeable hours they work and their hourly rate. Other elements that may influence a freelance marketer's earnings include:
Your reputation and experience with other companies you've previously worked with
What nation you reside and work in
What job you are hired to do
Your ability to produce successful results, which are frequently determined by the profitability and return on investment (ROI) of a marketing effort.
Is digital marketing hard for beginners?
Fortunately, there are various online and in-person courses available that will teach you the fundamentals of the work and the necessary abilities.
Digital marketing is not difficult to understand, but it does require time, effort, and perseverance. If you're inexperienced with search engines, data analytics, or content management, you could feel a little overwhelmed at first, especially if you're learning digital marketing on your own.
Do I need a qualification to become a freelance digital marketer?
There are no specific educational requirements for digital marketing.
If you already have a degree in marketing or journalism, it may be useful. If you don't, you may enroll in a digital marketing upskilling program and then focus on obtaining experience, which is the most important factor.
Can I learn digital marketing skills online?
Completing online courses helps you develop your CV and demonstrate your enthusiasm for the industry.
Search engine optimization (SEO) or data analytics are common specializations in digital marketing courses. Digital marketing training is provided for three months at a Digital Marketing Institute. Even advanced courses take roughly six months to complete. You can decide how much time you want to devote to learning digital marketing.
Can you do digital marketing from home?
Many digital marketing jobs, like most tech jobs, allow you to work from home and provide greater benefits than other entry-level positions.
Jobs in digital marketing are one of the simplest methods for budding technology entrepreneurs to get started.
How do you know if freelancing is for you?
Unfortunately, there is no quick way to determine whether freelancing is right for you.
The first few months (or even years) of freelancing are nearly never easy. You must continue to work hard to establish your reputation and gain loyal customers.
If you want to test the waters of freelancing, consider taking on a couple of tasks alongside your full-time employment and only making the switch to freelancing when you're completely convinced the lifestyle is right for you. Remember that it's quite fine to change your mind if your priorities move or you're unhappy.
How can you get your first freelancing gig?
If you already have some expertise but aren't sure where to start, try networking. Reach out to LinkedIn friends or former coworkers, or browse the various sites that feature projects and tasks for freelance digital marketers.
If possible, get an internship to begin gaining experience as soon as possible. Whether paid or unpaid, you will develop valuable abilities that you will later need to run your own gigs.