Win clients over with
easy-to-use proposal software
Turn leads into clients. Create engaging, professional-looking proposals and estimates. Proposals is the only sales tool you need to secure and begin projects faster than ever.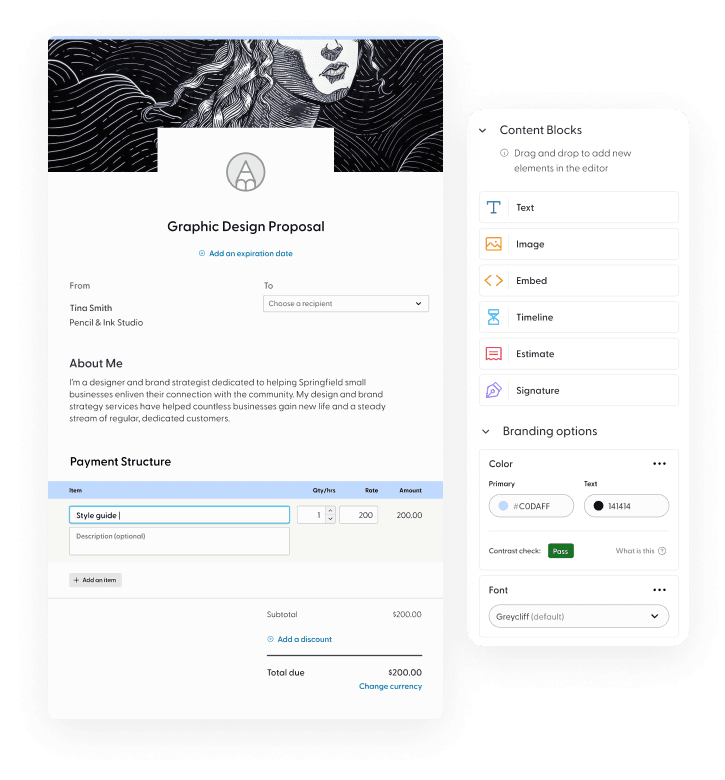 Simple yet powerful
A nice balance of features and functionality to help you focus on crafting an impactful proposal that wins you new business.
Start with a template
We have several proposal templates ready for you to get started. Just dive in and update the info as needed.
From estimate to invoice
An estimate you create in a proposal can automatically convert into an invoice when the proposal is accepted.
Monitor your proposals
Keep track of each proposal's status, including Draft, Sent, Read, and Approved. You'll know who you need to remind — resending is simple.
Create professional project proposals
Proposals are the foundation of any independent business wanting to gain more clients. Indy takes the guesswork out of creating a winning proposal by giving you a clear, easy-to-follow template that's ready to send in minutes.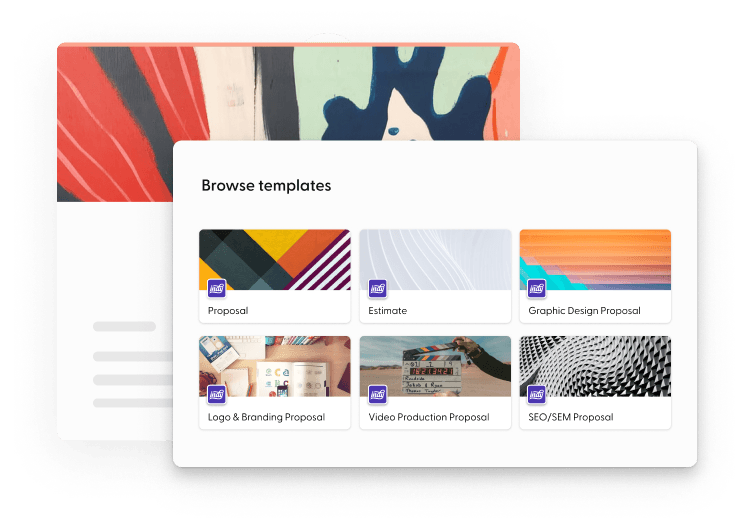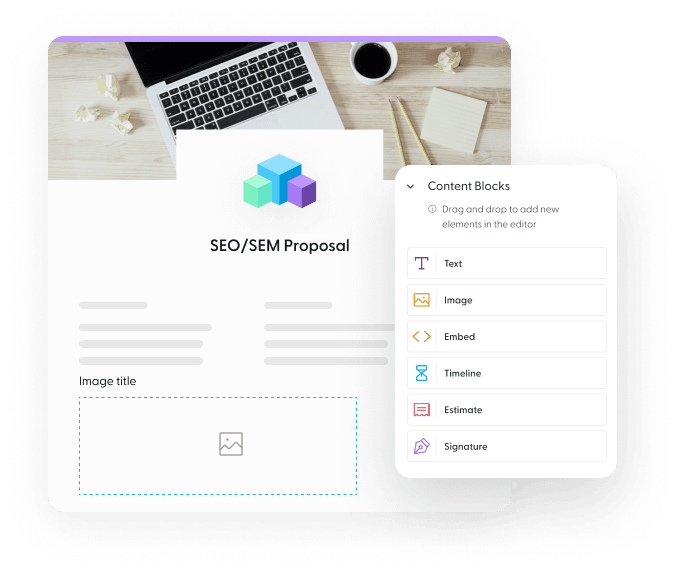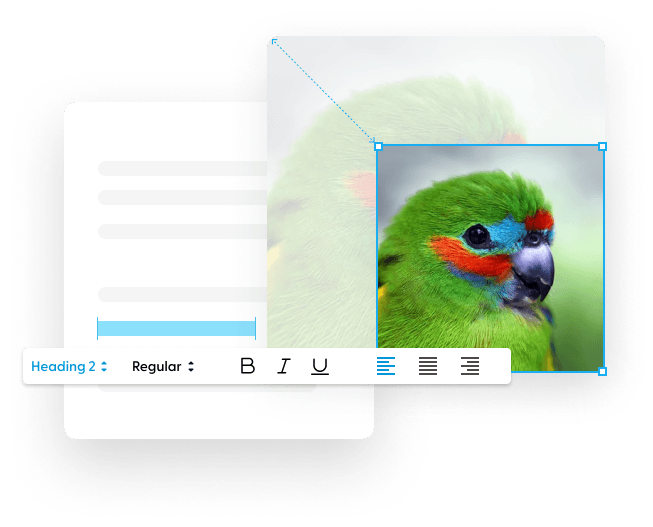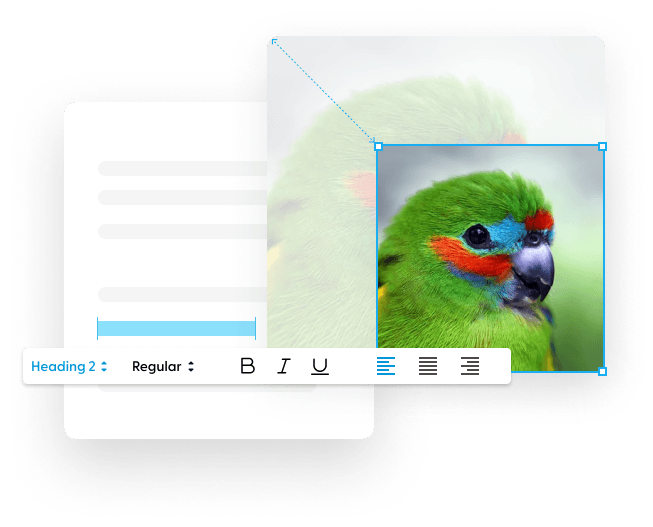 Customize the contents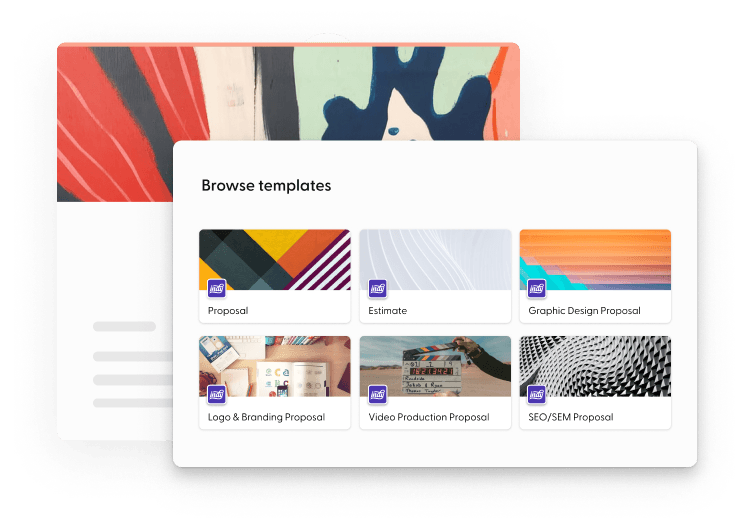 Choose your template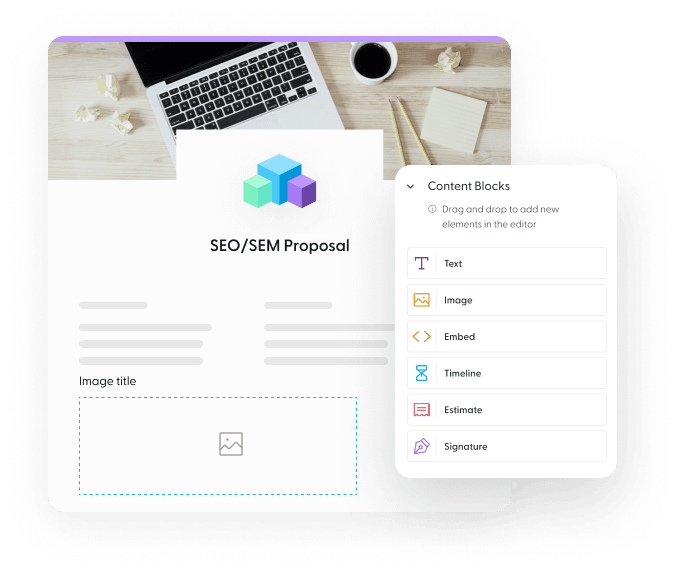 Add proposal elements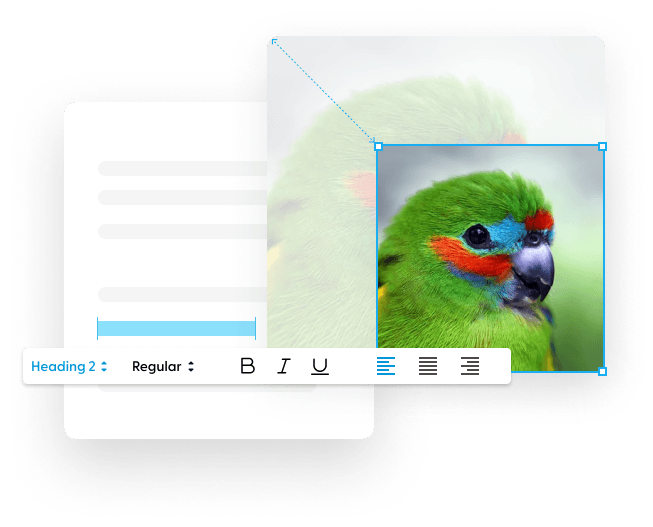 Customize the contents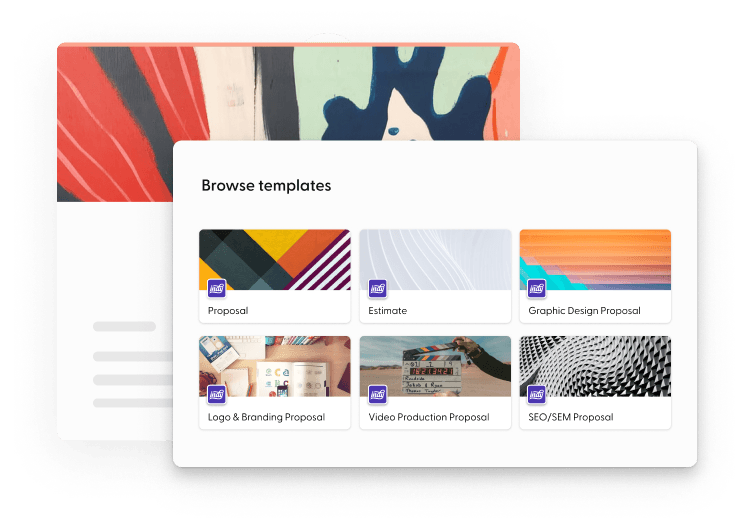 Choose your template
Fully customize your proposals
Developing a strong brand is half the battle of attracting clients and growing a healthy independent business. Build authority in your industry with stylish, professional proposals that put your brand front and center.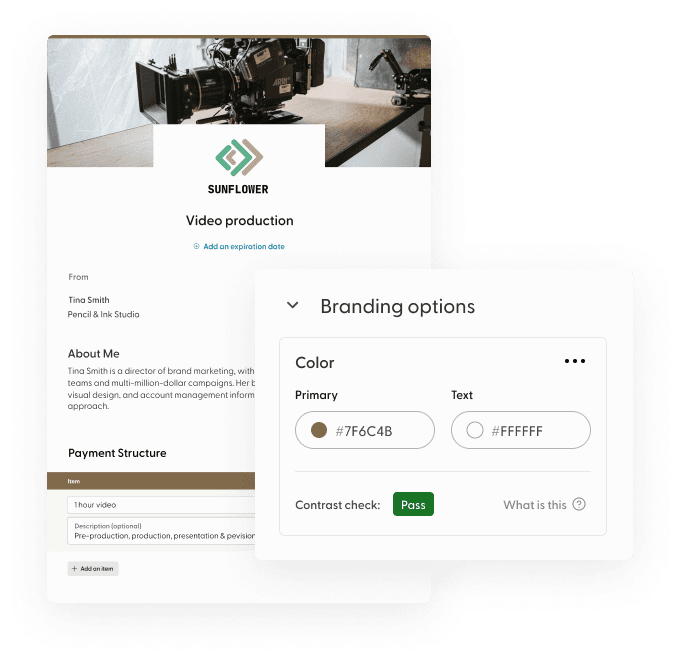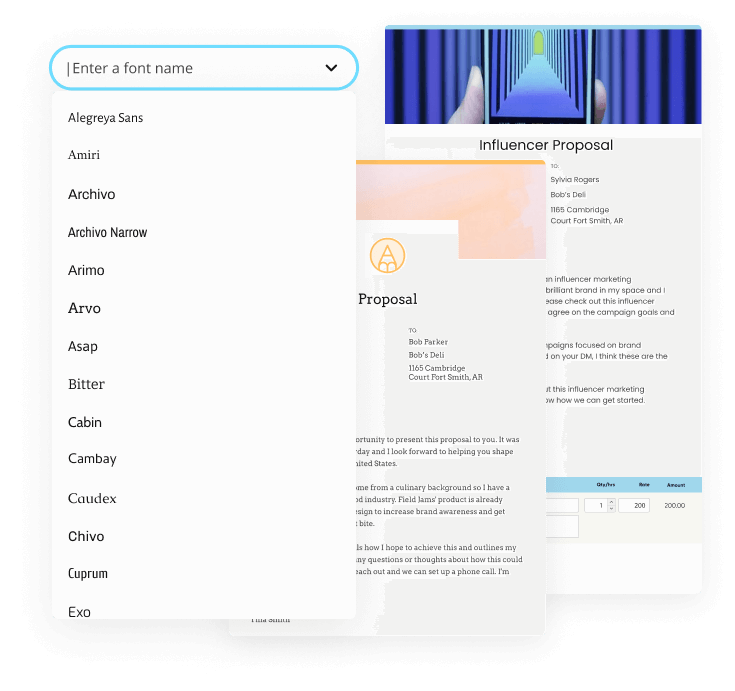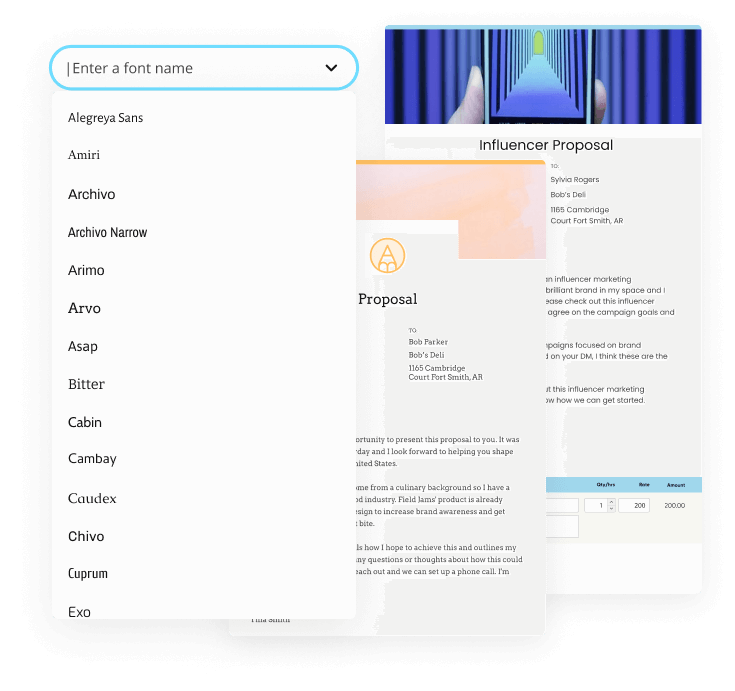 Choose from over 50 fonts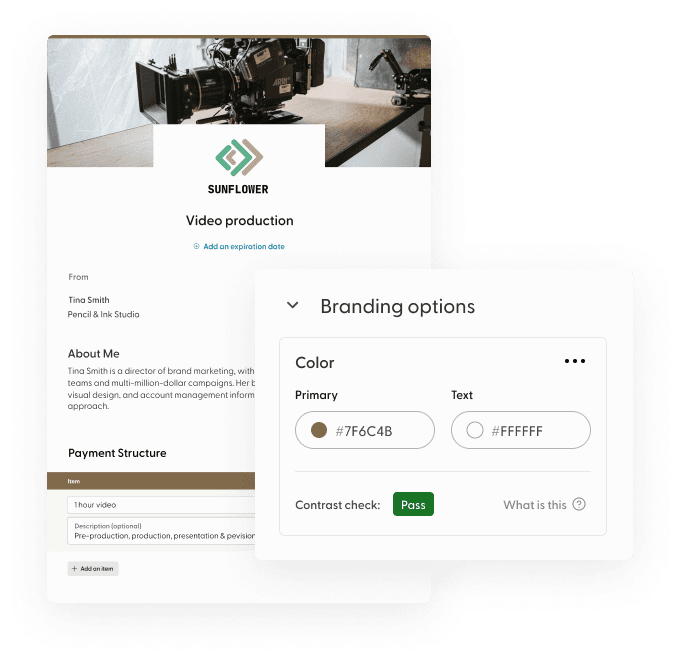 Add your logo and color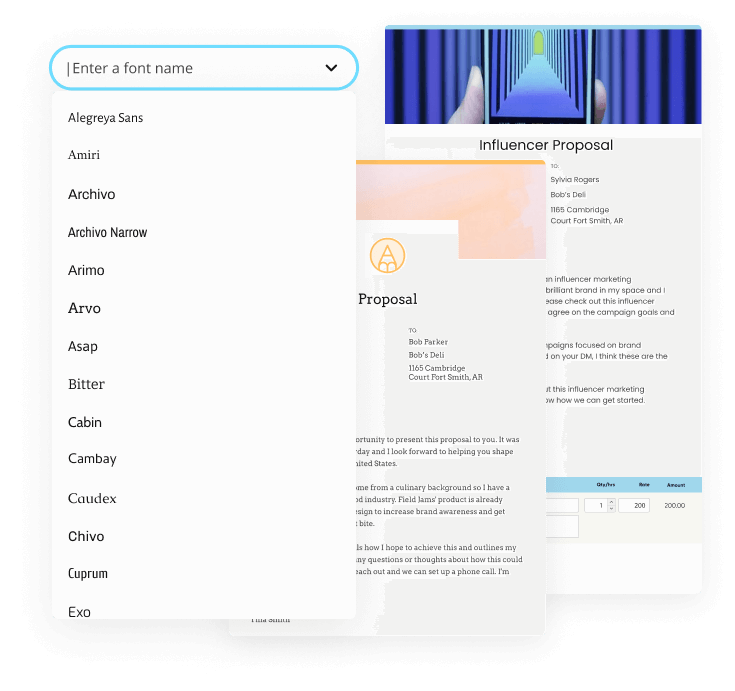 Choose from over 50 fonts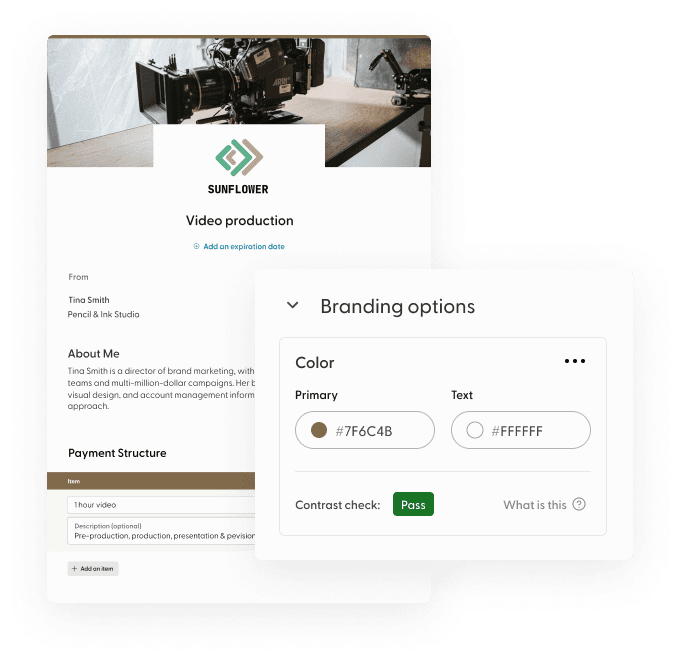 Add your logo and color
Drag-and-drop proposal design
Text

Image

Embed

Timeline

Estimate

Signature
Want to learn how to use these elements in action? See the
how to write a proposal
section near the end of this page.
Want to learn how to use these elements in action? See the
how to write a proposal
section near the end of this page.
Text
The essential building block of your proposals where all the valuable storytelling takes place.
Win new business
When it comes to winning new clients, proposals need to leave a lasting impression. With so many ways to customize your proposals, you can easily share your vision and have clients lining up to work with you.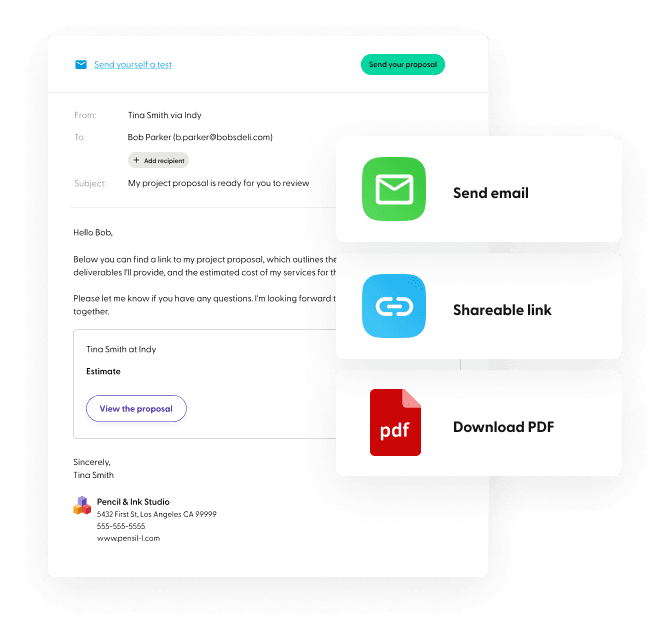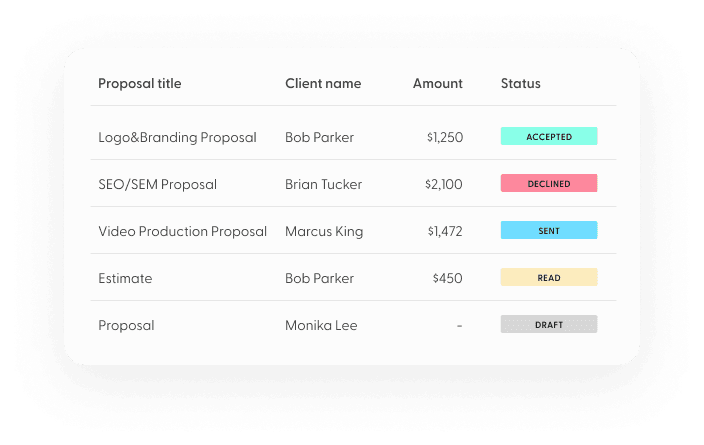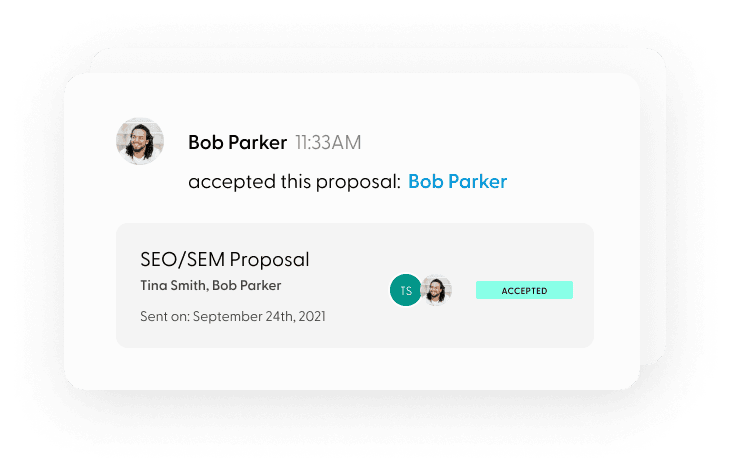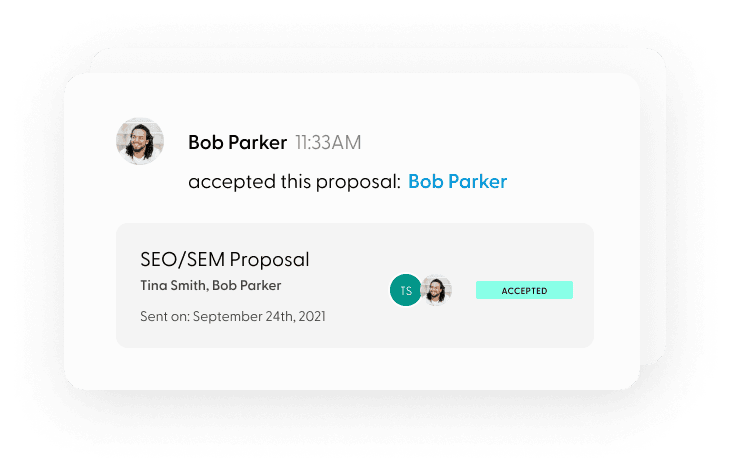 Watch the approvals roll in ✅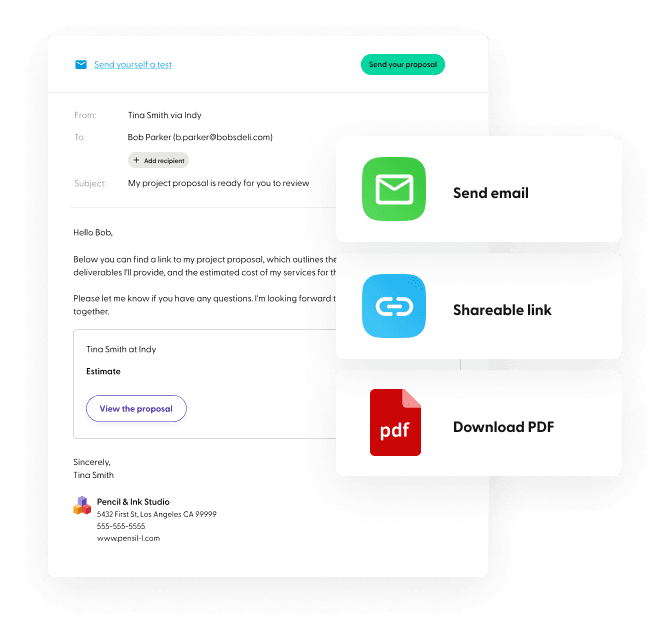 Send your proposal in just a few clicks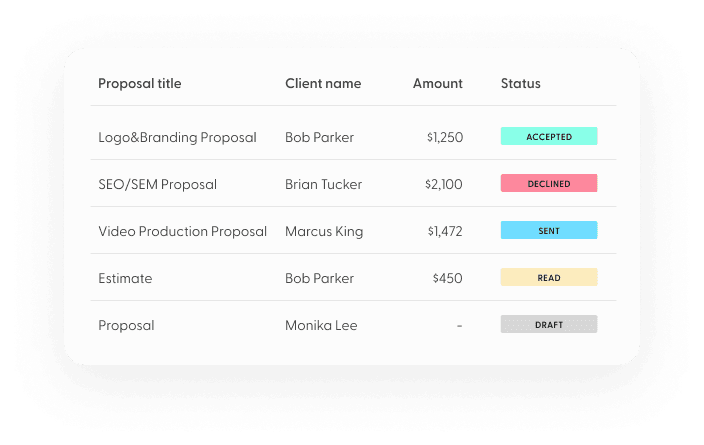 Monitor the status of each proposal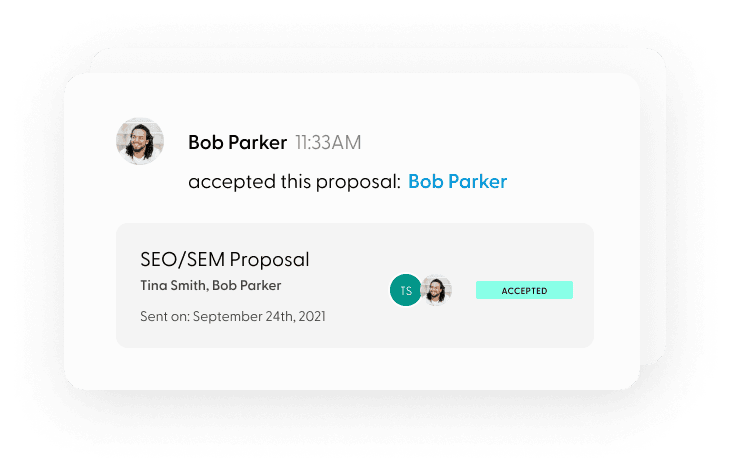 Watch the approvals roll in ✅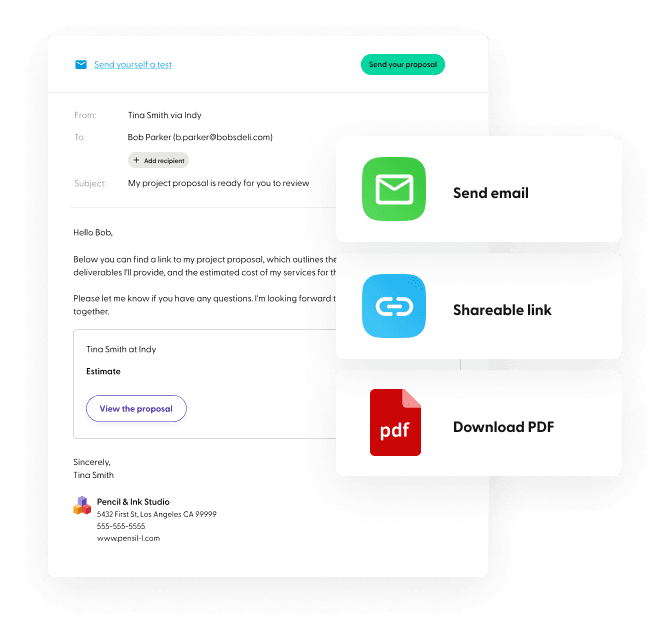 Send your proposal in just a few clicks
Response times are everything when onboarding new clients. Know the moment a client views and accepts a proposal with instant status updates, so you can secure their business and fast-track the next steps.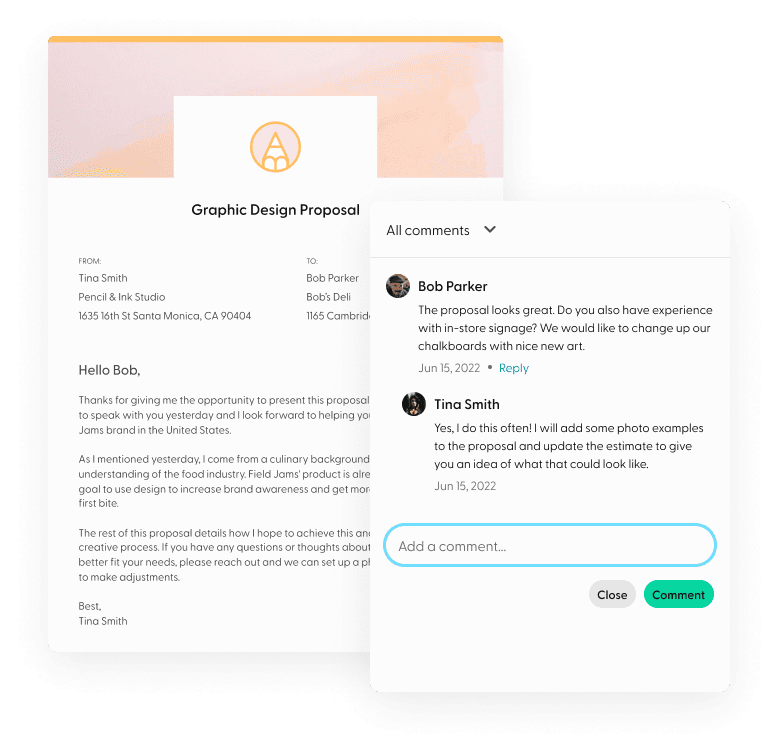 WHAT'S INCLUDED
Proposals and estimates made easy
Create proposals
Drag-and-drop proposal builder
Six available proposal elements: text, image, embed, timeline, estimate, signature
Give it a title
Set an expiration date
Include your logo
Add a cover image, add your brand color, and choose from over 50 fonts to customize your proposal
Create estimates
Add an estimate to a proposal, or just make an estimate without proposal content.
Set up your estimate to automatically convert to an invoice when it's approved.
Choose your payment currency with global currency support
Get approval
Send to your client straight from Indy in just a few clicks
Download your proposal as a PDF to send it however you want or just to keep it for your records
Manually mark as accepted
Automatic acceptance once both parties sign
Available templates
Proposal
Estimate
Graphic Design Proposal
Logo & Branding Proposal
Video Production Proposal
SEO/SEM Proposal
Virtual Assistant Proposal
Influencer Proposal
Marketing Proposal
... and more!
Intro letter
Kickoff your proposal with a nice letter to the client. Tell them a bit about yourself, why you're excited to work on this project with them, a basic overview of what's included in the proposal, and thank them for their interest in your services.
The problem
Clearly articulate what you understand the client's problem to be. What is it that they want you to help them solve?
The solution
Summarize how you plan to help them solve the problem. This is just a summary; in the next section, you'll go into more detail.
Scope of work
The basic scope of work template is to explain your process in detail by indicating the different steps you'll take to arrive at the solution. What is your process? Don't get too granular — that's boring, and your potential client likely isn't an expert at this anyway, which is why they're looking to hire you.
Timeline
It's often helpful for the client to get a sense of how long things will take. List out each item you presented in your scope of work and give an estimated range of how many days each phase will take.
Cost
"How much will this work cost me?" That's often one of the biggest questions clients have. Freelancers use different pricing methods for their services, such as by project phase or deliverable, by hour, or as a singular project price.
Terms
State the terms of the proposal, explaining that the document isn't legally binding — the contract is the legally binding document, and that will come next.
Signature
A signature isn't always required to get a proposal approved, but it's an option if you need it.
Images
Spruce up your proposal a bit with some imagery. Don't go too far with it; images should supplement the story you're telling in the proposal, not distract from it.
Engaging embeds
Embed a song from SoundCloud or Spotify, a video from YouTube or Vimeo, a moodboard from Pinterest, or your Calendly scheduler to give your lead the option to chat with you before they approve the proposal.
Testimonial
These can come across as too salesy, so use them sparingly. A well placed testimonial can reinforce for your potential client why they can feel comfortable hiring you.
Proposals FAQs
Why do freelancers need a proposal?
A proposal is the one thing standing between you and getting freelance work. But what is it? Proposals help state a client's problem, propose how you can provide the solution, share your qualifications, and the price for your services. In short, a well-crafted proposal increases your chance of winning a client. Although sending a proposal is an essential part of a freelancer's workflow, it also happens to be one of the more tedious tasks bogging freelancers down. That's why we created a faster way with Proposals.
How can Indy help with proposal creation?
Indy's proposal templates give you an outline to speed up the creation process. You can design your proposal using content blocks. Just fill in the fields with yours and your client's information. After that, it's up to you how detailed you get. Our templates have all of the essential elements that you can leave as is or tweak to meet your needs. Add additional text or images, or even embed elements right into the proposal—from YouTube videos to Twitter posts to meeting booking with Calendly—anything you think will sell your services and you. Need to rearrange anything? You can add, delete, or move content blocks with drag-and-drop ease. It's your proposal, your choice.
How can I send a proposal to a client?
When you finish creating a proposal, you can click preview to see how the proposal will look for clients. Everything looks good? Perfect! You can move on to the review process to personalize an email to potential clients. Once you send the email, the proposal will show up in their inbox. You'll be notified once the proposal has been read and approved. Boom! Congratulations on pitching your next client (and you didn't even break a sweat).
How does the proposal approval process work?
Clients can approve proposals with just a few clicks. They'll have the option to accept or decline. Or, leave comments with any questions or feedback for you to answer. Landed the job? Great! You'll be notified as soon as a client approves your proposal. Time to crack the knuckles and let the work begin!
How do I create proposals specific to my profession?
We provide templates for over a dozen professions that have been carefully crafted to help give you a head start, as well as a standard proposal template you can use. To help make your proposal look engaging and personalized, templates come with a header image already added; you can swap it out with your own image if you'd like.
Do Proposals integrate with Indy's other tools?
Yes, they do! Proposals seamlessly integrate with another one of Indy's popular tools: Invoices. As soon as the proposal gets accepted, an invoice can automatically generate based on the contents of the estimate. This lets you skip a step when invoicing, saving you even more time. Why complete the same task twice? With Indy, you won't have to. Just sit back, take a sip of your latte, and let Indy take care of it.
Can I customize Indy's proposal templates?
Customize away! Sending a professional proposal is often the first impression clients will have of you, so giving you the freedom to customize proposals is really important to us. The proposal header lets you start strong by adding a catchy title, your business logo, and a background image that captures your brand. Other branding options include the ability to select your business colors and font style to make your proposals shine.
Does Indy have free business proposal software?
Yes! Indy's online proposal software is free to use. Just sign up for an Indy account to create and send 3 free proposals per month. You can even customize business proposals with your business logo, fonts, and colors, and by embedding songs, videos, social media profiles, and more to help share your vision with clients and make your proposals stand out. For unlimited proposals, advanced functionality, and additional time-saving features (like automating follow-up emails to clients), you can sign up for Indy Pro for just $9/month with the annual plan. Check out Indy Pro's 7-day free trial and see how it makes the proposal process a breeze.
Can I automate my proposals with Indy?
Absolutely! While our free business proposal software helps you create proposals in just minutes, you can save even more time on administrative tasks like sending follow-up emails to clients. Indy's workflow automations and Zapier integration can be found in Indy Pro.
Does Indy provide free proposal templates?
Definitely! Indy has free business proposal templates that you can use for your independent business. While you won't get flexible proposal features like branding options, customization, or the ability to edit the contents of the proposal, you can download a non-editable PDF proposal template that's free of charge. However, we recommend creating a free account with Indy. Not only will you get access to free proposal templates, but you'll also get the option to edit the proposals and customize how they look. You'll even get the ability to monitor the status of proposals so you'll know the minute they get viewed and approved. Indy's Free plan is free forever, so what do you have to lose? Try it out today and start creating beautiful proposal templates in minutes!
Who should use online proposal software?
Proposals should be used by anyone who owns an independent business and is trying to get clients! Business proposals are like a resume for freelancers, entrepreneurs, startups, and small business owners, and therefore, are the key to getting clients. Proposal software makes it easier to create winning proposals, giving you all the tools you need to create, customize, and send in just minutes. This means you can pitch clients quickly, grow your business faster, and eliminate client "dry spells" by sending a steady stream of proposals each week.
What do you put in a proposal?
Here are the essential elements every proposal should have:
Introduction: An executive summary stating who you are and outlining what the prospective client can expect from the rest of the proposal.
Project Description: Describe the project that you are proposing.
Client's Problem: State the client's problem that you are trying to solve.
Your Solution: Propose your solution that will solve the client's problem.
Scope of Work: Detail the objectives of the project, the deadline, and the deliverables.
Estimate: State how much you are charging for each deliverable.
Agreement: A section that lets your client sign off on the proposal, showing that they agree to work with you. Important note: You will still need to send a contract to make this a binding agreement.
Proposal management software makes this process easier by giving you a template. All you have to do is fill it in and send it off in minutes!