Win more jobs

with professional business Proposal Templates from Indy.
Create a beautiful proposal template, customize it in minutes, and impress your potential clients with a professional proposal. Sign up for an Indy account to access all our proposal templates. Enter your email below to join Indy for free.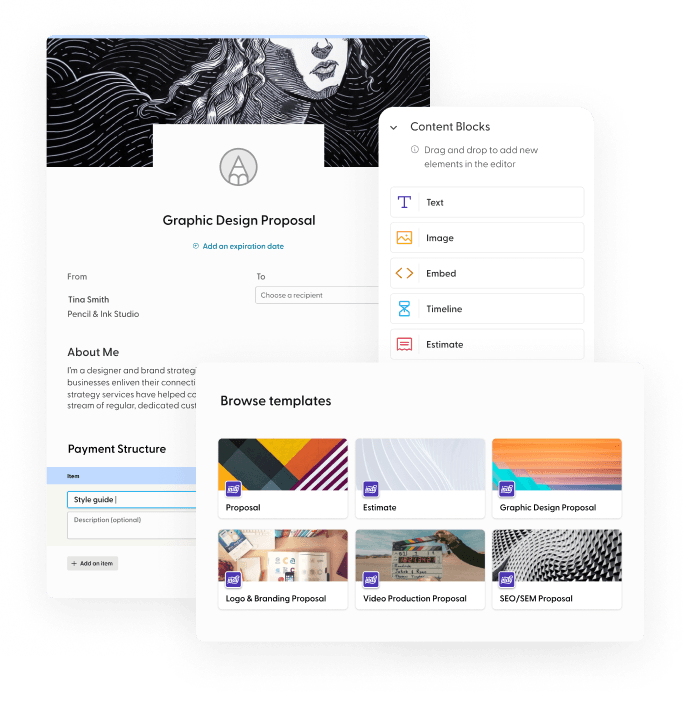 Read on to discover how effectively using proposals can help you get more clients and grow your freelance business.
If you're in a hurry, click here to jump straight to the proposal templates.
Stand out and close deals faster with Indy's customizable proposals!
Templates make a good starting point, but the key to gaining clients is to stand out from the crowd. Indy's proposal builder helps you close deals faster by letting you quickly customize proposals to your prospective client's needs, turning cookie-cutter templates into professional, winning proposals that you can use again and again.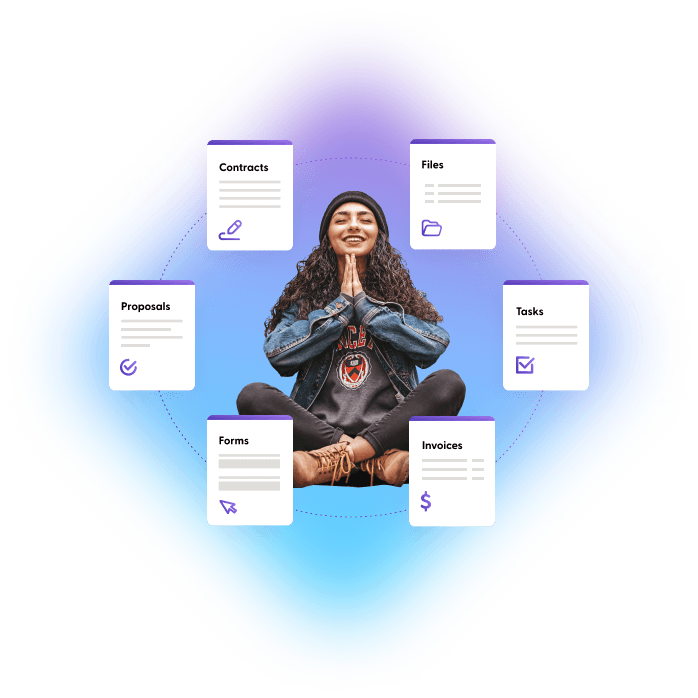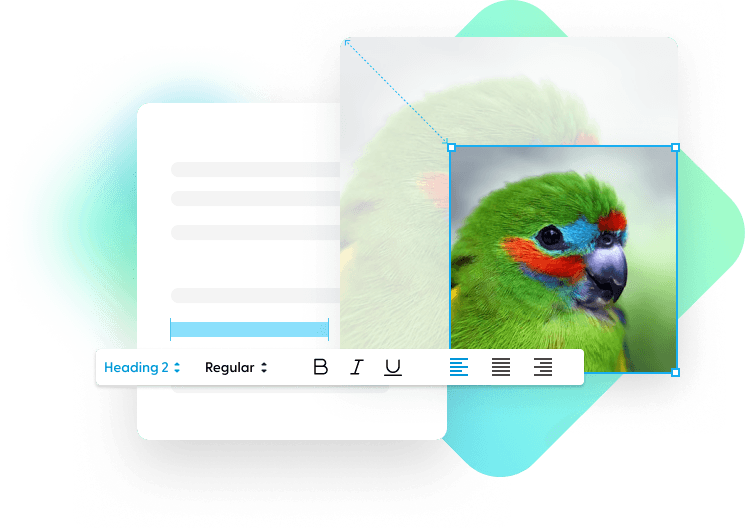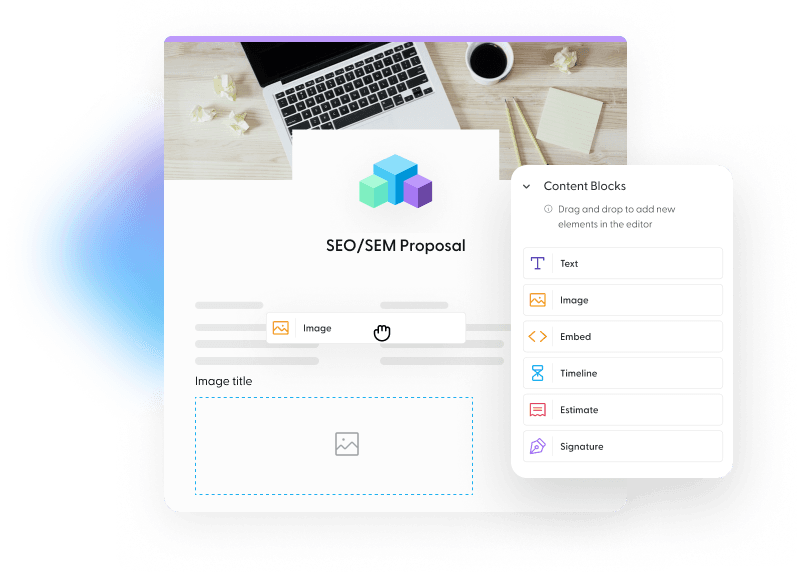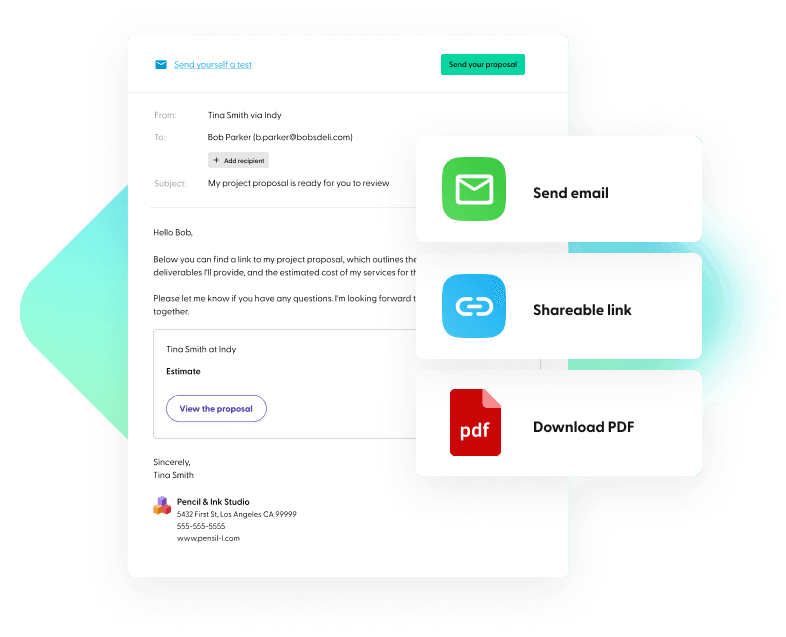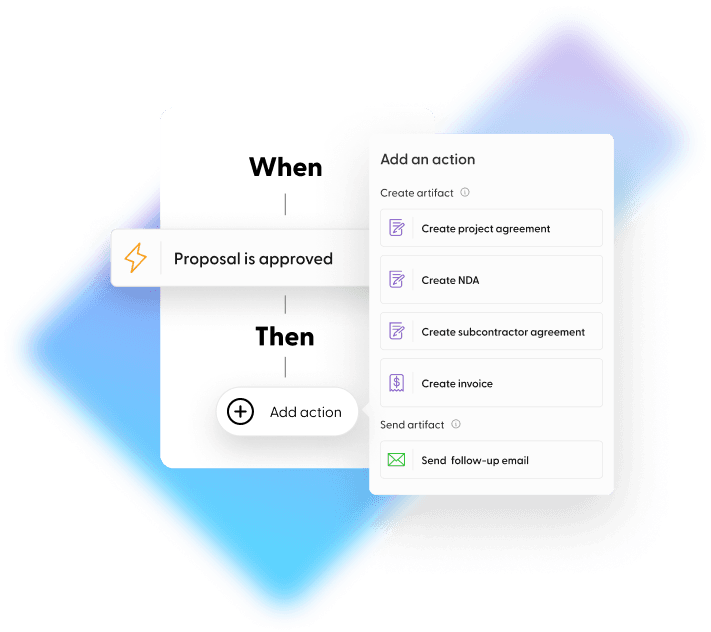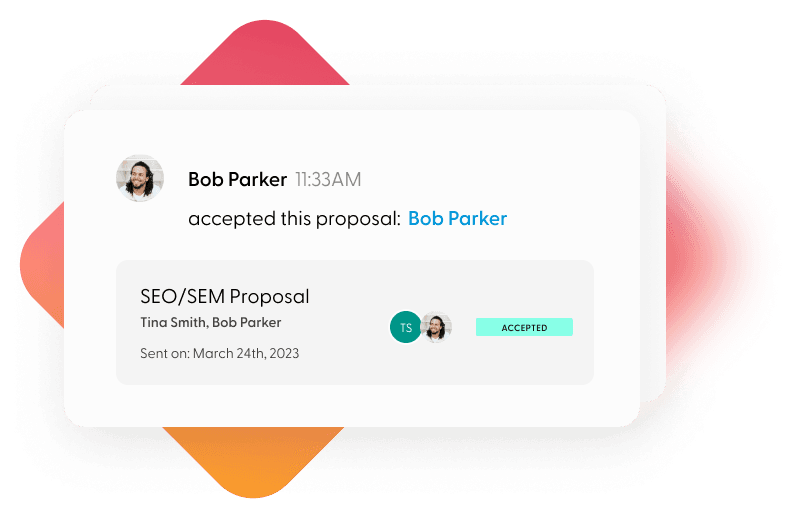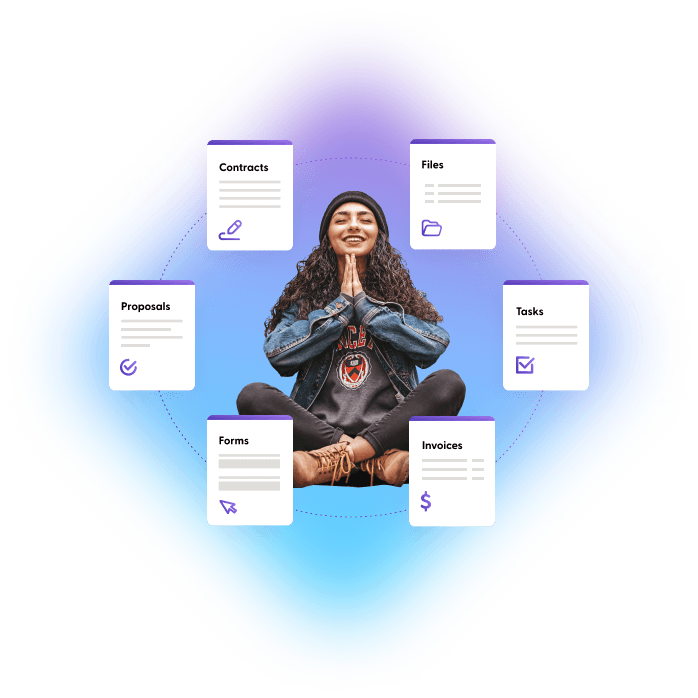 Sign up for a free Indy account
Creating an Indy account is fast and free. Just click below and get access to Indy's proposal builder to create a professional proposal in minutes. Plus, get all the other tools you need to manage your freelance business from start to finish, including contracts, forms, invoices, and task management.
Create an account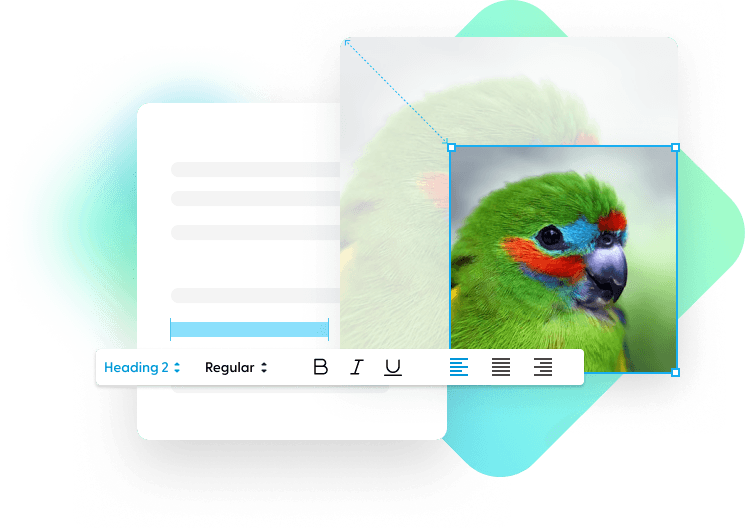 Launch Indy's proposal builder
Start creating proposals with just a click. The proposal builder lets you create highly personalized proposals that stand out from simple templates, leaving a lasting impression on prospective clients.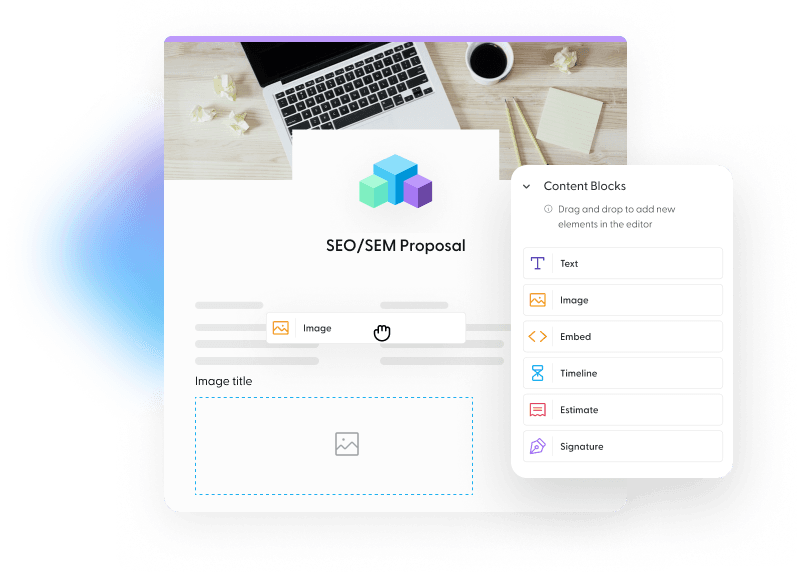 Edit proposals with drag-and-drop content blocks
Content blocks give you full control over how your proposals look and read. Drag and drop the content blocks you need and arrange them in any order to create an eye-catching proposal.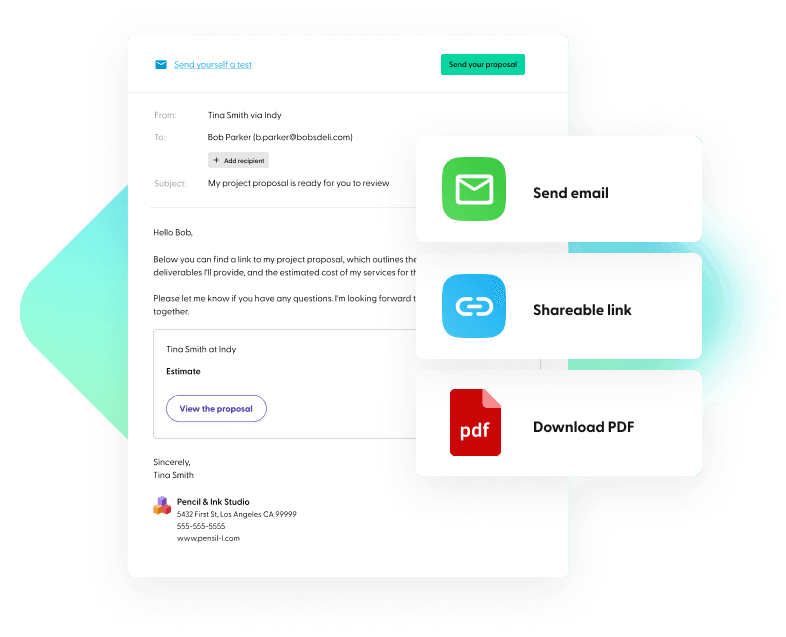 Send it to prospects with just a click
Indy's proposal builder streamlines your workflow and gives you more flexibility in how you send proposals. Preview, edit, and send without cluttering up your email inbox. Keep all of your client messages in a centralized workspace and know the second your proposal gets read and approved.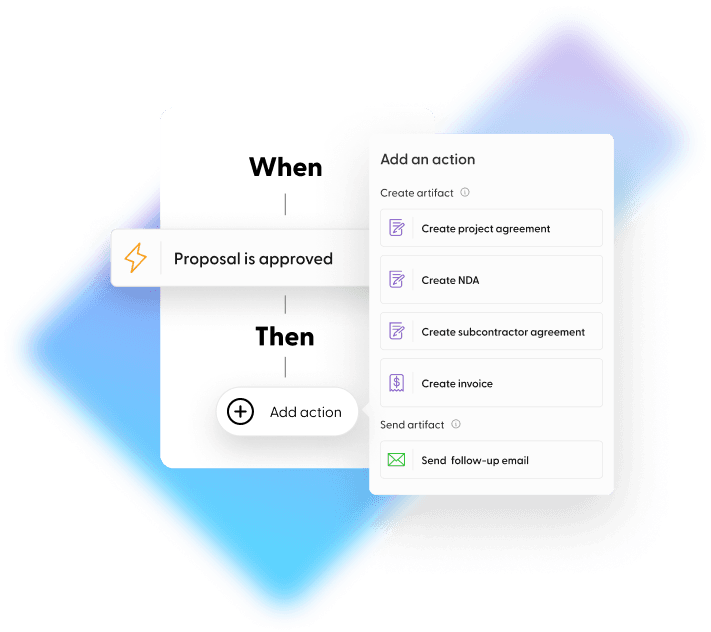 Saving countless hours with automation
With workflow automation, you can send automated follow-up messages, contracts, and invoices to clients the moment they respond.
Not sure what to write? No problem! Indy's AI-powered Digital Assistant generates a first draft of any text block with just a click.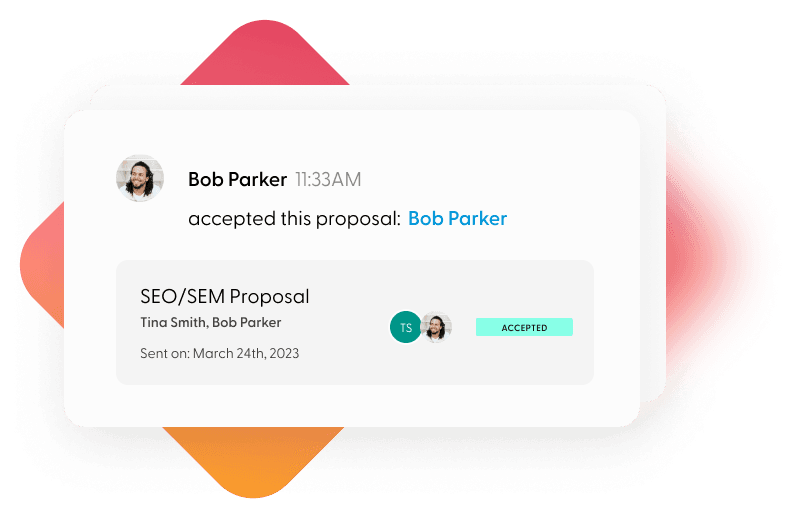 Gain more clients and grow!🎉
Save your templates, send them to all of your prospects, and watch your business grow faster with Indy's proposal tool.
Why Indy?
Your work may start with sending a proposal, but it doesn't end there. Sign up for Indy to manage all your admin in one place.
Seal the deal with legally vetted contracts that protect your work, time, and money.
Manage your tasks and clients with simple yet powerful to-do lists and boards.
Record your time automatically and track which hours have been paid or need to be billed.
Get paid fast with invoices and accept multiple payment methods right through Indy.
Get a bird's-eye view of everything due with a personal command center that monitors the status of your proposals, contracts, tasks, and invoices.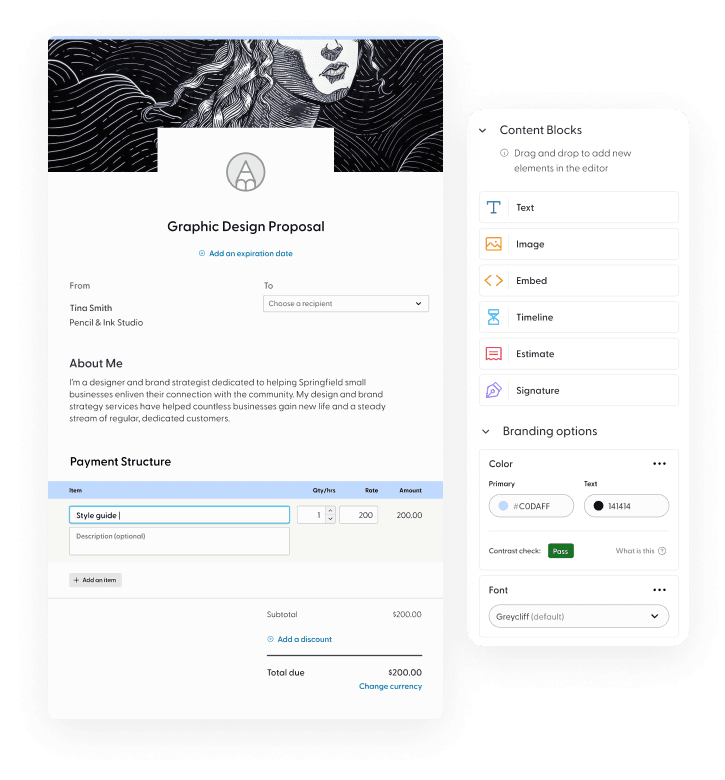 Proposal Template FAQs
A proposal template is a document that helps you make sure you have the right elements included in the proposal you're preparing. The proposal templates we provide contain common sections such as contact information, job details, and costs. Some areas are pre-filled to save time. You can easily add or modify information to complete the proposal.
Create a blank proposal template by adding blocks of information to a document. You should generally include these sections:
Header with Logo, Company Name, and Branding
Contact Information
Introduction or Cover Letter
Description of Services
Timeline for Delivery
Costs
Signatures
Once you have these bits of content in place, you can always add additional content blocks if you wish to make your proposal truly stand out. A proposal is a powerful sales tool; being creative with it can make a big difference.
Instead of doing this manually, you can use our Proposal Templates to get started with a document that contains these sections, properly formatted and ready for customization.
Proposal templates save you time and money. They save you time because you don't have to recreate your work every time you need a new proposal. They save you money because you do less admin and more paid work. Templates can also ensure you deliver professional proposals every time.
There are many potential sections to include in your template, and you will need specific information about your industry. Here are the general sections every template needs:
Header with Logo, Company Name, and Branding
Contact Information
Introduction or Cover Letter
Description of Services
Timeline for Delivery
Costs
Signatures
Specific information about your work can be added in the description of services section or as an additional section. Many people also choose to add customer testimonials and a "Why Choose Us?" section.
We have ten proposal templates now and are building more all the time. Our goal is to make it as easy as possible for you to spend less time on admin and more time on paid work. So, if you want a proposal template for your industry and can't find one, send us a message and we'll deliver it to you.
Simply select a template and get started. When you open the template, you will see content already added to the document. You can edit the content by clicking on the relevant section. There is a button to add your logo and branding to the document. Finally, if you want extra information, there are easy-to-use tools for adding other elements, such as:
Text and images
Timelines
Estimates with line items
Embedded code to connect to services like Facebook, LinkedIn, and Calendly
You can use all these tools to create a smart, professional proposal template.
Yes, you can use our proposal templates free of charge. However, Indy is a complete platform for managing your admin workflow. So, you can start with a proposal template, add your customer information, use your template to generate a contract, receive e-signatures for your contracts, track your time spent on the project with Indy's Time Tracker, and then create a professional invoice in seconds using our Invoices tool. With an Indy subscription, your business admin will be easier than ever.
There are three key benefits:
You can create a beautiful template that is usable over and over again to maintain a professional image.
You will save time when you need to create a new proposal because most of the design work will already be finished.
You can link to other Indy tools to set up an easy workflow for all your business admin, making your freelancing life better.