SWOT analysis is an excellent tool for freelancers, both for projects and personal growth. SWOT stands for strengths, weaknesses, opportunities and threats. It is a technique that is used in many ways – identifying a company's competitive position, helping with individual career growth, or leveraging for your clients. In this article we will look at SWOT analyses for businesses, but any of these templates can be applied for different use cases.
And once you're done with your SWOT analysis, you can apply your learnings to all aspects of your work. For example, if creating a client contract is something you've struggled with in the past, use this opportunity to check out Indy's contract tool and create, send, and sign contracts in minutes.
Internal Factors
Strengths and weaknesses are made of what's happening in a company internally. Every company will have its own unique strengths and weaknesses. The internal factors are able to be influenced by changes made within the organization, where opportunities and threats are not able to be changed.
Strengths
Strengths are the internal advantages a company has over its competitors and other organizations. These are powers and strong points of the organization. These can be the company's resources, man power, strong management, distribution channel or any competitive edge.
Weaknesses
Weaknesses are the part of the organization where the company is lacking. These are the points which needed to be improved. It can be any deficiencies like lack of funds, quality issues, employee's motivations, poor marketing etc.
External Factors
Opportunities and threats are external changes and obstacles that are prevailing in the market. These are the same for all companies in a specific market or industry. It is up to the company to find opportunities and diminish threats.
Opportunities
Opportunities are the market or industry conditions that turn out to be beneficial for the organization. These can be any unexplored niche, any new government policy, any new technology or any distribution facility ease.
Threats
Threats are obstacles that will negatively affect the organization. It can be any external circumstances that could harm the current position. It can be changed in technology, tax imposition, import increase or export decrement, change in demand or consumer behavior etc.
Take the pain out of managing your freelance business
Indy — Easy-to-use tools to help you manage your independent business from contract creation to invoicing and getting paid, and everything in between. Start for free.
Templates of SWOT Analysis for Freelancer
Below we've included a lot of different templates for you to use for business or personal use. Click the links below to be directed to Google Docs and make a copy of the template.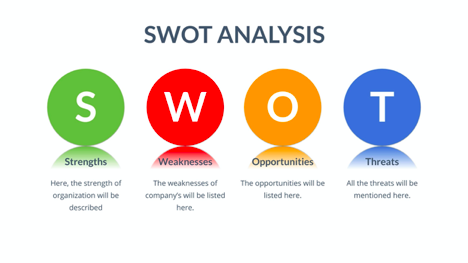 Click here to get this SWOT Template in Google Slides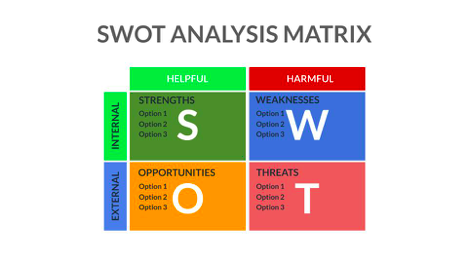 Click here to get the SWOT Matrix Template in Google Slides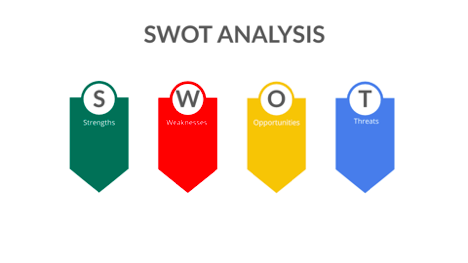 Click here to get this SWOT Analysis Template in Google Slides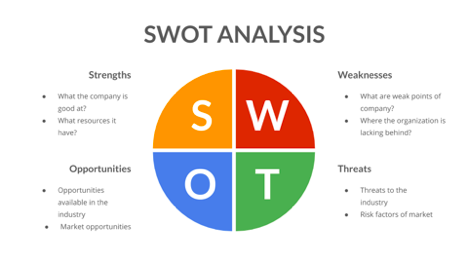 Click here to get this SWOT Analysis Template
SWOT ANALYSIS MATRIX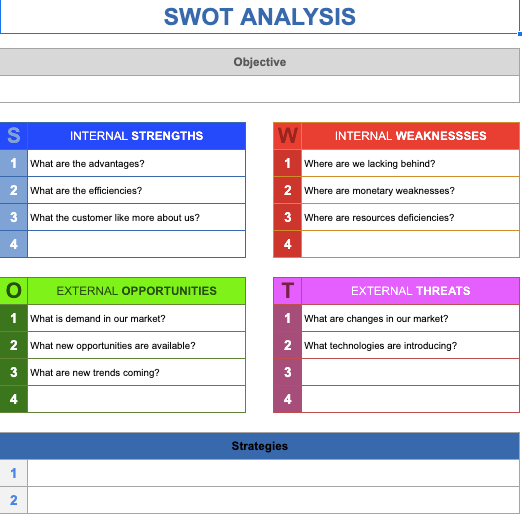 Click here to get this SWOT Analysis Template in Google Sheets
SWOT Analysis Strategic Template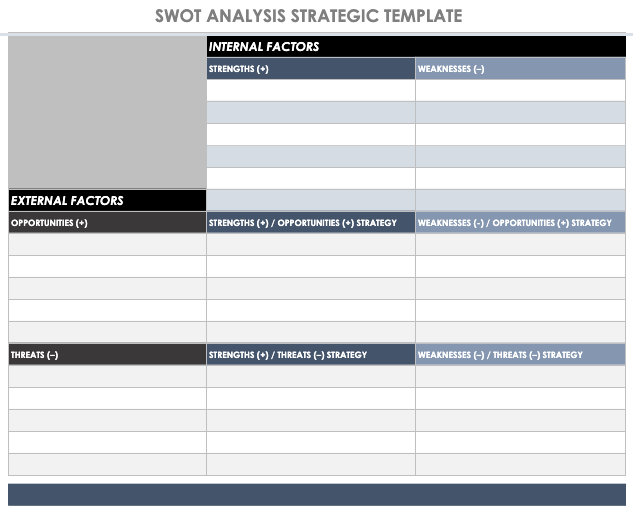 Click here to get the SWOT Analysis Strategic Template in Google Sheets
SWOT Analysis & Competitors Analysis
This template gives the option to do SWOT Analysis and competitors analysis simultaneously. In this the consultant has to identify and note down the strengths and weaknesses of his organization and competitors, then identify opportunities and threats.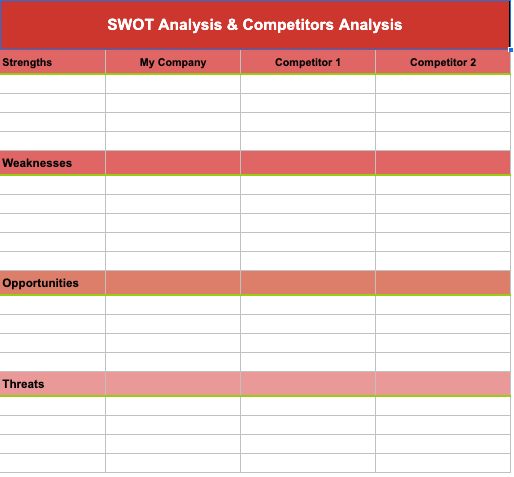 Click here to get the SWOT & Competitor Analysis in Google Sheets
SWOT Analysis Pyramid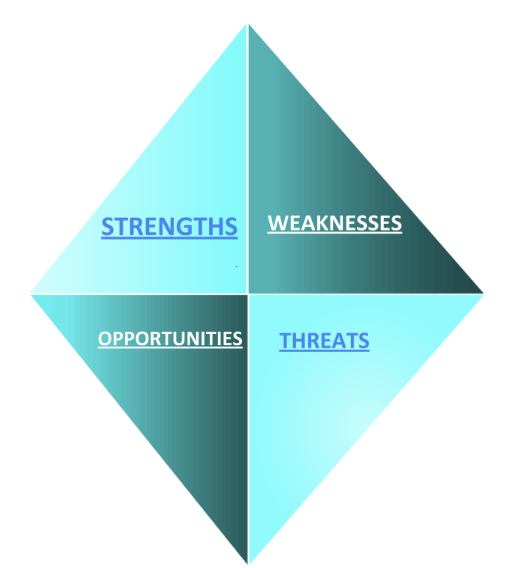 Click here to get the SWOT Pyramid in Google Docs
Business SWOT Analysis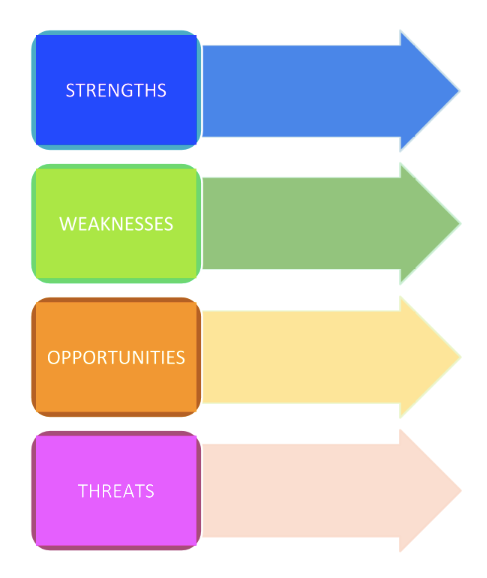 Click here to get the Business SWOT Template in Google Docs
SWOT Analysis Matrix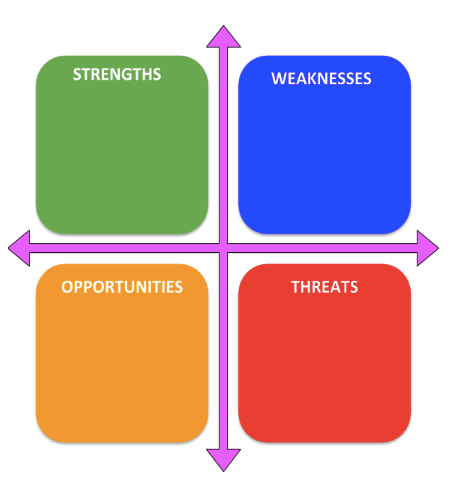 Click here to get the SWOT Analysis Matrix in Google Docs