A graphic designer retainer contract is a recurring contract that is not based on the number of hours worked, but the availability of the freelancer over a period of time.
Retainer contracts for graphic designers have multiple advantages for both clients and freelancers because they provide consistency on both ends.
As a freelancer, you have the opportunity to have a stable income and client work so you can plan ahead and better understand your bandwidth for bringing in new clients. Indy can help you create contracts with our contracts tool that you can try for free here.
Types of Graphic Design Retainer Contracts
There are several different types of retainer contracts, and these should be negotiated with your client depending on what you offer and the services that are needed. We've included a few examples below that are a great starting point.
Traditional Retainer: A traditional retainer is a set payment to work either a fixed amount of hours or complete a certain amount of projects. This can be 10 hours a month for graphic design support or 3 completed landing pages per month for an agreed upon rate.
Rolling Hours: Some retainer contracts are based on a certain amount of hours that are counted over the month. If there are any unused hours, they roll over to the next month. This is less common than other retainers and we would not recommend going this route if you're able to avoid it.
Access to an Expert: Other retainer contracts are focused on value and not the specific amount of hours worked. This is mostly to have an expert on call to be available to answer questions or help support the team when it's needed.
Once you have agreed to a specific type of retainer contract, there is certain information that should be included within the contract.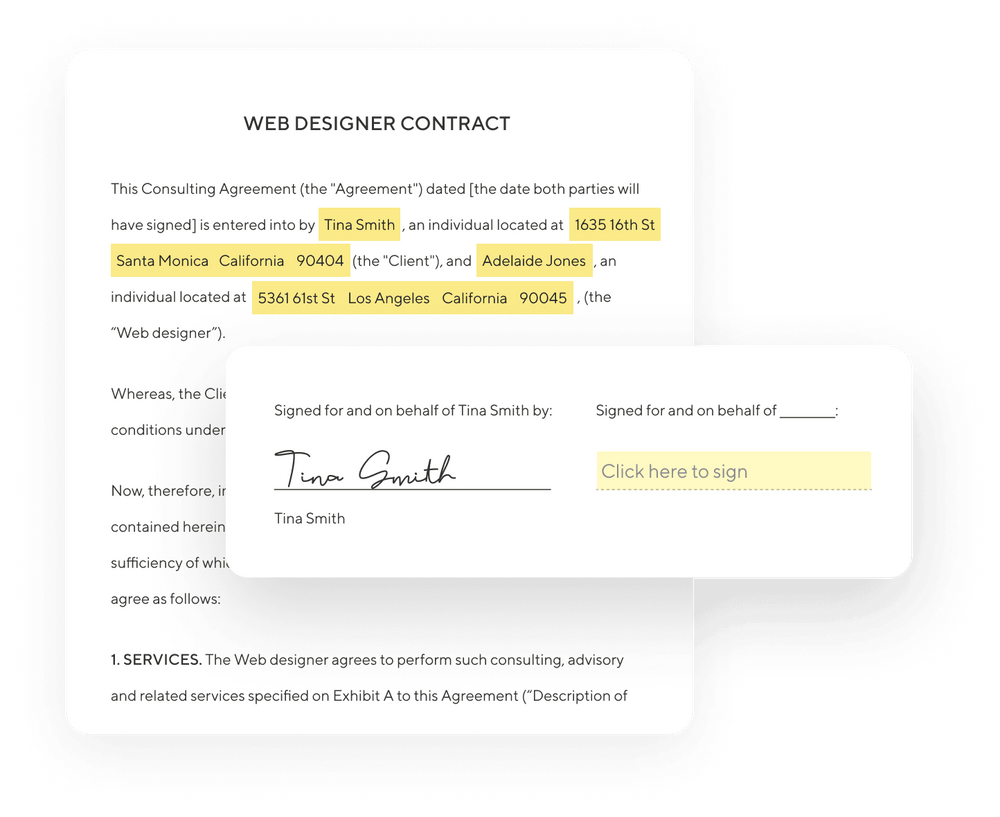 Ready to sign your next client?
You can build trust with the Contracts tool from Indy. Start with an industry-specific contract template, add your own terms, and send it off to be signed.
Try Indy for free
What to include in a retainer agreement
Money, Honey
Make sure you outline the amount of money that will be paid and how often you will be paid. Include any additional information on who is responsible for expenses related to the project and any other possible reimbursements.
Services & Statement of Work
Here's where you outline what exactly you'll be performing. If the retainer contract is on an hourly basis, you can be vaguer on the type of graphic design services you're offering. If the retainer is for a specific task, outline it in more detail, so you're protected in case of scope creep.
Ending or Renewing
Having an end to the contract can give you an opportunity to renegotiate your rates in the future. Other areas to keep in mind are If either you or your client needs to end the contract before it expires. How much notice is needed to end the contract? Thirty days is a standard amount, which gives both you or your client enough leeway to replace the work.
Dealing with Change
Another area that is good to offer protection for yourself is outlining in the contract what happens if there is a change in scope. If more hours are needed consistently, what is the process for changing the retainer to include the additional work? What happens if less time is needed?
Finding a Retainer Contract Template
After you and your client have consented to all of the different terms, it's time to put those all together in a contract. You can easily create and send a graphic designer retainer contract for free with Indy and have your client e-sign.
Click here to create your first contract.
Show Your Worth
Once the contract has been executed on both ends, the work begins! Make sure you're continuing to show your value to your client and why them hiring you on a retainer basis is great for their business.