Congratulations on getting your first freelancing gig! You got the client, made a contract, and executed the work, and now it's time to finally invoice. Yay! Except, small problem, you've never actually created or sent an invoice. It's okay, we've got you fam.
In this article, we'll highlight all the things you need to include in your invoices, give you some examples to get started and show you the ins and outs of invoicing via email. (And, shameless self-plug, you can sign up for Indy for free to fill in an invoice template and get paid all in one go. Good deal, right?!)
How to Write Your First Freelancing Invoice
First things first: how do you create an invoice? It's actually surprisingly simple, and once you have a uniform template, you can tweak it each month or billing period however you need.
What to Include in Every Business Invoice
You'll have the same general pieces in every invoice, and they should include:
Company Information and Customer Information
This is simple and straightforward. On the top of your invoice, you should include information on yourself and your client. Both of your names, addresses, and phone numbers can be included here.
Date of the Invoice
Include the date the invoice is being sent. This will be the official date that the payment terms go off of - for example if your payment terms are net 14 or net 30, the count begins on the date the invoice was delivered.
Invoice Number
The invoice number on freelancing invoices and all invoices are important because it makes it an easy way to keep track and reference the invoices if payments haven't come in. These are typically counted chronologically, so start with one and move up from there, but be sure not to duplicate the same invoice number for multiple clients.
Description of Services as Line Items
The description of services is what you accomplished during the project. This information will vary if you're charging your client per hour or per project. For hourly breakdowns, giving an overview of what you worked on during the hours is considered standard.
For projects where there was a specific deliverable for a total cost, you can broadly outline what you did during that time, similarly to the way you outlined it within your contract and the associated cost.
Cost
The cost can either be an hourly rate or a per-project fee. This is simply the dollar value of each project or task, and it goes in tandem with the description of services.
Invoice Payment Terms, Payment Instructions, and Due Date
The last items to be sure to include are the payment options, terms, and due date. Payment terms are how many days the client has to pay the invoice, like net 15, net 30, etc., and may also include information on any late fees that may be established.
The payment options are the different ways you'll accept payment. Would you prefer to be paid through PayPal, wire transfer, Venmo, etc., and if it wasn't outlined in the contract, who is responsible for payment fees, if applicable?
The last area is the due date. This is typically based around the terms and laid out for convenience and ease.
Invoice Example
We don't want to leave you hanging, so we've included some invoice examples so you can better understand what this looks like. And don't forget, you can click here to use this template on your own for free.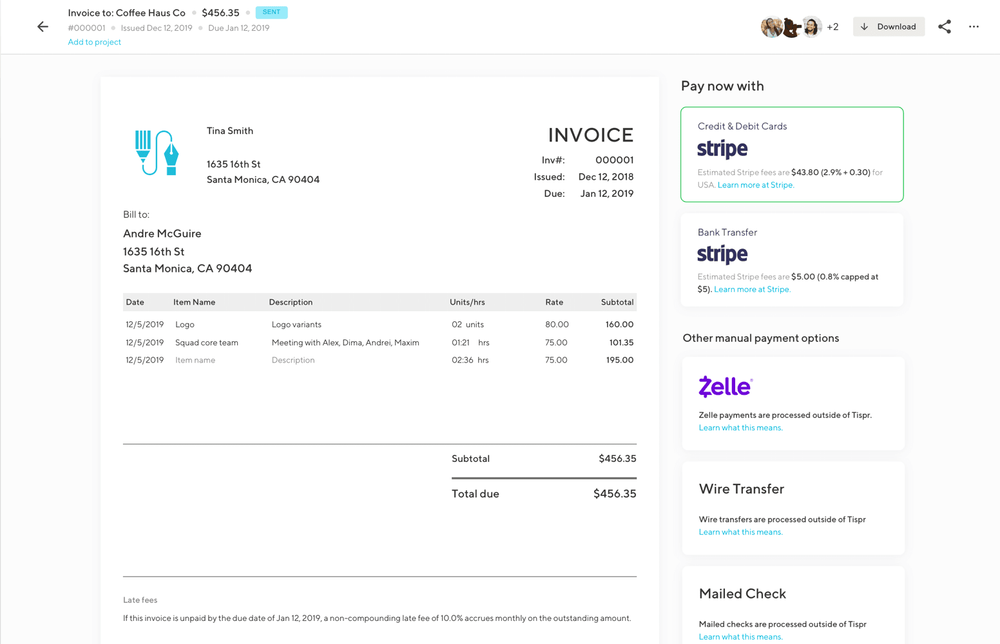 Best Practices for Your Invoice Template
Everything we've mentioned so far is a basic requirement. There are a few more things we can show you about how to write an invoice that will level up your invoice game.
Include Your Company Logo and Branding
Take some time to create a few invoice templates you can use repeatedly. Your branding, company logo, a few nice graphic for visual interest, and your invoices will look super professional. These little touches show you mean business and your customers will be more likely to pay promptly.
Use Invoicing Software So You Do Not Have to Write an Invoice Manually Every Time
Invoicing software, such as Indy's Invoices Tool, can save you loads of time and mean you are paid faster. Here are ways invoice software makes your life easier:
Invoicing software can autofill contact information, such as the company name and contact details of your customers.
It will also auto-generate the invoice date and number. This makes the invoice process simpler and helps avoid errors.
If you use recurring payments, software can make the entire process automated each month or period.
How to Send an Invoice via Email to Get Paid Faster
When your invoice is ready, you could go the old-school route and send it through the mail, but that takes time which means your payment is delayed. Sending your invoices via email is the way to go.
Benefits of Sending an Invoice through Email
There are many benefits of sending an invoice through email as opposed to the mail. It mostly comes down to speed and efficiency. Sending an invoice through email is the fastest way to get paid and can offer a variety of benefits. Some of these benefits include making it easy to track the status of invoices, offering your clients easy ways to pay directly from the email, and saving you valuable time.
These days, the majority of clients will expect you to send your invoices via email and will either pay you online or will send a check in the email.
Sending an Invoice as an Attachment
If you're sending an invoice as an attachment, there are a couple of things to consider. You can attach the invoice as a PDF or send it within a link to Google Drive or Dropbox. You want to make sure that it's easily accessible and your client won't have any challenges accessing it.
Making sure that you find a way to systemize sending your invoices makes it easier to keep track of the paid, due, and overdue invoices. Properly label the attachment with details on the invoice number and due date for easy reference.
Using a Tool for Sending Invoices through Email
At Indy, we've found that using a tool to send invoices makes life a lot easier. Instead of having to worry about finding a template, iterating upon it, wondering how you're going to get paid, or tracking payments manually, a tool like Indy combines all these features for you.
Using a tool can make payments go through much quicker as everything is automated and included within one step.
In the example below, we've included what Indy's invoicing tool looks like when you're working within it. It includes all of the information that is important for invoices. It also allows you to choose your payment method, so you can get paid as quickly and efficiently as possible.
One other consideration is the type of fees that are charged by payment processors when your clients pay an invoice. Here is an article with a list of different payment processor fees, so determine if you're going to be covering these or if they're your clients' responsibilities, so there aren't any surprises.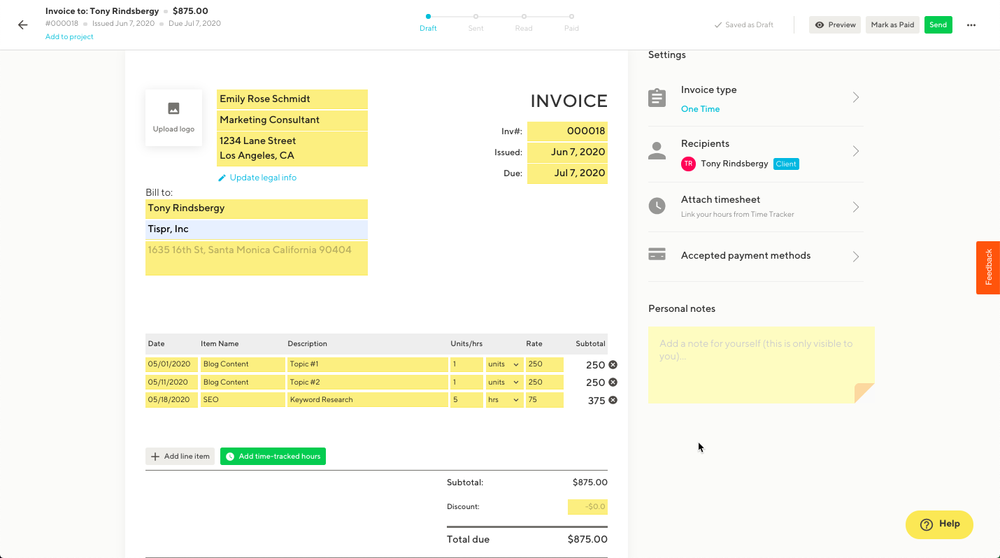 There are several companies that also help the automation process, so do your research to find out what company and tool is best for your needs.
Templates for Emails When Delivering an Invoice
When delivering an invoice, there are several different types of messages you can share. Below we've included a few different example emails for you to copy and paste to your clients.
Template #1
Subject: Invoice [#] for [Project] Due [Date]
Dear [client],
Please find attached Invoice [#} for your review. This covers [insert date range or project] as specified in our scope.
For ease of reference, the payment terms are net [x] days and the invoice total is [$].
If you have any questions, please don't hesitate to reach out!
All the best,
[name]
Template #2, Ideal for One-Off Projects
Subject: Invoice [#] for [Project] Due [Date]
Hi [client],
I really enjoyed working with you on this project. Please find attached the invoice for the delivered work which includes the amount we discussed, payment terms, and full bank details for payment.
Please let me know if there is someone on your end I should send this to.
In the meantime, if there's any additional work that arises, I'd be happy to help support your team.
Thanks,
[name]
Whether this is your first time sending an invoice, or you've been doing it for years, keep a friendly tone, share the pertinent information, and you'll be paid in no time.
Mastering the Art of Invoicing as a Business Owner
Invoicing isn't most freelancers' favorite task, but it's an essential step in finishing out your projects and getting paid. With the guide above, you can transform invoicing from a tedious task to a quick money-maker.
We already mentioned Indy's Invoices Tool. If you're ready to get started with your first invoice, then click here to try our free Invoice Generator.