27% of small business owners have difficulties creating and sending invoices. Not only that, but 47% of US small businesses have stated that invoicing problems have grown worse after the pandemic. That's why invoicing and billing software is more important than ever for small business owners.
Invoicing software makes it easy to bill clients, track your income, and follow up with clients who haven't paid yet through automatic invoice reminders. All of this ensures accurate and timely payments for small businesses. In this article, we'll help you find the right one for your business by reviewing these 21 top-rated invoicing software!
1. Indy - Best Overall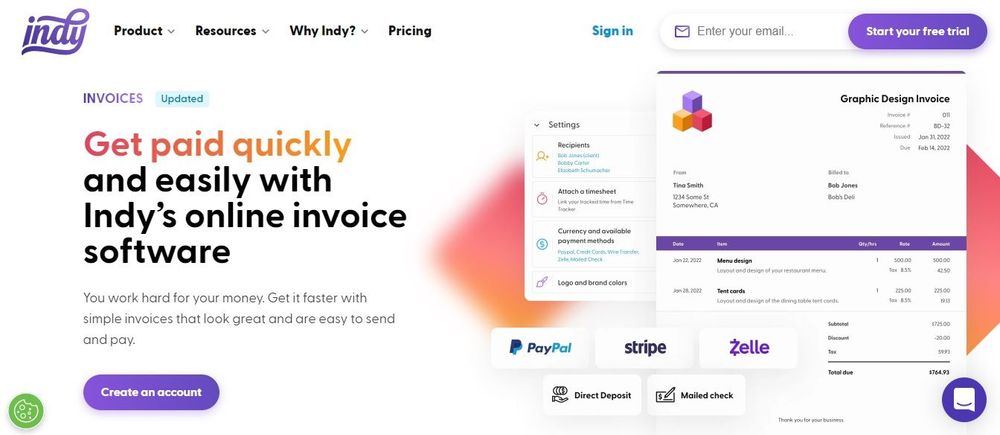 Indy is the best overall invoicing and billing software on this list as it ticks every box, from being easy to use to giving you a great deal with its lower monthly price.
The invoices are fully customizable as you can add your logo, add business info, choose a theme color, and even include a personalized message for your clients. Indy also allows you to set up recurring invoices for your regular clients and generate invoices automatically using estimates from proposals.
Indy's invoices are highly detailed and will include everything you need to keep track of the amount due and ensure prompt payment. You can even add the tax rates on specific taxable items and discounts.
Collecting payments won't be a problem when using Indy's invoices as the software accepts all the popular payment options, including Paypal and Stripe.
Pricing
Indy lets you sign up and get a feel for the platform for free. Indy's Free plan gives you free unlimited access to all the core tools you need to manage your business, plus 3 free invoices, proposals, and contracts a month. Their Pro plan gives you unlimited invoicing, proposals, contracts, and a suite of enhanced tools, starting at $12 if you pay per month or just $9 if you pay yearly.
Key features summary
Recurring invoices
Automatically generate invoices from proposal estimates
Tracks unpaid time
Invoice status monitoring
Integrated online payment
Highly customizable invoices
Integrates with Time Tracker
2. Freshbooks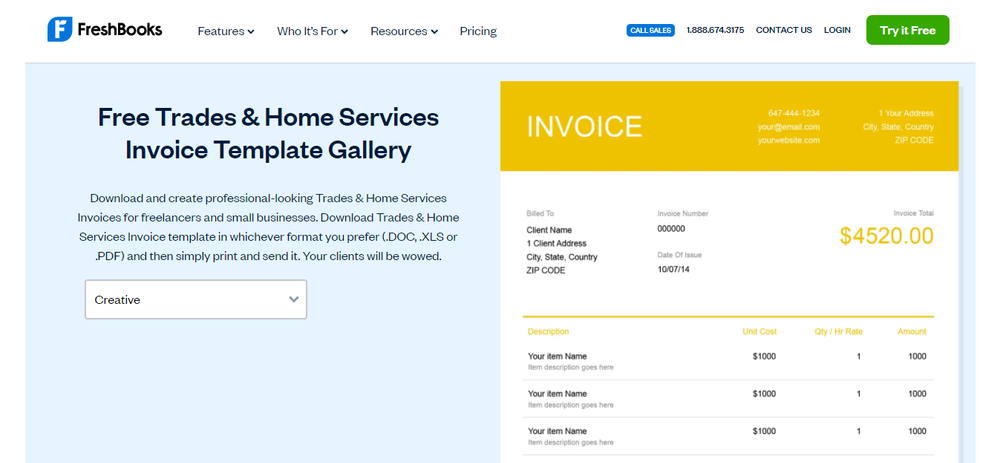 Freshbooks offers an accounting solution for any small business owner looking for something that will do more than just create invoices.
The software will give you accounting solutions such as journal entries and bank reconciliations. However, if you just want to focus on invoicing, their smallest plan should be perfect.
What many users love about Freshbooks when it comes to invoicing is that it allows you to prepare and send unlimited invoices. Also, it calculates the sales tax rate automatically, making it easy to apply to your invoices.
Freshbooks has more than 100 integrations and various time-saving automation built into its software. The customer service is also excellent as Freshbooks is available for round-the-clock support across multiple channels such as phone, email, and social media.
Pricing
Freshbooks has a 30-day free trial package. Their other packages range from $15 to $50, and you can also get custom pricing based on your specific needs and situation.
Key features summary
Automated recurring invoices
Unlimited customized invoices
Invoice summaries
Invoice payment tracking
Automated payment reminders
Client portal
3. Zoho Invoice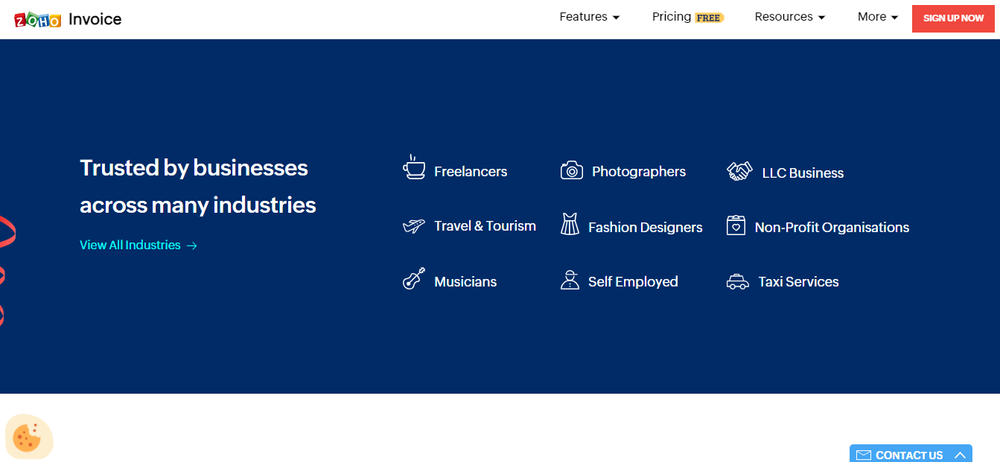 If your business does a lot of international invoicing or you are just looking for a tool that will give you great invoicing automation, Zoho Invoice is another great option.
Zoho is a free cloud-based tool that allows you to create, edit, and send invoices from anywhere and offers several fantastic invoicing features. These features include customizable templates, and the software also provides other functions such as time tracking, estimate creation, and project management.
The free invoice software has a user-friendly and intuitive interface and provides round-the-clock support in multiple languages. Also, it has at least 10 online payment gateways and supports over 14 integrations.
Pricing
Zoho Invoice is a great free invoice software for small businesses. You will not need to pay anything, but they have a cap on 1,000 invoices per year. But don't worry, when you exhaust your limit, you can talk to support and request a custom plan.
Key features summary
Scheduled and recurring invoices
Expense tracking
Built-in time tracker
Project management
Multiple payment gateways
Multiple currencies support
14+ integrations
Payment reminders
4. QuickBooks Online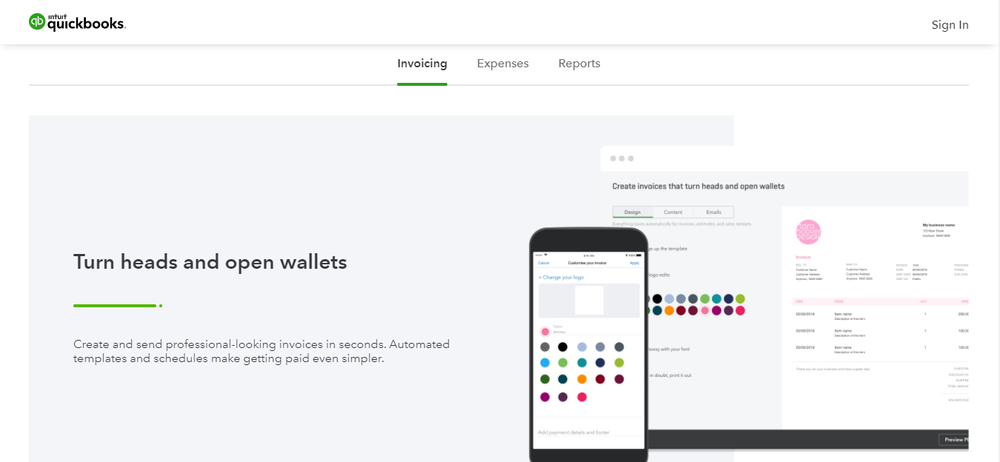 QuickBooks Online is a smart and easy-to-use billing and invoicing software that will work well for any small business. It will give you exceptional invoicing capability with handy features like automatic sales tax calculation.
The software applies the sales tax based on customer address and keeps track of all the sales tax collected, including their jurisdictions, to make tax filing hassle-free. Also, it allows you to handle all invoices from one place by providing access to both customers and sales management modules.
QuickBooks Online is best suited for fast-growing businesses as it provides the necessary tools to keep track of the increasing invoices. And you can enhance its functionality by integrating other third-party systems and apps as it accepts over 180 of the most popular ones.
Pricing
QuickBooks Online has a 30-day free trial that you can use without providing credit card information. Plans start at $25 for single users with all tax features. The price for multiple users ranges between $50 and $180, depending on the number of users.
Key features summary
180+ third-party integrations
Automated reporting
Industry-specific accounting solutions
Invoice summaries
Invoice duplication
Invoice payments tracking
File manager
5. Square Invoices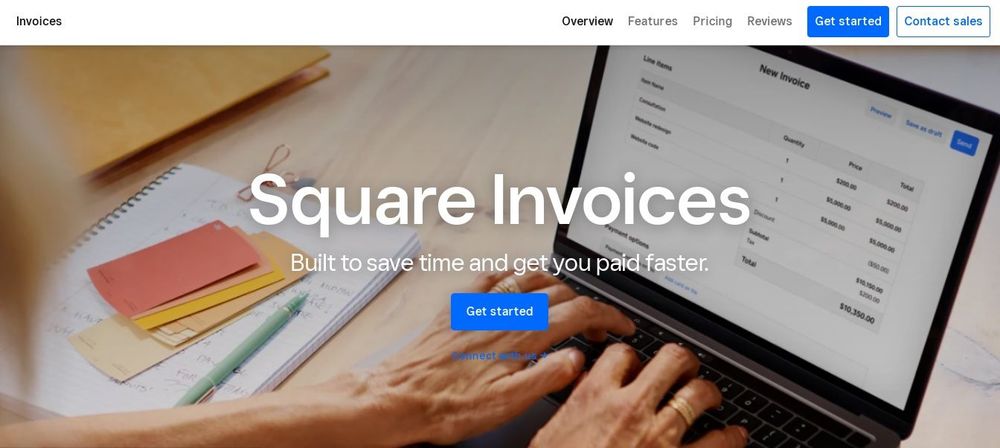 Square Invoices provides an easy way to create and send invoices for all product-based businesses. The invoicing software allows small business owners to create unlimited invoices and estimates.
Besides invoicing software, you will also get several other things you need to run your small business, such as marketing and employee management tools. Also, the software is easy to use, and the site's well-organized interface will give first-time users an easy time.
There is only one invoicing template, but it is highly customizable to suit different users. Moreover, the software supports mobile invoicing, 100+ integrations, sales tracking, and contact management.
Pricing
Signing up on Square Invoices and sending invoices to clients is free. However, to take advantage of all the platform's features, such as advanced employee management, you have to pay. The software will charge you 2.9% + $0.30 for each invoice if you want to enjoy these extras.
Key features summary
Payment reminders
100+ integrations
Recurring invoices
Mobile invoicing
Real-time tracking
Instant payments (SMS, Links, Email)
6. Invoice2go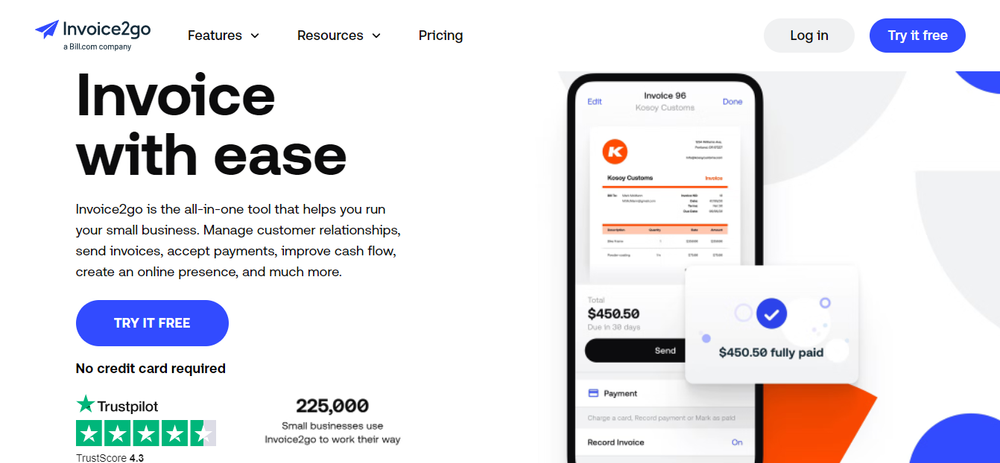 Invoice2go offers an all-in-one solution for managing your business. It will do much more for your small business besides making it easy to create and send invoices, as it also has customer management tools and payment gateways.
Another element that makes this invoicing software stand out is that it makes it easy to create and send invoices on mobile devices. It has apps for Android and iOS devices and an interface optimized for mobile use to ensure users have an easy time creating professional invoices on the go.
Besides invoicing, the app also offers additional features like expense tracking, purchase order management, and time tracking, making it even more helpful for small businesses.
You can send invoices via mobile apps, SMS, and even use the cloud-based app if you prefer to do things from your PC.
Pricing
You can try Invoice2go for free without providing any credit card information. Once the trial period is over, you can choose from three plans with a monthly subscription fee ranging from $5.99 to $39.99.
Key features summary
Multiple invoice-sending options (app, SMS, email, social media)
Time and expense tracking
Purchase order management
Online client approvals
Online payments
Status tracking
7. Bill.com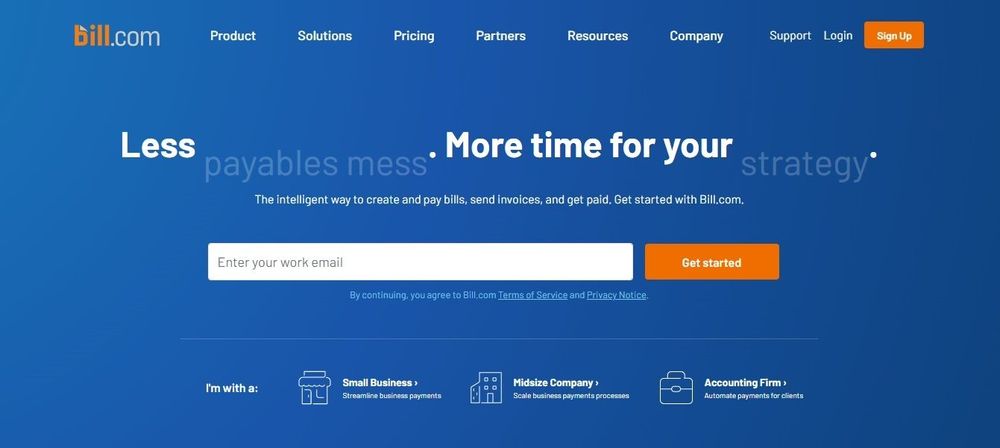 Bill.com is made for small businesses and companies looking for a simple billing and invoicing solution. The software focuses more on making billing easier for small business owners. It gives you maximum control over your accounts payable with tools for reviewing and approving bills and sending domestic and international payments.
The software facilitates this through automated invoicing and payment reminders, contact management, and the support of multiple payment gateways like credit/debit cards and Paypal.
Bill.com will also sync with your accounting software to simplify your accounting processes, such as book balancing and bank account reconciliation.
Pricing
Bill.com is not a free billing software, but the pricing is still quite fair, given what it offers. There are three plans available, and the price is from $39 to $69 per month for single users. Although all the plans are feature-rich, the $69 plan is ideal for those that want to manage invoices and bills from one platform.
Key features summary
Auto charge and pay
Customizable invoices
Recurring invoices
Automated payment reminder
Status tracking
Auto-sync/reconciliation
8. Harvest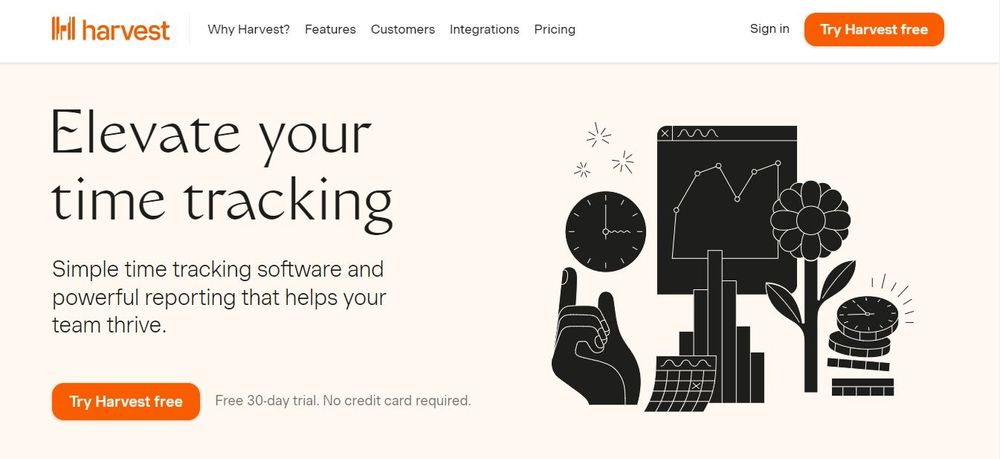 Harvest is another great invoicing software for small businesses looking for something that can help with invoicing, project management, time tracking, and reporting.
Although Harvest does not offer as many invoicing features as other software options on this list, there are still all the basics you need to create, send, and keep track of invoices. You can also use the software to create recurring invoices, send estimates, create reminders, and manage employees.
Other things like projects assignment, budget setting, and expense tracking make this tool highly useful for any small business. And it will make invoice creation more effortless for you by doing it automatically using the data collected from time and expense tracking.
Pricing
Harvest has a free 30-day trial that you can use without providing any credit card information. Once the trial is over, you can either use their free plan which includes all the basic invoicing features, or the Harvest Pro plan for $12 per month if you want to have more users and projects.
Key features summary
Recurring and retainer invoices
Project management
Automatic payment reminders
Thank-you notes
Time and expense tracking
PayPal/Stripe integrations
Account software integration
Automatic invoice generation
9. ZipBooks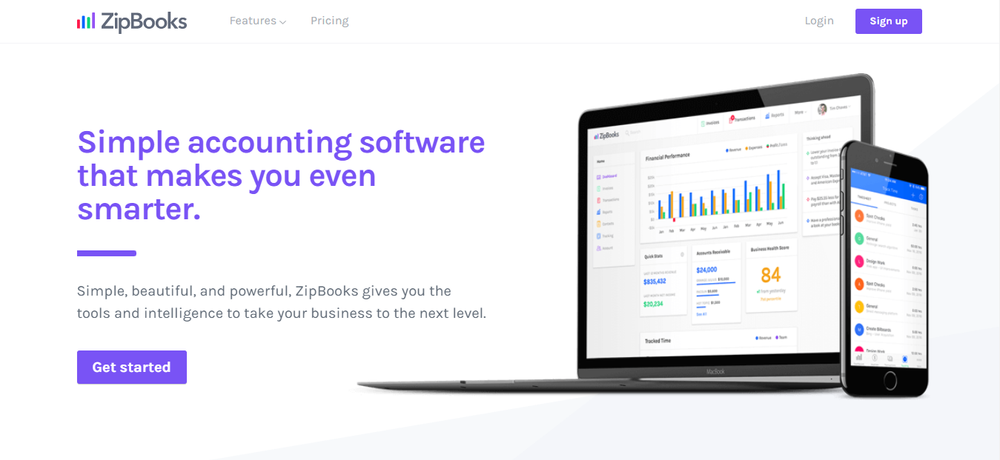 ZipBooks is a free-to-use invoice template that you can quickly customize and send to different clients.
The software offers customizable invoice templates based on your specific industry, and you can be sure they will always give an excellent first impression. Moreover, the invoices also look clean and professional.
Users also get core accounting functionality as they can easily keep track of paid invoices and total account receivables.
You can connect the software to your bank account to keep all your financial reports up to date and use the reconciliation feature to quickly check your bank transactions from one central place.
Pricing
ZipBooks has three plans: Starter, Smarter, and Sophisticated. The starter plan is free forever, while the Smarter plan will be $15/month for 5 users, and the Sophisticated plan goes for $35/month and supports unlimited users.
Key features summary
Invoice quality score
Core accounting functionality
Automated payment reminders
Recurring bills automation
Project management
Customer feedback functionality
Third-party tools integration (Slack, Google Drive, etc.)
10. Invoice Ninja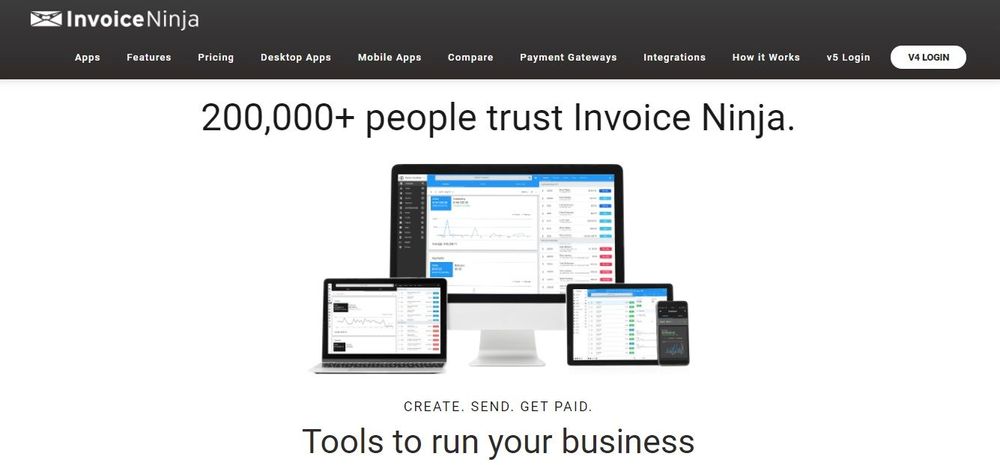 Invoice Ninja is also one of the best free invoicing software for small businesses. It will give you most of the functionalities you get from paid software, such as estimates, time tracking, and project management. Better yet, you can use the software forever-free with no hidden fees.
Invoice Ninja has some unique features, like voice commands. The software will allow you to send invoices and do other tasks on the platform with simple voice commands.
You can also use the software to accept payments online with a single click, set up auto-billing, create projects, and brand invoices with any logo you want. What's more, the software has excellent customer support, and they give you multiple ways of contacting them.
Pricing
Invoice Ninja has a forever-free plan that will give you access to various features like professional invoices and auto-billing. However, they also have two other paid plans for those that want even more advanced features: $10/month Ninja Pro Plan and $14/month Enterprise Plan.
Key features summary
Unlimited invoices and quotes for 20 clients
Professional invoice and quotation templates
Voice commands
Recurring billing and invoices
Online payments
Invoice alerts
Real-time invoice creation
Google analytics integration
11. Invoicera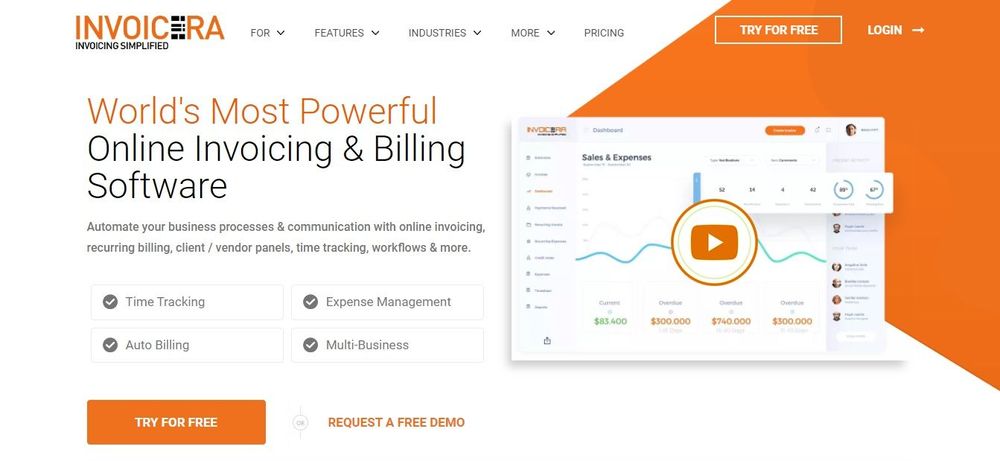 Invoicera is a powerful online billing and invoicing software for small businesses. It is designed to make it easier for companies to automate their processes and communication. Besides online invoicing, Invoicera offers recurring billing, time tracking, and expense management.
You can track both accounts receivables and payables with Invoicera in one dashboard, which is highly useful for the smooth operation of your business. Although you will still need different accounting software for complete bookkeeping, it takes care of the essential aspects.
Invoicera offers 100% XHTML customizable invoices, and it allows you to track expenses and staff time by project and easily add them to your invoices. Hence, you can quickly tell where your money is going.
Users will also find the credit note management features highly useful as it helps keep track of credit memos and automatically adjust the affected accounts.
Pricing
Invoicera will allow you to try their services free for 15 days. After that, they have 4 pricing plans: Starter, Pro, Business, and Infinite. The Starter Plan is free but only supports three clients and one admin. Prices for the other plans range between $15 and $149.
Key features summary
100% customizable invoices
Payables/receivables management
Auto billing
Time tracking
Expense management
60+ enterprise integrations
Credit note management
12. TimeTracker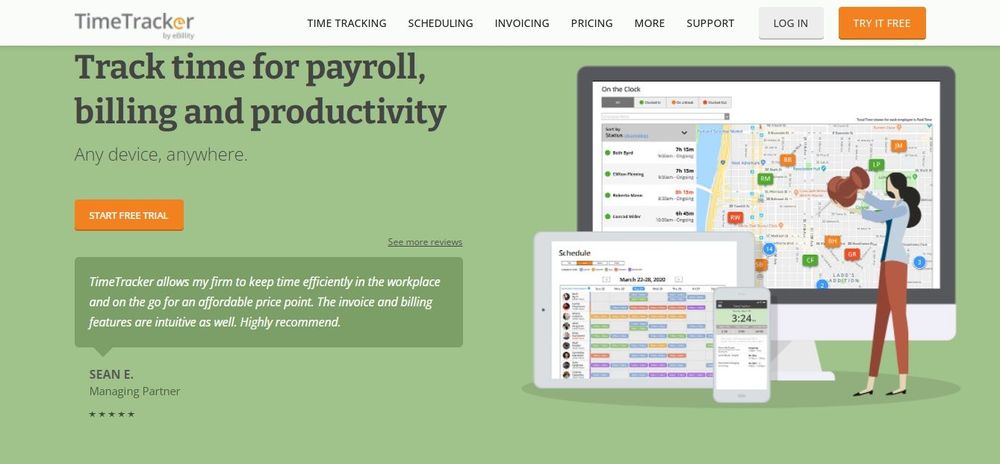 TimeTracker is an invoicing software built for firms offering professional services. If you run a law firm, are an accountant, or are an engineer, this is one of the best invoicing software for you as it offers industry-specific solutions.
The software includes powerful features that will ensure you get value for each minute you spend offering your professional services, as it keeps track of all your billable hours.
What's more, there is also a client portal that will be very useful for client management.
With the inclusion of an auto-reporting function, you can get all reports straight on your email. And it can integrate with popular accounting software like Quickbooks to allow you to do everything from one platform.
Pricing
You can try TimeTracker free for 14 days, and it has 3 paid packages: Time Tracker, Time Tracker Premium, and LawBillity. Time Tracker plan costs $6 per month for every user and has a $10 base fee, while adding the billing function will cost you $10/month for each user and an $18 monthly base fee. The LawBillity plan does not have a base fee, but each user pays $24 per month.
Key features summary
Auto reporting
Late payment rules set up
Popular accounting software integration
Billable hours tracking
Client portal
13. Xero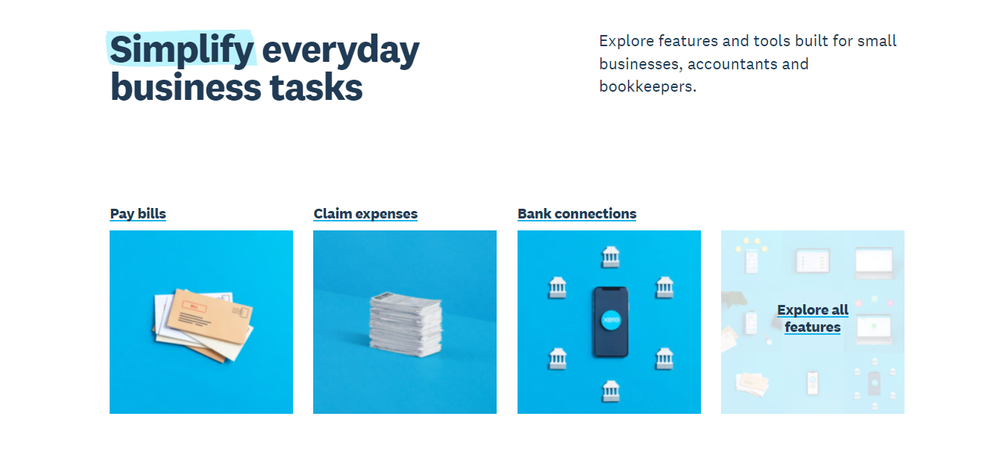 Xero is accounting software for small businesses meant for use from any location. It offers comprehensive accounting solutions and not just invoicing, as users can also pay bills, claim expenses, and connect to banks from one platform.
The accounting software comes equipped with all the basics you need to ensure a smooth accounting process. They include customizable invoice templates, automatic reminders, automatic data capture, and online payment solutions.
You can also track your inventory and keep detailed records of tax status, purchase costs, and transaction details. And it comes with an easy-to-use dashboard that makes monitoring invoices hassle-free.
On top of all this, Xero offers robust security features for shared invoices, such as two-factor authentication and a multiple-approval model.
Pricing
The monthly plans range between $3.25 and $17.50, and the right one for you will depend on the number of invoices, bills, and users you need. Also, Xero will allow you to try out their platform free for 30 days before deciding which plan best suits your business.
Key features summary
Inventory management
Third-party solutions integrations
Customizable templates
Automatic reminders
Online payment options
Multiple-approval model
14. Wave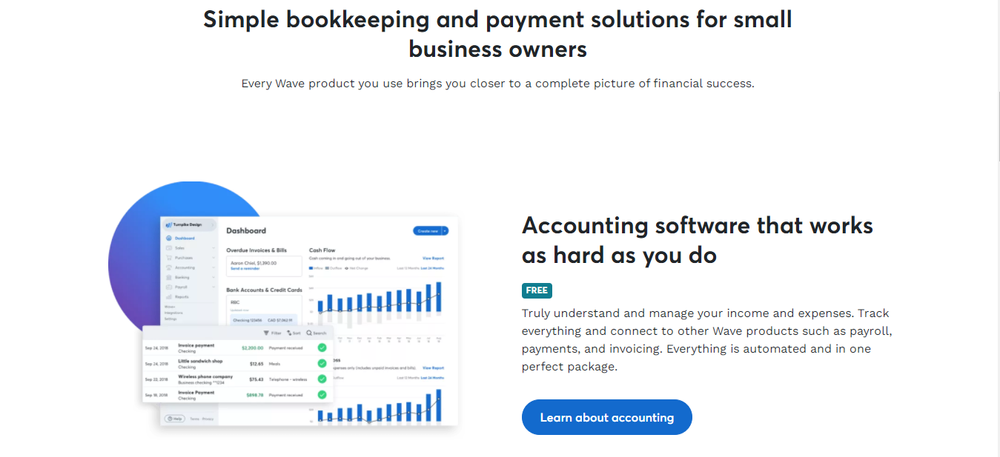 Wave is another easy-to-use software that will allow you to create and send invoices for free. Also, it will enable you to develop, review, and send invoices on the go via their mobile app, which is available for both Android and iOS devices.
The software provides customizable invoices that will help save you the effort of creating invoices from scratch and ensure you get paid on time. Once you send the invoices, you also get a notification when the client views them. The app will also notify you when the payments are made and alert you regarding due invoices.
Keeping track of your daily expenses should be easier with Wave. The software allows you to scan bills, and you can even connect them to your bank account.
Wave invoicing software will be instrumental in tax calculations and deductions as it automates everything. And it also has automated billing functionality to save you even more time and ensure you never forget to bill clients.
Pricing
Wave is a completely free invoicing software for small businesses. There are no monthly fees, setup charges, or hidden costs. All you need is to sign up and start using the software.
Key features summary
Automated billing
Tax calculations/deductions
Instant notifications
Expense tracking and payment processing
Unlimited invoices
Invoice customization
Mobile apps
15. Sage Intacct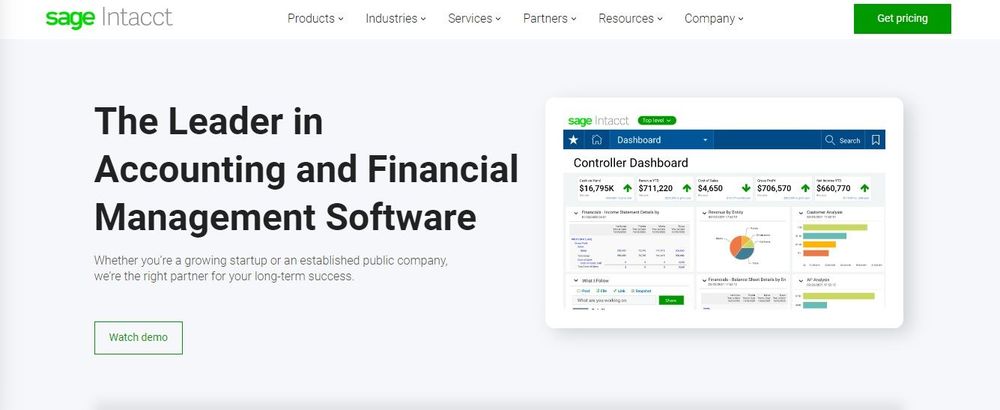 Sage Intacct is more than an invoicing software as it will offer comprehensive accounting solutions to your small business. The software will help increase accounting teams' efficiency and ensure your business gets paid faster.
Sage Intacct seems better suited for an e-commerce business as it integrates easily with most online retailers. Also, it works closely with top online retailers to automate processes and ensure smooth and fast payment processing.
The dashboard is highly customizable to give users an easy time. And you will also get access to customizable reports and granular insights about invoices.
The software will interact with your CRM efficiently to give you a clear view of your orders, sales, and quotes. Also, you can view real-time customer history, including their modes of payment, and manage customer communication by making it more structured.
Pricing
The software does not display its pricing information on the website. However, it is available on request. Also, you can talk to the Sage team and explain what you want so they can give you a custom package and deal.
Key features summary
Recurring invoices
Efficient CRM interactions
Real-time customer history
Granular invoice insights
Customizable reports
16. Brightpearl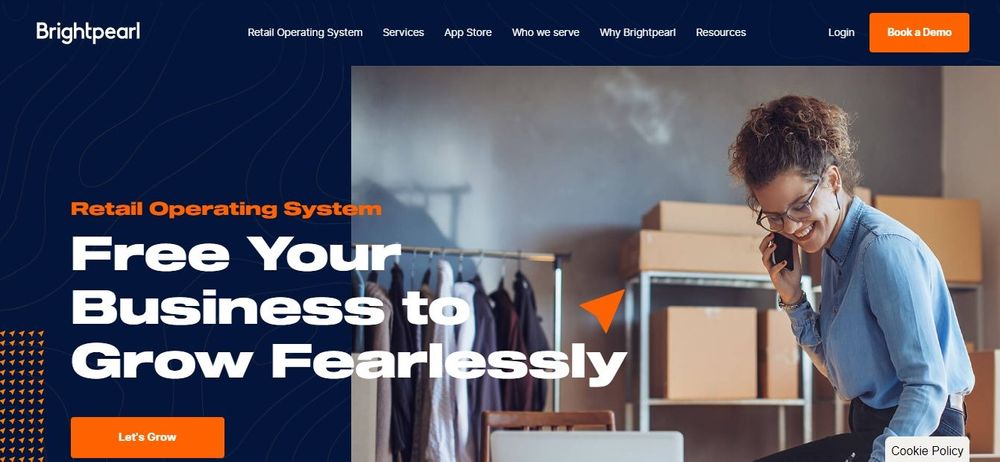 Brightpearl is a retail software designed to manage invoices for active vendors. It combines several sales and accounting tools to save you the need to invest in additional tools for automating these business processes.
Their automated accounting module cuts down the amount of time and effort you have to dedicate to manual accounting processes such as bookkeeping. This module accounts for bookkeeping entries and invoices and stores all the vital data you need for reporting.
The accounting and financial management tools give you real-time financial insights for your business, as you can easily monitor purchasing, inventory, and sales.
Brightpearl allows you to automate invoicing and generates automatic reports to keep track of the health of your business finances.
Pricing
Brightpearl has a free starter plan that is forever-free with no hidden fees or monthly charges. Pricing for their other plans starts at around $15 and increases as you get more features and add users.
Key features summary
Automated invoicing
Automatic report generation
Marketplace connection
Automated accounting
Centralized inventory management
Real-time financial data
Auto payment reminders
17. FreeAgent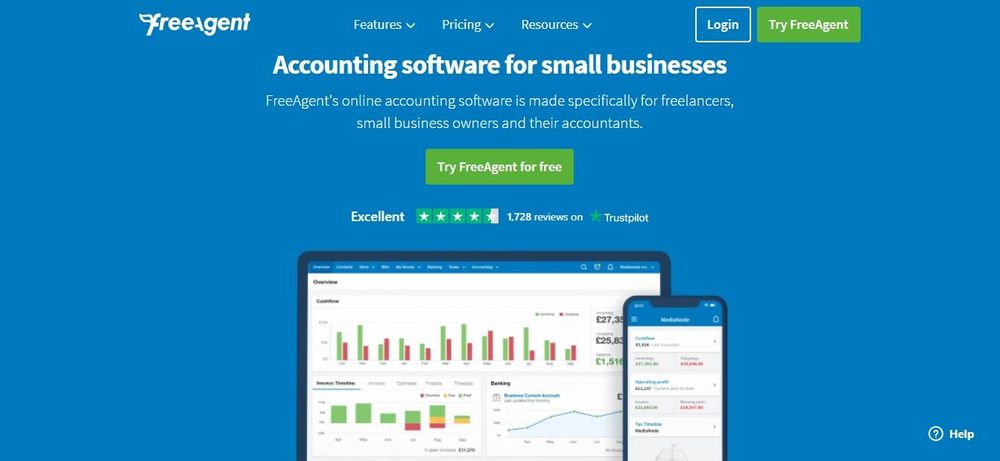 If you are just looking for invoice templates you can quickly customize and send to your clients, FreeAgent is the perfect tool.
The invoicing software has unlimited, customizable invoices, and they stand out from the crowd by offering professional invoices that will make a good impression.
Besides their invoicing solution, FreeAgent also allows you to generate some simple reports for essential metrics like unpaid invoices and sales taxes.
FreeAgent supports multiple languages and currencies. Also, it works with most standard online payment gateways, including PayPal and Stripe, to ensure easier invoice settlement.
Pricing
FreeAgent has several plans, and the pricing will depend on whether you are a sole trader, in a partnership, or run a limited company. However, the prices typically start at around $12/month. Also, all categories have a free starter plan if you have a business account with specific banks.
Key features summary
Customizable professional invoices
Unlimited invoices
Multi-currency support
Multi-language options
Sales tax reporting
Auto payment reminders
18. Tipalti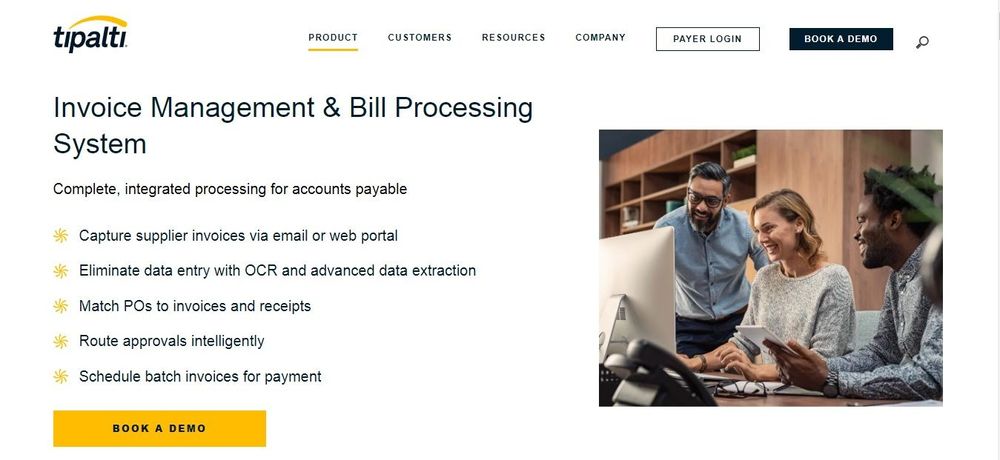 Tipalti offers some of the best invoicing software programs for high earners. If you are looking for a premium invoice management service and are ready to pay the extra bucks required, Tipalti should serve you well.
The software offers complete integrated accounts payable processing, which many users use it for, but it will still have several other invoicing and billing features.
Tipalti allows for automated invoice capture, processing, approvals, and reconciliation to ensure you can get paid faster and more efficiently without having to do much. Also, there is hardly any data entry required as it uses advanced data extraction and OCR to record everything automatically.
You can use the software to track invoices, schedule bulk invoice payments, and route approvals intelligently.
Pricing
Tipalti offers highly technical and extensive accounting solutions, so you should be ready to pay more to get their comprehensive solutions. Prices start at $149/month, and the more features you want to add to your plan, the higher the price you pay.
Key features summary
Unlimited, customizable invoices
Advanced data extraction
Touchless invoice processing
Coding and approval prediction
Automated PO matching
Multi-tier invoice approvals
Real-time reconciliation
Multiple payment gateways
19. Scoro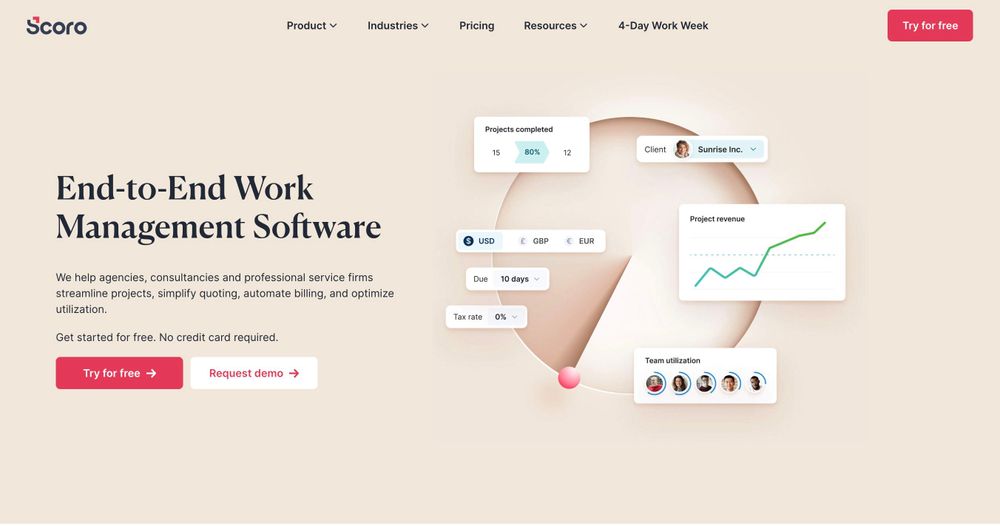 Scoro is an all-in-one business management software that has invoicing features. You can send automated payment reminders and set up recurring payments.
There's a real-time dashboard feature that shows you all invoices sent, monthly estimated revenue, and more.
You can also get an overview of the profitability of the client and/or project.
Pricing
Scoro has several plans and it can get pretty pricey, starting at $28/month for the Essential plan and ranging all the way up to $71/month for the Pro plan.
Key Features Summary
Recurring payments
Automated payment reminders
Track purchases, orders, and costs
Forecasting
Real-time analytics
20. OneUp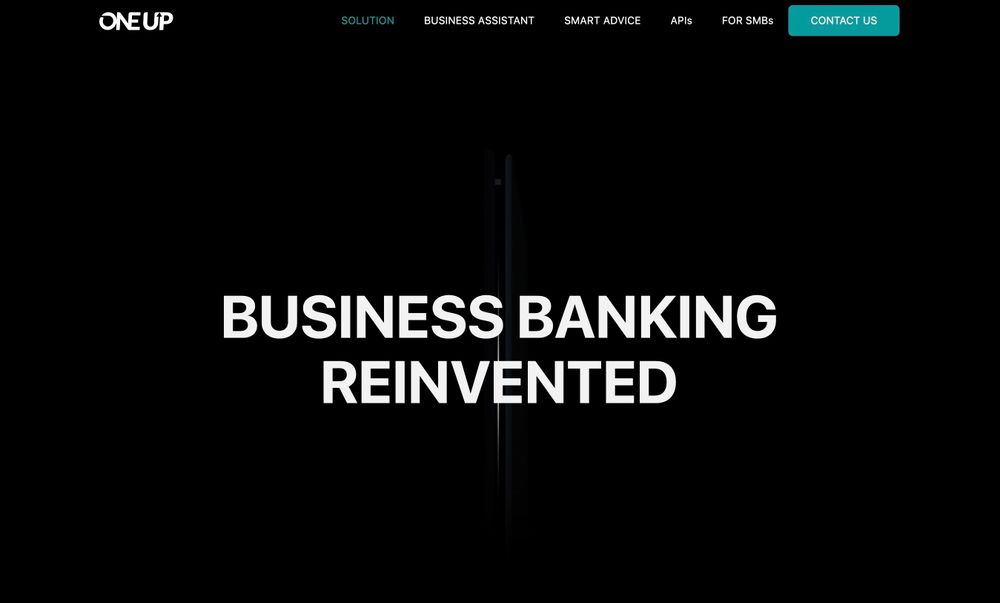 OneUp primarily serves medium and large business teams but can be used by freelancers looking for billing software. It's invoicing/accounting features are cloud based and lets you handle all of your CRM, accounting, and invoicing on one platform.
It can synchronize with your banking account and can automate the majority of your accounting. You'll also get email notifications right before any invoices are due, so you'll know when you need to follow up with a client.
Pricing
OneUp's prices start at $9/month for the Self plan, which is fit for freelancers. If you run a small business, there's the $69/month Team plan for 7 team members or the $169/month Unlimited plan for unlimited members.
Key Features Summary
Email alerts
Integrated invoicing & accounting
Customizable template options
Create invoices from quotes
Create and customize invoices with a click
21. Zervant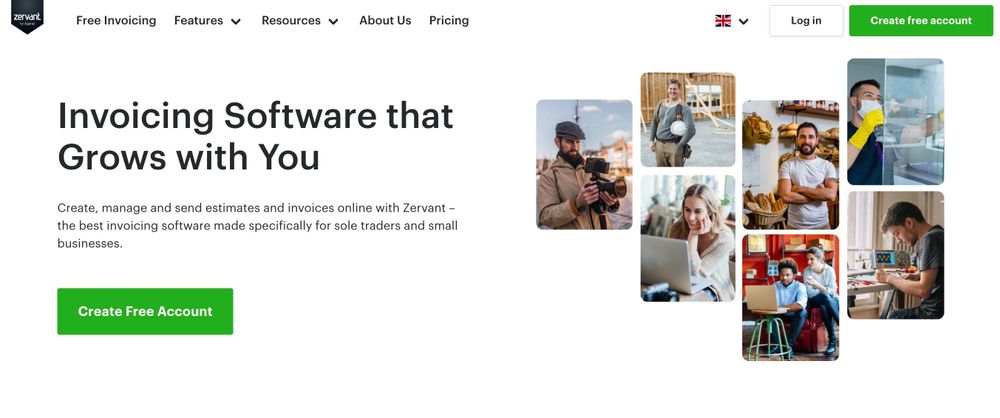 Zervant is an intuitive platforms that's been designed for small businesses, solo traders, and freelancers who need access to invoicing features. You can create recurring invoices, set up payment reminders, and send invoices by email, paper, and as a PDF file.
Zervant can handle your invoicing needs, but as a freelancer, you'll need more than just invoices. You need contracts, proposals, and task management, meaning you would have to sign up for multiple websites to get all the tools you need.
Pricing
Zervant is free to use, but with a limit of 5 customers and $18/month for unlimited customers.
Key Features Summary
Online card payments
Time tracking
Convert estimates to invoices
Mobile app
Support in 6 languages
22. Stampli
Harness the power of automation with Stampli, a highly adaptable invoice management tool that takes the guesswork out of your accounts payable process. Stampli stands apart from its competitors with its interactive interface and AI-powered technology, designed to integrate seamlessly with your existing ERP systems.
Pricing
While Stampli offers a demo to let you try before you buy, its pricing is quote-based. This means that you'll receive a tailored plan to best suit the unique needs of your business. With Stampli, you only pay for what you need, helping you manage costs as efficiently as your invoices.
Designed for small businesses aiming to streamline their financial operations, Stampli offers a winning combination of advanced technology and user-friendly functionality. It's an investment worth considering for those looking to simplify and improve their invoicing process."
Key Features Summary
Digital invoice capture: Stampli captures and organizes digital invoices, making it easy to find the information you need.
Automatic data extraction: The system utilizes AI to automatically extract data from invoices, saving you valuable time and reducing the risk of human error.
Real-time audit trails: You can track every action on an invoice in real-time, giving you more visibility and control over your financial operations.
Why do small businesses need invoicing software?
Some businesses have an efficient paper-invoicing system with a highly dedicated staff that keeps everything running smoothly. However, no matter how good your team might be, invoicing software could work together with accounting features to provide better data about your finances. Here is why: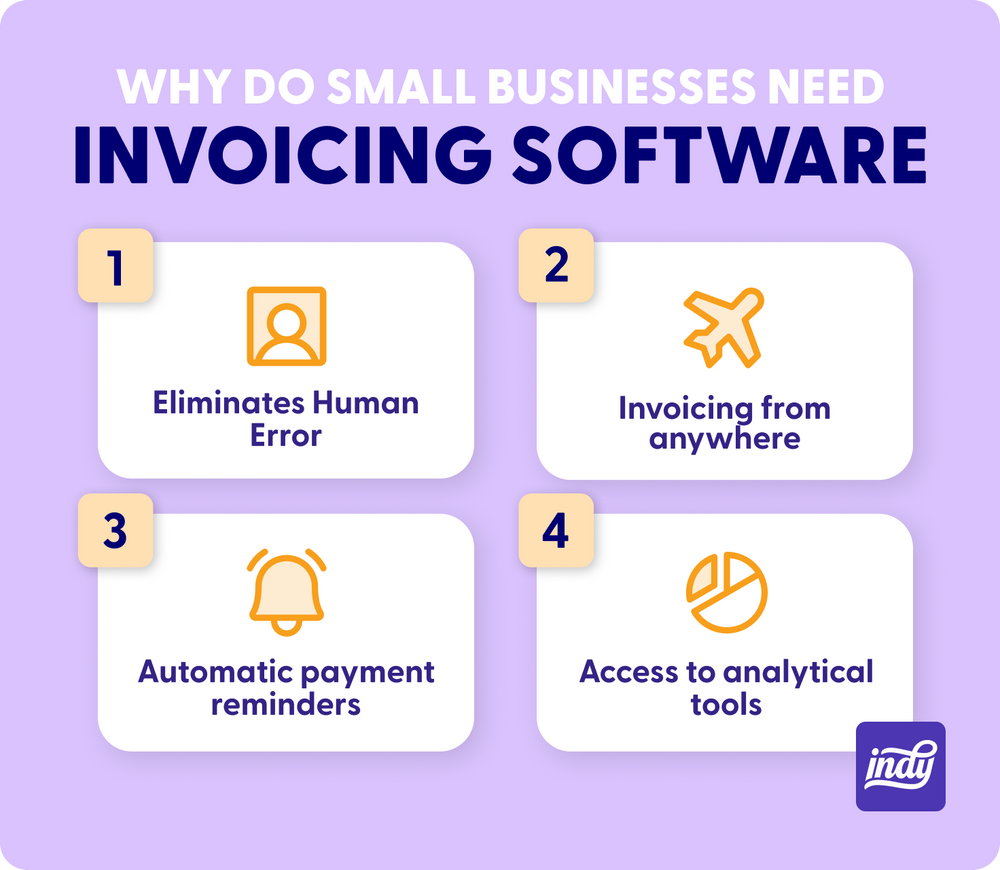 Eliminates human error
Human error and delays are almost unavoidable when dealing with paperwork during the billing process. Fixing these errors on your invoice can be expensive and time-consuming, as you will have to wait longer before you get the payments.
Invoice software eliminates the risk of human error by allowing you to automate the entire invoicing process, from preparing the invoices to sending them to clients.
The invoicing software also keeps track of all the transactions, making filing taxes easy and accurate and helping you to generate error-free financial reports. These simple accounting features will make life simpler for everyone.
Allows invoicing from anywhere
With the traditional paper invoicing process, you need to be in the office to prepare the invoices after going through several documents.
Invoicing software allows you to prepare and send invoices from anywhere, whether you work in an office or remotely. Most are cloud-based, meaning you can create and edit them on your laptop or even mobile devices like smartphones if you can access the internet.
Automatic payment reminders
49% of small businesses find it hard to follow up on late invoice payments, but invoicing software can help make things easier. Software will show you outstanding invoices and help you track overdue invoices very quickly.
Invoicing software is handy for recurring invoices as it ensures the clients receive the invoice in time and reminders to pay on the due date.
These automatic payment reminders can help prevent cash flow issues for your business by ensuring you are always paid on time. When combined with the ability to accept online payments, your billing process will be much smoother.
Access to analytical tools
Invoice software can also help you improve business operations by giving you access to vast data on your transaction history.
The valuable insight you get lets you know where most of your business revenue is coming from and who your most valuable customers are. Regular tasks, such as a bank reconciliation, are faster and provide better data when they are connected to your accounts receivable and accounting software.
With this information, you can focus your marketing strategies more on what promises to increase earnings for the business.
How to choose the best invoicing software for small businesses
The needs of small businesses differ from one to the next, so no one accounting software can suit all. Besides business needs, other factors like budget and ease of use are essential when choosing a paid or free invoicing software.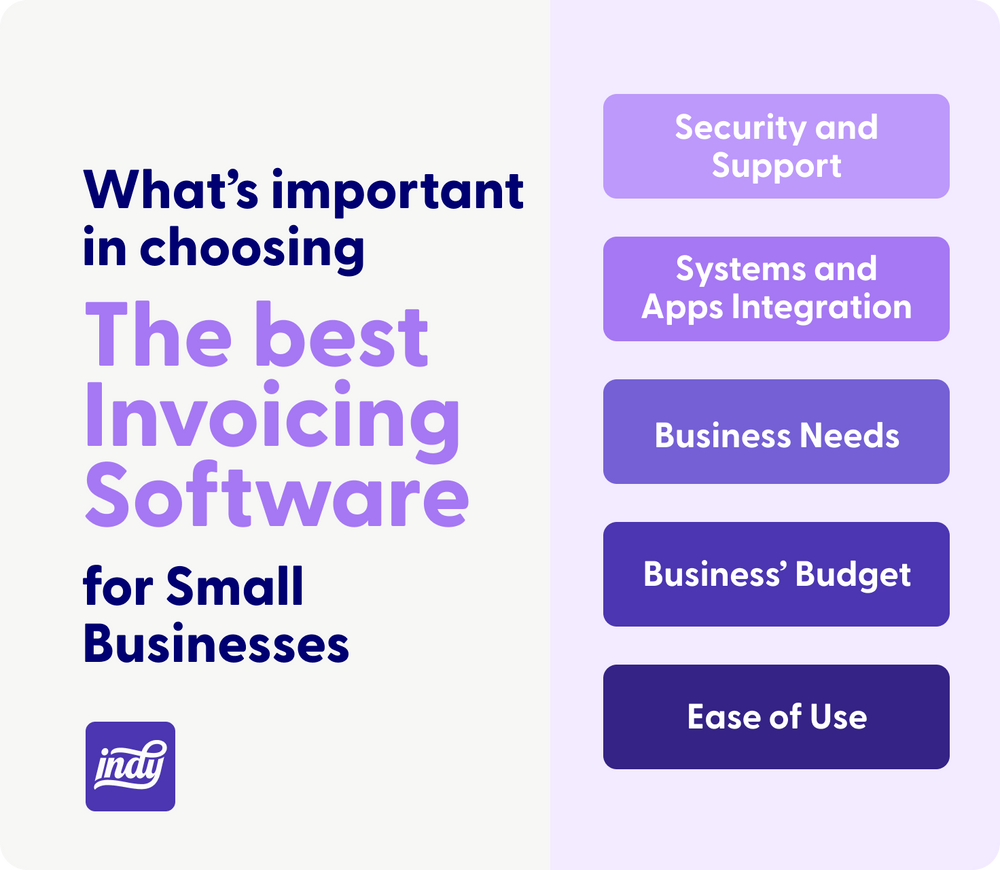 Here is a more detailed overview of the factors to consider when choosing invoicing software:
1. Business needs
Some businesses will only send out a few invoices, while others must prepare hundreds or even thousands of invoices every month.
While some software can allow you to prepare unlimited invoices, others have a monthly cap or cannot handle many invoices. Therefore, keep your specific need in mind as you decide on the software to get.
Besides capacity, you also need to review your business operation and decide what kind of software will work best for you. Some businesses will work well with accounting software that helps with bookkeeping and invoicing, while others need something that also provides project management solutions.
2. Your business' budget
There are many free invoicing software solutions out there. However, if you are looking for something to help you create customized professional invoices, you have to pay anything from $5 to over $50 per month.
Robust invoicing solutions with a full range of features will cost more than basic ones with only one or a few invoice templates.
Free invoicing software can still be adequate for small businesses with a few clients since they only need to prepare a few simple invoices every month.
3. Systems and apps integration
A typical business will already have multiple other systems, apps, and tools for supporting different aspects of its operation, such as marketing and task management.
When choosing invoicing software, it's good to make sure it integrates with these other tools that you already use for smooth business operation.
Always do a quick Google search on the integrations that the software you are thinking of buying supports to be sure it will work with your existing tools.
4. Ease of use
One of the main shortcomings of using manual invoicing methods is that it is a tedious and sometimes complicated process, especially if you are new to the task. Invoicing software should simplify things for you by being easy to use.
Something that automates most processes and takes little to no effort to set up will give you the easiest time. Also, the developer should provide helpful material like tutorials and tips for using the software.
5. Security and support
Security and customer support are two crucial elements that are easy to overlook when shopping for invoicing software.
Even if the software has all the advanced invoicing features and simplifies life for you, it will not work well without proper security features. Given that you will be using it to handle sensitive business and client information, you cannot afford to take chances with security.
Customer support is vital when you have issues with the software, and it can help prevent delays. Also, check whether you need to pay any extra money to get technical support.
Final remarks
Invoicing software is an excellent addition to your business as it makes billing and invoicing more effortless tasks that will not take up a lot of your precious work time. However, to enjoy the many benefits of using invoice software, it is vital to make sure what you choose is a perfect fit for the specific needs of your business. Look at how much the invoice software costs per month, its features, and whether it will do more for your business besides just creating and sending invoices.
Also, consider integration with other tools that you are already using to streamline business operations. Software that integrates with your other sales, marketing, and accounting tools will serve you better. Indy offers an all-around solution that's perfect for small business owners. Not only will you get invoicing & billing tools, but you'll also get access to contracts, proposals, task management, automatic time tracking, automated workflows, and file storage, all for one low price. Get started today and make invoicing simple!
FAQs
Which accounting software is best for invoicing?
Your best accounting software for invoicing depends on your specific needs and the kind of business you operate. For example, Sage Intacct is perfect for e-commerce businesses, while Zoho Invoice is unbeatable for international invoicing, and Indy is the best choice for small business owners looking for a simple yet powerful invoicing tool.
How do small businesses keep track of invoices?
When using manual invoicing processes, keeping track of invoices can be hectic as you have to keep them in files and storage cabinets.
However, invoicing software makes the process much easier as they keep track of all the invoices (both paid and unpaid invoices). The invoices are often categorized by dates and using other parameters like client name, location, and amount due, making them easy to track.
What should be included during small business invoicing?
A typical invoice should consist of the following:
Name and address for both the small business and client
Dates - issue date, due date, and delivery date
Unique reference number
Service description
Invoice amount
Supported/available payment methods
An invoice software will have all these sections already added to the invoice, so you will only need to fill them out with the correct information.
How do I create recurring invoices?
Invoicing software should do this for you, and you only need to follow the provided guidelines for creating recurring invoices.
Some tools, like Indy, have automated recurring invoices. With invoicing software, you only need to activate the feature, and it will collect data and create the invoices automatically. However, the exact process varies from one software to the next.