With over 4.5 million global users, QuickBooks is one of the most popular accounting and project management solutions in the world. A seamless user interface, fantastic features, and top-notch customer support make it one of the best accounting solutions for small businesses.
However, it is pricey and lacks some important features. If you are looking for the best free QuickBooks alternatives, your search ends here. Let's look at the best online accounting and client management tools you can use instead of QuickBooks.
What Is QuickBooks Online?
QuickBooks Online is an accounting management solution by Intuit that helps freelancers and small business owners manage their financial requirements without any external help. The tool enables you to manage your bills, invoices, expenses, and payroll all from one place.
Initially released in 1983, QuickBooks is one of the oldest accounting and bookkeeping solutions in the world. QuickBooks also has country-specific versions, so you can comply with the local regulations and tax requirements.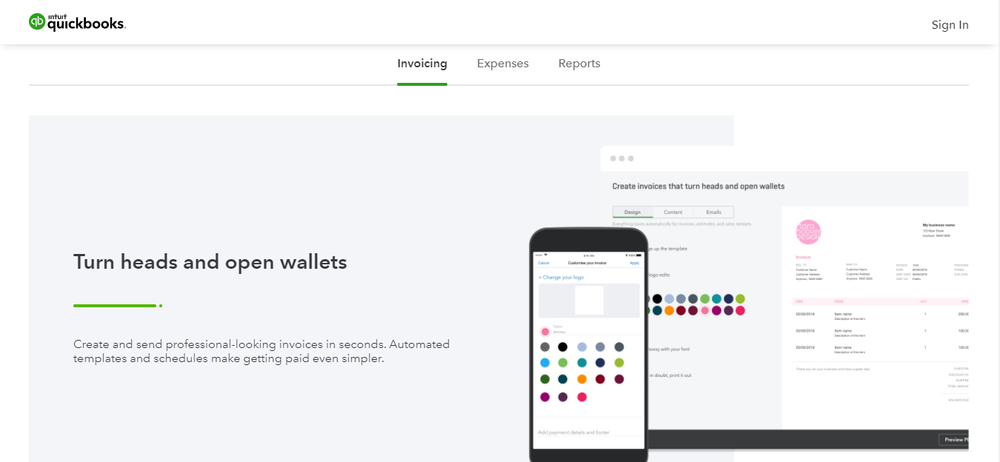 Some essential features and specifications of QuickBooks Online are:
Accounting and online banking
Inventory management
Custom invoices and quotes
Proposals, budgets, and purchase orders
In-depth reports and financial insights
Bank-level data security
24/7 support
Easy to set up and use
Apart from freelancers, chartered accountants, bookkeepers, and small business owners can use QuickBooks to stay on top of their accounting, invoicing, and tax requirements. Also, QuickBooks has many integrations with third-party services. For example, you can export QuickBooks to Excel via Coupler.io as a data backup option or for custom charts and graphs creation. The same is available for simpler spreadsheets like Google Sheets.
QuickBooks Online has four plans:
Simple Start: $7.50/month
Essentials: $15/month
Plus: $24/month
Advanced: $54/month
However, there are a few drawbacks to using QuickBooks Online. The biggest drawback is pricing. It doesn't have a free plan. Even though the Simple Start plan costs only $7.50 a month, new freelancers may not be willing to spend money on software. Also, QuickBooks Online has limited features. For example, it doesn't have project management and client management features. Thus, you'll need a separate solution for that and then integrate it with QuickBooks.
Why Do Freelancers Need Accounting Software?
Invoicing and financial management are integral aspects of a freelancer's day-to-day life. Depending on whether you charge per milestone or per project, your invoicing frequency can range from biweekly or monthly to once three or six months.
Freelancers face two major issues with creating and sending invoices:
They create invoices manually, which are prone to errors. Incorrect invoices mean late payments.
Manually sending invoices and following up with clients is time-consuming.
Small business accounting software overcomes both these issues. These solutions come with robust invoicing modules that allow you to create accurate and professional invoices with a click and set up reminder emails if the client doesn't pay on time.
Most accounting software solutions aren't limited to invoicing, expense tracking, and other financial management features. They come with project planning and management, payroll, and communication features, making them an essential addition to every freelancer's life.
Does Accounting Software Have Inventory Management Features?
Many accounting software systems have inventory management features. Even though QuickBooks doesn't have that functionality, FreshBooks, Sage Business Cloud Accounting, and Xero have inventory tracking and management features. However, freelancers don't need inventory management features as they don't sell products. As a freelancer, you must find a tool that enables seamless income and expense tracking and project management.
Best QuickBooks Alternatives for Small Business Owners
Indy
You should try Indy if you are looking for a QuickBooks alternative that provides better features at a more affordable price tag. Apart from effective accounting and invoicing features, Indy also helps you create and send contracts, communicate with clients, and manage your tasks and projects all in one place.
Indy is an all-in-one freelancing management tool that helps you organize your business processes and declutter your life. Now, you can say goodbye to hours of non-billable work and spend your time doing valuable work.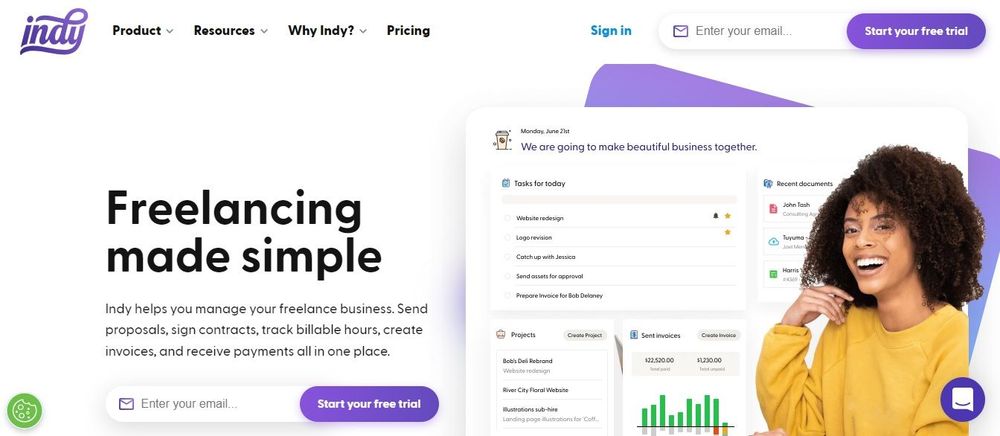 Top Features of Indy
Live chat with clients and team members
Create and send proposals
Create and send contracts
File storage and sharing
Send invoices and get paid
Calendar and schedule management
Time tracker and task management
Indy also has a major edge over QuickBooks in pricing. It has two plans: Free and Pro Bundle. The Free Plan offers limited access to all the features of the platform. The Pro Bundle is available for $12 per month and provides complete access to the entire platform.
Apart from Indy, there are hundreds of accounting and invoicing solutions out there. Hence, finding the perfect free QuickBooks alternative can be challenging. We have done the hard work for you by finding the best alternatives to QuickBooks accounting software. Check out these tools and find a solution that fits your needs.
Wave Accounting
Wave Accounting is a feature-rich accounting and invoicing system used by many freelancers and small business owners. The best thing about Wave is that it's free to use, making it ideal for professionals with tight budgets. Wave Accounting has all accounting features, along with advanced features like custom branding and customer management.
Key Features:
Create professional invoices
Accept payments and get paid faster
Track payments and communications
Income and expense tracking
Integration with other apps
Pricing: Wave Accounting is free accounting software. There is no paid version, and you can use the complete software forever.
Sage 50Cloud Accounting
Sage 50 Cloud Accounting is a powerful accounting and finance solution that provides a comprehensive range of features and specifications. The tool comes with all the capabilities needed to manage your financial tasks effectively. It allows you to generate unlimited invoices and accept payments. It's a robust QuickBooks online alternative with advanced tools and features.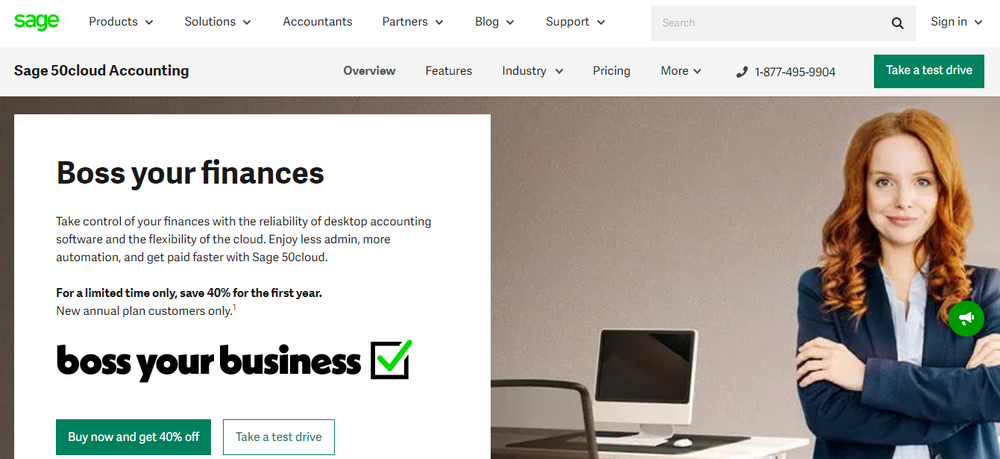 Key Features:
Payments and banking
Cash flow and invoicing
Advanced inventory management
Reporting and analytics
Payroll management
Pricing: Sage Accounting has three plans: Pro Account ($33 per month/user), Premium Accounting ($52 per month/user), and Quantum Accounting ($87 per month/user).
FreshBooks
If you are looking for simpler QuickBooks alternatives, you can try FreshBooks. It's a fantastic accounting and business management tool for freelancers and solo entrepreneurs. It's easy to set up and provides a comprehensive range of features and benefits. You can do a lot of things with FreshBooks, such as tracking and managing projects, managing clients, tracking expenses, and more.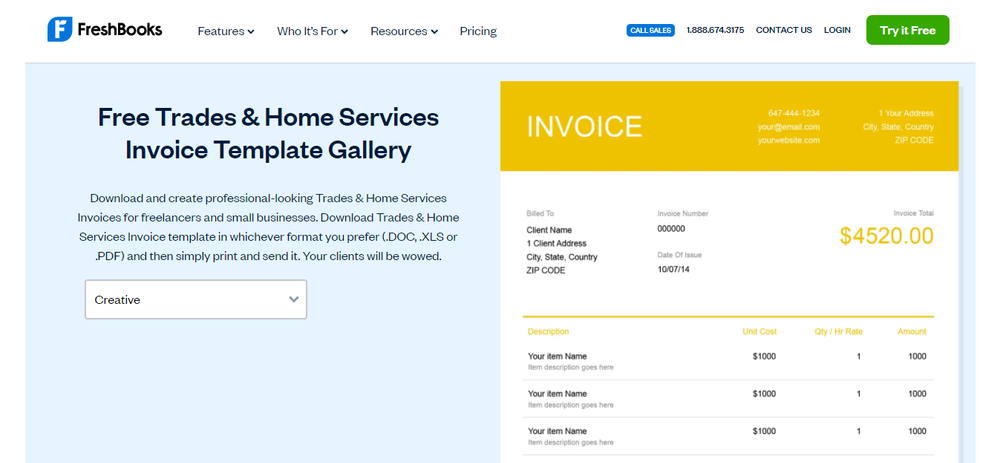 Key Features:
Intuitive dashboard with seamless access to all modules
Client management portal
Create and send invoices
Expense tracking and finance management
Time tracking and project management
Pricing: FreshBooks has three plans: Lite ($6.00/month), Plus ($10.00/month), Premium ($20/month). You can also create a custom plan.
AccountEdge Pro
AccountEdge Pro is another powerful accounting and business management tool that allows you to add unlimited users. It comprises features like double-entry accounting, payroll services, fixed assets management, and more. It also has time tracking features, so you can track the amount of time you spend on each project and create accurate invoices.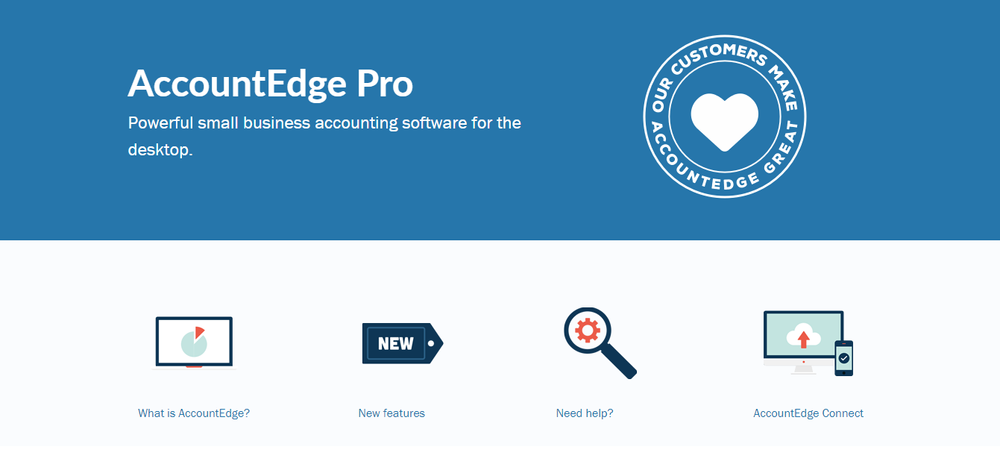 Key Features:
Banking and accounts
Sales and marketing management
Client portal
Time billing and invoicing
Payroll and inventory tools
Pricing: AccountEdge Pro has four plans: Basic ($149), Pro ($399), Pro ($25/month), and Priority ERP (custom pricing).
Xero
Xero is a business accounting software solution that allows you to manage all your banking and finance requirements. You can connect Xero with various bank accounts and generate invoices, accept payments, and track your expenses. Xero allows you to add unlimited users. It has multiple plans suited for everyone, from very small businesses to enterprises.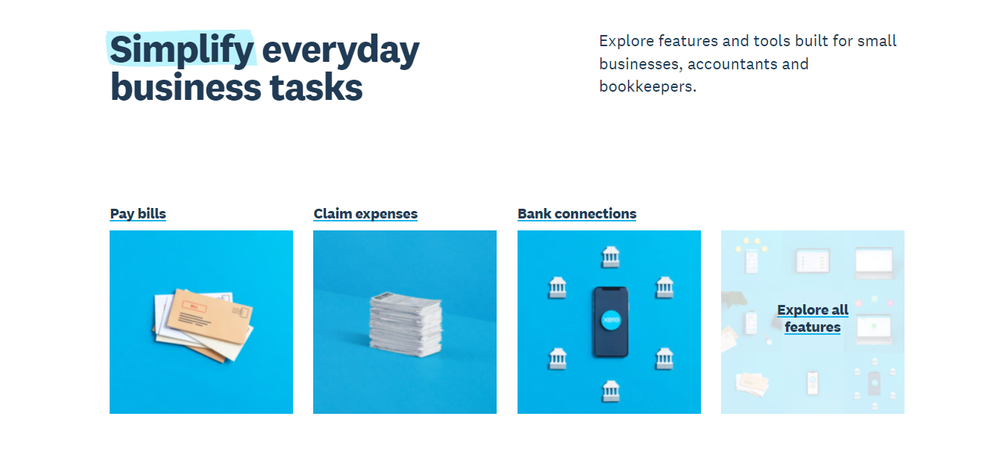 Key Features:
Connect with bank accounts
Pay bills and claim expenses
Manage contacts and communicate with clients
Time tracking and project tools
Reporting and analytics
Pricing: Zero has three plans: Starter ($22/month), Standard ($35/month), and Premium ($47/month). There is no free version, though there is a free 30-day trial for all plans.
Kashoo
Kashoo is an easy-to-use accounting software solution best suited for freelancers and small business owners. It allows you to send invoices, accept payments in multiple currencies, and track income and expenses. If you need an affordable accounting solution that saves you time and additional expenses, try Kashoo.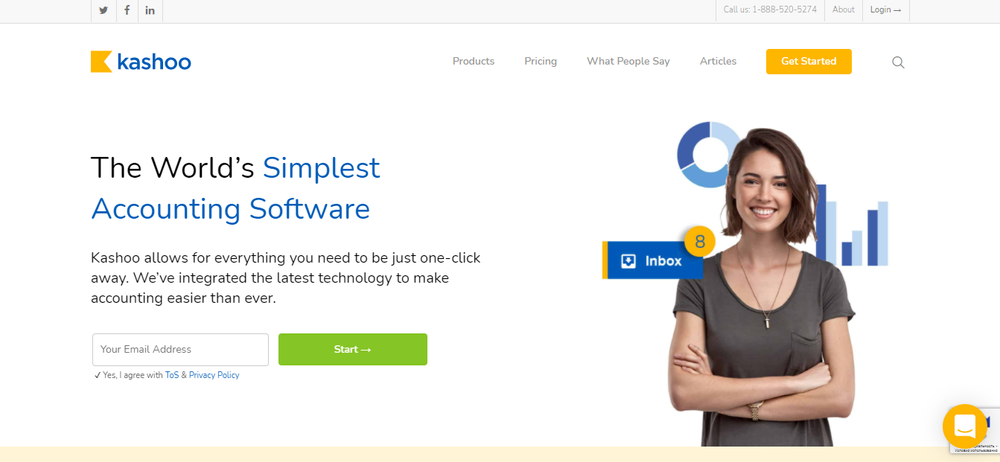 Key Features:
Accounts payable and receivable
Billing and invoicing
Budgeting and forecasting
Approval process control
Expense tracking
Pricing: Kashoo has a unique pricing structure. It offers a TrulySmall Invoices app for free. The TrulySmall Accounting suite is available for $20 per month, and Kashoo — their flagship product — is available for $30 per month.
Zoho Books
Zoho Books is one of the leading accounting and invoicing apps used by freelancers and small business owners. It allows you to connect your dashboard to your bank account. Zoho Books comes with powerful capabilities like credit card processing, payment processing, cash flow statements, financial reporting, and more. It also has an intuitive mobile app.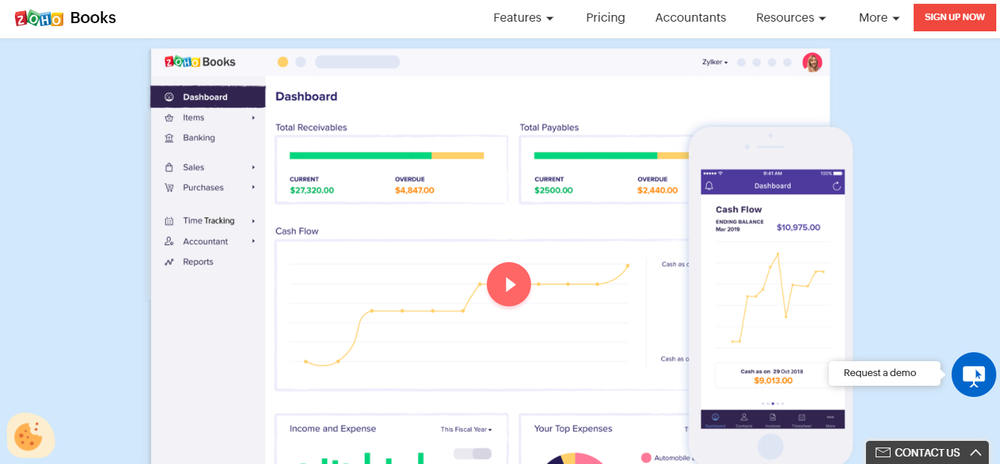 Key Features:
Estimates, invoicing, and proposals
Sales orders and purchase orders
Banking, e-invoicing, and online payments
Client portal
Reporting and documents
Pricing: Zoho Books has six plans: Free, Standard ($12 per user/month), Professional ($20 per user/month), Premium ($35 per user/month), Elite ($70 per user/month), and Ultimate ($105 per user/month).
Bonsai
Hello Bonsai, or Bonsai, is a freelance business management app that helps you manage all your freelancing tasks. If you're a small business owner, this cloud-based accounting system is ideal for you. It comprises robust features that help you run your business smoothly and save more time. It is available as desktop software and a mobile app.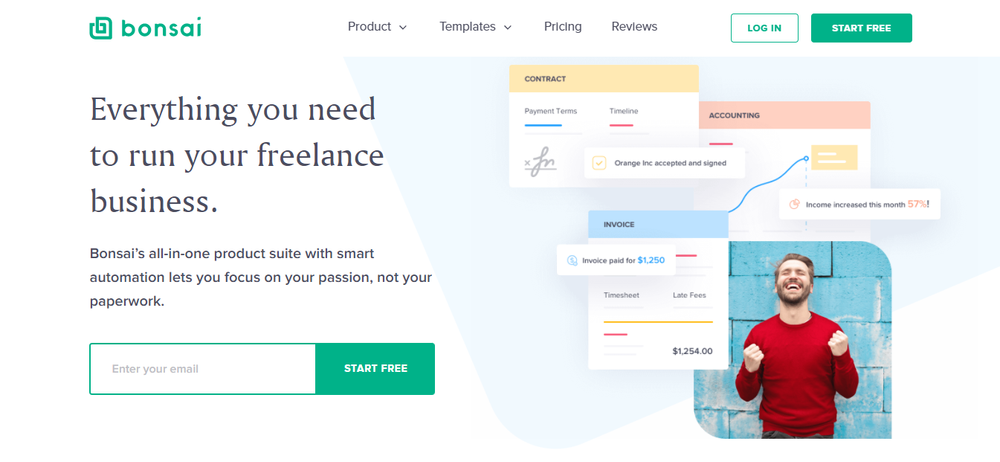 Key Features:
Project tracking and job costing
Invoices, proposals, and contracts
Client portal and contact management
Financial statements, receipt scanning, and financial reports
Expense management and financial protection
Pricing: Bonsai has two plans: Workflow ($19/month) and Workflow Plus ($29/month). You can also use add-ons like Collaborators, Partners, and Bonsai Tax.
FreeAgent
FreeAgent is a feature-rich solution for all your accounting needs. Ease-of-use, a wide range of features, and competitive pricing make FreeAgent an excellent alternative to QuickBooks. It's suitable for freelancers and small and growing businesses that want to streamline their business management requirements on a budget.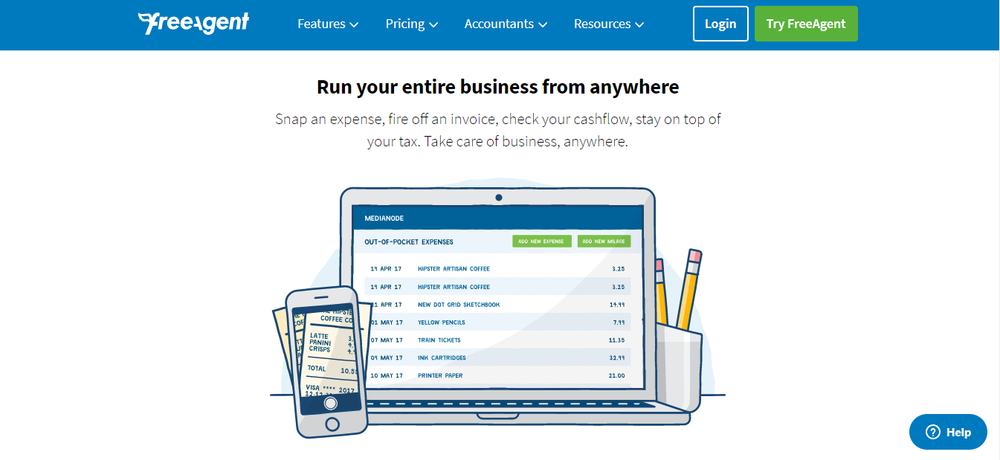 Key Features:
Send invoices and get paid
Scan receipts and track your expenses
Banking and expense tracking
In-depth business insights
Time tracking and project tools
Pricing: FreeAgent has only one Universal Plan priced at $10 per month for the first six months and $20/month thereafter. There is no free basic plan, though a 30-day free trial is available for the paid professional plan.
Indy is the ideal alternative to QuickBooks for freelancers. QuickBooks focuses mainly on accounting and inventory management. It also has expensive plans. Indy offers various freelancer-centric features like project management, client management, contract management, etc., for $12/month only. And with the Free plan, you'll always have access to all the basic tools you need to manage your business.
Conclusion
There are many apps similar to QuickBooks, and you can try them all to find a solution that aligns with your requirements. We recommend Indy for running your freelance business effectively. Indy provides best-in-class features with helpful online support for an affordable price. You can also try other tools discussed above and find the best software.