As a freelancer, you become a one-person band, no matter what industry you're working in. Apart from doing the job you're paid for, you also have to be good at every other aspect of a business. These include price and contract negotiations, networking, invoicing, task management, marketing, and organizing your own time effectively. It can be an overwhelming idea, especially if you're new to it.
Luckily, there are marketing management and project management tools to help support you with all of the above. Using additional tools to support you with workload management means you can be more efficient in managing tasks and project planning.
However, it can be daunting to decide which software to use and compare one over the other. If you're feeling that way, you're in luck. We've done it for you.
This article will examine all the essential features of good marketing project management software for freelance marketers and look at some helpful marketing project management tools you can use to help manage your recurring tasks.
Benefits of using marketing project management software for freelancers
Managing ongoing freelance projects can be a tricky task. More often than not, freelancers use additional tools to help their project management options. There are several benefits for you as a freelancer to using marketing management tools to support you in the day-to-day running of your business.
Automated processes: Recurring tasks and invoices can be automated, so you don't need to manually create these - meaning you can spend more time doing the job.
Expenses tracking: You can plan budgets, track expenses, and manage your incomings and outgoings to help prepare you for filing taxes.
Increased efficiency: Time tracking software allows you to become aware of what tasks take the longest and help you manage your time more effectively. You'll also spend less time managing the admin and more time doing planning projects.
Set deadlines and manage your calendar: You can create daily to-do lists, assign tasks, and manage projects, so you always know what's coming up.
Client management: Instant reports, invoices, and excellent communication are all key points in keeping clients happy.
Billing: You can manage your billing from one screen.
Contract management: You can easily see your ongoing contracts.
The advantages to using project management software as a freelancer are endless. The sooner you start doing it, the better. You'll have more time, work better, and work smarter for your clients. As a freelancer, your time is money, so automating these processes early on allows you to focus on expanding your freelancing business.
Features of good marketing management software for freelancers
Any good project management software should have tools for you to work from one app. The last thing you want as a freelance marketer is to be going between different apps to focus on the various aspects of your business. That can be time-consuming and difficult to track.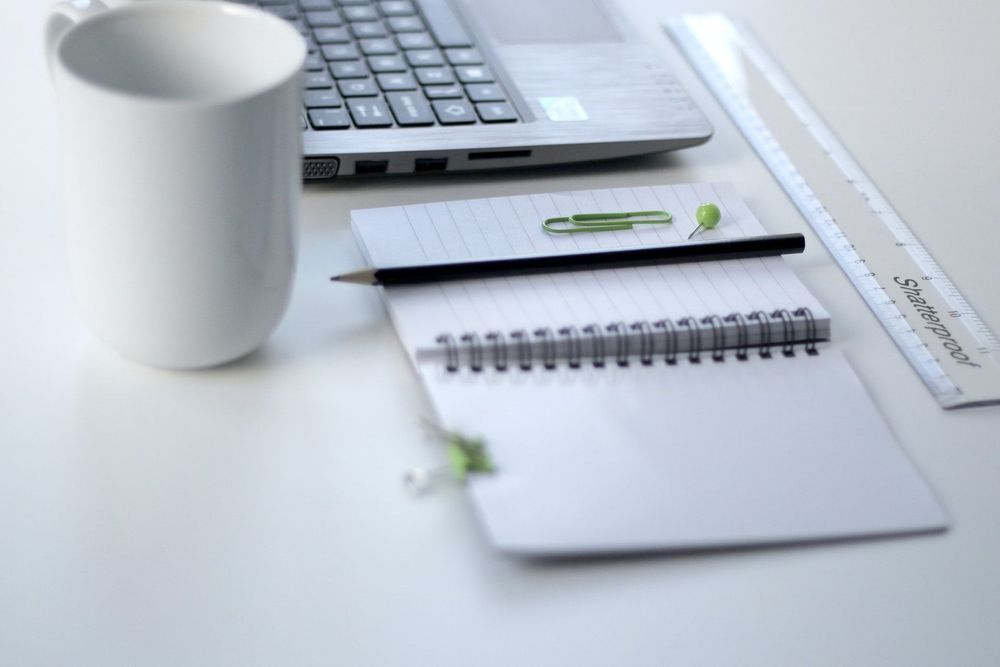 We've put together a list of the best features any good marketing project management software should have. Ultimately, you'll be the one to decide what aspects you need from your marketing project management tools.
Invoicing & billing
An essential aspect of the job is providing correct invoices to your clients so they can pay you for your work. As a freelance marketer, you want your invoices to appear professional. Invoicing software lets you set up recurring invoices to regularly bill ongoing clients for projects without manually doing it each time. You should also be able to personalize your invoices and accept multiple payment methods.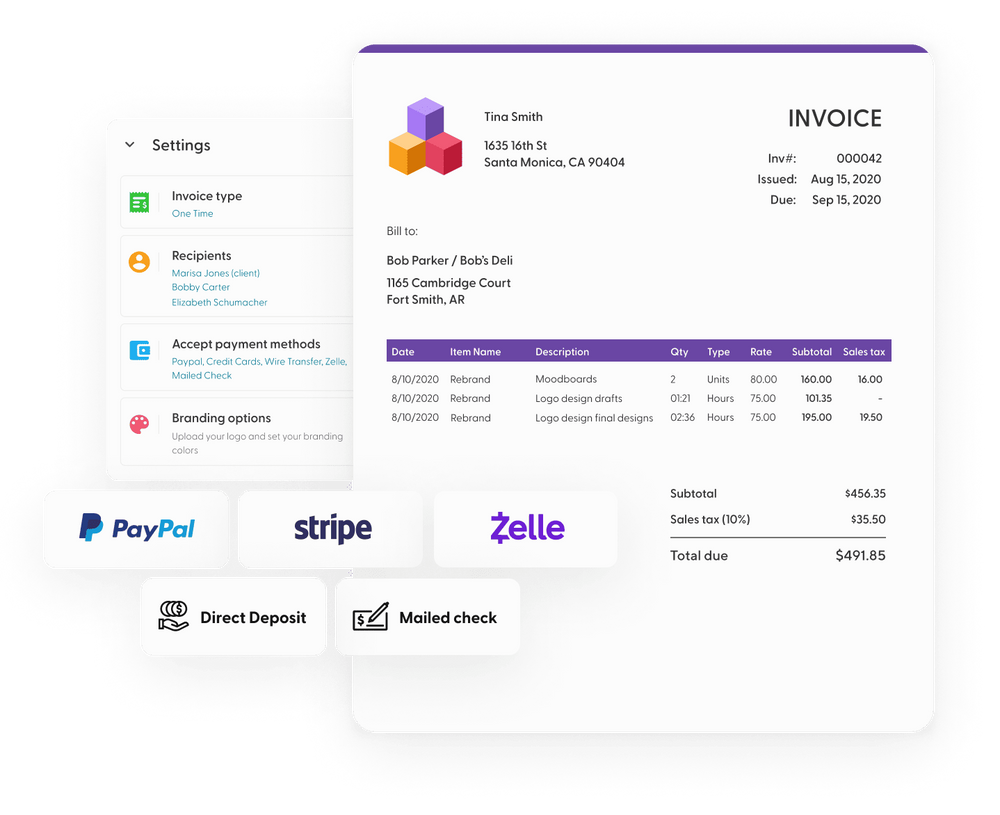 Send better invoices with Indy
Indy Invoices makes it easier than ever to send invoices that look great and help you get paid fast. Accept major payment methods like PayPal and Stripe.
Get started
Task management
When you're working on a marketing project, there will be various deadlines and tasks related to the marketing campaign. Keeping track of everything you've got to do with to-do lists is an effective way to manage tasks. A good marketing management tool will have all the software available to manage your own tasks.
You can keep track of all upcoming tasks, get an idea of the bigger picture, and have a list of daily tasks to know what you need to focus on for the day. Automating this process takes away a time-consuming part of being a freelancer. It allows you to stay organized and keep on top of things, always meeting your deadlines and appearing professional to your clients.
Proposals
As a freelancer, part of your ongoing job is pitching yourself to new clients and making marketing campaigns or project proposals. A good marketing project management software will allow you to track your new leads and help create proposals to send to potential clients. A project proposal tool will enable you to market yourself better and function as a sales tool to get more marketing projects.
Time tracking
Most freelancers charge per hour or a flat fee for the entire project. Whichever way you charge, you will need to track your time accurately. Even if you charge a flat fee, you should track the time it takes you to complete the project to understand how much you're earning on an hourly basis. As a freelancer, the last thing you want is to be undercharging for your work.
A good marketing management software will come with a time tracking tool to allow you to track the hours you spend working on your marketing project. This will enable you to understand how much to charge for future work and plan projects.
Another form of time tracking is access to a calendar, so you can manage your meetings and track project deadlines.
File sharing
Working on a marketing project as a freelancer will involve file sharing as you send documents or pieces of work to marketing agencies or clients, so any excellent marketing project management tool will involve a file-sharing element. You should be able to track files, store them on the cloud, and identify revisions all from one place.
Communication tools
A good marketing management software will have communication tools to interact with all your clients from one handy place. You can exchange regular messages and keep up to date with the expectations of your clients. If you need to and have a more complex project that involves multiple clients at once, you should be able to speak to them all from one chat room.
Communication is vital in the world of business, and freelancers need to communicate regularly with their clients. Any good marketing management software suitable for freelance marketers should involve communication tools.
Contract management
An integral part of the freelancer's role is negotiating contracts. When you set up a new marketing campaign with a client, you'll want a thorough contract to confirm everything. That way, you are protected, and so is the client.
Using marketing project management tools should give you access to contract templates to help you organize more complex projects. You'll be able to customize the contract for each job, and it should allow for digital signatures so you and your client can get started on the job quickly after signing the dotted line.
An excellent contract management software will also have a function for you to monitor the progress of each contract, so you can tell if your client has viewed and signed it.
Best marketing project management software for freelancers
All marketing project management platforms are different and have various key features and qualities. Some encapsulate all aspects of a freelance business, whereas others focus solely on project management and dashboards.
We've browsed the web and put together a list of the best project management solutions on the market. If you're looking for software to help manage marketing campaigns with digital asset management and support your marketing efforts, you'll want to choose one from this list.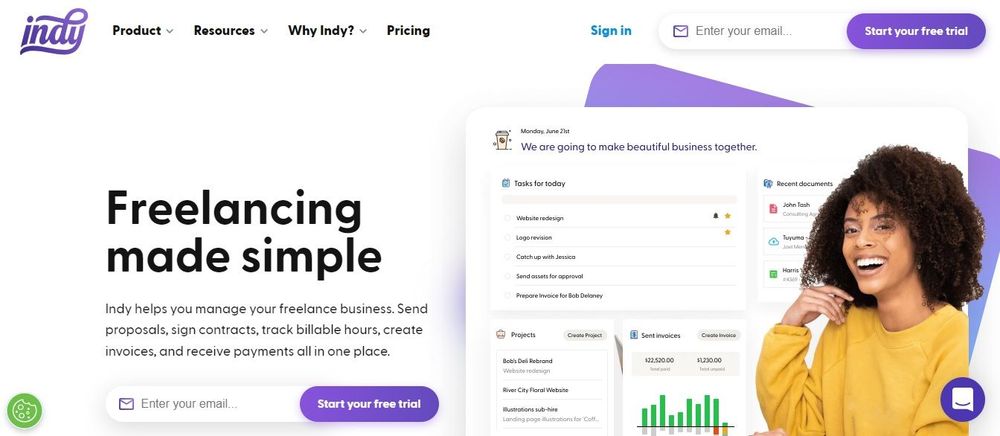 Indy is one of the top software for managing marketing projects for freelancers. The app provides freelancers with everything they need to work effectively from home and maintain excellent relationships with their clients. There's invoicing, file sharing, and contract management software to allow freelance marketers to prepare contracts and invoice their clients professionally.
Indy also can gather more leads, which can generate more clients and help expand your business. There's a proposal capability, which allows freelancers to create high-quality proposals and stand out among the crowd when doing self-promotion to clients and marketing agencies.
The customer service is excellent, with a live chat option available and an extensive help center to support customers in answering their queries. However, as Indy is still a new freelancing app, they aren't available in every country yet. They are an affordable option for project management for marketers.
They are highly rated by reviewers who have used other project management apps and transferred to Indy since they came on the market. Reviewers highlighted their excellent task tracking and file management capabilities while calling it an affordable CRM of high quality.
Pricing
There are two price plans at Indy. The first plan is free, and they don't take any credit card details if you sign up. Indy's Free plan gives you free unlimited access to all the basic tools you need to manage your business.
The pro plan is priced at $12 per month. It offers access to all the capabilities of the free plan but also gives access to more advanced features of each tool.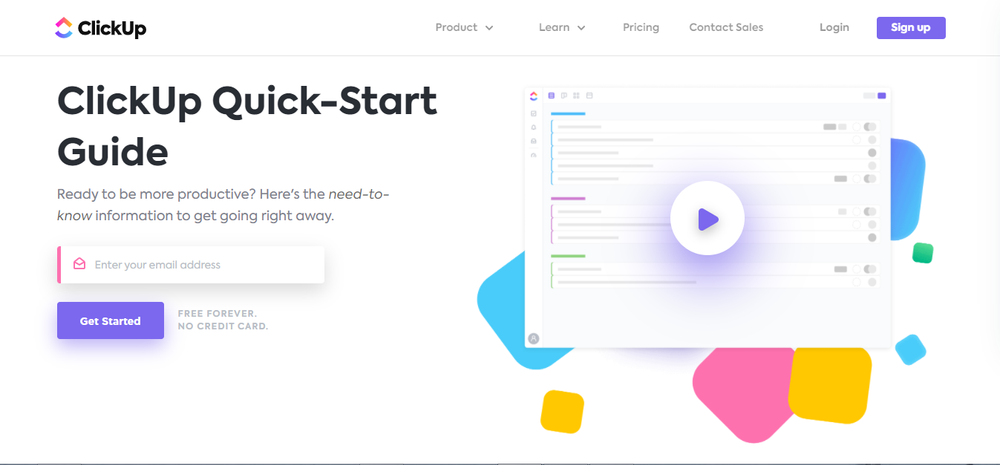 ClickUp is an extensive project management app that gives freelancers and marketing agencies excellent team collaboration tools allowing people to contribute to complex projects and set goals.
The app has been around for a while and has communication tools like real-time email and chat. At ClickUp, they emphasize automating tasks like recurring invoices and assigning tasks and comments so that freelancers can focus on the more critical aspects of their business. There's 24/7 customer support for people who are having issues.
However, the app is built for more extensive marketing teams and agencies instead of singular freelancers who are looking for project management software. There are lower price plans with fewer capabilities, but the app is more built for multiple marketing departments.
Pricing
ClickUp's pricing plans are extensive. Their first plan is free and recommended for freelancers starting out. There's a 100MB file storage capacity, but there's a capability for unlimited tasks, collaborative working, communication tools, time tracking, video recording, and 24/7 customer support.
Their unlimited plan starts at $9 per member per month (or $5 per month when paying annually) and is recommended for a small marketing team. There's unlimited storage, integrations, and dashboards. There's also access to Gantt charts, customization options, and reporting capabilities.
A business plan suitable for medium-sized marketing teams starts at $19 per member per month. It has all the same access the previous projects do alongside advanced automation, an advanced dashboard, timelines, and mind maps. Users can create goal folders and use comprehensive workload management tools.
Business Plus is $29 per member per month and is recommended for multiple marketing teams. Users get the same access as previous plans and access to priority support. There are custom permissions, increased automation, and API. Users can create custom roles and have substacks.
Finally, the highest plan comes with customized pricing and is suitable for large marketing teams or marketing agencies.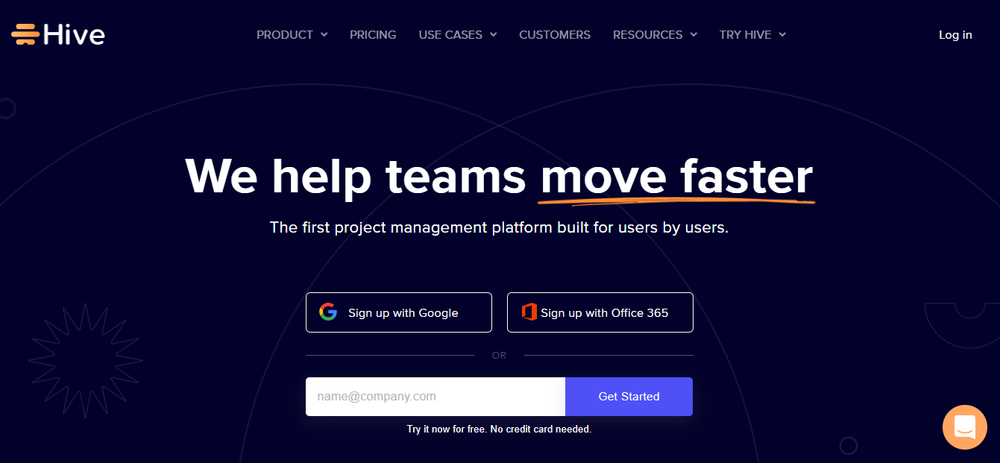 Hive is an award-winning project management app aimed at freelancers and marketing teams. They provide streamlined workflows for complex projects and enable users to manage all aspects of their projects from one screen. People can set up tasks, manage multiple projects,
They update their software regularly based on suggestions from the user forums, meaning they take the opinions of their user base seriously. They provide extensive time tracking capabilities, although these are not available on the free plan. Users who can access this can track time per task, project, and work from a calendar. Users can customize recurring tasks, and meetings can be scheduled automatically. There are communication tools for freelancers to chat with clients in real-time and customized status updates.
However, the free plan is limited and doesn't provide access to time tracking, which is one of the key features of a project management tool. The free plan also only gives access to community-based support instead of contact with a Hive customer support team.
Pricing
Hive Solo is their free plan aimed at freelancers and small teams. It can have up to 2 users, unlimited storage, and support from the community. Users can create to-do lists, use it for managing tasks, and access calendar, Gantt, and Kanban tools. There are automated options and collaborative notes. However, there is no time tracking capabilities or analytics.
Hive Teams is priced at $12 per user per month when billed annually and aimed at small teams or marketing agencies with several projects. They have access to unlimited users and storage and customer support. Users can also use time tracking software and can pay for analytical software, timesheets, and proofing extras.
Their most expensive plan is Hive Enterprise, aimed at more prominent marketing agencies and companies with multiple marketing teams. It gives access to everything Hive has to offer. Their pricing is individually based on the company's size and needs to be quoted from their sales team.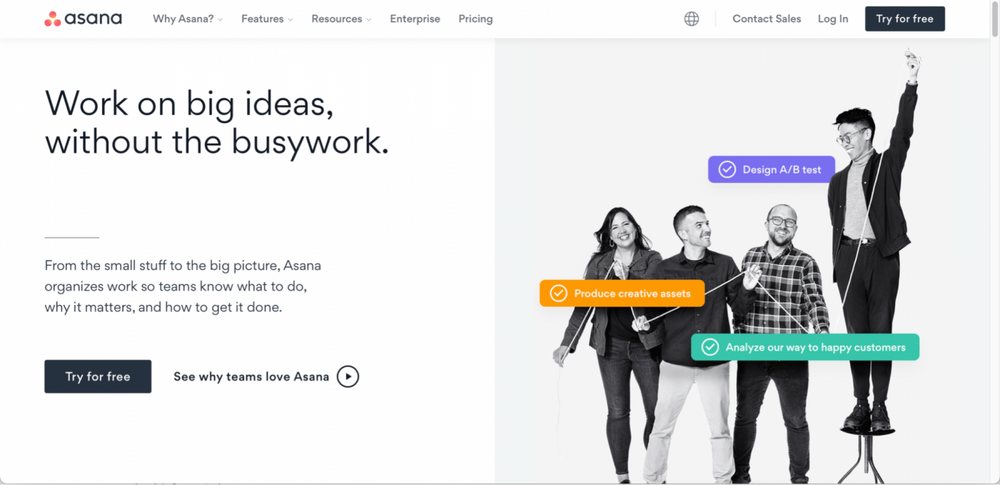 Asana is a marketing project management software that has everything freelancers need to run their marketing projects in one easy place. They have Kanban boards, a Gantt chart, and timeline capabilities so users can set up a project timeline and plan their time effectively. Asana also supports integrations from other apps like Salesforce and customer relationship management apps.
They've recently added a workflow builder to streamline processes and have a calendar people can work from so they can schedule their time and set goals. Asana also has mobile apps available for customers to access their project management on the go. However, users have said these apps are limited, and there's no capability for assigning tasks to more than one user. Working on complex projects can be challenging if project managers need more than one person to work on a complicated task.
Pricing
Asana has three plans. The basic plan is free and aimed at freelancers or small project management teams. It comes with unlimited tasks, projects, messages, and an activity log. There's also an unlimited file storage option. Up to 15 users can access it on the basic plan, and users get access to project overviews and briefs, a calendar, and mobile apps. There are time tracking capabilities, and Asana also supports integrations from other apps.
Their mid $10.99 per user per month when using annual billing. Users get access to all the same as the free plans, a workflow builder, a timeline, reporting capabilities, and the ability to have private teams and projects.
Finally, their most expensive plan is $24.99 per user per month using annual billing. It's built for marketing teams and agencies running multiple projects with lots of client management needs. Users get advanced integrations options, custom rules, proofing, approvals, and portfolios.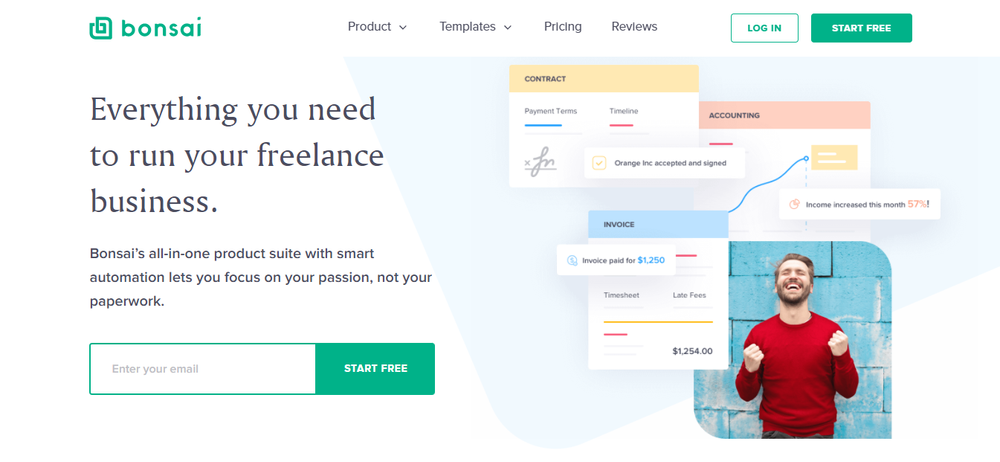 Hello Bonsai is a comprehensive project management tool that gives freelancers all the tools necessary to run their marketing freelance business. There are contract templates, time tracking tools, file sharing capabilities, and proposal templates. Users have access to everything all from one screen, with the ability to assign tasks, create deadlines, and manage their time effectively.
Hello Bonsai also organizes invoices and expenses, allowing users to use it for every aspect of their freelancing business. It works for small businesses too. They also integrate with Google Apps like Google Calendar, so events created in Hello Bonsai will transfer over to your phone calendar, and you can keep track of what you need to do while on the move.
However, reviews have said the project management tool falls short when offering a solid project management solution. They offer a lot in the way of expenses, invoicing, and contracts. But when it comes to the particular aspects of project management, Hello Bonsai talks too much about time tracking and not enough about the crucial elements of managing a project like creating to-do lists, assigning tasks, and managing more than one project.
Pricing
Their starter plan is priced at $24 monthly and is recommended for freelancers who are beginning their freelancing careers. It gives access to unlimited clients and projects, invoicing and payments, proposals, contract management, and has time tracking capabilities. There's a CRM for users to work from and expense tracking too.
The professional plan is their most popular, recommended for small businesses or freelancers who have been going for a while. It costs $39 monthly, and users get everything from the starter plan. There are also automated processes for workflows, integrations with Zapier and Calendly, forms, and questionnaires.
Finally, their business plan is aimed at agencies and businesses, costing $79 monthly. Users have access to all details in previous programs and 1099 contracts, a talent pool, subcontractor onboarding and management, the ability to connect multiple bank accounts, and unlimited project collaborators.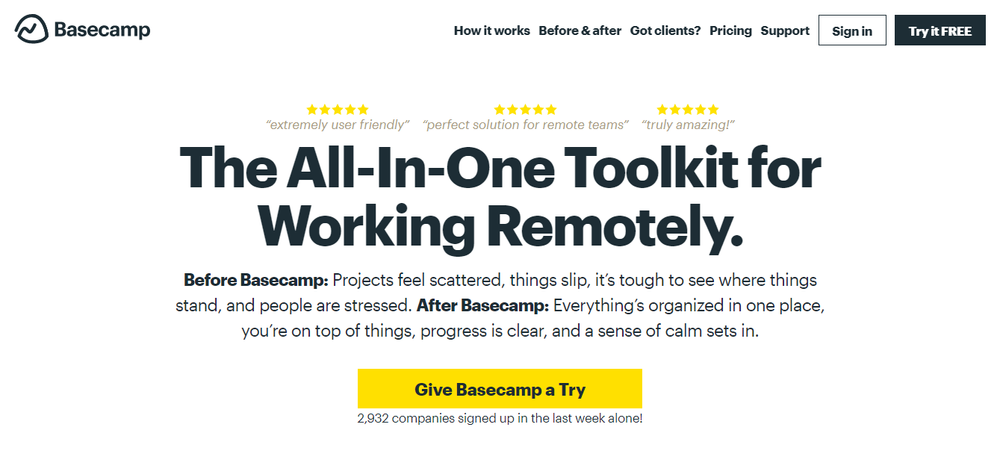 This software has plenty of excellent project management features like time tracking, project templates, resource management, and the ability to track marketing campaigns. It covers the whole marketing process and is an excellent tool for in-house creative teams.
However, while Basecamp is a valuable tool, it's probably not the one to choose if you're running a freelance business. Users can manage projects on the free plan but only up to three. So any higher than that, and you'll be expected to pay the $99 monthly fee. Considering some other project management software costs that amount for the entire year, it isn't the most cost-effective option when working as a freelancer.
Pricing
The Basecamp personal plan is free but has its limitations. It's perfect for students or freelancers to use as a marketing project management tool when they're just starting out. It can handle up to three projects and 20 users. There's 1GB of storage space for file sharing.
The Basecamp business plan is more advanced and comes priced at a $99 per month flat fee. This includes unlimited projects and users, unlimited clients, and the capability of working on team projects and project templates. It's aimed at marketing agencies or a large marketing team.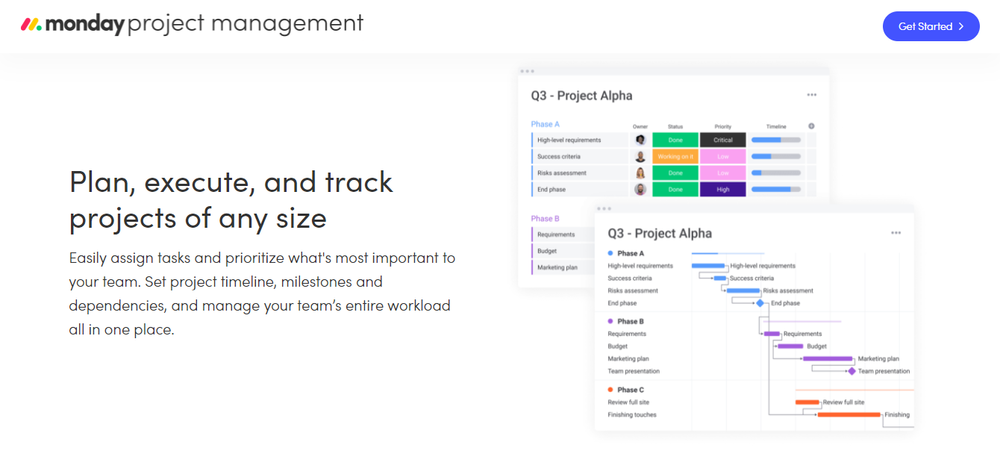 Monday.com has several options for providing project management. It's a colorful website that uses a red, amber, and green color code to signify projects and tasks that are finished, ongoing, and not started or stuck. They offer options for streamlined workflows, and it's an excellent project management platform for managing multiple projects at once. They have integrations with other apps and dashboards for users to work from. Their platform is tailored toward specific industries, and they have a specific marketing platform for in-house creative teams and marketers.
They are an excellent project management software but don't offer any additional services that keep freelance businesses running. So while they are reasonable, there are other platforms out there that provide a more thorough service for freelancers to operate their entire business from one screen. The platform falls short when it comes to invoicing and billing.
Pricing
Like most other project management software, Monday.com has a free plan which allows up to three boards, unlimited documents, and access to an app on Android and iOS. Users can have up to 20 columns and up to 5 team members. It's primarily aimed at individuals who want to keep track of their deadlines and tasks.
They have various plans, basic, standard, pro, and enterprise. They all increase in pricing increments from $33 for three users per month to pro, $65 for three users per month. The enterprise plan is for large businesses and requires contacting Monday.com for individual quotes.
Wrapping up
When you're a freelancer, you have to do it all. You're not only responsible for running marketing campaigns anymore. You have to be responsible for invoicing, billing, expenses, getting leads, creating proposals, and managing time and contracts. It's an endless list.
There are plenty of project management tools out there to support freelancers in running their businesses online. Each one comes with its own features, themes, and pricing plans.
As a marketing freelancer, using software to help manage projects, run tasks, and track expenses and deadlines make perfect sense. You want to automate as many of these administrative processes so you can focus on expanding your business, keeping clients happy, and working on the job you're being paid to do. Adding a marketing project management software lets freelancers focus on the things that matter instead of getting dragged down by the endless additional tasks that come with running your own business.
If you're running a business and want to start using a project management software to help you, check out Indy, you can access the free trial to try it before committing to any purchase and see how much free time you have once it's in operation.