Are you still not using a personal training client intake form?
The US fitness industry is worth $32 billion and rapidly growing, generating ample opportunities for personal trainers. The US currently has over 340k personal trainers.
If you are a personal trainer and want to provide the best experience to your clients, you need to use personal training intake forms.
Here's more information about personal trainer client intake forms and how to choose the right form.
What Is a Personal Trainer Intake Form?
A personal trainer intake form is a type of client intake form used by a personal training business to onboard its clients. It comprises a physical activity readiness questionnaire and other fields to help the provider understand the clients' requirements and provide them with the best experience.
A personal trainer intake form aims to help the fitness business learn about their clients, including their needs, goals, and problems. With this information, fitness professionals can create customized training programs for their clients to maximize the results.
Importance of a Personal Trainers Intake Form
Intake forms are crucial for fitness businesses. They help you understand the individual requirements and expectations of each client and enable you to provide the best service and experience. Besides, you can use online intake forms to make the process faster and hassle-free for your clients.
Let's discuss some important reasons for using client intake forms.
Save Time
Since you send an intake form before the first meeting, you can gather all the important information about your clients before meeting them in person. It saves a lot of time, as you'll already know who your clients are and what they expect.
If you don't use an intake form, you'll need to spend the first meeting knowing your client and learning about their needs. Which method seems more efficient?
Prepare in Advance
Since personal training client intake forms help you learn about your clients in advance, you can use that information to prepare yourself before the first meeting. Being prepared will help you make a solid first impression and convince the client to hire you.
Every fitness client has a unique requirement. Some clients want to lose weight, while others want to gain weight. When you know their needs, you can prepare yourself accordingly and say the right things in the meeting.
Provide Top-Notch Experience to Clients
Finally, client intake forms help you tailor your training sessions. You can refer to the form to check if your training program meets the client's requirements. This way, you can provide the best experience to your client and ensure 100% client satisfaction.
Different Types of Personal Trainer Forms
Having discussed the importance of personal training forms, let's now look at the different client intake forms for fitness professionals. Please note that you don't need to use all of them and use only those relevant to your business. To make things easier for you, we have listed these forms in order of priority.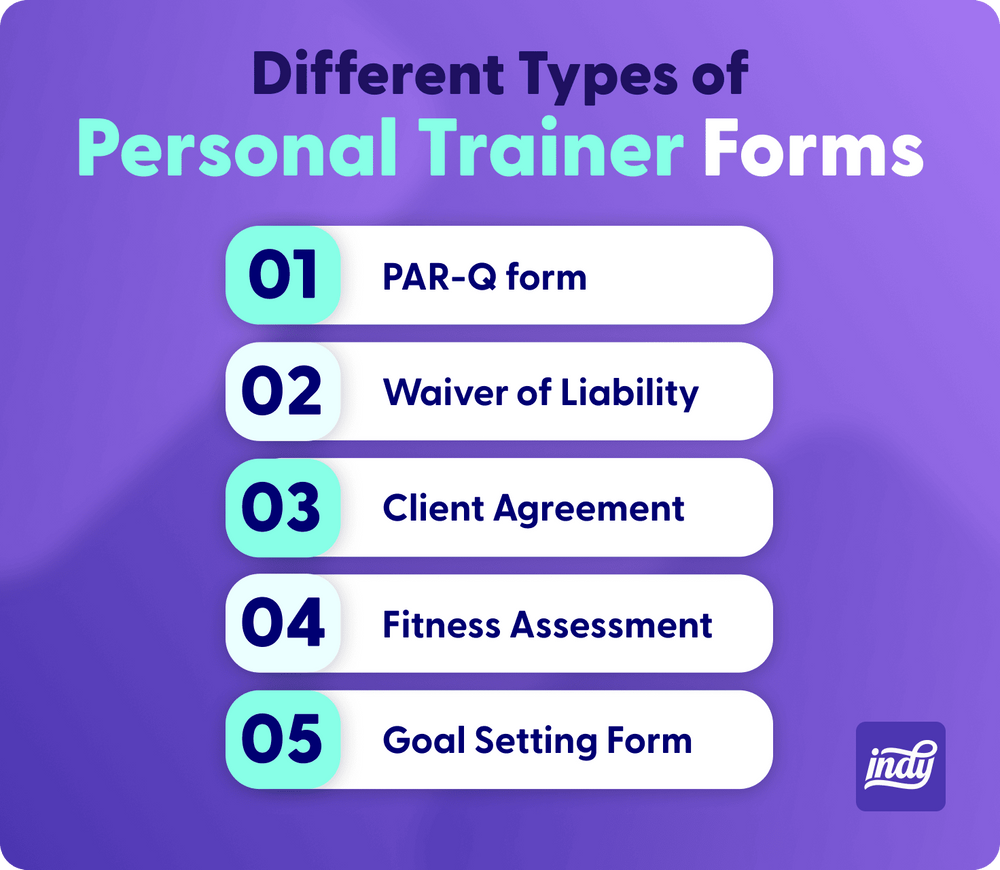 Physical Activity Readiness Questionnaire (PAR-Q form)
The most crucial client intake form for personal trainers and fitness businesses is PAR-Q. It's a standardized form that comprises some questions to help you learn about your client's health and physical fitness. The form can have 6-10 questions, with each question having a Yes and No answer bracket.
Based on the answers, you can evaluate the health and physical activity of the clients and determine if you should be working with them.
Waiver of Liability
The next important client intake form for fitness professionals is the Waiver of Liability form. Almost all physical workouts — yoga, calisthenics, or weight lifting —has some risk of injury associated with it. A Waiver of Liability protects you if an accident occurs, exposing your client to reasonable risk. Your certification body or insurance company may also want you to ensure every client fills this form.
Please note that this form will protect you only if a client is exposed to reasonable risk. It won't be helpful if your services expose the client to unreasonable risk.
Check out this article to learn more about reasonable and unreasonable risks.
Client Agreement/Contract
Many small but important details come into the picture when you onboard a new client. Which plan or package has the client purchased? At what price have they bought it? What is the cancelation policy, if any? What is the duration of the plan?
Personal trainers can use a contract or client agreement to cover all these details. If a conflict arises in the future, you can use this contract as a single source of truth.
Fitness Assessment
Some trainers may want to get detailed information about their clients' physical fitness. Doing so can help you design the perfect training program for your clients. A fitness assessment form consists of the following sections:
Gender
Age
Height and weight
Body fat
Measurements (biceps, chest, waist, buttocks, etc.)
Posture
Body type
Problem areas
Resting heart rate
You can add or remove sections from this form as per your preferences.
Goal Setting Form
Let's end this list with another popular online intake form used by many personal trainers — the goal-setting form. This form helps you understand the fitness goals of your clients. Each client has different fitness goals. By learning about their goals, you can develop the perfect training program. In the goal-setting form, the clients need to explain their short-term and long-term fitness goals.
Mistakes to Avoid with Your Personal Training Forms
You may not realize, but making minor mistakes with your personal training client intake forms can turn off your potential clients, and you can end up losing business. Here are some critical mistakes you should avoid with your intake forms.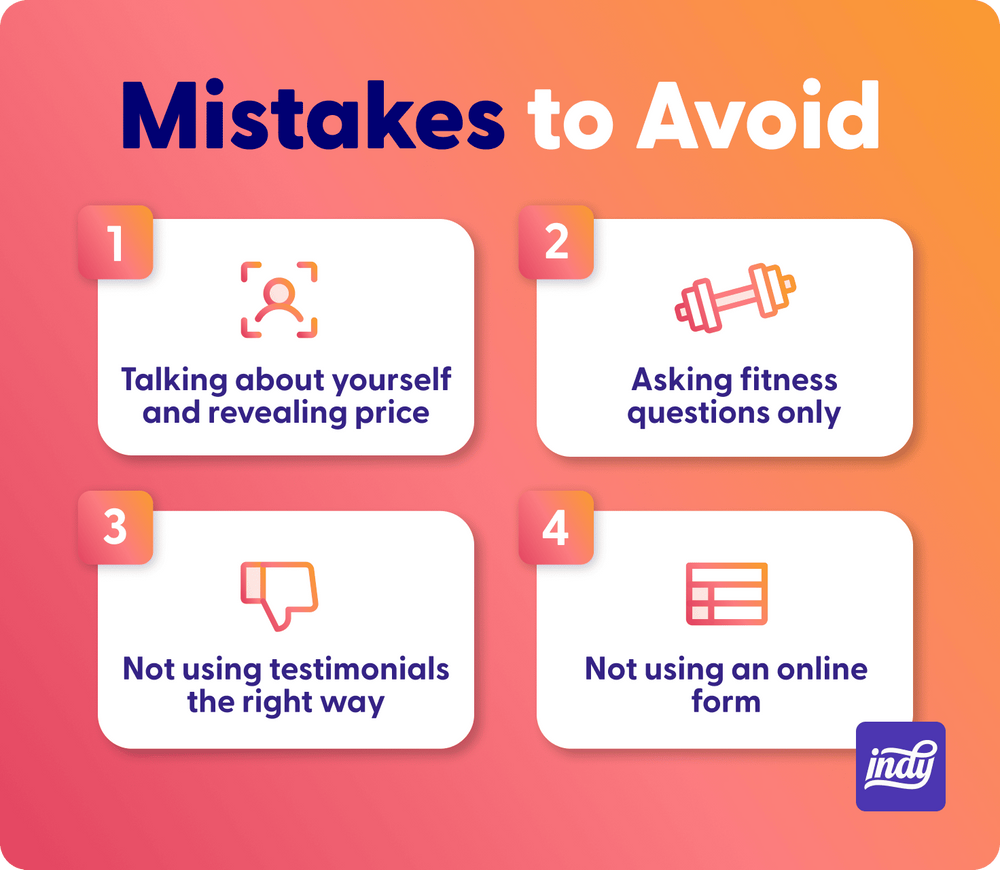 Talking About Yourself and Revealing Price
Personal trainers should never talk about themselves and their achievements on a client intake form. The intake form needs to be only about the client and their needs.
Mentioning your price is another mistake you should avoid on client intake forms. You should first convince the client of the value you can add to their lives. Then only you should reveal the price. This mistake has become common as many personal trainers have client intake forms on their websites, where they also have the pricing information.
Asking Fitness Questions Only
This may sound counterintuitive, but you should not ask only fitness questions. Why? It sets you apart. You don't need to ask something completely irrelevant like the client's favorite travel destination, but asking related questions like their favorite food can help you sound more personal.
Not Using Testimonials the Right Way
The beauty of online intake forms is you can integrate testimonials with them. Including a few testimonials on the form submission page can encourage clients to do business with you. However, not using testimonials the right way can cause problems.
Personal trainers should avoid using too many testimonials, as more is not essentially better. A few testimonials are enough, but make sure they are detailed and highlight the value you offer.
Not Using an Online Form
Using an online personal training client intake form has many benefits. Your clients don't have to do paperwork, and you can save time and money. An online web form is also safer than a physical form, and you can easily comply with data regulations.
If you still rely on physical intake forms, you give your clients a major reason not to choose you as their trainer. Creating online intake forms is super easy. With tools like Indy, you can create client intake forms and use them on your website.
Conclusion
A personal trainer intake form is one of the first steps in a new client agreement. It allows you to gather information regarding a client's medical clearance and fitness status. With this information, you can understand your clients' requirements and provide them with the best experience. Besides, a client intake form makes you look more professional and serious about your business.
While Indy doesn't have an intake form tailored to personal trainers, you can easily create intake forms fit for any industry. Indy's Forms builder lets you add content blocks like questionnaires, multiple choice options, and more to get the information you need from clients. Check out how Indy can help you onboard clients, and get started today!
Frequently Asked Questions
What are the 6 key questions a personal trainer should be asking new clients?
Every personal trainer should ask these questions to their new clients:
Are you suffering from any medical condition?
What are your success guidelines?
Do you smoke or drink?
What's your daily diet and exercise?
How much do you sleep per day?
What do you do for a living?
What forms do I need for personal training?
The following is the list of forms a personal trainer should use:
PAR-Q
Waiver of Liability
Contract or Client Agreement
Medical History
Fitness Assessment
Client referral request form
Contact details, contact information, or emergency contact form
Please note that you don't essentially need to use all types of forms. PAR-Q is the most important client intake form for personal trainers, and you can use the rest as per your needs.
How much does a personal trainer make per client?
A personal trainer can make anywhere between $6 and $25 per session per client. Most nationally recognized personal trainers earn a percentage of the fee paid by the client. Gyms typically charge $50 per session, and personal trainers make 15-50% of that.