First impressions play a vital role when bringing new clients on board. Your primary communication with them sets the ramp to establish a healthy business relationship.
A convenient onboarding system doesn't just make things simpler for your client, but it also makes your task easier. In simple words, with an efficient client intake process, everyone profits.
Do you need an intake form for your business?
Every business may not need a client intake form, but it is an excellent way to enhance your overall system, even if you provide service to prospective clients. With the help of intake forms, you can make things simpler for everyone who is looking forward to the onboarding procedure.
Client intake forms are majorly used in businesses working in these segments:
Healthcare service providers such as doctors and dentists, therapists, psychiatrists. You need a patient intake form template for this field.
Digital agencies that render services like SEO, marketing, and graphic designing.
Counselors and psychotherapists. You need a counseling client intake form template for this field.
Wellness businesses such as gyms, spas, and fitness centers.
Service providers such as house cleaning renovation and interior design
The right steps to create an Intake Form for your Onboarding Procedure
How can you make out if a potential client is the best match for your agency? It can be tough to decide, especially if you have been interacting over emails.
You may have several questions related to your clients, the industry they belong to, and if they need your service or not.
Analyze your present onboarding procedure. How do you find out about your prospective clients before you sign the NDA contract?
One way to get all your queries resolved is to make a client intake form to know about your potential clients before you start working for them. This will strengthen your professional relationship and make you help your clients better.
But, first, you should know what a client intake form is?
A client intake form is a short and crisp form that includes your client information. It usually contains questions related to your potential client's business, such as your client's name, contact details, budget, goals, and pain points.
What are the advantages of client intake forms?
At this moment, the first question to strike your mind is 'Why do I need it'? The simple answer to your question is that it helps with several major key areas of your business. Though you can always work without a client intake form, it is highly recommended for the three reasons given below:
You can get all the data about your prospective client at one time in one location
A simple client intake form helps you hustle your discovery stage and cuts down your back and forth interaction via emails. Rather than sending 20 emails to your client to collect all the answers, you can just set up a nice client intake form and collectively get answers. Also, you will have a source of true reference available hands-on.
Using client intake forms will also lower the chance you omit, forget or overlook asking any question. The form has all the important questions related to the client's personal and professional life and will only benefit your relationship with them in the long run.
You will get to know that a potential client is a perfect match for your business
Have you ever been in a contract with clients only to find out later that they are not the clients that you thought them to be? Are the skills they were looking for, not a part of your expertise? It may especially happen with law firms when you need a corporate lawyer, but end up with a criminal lawyer. Hence, making use of a client intake form is an amazing option to get ahead of it.
Once you get all the answers upfront, you will know so much more about your prospective client than what a simple contact form available on your site will reveal to you. It helps you understand the business-specific details of your client and keep your services aligned. It works as a great first impression.
However, if you notice any red flags, addressing them in the early stage of the relationship rather than after walking down the road is recommended.
Once everything settles, you have a new client to handle.
You will notice the seriousness of the client to work with you and hire your services
You may have received an inquiry, only to notice it disappearing when you asked about the client's strategy or goals. Well, that can be frustrating!
The reality is that sometimes clients are unaware of what they are looking for. However, a client intake form can put an end to it. When you present an intake form to your client, they will have to confront their problems and, in turn, hire your services.
So, by asking them to fulfill a client intake form, you can weed out people who aren't serious about working with you.
All in all, client intake forms are not needed to run a successful business, but they help a lot. They allow you to stay organized, safeguard you from long, hard conversations and help you find genuine customers to work with.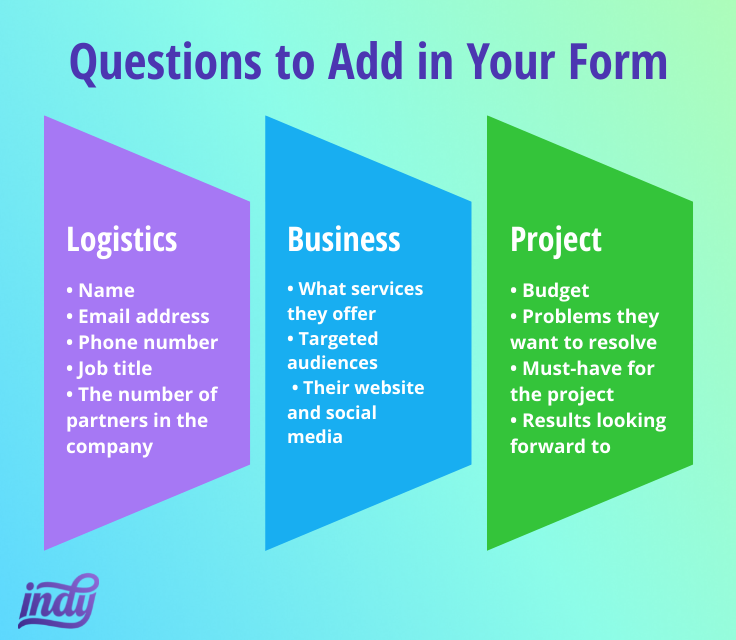 Steps to create your form:
Most client intake forms are available in a worksheet form or a survey with space to include your client's data. They are available in different forms. You can choose a Microsoft Word Document format, Google Doc format, PDF format, or Google Form format. After you have selected the layout, you can add the relevant questions.
Logistics
These questions let you enquire about the primary client information from your potential client. It will also help you know what their work is and where their expertise lie.
For instance, if they are a bakery owner, chances are they will not know about web designing a bakery store.
It is also important to know if other partners are involved that may work as decision-makers during the deal; make sure you get contact information before time, rather than asking them in between. The section includes their
Name
Email address
Phone number
Emergency contact information
Job title
The number of partners in the company.
Business
The step includes asking questions related to your client's business. Some of the answers that you would be looking forward to are their website and social media pages.
It will help you know their brand differently from the way they describe it.
Enquire about their competitors to know their targeted audiences. For some clients, you can also ask questions about the services they offer.
For instance, if it a spa's services, you can learn about the advertising efforts done last year, to measure their efficiency.
Project
This section will have all the questions related to the project. It will help you dig deep to explore the client's goal and why they look forward to teaming up with you.
Consider this section to look out for red flags.
Let's say you charge $800 for digital media promotions, but your client's budget is $1000 total, and they need a full branding package; consider it a red flag.
Feel free to add as many questions as you want to this section to clear all the clients that may not be feasible to work with down the path and avoid trouble later.
Budget
Problems they want to resolve
Must-have for the project
Expectations from us
Results looking forward to
Once you have set up the questions, you need to create a client intake form template. You should decide if you want a standard template or if you want to customize it.
Some of the instances where you may wish to customize your client intake form template are:
If it is a big brand client with more stakeholders, more contact information will be needed.
If it is for a medical practice, where you need medical information of the patients.
If it is a unique client with specific needs.
Either way, you should make a convenient and easy-to-fill client intake form.
Remember, you have a lot of time to know your client in a detailed way, later. The client intake form aims to measure if you are a good match for them and to ensure that they are a perfect match for you.
Also, ensure to give your client a deadline to fill the form when sending it in emails. You can also add the form to your website so any new client approaching your website will fill it out.
Examples of Client Intake Forms
A simple client intake form can collect important data during the client intake process. The client intake template has all the questions to ask a business, from client details to basic information.
The legal client intake form template is used to record the details of your legal clients. It has your client information, personal information, driving history, citation information, and anything else related to legal practices.
Healthcare service providers need precise information about their patients. They use a patient intake form template to collect details about their patients, suggest remedies, treatment measures, and assign required medical help. It includes details of the patient, primary contact number, preferred contact methods, and other confidential information.
Steps in the Client Intake Process
You can start the client intake process by finishing the intake form, which has the power to help you establish stable relationships with your clients. By collecting precise and comprehensive client-intake details, you can find out who in your company to alert about services that your potential client seeks, how urgent the needs are and what actions should be taken. However, a client intake process is different from client onboarding. Without an effective client-intake process, you may miss the chances of getting the best first impressions. If you cannot gather information about your new clients precisely, you may present your organization as 'ineffective'. Additionally, you may also lose on some extremely valuable and long-lasting clients. Without a proper client intake form, your company's reputation may suffer, and you may also face financial losses.
The client intake form templates will help you record precise client detail, the services needed, and other relevant information. Every client intake form template offers you the freedom to do the following things:
Set up a primary optimistic first impression for the client on behalf of your company.
Create a stable trust relationship between you and your client.
Get detailed information about the client
Collect relevant information about why they want to hire you.
Check out the steps to convert them into long-run content customers.
Wrapping Up
Using a client intake form can prove to be a game-changer for you. Select the best tool to customize your client intake form templates and get started with one for your business. You can add all the questions you want to be competitive and stand out from the crowd.
Make sure you send the client intake form to all your potential clients to ensure a convenient onboarding process for everyone included.