Only 58% of businesses understand the true value of project management, and 93% of companies use standardized project management strategies.
Project intake is one of the first steps in any project, and it starts with a professional project intake form. If you're not sure what a project intake form is and how to use it to get more work requests, stay tuned. Here at Indy, we aim to make freelancing simple. In this guide, you'll learn about the importance of project intake forms and how to create one for your next project. Let's get started.
What Is a Project Intake Form?
A project intake form is a questionnaire form submitted by a business to a freelancer or agency they want to hire for a project. It comprises several questions and fields filled by a client to provide all the necessary information about a project, such as project requirements, deadlines, budget, etc.
The purpose of a project intake form is to facilitate the project intake process, which includes receiving project requests, sharing them with team members, and working on a project.
Who Uses a Project Intake Form?
Any service provider can use project intake forms, though they're most commonly used by freelancers, agencies, and consultants. Suppose you are a freelancer who provides website development services to startups and small businesses. You may use a project intake form to learn about your new clients' requirements, expectations, budget, and deadlines. The same goes for software development companies that build software for enterprises and marketing agencies that offer marketing services to businesses.
Benefits of a Project Intake Form
Now, why should you bother creating a project intake form? In a nutshell, it helps you streamline your work intake process flow. When you work with a new client, the client intake process should be effortless, and that's what a project intake form helps you achieve.
Let's look at some benefits of using a project intake form.
Establish Consistency
Every service company, agency, and freelancer needs a consistent project intake process. This helps provide a better onboarding experience to the clients and helps you save time. When you have a consistent process in place, you can duplicate it for each client.
Filter clients
Working with every client who knocks on your door is not a good strategy for a freelancer or service provider. As a service provider, you need to be selective and accept clients that help you achieve your business objectives. More importantly, you must work with clients whose requirements you can fulfill.
A project intake form helps you filter clients. You can determine the requirements of all potential clients and choose a client that fits your criteria.
Save time
Project intake forms speed up the project intake process and help you save time. They eliminate the need for talking to each client on the phone to understand their requirements and then decide whether you should work with them.
Eliminate communication gap
If a client tells you their requirements, budget, and other important details on the phone, it's difficult to recall everything you discussed. Unless you have recorded the call or made notes, you'll need to connect with the client again. Project request intake forms eliminate this communication gap. If there's confusion, you can always refer to the work intake form.
Enhance team productivity
Project intake forms help you become more productive. At the beginning of every project, the project manager holds a meeting with the entire team to brief them about the project requirements and client expectations. When you have the intake form questions answered, you can distribute them to all the team members. Hence, you can keep the briefing short and start working on the project quickly.
Besides, distributing intake forms of team members ensures everyone is on the same page. This goes a long way in improving team productivity.
Key Elements of a Project Intake Form?
A project intake form should be short and ask for only the key information about the client. Let's look at the fields every project intake form should have.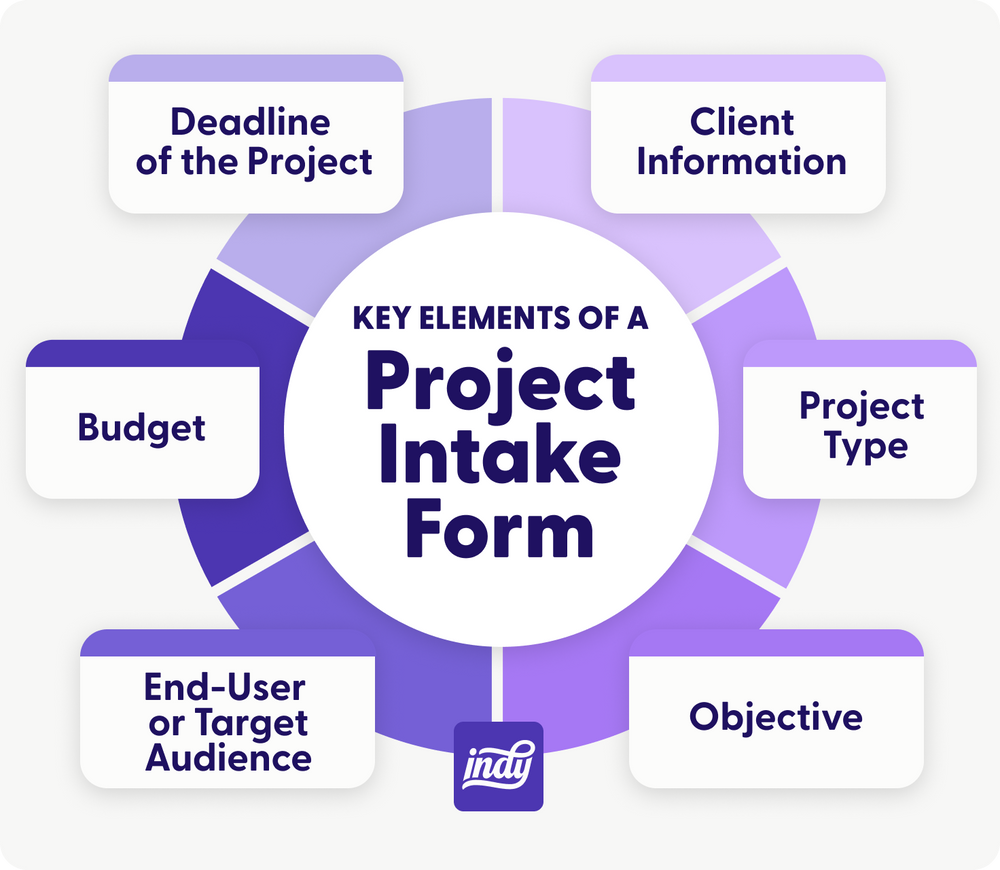 Client information
First things first, you need to know your client well, and it goes beyond the company name and location. Ask the client for his email address, phone number, preferred communication method, the ideal time of communication, etc. If it's relevant, you can also gather information about his internal team.
Project type
The next thing to ask the clients is the type of project they want you to do. For instance, is the project small, and will it take only a few days to complete? Or is it a recurring requirement like marketing services that will continue for months? If the project is small, you may either take a small advance or accept the full payment after delivering the project. For a long-term project, setting up recurring billing will be suitable.
Objective
Next, you need to understand the objective of the project. By objective, we mean the goals the client wants to achieve. Do they want to revamp their website to improve user experience enhance their branding? Or, do they want to streamline their marketing campaigns to acquire more customers and multiply their revenue? The Objective column in your request forms helps you understand what the clients want you to do.
Target audience
It could help to learn about the client's target customers. This information can help you customize your projects based on the end-users or customers. Some traits you should know about your clients' target audience are location, gender, age, income, occupation, interests, and problems.
Budget
The budget is an essential element of the project intake form for a few reasons. It helps you get a clear idea of the client's spending power. If you don't have a fixed price for your services, you can offer a price, based on their spending power. Also, knowing the budget of your client helps you 'filter' clients. If a client's budget is much lower than your price, you can refuse to do the project work for the specific client.
Project deadline
Lastly, your project intake form should have a 'deadline' column. Knowing the deadline of a new project is crucial. It helps you prioritize your internal projects. It also enables you to filter projects. If the deadline of a project is too tight, you may want to skip it and accept a project with an ideal deadline.
How to Create a Project Intake Form
There are many ways to create a project intake form. The traditional way is to use word processors like MS Word and Google Docs to create forms. However, creating fillable forms requires a thorough knowledge of MS Word or Docs.
An easier and more effective method is to use form development tools like Google Forms and WPForms. These solutions help you develop online forms. You can either place these forms on your website or send them directly to a client.
The latest and the most effective way to create a project intake form is using tools like Indy. These tools have various form templates that allow you to make a form as per your specific requirements.
Once you select a template for your form, follow these steps to create the perfect project intake form.
1. Decide on the format of your intake form
Begin by deciding on the layout of your project intake form. Many project managers develop digital forms because they are simple to communicate with clients via email, integrate on their company's website, and track crucial facts.
2. Choose a list of questions
Consider what important details your team requires to get started on a new project. The information you want may differ depending on the industry you operate in, the services you provide, and the people you work with.
3. Determine the layout of your form
After you've decided the questions to include on your project intake form, you may design the layout. Begin with the most basic questions, such as your client's name and contact information.
4. Decide on a submission process
Determine what occurs once a potential customer completes your project intake form by deciding where submissions will be stored. Submissions may be saved in your content management system or another program used by your organization.
5. Assign roles
Assign essential roles within your team to help manage the project intake process. Set expectations for how frequently the submission location must be reviewed to ensure your team is notified when a completed project intake form is received.
Additional Project Intake Form Tips
A project intake form has only one purpose: to make your project intake process seamless. Hence, your project intake form should contribute to that goal. Here are some tips and best practices to make your project intake forms, more effective.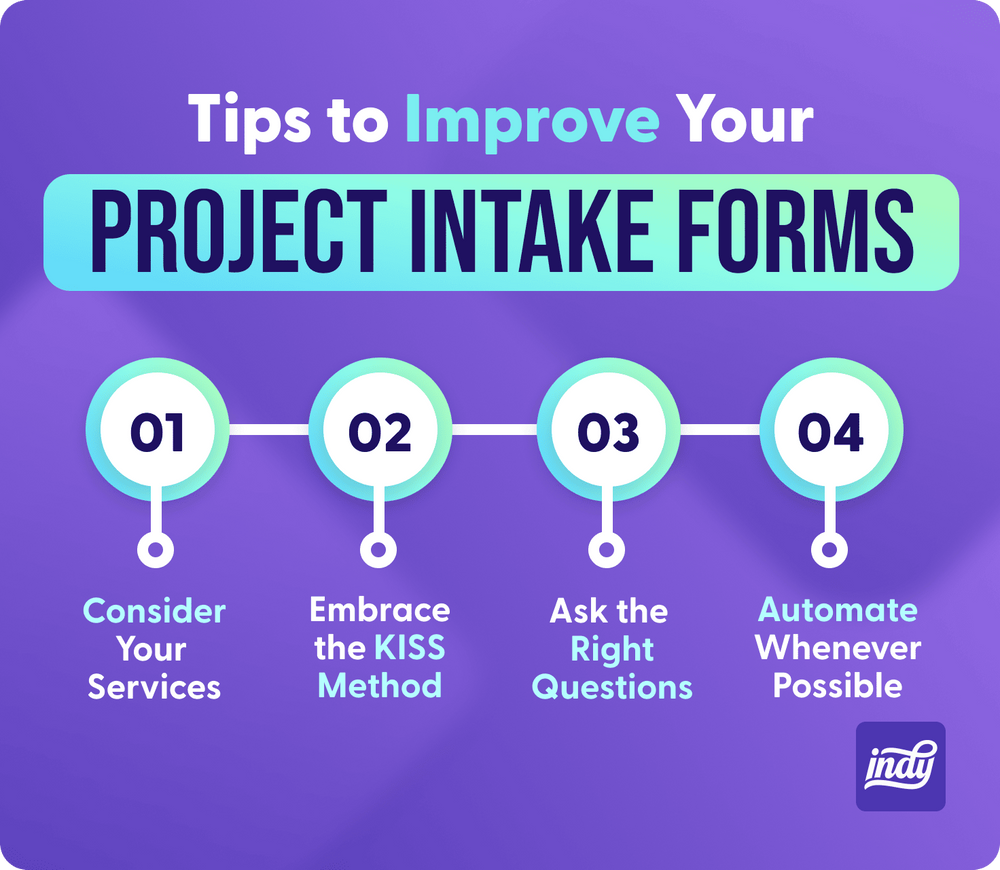 Consider your services before creating a form
There are several benefits of using a project intake form template. However, avoid copy-pasting the entire template. Instead, give it a personalized feel by creating a form around your services. The fields in the form should be based on the services you provide.
Let's understand this with an example. Suppose you provide graphic design services. In this case, the 'Type of Project' field in your form should have options like Brochure, Banner, Landing Page, eBook Design, etc. If you offer marketing services, the options could be PPC campaign management, SEO, content marketing, etc.
Personalized forms have better completion rates. So, be sure to customize your forms as per your services.
Embrace the KISS method
KISS stands for Keep It Short and Simple, and it applies perfectly to project intake forms. Your forms should have a few important fields. Ask minimum questions that tell you exactly what you need to know to work on the project. If you need more information, ask for it once the client comes on board.
Ask the right questions
It's equally important to ask the right questions on your project intake form. Forms allow you to ask an infinite number of questions and collect all the information from your potential client. However, the questions you ask should be relevant and to the point. For example, some service providers prefer to ask about their client's team size. If this piece of information is irrelevant to you, avoid asking it.
Automate
Automation is an underrated feature of online forms. Pre-filling some fields can speed up the form-filling process and increase the form completion rate dramatically. Various form creation tools, like Indy, allow you to pre-fill fields and automate the process to a certain extent.
How Indy Can Help
Here at Indy, we aim to make freelancing simple. Our online form builder allows you to build a business form for any purpose. You can have your new form up and running in minutes, whether it's as simple as a project intake form or as complex as a project brief. Additionally, our free form templates can save you time - all you need to do is choose a template, fill in the required information, customize the form, and send it directly from Indy!
With Indy, you can manage all of your business tasks, create contracts, send invoices, and safely store important files all in one place! Sign up today and try for yourself.
Conclusion
Sending a project intake form is the first step in the project intake process and also the most important one. An intake form helps you understand project requirements, prioritize your tasks, and make informed decisions on whether to accept or reject a project. You can use Indy to create professional project intake forms as per your industry and services.
For more information on project intake forms, check out our article How to Use an Intake Form Template - Free Sample Intake Forms.
FAQs
What is project intake?
Project intake refers to the process of receiving project requests and accepting/requesting them based on the information provided by the client. Project intake is the initial phase of the project management process where you get in touch with a client and understand their requirement, budget, deadline, etc.
What is the purpose of a project intake form?
The purpose of a project intake form is to allow a potential client to set clear expectations for a project. It helps you understand the complete scope of the project, along with the client's budget and expectations. A project intake form helps you receive work requests professionally and efficiently.
How do you create a project intake form?
You can create a project intake form by various methods. The traditional way is to use word processors like MS Word. You can also use modern-day form builders and templates to make project intake forms in a few minutes without needing any technical skills.