The US has over 130k freelance designers, and their number is skyrocketing. With more businesses leveraging online channels, the demand for graphic designers has increased. If you are a freelance graphic designer, you can find high-paying clients on Upwork, Fiverr, and LinkedIn.
Once you land a client, sending them a graphic design request form is one of the first things to do. Here's all you need to know about request intake forms and how to use them to boost your freelance business.
What Is a Graphic Design Request Form?
A graphic design request form enables you to capture work requests professionally. With these forms, you can establish a formal way to collect, track, implement, and evaluate work requests. Freelance graphic designers or agencies can use these forms to control the entire project cycle from start to finish.
Busy freelancers and agencies need to manage requests from various clients at once. It's important to collect information from each client and understand their requirements. As a freelance graphic designer, you must learn about the client's design product, purpose, target audience, and other details before working on their project.
However, it's neither feasible nor recommended to get on a contact phone with every client and understand their needs. You'll be spending too much time on non-billable work by doing so, which isn't the best way to work.
Graphic design request forms resolve this hurdle. These forms allow you to collect all the information from the client without even interacting with them. A client can fill in the form and submit it. You can refer to that form later for all the details.
Why Do You Need a Graphic Design Request Form?
These are several benefits of using a graphic design form. Let's discuss some reasons to incorporate graphic design request forms in your freelance or agency business.
Automated Work Requests: Request forms automate the work request collection process. Potential clients can share all their requirements and expectations in the form. This saves you a lot of time, as you already know who the client is and what they need from you.
Professional and Systemized: A graphic design request form is a systematic way of collecting work requests, making you look more professional. If you want to make a good impression on your clients, well-designed request forms can help.
No Communication Gap: When you talk to a client on the phone, the chances of forgetting some parts of the conversation are high. Unless you are writing notes or recording the call, it's likely you won't be able to recall everything you discussed with your client. With request forms, you know exactly what the client expects, thereby eliminating any communication gap.
Future Reference: You can store request forms in your database and use them for future reference. If you aren't sure about something, you can revisit the request form for confirmation. Hence, you can avoid costly errors and enhance your service quality.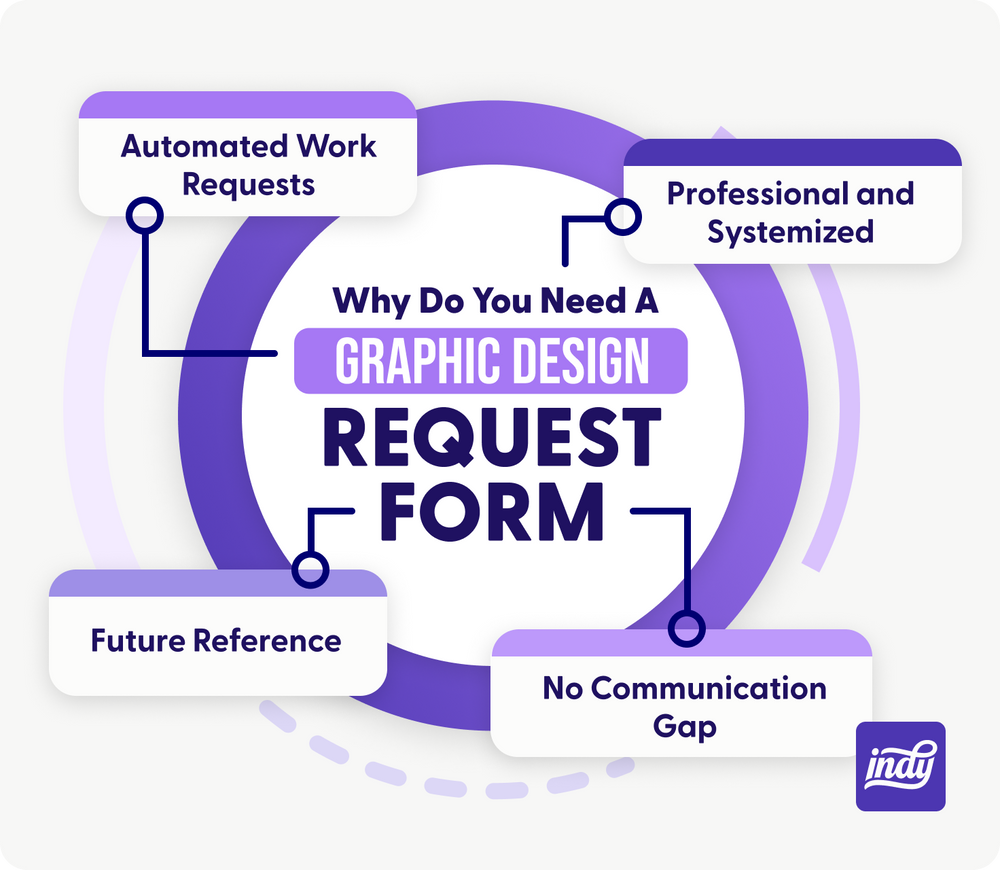 How to Create a Simple Request Form?
Creating a request form is easy. If you're skilled in MS Word, Google Docs, or other word processors, you can use them to make forms. However, this process is manual and time-consuming. Though there's no coding required, it's tedious.
A better alternative is to use form creation tools like Google Forms and WP Forms. These tools allow you to choose and create the right form in a few minutes. Tools like Indy are a better alternative to Google Forms and WP Forms. Indy enables you to create completely customizable forms in just a few clicks.
Using a Design Request Form Template
Using a request form template is advisable if you create forms frequently. Templates are reusable and easy to customize. Thus, you can make fully-customizable forms with ease. Also, Indy offers several form templates to help you create everything from a simple form to more complex options.
Where to Use a Graphic Design Request Form?
The placement of any online or web form is crucial. You must ensure your clients see your form and fill it.
There are two places to use a graphic design request form. The first place is on your website. Put a request form on the homepage of your site and keep it above the first fold. It should be the first thing a person sees when visiting your website. You may also use it as a pop-up when a website visitor leaves your site.
The second way is to send a request form to a potential client. Let's say you've met a client on a freelance platform like Upwork or Freelancer. The client is happy with your pricing and wants to assign you their project. At this point, you can request them to fill the graphic design request form.
Often, freelancers send a questionnaire to a new client to understand their requirements. A request form is nothing but an upgraded version of a questionnaire that lets you gather more information for the design work.
Best Practices and Ideas for Graphic Design Request Forms
Since request forms are usually the first step in any project request, it's important to make your project forms as good as possible. Here are some best practices and ideas to make your graphic design request forms better.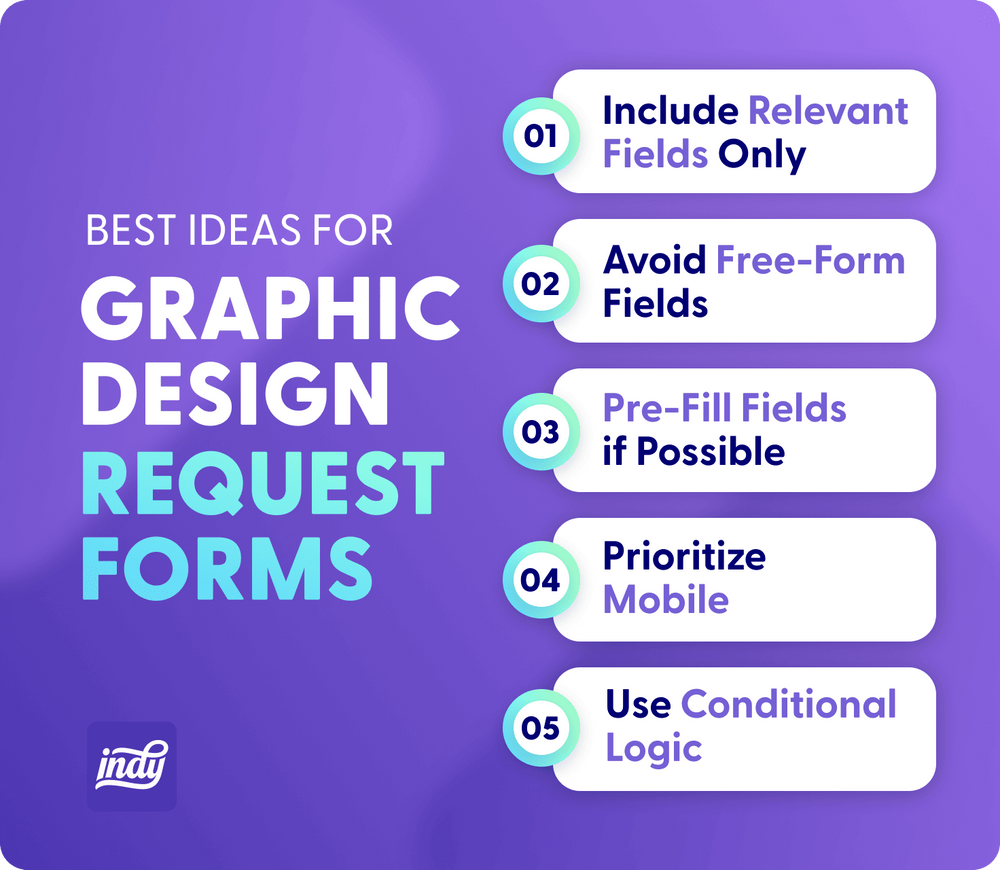 Include Relevant Fields Only
Your clients are busy, so don't make them spend 20 minutes filling your work request form. It may be tempting to ask for as much information as possible, but it's better to keep your form short and to the point. Include only relevant fields in the form and seek information that you must have to work on the project.
Pre-Fill Fields if Possible
If you must have several fields in the form, try pre-filling them if possible. For example, if you already know the client's name and company name, there's no point in making them enter it again. The same goes for deadlines. A graphic design project typically takes one to six days to complete. Hence, you can set the deadline to six days ahead by default and allow the client to change it if they want to.
Use Conditional Logic
Using conditional logic in forms has become a common practice in forms. Conditional logic, in a nutshell, means setting specific rules and conditions. So, if a user completes Action A, Action B will automatically happen.
Let's understand this with an example. Suppose your form has a field called Type of Design, where you've given options like Brochure, Landing Page, Billboard, Social Media Post, Newsletter, etc. You have another section called "Medium of Design" with options like Online, Offline, and Both.
If a client selects Landing Page as the type of design, it's obvious that the medium will be online. In such cases, you can apply conditional logic to fill such fields automatically and speed up the form-filling process.
Follow this guide to integrate conditional logic into your forms.
Avoid Free-Form Fields
Most clients filling a request form will rather select than type. Selecting an option takes less time, as the user just needs to click on it. However, typing takes time and can even be frustrating if you ask your client to type too much.
Therefore, it's a good practice to minimize the number of free-form fields in your form. You can have an Additional Requirements section at the bottom of the form where the client can provide extra instructions.
Prioritize Mobile
Lastly, ensure that your forms are mobile compatible. With mobile usage skyrocketing, your client could be using a smartphone or tablet to interact with you and manage the project requirements. So, it's crucial to create graphic design request forms that are responsive and work well on every device and operating system.
Conclusion
Before working on any graphic design project, you need to know the requirements and expectations of your client. With a graphic design intake form, you can learn about your client's needs and offer better service.
Indy is a freelance management tool that helps you create graphic design intake forms in a few clicks. Choose a sample template you like and design a form as per your needs.
Frequently Asked Questions
How do you create an intake form?
You can create an intake form using any form creation tool like Indy, Google Docs, and WPForms. However, be sure to use tools that provide powerful customization features, so you can edit and personalize your forms for your clients.
What should a client intake form include?
A client intake form should include questions and fields that help you learn more about the client's business and project requirements. Include only those fields that are relevant and necessary, and avoid asking for basic information like the client's name and contact information.
How do graphic designers use forms?
Graphic designers use work request forms to learn about the client and their requirements. Before working on any project, graphic designers should thoroughly understand their client's business, branding guidelines, objectives, and other details that determine the project's outcome.