Over 70% of companies use online forms for lead generation, and 50% consider forms the highest converting lead generation tools. If you're looking to generate qualified leads quickly and cost-effectively, use lead generation forms.
Here's a detailed guide to lead capture forms, covering:
Importance of lead generation forms
Types of lead capture forms
Where to place lead generation forms
Best practices for lead capture forms
Let's tune in.
What Is a Lead Capture or Lead Generation Form?
A lead capture form is an online form used to collect contact details of website visitors for future communications. These contacts could be potential customers, and hence, they're known as leads, and we call these forms lead generation forms. The sole purpose of these forms is to capture leads by collecting visitors' contact information online.
Once a website visitor enters their details in the lead generation form or contact form, they become a lead. Now, marketing teams will nurture these leads (or warm them up) by sending them helpful emails or using other techniques. Once the lead becomes marketing-qualified (MQL), the marketing team sends it to the sales team. From there, the sales reps take over.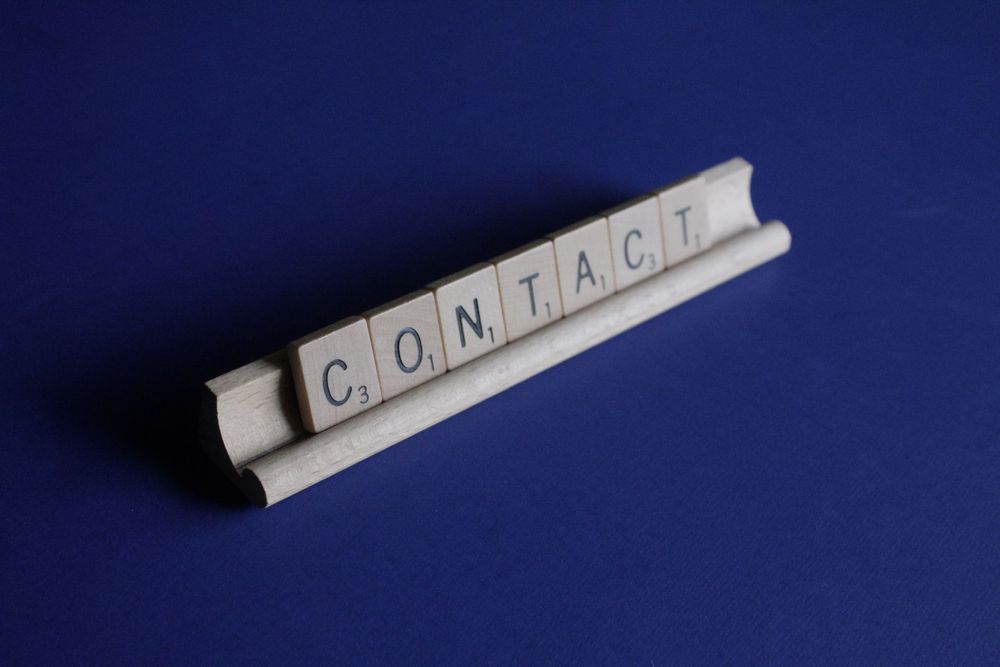 Essential Fields in a Lead Form
Fields in a lead generation form can vary from business to business. The simplest lead forms are registration forms that only ask for the user's email address. These forms work well for blogs or eCommerce businesses that want to build their email list.
Lead capture forms in the B2C space are simpler. Most companies only ask for the name and email address of the customer. Some businesses that sell specialized products may need more information, such as age, gender, occupation, income level, etc.
Lead capture forms in the B2B space are more detailed and ask for more information. Suppose a business sells customer relationship management software to help companies streamline customer interactions and marketing campaigns. That business will need to know more about their potential customers, such as:
Company name
Industry
Number of employees
Annual revenue
Similarly, if you're a freelancer looking for potential clients, you may want to know about the client's business, niche, and revenue.
Overall, there is no one-fits-all approach in lead generation forms. Businesses can use different lead capture templates as per their needs.
Why Should You Use a Lead Capture Form?
Over 60% of marketers say generating leads is their biggest challenge. Moreover, only 18% of marketers think their outbound marketing practices generate valuable leads.
Lead generation has always been an issue for marketers. The problem is not lead generation but relevant lead generation. Marketers must generate marketing engaged (MEL) or marketing captured leads (MCL) that can be nurtured into MQLs.
Some marketers buy leads, which is fine. The lead generation market size stands at over $3 billion, and buying and selling of leads significantly contribute to this number. However, it's challenging to convert a purchased MEL or MCL into an MQL. If you generate a lead yourself, the chances of converting them into an MQL are high because the prospect already knows your product/service and has willingly shared their contact information.
Here's where lead capture forms come into the picture. They enable you to generate leads effortlessly without pushing the consumer, tricking them, or buying their data. Let's look at some benefits of using lead capture forms.
Automate Lead Generation: Lead capture and contact forms automate the lead generation process. All you need to do is place the form on your website and give visitors a good reason to become a lead. You can use lead magnets here, which we'll discuss later.
Position Leads for a Purchase: When users willingly provide their information on your website, they trust you and want to connect with you. This puts you at a considerable advantage, as these leads are more likely to convert.
Collect Valuable Data: If you're a freelancer or a B2B business, you can use lead capture forms to collect valuable information that goes beyond the visitor's email address. You can learn about their business, employees, and revenue, which will help you better position your product or service.
How to Create a Lead Generation Form?
There are numerous ways to create online fillable forms. You can make a free lead generation form using word processors like MS Word. To make a form in MS Word, enable the Developer tab and go to the Design mode. Create a form by going to Content Control Properties.
The problem with this method is that it's manual, difficult, and time-consuming. Tools like Indy allow you to create a high-quality form in a few minutes. Basic tools like Google Forms and WPForms are also there, but they don't offer many customization options.
Using Lead Generation Form Templates
Tools like Indy offer form templates. You can use a lead generation form template to design a lead capture form in a few clicks. Templates make it super easy to create forms. Besides, forms made using templates are more professional and intuitive.
Placements for Lead Generation Forms
The form conversion rates of lead generation forms depend a lot on their placement. It's critical to put your generation forms in the right place. Let's look at some places on your website to put a lead generation form.
Subscription Form
A subscription form is a lead capture form used for developing an email list. Most blogs and SaaS companies encourage website visitors to subscribe to their email list and send new blog posts directly to the email inbox. It is one of the most effective ways to gather information about a potential customer if you only need their name and email address.
Contact Form
Many agencies, freelancers, and service providers use contact forms to generate leads. These forms are placed on the Contact Us pages. When a potential client or consumer has a query and wants to communicate with the team, they fill a Contact Us form. These forms have fields like Name, Email, Phone Number, Company Name, and Query/Question.
Lead Magnet
Lead magnets are one of the most popular lead capture forms used primarily by SaaS companies, agencies, and freelancers. A lead magnet is something valuable that you give to potential customers for free in exchange for their information. For example, you can offer a 100-page eBook for free, and users can download it by entering their name, email address, and company name.
Account Registration
All eCommerce businesses and many SaaS companies use this lead generation tactic. The idea is to encourage a user to create an account for free. All eCommerce sites want you to sign up to make a purchase. As soon as you sign up, you become a lead.
SaaS companies encourage users to sign up by offering free versions, demos, or free trials. Users need to create an account to use the free version. When they create an account, they become a lead.
Make Your Lead Generation Forms Stand Out With These Elements
Now that you've understood the importance of lead capture forms and where to place them, let's look at some elements to include in your form for more leads.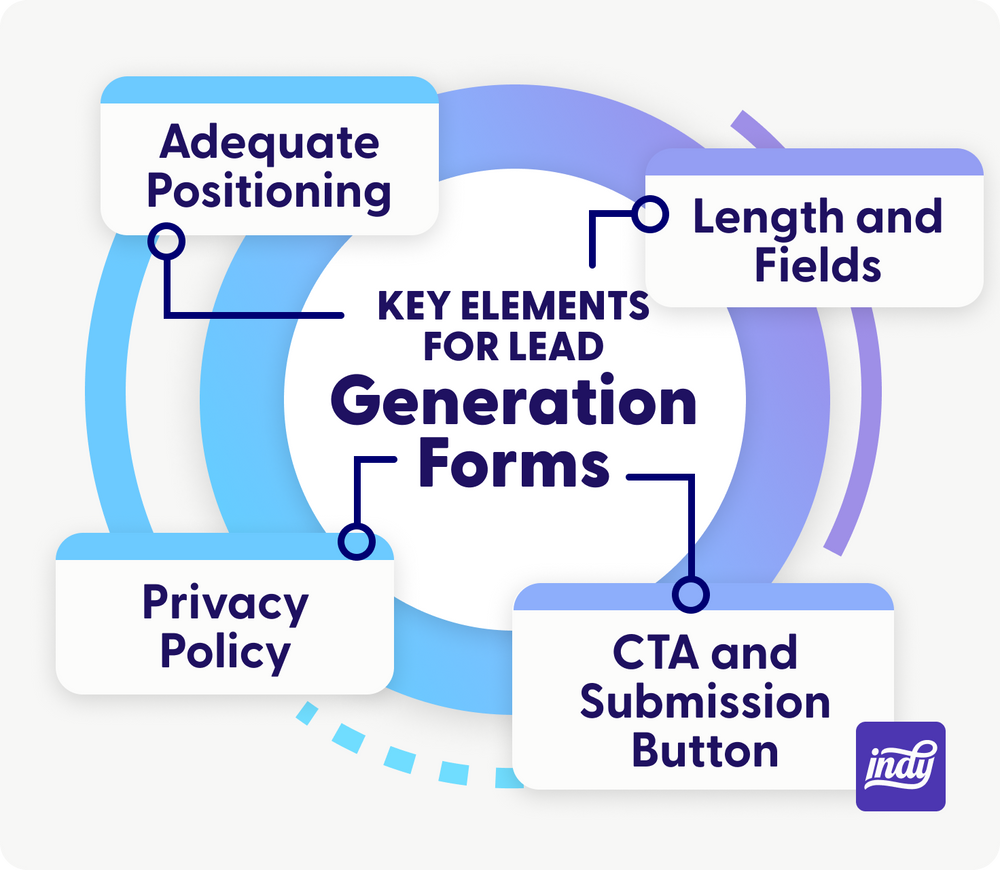 Adequate Positioning
The placement of your form, as discussed, plays a pivotal role in its success. The ideal placement of a lead capture form depends on its type and purpose. Most lead capture forms, including lead magnets, contact forms, and account registration forms, should be above the fold. The user shouldn't need to scroll down to the bottom of the page to find them.
However, a subscription form can be at the bottom of the page. You can also use pop-ups to subtly push your website visitors to fill a lead capture form. When a user is about to exit your site, show them a pop-up asking them to subscribe to your email list.
Look, Feel, and User-Friendliness
The next important element in a lead capture form is its look and feel. Your form should look modern and intuitive. Work with your graphic designer to develop a design that aligns with your brand and simultaneously offers the best user experience. Use modern UX designs, fonts, and visuals to make your forms enticing and engaging.
Length and Fields
The average web form length is five fields, and it's also the length that drives the most conversions. You can also have shorter forms if you need little information about your prospects. However, don't go beyond five fields. The longer the form, the more time your visitors will need to fill it.
Make the process seamless by keeping your forms short and asking for only the most necessary information. Also, avoid having multi-step forms, as a multi-step form takes longer to fill. If you need additional information, ask for it once the user becomes a lead.
Privacy Policy
When collecting a user's contact information, be completely transparent about how you'll use it. Will you send them occasional sales offers? Will you use their details to connect with them on other channels like social media? Also, will you share their data with your subsidiary companies, if any?
Your lead capture form should link to your privacy policy that clearly explains how you'll use their personal information. Doing so creates transparency and helps you stay away from any legal troubles.
CTA and Submission Button
Finally, your lead capture form should have a compelling call to action (CTA) and a submission button. It's important because forms with personalized CTAs convert over 40% of website visitors into leads.
It's alright if you can't come up with targeted CTAs. Ensure that your CTAs are clear and descriptive. Instead of having a single-word CTA like "Submit," use CTAs like "Get My Ebook Now" or "Send Me Email Updates." Also, make your submission button stand out by using a different color and size.
Conclusion
If you're looking for an effective method to generate quality leads, lead generation forms are the right pick for you. These forms are an ideal way to turn website visitors into leads and introduce them to your sales funnel. Once you do that, you can nurture these leads and eventually convert them into paying customers.
With Indy, you can create a new form in a few easy steps. It has a drag-and-drop editor that lets you make and design professional-looking forms.
Frequently Asked Questions
What is a lead form in marketing?
A lead form is a web form used by marketing teams to capture the contact information, such as email addresses, names, and other details of website visitors. Usually, lead generation is one of the preliminary steps in a marketing campaign. Marketers then try to convert these leads into paying customers by convincing them to buy their products or services.
What is the best form of lead generation?
Lead generation forms are of various types, including:
Email subscription forms
Contact forms
Lead magnets
Account registration forms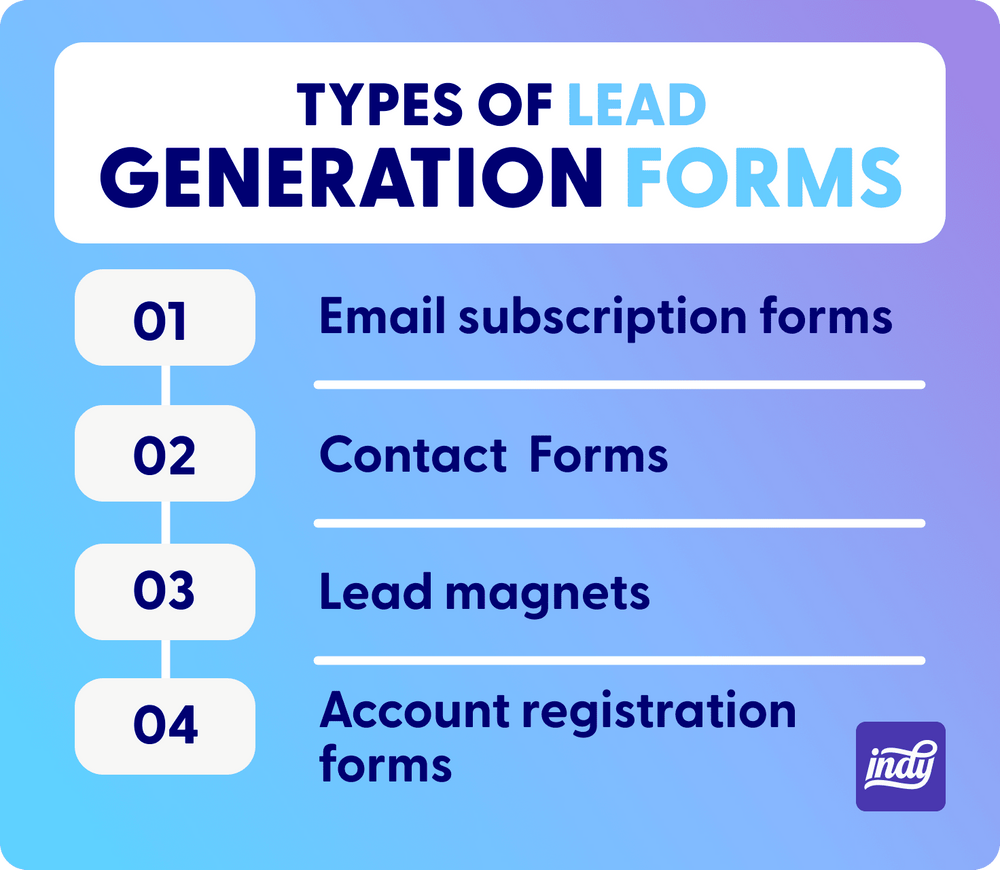 You can use one or more of these forms simultaneously on your website depending on your business type.
What is a lead generation template?
A lead generation form template is a predefined format that can be used as it is or customized as per your needs. Form templates simplify the creation of web forms, as you don't have to manually design a form every time. You can reuse these templates and save time and effort.