In several of our previous articles, we covered how to write a great digital marketing proposal that closes. In this article, we want to share several templates to get you started creating your own.
Within each template you'll find similar components - whether it's focusing on content strategy, SEO, influencer marketing, or more general digital marketing strategy.
Goals & Objectives
Scope of Work
Timeline
Budget
The format of the templates varies depending on each client's needs - some are google docs or were sent in an email format. Another was in a presentation format to provide additional information into a more detailed scope.
Indy has additional templates on its free platform where you can send your proposals, create contracts, track hours, all in one place. Click here to check out their proposal templates for free.
This digital marketing proposal was used for a smaller short term project that closed with a law office. It included keyword optimization, content strategy, and local SEO recommendations.
We'd recommend using this template for similar projects, or add in additional line items for additional scope.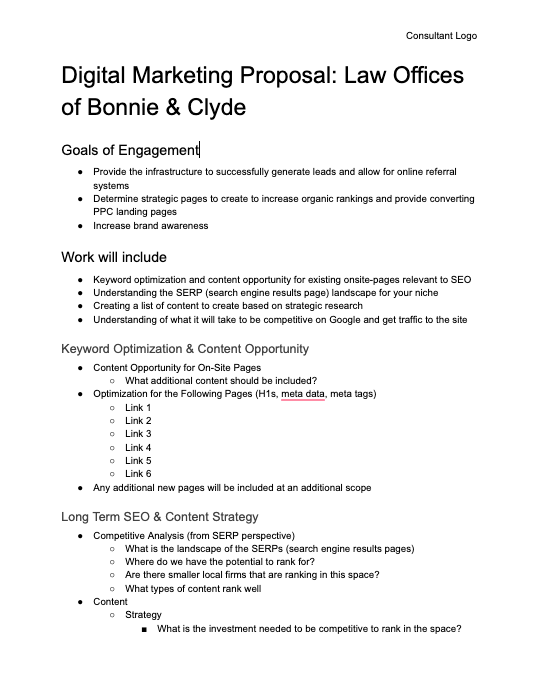 This content marketing proposal is another that is created within a word document. Its goal is accomplishing increasing non-branded organic traffic to your client's website.
The scope of work breaks out different areas a consultant can help with.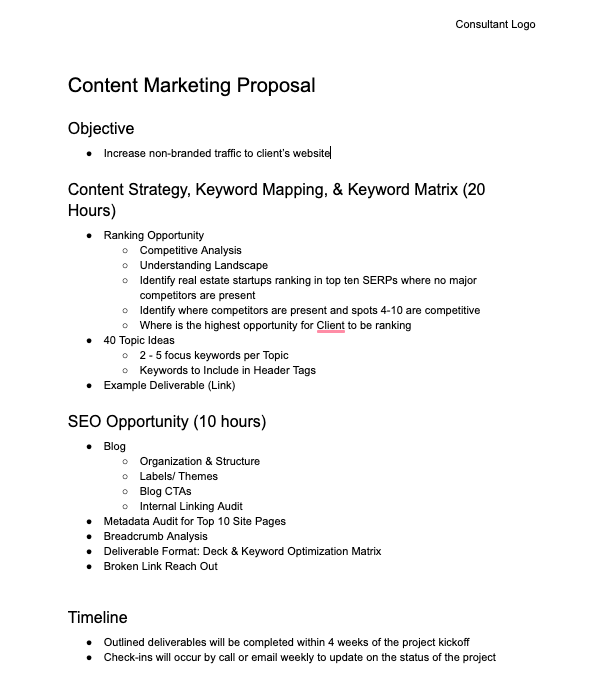 This final proposal template is much more in-depth, including a lot more detail than the other examples. It goes into specifics of the scope of work and required more buy-in and details. This contract was much larger and there was higher risk involved on the client-side and so much more thought and energy went into breaking out how it would work.
Apply this to your own processes as a great starting out point for influencer or content marketing as well as system integration.