Finances have a strange effect on everyone. Clients, freelancers, and small business owners alike find this a tricky topic to digest.
In fact, speaking about finances is somehow one of the most uncomfortable discussions with a client, even though it is not supposed to be.
Often, freelancers and small business owners tend to over-deliver to the client's benefit. While dedication and professionalism can bring you a recurring client, have you considered what it means for your career and financial growth?
The scope of the project includes the budget details. Discussing the numbers at the beginning of creating a proposal is a necessity.
Why? To give you an idea of the deliverables and how to manage the client's expectations.
As a freelancer or small business owner, you have to be careful about getting lost in the cycle of financial and budget secrecy.
Be an open book and expect the same from your client. It is a logical question to avoid unwanted mistakes and revisions. And one of the top strategies to ensure a happy work relationship in the long run.
Remember: Transparency will get both parties to the top.
Why Is It Important to Know the Client's Budget
The importance of knowing a client's budget is few-fold and often overlooked or simply brushed over.
Why freelancers and business owners do not demand more clarity around this issue is a mind-boggle at most. Perhaps they think it too forward to ask or assume their quotes will come in too high.
If you don't want to say it, we will.
If the client wants cheap work, they need to hire someone else.
Knowing the client's budget beforehand indicates whether you should take the next pitch to work on the project. Besides, there is no point in wasting time creating a master proposal and then realizing the client has no money to put on the table.
And also, there are more important fish to fry than being undervalued. If you believe in the quality of your work, trust your gut, pluck up the courage, and understand what you are in for.
But Should You Ask the Client What Their Budget Is?
Should have, could have, would have. That's not the point. The forever dance around the budget available for a project should not be normalized.
Of course, it is crucial not to send the wrong message. Asking will hurt no one. But, you do not want to upset your potential client either. We all fear being ripped off, and therefore, being respectable and upfront about the budget has its benefits.
There are ways to get around the unnecessary client hesitation, though. Here is how:
How to Ask Your Client About Their Budget
Don't Be Afraid to Ask
Being afraid to ask the budget will not do you (or the result) any good. Nevertheless, avoid starting your proposal by diving immediately into the subject of money.
Money matters, sure, yet expressing your genuine interest in the project will greatly satisfy the client and not present you as greedy. So, spend some time discussing the project details, including the client's aims, goals, and final vision. Ensure you are familiar with all the components, their target market, tone of voice, look and feel, other projects, or whatever the brand corporate identity demands.
Image source: https://medium.com/@deenoize/how-to-ask-a-client-for-their-budget-4b6ab5207b55
Understanding the full project scope helps you customize your proposal to the team's satisfaction and allows you to cover all the necessary pain points.
Educate the Client
As previously mentioned, clients have no idea of how much resources it takes to develop the plan, product, or project they have in mind. In truth, you can't always expect it from them either.
They are experts in their field, not yours, and presumably have no clue what to expect. The number in their head might be an unrealistic expectation. Consequently, it is your responsibility to make sure you share budget details from your side.
Explaining the budget concerns by referencing successful projects you were involved in is highly encouraged. It is a communication tactic that instills trust and helps your client reevaluate their offering and expectations.
Be clear and explain to them what your process entails. In fact, by being honest and direct, you are bound to avoid budget limitations. Defining what the project needs together with your client, it is not taboo. Just be considerate about it.
Focus On What Value You Offer
Freelancers and small business owners find this tough to stomach. Holdback by the fear of not getting the job, it is too easy for them to undervalue themselves. Understand your work, and you will start seeing how vital you are in the process.
Freelancing is the new trend, but that doesn't insinuate you should be popular for the lowest price point. Yes, it is a competitive market, but so what? With many clients now hiring freelancers or small businesses to do the job, you need to differentiate between quality and price.
Just bear in mind that corporations have invested heavily in agencies in the past. Upping your rates will probably not compare to what they usually see.
Image source: https://medium.com/@carissalintao/dear-freelancers-youre-ripping-yourself-off-d1e2c2697ff9
Do your research and Google your industry's rates. If you know what you provide and what the industry is up to, you can claim it by supporting your quote with market research.
Always leave room to wiggle. Knowing your worth will help you establish a minimum fee that will aid when the negotiation phase arrives.
Aim to Speak to the Right Person
Budget-related queries fall on deaf ears if you speak to the wrong person. Sometimes a job is easy, and you only have to deal with a single individual. On other days, the hierarchy needs to be taken into account.
Understand who you are speaking to in the meeting. Does the person have any influence on the budget decisions?
Find the financial key holder on the project before you jump into negotiations. How would one go about getting in touch with the right person? Just ask when discussing the budget who the right person would be. Simple as that.
Inquire About Previous Projects
Just think about it. Gauging your clients on past projects will point out much more detail than you expect. Inquiring about specifics around the teams involved, the process, and expectations will be helpful when compiling your quote.
Your client will disclose any information that favors your research. You might know some of the previous freelancers or small businesses mentioned, providing insight into their rates, the budget estimates, and what you can charge.
Money-talk aside, asking about previous projects builds trust. It shows your interest in the client's vision and aligns with what they are trying to achieve.
The extra intel is just a bonus to your friendly, conscientious method.
Send a Rough Estimate
After your budget meeting, it is not wrong to follow up with an email outlining your rates. Use this as the opportunity to check out if the project is worth your while. A speedy follow-up will add to your diligence and professional status.
An email saying: "Thank you for the meeting; it was great getting to know the team." Followed by: "Taking your requirements into account….I will need x amount of hours amounting to X," can be a game-changer.
Sending a rough estimate will open the door to budget discussions and give you a ballpark of which achievable concepts to pitch.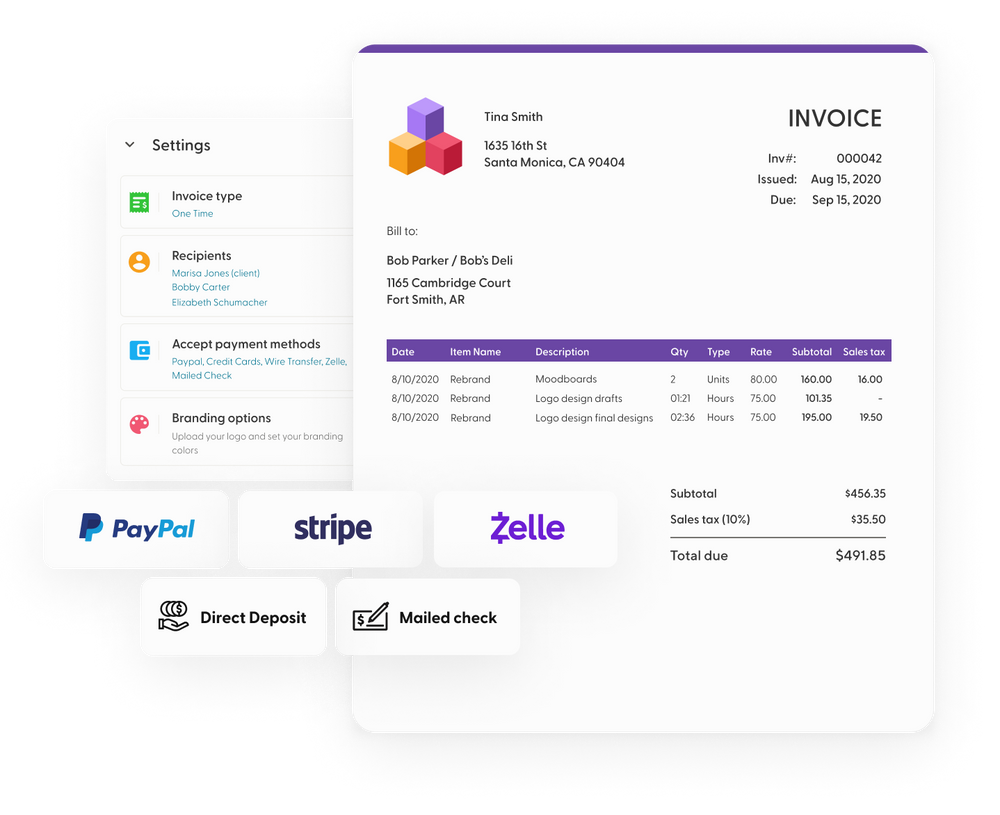 Wishing for an easier way to get paid?
You can bill your clients like a pro with Indy's Invoices tool. Add unbilled hours, autofill client details, and offer and track multiple payment methods.
Get started for free
Try a Mini-Proposal
Mini proposals are a great way of winning the bid. It shows you have spent time thinking of the best options and solutions without devoting too much of your resources to a lead.
Your client will get a preview of your capabilities, and so, your work is sure to stand out amongst the others who are pitching on the same project.
Use an online template to help you nail the project quickly. With the assistance of proper templates, you can produce a mini proposal to prove to the client that you and your rates are the right fit for the job.
What Do You Do if a Client Resists Revealing Their Budget?
Creating appropriate solutions for a client's requirements depends on them revealing the budget limitations. It is essential in reaching the client's specific goals and outcomes, but there is a chance they will still not budge.
If you can't break through to them, consider cutting your losses and heading on to the next job.
Turn the Client Down if You Have To
Turning clients down isn't always easy, especially if you keep the paycheck in mind.
Consider your time in a situation like this. Working with a client is a two-way streak, and the beginning conversations, or better, negotiations, lay the foundation of your working relationship.
Budget transparency should not be an issue, and if it is, think twice before getting involved in a project that might harm your brand. Walking away from a project mid-way will leave unwanted wounds.
Protect your reputation by knowing what you are getting into.
Talk About Money Early
Get the money talk out of the way so you can focus on what is pivotal to the job. Do not waste time creating a proposal the client will turn down.
Grasp the project holistically from the very start so both parties understand what is achievable. Setting the standards early on will uphold expectations and contribute to successful outcomes.
Creating New Budget Habits
To summarise: Talking about money and budgets is one of the most burdensome things to do. It sets the tone for the rest of the project. And as a freelancer or small business owner, it is your responsibility to include budget-orientated strategies in your meetings.
The clock is ticking, and wasting time is not an option. Whether your client is willing to be transparent or not, use the above tactics to know if you should explore the pitch in more depth.
Don't doubt your rate. Instead, interrogate the budget. Keep the figures at the top of your mind and create the proposal accordingly. And use a template to streamline your process, too. Managing your time as a freelancer or small business owner is vital for financial growth.
There are tools to help you succeed, so use them. They can assist you in every step of the process. Sign up to Indy, and we will help you manage your time—all on one platform, conveniently and efficiently.