First impressions count.
Like a lot.
Writing a business plan is daunting, but if you believe in your offering, the process delivers immense satisfaction. It is a commitment that determines your long-term growth in the market.
So, congratulations!
You have taken the first steps to your well-deserved success. That is if your executive summary is up to scratch.
Executive summaries encapsulate your vision, goals, and outcomes, all in a few paragraphs. Technically, you can write up to four pages with the text structure following that of the marketing. In our opinion, however, it is much better to use the executive summary to entice. It is the nutshell version—your elevator pitch that needs to intrigue The Suits.
Some view the executive summary as the back cover of a book, assuring readers it's worth their time to read the whole thing.
Image source: https://www.lifehack.org/575441/how-write-executive-summary-get-your-ideas-heard
Knowing your competitive advantage inside-out, and understanding the market expectations, will help you build a convincing argument in your executive summary.
Sell your plans to industry leaders by knowing how to write a top-notch executive summary for your marketing plan.
What Is an Executive Summary?
Essentially, an executive summary is your project proposal. It serves as a quick overview of what a company can expect from you and your project.
The information in an executive summary should be concise and intriguing. Most investors and stakeholders only go this far.
Bittersweet, but true.
Who Writes an Executive Summary?
Before anything, consider:
Do you have an idea you would like to pitch to investors and stakeholders?
Are you currently writing a project proposal or business plan?
Are you looking for capital from the bank to fund your business?
Do you have a new project in mind and need an entrepreneur to step in?
If you answered positively, then you should write an executive summary. The executive summary is a major part of putting your project plan into the world. Not only does it serve as a brief overview of what you are pitching, but it also demonstrates to potential investors you understand what you are doing.
Before you start writing your summary, ensure you know what to include.
Your Project Only Has One Chance
We live fast. In fact, everyone is constantly busy. So, if you expect entrepreneurs to take time out of their days to read your proposal, best make sure it lives up to their standards.
An executive summary does precisely this—it outlines your product or service and highlights the main reasons and pain points. Many investors and stakeholders read only the summary as this gives them enough insight into whether they are interested in investing in you or not.
There should be no question about why the executive proposal summary matters. It is an absolute must in today's world and business plans.
Aren't Cover Letters for That?
Maybe, it could have made life a little easier if they were, but they just aren't the same thing. The executive summary can and perhaps should inspire your cover letter.
The cover letter is your hello; The executive summary is the introduction to your story, and the proposal, your story.
The cover letter is the personal touch. It gives you a moment to introduce yourself. It is your chance to show your character, gain trust, and provide a pinch of what the investor can expect in the proposal. And then, the executive summary paves the way for the business proposal.
Avoid mundane cover letters, and do not use the same one for every business you approach. Indicate to the stakeholders you can relate to them. Therefore, know who you are addressing and what their business entails too.
Use interesting quotes, statements, or ask a question. Thank you for the opportunity, is what everyone else says.
Think about that.
Image source: https://www.freshproposals.com/proposal-cover-letter-vs-executive-summary/
When writing your cover letter, keep it short yet informative. Here are some pointers:
Include your details in the header. There is nothing worse than an opening paragraph reading: My name is Uma, and I am a….
Address the investor or stakeholder directly. To whom it may concern is a classic convention—yes. But it does not set the right tone when asking for capital.
Grab their attention. As mentioned earlier, start with a quote, statement, or question.
Write a short paragraph on your background and credentials, showing you have the experience required to make your idea or business plan work.
Show your interest. Let the stakeholder know that you will follow up. Do not just leave it in their hands. You need to take responsibility for your success.
End the letter. Remind entrepreneurs of the purpose of this cover letter—the business plan. Tell the investor he will find more information in the executive summary. Now, you can finally express your gratitude for his time.
Email Is the New Cover Letter
What to send first? The business plan with an executive summary? Or the cover letter? A business proposal arriving in bits and pieces is not going to get you what you need.
Investors and stakeholders will invest in someone who can present the whole package. Apply this thinking to how you hand over the proposal too.
Of course, you want investors to read the cover letter first. So, break the old rules of a separate document. Keep your offering tight. Your email is the new cover letter.
Writing your cover letter as the body of the email and only attaching the business proposal keeps your introduction and presentation professional.
How to Write an Executive Summary For a Project Proposal – One That Stands Out
Again, the executive summary is a brief overview at the beginning of your business proposal. It should be attention-grabbing and summarise the gripping details of the proposal, including the short and long-term goals.
Image source: https://www.thebalancesmb.com/executive-summary-of-the-business-plan-2948012
From indicating your target market, listing your competitors to your team and decision-makers—write the perfect executive summary that captures all the crucial components. Here is what you can do to stay ahead of your competition.
1. Keep it for Last
Know your topic. An executive summary is a summary of your business plan. Keep it that way.
Not only will it be hard to write a comprehensive outline of what to expect from the bat, but your executive summary will also become long-winded and off-topic.
There is no rush.
Write it at the end to ensure you included the most encompassing details and conclusions.
2. Stand Out from the Get-go
Forget about what the others do or how your parents did it. Grabbing an investor or stakeholder's attention means you need to do things differently in this day and age.
We are not saying, be outrageous. What we are saying is to keep your summary thought-provoking and informative.
What is holding you back from starting your executive summary with an interesting quote relating to your proposal?
You can incorporate a finding that supports your research or perhaps even include a statement.
Knowing your product, target audience, and understanding who you are pitching to will help. Keep your opening statement relevant to the reader.
Don't reveal too much, but enough to have them want more. Your business plan will handle the more in-depth findings.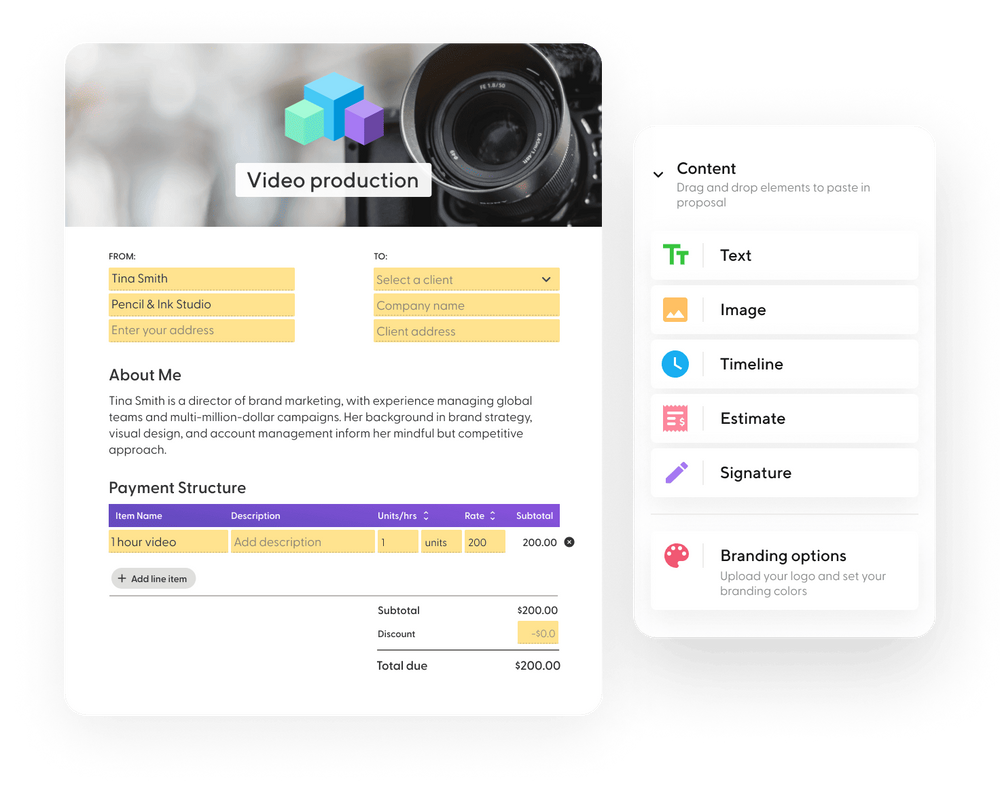 Need a new proposal fast?
Launch a proposal template from Indy to finish your next proposal in just a few minutes. Save your template to reuse it for your next job, too.
Try Indy's Proposals
3. Define the Problem
Your team's findings are crucial. Include your research highlights, competitor analysis, and the problems and goals your business proposal aims to address.
Yes, your proposal will flesh out all the details, but you need to give the investor an idea of what to expect.
Ask yourself:
What is the problem, and what is it solving?
Is it suited to the business?
It is easy to get side-tracked, so promote points to strengthen your case.
4. Describe the Solution and the Outcome
You have nailed the problem.
But, now, your executive summary needs to prove that you can solve them.
What is the solution to what you are proposing?
Typically, this is where your business comes in. You have identified the need in the market, and your company provides the solution.
Use this section to focus on the authority you have in the market. Expand on how your business can effectively provide solutions to the key points identified. And detail how you will use time and money to reach these outcomes.
Remember to touch on your investment needs in this paragraph.
5. The Proof Is in the Pudding
Communicate that your business and past experiences can deliver what your investment proposal is promising.
Briefly discuss your expertise, qualifications, and what the business has achieved so far. You need to prove you are the right person for the job and your team knows how to execute the proposed tasks within time and budget.
Talk to your strengths and include examples or forecasts if necessary. Organizations and business leaders appreciate projecting expectations and showing initiative, and it will confirm your position and business plan.
Practical pointers to consider when writing your Executive Summary:
If you are unsure, use templates. There's nothing wrong with that—honest;
Always check your spelling. There are great tools available;
Mind the length. It is your elevator pitch, not the full-blown proposal;
Keep your tone of voice professional yet engaging;
Focus on the content. Let the business plan guide you;
Avoid clichés. Honesty is the best policy—it will lead to a great partnership in the future.
What to be wary of when writing an executive summary:
Unnecessary repetition in the executive summary;
Providing too much of the organization's background;
Giving too much detail—remember it is a summary;
Content discrepancies—the executive summary and proposal should match.
Is Your Business Plan Ready for Its Executive Summary?
Every great proposal or business plan needs an excellent executive summary. It is an essential part when approaching outsiders and potential investors. Whether you are targeting investors, stakeholders, banks, or executives, a well-written executive summary is what will have them turn the page.
The main goal is to introduce potential partners to your aims and objectives—your business idea—and gain their interest.
Executive summaries can be overwhelming at first, but they need not be. There are easy ways to get ahead of your competitors, and using the correct platforms will make your life easier. The best advice is to start with your business proposal and then write an executive summary.
Use a professional executive proposal template for a project proposal or executive summary sample, and employ the above tricks for winning decisions.
Own your success by implementing them into your writing, or get in touch. At Indy, we can help guide you to executive summary perfection.