About Us pages can be found on most websites, whether it is a professional or a personal website. The purpose of an About Us page is to give the reader insights into your company, brand, or yourself. They will tell the reader more about how the company or brand came about and what its objectives and goals are. On the other hand, a personal About page is an excellent way for blogs and freelancers to engage readers and land more clients.
Writing an About Us or an About Me page can seem difficult or challenging, but the good news is that the hardest part is getting started.
What is an About Us page and why is it important?
An About Us page is a page on your website or social media channel where you share more information about your company, brand, or yourself. An About Us page can include your company's values, history, mission, goals, and experiences.
For instance, your About Us page should give insight into the following:
What is the story behind your brand or company
What are your values
Your experiences, skills, and awards
Introduction of your team members
Most people who visit your website or social media profiles will want to know more about your company or brand and what the story behind it is. By writing a compelling About Us page, you show them backstage and give them a reason to trust you. Attractive About Us pages can, in fact, be the fine line between a visitor making a purchase or not.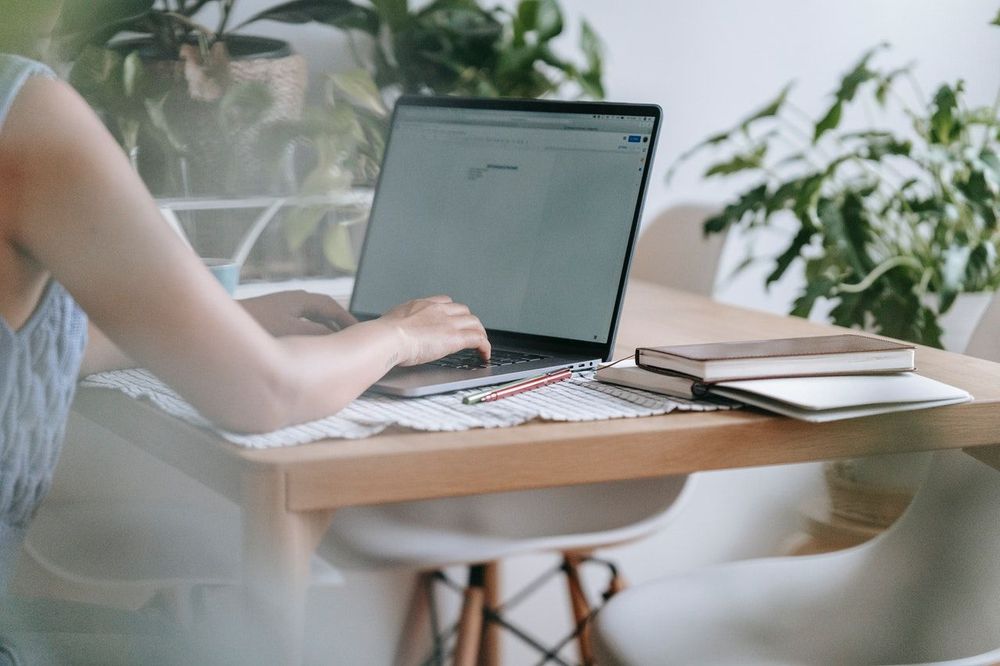 When writing your About page, you should put yourself in your visitor's shoes. Would you rather buy from a company you do not know anything about or a company that shares the same values as you and whose story is inspiring?
A comprehensive and compelling About page tells your story and history, talks about your values, and connects with the visitor. In the best-case scenario, an attractive About page also helps to sell.
What is an About page not about?
An About page is not a page where you drive a hard sell, exaggerate, or brag about your business. Instead, it should offer an honest overview of your brand or business. You want your About page to be inviting and fun to read, not something that makes the visitors doubt your brand in any way.
One of the most essential things is to stay away from the hype because visitors can see right through it. Hype can be left for social media, but sales pitches should not be included in your About page.
Your About page is not about selling your product or services, it is about selling you and your company.
What makes a good About Us page?
An attractive and compelling About Us page is an honest, approachable, and genuine page that gives the visitors a peek into what it would be like to work with you or your business. A good About page can include information about your business, as well as interesting stories and information about your personal interest and hobbies.
About pages can and should be creative, so there are many ways to construct one. Regardless, the process of writing a compelling About page is usually the same.
Below, we have outlined a good About Us or About Me page. By following these steps, you will be able to create a captivating About Us page that informs and entertains the reader.
1. What is your mission statement?
About Us pages should be more comprehensive than simply writing a mission statement and core values. However, core values are what draw the people in and summarize what your company's goals are. So, one of the first things to do is to establish your mission statement and brand values and include them on your About page.
What is a mission statement?
The purpose of a mission statement is to simply explain why your business exists. Typically, a mission statement is a short paragraph or just one sentence that summarizes the company's values, culture, ethics, and goals.
A mission statement has multiple purposes: for instance, it can motivate employees and encourage potential clients to get in touch.
2. What is the story behind your company?
Every business started from an idea, and each business has a story behind it. Even if you have a small startup company that does not yet have a long history, there is still a story to tell.
On the other hand, if your company has already been operating for years, you can outline the milestones and biggest achievements and successes.
An About Us page is an excellent place to share your story and to get your customers or potential clients to get excited about your business.
3. How has your business evolved?
Businesses always evolve over the years. The evolution of your company can even improve your story and give your readers an understanding of how your business or brand has expanded.
A good example of evolution is Pandora, a Danish jewelery company that now has stores all over the world. In their stores, they present the company's history and how the company has expanded over the years.
4. How was the idea of your company born?
Every business started from an idea. Generally, the purpose of a business is to offer a solution to a problem. You can share your "aha"-moment on your About page and tell your readers how the idea of your company came about.
You can even elaborate on the challenges you faced and how you overcame them. Also, you can reveal how those challenges shaped your company to be what it is today.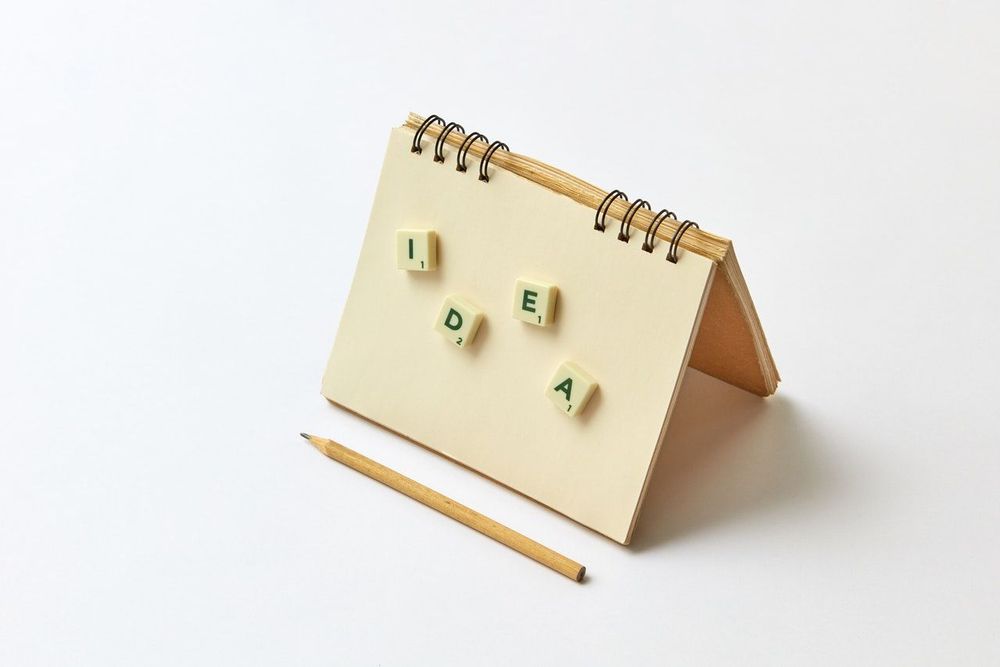 5. What is your target audience?
Even though you want as many visitors to your website as possible, not all of the eyeballs reading your site are going to be useful, make a purchase, or get in touch. This is because every company has a target audience, and some visitors simply do not fall into the category of your ideal audience. You can also identify and mention your core customer on your About page.
What is a target audience?
A target audience refers to a specific group of people who will most likely benefit from your service or product. Your target audience, or core customers, are the ones who should see your commercials and ad campaigns.
Your target audience can be dictated, for instance, by gender, age, location, interests, or other factors.
6. What are you offering your clients and customers?
While you are explaining who your services and products are for, you should also talk about what you are offering. You will not need to outline every single product or service, but writing a sentence or two about your products and what kind of a problem they solve can be beneficial.
By getting a general image of what kind of services and products you offer by reading your About page, your customers may even wander into your product section later.
7. Do you have testimonials or reviews?
If you have already worked with some notable customers, adding some testimonials or reviews may be just the cherry on top of your About page.
Adding testimonials will instill trust in your potential customers. Knowing that others have used your products or services and have been happy with them can entice your potential customers to make a purchase too.
8. What are your values?
Customers want to feel valued and appreciated. In short, they want to be treated like human beings. Adding the values of your company and describing who you are as a person can allow your visitors to connect with you better. Customers appreciate it when they know the person behind the company.
9. What are your passions and interests?
If you are writing an About Me page for a blog or you are a freelancer, adding some information about your interests and passions outside of work can help your customers and even potential employers get to know you better.
An About page builds trust
When your visitors know your point of view and understand why you offer the services or products, you can instill trust in your potential customers.
Even if your brand or business has not yet achieved much or you are just starting out, simply describing how your company got started and what you are planning to achieve will tell your visitors a lot about you.
Now, you might think that an About page is not very important or that visitors do not care to read about how the business got started. However, if you take a peek at your Google Analytics page, you might be surprised to see how many people look at your About page.
Best tips for writing an About page
While an About page is an essential part of your website or even some social media channels, it is not something that should cause you to scratch your head day after day trying to figure out what to write.
The number one tip for writing About Us pages is to simply get started. We have also listed a couple of useful tips below.
Be creative
It is easy to fall into the trap of writing a brief summary of your company. However, a plain and simply fact-based About page is not entertaining to read, and it may give the reader the opposite image of what you want to achieve.
Readers can easily see if there was no effort put into your writing. So, instead of getting your visitors to trust you, they might start doubting you and your business.
Creativity is one of the key factors in writing an excellent About page. Step out of the norm and let your creative juices flow.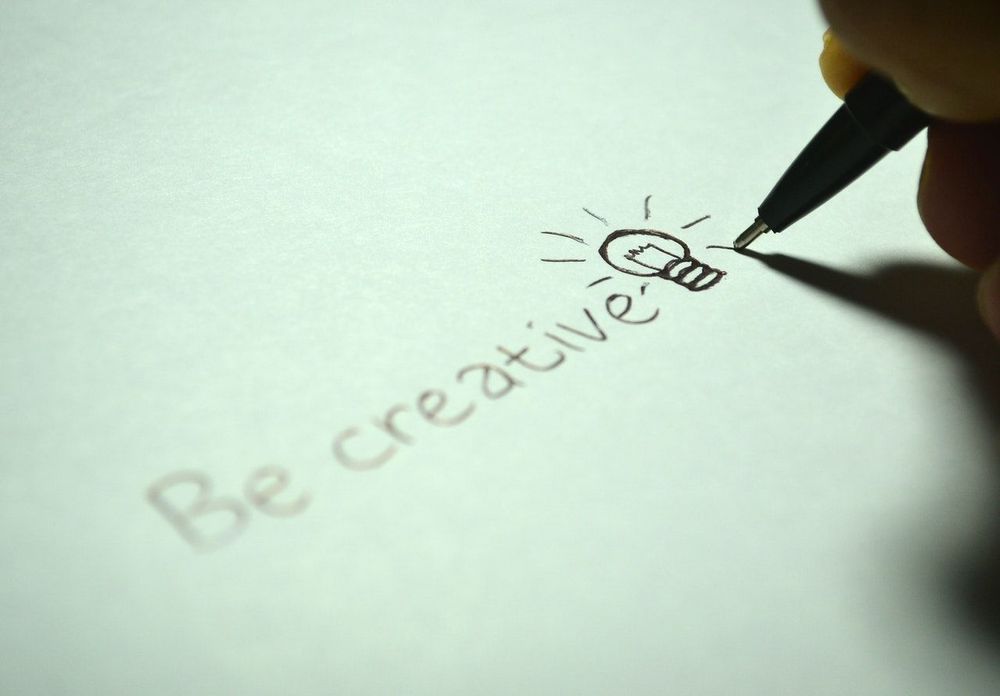 Stand out from the crowd
If your visitor is reading your About page, the chances are that they are also reading your competitors' About Us pages. Thus, it is essential to make your page stand out. Make your About Us page attractive and unforgettable.
Show your face
Customers like to know who you are, and potential employers might want to know what you look like. Adding your picture and pictures of your team can help boost conversions.
Remember to not use stock photography: you should show your face to get the visitors to trust you. Stock photography can cause the exact opposite.
Be honest and genuine
Your About Us page tells your story and helps the potential customer to connect with you. In the best-case scenario, your About page can even prompt a visitor to move to your product page or get in touch with you.
Transparency and honesty are some of the best ways to earn the trust of your visitors.
Remember to add calls to action
Like any other page on your website, your About page should also include calls to action. Your CTA's can, for instance, ask the visitor to get in touch, visit the shop, or read the blog.
About Us pages that convert: how to boost conversions
About Us pages can be highly useful and even boost sales when they have been written properly. While some may think that About pages are not essential when it comes to conversions and sales, well-written About Us pages can actually prompt your customers to make a purchase.
Below, we have presented some useful tips that can help you to create an About page that converts and even boosts sales.
1. Keep it simple
The number one tip on our list is keeping it simple. You should try to avoid industry jargon and confusing text that could be hard for a regular visitor to understand. The About page should be friendly, easy to approach, and entertaining to read.
Ensuring that your visitors understand what they are reading is one of the best things you can do for your About page.
2. Add your contact details
Adding your contact details at the end of your About page is an excellent way to slip a call to action in there. For instance, you can ask for the visitors to get in touch with you and add your phone number, a contact form, or an email address at the bottom of the page.
Also, simply making your contact details easily available instills trust and tells your visitors that you welcome phone calls and emails.
Remember to also add your social media links. Connecting your Instagram, Facebook, Twitter, and LinkedIn allows the visitors to follow you and learn more about your business on social media.
3. What would your visitor expect?
Put yourself in your visitor's shoes and consider things that they would expect to see and want to know. What do your visitors look for when they enter your About page? Consider what you would want to see as a consumer or a visitor, and add essential information and details that you believe would benefit your visitors.
4. Use pictures and videos
People like information to be delivered fast. Nowadays, all information is available in a clear and fast format, and you can use this to your advantage.
A human brain can process images faster than text, so using visuals and text together on the About page can give your visitors much more to work with.
For instance, adding pictures of you and your team or videos of your products can give your visitors a better insight into your company.
5. Customer testimonials and reviews
Building trust is essential. When visitors can read testimonials and reviews from your previous clients, they will trust your brand more. In turn, this can help you to convert your prospective clients into actual customers.
6. Tell the brand story
A good About Us page is easy and entertaining to read. The visitors will want to keep reading and find out more. Telling your own story can engage your visitors more and get them to be more invested in your brand.
You can talk about how the idea of your brand came about, what kind of challenges you have faced, and how you have overcome them. Site visitors love to read about your passion and how invested you are in your own business.
7. Ensure that the page loads fast
Now that you have written a compelling and entertaining About Us page, you want to make sure that people read it. It is crucial to ensure that the page loads fast. Nowadays, visitors will not wait many seconds for a page to load.
Check the loading time of your page and improve it as much as you can. If you use images on your About page, remember to compress them to improve loading time.
8. Optimize for mobile usability
Nowadays, most visitors use their mobile devices to browse sites online. As mobile devices are so widely used, having a mobile-friendly site is not only recommended, it is required. Remember to optimize your entire site for mobile use, including the About Us page.
9. Check your Google Analytics
If you want to know how many visitors your site gets and how they behave on your site, you should connect your website to Google Analytics. You will know how many people visit your About page, how long they spend on it, and how many exit right after reading it.
Knowing these insights can help you to improve the site and even boost conversions and sales.
What is Google Analytics?
Google Analytics is a tool created by Google. It is a free service that can be connected to your website to follow the flow of traffic. With the help of Google Analytics, you can see how many people visit your site and how they behave while they are browsing your website.
Importance of social media accounts and trending hashtags
Nowadays, social media is a big part of marketing, advertisement, and general engagement. Practically every business and brand has its own social media platforms. While you will not need to be present on every platform, you should have at least one active social media platform that is linked to your About page.
Also, using trending hashtags can be useful and let your visitors know that you are staying on top of trends. It may even be useful to create your own hashtag.
About Us page examples
You can get inspired to write your own About Us or About Me page by browsing other companies' and brands' About pages. You should remember not to copy anyone else's page, but you can easily get some inspiration and get started with your own About page.
1. HERoines Inc.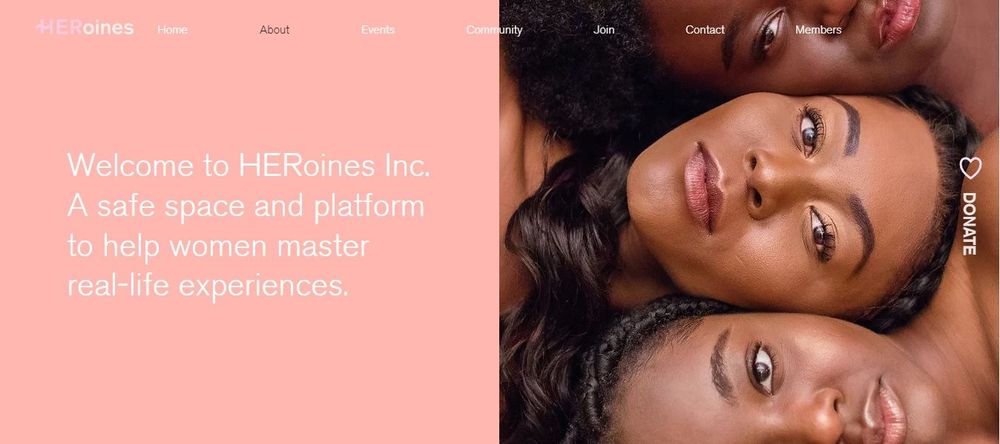 HERoines Inc has a visually pleasing About Us page.
HERoines Inc has a visually pleasing About Us page that loads fast. The text is easy to read, and it also has some pictures that fit seamlessly into the design of the page. The branding and colors have been taken well into account, which creates consistency.
The text covers all brand's visions and goals while using engaging copy. As a cherry on top, they have a well-placed CTA button. HERoines Inc also uses hashtags on their site.
2. Anton & Irene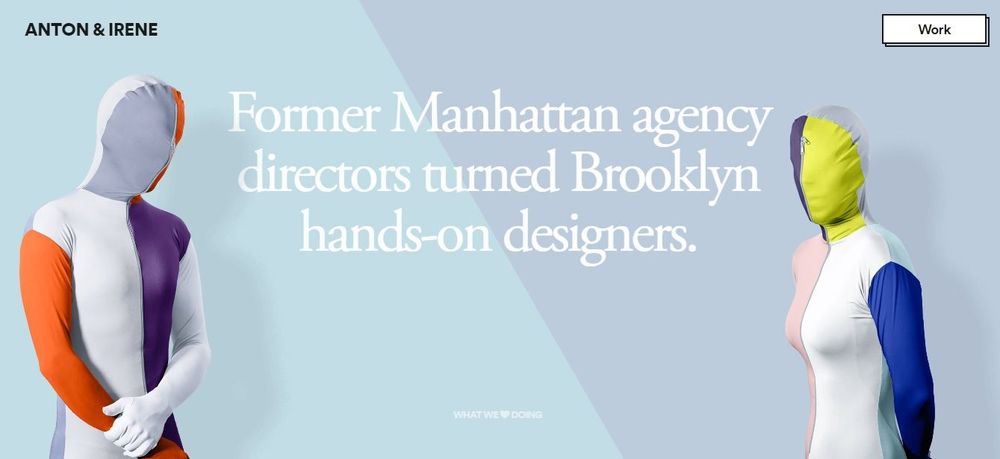 Anton & Irene have a highly unique and memorable page design.
Anton & Irene has an impressive website that is dynamic, engaging, and informative. Funny enough, they do not have a separate About Us page. Instead, they have turned the whole site into an About page.
The site is unforgettable, daring, edgy, and unique. The site has a clear brand image, and its colors, font, and visuals are on point. Meanwhile, they do not use too much text, but instead, aim to provide information by using visuals and summaries.
3. Walm's World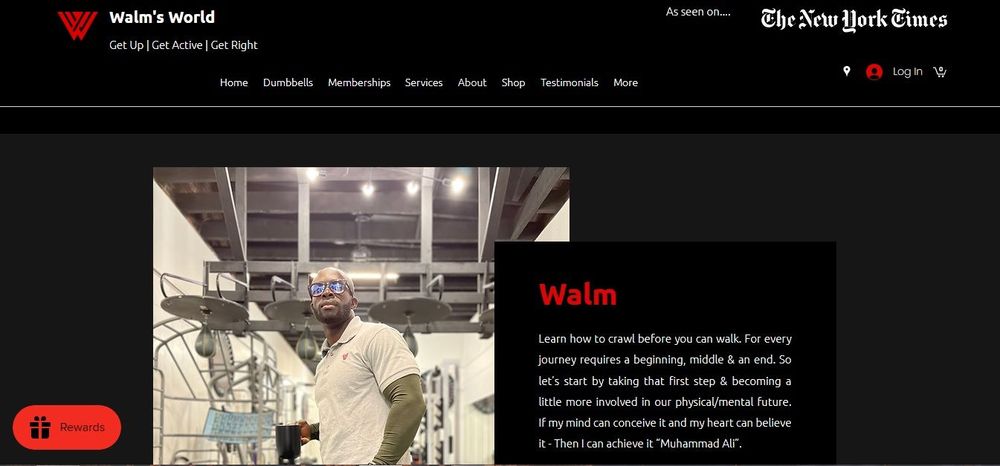 Walm's World focuses on introducing team members.
Walm's World has a clear color scheme that also manifests in the About page. This brand has utilized personal photos and information about the whole team. Walm's World does not introduce the brand but the people behind it.
This increases trust and allows visitors to connect with the team members before even meeting them. Although the company does not speak about its journey much, focusing on introducing the team members works for this personal training facility where personal connections are essential.
4. MailChimp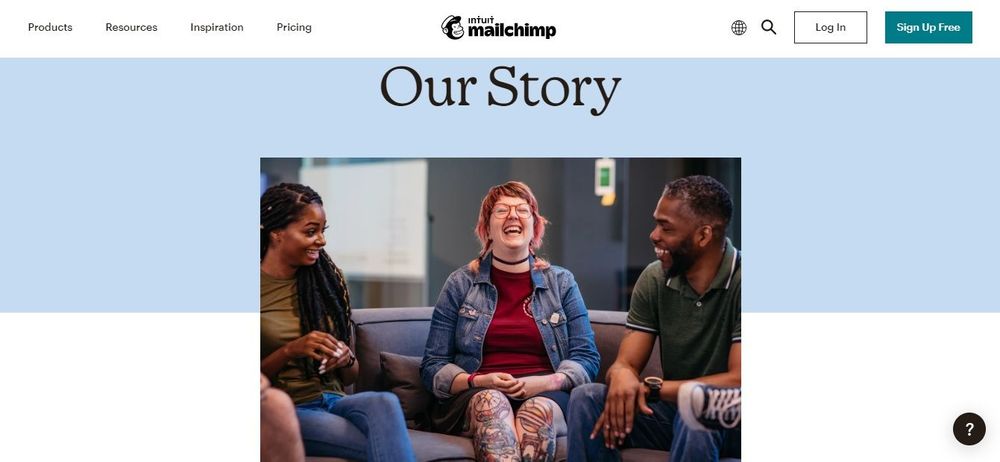 Mailchimp is a big company with a personal touch.
Mailchimp is a big company, but the About page still manages to make the brand feel small and personal. The text is easy to read because each section has been broken down into paragraphs. Mailchimp keeps it simple and entertaining while providing essential information about the business and its journey.
5. Twitter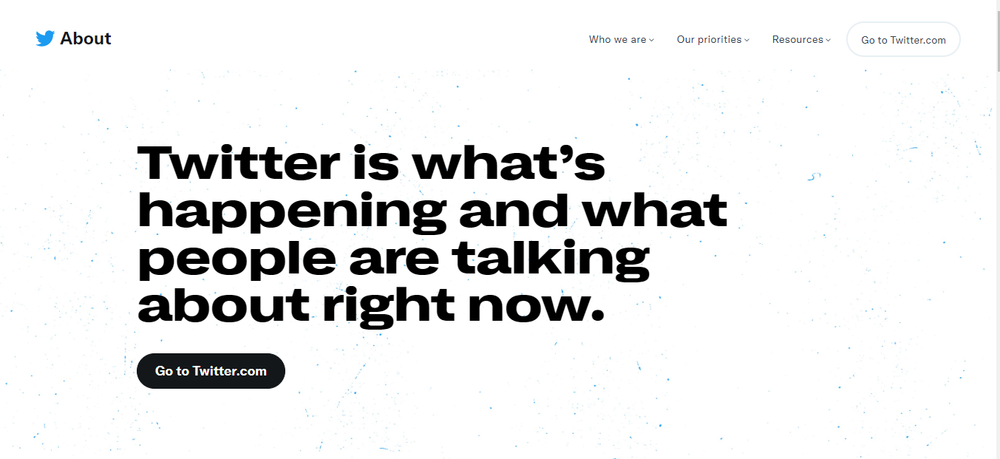 Twitter does a great job moving the reader down the sales funnel.
Twitter's About page is simple, straight to the point, and informative. Also, it has a visually pleasing layout that engages and invites the reader to read more. You will know exactly what Twitter is offering simply by reading the About page.
Also, it does a great job of moving the reader down the sales funnel and pulling them into signing up.
6. Moz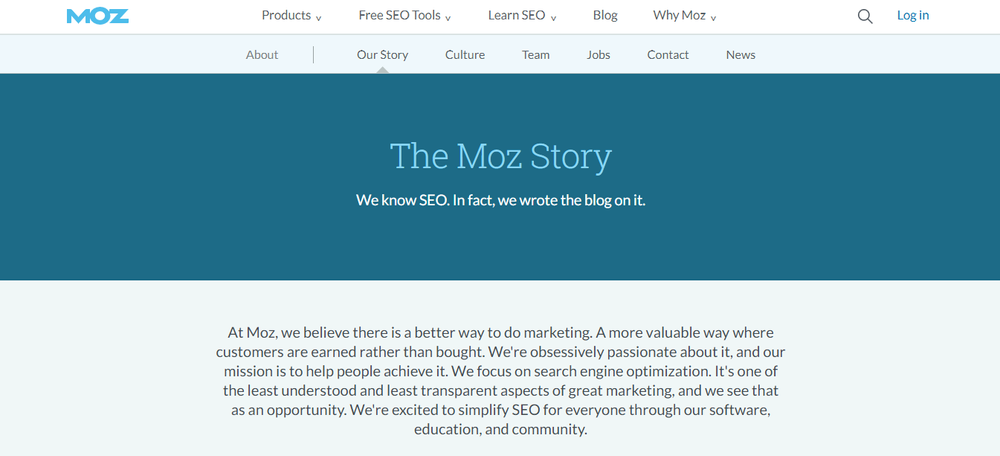 Moz's transparency comes out on the About Us page.
Moz has become well-known in the world for its transparency and honesty. And it comes across well on their About Us page. It is straightforward, to the point, honest, and tells their entire story.
In addition, the page notes their faults and challenges. Moz's About page is actually impressive and unique in all its simplicity.
7. Cupcakes and Cashmere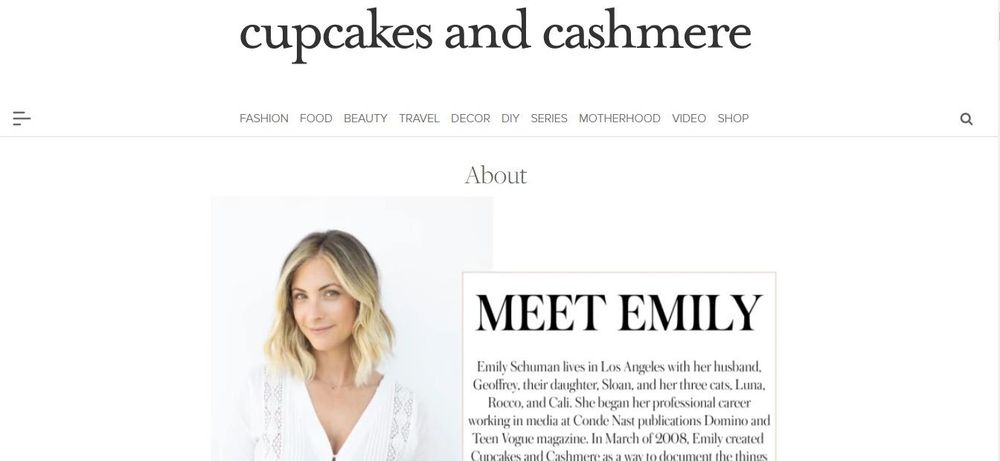 Cupcakes and Cashmere has taken a traditional approach to About Us pages.
Emily from Cupcakes and Cashmere has taken a traditional approach to their About page. It conveys who the company and the team are in a simple way and sets strong and pleasing visuals. They introduce all team members and engage the readers.
Summary
Adding an About page to your website gives your website visitors a glimpse of who you are. A well-written About Us page shows the reader the background of your company and your brand and allows them to get to know you better.
The purpose of an About Us page is to outline what your brand or company does. The page should include, for instance, the company story, company values, company history, goals, achievements, and information about you and your team.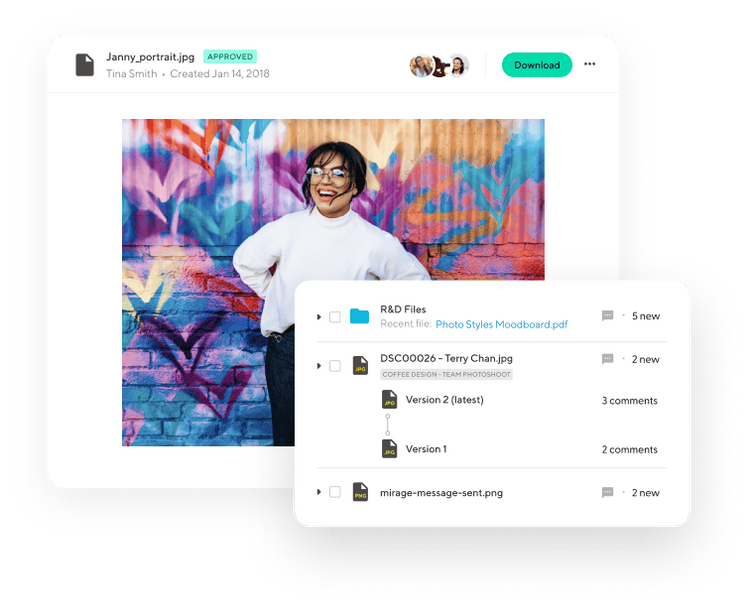 Want to look more professional in your work?
Use Indy's full set of freelance tools to make your proposals, contracts, invoices, and projects look and work more professional.
Try Indy for free
A compelling and entertaining About page encourages the visitors to get in touch or even purchase your product or service. It can even boost sales and increase conversions.