Globally there are an estimated 1.2 billion freelancers making up over 34% of the workforce worldwide. Freelancers are becoming more popular in industries such as business consulting, computer programming, IT, and marketing.
Freelance marketers in particular are in high demand to help companies develop and implement successful marketing strategies. While the freelance industry gives marketers the freedom to work for themselves and to choose the clients they want, it comes with a lot of demands and responsibilities.
From managing client relations, onboarding new clients, operating marketing channels and data reporting, freelance marketers have their plates full. As a freelancer, you have to take care of your own finances, taxes, manage your time wisely, find and close new projects, as well as manage the entire business.
Fortunately, there are several tools you can use to make your work much easier. These tools cover all the functions of a freelancer including:
Project management
Contract writing
Proposal writing and tracking
Payments and invoicing
Scheduling
Task management
Communication
File storage and documentation
If you incorporate marketing and project management tools in your freelance business, you could achieve lasting ROI on your marketing campaigns. This article will look at some of the best tools you need as a freelance marketer.
32 Tools every freelance marketer needs
The gig economy has paved the way for better software tools that freelancers can take advantage of–from tools to help manage projects to tools that manage clients. Here are the platforms you should consider to help take the weight off your shoulders and make freelancing simpler.
1. Indy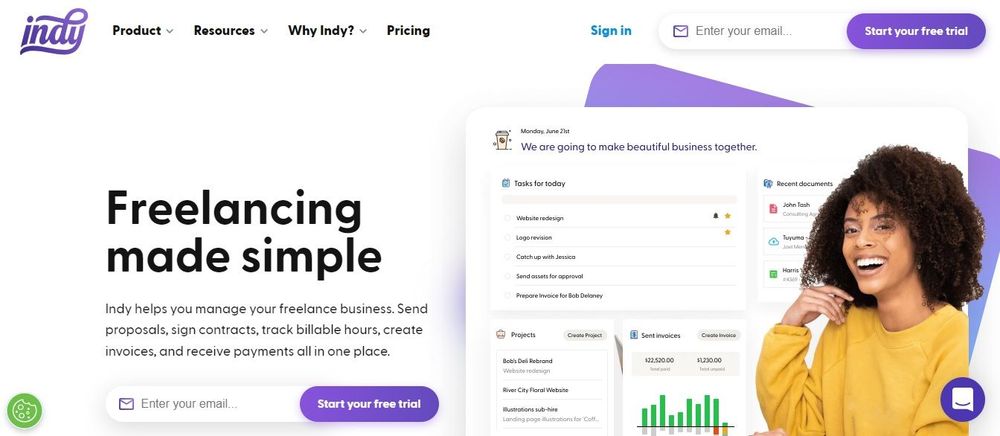 Indy is a comprehensive project management tool that freelance marketers can use to manage all aspects of their work. It's ideal for any marketers working remotely. You can use it for invoice generation, proposal and contract creation, and project management.
This tool offers ready-to-send contract, proposal, and invoice templates to save freelancers time when they need to create these essential documents. Therefore, you can provide your clients with professional documents quickly to help you get more business.
Indy also features automatic time tracking, file storage, and task management to help you manage marketing projects with ease.
You also don't have to worry about scheduling. Indy's Calendar integrates with Google Calendar, so you can schedule and manage your meetings and meet deadlines with this all-in-one app.
With our Free plan, you can use our basic tools as much as you want each month, free forever. To get unlimited access, you can sign up for the Pro Bundle for just $12/month.
2. Calendly
As a freelance marketer, every day is usually different, so you need to keep track of all your appointments and deadlines. To manage your time, you need a scheduling tool like Calendly. Instead of finding time for your meetings, you can just send recipients your unique scheduling link with multiple meeting options based on your calendar availability.
With Calendly, you can connect with up to six of your calendars and automatically check availability. This tool helps you connect with clients, and prospective customers, without sending back and forth emails. If you're in a different timezone from a client, you don't have to stress about it, Calendly has timezone detection for less confusion.
You can schedule one-on-one or even group meetings with this app. Additionally it integrates with multiple platforms including Google Calendar, Office 365, Outlook, and iCloud, Zapier, Salesforce, Slack, and MailChimp.
3. Google Calendar
Another important scheduling tool to use is Google Calendar. As one of the G Suite tools, Google Calendar is one of the best tools for freelancers for calendar management. More than 1.8 billion people have a Google account globally, which makes it easier to schedule meetings on this platform.
If you use Google Calendar as a freelance marketer, it makes your work easier in the following ways.
Send notifications before your meetings, you can choose by how many minutes.
You can format, hyperlink, and share presentations and notes before your client meetings.
You can add the location and other key details before your meeting.
An advantage of using Google Calendar is that you can share events with other team members if you have employees in your marketing agency. This allows you to view multiple calendars simultaneously.
4. SEMrush
Freelance marketers have to manage campaigns and ensure that clients get the best results. A tool like SEMrush makes this possible. This online marketing tool makes it possible to conduct content marketing, SEO, PPC, and competitor research, and boost your social media marketing efforts from one platform.
It's an ideal tool to use if you want to get measurable results from online marketing. SEMrush provides real-time trends, historical data, and data about ranking changes to help you develop new marketing strategies. Additionally, you'll receive alerts in your email for all these features for easier tracking.
Some of the key SEMrush features include:
Backlink analysis
Local SEO tools
Link monitoring
Keyword tracking
Domain analysis
Technical SEO audits
Competitor PR monitoring
The pricing for this tool starts at $99 per month.
5. Zapier
When working with different clients, they all use multiple tools for their business functions. As a freelancer, you may be hired to work on a marketing campaign where the client is using different systems like Mailchimp, WordPress, Trello, Google Sheets, and others.
To make your work easier, you'll need to connect these apps to one another. One of the best tools to help you with this integration is Zapier. This tool has two-click integrations that allow users to link apps and automate confusing processes. This saves you and the client time and money because your work will move much faster.
6. Google Analytics
When marketing campaigns are done, you need to measure and analyze their performance. As one of the key free tools among G Suite tools, Google Analytics should be an integral part of your digital marketing strategy as you start all campaigns.
Statistics show that approximately 28.1 million websites use Google Analytics; therefore, you shouldn't ignore it. It helps measure on-site engagement rates, read website traffic trends, and record conversions. In addition, you can get audience reports, data imports, and predictive analysis.
For instance, if you realize that a particular marketing campaign or set of keywords is bringing in a lot of website traffic, you can use this information to adjust future strategies and get the same excellent results. As a freelance marketer, you need to install Google Analytics early to get valuable results. You can also use it in collaboration with another marketing automation software for the best results.
7. Google Workspace
This all-in-one platform includes popular apps like Gmail, Google Docs, Google Sheets, Google Drive, Calendar, and Meet. With Google Sheets and Google Docs, you can share your marketing documents in real-time. You can also work online and collaborate with other team members and your clients without moving to another program; all the files are stored in your Drive.
Additionally, there is a suggestion area and a chat feature that you can use to ask questions and give feedback to your clients. Google Workspace tools come with a level of protection and security. You can add different levels of permission such as "edit" and "view" to limit the people who can use and make any changes on the documents.
Furthermore, all the information syncs with your Google Calendar, so if you set up a call with a client on Gmail, you can schedule that appointment on your Calendar. You'll also receive reminders across all your devices before the meeting. This tool comes with free limited storage space of 15GB. You can purchase additional space if you need more.
8. Dropbox
Dropbox is a cloud-based storage space that you can use in freelancing. With this project management tool, you can bring together all your documents and save time looking for things. It's an integral part of project management because it helps you become more organized.
For instance if you have text, images, posters, videos, and other materials for a specific marketing campaign, you can organize all of them in Dropbox. Since it's cloud-based, everyone can access every file remotely. Just like with Google Drive, you can set permission levels for the people who need to access the content.
Additionally, you can connect Dropbox with other tools like Zoom and Slack, making all the company data accessible from one place. As a freelance marketer, you'll have an easier time sharing the content with your clients, project managers, and team members.
Dropbox is free to use. However, if you need more space, you can purchase this to cater to your business needs.
9. Slack
Whether you are looking for a new client or trying to close a deal with a prospective client, you need to keep in touch. Fortunately there are communication tools like Slack that make it easy to connect and collaborate with people on long-term projects. Slack comes in handy when you need to communicate fast without using email.
Slack channels organize internal and client communication. You can use it on your mobile device or desktop. Additionally, it also integrates with other freelancer tools like Google Drive, Google Calendar, and Trello.
10. Boomerang
Boomerang for Gmail helps freelance marketers stay on top of their email communications. This is one of the best tools if you need to take control of when you send and receive email messages.
For instance if you work on weekends, you can schedule emails to be sent on Monday or during your regular working hours. Apart from scheduling emails, Boomerang has features that help you see if emails have been opened, clicked, or read. You can set automated follow-ups for easier management.
Boomerang has both free and paid plans. You can choose the option that fits your needs.
11. Hunter.io
If you are looking to grow your current clientele, you can use freelancer tools like Hunter.io to find specific emails to send a pitch or a proposal. This tool will help you find the decision maker in a company. Just search the company website and the tool will help you find the available email addresses.
To get the best results and the right person to talk to in a company, you can cross-reference this information with LinkedIn profiles.
12. Zoom
Zoom is one of the most popular tools for video conferencing. With the rise of remote working, Zoom has become a popular communication tool whether you are hosting webinars with 100 participants or having one-on-one meetings. As a freelance marketer, you can have as many calls as you want with your clients, both video and audio.
This tool is free and perfect for long conversations. However, you can sign up for paid plans if you need more features. During meetings, you can share your screen, record meetings, and invite other participants to join the meetings.
13. Loom
If you need to troubleshoot with a client, you can use this screen-recording Chrome extension to create tutorials on how to solve a problem. You can use this to direct the client on how to use specific tools to make a marketing campaign successful. Shooting a video on Loom is faster and better than typing out a long email.
You can have a meeting and explain everything live using screen share. To use this tool, download Loom and click a button to start recording. You can also share the video with your partners to keep everyone on the same page. These types of project management tools will help you accomplish tasks faster.
14. Asana
To become a successful freelance marketer, you need to learn how to manage all your projects and meet deadlines. Asana is one of the project management tools you can use when you need to collaborate with others. If you are working with a client, they can also add you to their Asana platform.
It has robust integrations and features that make project management seamless. From one shared space, you can see and organize all your tasks, map out all the work, and view boards showing priority tasks.
15. Monday.com
Freelance business owners need to have project management tools to effectively deliver results. As a marketer, these tools will help you keep track of campaigns, internal processes, and assign and execute tasks. A tool like Monday.com makes it easy to keep track of the client's tasks and projects.
You can use board layouts and templates to customize your work. Additionally, you can automate repetitive work and create your ideal workflow in minutes. With Monday.com, you can centralize all the tools, work, processes, and files in one place.
16. Trello
Trello is a digital marketing tool that helps freelance marketers manage projects and stay on the same page as the team and clients. It's also best suited for people who appreciate visuals and graphs.
For instance you can share blog posts and social media posts on Trello before you publish them. This allows clients and team members to review the posts, give feedback, and make changes before you go live.
With Trello, you can create boards and add cards that are used to assign tasks to team members. Trello is quite flexible; therefore, it can be used for business and personal task management. You can share all the details related to your online marketing strategy in one place.
Setting up a board takes a few minutes. Afterwards, you can get your entire team to contribute to the board without delays. Additionally, you can access Trello templates to get you started.
17. Notion
Notion is a productivity software that provides a range of functionality for freelance marketers. This tool connects your documents, projects, and teams in one space. You can access features such as organizing boards, to-do lists, note-taking toolkits, table management, calendars, and more.
With Notion, you can be creative because it allows you to organize and store articles, GIFs, and cool ads from the web. The Notion basic plan is free and can be used by up to five guests. It comes with unlimited pages and blocks. If you upgrade your personal plan, it will cost you $4 per month.
18. Evernote
Instead of trying to remember all the details about your marketing campaign, you can use the Evernote app to store all the information. Evernote helps you get all your ideas into an actionable note format. You can organize your notes for each client into specific notebooks and include tags to make it easier to find related information.
Evernote is used by more than 100 million people globally and is one of the most used note-taking applications. While it's a simple app, it's quite useful for brainstorming sessions, taking notes on the go, writing blog posts, managing projects, and tracking things that you might forget.
It has features like Inbox, Web Clipper, and Notebooks that will help you stay organized as a freelancer. Evernote is free but limited to 2 devices; however, you can connect to more devices if you pay for the premium plans from $4.99 per month.
19. MailChimp
When you start working as a digital marketing freelancer, there are tools that you need to use for email marketing. Tools like Mailchimp come in handy for sending newsletters to clients and potential customers. You should get this tool from the get-go as part of your email marketing strategy.
Mailchimp has more than 13 million users globally thanks to its features. As a freelance marketer, you can use this platform to grow the number of your subscribers. As the business scales, you can build your mailing list and send out your marketing campaigns to more people.
As you start, you can use the free subscription plan and upgrade to the paid version as the number of subscribers grows.
20. Canva
Using Canva.com, you can make logos, landing pages, and custom graphics for both your clients and your freelance marketing business. For instance if you need to do a presentation or send proposals to prospective clients, you don't have to hire a designer, you can do it yourself using one of the best tools in the market, Canva.
With this tool, you can create customizable prints, graphs, professional layouts, templates, and presentations. You can use the Canva media library, image, and text editor to make professional and fun images without hiring a graphic designer. This is a perfect tool for marketers if you need good images for ads and landing pages.
Additionally, you can create and design your flyers and business cards according to your business needs, colors, and logos. Canva has hundreds of templates, fonts, designs, and images to choose from for your project. Although they have a free option, premium might be better if you want to access all stock images, features, and tools.
21. Adobe Creative Cloud
If you need to design visuals for your marketing business, you can also use Adobe Creative Cloud. This subscription service gives you access to Adobe's industry-standard design tools.
You can use Photoshop, Illustrator, Acrobat, After Effects, Premiere Pro, and InDesign to design your content. Pick what you need for your business. If you need to upgrade, you can always pay for more design tools.
22. Hootsuite
If one of your services as a freelance marketer involves social media management, a tool like Hootsuite will help you achieve your goals. It can also come in handy in building your social media presence. Digital marketing tools like Hootsuite allow users to schedule social media posts, saving you time.
With Hootsuite, you can schedule content for several profiles at once when your audience is most active.
You can also deliver timely replies and address incoming messages on your social media platforms, use the dashboard to reply to mentions without visiting individual platforms, use pre-written responses, and monitor your results across all networks.
When you use the best tools like Hootsuite, social media management becomes very easy. Therefore, if you have about 10 clients, you can schedule and manage all the social media platforms using the central dashboard as the guide.
23. Buffer
Buffer's main feature is the queue functionality. As a social media management tool, Buffer allows freelance marketers to add content without necessarily assigning it a specific date and time. If you use this tool for digital marketing, your social media posts will be published in the order you have added them on the queue. And you can easily change or randomize the queue.
Buffer is one of the best tools because it helps you build an audience organically. As a marketer, you can tell the brand stories, manage the publishing and analytics on social media, grow the audience, and plan content for platforms like Instagram, Facebook, Twitter, and LinkedIn from one dashboard.
Buffer can also create reports and recommendations to help you grow your reach and engagement.
24. Adobe Sign
If you are looking for digital marketing tools, Adobe Sign is a must-have. Adobe Sign is a cloud-based e-signature tool that helps users save time and get signatures from the automated signature system. With Adobe Sign, you can send documents to your clients and team members, sign them, and manage the entire process from your phone or computer.
Adobe Sign integrates with other business apps to keep records and track all signatures you have received. So, if you need to reference a specific one, you can easily find it. This is an excellent tool, especially now that more people are working remotely. They can now sign documents faster to prevent delays in the workflow.
When you have Adobe Sign, you can sign any critical documents using your fingertip. There's no need to print or scan anything; the entire process is digital and secure.
25. Toggl
As a freelance marketer, you are working for yourself; therefore, it can be challenging to separate time between work and your personal life. If you don't clearly define time parameters, it can lead to burnout. Fortunately, there is time tracking software like Toggl.
You can monitor your time with a single click and easily switch from one task to the next. This tool can be downloaded as a Google Chrome extension or a desktop application.
Some freelancers prefer using Toggl for time management due to its simplicity, filters, generous free plan, and ability to get reports. You can easily tally all of the client's tasks and calculate the time spent on specific projects. It's one of the best tools for accounting, especially if you need to send an invoice and bill your working hours.
26. Harvest
Harvest is also another time tracking app. It looks like a traditional timesheet and includes a timer you can use to track time spent on a specific marketing campaign, project, or task, so you can provide a detailed report. Harvest is free for one person and two projects, but if you need to access everything, you need to upgrade to a paid option.
Additionally, Harvest integrates with project management tools like Trello, Asana, Basecamp, and Quickbooks. You can also send invoices from the app itself. Using the Client Billing feature, you can send your invoice and share relevant time tracking data.
27. Clockify
Clockify is a powerful Chrome extension that lets you clock in and out or include time spent on tasks afterward. Freelancers can add descriptions, project titles, and tags to the Clockify entries. This helps generate clean reports.
You can use this tool for free unless you need to add auditing functionality or extra team members. Therefore, if you are struggling with managing your time on marketing campaigns, you can try out this tool to organize your time.
28. Better Proposals
To get high-quality clients for your freelance marketing business, you need to write excellent proposals. A tool like Better Proposals creates easy-to-sign proposals in minutes. It comes with an Automatic Designer feature and customizable template for quick proposals.
You can remove, change, and add content on the template according to your company information and colors. Clients can sign your proposal and pay the fee using this encrypted platform. The tool also has a tracking and reporting feature that lets you view who has signed, which clients are ready to sign, and which ones need following up.
29. Proposify
Proposify is another tool that you can use to create beautiful proposals to get more clients. The platform has a library of templates that you can use to create a proposal in a few minutes. You can add the layout, snippets, and save them to use in the future.
These proposals are mobile-friendly, so your clients can access them on the go. To be more engaging, you can create a video proposal with Proposify. You can track how long the client looked at the proposal and know whether they accepted it or not. Additionally, this tool also integrates with other business functions, making your work as a freelancer much easier.
30. Quickbooks
To know whether you are making money as a freelancer, you need to manage your finances using tools like Quickbooks. This popular accounting software easily upgrades as the business grows, so it's ideal if you adopt it as you establish your freelance brand.
Additionally, it syncs with your bank accounts and with other apps to help you track your business expenses and income. You can use Quickbooks for bookkeeping, managing and paying contractors, and tracking all your business expenses. If you notice your business is facing losses you can correct that and pay attention to financial management.
31. Wave
Wave prides itself as the one-stop money management for small business owners. Compared to other bookkeeping and invoicing tools, Wave does not need a monthly subscription to get started, making it ideal if you don't have a huge budget.
You can use its freemium model to set up your financing. You don't need an accountant thanks to its user-friendly dashboard that's easy to navigate. If you need any assistance, you can talk to the in-house team of accounting, bookkeeping, and payroll coaches.
32. Yoast SEO
If you use WordPress on your freelance marketing website, you need the Yoast SEO plugin. This is one of the most downloaded WordPress plugins because it makes it easy to implement onsite SEO practices on each page and blog post.
Yoast SEO will tell you if you are using keywords on your posts effectively. It can also help with WordPress SEO with features like generating XML sitemaps and handling redirects for your website. Therefore, you should plan for it as you create your WordPress site and advise your clients to get it as well.
Summary
In your journey as a freelance marketer, you need the right tools to ensure that you get the best results. You can serve your clients better if you are using your time effectively and meeting all your productivity goals.
Most of these tools solve specific problems, so you might need to integrate most of them to ease your work. Fortunately, you can avoid signing up for multiple apps by using an all-in-one project management platform like Indy. Indy has been designed from the ground up for freelancers to manage their business from beginning to end. Onboard new clients, manage project work, and get paid fast with easy invoicing. You can get started today for free!