As a freelancer, you're a master of your craft. You're an expert in your field, and you know how to deliver top-notch work to your clients. But let's face it: managing multiple proposals can be a real headache. It's time-consuming and takes away from what you do best – creating amazing work.
That's where proposal software comes in. With the right tool at your fingertips, creating proposals is fast and lets you focus on what really matters – delivering great work to your clients. In this article, we'll explore the best proposal software solution for freelancers and help you find the perfect solution for your needs. So sit back, relax, and let us guide you through the world of proposal software for freelancers.
What is proposal management?
Proposal management software allows freelancers to optimize the tracking and managing of proposal and RFP processes. It can help freelancers quickly customize proposal templates for different industries. Some proposal tools also offer additional features such as project time tracking, expense calculation, and tracking payments.
Here's why this is so important:
Professional proposals are often the first real contact potential clients have with you and your work. Every document should demonstrate your professionalism and skills.
Proposals clarify terms, deliverables, and deadlines. This is really helpful for avoiding conflicts later.
You will find some ideas and problems come up during the proposal creation process. Seeing them early helps you deal with them before they become major headaches.
Important factors for choosing business proposal software
The software market exploded in size, and now it seems there are thirty or forty choices for everything. Let us help you narrow down your choices a bit. Here are five things to look for when it's time to evaluate your next proposal management software:
Ease of use: Choose software that comes with pre-defined workflows and step-by-step procedures to guide users through the process. For example, Proposify offers a user-friendly interface and customizable templates that make it easy to create proposals quickly.
Client point of view: Consider software that allows you to create visually appealing proposals with multimedia elements such as images and videos. For example, PandaDoc offers a drag-and-drop editor that makes it easy to add multimedia elements to your proposals.
Automation: Choose software that automates repetitive tasks such as filling in client information or calculating pricing. For example, Bonsai offers automation features such as auto-populating contracts with client information and calculating project pricing based on your hourly rate.
Integrations: Choose software that integrates with other tools you use in your business, such as your CRM or accounting software. For example, HoneyBook integrates with QuickBooks and Xero for seamless invoicing and payment tracking.
Collaboration: If you work with a team, choose software that allows for easy collaboration and communication among team members. For example, Salesforce offers collaboration features, such as real-time co-authoring and commenting on proposals.
With these in mind, let's review the top 10 proposal software solutions available to you.
Best 10 proposal management tools for freelancers and small businesses
1. Indy
Indy is an all-in-one platform for freelancers. There are tools to help with contracts, invoices, forms, and proposals. Indy's proposals tool is a brilliant lightweight management tool to simplify the proposal process. Using Indy, you can draft better proposals in minutes.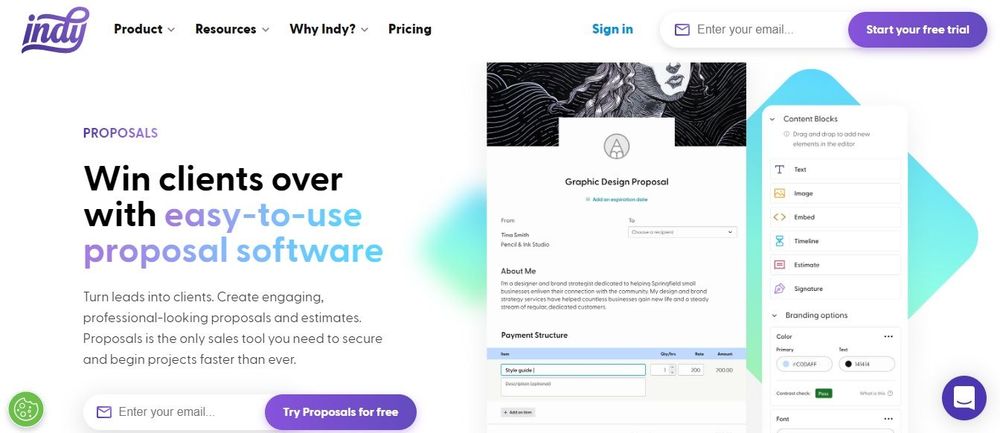 Users can start with a template and update the information as needed and can monitor each proposal's status, including Draft, Sent, Read, and Approved. Three key features of Indy's Proposals tool are:
Fully customizable proposals that allow users to add their logo and color, choose from over 50 fonts, and drag-and-drop proposal design elements such as text, image, embed, timeline, estimate, and signature.
Simplified client communication that helps users know the moment a client views and accepts a proposal with instant status updates, and guides users through creating a project space, sending the contract, sending the invoice for the deposit, and creating to-dos.
Available proposal templates that cover most industries, such as Graphic Design, Logo & Branding, Video Production, SEO/SEM, Virtual Assistant, Influencer, and Marketing, among others.
Key Features:
Simple drag-and-drop editor
Customizable with branding and details for your business
Integrates with project management software
Templates simply the proposal writing process
E-signature and electronic storage of proposal documents
Disadvantages of Indy
Designed for freelancers, so it will not suit team use
No team collaboration tools
Less integrations than some competitors
Pricing:
Free forever plan with an affordable Pro plan for just $9/month on an annual plan.
2. PandaDoc
PandaDoc is a web-based document automation software designed to help marketing and management teams increase productivity and sales. It allows users to design, deliver, share, and track documents online from one central dashboard.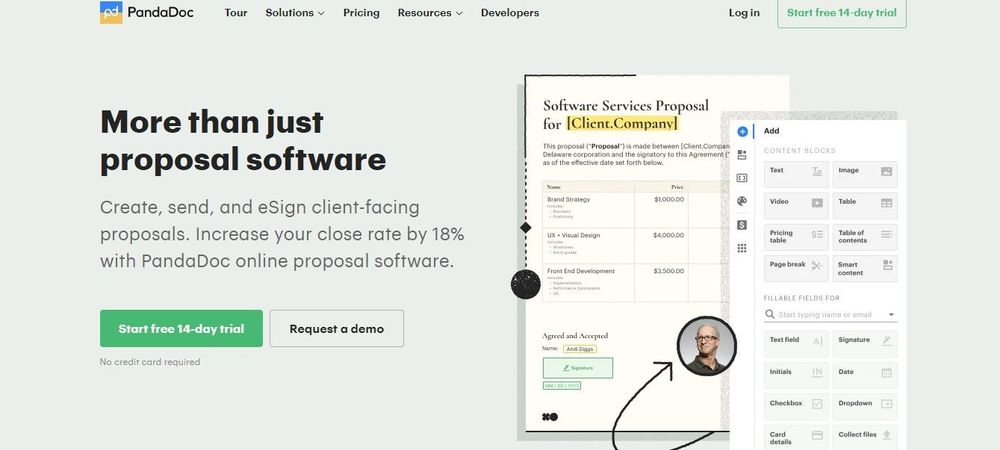 Some key features of PandaDoc include its ability to make personalized proposals, its integration with third-party apps like Salesforce, Hubspot, and SAP, and its ability to track document statuses.
Key Features:
Streamlines the process of creating and sending proposals
Allows for personalization of proposals
Integrates with third-party apps like Salesforce, Hubspot, and SAP
Offers document analytics once your proposal is sent to the client
Easy to use at an affordable price
Disadvantages of PandaDoc:
User interface is a bit clunky for some people
Lack of accounting software integration
Plug-ins and paid plans increase functionality, but at a premium
Pricing
PandaDoc offers a free plan with limited features. Their paid plan starts at $19/month.
3. Proposify
Proposify is an online software designed to bring consistency, predictability, and confidence to the proposal process. It offers a variety of features to streamline the process of creating and sending proposals, including the ability to make personalized proposals, integrate with popular third-party apps, and track document statuses.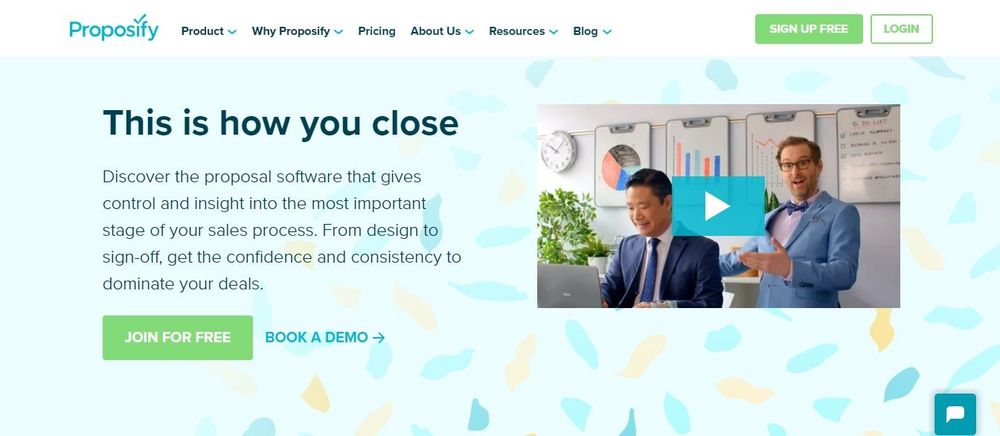 Key features of Proposify
Content library: allows users to store assets in one central and organized location, enabling them to easily find projects, templates, images, fees, and content.
Design Editor: users can tailor their documents to match their branding needs, while they can set roles and permissions to protect their deals and the details.
Powerful insights: freelancers and sales teams can monitor their progress from proposal kick-off to sign-off and get insights into how prospects are interacting with their proposals.
Elevated client experience: features like electronic signatures and interactive pricing, client preview, and the ability to translate documents into multiple languages enhance the client's experience reviewing your proposals.
Disadvantages of Proposify
Mobile version can be tricky for some users
Table and page designs can be finicky to line up correctly
Reminder and renewal features are not available in the lower-paid plans
Pricing
Proposify offers a free plan for 2 users that includes limited features, and paid plans start at $24/month/user.
4. Qwilr
Qwilr is an innovative document automation software designed to help sales teams increase productivity and close deals faster. With its ability to create impressive interactive content, optimize with embeddable content, drive deals to a close with legally-compliant e-signatures, and track buyer engagement, Qwilr has a comprehensive suite of features to offer users.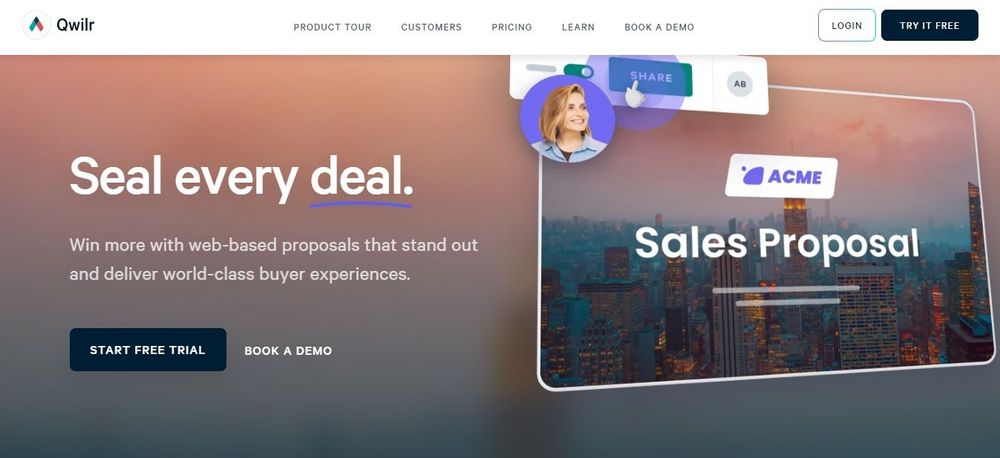 Key Features:
Streamlines the process of creating and sending documents
Allows for customization of collateral
Integrates with third-party apps like HubSpot, Salesforce, Zoho, Pipedrive, and QuickBooks
Offers automated workflow with product data
Provides real-time notifications of buyer activities with email alerts
Disadvantages of Qwilr:
Analytics sometimes create false positives due to team access
Undo of edits isn't simple or straightforward, which can harm productivity
No API access for lower-tier plans
Pricing
Qwilr offers a free plan with limited features. Their paid plans start at $49/month.
5. RELAYTO
RELAYTO is a web-based content automation software designed to help marketing, sales, and other customer-facing teams create Captivating interactive microsites faster. It automates the document creation process with features such as auto-animation, interactive navigation, and 1000+ rich media embeds. It also allows them to share, organize, and analyze their content in real time through dedicated hubs.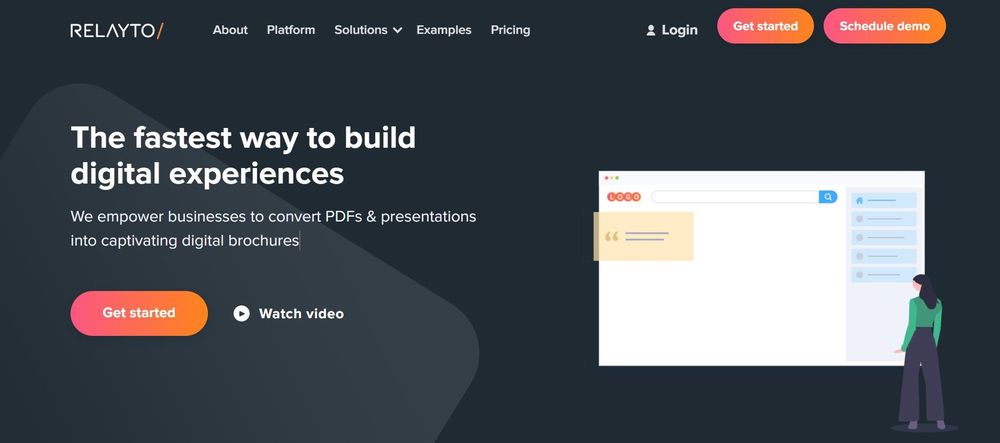 Some key features of RELAYTO include its ability to transform PDFs, presentations, and other documents into interactive microsites, its no-code flexible design, and its smart content-sharing capabilities. It also offers advanced analytics tools that allow users to track user engagement, receive notifications in real time, and follow up intelligently.
Key Features:
Transforms PDFs, presentations and other documents into captivating interactive microsites
Offers 1000+ rich media embeds
No-code flexible design
Smart content-sharing capabilities
Real-time, user-specific notifications
Actionable buying signals
Disadvantages of RELAYTO:
Still lacks some automation functionality
Not compatible with some mobile devices
Pricing
RELAYTO offers a free plan to qualified users with limited number of uses. Their paid plans start at $80/month.
6. GetAccept
GetAccept is an innovative digital sales room platform designed to improve your sales team's effectiveness and help your organization close more deals and increase revenue. Some of its standout features are its integration with third-party apps like Pipedrive, Salesforce, and HubSpot, its ability to create personalized videos, and its intuitive analytics dashboard.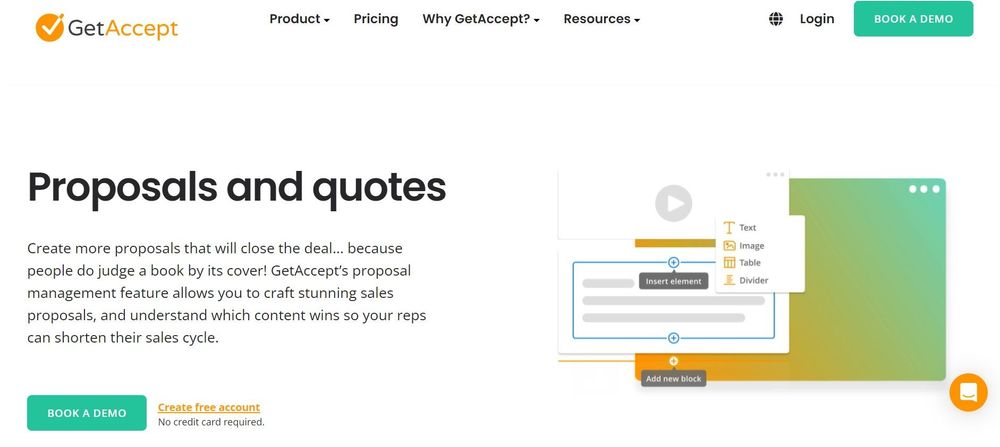 Key Features:
Integrates with third-party apps like Pipedrive, Salesforce, and Hubspot
Enables users to create and manage sales collateral
Provides personalized videos
Offers analytics dashboards to track buyer interactions
Includes automated notifications reminders
Allows for easy e-signatures
Disadvantages of GetAccept:
User interface isn't easy to customize
Search engine needs improvement
User access levels could be expanded and improved
Pricing
GetAccept offers a free trial, and their paid plans start at $15/user/month.
7. Loopio
Loopio is a web-based application that aids marketing and management teams in automating their proposal and RFP processes for more efficiency and better results. It includes a range of tools that streamline the RFP response process, such as Content Management, Magic automating tool, Loopio's proprietary machine learning technology, Response Intelligence, and multi-language support.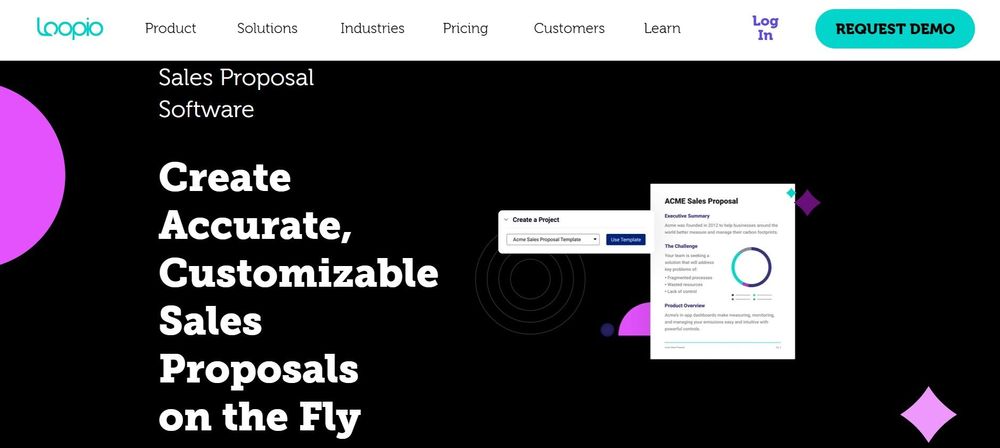 Key features of Loopio:
Quickly create and store content in customizable libraries
Intelligent automation tools
Multi-language capability
Disadvantages of Loopio:
A lack of advanced customer support and its reliance on manual data entry
Little accounting software integration, which may be an issue for larger companies
Pricing
Loopio doesn't publish pricing plans, so you'll have to contact them for information.
8. Quotient
Quotient is an online quote management platform designed to make creating and delivering quotes easier, faster, and more engaging. It simplifies the entire workflow, from generating quotes to tracking customer interactions, thus giving your sales team the edge it needs to close more deals and increase revenue. Some of its key features include integrating with third-party apps, enabling users to add images and files, providing engaging price quotes with optional or multiple-choice items, allowing customers to ask questions directly on the quote, and providing an intuitive analytics dashboard.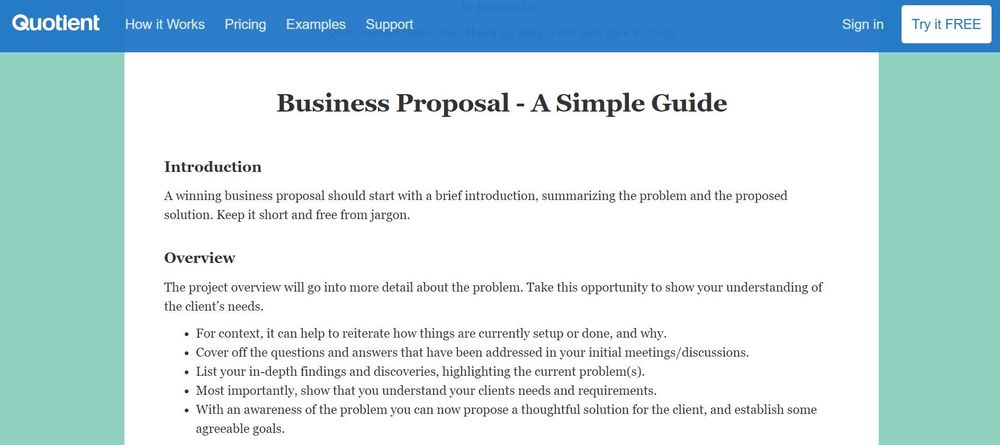 Quotient's features make it easy to create engaging and unique quotes. For example, customers can be presented with optional or multiple-choice items to add flexibility to the quote in order to build a stronger offer. It also makes it easy to add images, files, or website links right on the quotes. Additionally, customers can ask questions directly on the quote, making the discussion easier to follow for both the customer and the seller. Quotient also offers an analytics dashboard to track customer interactions, helping the seller to stay on top of the conversation and follow up in a timely manner.
Key Features of Quotient:
Integrates with third-party apps
Enables users to add images, files, or website links
Provides engaging price quotes with optional/multiple-choice items
Allows customers to ask questions directly on the quote
Offers an intuitive dashboard to track customer interactions
Disadvantages of Quotient:
Internal reporting for proposal status could be better
Connections to other apps could be improved
Customization and multimedia options in proposals could be better
Pricing:
Quotient paid plans start at $25/user/month for the one man band plan and $45 per month for business plans.
9. Better Proposals
Better Proposals is an all-in-one sales hub designed to provide an all-encompassing solution to improve your sales process. It boasts a powerful editing tool to simplify proposal writing so that you can focus on filling it with the right content instead of design. Additionally, it provides access to 200+ free templates and the ability to recycle what already works. Its powerful AI-driven analytics can understand exactly when to follow up with clients, and its integrated chat feature allows more direct real-time interaction with customers.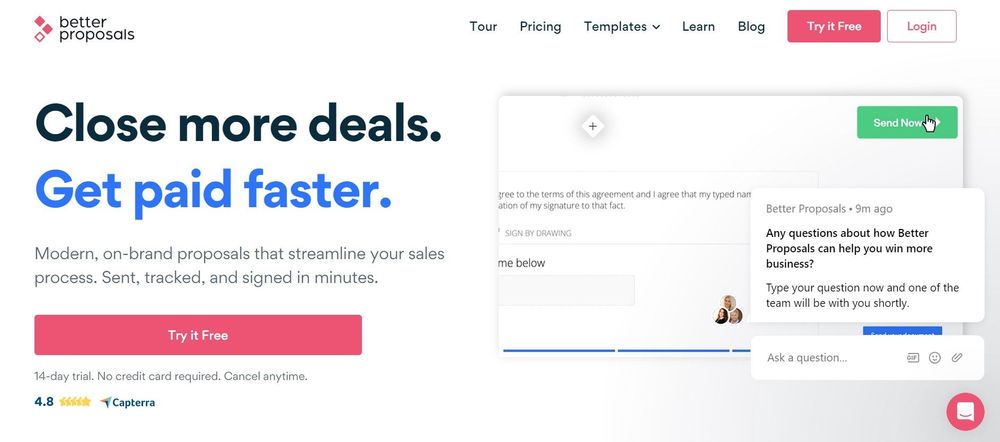 Better Proposals is great for streamlining and automating your sales process with ease: its one-click editor helps quickly generate and customize documents, with no design skills required; its collaboration and storage features allow you to save and share proposals faster and easier; its automated follow-up notifications let you reach out at the right moment; and its international support and multi-currency features let users access its services in countries all over the world.
Key Features:
It offers a unique tool called 'Proposal AI,' which provides automated review integrated into the proposal preparation process.
It provides over a hundred high-quality documents for a wide variety of businesses to quickly find a template and start sending proposals with very little design and development time.
Disadvantages of Better Proposals
Background videos do not load during customer views on some mobile devices
Some people can't print proposals, which can be a problem sometimes
Pricing:
Better Proposals offers a free trial, with no cancellation or credit card required. Paid plans begin at $19/month.
10. Fresh Proposals
Fresh Proposals is a next-generation sales proposal platform designed to make it easy for sales teams to create, manage, and track sales documents. Fresh Proposals features powerful customization tools, automated notifications, and robust analytics tools. It is designed to help teams increase their sales effectiveness and close more deals.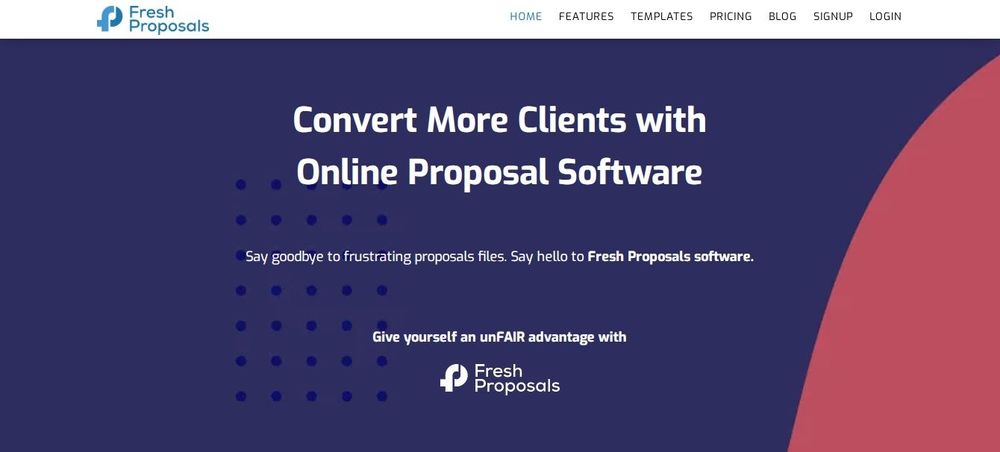 Fresh Proposals provides a number of useful features, allowing users to customize sales documents, track customer interactions, and differentiate their offerings with videos and personalized images. It also allows users to create custom input forms, as well as add signature boxes, all of which is designed to create a hassle-free, modern sales experience. Additionally, Fresh Proposals allows users to access a library of pre-approved phrases and content to use in their proposals.
Key Features of Fresh Proposals:
Robust customization tools with an easy-to-use interface
Automated notifications and reminders
Digital signature requirements for customer approval
Access to a library of pre-approved content and phrases
Ability to create and manage pricing and fees tables
Disadvantages of Fresh Proposals:
Lack of PayPal support
UI is still being improved and refined
Pricing
Fresh Proposals offers a free trial before requiring a paid subscription. Plans start at $18/user/month.
Final Thoughts
Choosing the right proposal software for your freelance business is crucial. There are a few key criteria to consider when making your decision. Look for software that offers customizable templates, easy-to-use proposal creation tools, and seamless integration with your existing workflow.
We believe that Indy is the best proposal software for freelancers. With its intuitive interface and powerful features, Indy makes it easy to create professional proposals in no time. So why wait? Give Indy a try today and see how it can transform your proposal process.