When you are freelancing and pitching for new work, writing a business proposal letter or email can be daunting. Not only does it need to contain all the relevant information for your target lead, but it also needs to be engaging and persuasive. It has to include all the important points as to why you are their solution and why they should choose you; it has to give a background to your experience; it has to detail the pricing structure and payment terms; and all this without frightening your potential clients away.
In this post, we'll show you a tried-and-tested format for proposal emails and letters that works, as well as simple recommendations for increasing your chances of success. We'll guide you with your proposal letter so you can use it right now to get you up-and-running and moving forward.
What is a business proposal email?
In the early phases of a sales funnel, you should be sending proposal emails to prospects. Proposals are typically an executive summary of the important business arrangements you discussed with a potential client and they present your ideas to a key decision-maker in letter format. The email can either introduce a concept or be the full proposal itself, but the aim is to engage the prospect, encourage them to read the entire document with supporting evidence, and choose you for the project. A business email or letter is an excellent piece of lead generation that you must use to its full potential, regardless of whether it is a full proposal or not.
If the prospective client accepts your business email or letter, it becomes the fundamental agreement between you and your client regarding the services you'll be providing, the base price you'll charge, and how they should remit payment. It is an integral part of your sales pipeline.
There are two ways to send a proposal email.
A solicited business proposal email is one sent to a customer or client setting out the details and service you will offer, and it won't be a surprise when they receive it. A solicited business proposal email has a higher chance of success rate.
An unsolicited proposal email, or cold email, is one sent to a prospect that isn't known to you and you haven't had any form of communication with them. This could be promoting a special offer or new services you are offering, or you could be responding/applying for a grant. The success rate on this method generally is not that high compared to the first. When sending cold emails, be prepared to do some research into the company you are soliciting so you can offer the best service possible since often, a cold email is ignored.
Whichever type of proposal email you send, it should still follow the same basic structure and include the same information. A good example letter format will follow below. It should always highlight the solution for the company or client.
Steps to writing a proposal email
The contents of your proposal letter will differ depending on the project, but equally important it forms a basic agreement with several key elements to win more customers.
In most cases, you will have likely had discussions or a quick call with the prospect already and the proposal email is a follow up to confirm the details you talked about, such as the project brief, the service you will be providing and your value proposition, the price you will be charging and how to remit payment.
But just a simple email giving an overview of your discussion is not professional and is not going to persuade your prospect to accept your proposal. This is not going to convince any sales professionals. So, your business proposal email should follow this structure - a proposal email template, if you will:
A brief introduction and any background knowledge.
Explain why you're submitting the proposal.
Establish theirs and your objectives and goals.
Emphasize your unique qualities.
Briefly discuss the budget and how it will be used.
Include a call to action and follow-up request.
Ensure your email signature includes your contact information, such as email, mobile number, a website URL (if you have one) and you can also add links to your social media channels.
This is not a complete list. You could potentially add relevant information if you wish, but keep focused on the task of new business lead generation.
Now, let's go into more detail with a great example to give you a better understanding of how to write a business proposal email so you can earn more business and go ahead to begin work!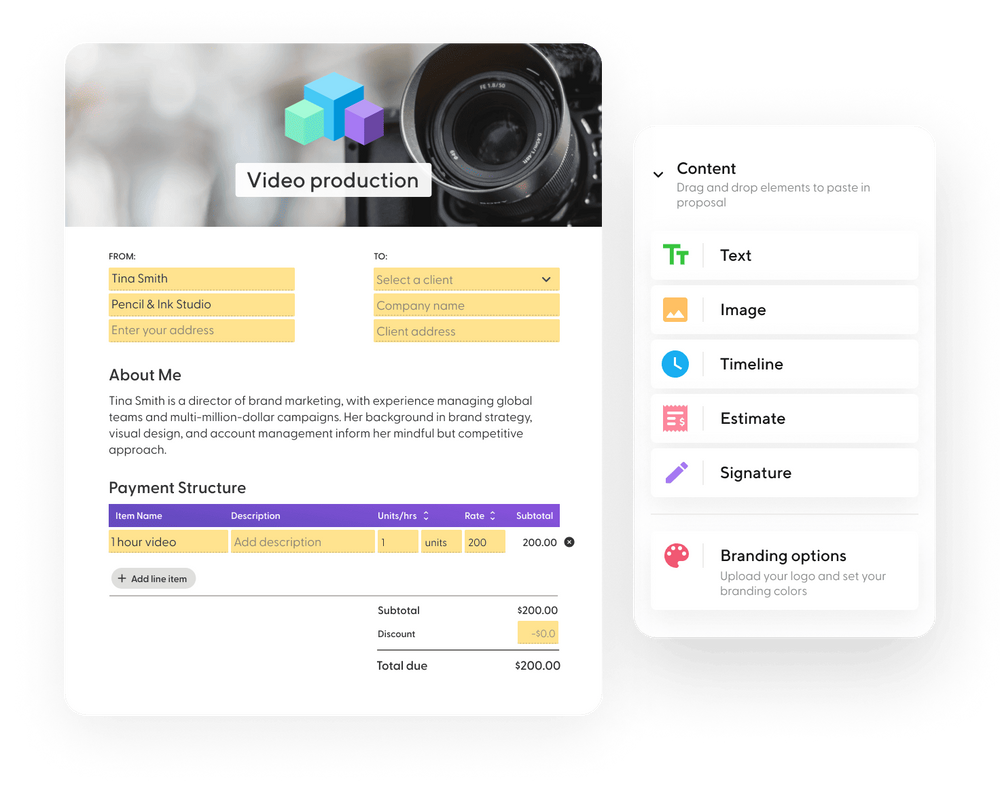 Need a proposal for a potential client?
Create a professional proposal in minutes with Indy's Proposals tool. Use your logo and branding, add terms, and include portfolio items.
Join Indy
Brief introduction and background knowledge
The opening paragraph or two of your proposal email should be designed to capture the reader's attention. To make it obvious what the topic of the email is, the paragraph(s) should include basic information about you and/or your company – remember, if you're a freelancer you may not officially have a company; not all freelancers use a company name as their reputation is their name – as well as an outline of the issue. Throughout your email, it should be evident that you have researched your prospect's business, their services or products, to find out more than just their contact information. It's important to the future relationship with your prospect that you learn about their fundamental principles of business, their competitors and target market, as well as reviewing their social media channels.
The best social media channels for understanding how the company perceives itself include Facebook, Instagram, Twitter, and LinkedIn but also review their website, online directories and read the company's blogs. Describe the misalignment between how they view themselves and how others see them. After all, it's on social media that they constantly introduce and reinvent themselves. Also, if you're following up on an interview, mention it briefly in the opening lines to set the scene. Mention if your company already has a relationship with the receiver of your letter when you write a proposal letter.
Explain why you're submitting the proposal
The goal of your proposal is to set out the customer's problem, or project they want completed, what they want to achieve or proposed solution they require, and the positive impact it will have on their business when it is done successfully. In your enclosed proposal, include all clear facts and fundamental terms as well as all important points. Always indicate in the subject line the word "proposal" so your future client knows what the email is about.
Establish your objectives and goals
This is the section which describes what your tasks are for the project, i.e. your work program, how you are going to carry out the tasks, what your goals are – these should be aligned with the customer's goals – and how you are going to achieve these goals for the customer.
It's better to be as clear and precise as possible when you write; set out each stage of the project, particularly if it is a long-term job over several months, and also include how you are going to monitor and report progress to your customer.
Emphasize your unique qualities
This section is all about your persuasive argument, i.e. showcasing why your prospect should choose you over your competitor. List some of your experience, skills and unique talents relevant to the project and explain why you believe you are the ideal candidate for the position.
Testimonials from previous clients and case studies are a great way to demonstrate to your prospect how you have achieved success with similar projects, and details your approach that produces excellent outcomes. If your proposal is for a business endeavor, emphasize features that set your proposal apart from others. Listing them as bullet points makes them easier to read for your prospect, and highlights your USPs (unique selling points).
Discuss the budget and how the money will be spent briefly
For most decision-makers, the cost is a key consideration but that doesn't necessarily mean the customer will always go with the cheapest option. Depending on your reason for creating a proposal email, you may need to provide specifics on how you will utilize a loan, for example, or how much your project will cost investors. In summary, you won't need to offer a detailed cost breakdown, but giving investors a basic sense of the budget can help them assess the project, as an example.
If the customer or business has asked you to quote a price structure for the project in your proposal, this is the section to add this information, along with how and when to remit payment. One sentence or two should do the trick here.
End with a call to action and follow-up request
A call to action is always a good sales addition to a proposal email and encourages your potential customer or business to act, sooner rather than later. It may improve the likelihood they will respond to your proposal. The call to action might simply be to contact you for further information, or to visit your website to view case studies; either way, make sure it is enticing enough for them to actually act and write it with your own personal touch such as wishing them a good weekend.
As well as a call to action, add a follow up request. For example, let them know you will be calling them or emailing them again in a few days or weeks' time so they can then be prepared for your next contact and be ready to talk to you, or respond to your email. Have them feeling that you are the solution with the right services once they have read your proposal email.
Ensure your email signature includes your contact details
Close your business proposal email with a thank you to your customer for their time in reading and evaluating your proposal, and encourage them to contact you with any questions. End your business proposal email in a way that you will be the first point of contact when they do their hiring.
Always make sure your email signature not only has your name (and job title, if you have one) but also your contact details, such as your email address, cell phone or landline number, your website URL (if you have a website; most freelancers, even those who work under their own name, have a website these days), and some people also add their social media channels, particularly if they are active on them.
Keep it brief
Your prospects are busy people; they often don't have a lot of time to read large amounts of text regarding your extracurricular activities at college or your life history; and they don't need that information either.
To help you stick to the details, it's a good idea to use a proposal template or outline with headings, lists, and graphics, if applicable, to make your proposal easy to read. You want the prospect to be able to determine straight away if you're an appropriate fit or ideal solution for the project or grant. A proposal template is the simplest method to achieve this. However, be sure to tailor it to your client's specific requirements.
When is it appropriate to use proposal letters?
You can also use proposal letters instead of proposal emails to approach potential customers. They can be used for a wide range of purposes, including small company initiatives, like seeking a loan or recommending a new marketing strategy to your boss.
Proposal letters can also be used as a teaser for a more comprehensive, more thorough business proposal, such as a government grant for a research project.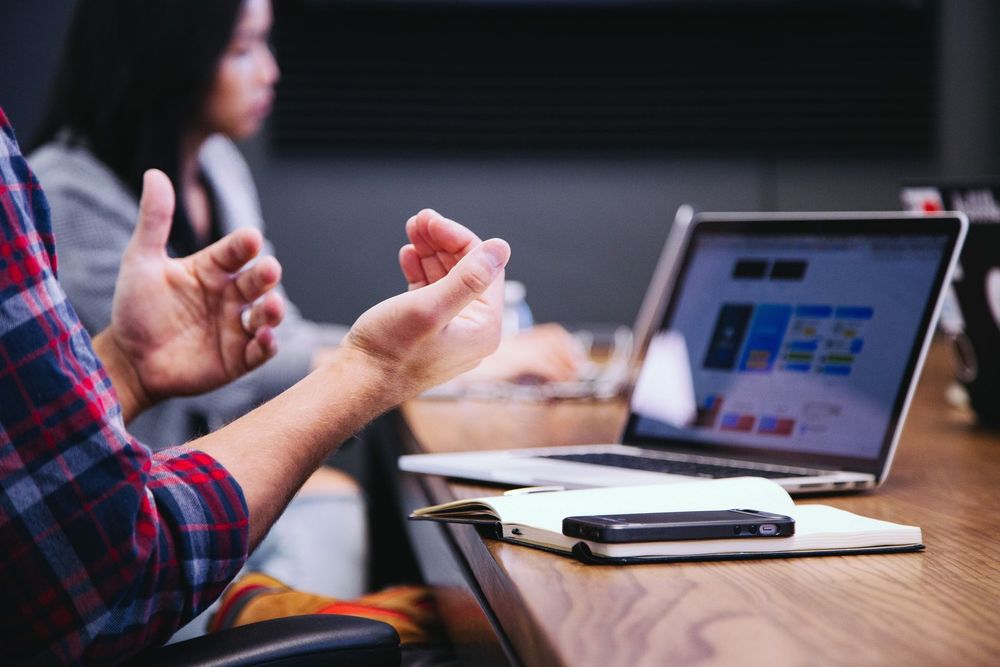 What is the significance of proposal letters?
In most cases, a proposal letter is the first time a prospect is 'meeting' you and represents their first impression of you, and your company if you have one. Your audience is more likely to favor your plan and move forward with it by writing a clear and persuasive letter.
The added benefit of a proposal letter is that it is set out with your branding, for example, your logo and brand colors, which can also be used to make a positive sales impression. While an email can include your logo in the signature at the end, it's not as easy to display your branding. A proposal letter is much clearer from a brand point of view, but do remember to add all your contact details, as discussed above.
Proposal template
A proposal template is a document that lays out the sections you need to complete in order to present to a potential customer a clear, detailed yet concise business proposal. It assists you in ensuring the proposal you're drafting contains all of the necessary information required by your prospect for them to make an informed decision. Contact information, work specifics, and pricing are all included in the proposal templates and to save time, you may find that certain aspects have been pre-filled. To finish the proposal, just add or change the information to find the right solution for you.
What is the purpose of a proposal template?
Templates for business proposals help you save time and money by eliminating the need to redo your work each time you want to send a new proposal to a new prospect or lead. Using templates ensures you are able to put less time into the administrative tasks and focus more on the work you do, thereby earning more money.
What is the best way to make a proposal template?
By adding blocks of information to a document, you may make a blank proposal template. In general, it should contain the following sections:
Logo, company name (if you have one), and branding in the header
Information about how to contact you
Cover letter or introduction
Services description
Costs, budgets, quotes and payment terms
Delivery timeline
Signatures
Proposals are a vital sales transaction tool, and using them creatively will help you stand out during the sales process. With Indy, you can make winning proposals in a flash using a template that's easy to follow, and drag-and-drop content blocks for simple customization. Check out how Indy's Proposals tool can help you gain more clients, and get started today!