It is great to have software tools at your disposal to get all those time-consuming jobs done in any business. It is even more beneficial for those who work for themselves in a freelance capacity where you have to do everything yourself.
This is where this straightforward online form builder software will come in handy, so you can focus on important things, such as finding jobs. In this article, we take a closer look at some of the more popular online form builders you can use for your benefit.
Forms-creating software is a tool that can save you a lot of time. We will show you the benefits of using these easy online tools for your business. So, relax and look at this list of the best online form builder software available on the market.
Types of online forms freelancers need
First, let's take a look at what types of forms freelancers will need to make their job a bit easier and more convenient. Here's a list of documentation that freelancers will need for various purposes.
Intake forms: Client intake forms are critical for freelancers as it helps you learn more about their business and how you can help them. By gathering all of the necessary information you need, you can better determine whether a potential client is right for your services.
Project briefs: Another essential document, you can use project brief forms to detail the purpose, goals, target audience, and timeframe of your proposed project. Project briefs help you start every project on the right foot.
Survey forms: When you wrap up a project, you can send surveys to clients to help you get feedback. Getting feedback is one of the best things you can receive as a freelancer, as it's important to know the things you're doing right and wrong. That way, you can keep improving your processes over time.
Benefits of using online form builder software to create forms
There are many benefits you can get from making use of a form builder tool to create all the necessary forms.
Let's take some of the most obvious benefits you can get from using these handy form tools in your business.
These tools are very easy to use and are, most of the time, user-friendly and intuitive.
Lots of manual work will be eliminated, and they can be automated to save time and effort.
They are cost-effective, and most of the professional form creator software tools provide a free version to try out.
Many free-form builder software options are available from large companies such as Google, with many features included.
You can use a free online form builder tool to get started with your business without too much capital layout.
You don't need to be able to do any type of coding with these free online tools at your disposal.
A form builder tool can help to generate leads with information the customer provided.
Better management of your email inbox is possible so you don't miss out on work requests.
It is much easier to do market research via surveys that provide the best information on your target audience.
A variety of forms to create is at your disposal with these form-creation tools.
All types of forms can be easily customized to suit your preferences and needs, like adding a company logo.
A/B testing options are available for much better feedback, and comparison.
Sharing of information is much easier and faster with a form-creating software tool.
You will have much fewer bouncing and more hits to build leads.
They are safe to use for submission and are far more convenient for the user.
Much less paperwork which will also save you a lot of money.
Software that creates forms is also not that expensive, so it is quite budget-friendly.
10 best software for creating forms
Following are some of the most used form-creation software available on the market to make your life so much easier.
You will find that they all have their unique features, but they all have one thing in common, to save you time.
1. Indy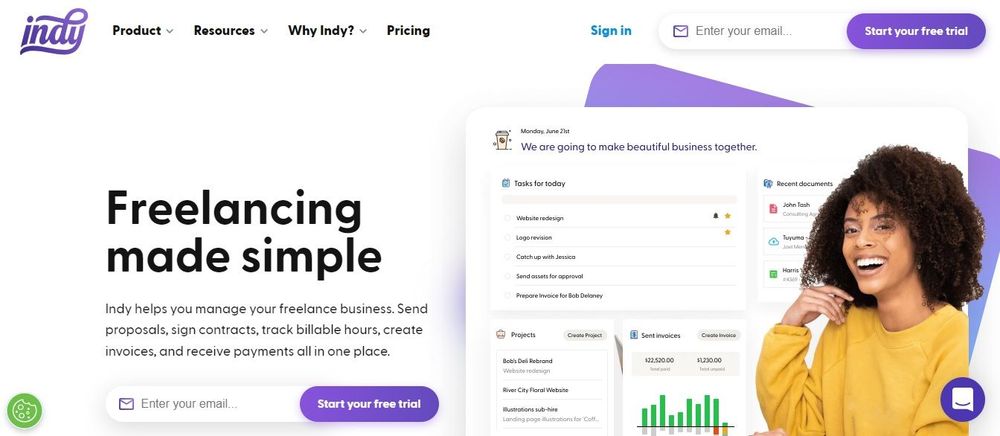 Indy is one of the easiest and most affordable forms creation tools on the market, with great features to make the freelancer's life much easier. Using Indy in your business will help to expand and grow because it is very powerful and flexible to be used by any freelancer.
Indy overview
Immediately increase overall productivity by using Indy to help you work smarter and get more work done in less time. All types of freelancers, such as writers, photographers, developers, and many more, can benefit from the great features included with this tool.
Key features of Indy
This versatile form creation tool will help you spend more time on what is important and less time on admin. This is simply saying that by using the many features available, you can streamline your work and save time and effort.
Ease of use
Create, sign, and send contracts in minutes and keep track of the status, viewing, and signing whenever you want. This all-in-one form creation tool has everything available for all types of freelancers to create forms while saving time.
Keep tabs on contracts, manage project status, and many more with the simple and easy tools at your disposal.
Affordability and plans
You have two versions of Indy form creator, which is the free option or the Pro Bundle with many great features included. Included with the Pro option, you have 1 TB storage with no file size limit to make it so much easier and safer to use.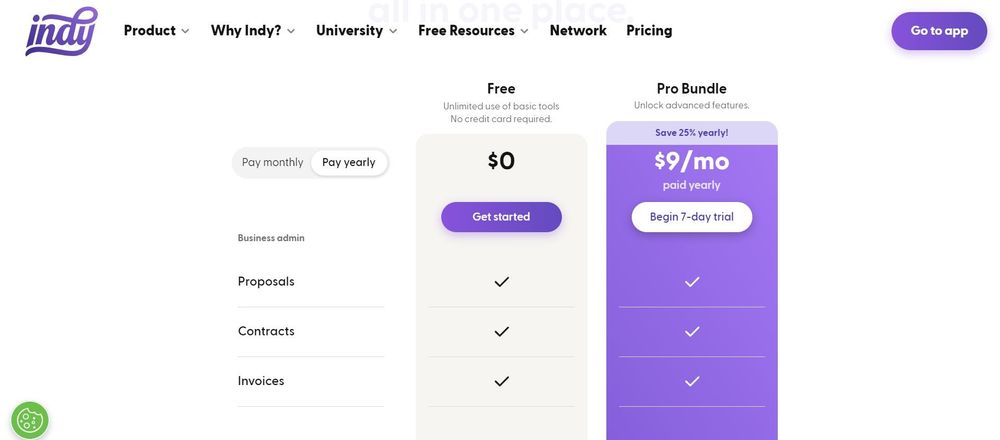 At a current price of only $9/month paid yearly, you have a very affordable form creation tool for freelancers. And with the Free plan, you'll always have access to the tools you need to make freelancing simple—free forever!
Security
Security of your data will not be a problem; ensure all security settings on your server are set to the most secure option. It all depends on your own platform and how secure your data is for form submission.
Support
The help center is interactive, and any questions you have about using this tool for form creation will be answered promptly. From FAQs to getting started and even more advanced topics can be followed through this handy help page.
2. Microsoft Forms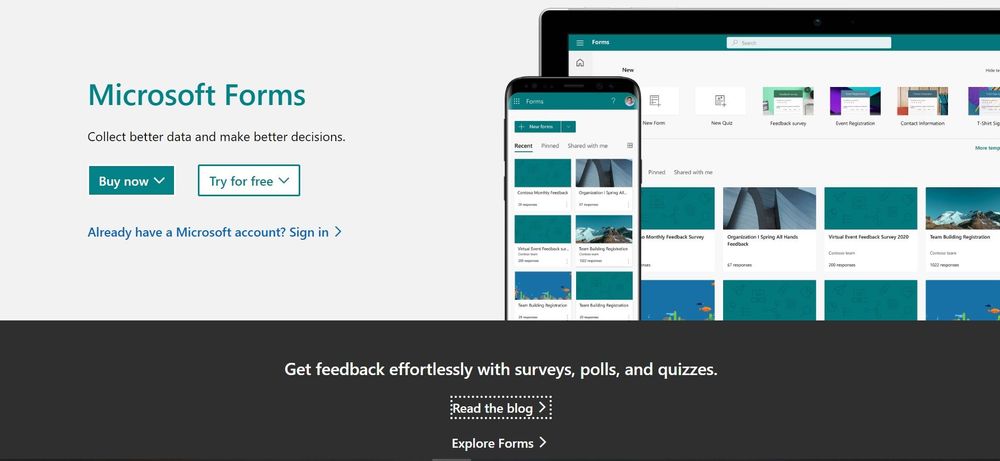 Even though Microsoft Forms is free, you need to have an active business or education Office 365 subscription to use it. It is a basic form-builder tool that is quite easy to use and supports more than 75 languages from around the world.
Microsoft Forms overview
It will be easy to start using this tool from Microsoft with a simple click and access your Microsoft 365 accounts. You can then select the Forms training option and learn what this easy forms software is all about.
Key features of Microsoft Forms
With several features at your disposal, it will be quite easy to use this tool to create a number of different forms. You will find that Microsoft Forms have all the basic features available, so you can create the forms needed to keep your business going.
Ease of use
This is one of the easiest form-creation tools available and can be learned in a short time. Because there are not that many options available in this software tool, the learning curve won't be that steep.
This software can easily be integrated with other Microsoft apps and tools to make it easy to streamline your work. Sharepoint, Teams, and Excel are some of these applications that can be integrated to make your work much easier.
This also means that you can easily share your forms with collaborators or share them as a template.
Affordability and plans
Microsoft Forms is a fairly basic and straightforward tool that can be used with a range of templates for your convenience. Microsoft Forms also has a pro version where you pay an upfront amount and get up to 2,000 responses per month to use.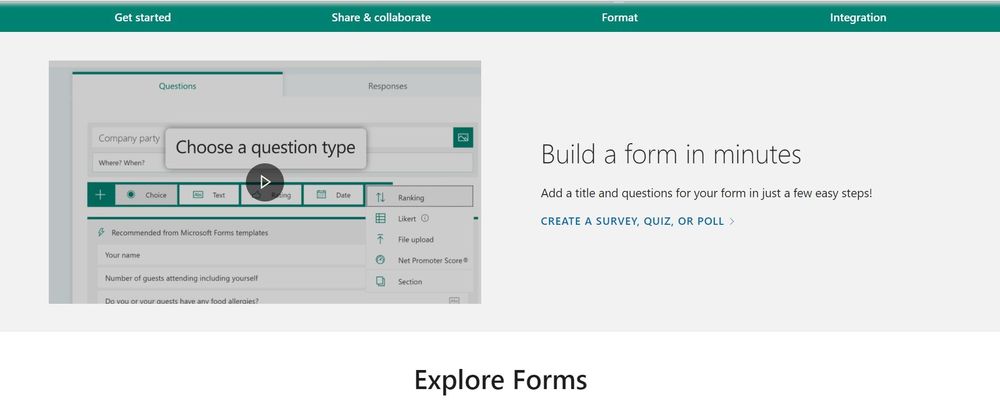 Security
Microsoft Forms and the pro version is encrypted in both the rest state and the transit state to make it quite secure. You can also select an option to make all email addresses and names anonymous, so it will not record them.
Support
There is enough support from Microsoft for those who use this tool to create many different forms for their business. Quick and easy training on the use of this software tool is available from Microsoft, so you are not on your own.
3. Jotform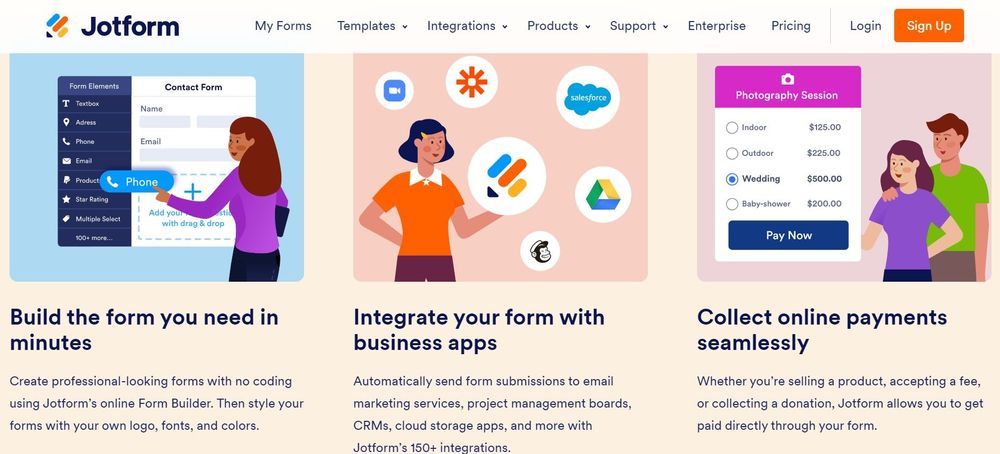 Jotform is a free online form builder used by 10+ million people. Create powerful custom forms and automate your data collection process. Make use of their templates to get started on creating your forms.
Jotform overview
Without using any coding, create beautiful forms that match the style of your branding and share them with just a link or embed them on your site for easy access. Many businesses use Jotform to either collect online payments, gather customer data, or store internal documents securely. Save time by automating these processes.
Key features of Jotform
Use their many app integrations to automatically send your form submissions to project management boards, cloud storage apps, or email marketing services. See your data organized on spreadsheets with Jotform Tables and generate live reports to get insight into your users.
Ease of use
Creating a form doesn't need much work. Simply select a template to get started or start from scratch. Choose your layout to either be in card form or a single page. Drag and drop elements and widgets that come equipped with every customization feature you can think of.
Jotform's wide suite of products can make it easier to create a form or document specifically tailored to your needs. Design a mobile app to store company documents and collaborate with others, create a secure document to collect e-signatures, or set up payment integrations to sell products online.
Affordability and plans
Jotform has a free plan that comes with all features with a form creation limit. Use it to get a feel for the product and choose to upgrade whenever you need to. Paid plans come with increased form limits, more storage, and extra compliances like HIPAA. They also offer an enterprise plan that is perfect for bigger businesses that come with priority real-time support and white labeling.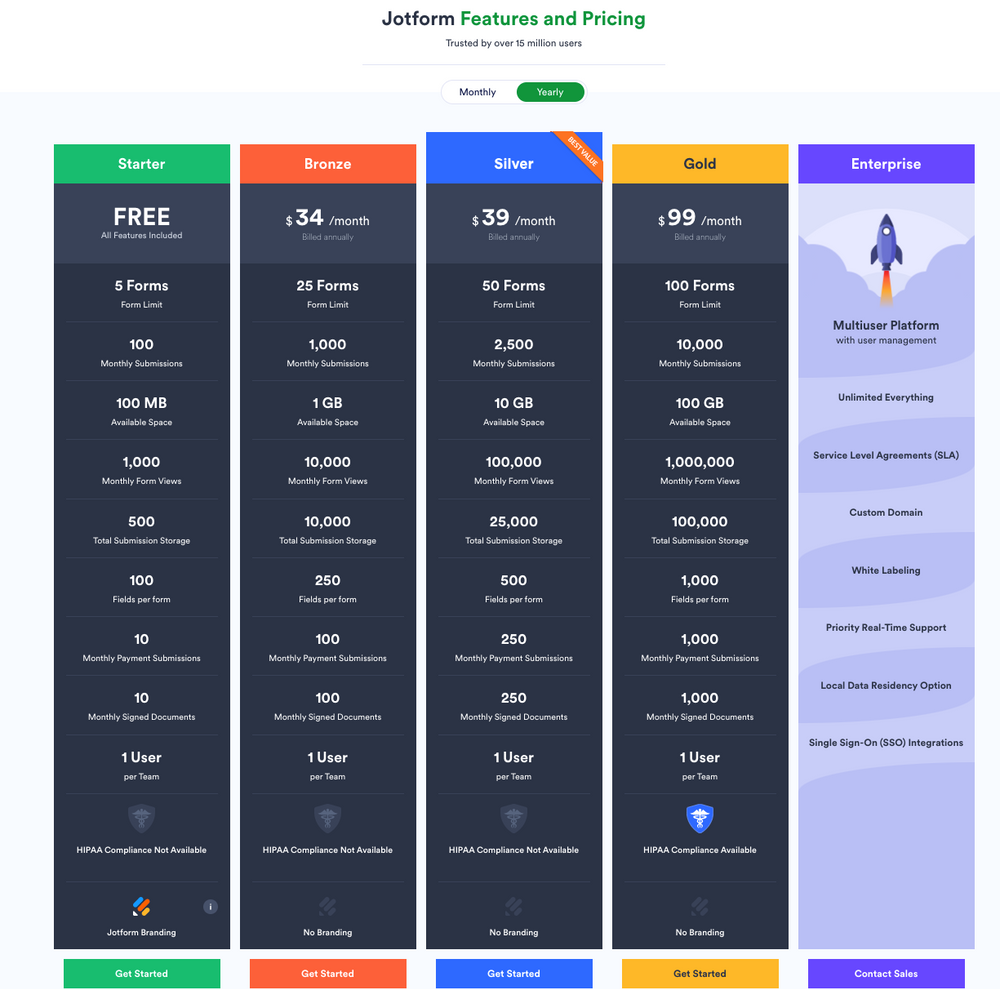 Security
Regardless of your plan, Jotform offers a 256-bit SSL connection that uses a SHA256 certificate. You can encrypt your forms so that your data is stored securely. Get access to compliances like HIPAA, SOC 2, and GDPR.
Support
Jotform's support team works 24/7 to deliver precise answers to any product-related question you might have. Read other answers to find what you are looking for before even asking it.
4. Hubspot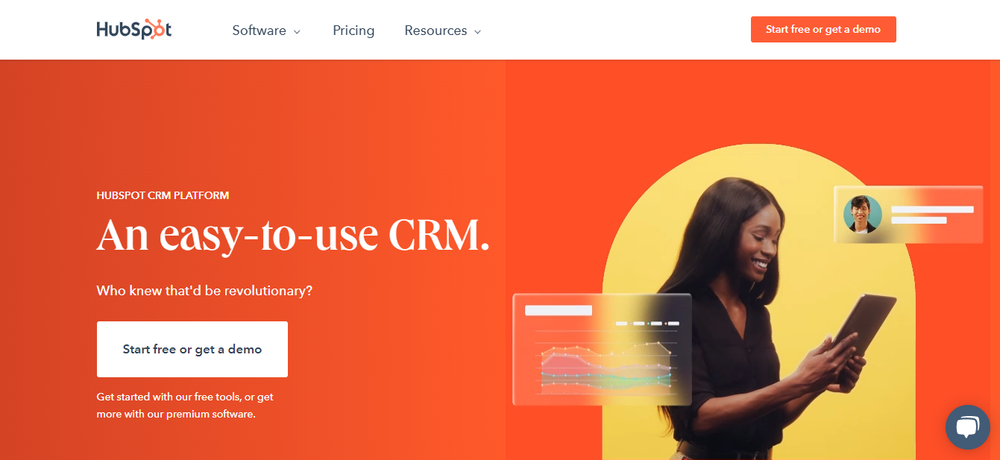 Hubspot is a form software tool that helps you focus on only the information you will need to help your business grow. It provides any business with all the tools they will need, with each of them on its own platform.
Hubspot overview
You will have a range of options to choose from in different categories of your business to streamline the workflow. With lots of experience in online marketing, this is just what you need to get your business going without hiccups.
Key features of Hubspot
You will find that the features available from Hubspot will help your business grow rapidly in every aspect. These include marketing, sales, services, operations, and many more to make those manual jobs so much easier for you to control.
Ease of use
There is quite a lot to learn with Hubspot, so it is not the easiest to begin with, but the dashboard is quite intuitive. The email marketing automation tool will make it easier for you to gain leads by combining channels and campaigns in a very easy manner.
Hubspot's blog software provides you with quick and easy access to different users on the platform.
Affordability and plans
Hubspot's form builder tool is available for free and comes with a range of features added. The free tools you get include form building, email marketing, ad management, Live chat, a dashboard, and many more tools at your disposal.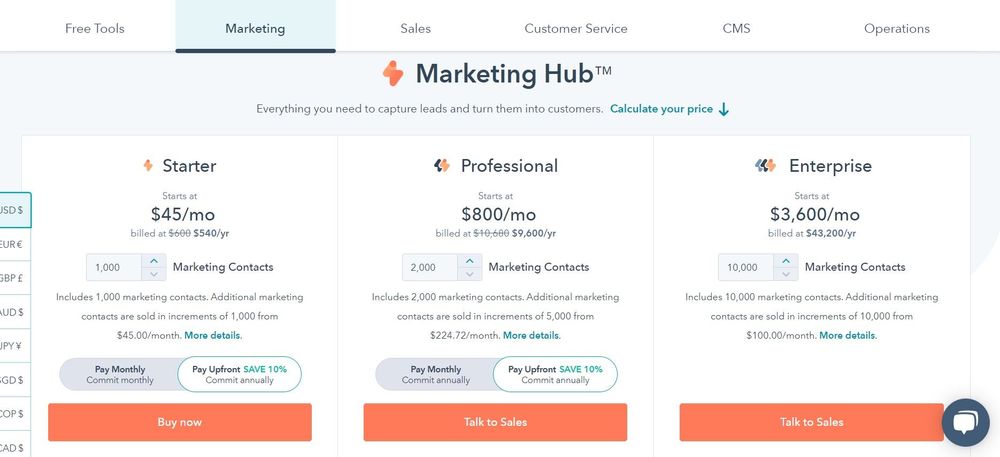 There is even more to Hubspot with the professional versions featuring great tools and features. The starter version is quite affordable and comes with the basic features added to help your business grow.
Security
Hubspot provides strictly managed access to all data, and no information is provided to anyone about their clients, so your data is safe. The free online form builder option from Hubspot is just as secure as the professional versions for your peace of mind.
Support
There is no shortage of support from Hubspot to help you get started with all the tools they have to offer. What is also great about Hubspot is that all support you get is from humans to make it easier and more personal.
5. Google Forms

Google Forms is part of the features available in Google Drive that can be used free of charge anytime you wish. They are quite easy to use with a user-friendly interface and all tools available to create your customized forms.
Google Forms overview
With this tool from Google, you have unlimited form submissions by default which is great for startup businesses that don't have much capital. It is available for everyone with a Google account, so just jump in and use it to create your forms.
Key features of Google Forms
Because this is a free service, there are a limited amount of features available you can use. You will find that these features allow you to integrate with other Google apps for quick and easy online sharing options.
Ease of use
If you have basic internet usage experience, you will be able to create forms in Google Forms in no time. Because there are not a lot of features, it will be easy and quick to learn how to use it to create your forms.
Google Forms will also easily integrate with Google Sheets to provide you with feedback on all of your responses. You can easily drag and drop form elements to organize them according to actions and events.
A quick link to a Google Sheet will allow you to view all collected data for easy analysis.
Affordability and plans
Google Forms is completely free, and there is no professional version available where you need to pay for more features. This is also the reason why Google Forms is a basic service with only a few templates to be used.
Security
Google Forms is quite secure as it uses the default security options that come with all other Google online products. So all form submissions on the Google platform use industry-leading security measures while providing advanced malware protection for all your forms.
Support
With a huge support network available from Google platforms and other users, you will never be far from proper help. There is a range of training videos available to help you get used to all the features that come with the software.
6. Formsite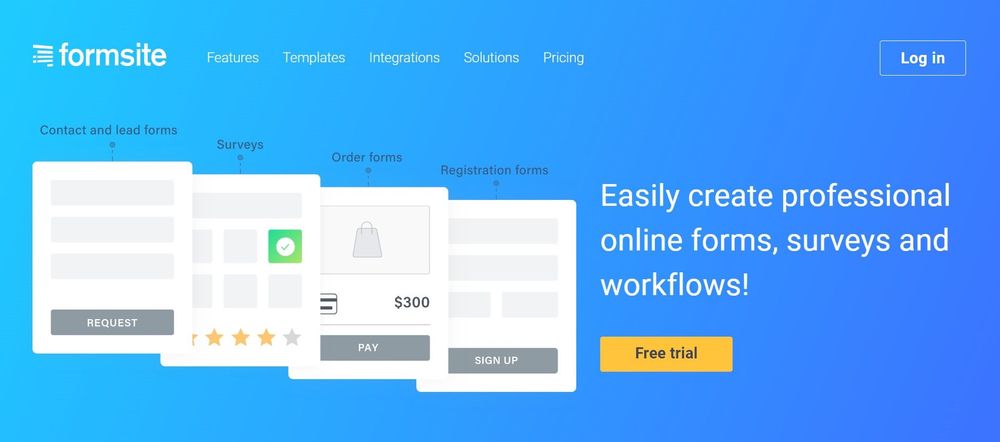 If you don't have a lot of time to waste, Formsite is the software tool you are going to need to create forms quickly. This online form creator provides many tools to make all those manual jobs so much easier to get done.
Formsite overview
As one of the best form builder tools, you will appreciate all the great features that come with this online tool. This great online form builder gives you the opportunity to be creative to create beautiful forms without any previous training.
Key features of Formsite
Formsite features a toolbox of over 40 item types for building custom forms, and you can build multiple page forms and embed forms on any site. The intuitive interface of the form builder tools of this app makes it a great option for beginners and experts.
Ease of use
Results can be received in real-time with email notifications to make it easy to analyze all data. The drag-and-drop feature makes it easy to create all types of forms in a matter of minutes to save time and effort.
Even though there are a lot of features, the friendly interface makes it quite easy to get the job done without a lot of training. Creating payment forms for all types of recurring payment options will be very easy with Formsite.
Affordability and plans
There is a free trial option for 14 days so that you can try it out without any obligation and with no request for your credit card information. There are also a number of professional plans available at different price points with a range of features.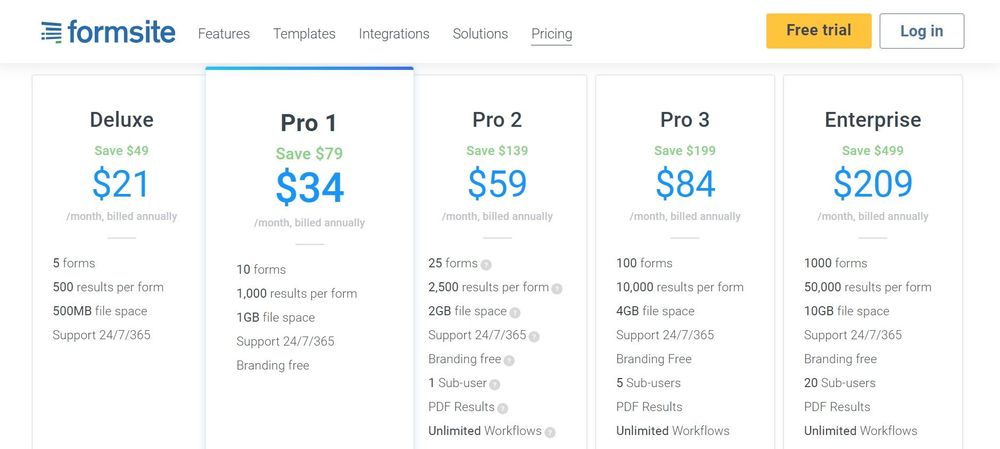 These are quite affordable compared to most other professional services available.
Security
The powerful features make it quite easy to have secure data collection options with all connections. They use top-grade SHA-256 RSA secure connections, which are the same used by most financial institutions, to keep your data safe.
Support
All types of users enjoy support and training on how to create web forms and more with this handy tool. On their website, you will find all the information and training necessary so you can start using all the form builder tools they have available.
7. Wufoo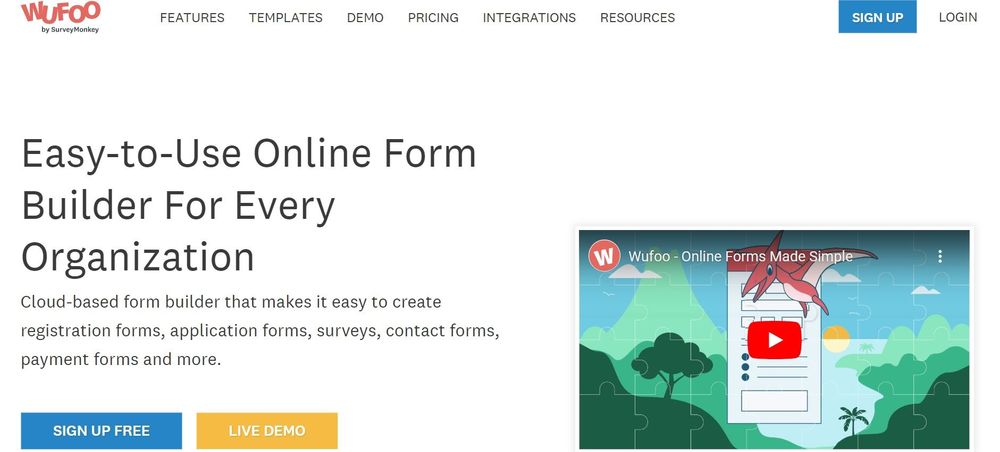 This cloud-based software for form creation is one of the best online form builders for a range of online forms, especially for contact forms. You will find that Wufoo is a versatile tool to create many different types of forms to build your business.
Wufoo overview
This tool will allow you to accept online payments and is one of the best options for automated workflow. It is also very useful to help build consumer relations and process customer feedback while you get notified every time a user completes a form.
Key features of Wufoo
Wufoo is an easy and user-friendly software tool where you can create easy custom forms and incorporate these forms into websites. It is loaded with great features any business will appreciate and use to collect all the data needed.
Ease of use
With the easy drag-and-drop builder, you can create professional forms without writing your code to save time and effort. Forms created in Wufoo can have up to ten form fields to make them versatile in different setups.
The form templates provided by Wufoo will make it easy to view and analyze your data. Easily export all of your data to your favorite spreadsheet to save you time and effort that can be used to build your business.
Affordability and plans
There is a free option from Wufoo that comes with basic form creation options and email support. There are a number of affordable professional plans, and there is the advanced and ultimate option with unlimited forms at affordable price points.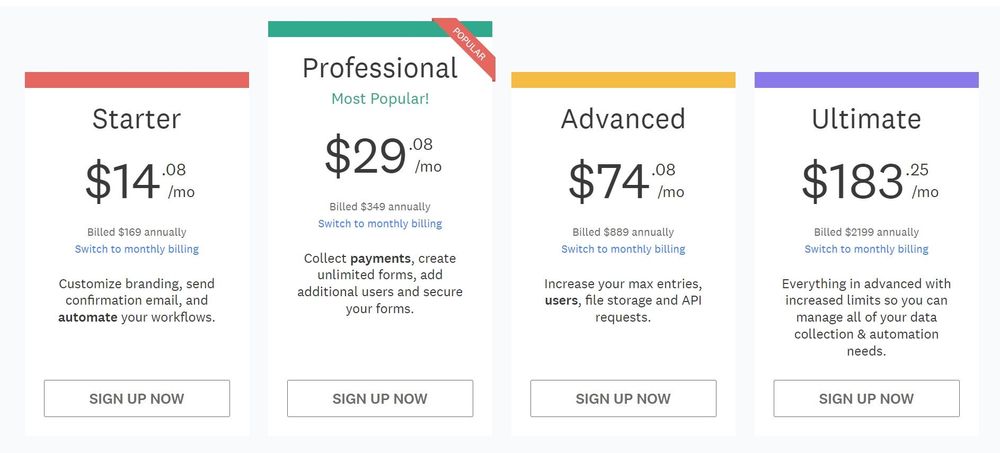 Security
All forms created and sent with Wufoo are served over SSL and are safe to send and receive at any time. The professional plans also have the option for up to five encrypted fields for improved security and data protection.
Support
All customers of this powerful form creator software receive email support from the company; simply send them an email, and they will contact you. You need to sign in before you can use the contact page so they can access your account; there is also the help center.
8. Gravity Forms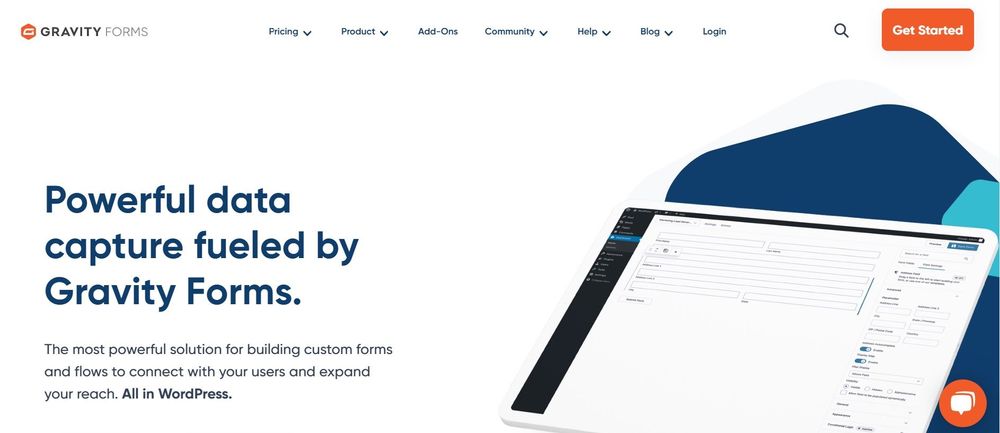 Gravity Forms is a WordPress plug-in that can be used to reach many more clients and expand your business even more. This is one of the easiest and budget-friendly form tools available for a wide range of businesses to increase their user reach.
Gravity Forms overview
Create custom reports, capture the users with a lead generation feature, and automate workflow while building your online business without too many hassles. With conditional logic in place, you can be sure that all data is used according to user input to display all you need to know.
Key features of Gravity Forms
With many features added to all versions of this tool, you can be sure that you get all you need to improve user relations. The many pre-built form templates will make it so much easier to reach your goals and target the right audience.
Ease of use
With a very easy interface, you can build all types of forms by using the templates in only a few minutes. The same tool that is used to create contact forms can be used to manage transactions with the online payments option.
Multiple form fields can be used on all types of forms to customize them to your needs and preferences with just a few clicks. You can also build your own forms from scratch without the need for any coding experience.
Affordability and plans
There is no free option or even a trial version of Gravity Forms available, but the basic license is only $59 per year. There is also the Pro option, and the Elite version at very affordable annual price points and many great add-ons included.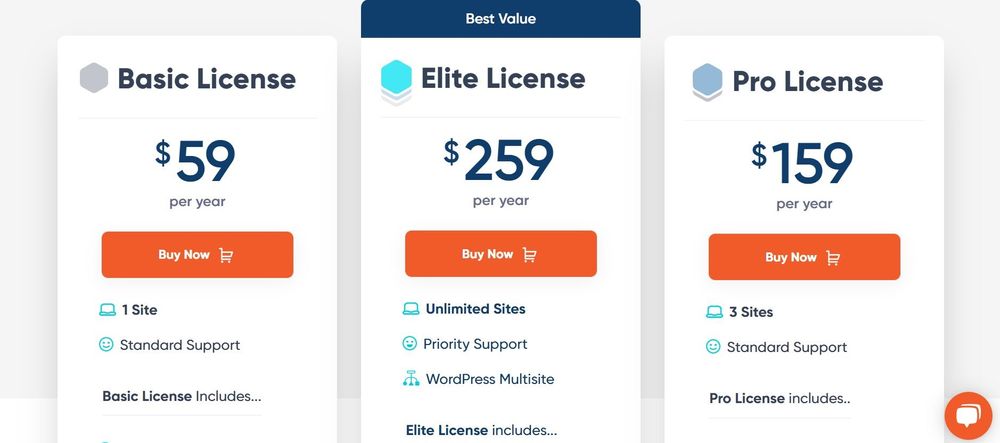 Security
With Gravity Forms, you can have the peace of mind that your data is safe with state-of-the-art security measures. Gravity Forms also make use of a virtual airlock to keep all of your data safe and secure all the time.
Support
With a lot of support from the company, you can get started immediately to help build your online business. Any information you need can be found on the help page, and you will get answers to all questions promptly.
9. Ninja Forms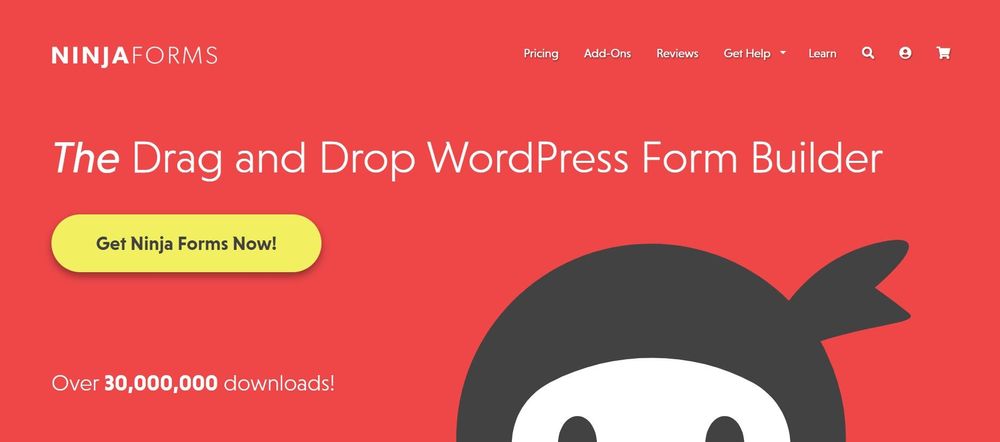 Ninja Forms is the ideal online form creator for those who don't have the time to create their own forms. Even the free version of this WordPress plug-in will get you started in only a few minutes to expand your business connections.
Ninja Forms overview
You will get notified every time a new form is submitted, which will trigger a range of automated tasks to save you time. It creates powerful forms that can be used for data collection and are very flexible to create a range of forms.
Key features of Ninja Forms
The professional version adds many great features, but you can still create many basic forms for feedback. Even complex forms will be quite easy to create with Ninja Forms making it a great choice for everyone out there.
Ease of use
Starting an online business is not easy, so you don't have the time to code your own form; this is where Ninja Forms comes in. You can quickly and efficiently create your own forms in minutes with an easy interface and simple mouse clicks.
The layout of this software tool is such that you can easily select a pre-built form and create what you need. Custom forms can be created in minutes with the drag-and-drop feature for form creation that will save you a lot of time.
Affordability and plans
The free-for-life option is for those who need some basic automation features. Other price plans ranging from starter to company level come with great features and add-ons, making your form creation much easier.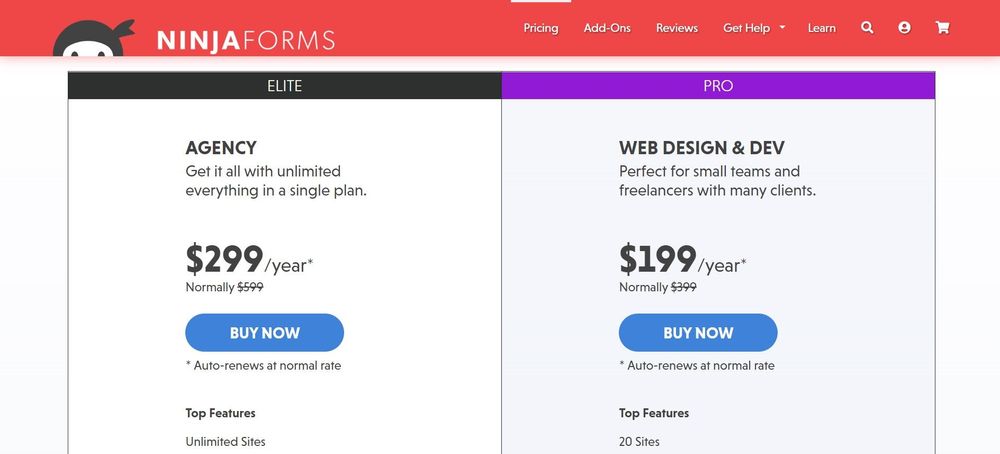 Security
Because it is a WordPress plug-in, you are as secure as the server settings are to protect your form data. Security has been updated recently by them to help keep your data safe with the Virtru SDK encryption method.
Support
Specific support can be provided to anyone who needs to learn how to use this tool for their business. You can ask any question about any given subject related to the creation of forms in this creation tool, and you will get an answer.
10. Cognito Forms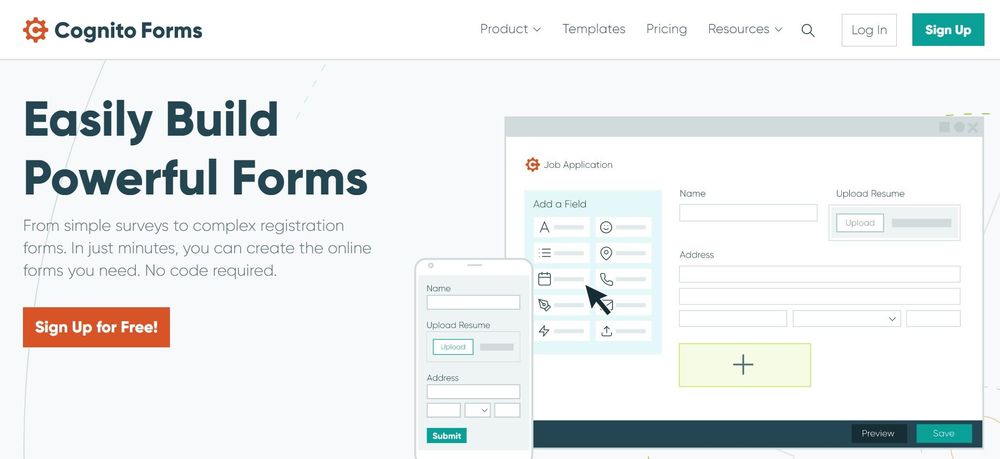 To grow your business and expand your leads, you need to collect data from different users; this is where Cognito Forms can help. Many different types of HTML forms can be created with this software tool without any coding experience or training.
Cognito Forms overview
Engage with the right people to expand your business with workflow features that allow you to engage on any platform. Multiplier forms can be created to improve business relations and grow your business without wasting your time and with little effort.
Key features of Cognito Forms
You can link multiple forms to improve the automation of workflow with all the great features included with Cognito Forms. Data with many different applications can be shared with the versatile Cognito Forms and Zapier from Microsoft to save time and improve leads.
Ease of use
From simple to very complex, registration forms can be created in only a few minutes with all versions of Cognito Forms. Create unlimited forms to help grow your business with simple drag-and-drop features for an advanced data management feature that will save time and effort.
The data collection feature will help to customize how data is collected with your order forms, work orders, lead forms, and surveys.
Affordability and plans
All options, including the free version of Cognito Forms, come standard with the unlimited forms feature and free storage for all. Affordable Pro, Team, and Enterprise plans are available from Cognito Forms at very affordable prices, with many features added for every version of this tool.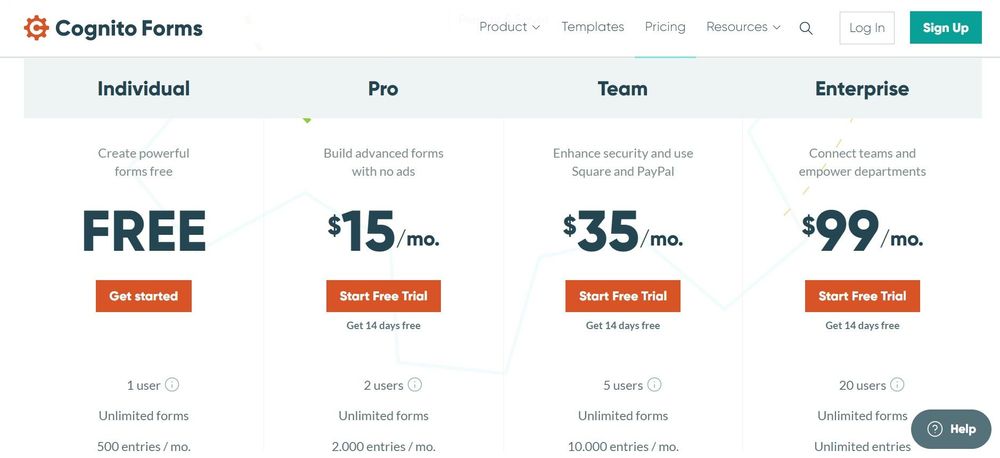 Security
With some of the best security options, all data is secure with protocols that can be customized by the user. The latest technologies in data encryption and protocols are used to ensure that all data remains secure, safe, and private.
Support
Different user guides are available from Cognito Forms, from different style forms to a range of other templates. Learn how to use data integration, how to build forms, and more; you can also ask any question here for a prompt answer.
11. Typeform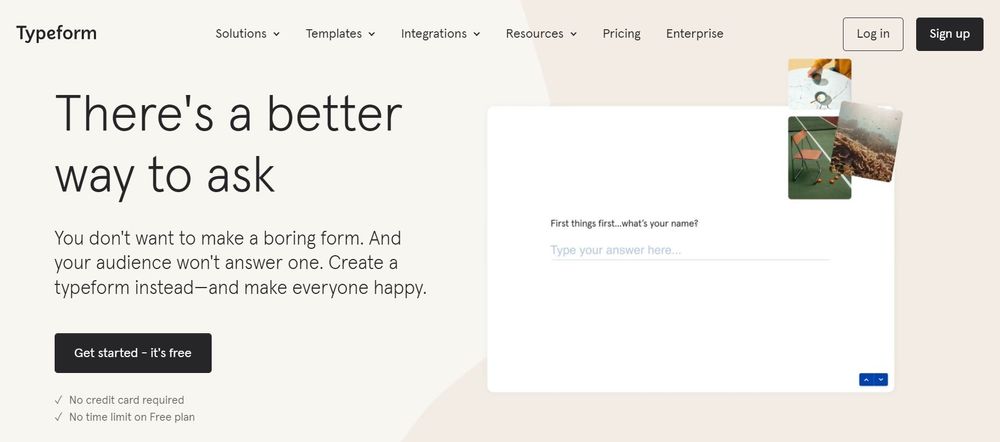 If you are looking for a form creation option that places beauty and aesthetics above all, Typeform is what you need to use. You can create the most beautiful forms with Typeform to improve your company image while building your business with a fun factor.
Typeform overview
The forms, quizzes, and surveys you create with this tool will entice people to answer them because they simply look so nice and well-designed. Images, animated GIFs, and videos are used in such a way as not to distract them but encourage them to answer your questions.
Key features of Typeform
When it comes to features, display, and beauty are at the top of the list with this form creation application. A beautiful but simple welcome screen can be created to make users feel very welcome when they complete your forms.
Ease of use
This tool will create engaging forms to make the user want to complete the forms, but creating them will take some learning. The great thing about this tool is that when you are used to it, all types of form creation will become much easier.
There is a huge list of templates to choose from when it is time to become creative and include many different types of forms.
Affordability and plans
There is a free option available from Typeforms for those who want to try it out obligation-free for an unlimited time. Basic, Plus, and Business plans are available with added features; you may also save a few bucks by opting for the annual payment option.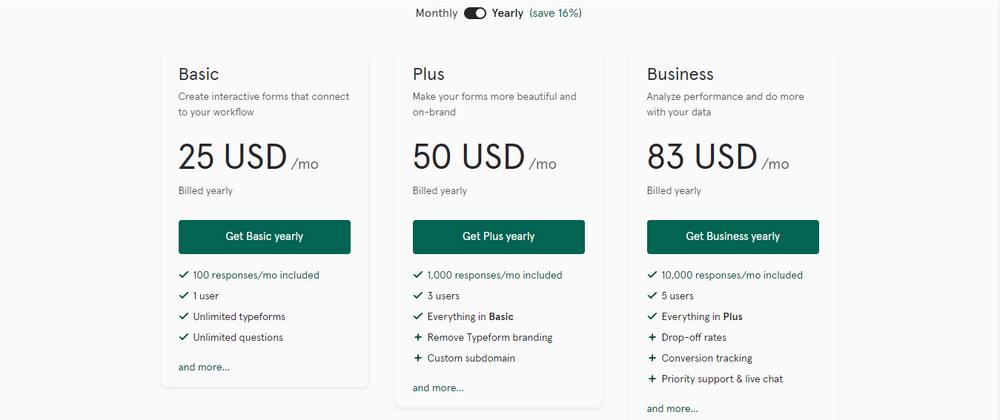 Security
All Typeform servers and devices are encrypted to ensure that information contained on them is kept safe and secured all the time. Access to customer data is controlled and restricted to only authorized personnel, while repositories of all information are controlled and audited.
Support
A lot of support is provided via the help page to get you started using this tool to create all types of forms. You can even ask any question you may have about any topic, and they will get back to you in no time.
Conclusion
If we have to choose one form creation tool from this list, the one that stands out for freelancers is Indy. It has all the necessary tools and features to make the admin jobs much easier and save time.
To prevent yourself from getting frustrated with form creation, use Indy's form templates to create forms fast. Indy features templates for project briefs, surveys, feedback, and client intake. You can even create your own forms using custom elements with drag-and-drop ease. And when you're finished customizing the perfect form, it can be embedded on any site or shared with a link.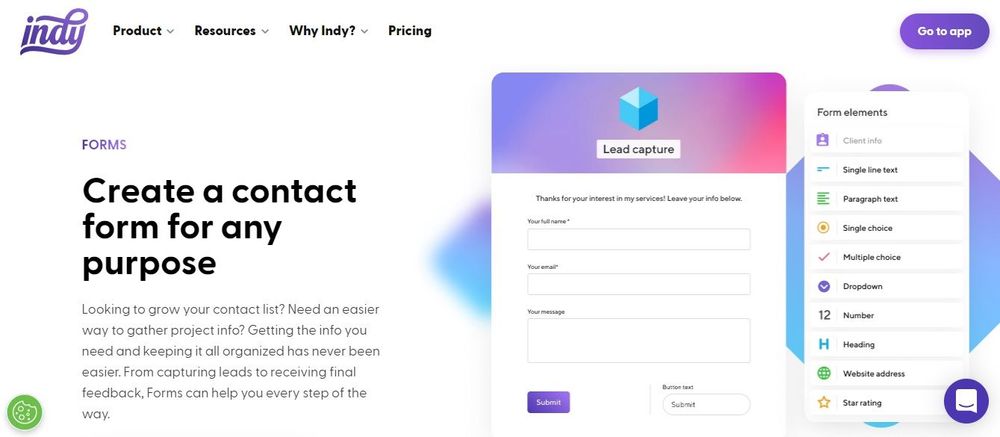 Any template you create can be saved for later, so you can save time on creating forms for future clients. Get started today for free!