If you are a freelancer, you probably have a Twitter account—either for your clients or your own business. Like all social media accounts, Twitter can be a great way to grow your business, meet collaborators, and promote your clients' as a marketing or social freelancer. However, keeping tabs on all of the platforms you need to manage isn't easy.
As a freelancer, you need to watch all of your social media accounts, your email, your calendar, and your project management tools—to name but a few. Thankfully, tools like Zapier can help automate many of the tasks consuming your time through automation. You can stay on top of your Twitter account and everything else.
What is Zapier?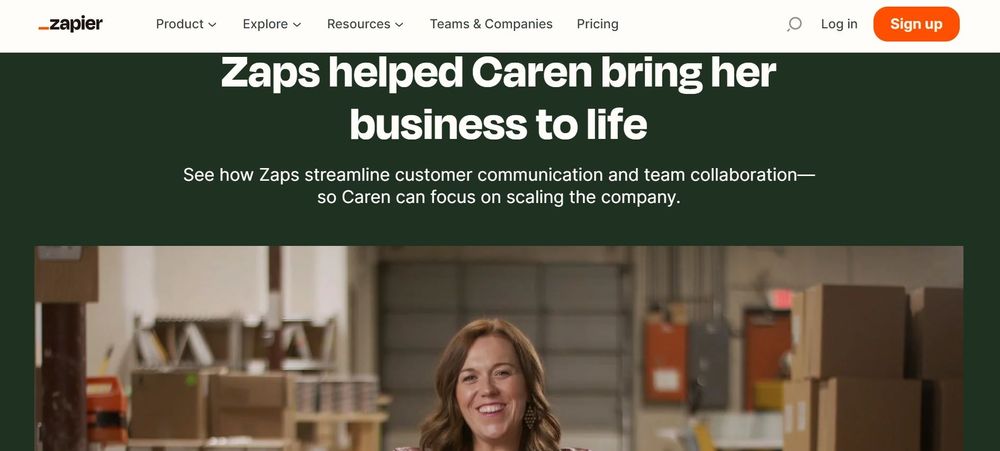 Zapier is a tool that allows users to integrate the web applications they use with one another and automate workflows. These automations are called Zaps. Every Zap consists of an action and a related trigger. For example, if you work in Slack, simple Slack-Twitter integrations will ensure that you never miss a user Tweet by sending Slack notifications every time one of your Twitter followers sends you a DM or tags you in a message.
The best Zapier-Twitter integrations for freelancers
Zapier has more than 5,000 different web apps that you can connect Twitter to. Here are just a few of the top Zapier-Twitter integrations you can use to save hours of time and effort as a freelancer. That way, you can focus on what matters the most: your business.
Instagram is already integrated with Facebook, so you can easily share Instagram photos on your Facebook pages without any effort. Unfortunately, you can't do the same with Tweets unless you use a social media management platform (which requires manual inputs). Fortunately, you can set up a Zap to easily share your Instagram posts on Twitter. The zap will create a tweet with an image or GIF included every time you post a video or image on Instagram. It's the easiest way of keeping your Twitter followers in the loop without extra effort on your part.
Speaking of Facebook, you can create a Zap to tweet every time your Facebook pages receive recommendations or if someone posts on your timeline. It's a great way to share Facebook recommendations or interactions with your Twitter followers. Alternatively, share every new post with Twitter to avoid duplicating your efforts across every single app.
An RSS feed (or RDF site summary/Really Simple Syndication) is a web feed that gives users access to updates for websites and blogs. Instead of compiling a new tweet for every interesting news item or blog post, you can connect Twitter to a relevant RSS feed. Every new item will generate a new tweet, saving you time. Create an RSS feed for your website or blog to keep your followers up to date with your business.
If you are a heavy Twitter user, you already know that you can pick up new business on Twitter—if you have the time to monitor the site all day. The Slack-Twitter integration can help you with that. You can use this integration to notify you every time there are new tweets related to a specific term, e.g., "web developer recommendation" or "freelance copywriter." You can post it to a specific channel and check all of the responses at the end of the day or once every few hours.
Alternatively, if you are following a specific person, you can set up your Slack-Twitter Zap to notify you in an existing channel every time they post a new tweet. You can also set up your Slack-Twitter integration to send a notification every time you gain a new follower. However you want to use it, it's much easier than checking Twitter all day.
LinkedIn is the most popular business networking app in the world, so it's worth sharing your thoughts with LinkedIn. Don't worry about posting on every single social channel, though. Just set up a Zap that posts every new tweet on LinkedIn, so you don't have to bounce between sites to keep your followers up to date.
Do you want to keep an eye on trending hashtags? Or perhaps you'd like to track which tweets receive the most engagements? You don't need to invest in expensive social media monitoring tools. You can use a simple spreadsheet total like Google Sheets. Zapier will save you the effort of capturing the information yourself and creating new spreadsheet rows based on the triggers you've set up.
YouTube is a free video-sharing app and one of the world's most popular search engines. You can set up a Zap that connects Twitter and YouTube, just like Facebook, Instagram, and LinkedIn. Every time you post a new video, Zapier will ensure that your Twitter followers know to click through and watch your video.
Airtable is a project management tool. The interface closely resembles Google Sheets, and you can use Airtable to collaborate with others. If you want to keep track of your Twitter followers or activities on Twitter in Airtable, you can create records with auto-populating fields automatically through Zapier.
Trello is another popular project and task management tool that individuals or teams can use. Unlike Airtable, Trello uses a Kanban-style board to keep track of activities and tasks. You can add tweets to cards tracking your media and marketing activities for specific projects. It's a great way of ensuring you don't forget to let your fans know about new developments or share your marketing efforts with clients or teams.
WordPress is an open-source content management system used by businesses and content creators around the world. If you run a personal or business blog, you should let the world know every time there's a new post for them to enjoy. You can connect WordPress and Twitter so that a tweet gets sent every time you upload a new post to your WordPress website.
Coming soon
Zapier is a great tool for connecting all of the apps you use on a daily basis. We love the idea of managing everything you need in just one app, which is why we created Indy.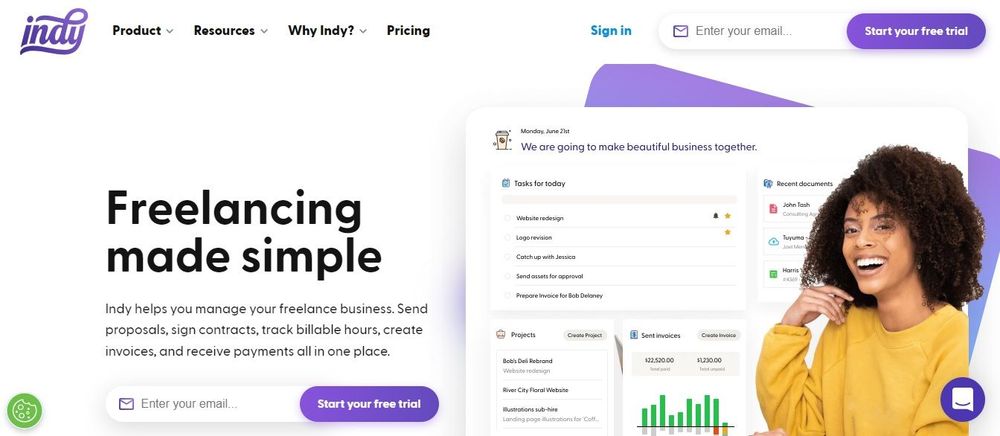 Indy is a business suite of tools and resources aimed at freelancers, solopreneurs, small businesses, and consultants. You can use Indy to create and send invoices, track your accounts, tasks, and appointments, or keep an eye on your projects. There are also plenty of helpful templates and articles designed to help you succeed.
Teaming with Zapier, Indy can become the best automation tool, so you can improve how you do business.
Check out how Indy can streamline your freelance business today.