In a city filled with entrepreneurs and creative professionals, it's no surprise that coworking spaces are thriving in Atlanta. For the forward-thinking individuals of this community, shared office spaces provide the perfect opportunity to work alongside like-minded people in a creative and flexible environment.
Look no further if you're on the hunt for the best coworking space in Atlanta! We've compiled a list of the top spots with all the amenities you could need, including private offices, on-site restaurants, and coffee shops.
11 Best coworking spots in Atlanta
Whether you're a freelancer or remote professional needing a place to call your own, or a start-up looking to rub elbows with some of the city's top businesses, you'll find a coworking space to fit your needs.
Here are some of the best options for shared office spaces in Atlanta:
1. WeWork
WeWork is one of the hottest coworking spaces in Atlanta right now. With multiple locations around the city, they cater to a wide range of businesses and freelancers.
Their newest location in Buckhead looks stylishly luxurious and covers age square footage spreading out over two towers. All of their office spaces have a vibrant and professional atmosphere yet still have a welcoming and relaxed feel.
Any WeWork spot is perfect for getting work done, meeting new people, and relaxing. The community is supportive and friendly, and there's always something going on, including networking events.
Key amenities:
Pet-friendly
High-speed Wi-Fi
New mother's room
Meditation and wellness room
Coffee and fruit water
Free printing and copying
Monthly pricing:
Hot desk starts from $230
Dedicated desks start from $370
Private office space starts from $540
Location: Multiple locations
2. Alkaloid Networks
If you're looking for a coworking space in Atlanta with a little bit of everything, look no further than Alkaloid Networks. The office, founded in 2015 by Katharine Chestnut, is situated in a historic warehouse building along the Atlanta Beltline.
The building has the right mix of industrial chic and hipster cool, and the nearby Beltline offers plenty of options for grabbing a bite or enjoying a stroll in the Ponce City Market or Piedmont Park.
Alkaloid Networks will give you a feel of the city's energetic community and a supportive environment for personal and professional growth.
Key amenities:
On-site bathrooms with showers
Snacks and local-roasted coffee
Projectors, whiteboards, and podcast equipment
Free parking
24/7 access
Monthly pricing:
Community membership is $45 for 3 days
Private office is $650
Dedicated desks are $350
Flex desk is $250 for 10 days
Location: 691 John Wesley Dobbs Ave NE
3. Spaces
When looking for a place to get work done, you want a space conducive to creativity and productivity. With locations in both Midtown and Downtown Atlanta, Spaces offers beautifully designed coworking spaces with an exclusive atmosphere perfect for entrepreneurs and freelancers looking to take their businesses to the next level.
The Midtown Atlanta hubs are especially well-suited for those in the tech industry, with their open layout and strategic design that encourage teamwork. The Downtown location is also in a prime spot, surrounded by a high volume of business tenants.
No matter which location you choose, you're sure to appreciate the mix of colorful and organic decor that Spaces offers, and the interior design tailored to help you be productive. So, if you're looking for a top-notch Atlanta coworking space, check out Spaces.
Key amenities:
Fast internet connection
Pay-as-you-go services
Complimentary coffee
Enough parking spots
Global coworking access
Monthly pricing:
Office space starts from $376 (24/7 access)
Dedicated desks start from $311 (24/7 access)
Membership starts from $252
Locations:
1201 Peachtree Street NW Atlanta
715 Peachtree Street N.E. Suite 100 & 200 Atlanta
800 Battery Ave SE, Suite 100 Atlanta
4. Atlanta Tech Village
If you are looking for a coworking space wholly dedicated to start-ups, nothing can beat Atlanta Tech Village. The place is open only for members who must own a start-up.
Working in the tech industry can sometimes feel very isolating, but at Atlanta Tech Village, you will always have someone to bounce ideas off or ask for advice. It's a lively and high-spirited coworking community that provides its members with ample opportunities to connect with like-minded individuals, receive mentorship, and participate in educational events.
The Village offers a supportive environment for tech entrepreneurs and enterprise software start-ups to make their journey easier. This coworking space is located in the bustling district of Buckhead and is home to a diverse range of start-ups, making it the perfect place to network and collaborate. Whether you're seeking investors, mentors, or a collaborative community, Atlanta Tech Village is the ideal place to call home.
Key amenities:
Free lunch on Fridays
Coffee and snacks
Separate rooms for gaming, working out, and napping
24/7 access
Rooftop deck
Monthly pricing (for members only):
Office for multiple persons costs $925
Reserved desk costs $425
Hot desk costs $300
Location: 3423 Piedmont Road NE
5. Industrious
Industrious is a cutting-edge coworking space that offers high-end hotel hospitality in a traditional office setup. Located in the Old Fourth Ward center, the place spreads over a vast 70,000 square feet area.
You can rent various office spaces suitable for small businesses to Fortune 500 companies. You'll enjoy common areas, spacious private offices, and top-notch amenities while within walking distance of the BeltLine.
There are nine locations in metropolitan Atlanta, so you can pick the one closest to your living place. They are constantly expanding their business and have already become a leading force in the coworking industry.
Key amenities:
Blazing fast Internet
Coffee and snacks
Rooms for relaxation
Unlimited free printing
Monthly pricing:
Membership costs $225
Dedicated desks cost $621
Furnished private office costs $1004
Location: Multiple locations
6. Meet at Roam
If you're looking for a coworking space with convenient transportation options, look no further than Meet at Roam.
This Atlanta-based company started its journey in 2008 and has come a long way since its launch in a public coffee shop. Currently, it has transformed into a chain of coworking spaces with locations across Atlanta. Renting at one site will give you access to all Meet at Roam offices, so you can always go to the one that's convenient for you.
Also, you can travel to all locations across several districts using the MARTA train. Traveling from Midtown Atlanta to any Roam office and vice versa is a breeze.
But what sets Meet at Roam apart from other coworking spaces is its community. They believe that it's the people that make their space what it is, and they strive to create an atmosphere of energy, inspiration, and generosity. And it shows! The space is modern and welcoming, and the community is engaged and supportive.
Key amenities:
High-speed Wi-Fi
Access to all Roam locations
Conference room
Full-service coffee bar
Monthly pricing:
Basic service costs $139
Select service costs $199
Premier services start at $299
Dedicated office space prices vary (you need to contact the company directly for details and prices)
*Each plan includes a different number of guest passes, meeting room hours, and other facilities
Location: Multiple locations
7. Constellations
Constellation offers the best of both worlds for modern professionals. On the one hand, you get to work in a 20th-century building with stunning architecture and all modern amenities. On the other hand, you enjoy all the convenience of working with like-minded and purpose-driven professionals.
Nestled in the heart of Downtown Atlanta, Constellation seems to be an ideal place for freelance workers and creative individuals. Apart from using the site for work, you can also rent a spot for an event, workshop, or other purposes.
In addition to being a great workplace, Constellations also provides fabulous coffee and cookies to keep you fueled throughout the day. So, whether you want to have a productive day or take a break from your daily routine, it seems to be the perfect spot.
Key amenities:
Complimentary coffee and cookies
Library, lounge, and game room
Video conferencing
Space for podcast, lab, and classroom
Conference rooms
Monthly pricing:
Open desk coworking is $350
Private office starts at $750
Podcast studio time is $150/hour
Location: 135 Auburn Ave, 2nd Floor
8. Strongbox West
Running since 2009, Strongbox West takes pride in being the oldest office-sharing space in Atlanta. It's the perfect place for young professionals to get their start. Several big businesses, including MailChimp, Lyft, and Uber, started their entrepreneurial journey in this shared space.
If you're looking for a hip and happening coworking space in Atlanta, look no further than Strongbox West. The place is a hub for a diverse group of professionals eager to display their talent and creativity. It has all the necessary equipment and structure in place for the members to utilize.
The modern industrial design creates an inspiring atmosphere, and you're sure to find plenty of creative motivation here. Not many coworking places in Atlanta can offer a convenient location, ample amenities, and competitive pricing. Whether you're a freelancer, a small business owner, or a tech start-up, you'll feel right at home at Strongbox West.
Key amenities:
High speed Wi-Fi
Break room and coffee shop access
Event and meeting rooms
Free parking
Monthly pricing:
Day pass costs $15
Casual service costs $95
Premier service costs $195
Private desk costs $275
Office space price starts at $450
Location: 1040 West Marietta St NW
9. Thrive
If you're looking for a coworking space in Atlanta that's welcoming, professional, and intensely focused on community, Thrive is a great option. The space is filled with natural light and warm, inviting decor, making it the perfect place to spend your day. It's a pleasant place to work, and the positive energy of the community is sure to rub off on you. The staff members are always available to help with anything you need.
With a strong focus on networking and mentorship, Thrive provides its members with the resources they need to succeed. It nurtures a collaborative and supportive environment to help you take your professional journey to the next level.
The partnership with IgniteHQ is also a significant plus, as it gives members access to a wider range of benefits. You can also connect to professionals and mentors through the mentorship program. It's a great learning opportunity through the experiences and insights of the best in the industry.
Key amenities:
IgniteHQ partnership
Mentorship program
Networking events
Complimentary snacks, coffee, and fruits
Monthly pricing:
Coworking service starts from $139
Dedicated desks start from $345
Private office space starts from $835
Location: Multiple locations
10. Elevator Factory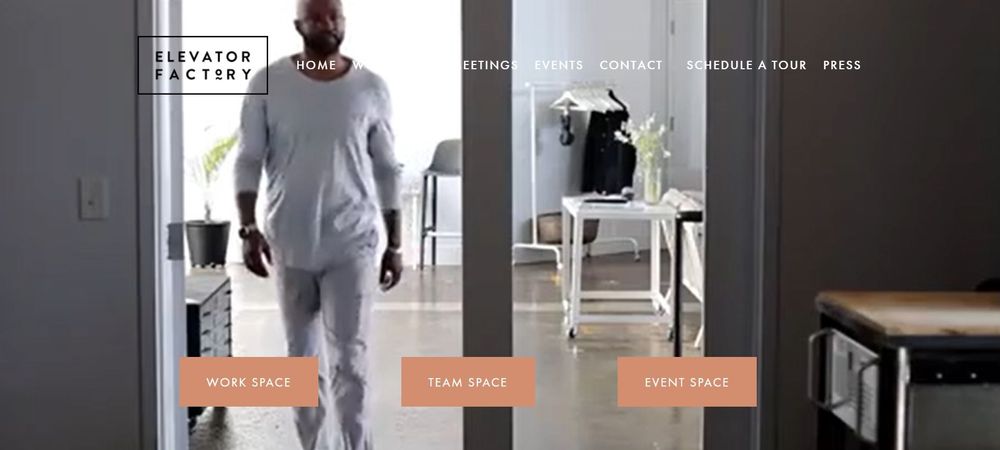 Elevator Factory is a coworking space designed to be aesthetically pleasing and functional. It is located in East Atlanta, a neighborhood known for its creative energy. The space is large and airy, with plenty of natural light through the windows and skylights. The decor is modern and sleek, and the overall atmosphere is one of focus and productivity, but not without fun.
Different meeting places are available at Elevator Factory, each with its unique environment. This makes it an ideal coworking space for entrepreneurs, small businesses, and freelance professionals with different workplace requirements.
Have fun with the "bar car" when hosting a party or event in the Atrium Event Space. And if you need a break from work, you can always head over to the Octane Coffee Shop next door or sing your heart out at the karaoke club every Friday and Saturday night.
Key amenities:
High-speed Internet connection
Happy hour on Fridays
Coffee and healthy snacks
Bike storage and racks
Monthly pricing:
Part-time coworking space costs $100
Full-time coworking space costs $200
Dedicated desk starts from $300
Private studio starts from $800
Location: 437 Memorial Dr SE
11. FlatironCity
FlatironCity is a one-of-a-kind coworking space located in the city's oldest skyscraper. This historic building in Downtown Atlanta gives the company a sense of authenticity and establishes its connection to the city's entrepreneurial origins. The space is modern and professional, focusing on entrepreneurs and corporations.
The shared space is for go-getters who chase success and want to be a part of a vibrant community. And it's not all about just work and meetings. There's an on-site eatery selling Italian food, baked items, and coffee—making it the perfect place to take a break and refuel.
This coworking space is perfect for anyone looking to be in the heart of the action. Downtown Atlanta is home to some of the city's best businesses, and FlatironCity is right in the middle of it. This space is also great for networking and meeting like-minded individuals.
If you're looking for a creative, productive, and inspiring environment, FlatironCity is the place for you.
Key amenities:
Fast Wi-Fi
Snacks and coffee
Shower arrangement
Economic opp zone
Monthly pricing:
Day pass costs $45 per day
Coworking desk price starts from $350
Private studio rent starts from $800
Private office rent starts from $900
Location: 84 Peachtree St NW
Final thoughts
These are our picks for the best coworking spaces around Atlanta. Take a closer look at each option and see which inspires you to grow your freelance business like a pro. And while you're thinking about where you plan to get work done, it's also time to think about the tools that will help take your freelancing to the next level. Indy makes freelancing simple with task management to keep track of your to-dos, templates that make sending business proposals, contracts, and invoices fast, time tracking to manage your hours, and more to help you take control of your freelancing from beginning to end. Get started today for free!