Lisbon, the vibrant capital of Portugal, is known for its rich culture and bustling creative scene. This makes it an ideal location for freelancers, startups, and remote workers alike. In this guide, we will explore some of the best coworking spaces Lisbon has to offer, showcasing a variety of options to suit your unique preferences and work styles. Discover the perfect workspace to collaborate, network, and be inspired in this captivating city.
Now, let's take a quick tour of the best coworking spaces in Lisbon.
1. Resvés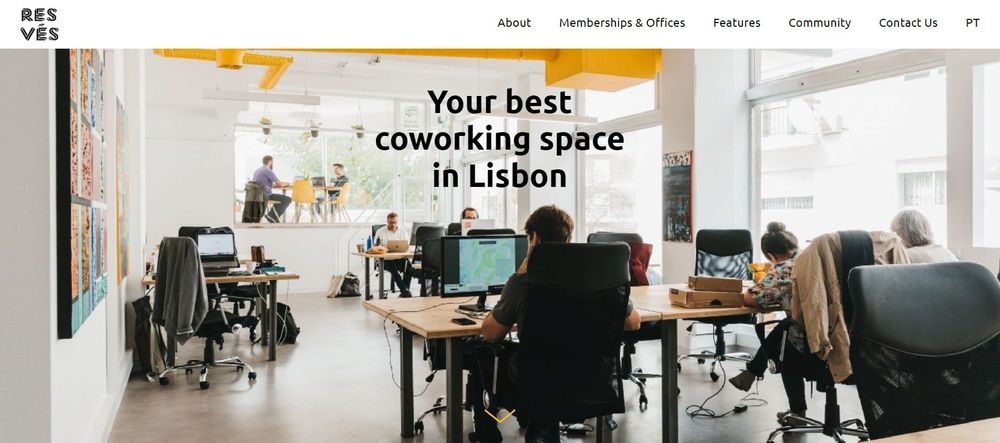 Resvés is your ultimate coworking space in Lisbon; a place to find motivation, collaboration, and progress. Centrally located on a quiet street in Campo de Ourique, Resvés is just a 5-minute walk away from the buzzing Rato, beautiful Estrela Park, and various great restaurants.
The ideal spaces celebrate the natural light and quirky artwork, with each corner full of small details designed to promote productivity and a sense of community. Members have access to phone booths, various lounge areas, an outdoor terrace, and a fully-equipped kitchen with free coffee, tea, and fresh fruits. The desks can be rented individually or as part of a group for companies, making Resvés the ideal workspace for creative startups and professionals. Plus, the private offices provide privacy and a central location for teams in Lisbon.
Amenities of Resvés:
Central Location
Ergonomic Chair & Premium Table
24/7 Access
Coffee & Tea
Meeting Room & Phone Booths
Coworking is all about flexibility, and the availability of numerous memberships makes it easy to find one that best suits your needs. Prices range from 25€ for a Day Pass to 750€ for a Private Office. In addition to their memberships, Resvés also provides other solutions such as Virtual Offices and Workshops & Events.
Their main focus is on fostering collaboration, respect, honesty, creativity, growth, and a good laugh, making Resvés the right fit for those looking to become part of a warm and inviting community.
2. Heden Rossio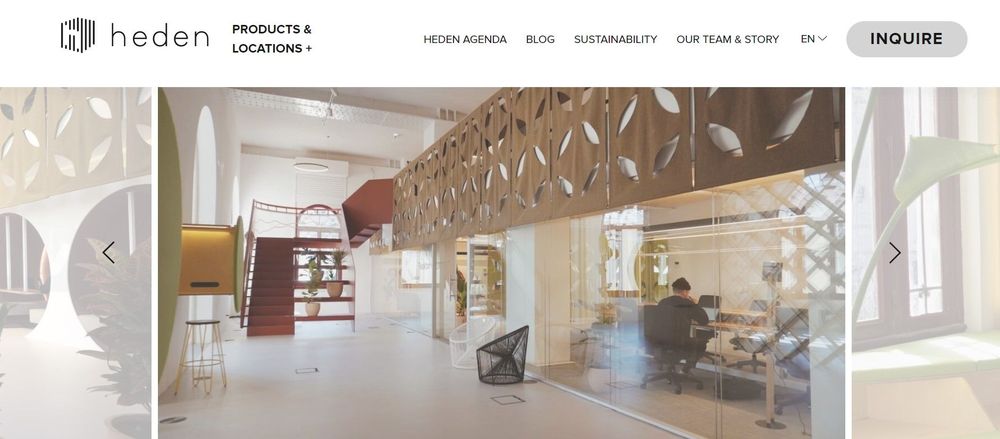 Are you ready for a modern, sustainable, and energizing coworking experience in downtown Lisbon? Heden's fifth location, at the iconic Rossio Train Station, is here to answer your needs. This building has over 180 desks and 1200 m2 of space, perfect for both freelancers and enterprise teams. Ready to get to work? Stroll up the stairs to grab lunch in Chiado, marvel at the historic architecture, or even bike to work – it's all possible here.
Amenities of Heden Rossio:
High-speed WiFi
Central Location
Female Discount
Coffee & Tea
Members Benefits
Yoga and Massages
Heden Rossio offers flexible and fixed desks, meeting rooms, and private spaces at a starting rate of €250/month, making it the perfect place to work. With its modern and sustainable design, 24/7 access, and all the amenities you need, you won't find many coworking spaces in Lisbon quite like Heden Rossio.
3. Second Home, Lisboa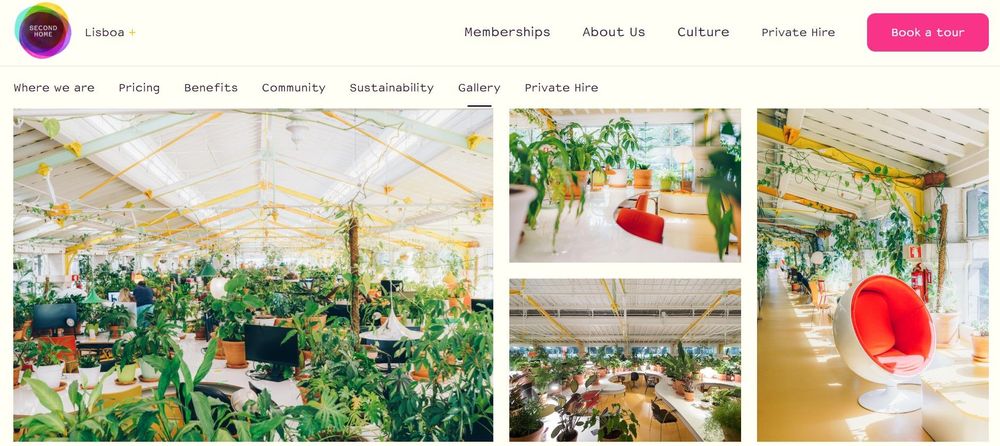 Second Home Lisboa is located above Mercado da Ribeira - the iconic 19th Century market in Lisbon, Portugal. This lush and colorful coworking space is filled to the brim with natural light and green space, and the building itself oozes with character and history. In addition to providing the perfect environment for creativity with its green walls and plants, Second Home Lisboa is also offering riders access to their surf club and a range of wellness programs such as Yoga, Breathwork, and Fitness.
Amenities of Second Home Lisbon
Fiber-optic broadband
Meeting rooms available from €15+VAT per hour
Free tea & coffee
On-site café, La Despensa (catering options available)
Event spaces available for private hire
The pricing structure for Second Home Lisboa is Studio Membership from €365+VAT PM (PER MEMBER), Resident Membership from €340+IVA PM (PER MEMBER), and Roaming Membership from €235+IVA PM (PER MEMBER).
4. Parque Das Nações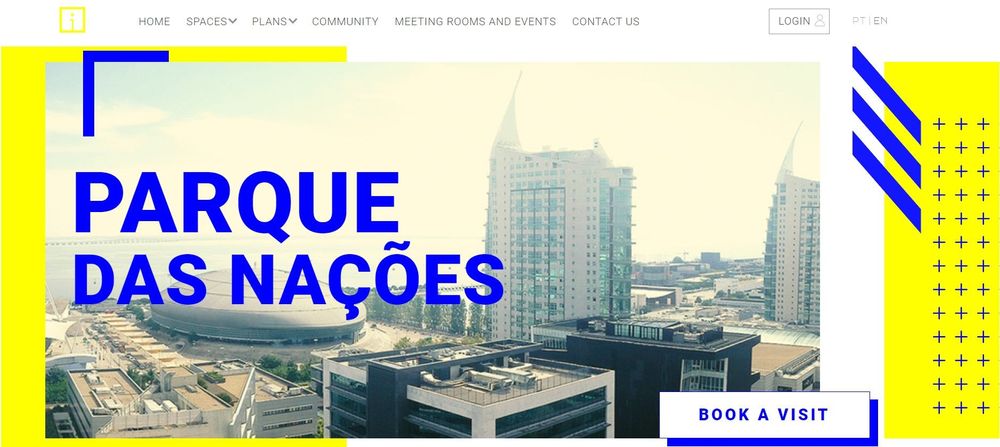 Parque Das Nações is a buzzing coworking space situated in the privileged Parque das Nacoes area of Lisbon. With 2000m2 of space and surrounded by the breathtaking riverside view, you can enjoy the peace and quiet of a breathtaking setting while being just minutes away from the Vasco da Gama Shopping Centre, Gare do Oriente, and the WebSummit Expo.
Amenities at Parque das Nações include
2000m2 of natural light and a stunning river view
Privileged location
Meeting Rooms
Reception services
Print Point
Pricing for use of the coworking space varies depending on the chosen plan. Hot Desk plan gives access from 9am to 6pm from Mondays to Fridays, while the Dedicated Desks plan offers 24/7 access plus access to common areas at all available locations.
5. MU Workspace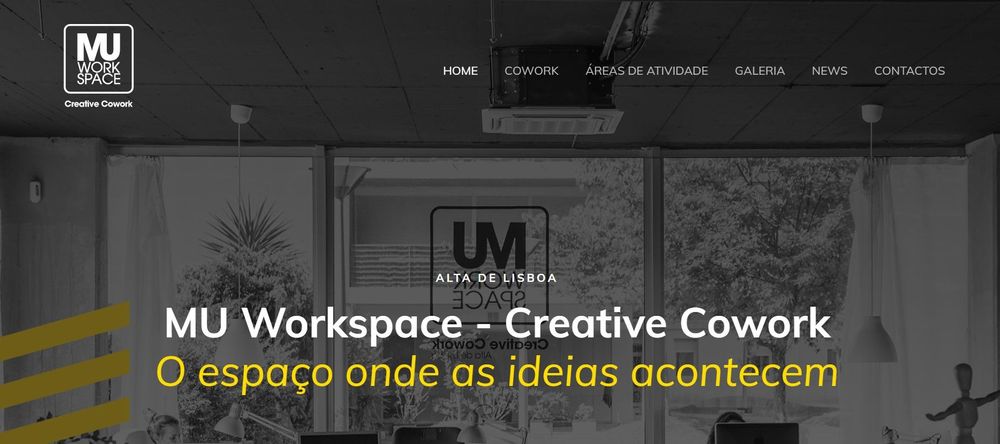 Stepping into MU Workspace – Creative Cowork is like entering a parallel universe, an inspiring hub of creative minds, entrepreneurs, and professionals buzzing around in collaboration and friendship. Located in a privileged spot of Alta de Lisboa, this workspace provides freelancers, artists, authors, and business professionals an opportunity to collaborate and benefit from the countless opportunities of mixing knowledge, ideas, and opinions. MU Workspace – Creative Cowork is the perfect spot to lower work costs and expand one's network while stimulating creativity and inspiring employees.
Amenities of MU Workspace – Creative Cowork
15 work tables
13 m2 meeting room
40 m2 photographic studio
40 m2 multipurpose room
Activity Areas for Design, Communication & Branding, Web Design, Digital Marketing, Tattoo Studio, Illustration, Street Art, Architecture & Interiors, Audio, Photography & Video
Monthly prices for services vary from MU to MU. Call your specific location for more information about costs per session or monthly costs.
6. Cowork Cafe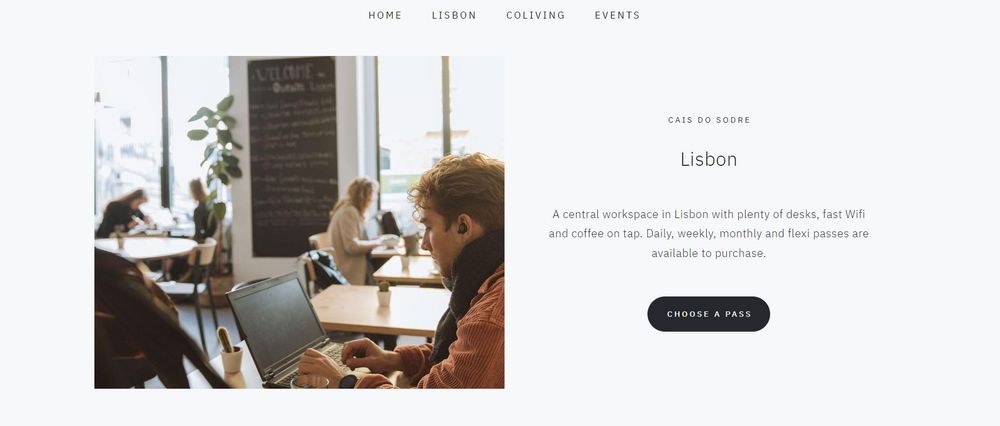 Cowork Cafe Lisbon is a modern coworking space located in the heart of Lisbon's downtown. It features an array of seating options, meeting rooms, and locker storage, ensuring it is well-equipped and comfortable for any remote worker or freelancer. Enjoy local and healthy food options, and sustainably sourced coffee, all in a vibrant atmosphere. Uniquely, the space can also host team retreats and events and even has a 105m² events space, perfect for private events, including a bar and catering.
Amenities of Cowork Cafe Lisbon
Unlimited Access From Monday to Friday
Hot desk
Meeting rooms and phone booth access upon availability
WiFi
1 Welcome Drink
Use of Mailing Address (Monthly Pass only)
WhatsApp access (Monthly Pass only)
Pricing for Cowork Cafe Lisbon starts from 17 EU for a Daily Pass and goes up to 150 EU for the Flexi Pass, valid for a year. Prices include VAT and access to all the facilities and amenities mentioned above. Opening hours are Mon-Thu 9am-8pm, Fri 9am-6pm.
7. Avila Spaces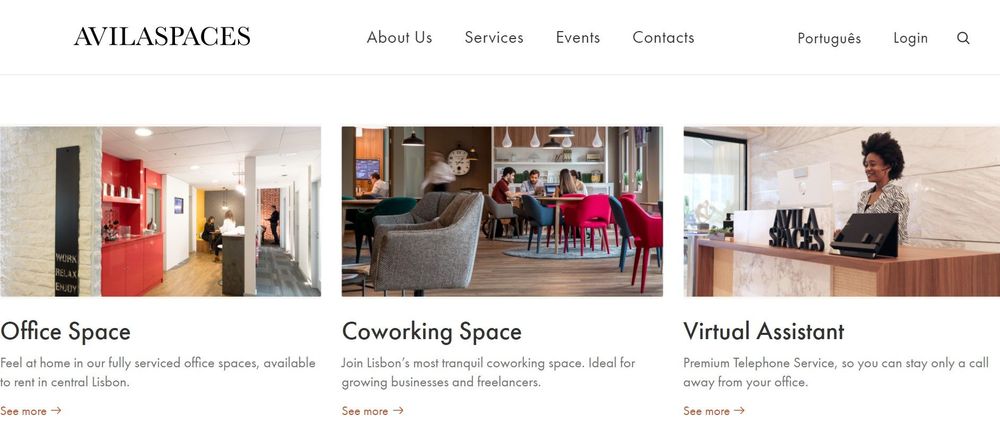 Welcome to Avila Spaces – the most prestigious coworking space in Lisbon, Portugal. Located in the city's most sought-after business district, this is the ideal working environment for growing businesses and freelancers. Inside, Avila Spaces combines modern office amenities, workshops, networking and events, and a vibrant community, all designed to make you feel at home.
Amenities of Avila Spaces:
Fully serviced office spaces with ergonomic furniture
Virtual office app and 24/7 telephone service
Luxurious meeting rooms equipped with state-of-the-art technology
A range of coworking plans to suit your unique needs
WORK SAFE project for maximum safety for all visitors
Pricing for using the coworking space starts at €22/day plus VAT.
8. Workhub LX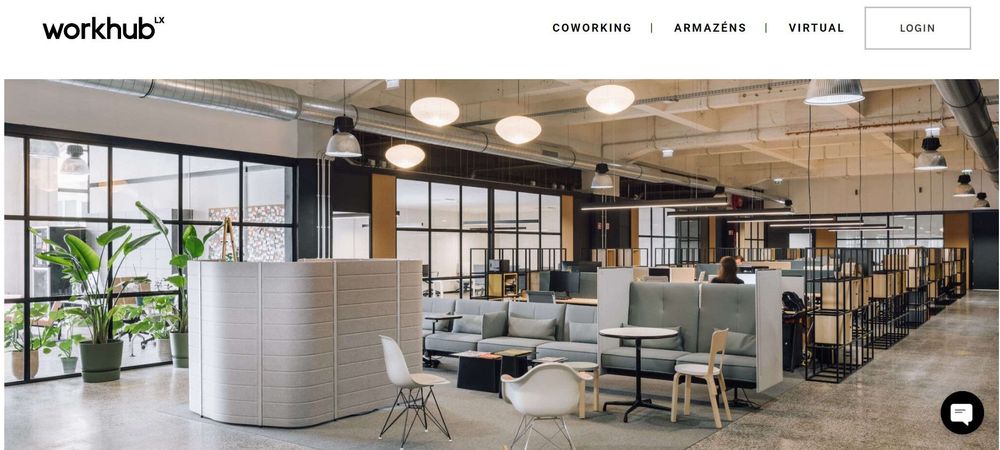 Workhub LX is the perfect combination of work and relaxation. Located in the heart of Lisbon, this coworking space is the ideal option for those looking for a work-life balance. With the Fixed Plan, you can just show up, start working, and enjoy the 5 hours of free meeting rooms per month. For those looking for a more flexible option, the Day Pass provides access to one day of work from 9am to 6pm. And if you need to host a meeting, you can book a meeting room with a capacity of up to 8 people.
Amenities of Workhub LX:
Super Quick Internet
Room Meetings
Mail Reception
Access 24 horas
Copa
Multifunctions
Bicycle Zone
Pricing starts at 175 € + VAT / month for the Fixed Plan, 19 € / day for the Day Pass, and 15 € / hour for the Meeting Room.
9. Unicorn Workspaces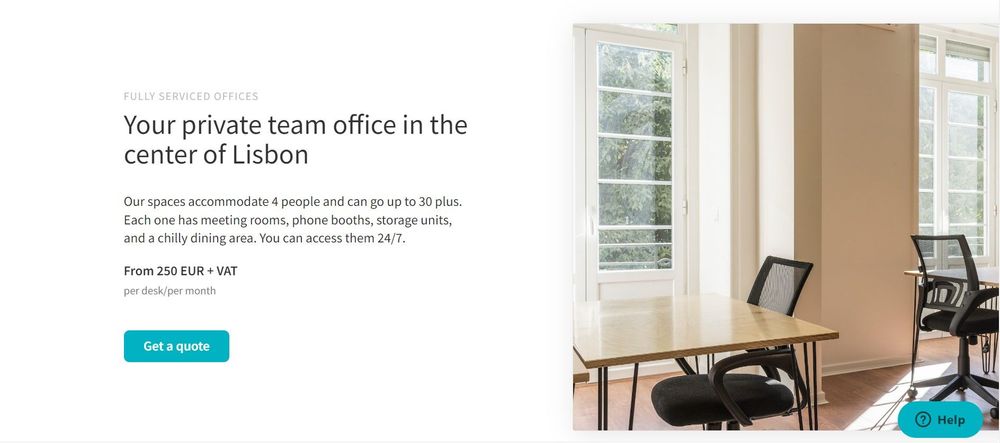 Step inside Unicorn Workspaces, and you're met with a vibrant and welcoming coworking space. This innovative provider has two locations in Lisbon, offering workspace for teams of all sizes. The workspaces are tailored with flexible business solutions for both short-term and long-term needs. Best of all, each workspace features top-notch amenities, from phone booths and storage units to meeting rooms and a dining area.
Amenities of Unicorn Workspaces:
Meeting rooms for teams of up to 8 PAX
Private team offices with flexible terms for 4 up to 40 + PAX
Virtual office or storage box perfect for remote teams
Daily pass for teams
Freshly roasted coffee, water, and fruits
On-site assistance
Pricing starts at 80 EUR + VAT/day for a daily pass for teams, 250 EUR + VAT/desk/month for private team offices, 35 EUR + VAT/month for a virtual office, and 20 EUR + VAT/hour for meeting rooms.
10. The Base, Lisbon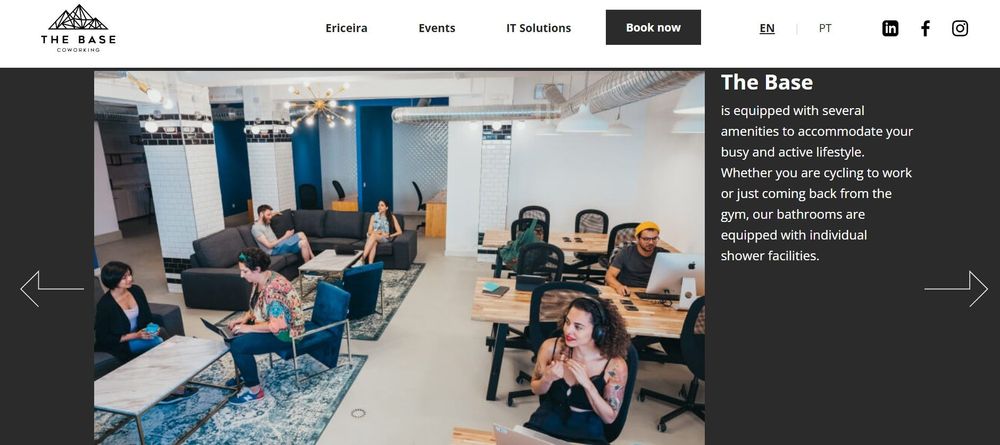 Dive into the vibrant atmosphere of The Base Lisbon, located in the heart of the city, which values the power of community, encourages collaboration, and spurs creativity. This top-notch coworking space provides a range of innovative amenities designed to promote productivity and maximise success. At The Base, there's something for everyone – from the Roaming/Hot Desk with access to exclusive benefits, events, and all their services, to dedicated desks and suites for small teams. Other amenities include a conference room for creative meetings, partnerships, and affiliate programs with lifestyle, travel, and food businesses, plus 24/7 access for members and front desk hours from 9am to 6pm.
Amenities of The Base Lisbon:
Spacious conference room
Well-equipped common and kitchen area
Ergonomic chairs and private lockable drawers
Private office with lockable door
24/7 access for members
With monthly rates starting from 129€ + IVA for Roaming/Hot Desk, 199€ + IVA for Dedicated Desk, 499€ + IVA for Suites, and 20€/hour + IVA for Conference Room, you won't want to miss out on this pioneering environment.
11. Lisbon Cowork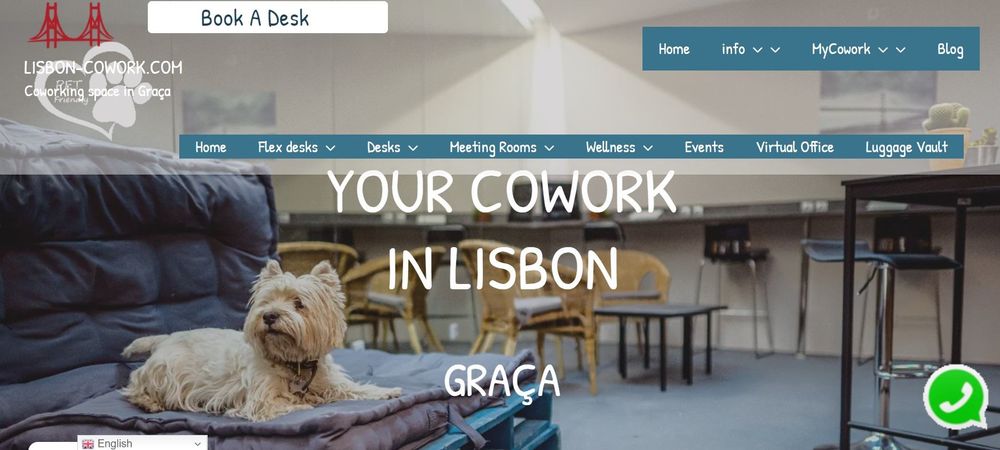 Discover a unique and inspiring coworking space in Lisbon! Lisbon Cowork in Graça provides a cozy and pleasant work environment, focusing on work essentials and allowing each and everyone to choose additional services. You'll enjoy comfortable chairs, great WiFi connection, free coffee or tea, free phone booths, and a great work environment. But that's not all. The space also offers a stunning terrace overlooking the Tagus River and Panteao Nacional, lovely plants, a lounge space, and wellness classes in the evenings. Enjoy the vibrant neighborhood, from a variety of nice and cheap restaurants and bars to meet your coworkers and more.
Amenities of Lisbon Cowork:
Comfortable chairs
Great WiFi connection
Stunning terrace overlooking the Tagus River and Panteao Nacional
Lovely plants
Lounge space to meet your coworkers
Wellness classes in the evenings
The pricing structure for using Lisbon Cowork includes half days from 10 euros and whole month packages from 160 euros.
12. Workinn & Workout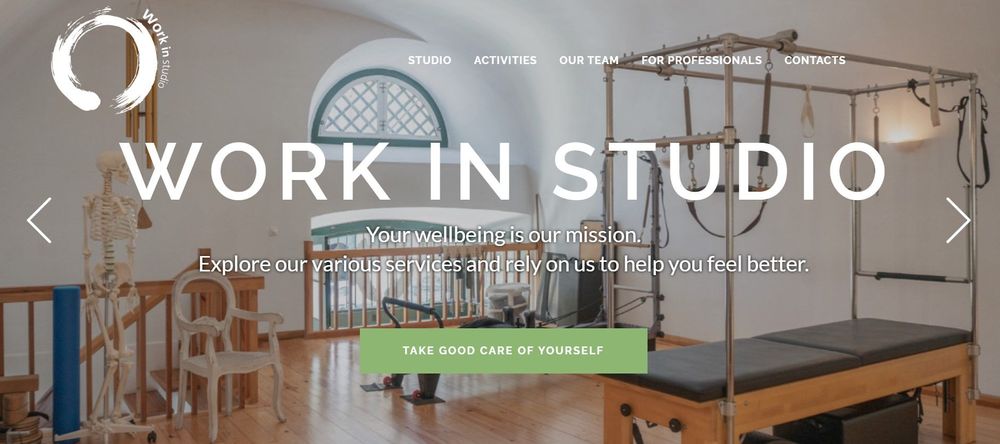 Workinn & Workout is the ultimate coworking space in Lisbon. Strategically located in the heart of the city, it offers flexible work solutions for all kinds of remote workers. With well-equipped workspaces and plenty of amenities, it's the perfect environment for startups, freelancers, students, and entrepreneurs.
Amenities of Workinn & Workout:
High-speed internet (1 Gbit)
Telephone with calls included for fixed numbers
Pantry and changing room (M/F)
Meeting rooms
Training room
Bike lanes
The pricing structure is flexible, starting at €75 per month for a virtual office and €313 per month for a permanent desk.
How Freelancers Can Use Indy at Any Coworking Space
Lisbon is a captivating city, being the heart of Portugal and renowned for its rich culture and thriving creative scene. It also boasts some of the finest coworking spaces around, providing you with a place to work, collaborate, network, and be inspired. Whether you're in search of a chic, contemporary office, a snug and artistic studio, or a niche and specialised workspace, Lisbon has it all.
If you're a freelancer aiming to elevate your work, consider using Indy, a platform designed to streamline your freelance business management. Here are some ways Indy can support you as a remote worker in Lisbon:
With Indy, you can concentrate on your passion while managing the business aspects of freelancing. It's like having a personal assistant accompanying you wherever you go. So, whether you're working from home, a coworking space in Lisbon, or anywhere else in the world, Indy can help you thrive as a freelancer.
Final Thoughts
Those were our picks for the best shared workspaces! Lisbon offers a wide range of coworking spaces to accommodate the diverse needs of its thriving creative community. Take the time to explore your options and find the perfect space to ignite your creativity and propel your freelance career to new heights.
With the right workspace and tools like Indy for managing contracts and invoicing, you're well on your way to achieving success as a freelancer in this enchanting city.