Denver, the Mile High City, is a great place to find coworking spaces. Home to many tech startups, the city is packed with modern, trendy, comfortable places to work.
Not only do you have several coworking spaces to choose from, but there are lots of different styles, so there is something for all tastes. And because they are located all over the city, you'll easily be able to find a convenient option.
You can choose from daily, weekly, and monthly plans, saving money over having an office of your own. You could work from home some days and go to a coworking space on others, or simply use it as your primary place of work.
Coworking has lots of benefits for freelancers. Not only do you get to work in a comfortable setting with fast internet and lots of amenities, but you can also meet other people, make friends, and network.
But where to start?
With our guide to the best coworking spaces in Denver, that's where! Let's dive in.
14 Best coworking spaces in Denver
We've chosen a diverse list of coworking spaces perfect for any freelancer or remote worker. Whether you're looking for a gorgeous window view or a great place to socialize on breaks, you're bound to find a space that suits you.
1. Expansive Workspace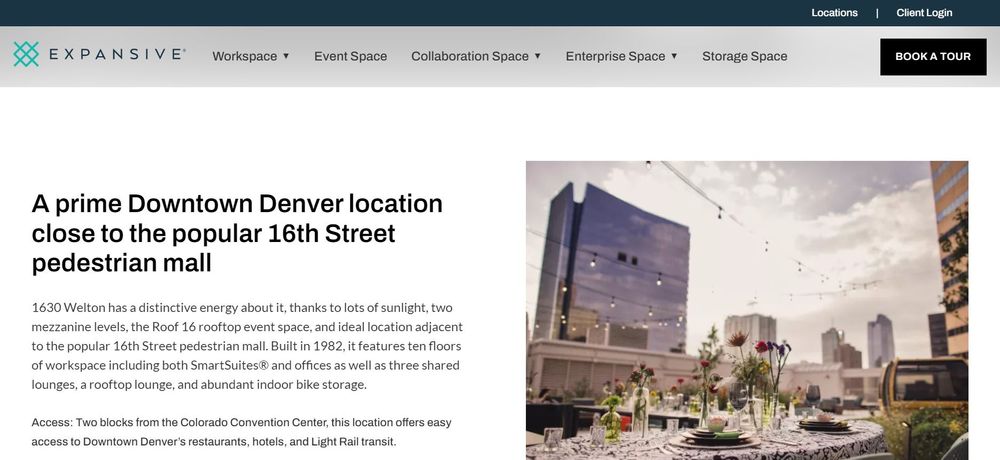 Expansive Workspace is a great coworking option in Denver that comes with private offices, dedicated desks, and more.
It's next to the 16th Street pedestrian mall, only a couple of blocks from the Colorado Convention Center, and it's a great value coworking space—one of the best for freelancers on a budget.
It comes with three indoor lounge areas, a rooftop deck, bike storage, phone booths, two conference rooms, and even a mother's room. To top it all off, you will enjoy great window views.
Pricing: Starts at $199 for monthly memberships
Location: 1630 Welton Street
2. Green Spaces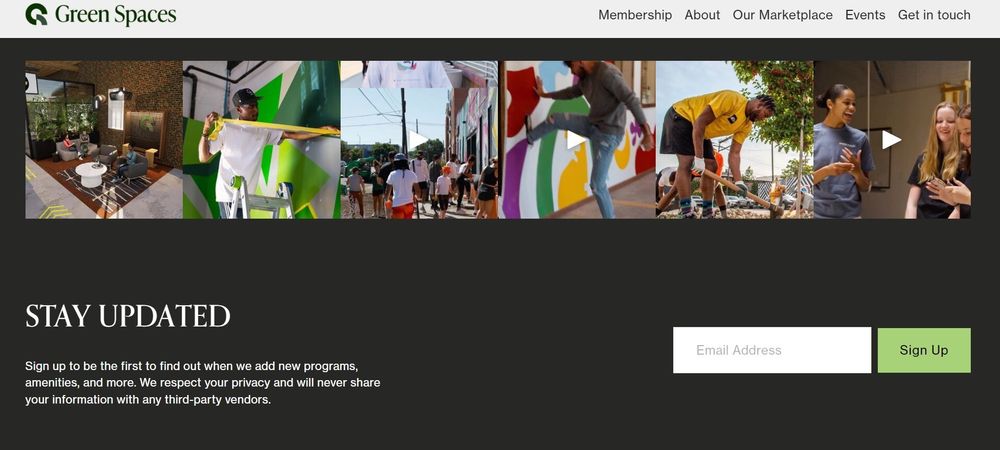 Eco-conscious freelancers and entrepreneurs will be happy at Green Spaces because it is designed for those who want to reduce their environmental footprint.
It's fitting because Denver is a green city, and this solar-powered coworking space is a great choice.
Enjoy private offices, team spaces, and conference rooms. Take advantage of the catered lunch and even participate in a yoga class during the day. Want to take your dog to work with you? Green Spaces is pet-friendly too!
Pricing: A day pass costs $20, and monthly plans cost from $150 to $399
Location: 2590 Walnut Street (RiNo Art District)
3. Modworks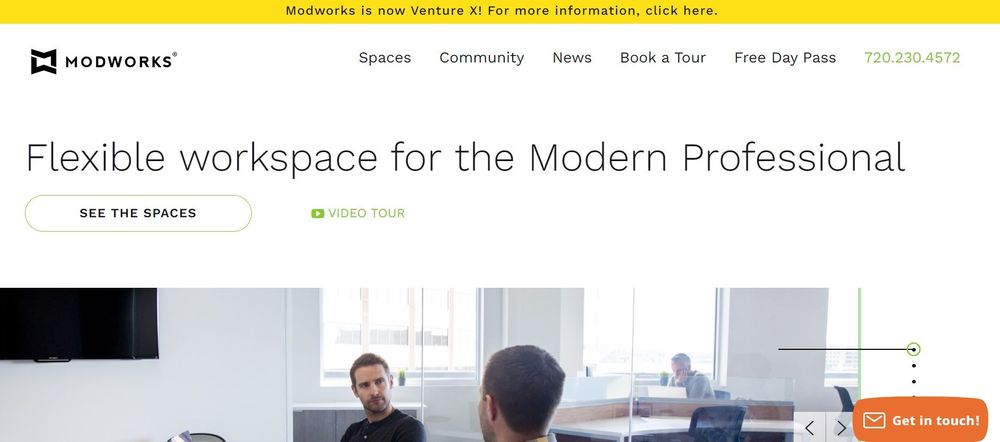 The sleek, modern interior of Modworks is the perfect setting to get work done and get your creative juices flowing. It's spacious and peaceful. And the view outside, looking over the Colorado Capitol building and the mountains beyond, is spectacular. It claims to have the best views in Denver, and that's probably true.
Being in the mall, there are lots of places nearby. You can head out to a local coffee shop or restaurant to grab a bite to eat during the day.
Pricing: One-day access passes cost $25, and monthly memberships range from $199 to $649
Location: 16th Street Mall, Downtown Denver
4. Industrious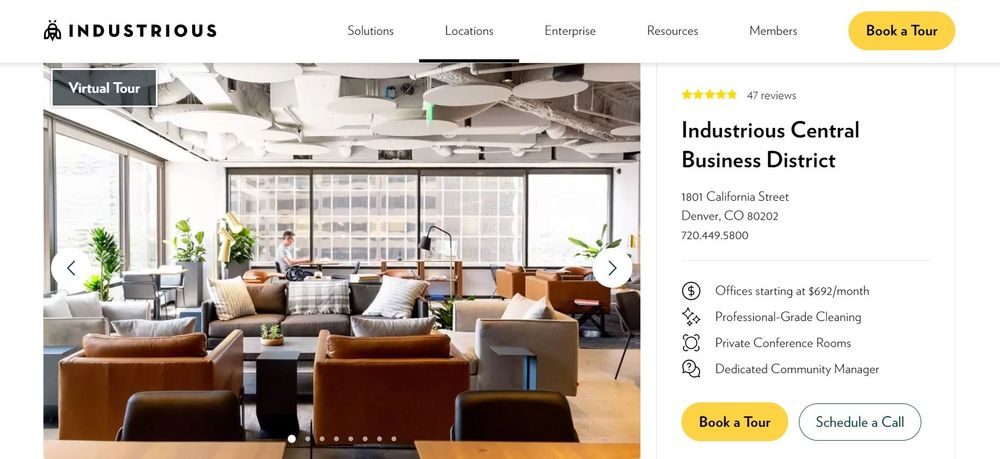 Located on the 24th floor of one of the city's tallest buildings in Downtown Denver, Industrious is a popular coworking space.
Choose from several coworking space options, private offices, and dedicated desks. It has many amenities, including breakfast, healthy snacks, happy hours in the evening, a wellness room, color printing, craft coffee, and more.
It's a very welcoming place with a unique feel to it. The office space is open, bright, and filled with luxurious furnishing, so it's all very comfortable. It's a great place to be productive, collaborate, or hang out with other freelancers.
Pricing: There are many membership options to choose from, with private offices from $692 per month and private conference rooms.
Location: 1801 California Street
5. Creative Density Coworking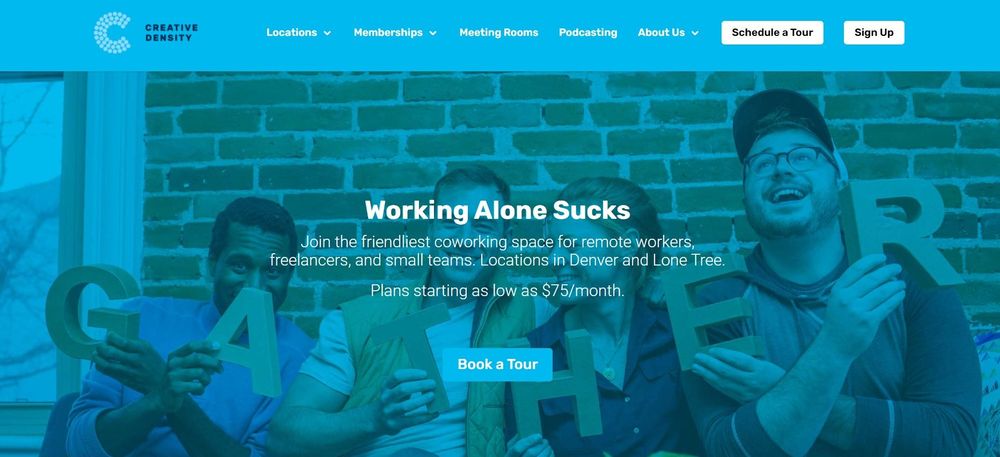 Creative Density Coworking has four locations in Denver. Here, we have chosen the Uptown location, but you will also find locations on Capitol Hill, Park Hill, and Sunnyside, all of which have similar offerings.
The Uptown office is in a very convenient location and is surrounded by places to eat and drink. It is a vibrant and creative space with monitors, coffee, phone rooms, 24/7 access, and quiet areas without distractions. It's casual, friendly, and a great place to meet others, relax and hang out (as well as get some work done!).
Pricing: You can get a $25 day pass, and monthly memberships start at $75 and go up to $300. Monthly plans are flexible, offering everything from four days a month to every day access.
Location: 1719 Emerson St., Uptown
6. Venture X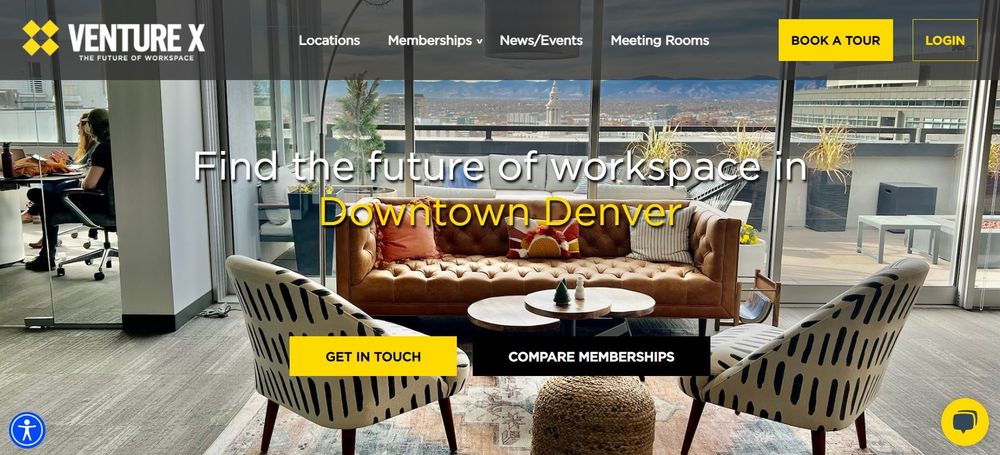 The Downtown on 16th office is one of the four Venture X offices in Denver (the others are LoDo, South, and Five Points), and it is a popular option for entrepreneurs, freelancers, and even businesses.
There is a real community feel to Venture X, and it is a modern space with high ceilings and a spacious feel with a stylish industrial loft design. It has many amenities, including phone booths, 24/7 access, copy and print services, and its own café. It also hosts networking events in the lounge area for up to 100 guests.
Pricing: As well as open-style working, you can also hire a dedicated desk or private office, and virtual office services are available too. Prices start from $199 per month.
Location: 110 16th Street Mall
7. Enterprise Coworking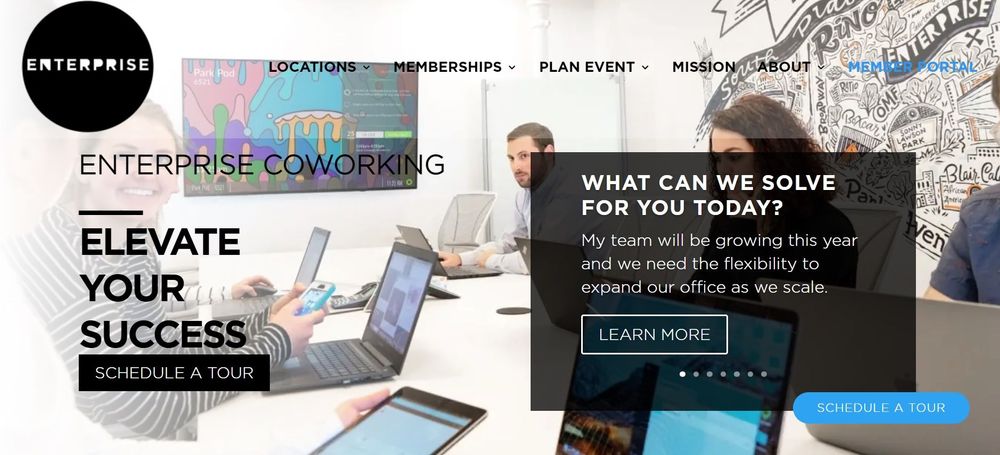 Enterprise Coworking is located in the vibrant RiNo neighborhood and is very easy to reach. It covers three floors of the building and offers a wide range of amenities, including a bicycle station, gym and shower, quiet room, rooftop lounge, café, meeting rooms, nursing room, free coffee, gym, and games room.
There is also lots to do in the area, so you can pop out to nearby food halls for a bite to eat or visit a gallery during a break. Enterprise Coworking also has a Greenwood Village location near Denver Tech Center that has a similar offering.
Pricing: There is a selection of memberships to choose from, including floater, private office suites, dedicated desks, student membership, and more. Prices start from $99 per month.
Location: 3000 Lawrence Street, RiNo
8. Alchemy Creative Workspace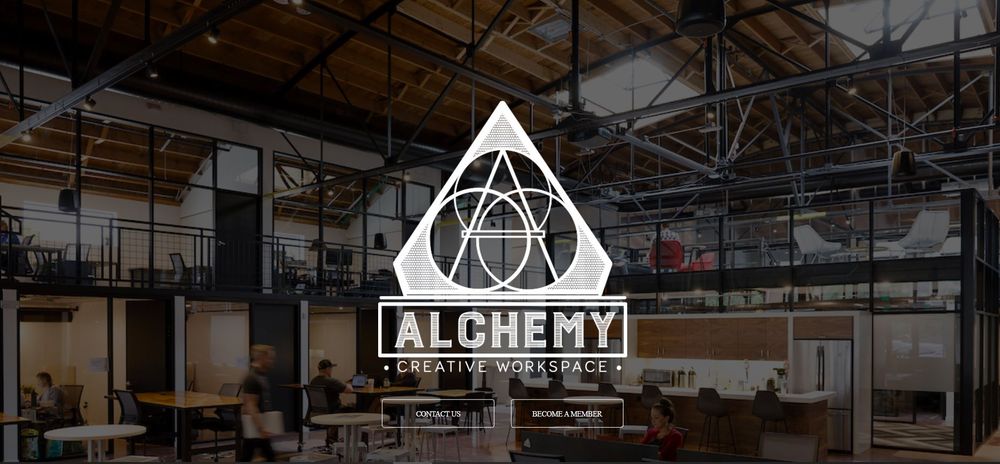 Alchemy Creative Workspace is a great choice for people who want to be creative and inspired as they work.
This innovative space is a great choice, with its stylish interior, open feel, high ceilings, and plenty of natural light. There are small places to work on your own or larger spaces for group collaboration.
Use it for coworking, hire a private office, or hire a desk and enjoy amenities, including free sparkling water, complimentary tea and coffee, printers, scanners, a fully equipped conference room, and more. It's also dog-friendly, so you can take your pet to work.
Pricing: Renting a suite starts at $1,199 per month
Location: 66 S Logan Street
9. Spaces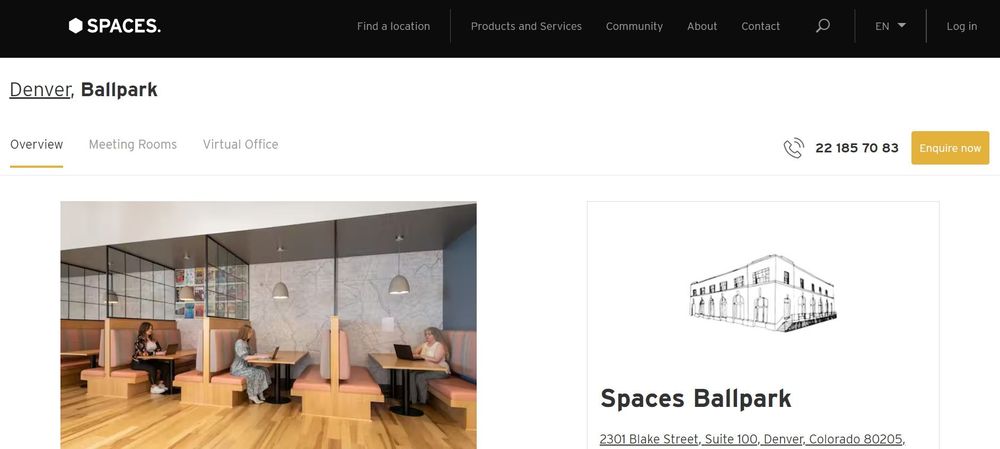 Spaces is located in a historic location near the Ballpark and LoDo districts. In fact, it is found inside the oldest settlement in the city, providing you with an inspirational environment to work in.
It's a bright and open space inside the impressive building, and it contains over 4,000 square feet of space, so it's easy to find a spot that works for you.
It has an energetic community of freelancers and creatives, and it is a great place to collaborate with others. You will find four meeting rooms, 11 dedicated desks, and 118 private offices, and it even has its own restaurant and hosts networking events.
There is another location in Denver at 250 Fillmore Street near Downtown Denver that has similar facilities.
Pricing: Coworking membership starts from $255 per month, with office space starting at $399 per month and a dedicated desk from $379 per month.
Location: 2301 Blake Street Suite 100
10. Galvanize Platte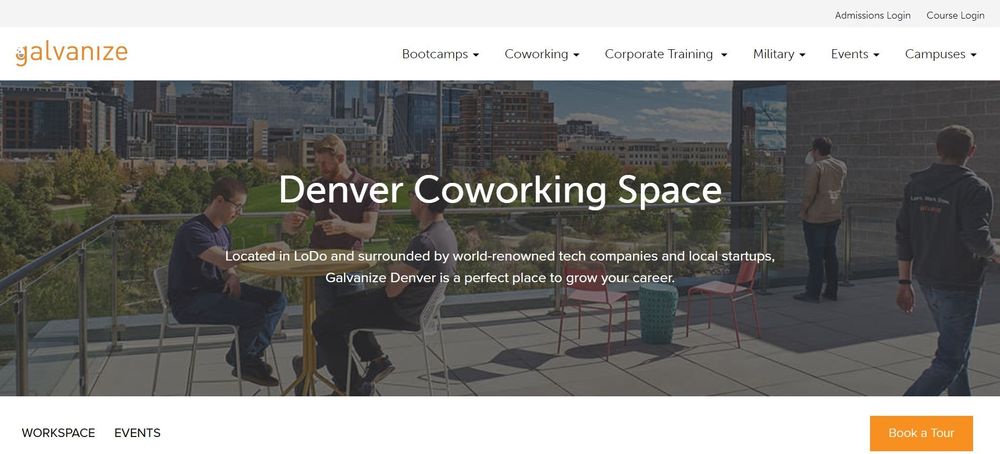 Galvanize Platte is a popular choice for the tech community in Denver. It offers clean workspaces and is a great place to network and collaborate with other freelancers.
It has five classrooms, a restaurant on campus, bike storage, complimentary coffee, onsite staff, a café, parking, common areas, showers, a wellness room, and more. And while you work, you can enjoy the view over the Downtown skyline and the Rocky Mountains in the other direction.
Pricing: Open seating starts at $325 per month, while a reserved desk starts at $450 per month, and a private suite starts at $650 per month. There is also a flex seating option from $125 per month, which is the best option for freelancers.
Location: 1644 Platte Street
11. Thrive Workplace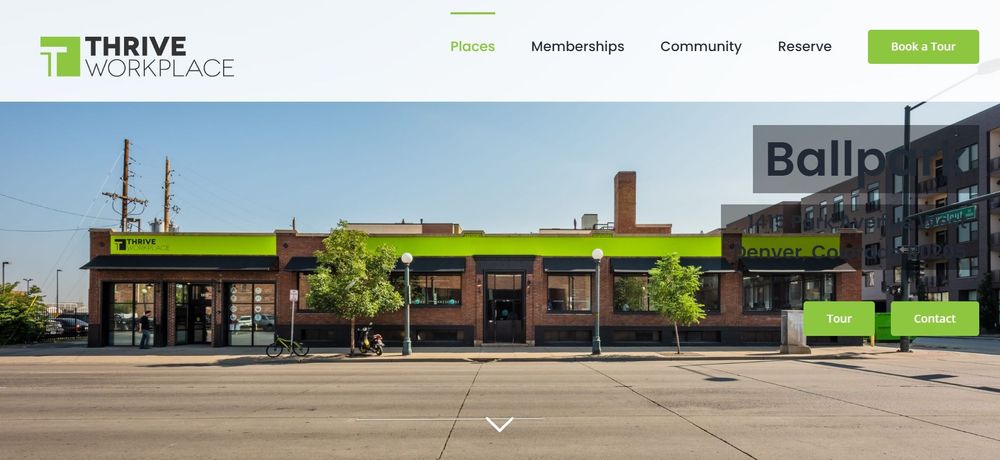 The Thrive Workplace Ballpark location is near Coors Field and Union Station, making commuting easy. Thrive has three other locations: Centennial, Cherry Creek, and West Arvada.
Inside the Ballpark office, you'll find 24,000 square feet of working space in an industrial-style building with unique items of furniture throughout.
There's lots of space and natural light, and it's a great place for collaboration. It comes with fully equipped conference rooms, phone booths, bike storage, tea and coffee, water, printers, business services, and more. There are also lots of restaurants and coffee shops nearby.
Pricing: You can choose from a selection of coworking plans, dedicated desks, meeting rooms, and office suites, so there is something for everyone. Prices start from $400/month.
Location: 1415 Park Avenue West
12. WeWork – The Lab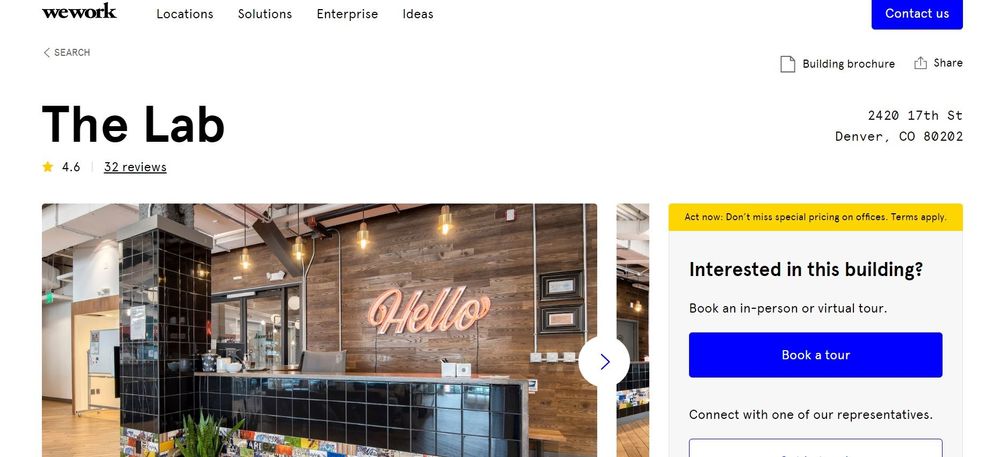 WeWork is one of the biggest coworking companies in the world. Unsurprisingly, it has a few locations in Denver, one of which is The Lab.
The Lab occupies two floors in the LoHi Building. It's located in the Lower Highlands area close to Union Station, making it a convenient option.
It's a fun working environment that is great for freelancers. It's got an easygoing and relaxed atmosphere, and it hosts lots of networking events. Inside, there are lots of common areas and meeting rooms as well as outdoor spaces. Downstairs, the Denver Beer Company is a great option for after-work drinks. It also has a wellness room, bike storage, recreational games, and an electric vehicle charging station.
The other WeWork locations are Wells Fargo Center, Financial House, Tabor Center, Triangle Building, and The Circa Building, so choose the one that is most convenient for you.
Pricing: The hot desk day pass starts at $29 per day. Or you can save with a monthly membership, and dedicated desks and private offices are available too.
Location: 2420 17th Street Denver
13. Office Evolution – Downtown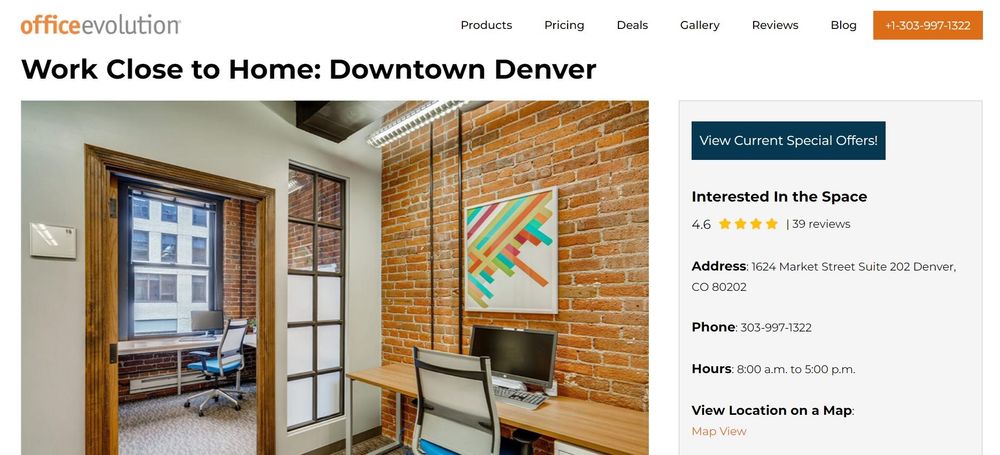 Office Evolution is another nationwide company with offices all over the place, two of which are in Denver.
The Downtown location is on Market Street, and it is perfect for anyone who wants to enjoy the best of Denver. It's easy to reach from anywhere, and it's even easy to reach from Denver International Airport.
It is located inside a historic building that dates back to the 19th century, and it has lots of amenities nearby, including restaurants, shops, and entertainment options. The nearby Dairy Block is a popular place to grab lunch.
Amenities include coffee and tea, mail services, conference rooms, an onsite receptionist, and access to printers.
As well as the Downtown office, there is another Office Evolution location in Cherry Creek.
Pricing: Shared workspace starts from $149 per month, while private offices start from $400 per month. Conference rooms, phone answering, and business address services are also available.
Location: 1624 Market Street
14. Shift Workspaces – Corona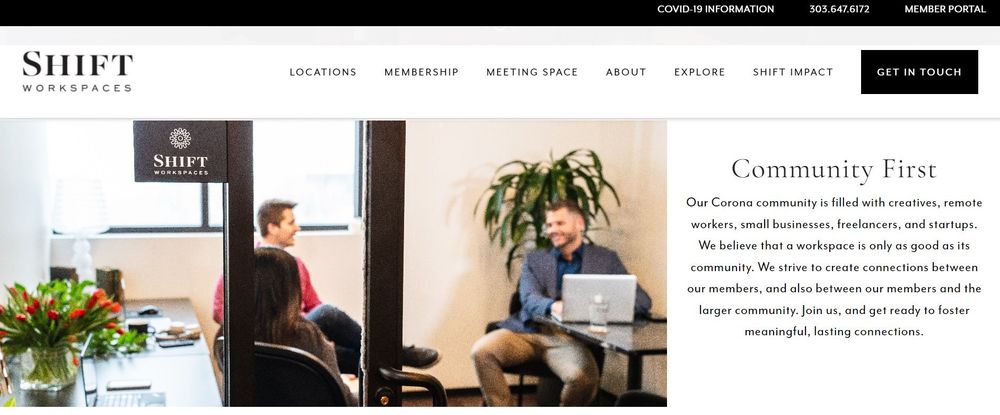 Shift Workspaces is a great place for freelancers to work. It puts a strong focus on creating a productive and happy place to work, and it provides a wide array of extra services. It isn't just a coworking space—it also provides free massages, a meditation room, free yoga classes, a herbal tea bar, and an outdoor patio.
As you can imagine, it has a great community filled with creatives, and it is an inspiring place to get work done.
The other Denver location is Bannock, at 1001 Bannock Street, south of Downtown.
Pricing: It offers flexible memberships with coworking starting from $299 per month, a dedicated desk from $499 per month, and private offices from $699 per month.
Location: 383 N Corona Street
Find your coworking space
These are our top selection of coworking spaces in Denver that you can try. But there are more! For enterprise coworking, Denver has lots of options, and the city is packed with great coworking spaces for freelancers, remote workers, creatives, and small businesses.
You may want to choose one based on its location, or you might want to get a day pass to several places to find out which is best for you.
Wherever you work, you need tools for your freelance business that you can access anywhere—like Indy.
Indy is a one-stop-shop for all your business needs. Create contracts, send invoices, share files, and track your hours, all from the same easy-to-use yet powerful dashboard. Get started today for free!
So choose your best coworking space in Denver and enjoy getting your work done from a fun, vibrant office surrounded by other creatives.