Slack is a great way of keeping in touch with clients and coworkers. As a freelancer, you probably belong to several Slack channels already, and you've probably discovered that it can become a distraction when you have to hop between tools every time you have to send a Slack message or email, check your calendar, or even post on Facebook. The good news is that most of the tools you use can integrate with Slack through Zapier.
When you connect Slack to these tools, you can handle everything from customer support to marketing campaigns with ease.
How do Slack integrations work?
Zapier is an online platform that helps automate your workflows by connecting the various apps and services you use day-to-day. This way, you can automate tasks that would normally take up a large portion of your time through "Zaps," automated workflows that consist of a trigger and one or more actions. An action is run every time a trigger event occurs.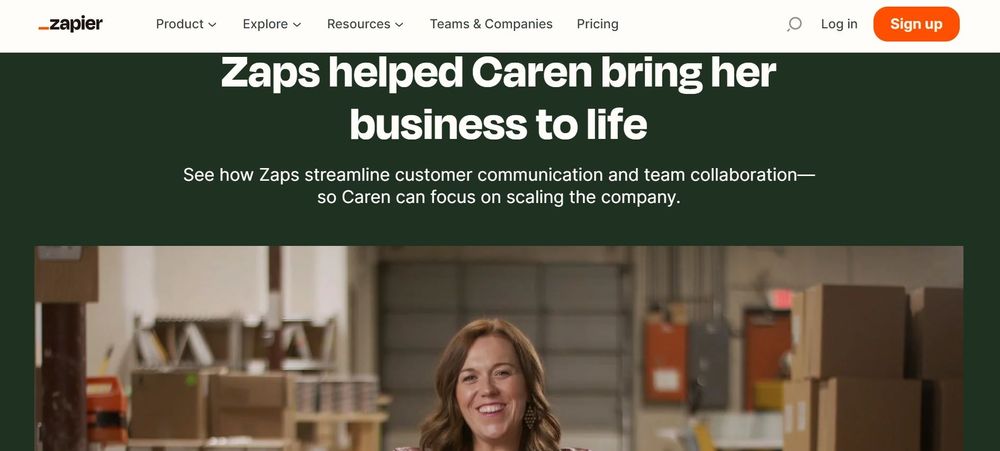 For example, You can check your email without leaving Slack through a Zapier-Gmail integration. Every new email that arrives in your inbox will be sent directly to a specific Slack channel for you to review. You could also integrate with your Google calendar events so that you receive notifications in Slack every time a new event starts...you'll never miss an important meeting again!
Zaps can take everything from simple tasks to highly complex workflows and build codeless, flexible automation. There are also several pre-built Zaps that can save you even more time.
The best Zapier-Slack integrations
If you spend most of your time with your Slack app open, you can easily miss messages and tasks, which is why integrations can save Slack users a lot of time and effort. You can integrate with virtually any tool you already use, from Google Sheets to Microsoft Teams, and automate the many repetitive tasks that take up your day. Let's take a look at some of the best Zapier-Slack integrations you can use to save time and get work done in record time.
Lead Management Integrations
As a freelancer, you need to keep track of your prospective clients as well as your current clients. These are just a few of the ways you can juggle lead management using Slack and Zapier.
Typeform is a web-based platform that helps you collect information by creating surveys and apps without writing any code. If you use Typeform to collect client information, you can stay in the loop by using this integration to post a message to Slack whenever you receive a new response. Just choose what information you would like to receive during setup, and Zapier will take care of the rest.
Are you hosting an event? Events can be a great way to meet new clients and collaborators or just to network with other freelancers. You can stay up to date with an event that you are hosting by connecting to Eventbrite, event management, and ticketing sites. This integration can notify you or your team member automatically whenever a new attendee registers. It's a real lifesaver for freelance events or PR managers.
Facebook is one of the best social media advertising platforms you can use as a small business owner or freelancer. You can set up ads in feeds, Messenger, and even on non-Facebook apps.
If you promote your services on Facebook, you'll love this integration. You can set up a Zap to automatically receive notifications in the Slack channel of your choice whenever someone engages with your brand.
HubSpot is a CRM platform used for inbound marketing, sales, and customer service. You can use Hubspot's suite of tools for lead generation, customer engagement, and even content creation. If you are part of a larger team and have super admin access, you can set up a Zap to remind you to follow up on leads, leave notes on a company record in the relevant Slack channel, share reports/dashboards, or receive messages whenever new deals are created. It's a great way to keep your team and collaborators in the loop.
Communication management tools
Using Slack streamlines internal coordination, but it doesn't make external communication any easier on its own. There are a few automation you can add to make communication smoother and easier.
You don't need to log in to manually check your email every time. You can forward new emails to a Slack channel of your choice using a Zap. This is particularly useful if you have an email inbox tied to your website or a freelancing platform that you don't check very often or if you would like your recurring bills to go to the same inbox.
Google Calendar really does form the heart of communications. Every meeting, recurring event, or even important birthday can be found there. Slack integration with Google is extremely helpful. You can add meetings and events directly from Slack, view scheduled meetings in Slack, and even notify (forgetful) clients or team members about meetings that are coming up. You can also set up notifications so that you get a Slack message whenever you have an appointment coming up.
You probably use Google Sheets for a host of functions—from doing your books to keeping a running list of action items. You can create a dedicated Slack channel linked to a specific spreadsheet, brainstorm with a client, and then Zapier will automatically copy it to a new row in your spreadsheet. It's a great way of archiving Slack conversations or gathering data.
Productivity management
The downside of Slack is that people are constantly asking you for things or asking you to complete tasks, which you can easily forget about as the threads and requests multiply. You can easily turn your saved messages into to-do tasks using the right Zap.
Trello is a web-based Kanban-style list-making app where you can assign and check tasks and projects. Trello boards are a great way of organizing personal or team tasks. You might use Trello with your clients or just to keep your own schedule flowing. You can create new cards in Trello directly from Slack, change due dates for tasks, and display Trello cards in your Slack channels to keep important stakeholders up to date by setting up a Zap. You can also attach Slack conversations to cards to store those valuable interactions for posterity and use Butler by Trello to add rule-based automation to your cards that can be carried over to Slack.
Todoist is a to-do list app that works on all devices and tracks your productivity. You can use Todoist to organize and analyze everything you do across all major devices and platforms. There is a free version that's decent, as well as a Pro level version that you can use as a collaboration tool. You can create new tasks in Todoist directly from Slack by using this Zap. When you save a message in Slack, a Todoist task will automatically be created, which will save you even more time to focus on important work.
Evernote is, on the surface, a note-taking app. But it does so much more. You can organize and tag your notes, use Evernote as a whiteboard for collaboration, capture photos and files, sync your notes across all devices, and even access them offline. It's excellent for just jotting down thoughts or planning big-scale projects. With Zapier's Slack-Evernote integration, you can save a message on Slack, and Zapier will create a new note on Evernote so you can tackle it in due time.

If you work in software development or work with clients in software development, you probably use Jira. Jira is a project management tool used by agile software development teams. By integrating with Jira, you'll receive notifications in Slack whenever new issues are created. You'll also have the flexibility to customize what you want to be notified about and where. You can also use this handy integration to retrieve up-to-date information about Jira projects and preview Jira issues whenever they are mentioned in Slack, attach Jira tickets directly from Slack, or attach Slack messages to Jira issues.
Social media management
Managing social media—either for your own business or your clients—can be a lot to handle. Moving all of your social media notifications to Slack is the perfect way to keep an eye on every single site without keeping multiple tabs open all day—and, you guessed it, there is a Zap for everything.
Twitter is a great social media tool for building brand awareness and communicating with customers. You can have a great conversation or put out fires on Twitter, but it's got to be fast. Twitter is all about rapid-fire engagement. You can't possibly man Twitter all day long, but you can let Zapier do the monitoring. Every time a new mention happens, it will get posted automatically to Slack, either to a specific feed or a channel of your choosing.
Love it or hate it, every business should be on Facebook to address comments, harvest leads, or just stay in touch with your fans. If you manage a company's Facebook account, you can help them stay on top of things by using this automation. Every time you send a Facebook post, it will get added to the appropriate Slack channel. You can also set up a workflow that lets you know every time a comment is made. You can choose between sharing the notification or the entire post, so there's no need to log in to keep checking Facebook while keeping tabs on everything.
If you are a graphic designer or work in any kind of visual field, you need Instagram, an image-based social media site. You can use your Slack-Instagram Zap to share the latest photos and videos of your work and posts with clients or internal stakeholders and stay on top of interactions by sending your notifications directly to Slack.
Bookkeeping
Keeping on top of bookkeeping isn't the most exciting part of your job, but it has to be done. If you are a freelancer, accounting is a vital part of doing business, and you need to stay on top of it at all times. Zaps can help you view new accounting activity, receive team notifications when you are paid or have paid someone, or receive summaries and reports from Slack so you can keep an eye on your accounts.
Xero is a cloud-based accounting system that is perfect for small business owners and freelancers. If you use Xero for accounting, this is a must-have integration to ensure that payments never fall through the cracks again. Zapier collects all new payments from Xero and delivers them to Slack in a simple summary.
If you don't use Xero, you probably use Zoho. Zoho is an accounting solution that is perfect for staying on top of your books, particularly when it comes to invoicing and managing your accounts. Oftentimes issuing an invoice kicks off a number of processes, including follow-up emails or even the work itself commencing. You can set up a Zap so that you will receive a notification every time an invoice is created on Zoho books. It can post details on Slack so that anyone else who may be involved will hear about it.
Creating backups
As a freelancer, you need to back up your work. You never know when a client will ask you for a copy of something you've completed in the past, and depending on what you do, you can use these files as part of your portfolio. Here are just a few ways Zapier integrations can help you with your backups.
Dropbox is one of the most popular cloud storage solutions on the market and a safe and easy way of securing and storing your files. You can set Zapier up to send any number of files to cloud storage, including backing up your emails, social posts, videos, or even the notes you've taken in an app.
Backing up will protect your files and help you find what you are looking for if you ever need to reference an attachment or post again. You can connect several tools to Dropbox and to Slack to keep your storage organized.
You can connect Gmail, Evernote, Google Drive, and YouTube to Dropbox and send notifications to Slack whenever a new file is added. This is particularly useful to let clients know when work is ready and available in Dropbox for their review. Backups are a must for everyone, so this integration is absolutely essential.
Summary reports
Every freelancer has to send reports from time to time. Don't worry—Zapier can make reporting even easier. You can create automated Slack messages that summarize the number of closed deals to keep yourself on track or share major updates and results with clients.
Google Analytics is a web analytics service offered by Google that tracks and reports website traffic. Whether you are tracking the results of your own campaigns or web campaigns for clients, you definitely have to stay on top of Google Analytics. You can connect Google Analytics to Slack so that automated weekly reports are sent directly to clients (or to you), depending on your structure. Keep an eye on traffic or conversions with ease! It's a low-touch way of sharing your results with all the relevant parties.
Other useful Zaps
There are a few fun (and useful) things you can do with Slack and Zapier that aren't just related to work. After all, all work and no play make for a dull freelancer, right?
You can use RSS Feeds to keep track of nearly everything, including your favorite blogs or news sites. We like the RSS Feed created by What's On Netflix because busy freelancers don't always have the time to keep up to date with the latest and greatest in TV shows. Send notifications from the RSS feed directly to Slack, so you never miss the next season of your favorite show.
If you are a photographer, you need to keep an eye on the weather to ensure the light conditions and aesthetics are perfect for your next shoot. Don't worry—Zapier can help you out. Taking your timezone into account, Zapier will check and share your local forecast with you directly in Slack, including the temperature, chance of rain, and general summary.
Whether you love listening to music while you work or whether you actually work in the music industry, Zapier will let you know every time a playlist you are following adds a new song by posting in a Slack channel of your choice.
22. Indy (Coming Soon)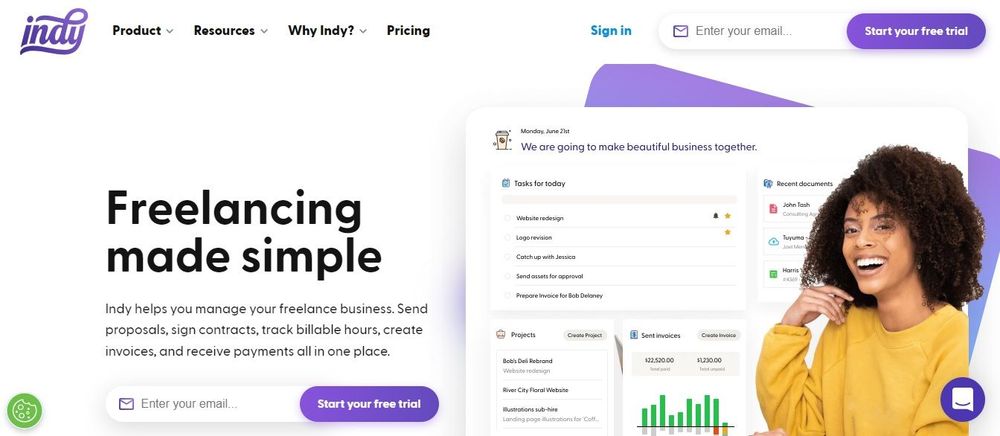 The tools we've covered in this article are pretty useful, but there is one tool that can handle all of your project management and administrative needs—Indy. The good news is that Indy will soon launch an integration with Zapier, which will make managing your business as a freelancer even easier. You can use Indy to send proposals, sign contracts, track billable hours, and even receive payments. Now that you will be able to integrate Indy with Zapier, you can track all of this in the most commonly used internal communication tool on the market—Slack!
Conclusion
If you spend most of your day in Slack, it makes sense to bring all of the tools you use into the platform. Luckily, with Zapier, you can do that easily. Now that Indy pairs with Zapier, you can save time by automating the tasks you don't like doing.
Indy gives you all the tools you need to manage your independent business from start to finish, including proposals, contracts, invoicing, task management, time tracking, and more!
Check out how Indy can streamline your freelance business today.