Automated forms offer limitless opportunities for business growth. You get direct feedback from clients, survey potential target markets, and even create payment portals. If you have been using Typeform or considering it for an online form builder, you might want to look at some Typeform alternatives.
Typeform competitors, like Indy Forms, offer innovative features, flexibility, and ultimately better value for money. This article will review why you need alternatives to Typeform. We have also curated a list of some of the best alternatives.
Why Are People Looking For Typeform Alternatives?
Typeform is a popular form builder. It lets you create different online forms in a conversational tone. Users mostly use it for creating surveys, contact forms, and quizzes.
According to the makers, Typeform was designed to minimize form abandonment and help you gather insightful responses.
But there are a few reasons most people are looking to Typeform competitors to build their forms:
The free plan is designed to push the user to get the paid plan. It only supports three forms and does not give much to work with.
Opting for a paid plan wouldn't be a big deal if they weren't too expensive. The cheapest paid plan on Typeform costs about $35/month.
Even after opting for the paid plan, you won't be able to get rid of the Typeform branding if you do not opt for the premium plan. This will cost you $70 per month.
And this is just for the cost. Users have also complained about performance issues that the brand seems unwilling to resolve:
Users say the platform's response rate slows down as the forms become longer and more complicated. This makes for a poor user experience.
Your forms all look the same.
If you are creating payment forms, Typeform only allows Stripe as a payment option, constraining your choices.
The truth is Typeform might be a pioneer in the form-building business, but it is not as robust as we want it to be and, for most people, will not provide enough value for the money paid.
Seven Good Alternatives to Typeform
We set out to try some of the Typeform alternatives we could find. We tested them for functionality and robustness and curated a list of some of our best options.
We understand that the paywall option is a major reason people do not want to opt for Typeform, so we have included a few free-form builders that offer great options and are almost as good as the paid ones.
Let's take a closer look at these form builders to see their key features and what makes them such great alternatives for Typeform.
Indy Forms

Indy Forms is the perfect online form builder for freelancers. It lets you create forms to build your contact list and gather info for your next project. What's more, Indy Forms keeps this information organized. Indy Forms is part of a suite of tools that helps freelancers in their everyday life. Among others, it includes a proposal tool, contract creator, time tracker and invoicing tool.
Key features of Indy Forms
Indy Forms makes it easy to create your forms. No matter how complex, your forms will be ready in minutes.
Our flexible template system means you can jumpstart the form creation process. And if you stop creating the form halfway, you can easily save it and pick it up again next time.
You can quickly convert leads to contacts so they become a part of your business workflow.
Once you have created your form with Indy Forms, you can share it on your social media accounts or embed them on your website,
Pros
Create powerful forms in minutes with the drag-and-drop feature.
Customize your form to meet brand goals.
Great for lead generation and conversion.
Includes a set of additional tools for freelancers.
Cons
The customization is limited.
Pricing
Indy Forms are included in the free plan so you can use them without any limitations. You can also upgrade to the Pro Plan for as low as $12 per month and leverage all the automations and personalization options.
Jotform Enterprise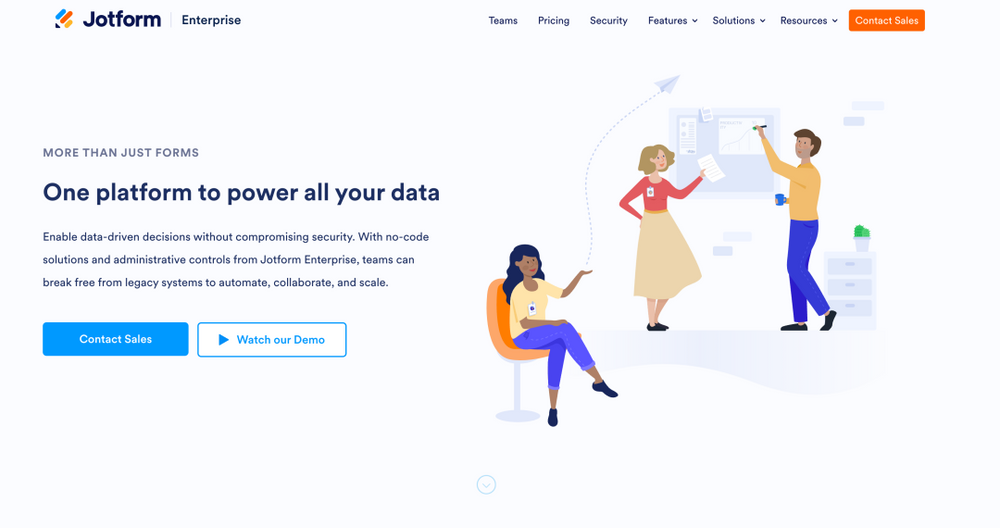 Jotform is a cloud-based form builder that lets you create powerful, customized, conversational forms. It comes with features like approval workflows and real-time data sharing that make collaboration much easier.\
Key features of Jotform Enterprise
You can create dynamic multi-page forms on Jotform. These types of complex forms adapt to interaction with the users, so the user only sees sections and fields that are relevant to them based on their responses.
It has automated workflow features and is a great tool for organizations with a step-based approval process.
The unlimited forms submission feature means users can collect as much data and submissions without paying additional fees. Most form builders, including Typeform, have plans with submission limits.
Typeform gives you full branding control while providing you with tools to make your form truly yours. It offers users access to different form templates and custom CSS, making creating forms that match your identity easier.
It is packed with over 100 integrations, including Google Sheets, Zapier, and Salesforce.
The Single Sign-On feature makes for easy access.
Pros
Jotform lets you create forms and collect data easily.
Easily turn your collected form data into printable PDFs using their PDF editor.
The platform comes with payment processor integration so that you can accept payments through card payments, ACH, and e-checks.
It has over 100 form integrations.
It has a very robust free plan.
Cons
Most users might find the form builder difficult to use.
Pricing
Jotform has a feature-packed free plan. However, if you want the full features of the paid plans, pricing starts at $29 per month.
Hubspot Form Builder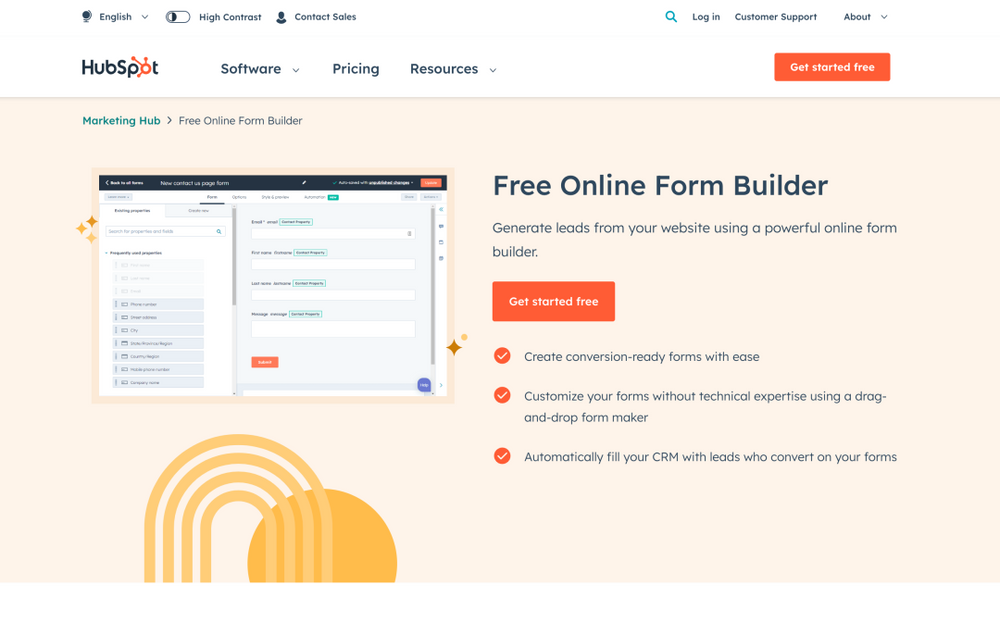 Hubspot Form Builder is a user-friendly and free software that comes with Hubspot's marketing platform. It lets users create customized forms and collect data from visitors easily.
Hubspot is on this list because it is free and packed with robust features that make it a better Typeform alternative. The seamless integration with the Hubspot marketing suite is another plus.
Key features of Hubspot Form Builder
This form builder offers users the option to select and customize different form fields to meet specific needs.
You can embed the form you created into any website to easily gather visitor data.
The smart field feature means visitors returning to your website don't need to fill in known information. This feature makes form submission and data collection easier for you and the visitor.
You can customize the forms so that additional information is only requested when due or over time. This reduces the need for long forms and, by implication, form abandonment.
You get real-time analytics on form submissions, so you can improve your forms and get better conversions.
Pros
Create customizable forms to gather the right information from users.
The forms are customizable.
The installation code is easy, and the platform syncs seamlessly with Hubspot's CRM software.
It simplifies your marketing and conversion funnel.
Cons
Advanced features require a subscription to a premium plan.
The subscription plans are pricey.
The platform is more complicated than Typeform.
Pricing
Hubspot Form Builder comes with a fairly robust free plan. However, if you are looking for more advanced forms features, the platform offers three subscription plans:
The Starter Plan costs $45 per month
The Professional Plan costs $800 per month
The Enterprise Plan costs $3,200 per month
Zoho Forms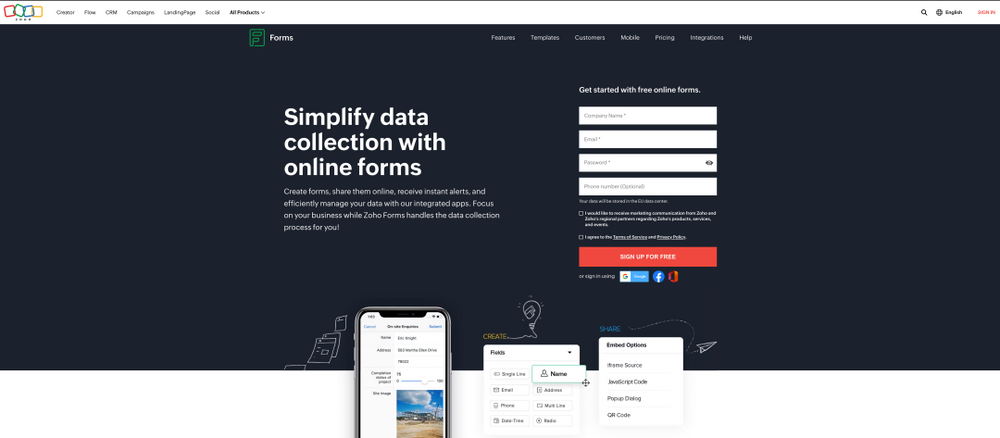 Like Hubspot, Zoho Forms is part of the bigger Zoho Office Suite. The online form-building tool aims to simplify data collection with front-end online forms. The other apps in the integrated office suite also make managing the collected data easier.
Key features of Zoho Forms
Zoho Forms has collaboration tools so teams can stay in sync regardless of where they are.
The platform is integrated with Zoho surveys so that users can use both platforms seamlessly.
The built-in safety features mean only authorized personnel can access sensitive data from your customers.
Zoho Forms lets you customize how your form looks so it is a reflection of your brand image.
You get analytics and insights into the performance of your different forms.
You can embed your forms into your website to gather information from any page.
In collaboration with the Office suite, Zoho Forms lets you send emails to your form's respondents.
Pros
Lets you create highly customizable forms.
Boasts robust features.
Works well with Zoho's Office Suite.
Templates are designed to accommodate brand details.
It enhances workflow.
Cons
The platform does not have a free plan.
Not as many templates as we would like.
Pricing
The Basic subscription goes for $12 per month.
The Standard subscription goes for $30 per month.
The Professional subscription is placed at $60 per month.
The Premium subscription costs $110 per month.
Google Forms

Google Forms is easy. It is fun, and it is a free alternative to Typeform. It simplifies form-building, letting you create and deploy customizable forms within minutes.
Google Forms is free and offers the same features as Typeform. Its simplicity and affordability place it a step ahead.
Key features of Google Forms
The platform might not allow for a lot of branded customizations. But the customizable fonts and color scheme means you can give your forms and surveys the same look and feel as with your brand.
You can easily break your long forms into multi-step forms, thereby preventing the chances of form abandonment.
Google Forms integrate with other Google tools making it easier to manage and analyze your data.
You can insert pictures in your forms with a click.
You can set up automated emails so your respondents are not kept in the lurch.
The offline mode is one of the best features of Google Forms. Users can collect data even when they are not online.
Pros
Google Forms is Free
The interface is easy to navigate.
All it takes is a click to add videos and pictures to your forms.
Cons
The customization is limited.
Does not support recaptcha, so bots can access and fill out your form.
Does not offer maximum branding opportunities.
Pricing
Google Forms is free.
SurveyMonkey

SurveyMonkey is an alternative to Typeform that lets you create forks, quizzes, and tools. It is one of the most popular form builders on this list. It offers advanced analytics and robust customization features.
We especially love SurveyMonkey because it is on par with Typeform in terms of functions and features. But it does not have the issues with responsiveness that Typeform seems to have.
Key features of SurveyMonkey
It is mobile-friendly, and the features are easy to navigate.
It is great for creating professional-looking forms that stand out.
The library of over 200 templates means you always get your pick of what to use. It further simplifies form building.
The conditional logic rules feature means you can tailor your questions so users only answer pertinent ones based on their replies. This makes the experience more personalized, increasing the chances of the visitor completing the form.
SurveyMonkey is packed with many collaborative tools, so your team members can work with the insights they get regardless of location.
SurveyMonkey is packed with powerful tools for advanced data analysis and integrations with other powerful tools.
Pros
Highly customizable templates make it easier to reflect your brand through your forms.
Supports many tools and various integrations.
Cons
The paid plans are expensive.
The interface is complicated, and it would take new users a while to get used to them.
Pricing
SurveyMonkey comes with 6 subscription plans.
The Basic subscription is free to use at all times.
The Advantage annual costs $32 per month.
The Standard Monthly costs $99 per month.
The Premier Annual is placed at $99 per month too.
The Team Advantage costs $25 per month.
The Team Premier costs $75 per month.
Wufoo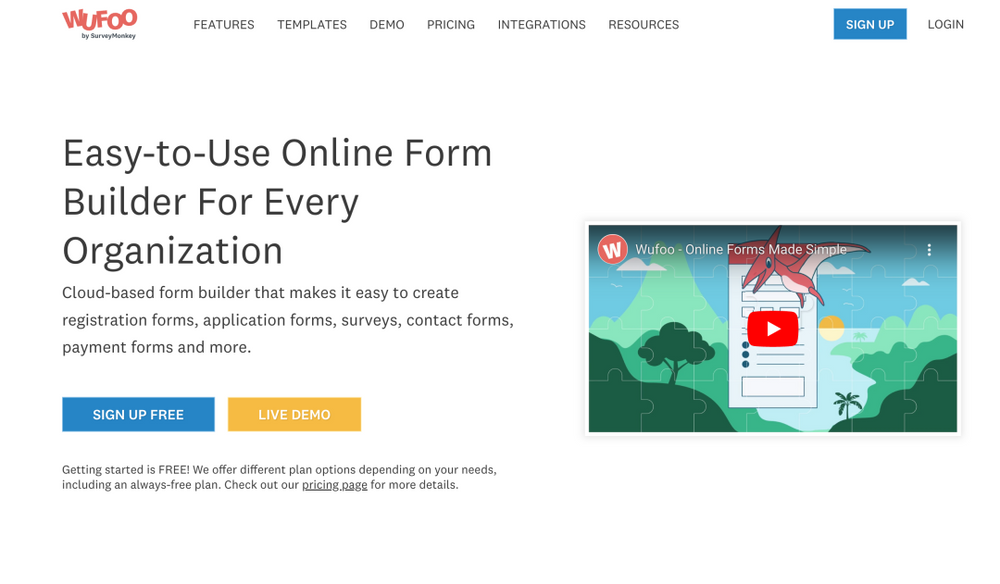 Wufoo is an online form builder that lets you create different types of online forms, from your typical contact forms to event registration and much more.
This drag-and-drop builder is a great alternative to Typeform because it is packed with features that make creating your customized forms quick and easy.
Key features of Wufoo
The drag-and-drop interface means anyone can use this platform to create customized forms. All it takes is just a few clicks.
Wufoo integrates with several popular payment platforms, so you can receive payment by creating interactive payment forms.
The data analytics integration lets you send data to business tools like MailChimp.
It is simple and minimalistic so you can access most features with a click. This includes the one-click feature for getting insights from the forms your respondents have filled out.
These features make Wufoo a great choice for people who want a simple and affordable form builder with robust customization capabilities.
Pros
Forms are encrypted and offer better security for data.
Comes with several plug-ins and integrations.
Easy to use and requires no technical knowledge. The drag-and-drop feature means you can build forms in just a few minutes.
Cons
The free version is limited.
Embedding the forms on landing pages might be difficult.
Using some functionalities might require knowledge and expertise in coding.
Pricing
Wufoo has five subscription plans:
The free plan
The Starter plan costs $12
The Professional plan costs $39
The Advanced subscription costs $99
The ultimate subscription is placed at $249
Final Thoughts
We have checked out various Typeform alternatives that offer unique features and cater to different user needs. Some of the primary reasons for seeking alternatives to Typeform include its pricing structure, limited customization options, and performance issues. You have options in the top contenders, such as Indy Forms, Jotform Enterprise, Hubspot Web Forms, Zoho Form Builder, Google Forms, Wufoo, and SurveyMonkey.
Indy Forms stands out as an excellent choice for freelancers, offering flexibility, user-friendliness, and cost-effectiveness. With its powerful features, you can create and manage forms easily while generating leads and converting them into contacts to streamline your business workflow. Experience the benefits of Indy's Forms Tool over Typeform and other alternatives by trying it out today.