Being a freelancer has many advantages. You can manage your own time, work remotely, and usually choose your prospective projects and clients. However, the job doesn't come without responsibilities. One of them is the need to be aware of your duties towards those clients. A legal contract ensures two or more parties can agree on payment terms, deliverables, and intellectual property.
One of the keys to having a successful freelance business is to have good, fool-proof contracts for all your projects. Business is a two-way affair, and a solid agreement is vital to protecting both you and your client. Luckily, creating legally enforceable agreements is easier than ever when you have the right tools.
Why Should you Use a Contract as a Freelancer?
Some freelancers are lucky enough to encounter very few problems with their clients, especially if they work with a set of regulars. However, most of us will have to sooner or later face misunderstandings.
Some of the challenges you might face as a freelancer, independent contractor, or small business owner are problems defining and reinforcing scope (requests from one party that the other party considers out of what they expect) and issues with a payment schedule. Both require adequate consideration if you're considering using a legally binding agreement.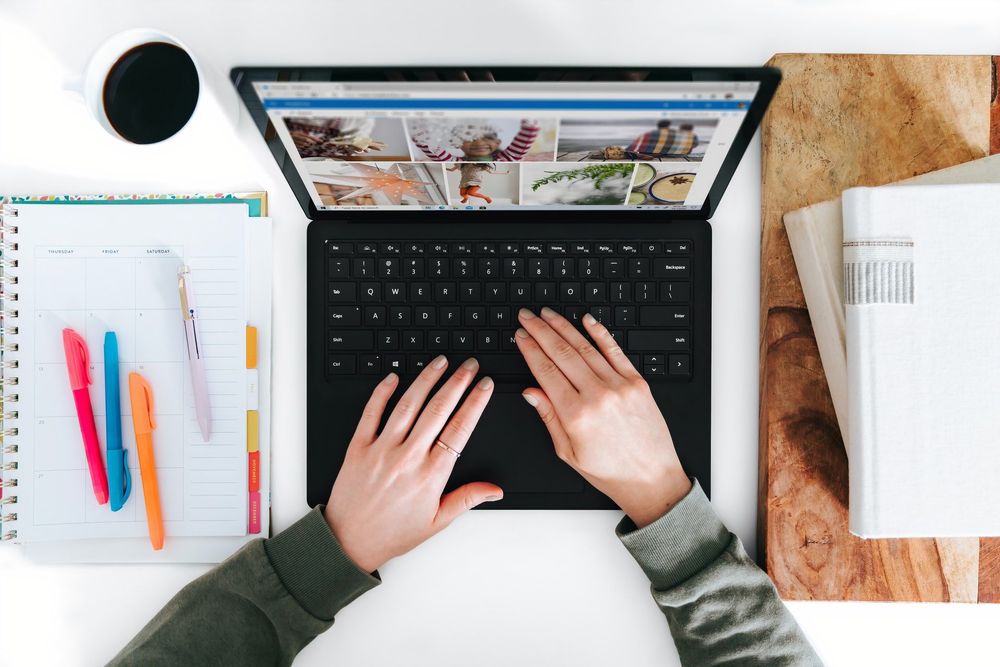 Issues with Scope
Scope creep is one of the most common issues we need to confront as freelancers.
Scope creep happens when the other party starts asking for things outside what you had initially agreed. It can be subtle (such as making a quick change to a website's copy) or a big deal (for example, having to design an entirely new set of pages or marketing collateral). If you lose track of all the small asks, you might realize by the end of a project that you should have negotiated for more at the start. A written contract can help you detail the type of work you will do as an independent contractor and how the client needs to review it and request changes. You can also include an addendum for extras, providing them with a list of additional services. Many clients are just uninformed, so a contract written in clear language can set the terms from the start and pay off down the line.
Issues with payments
Getting paid on time is a significant factor in your business success, especially if you're a freelancer. Unfortunately, some clients forget they need to make a payment, delay them, or simply refuse to honor an agreement even after you've delivered work. They might be going against contract law, but they don't know it. The best way to avoid filing a claim is to have a good binding agreement with clear payment terms. If a client fails to meet those conditions, clauses like these will give you something to fall back on. Working as a freelancer can put you in a vulnerable position, so it's essential to have a contract agreement that protects you from being paid late or less than agreed.
What are the Advantages of Using a Contract as a Freelancer?
Contracts are legal arrangements to help protect you and your clients. Having this legally valid framework offers several advantages. Some of these include:
Understanding and navigating the law: Contracts outline the entire understanding of a business relationship. Specifying exactly what rights a client is purchasing can help prevent the parties involved from claiming misunderstandings down the line.
Educating a client: Contracts can also be an effective communication tool, one where you can describe your work and methods to help clients understand the way you do business. Contract templates can definitely help you achieve this standardization more efficiently too.
Getting paid and minimizing disputes: Contracts are mutual agreements that encourage the client to cooperate if an issue arises. They also communicate how and when they need to pay their invoices to avoid further action. If you have a valid contract, you can prevent costly legal services from a law firm.
Protecting your intellectual property: Many clients think that they own everything you have created for them once they have paid you. A contract can help you protect your business' assets and ongoing services to ensure your work is not misused or stolen.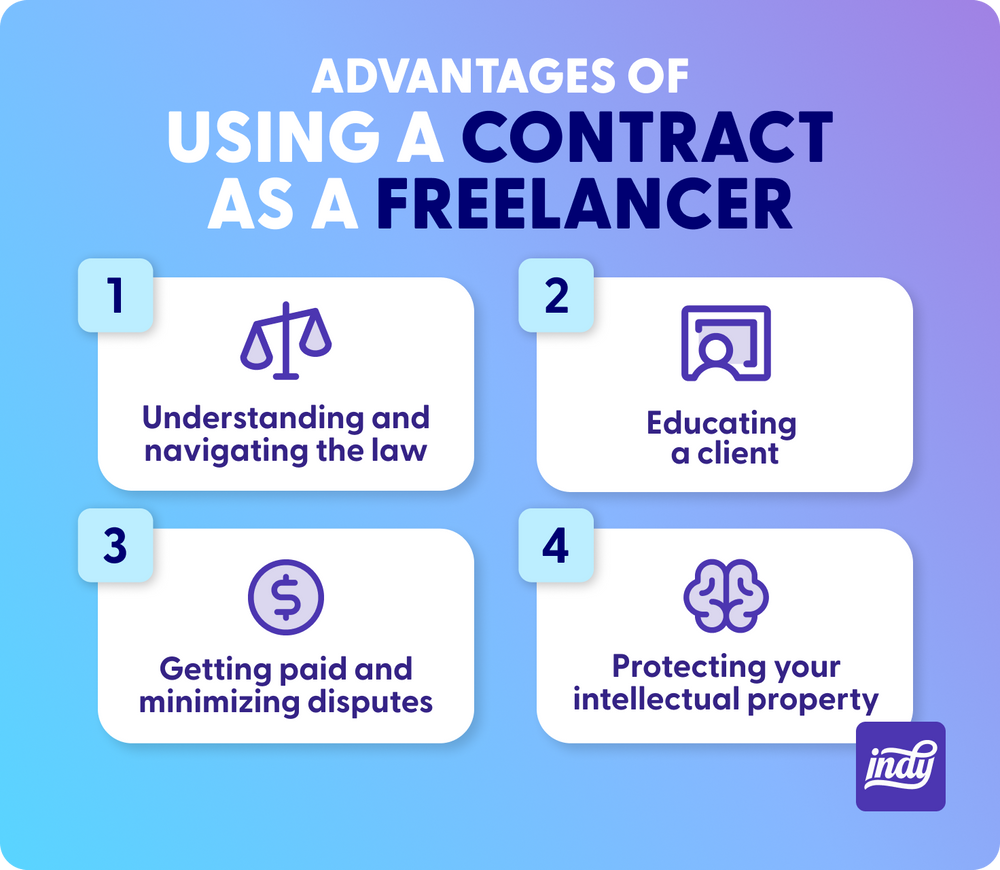 Using Contract templates as a Freelancer
Contracts are representations of a mutual understanding, in this case between a freelancer or business and a client. The reason a legal contract exists is to make sure the two parties involved get a good deal. However, it's not feasible for many of us to hire a lawyer every time we need to draw a contract agreement.
That's why many freelancers and contractors choose to use contract templates. This practice is not uncommon - many legal experts also utilize pre-filled documents to make their work easier. Drafting a simple contract from blank each time would be rather time-consuming. Contract templates use standardized language and formats and can help you produce client-ready agreements in just minutes.
However, it's essential to choose agreement templates that are trustworthy. Suppose you're looking for cost-saving and quick solutions. In that case, you have to be careful not just to download samples from the internet that don't apply to your business or project because they might not provide you with the best possible legal protections. The language used in these documents is also critical; you want to avoid documents that contain incorrect legal information, unclear terminology, or don't cover all possible outcomes of a work agreement. Of course, you're not supposed to know how to write all of these clauses, but poorly made contracts can cost you in the end. So it's always better to use a service specializing in legal agreements and understand the nuances between the needs of different industries and freelancing styles.
Using Indy for your Freelance Contracts
Indy is a platform that organizes all your to-dos in one easy dashboard, making the perfect choice for your freelance business. With Indy, you can track billable hours, manage your invoices and payments, and create and sign contracts all in one place.
One of Indy's biggest advantages as a whole is that the platform organizes your projects into a single dashboard. This means that you can connect a contract and any partnership agreements between two parties with a specific client, invoice, proposal, and time tracker. Indy also allows you to monitor the current status of all your documents in one easy-to-handle list.
What can you Customize with Indy Contracts?
Indy lets you easily personalize various standard (but legally valid) fields in your contract, including project deliverables, deadlines, payment details, termination terms, and intellectual property rights.
If you have more specific needs or want to add extra services and terms that both parties agree on to your legally binding document, you can also edit the entire file using Indy's friendly interface.
How to Create your First Contract with Indy
Let's review the process of creating a freelancer agreement using Indy's templates.
First of all, you will want to sign up for Indy. Signing up will give you a free account, so you get instant access to all the platform's tools. First-time users also get a week of Indy Pro for free, including 500 GB of file storage and unlimited contracts, proposals, invoices.
You can find your documents in the left sidebar. From this section, you will be able to create a new agreement and edit and delete any existing ones. Click on "Create contract" to start a new one.
Select your Contract Type
The first thing the platform will ask you to do when you start a new agreement is to choose a type. There are four options:
Project Agreement: Perfect for designers, consultants, architects, marketers, etc.
Non-Disclosure Agreement (NDA): Ideal for protecting confidential information.
Subcontractor Agreement: Outlines specifics for when you need to work with other freelancers.
My Own Agreement: To start a new contract from scratch.
"Project Agreement" contracts also let you choose whether you are the consultant or the client, while NDAs, subcontractors, and custom agreements require a recipient.
Start Customizing your Template
Each project type has different requirements for the work involved, but they all allow you to customize the standard fields flexibly - or create new ones if required.
Review, Sign and Share your Contract
Once you've edited all the fields, you can sign your agreement and send it to the client. Indy has a built-in electronic signatures feature that also lets you add a personalized message to share with your client. Once you send it, the contract is automatically added to your dashboard so you can monitor its progress and have them available for future reference.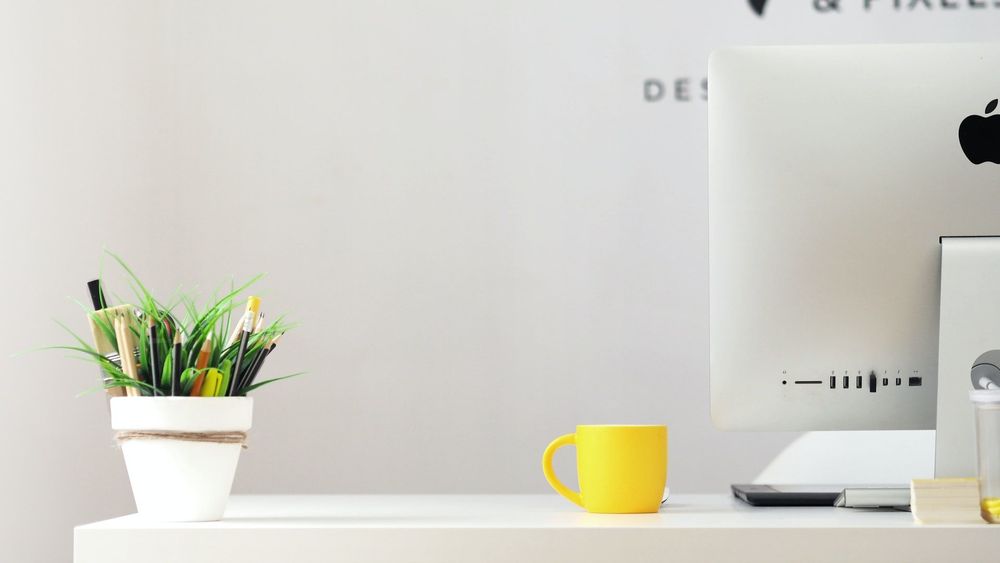 How to Fill In your Indy Contract Template
Indy's interface divides the screen into two main areas. On the right, you will always have an overview of your agreement. On the left, you can see all the fields you can edit as part of the terms of the contract.
All the fields you customize are highlighted in yellow in the overview area, so you can quickly jump from one to the next and make any necessary changes.
The customizable fields are organized into steps. A "Project Agreement" contract has seven of them:
Client information: Their full name and state, and whether they are an individual or a company.
Consultant information: Just like the previous, but for your information as a freelancer or contractor.
Description of services: A text box where you can describe in detail what you're going to deliver and how. Be as specific as you can when writing down your responsibilities!
Project timeline: Start and end dates, how the length is measured, and when each party agrees the work is complete. Also, the number of days required to provide written notice or terminate a project without reason.
Payment terms: Whether the client will pay you by the hour, day, monthly, or other, and your rate. Also, if there's a deposit, how long the client has to pay from the time an invoice is issued, and any fees for late payments.
Who will pay the expenses related to the project
Use for Work Product License: This field is optional, and you can use it to include your own permissions and legal rights.
"Non-Disclosure Agreements" have three steps:
Your information: As an individual or a company, including full name, state, any custom optional fields.
The other party's information: Same as the previous step but for your client's information.
When the contract becomes effective: Upon signing a contract or on a certain date. Also, for how long it will be active and the requirements for sending a termination written notice.
"Subcontractor" contracts are similar to "Project Agreement" contracts. They have seven steps and a review but refer to a subcontractor instead of a client.
If you want a visual demo of how it works, check out this step-by-guide on our YouTube channel!
In Summary
Indy is a multi-tool platform and, as such, allows you to keep all your information connected and in a single place. Every contract is automatically listed under the client name too, and you can attach them to specific projects to keep better track of them.
If you have been asking yourself how to make contract agreements, Indy has made the process easy. You can choose a contract template from hundreds of legally-sound options, quickly add all the relevant information, and define who will pay for what and how. In addition, a licensed attorney has checked all of Indy's contracts, so their clauses for services, timeline, ownership, and attribution are of excellent quality. Plus, you can auto-generate electronic signatures and save them for later use.
As a freelancer, you can benefit both yourself and the other party using Indy's contract templates. Just select the one that better adjusts to your project, fill in the fields (including scope and payment details, intellectual property rights, and all the basic essential elements to create a legally binding contract), and you'll be ready to go.