If you want to make project management less time-consuming, more accurate, and a seamless process, you need a good all-in-one project management program. A lot of people turn to Excel, but is it the best resource out there for freelancer project management? There are multiple alternatives to Excel out there that lead you to more successful project management.
Many freelancers are using software such as Indy, which allows you to do everything from invoices to project planning all from one place. This not only saves the freelancer money in the long run but it also cuts the time from using multiple tools. Continue reading to find out more about useful Microsoft Excel alternatives.
Why Use Microsoft Excel?
Microsoft Excel is one of the most common tools for freelancers looking for resources for their project management. It enables you to visualize data and to do multiple tasks just using one specific piece of software. You can also add the data directly into the databases and have access to this when you need to access your comprehensive spreadsheets. You can also use Excel to create charts and graphs to showcase your report in various visual forms.
Although Excel spreadsheet is a popular tool, there are some drawbacks to using this tool for project management. For one thing, it's hard to use it when collaborating with others during your freelance work. And as Excel is not specifically for project management unlike others such as Indy, it lacks some of those useful tools which make the process much simpler and more accurate. For instance, it doesn't have the ability for task assignment or sub-task creation. Therefore, an Excel alternative should be considered.
Excel Alternative for Project Management
When it comes to project management, you need to have a whole range of features to ensure you can effectively project manage as a freelance contractor. You want to easily collaborate with your clients and have the ability to communicate with them through the tool. You also need to be able to manage tasks and keep track of the progress of each of these.
It's also important for spreadsheet software to have a time-tracking function. This will help you to know how much you need to bill the client and also enables you to see how much time you need to assign to the task in the future. You want to also be able to schedule projects to enable you to use your time effectively.
You can then view the tasks for the week, month, or even a year ahead. A reporting feature is also essential to help you utilize your tools effectively and make accurate estimations and milestones. You can then show clients your progress easily.
Here are 10 Excel alternatives for project management:
Indy

Indy is a great tool to help a freelancer manage the whole of their freelance business. You want everything in one place to make the task of running your business less time-consuming and much easier to manage. Indy offers everything you need to run your business successfully, safely and accurately.
The platform helps you manage your business from start to finish, from sending the proposal to the client, to tracking projects and managing tasks, to billing and receiving payments for the completed work. With everything from data gathering tools to project tracking, it makes freelancing more manageable.
Pros
There is a calendar that enables you to keep an eye on tasks for the day, week or month ahead.
You can create contracts when you have agreed to work with a client. They can even sign it securely online through Indy with e-signatures.
Create proposals to pitch your services and land more clients.
There is a dashboard that is easy to use and will show the progress of each task. You can check the details and have everything in one place about the project.
There is an automated invoice on the system which means the client will receive the invoice accurately. You can also ensure you receive the payments on time with payment tracking which integrates with online formats such as Paypal.
There are client communication tools that mean you can contact clients and keep any communication all in one place.
It's easy to use the system to track the hours and earnings of the contractor which is useful for ensuring the client has paid you correctly and will also work well when it's time to pay taxes annually.
Cons
Lack of dedicated apps
Some advanced features are available only in the paid version
Pricing
There is a free version that you can sign up for or there is a Pro plan for $12 monthly, which includes an AI assistant for contracts and proposals, powerful automations, and third party integrations that streamline your process and leave more time for the actual work.
nTask

nTask is an Excel alternative solution that offers a wealth of tools that help in task management, meeting management, risk management and issue management. From being able to generate reports to sharing files, nTask works with other software such as Outlook to enable you to project accordingly with calendar features.
Pros
Users can generate progress reports to enable them to complete the task effectively.
They can attach files to tasks
They can create Gantt charts to monitor and schedule effectively
Define any risks and issues
Monitor budgets for projects on-hand
Works with Outlook and Google Calendar, helping to arrange meetings and monitor time effectively.
Cons
Not effective for large teams
Missing features when used on the app on the move
Only get certain features on paid subscription option
Complex to navigate for beginners
Doesn't offer a spreadsheet view compared to other software
Pricing
There is a free version that offers limited features before signing up which starts at $2.99 per month.
Jira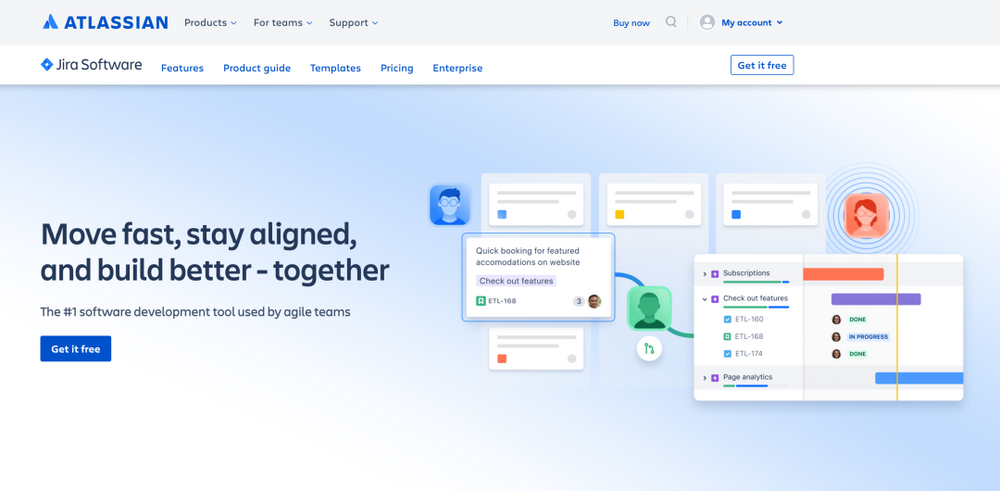 Another popular management tool is Jira. This tool works to help create workflows, reports and roadmaps for companies. It enables you to plan, track, release and report and is a great tool in particular for agile project teams. Its main USP is that it can support any type of project by using various apps and integrations.
Pros
It works effectively for tracking projects
It can work well for agile teams
It offers a reports function
It allows for integrations
You can implement time tracking, useful for invoicing and scheduling tasks
Cons
It can be hard to set the system up and the interface is complicated to use
There are no timeline views which are useful for tracking the process of your work
It's not possible to collaborate with external people
It can be quite expensive to use over time
Pricing
There is a free option, but the standard option is $7.75 a month and the premium option with all features included is $15.25 monthly.
Smartsheet

This Smartsheet platform offers a solution for spreadsheet software for individuals and small businesses. The platform offers the ability to create spreadsheets, databases and all the project management functions in an easy-to-use interface.
Pros
You can create reports from data within multiple sheets.
You can automate actions and set notifications to colleagues
The software enables you to add files and comments.
It's easy to keep track with the spreadsheet view
It offers excellent collaboration tools
It offers top-of-the-line data security
Cons
It can be hard and time-consuming to perform data analysis
There is a limitation on activity tracking
High prices for individuals
No autosave features
Pricing
The most basic plan is free. Pro plan costs $7 a month and there is a Business one which is $22 a month. They have an even more advanced Enterprise package but this one has custom pricing.
Airtable

This project management tool offers companies of even the largest of sizes the ability to manage their content, products, events and user research, all from one platform. Airtable offer a flexible structure with the ability to create the best format for the individual task.
Pros
It's easy to use
There is a range of templates to choose from
It enables you to track the project and keep a log
It allows you to collaborate with your team and ensure you all view the information
You can add links, barcodes and attachments
You can add over 30 applications to your workflow
Cons
It is not designed for comprehensive data analysis so might not have the features you need
The price is quite high for the most features
The data inputting is more complex than other platforms
Pricing
There is a free trial where you get basic features and then it's $10 for its most basic package. This is followed by the pro which is $20 a month.
Google Sheets

This Google Sheets application is a good Excel alternative and allows users the opportunity to create spreadsheets which they can then update and modify as necessary. The web-based spreadsheet application works with other Google programs such as Google Docs, Google Workspace and Google Forms and enables you to organize everything effectively. You are also able to analyze and share documents through Google Sheets.
Pros
You can create charts with the data
It's possible to collaborate on the spreadsheet tools with the document edited for other users to see
You can print the documents in a variety of formats for meetings
You can conduct spreadsheet editing and formatting
It's possible to create pivot tables
The program offers good security with specific access
Cons
There are limitations on what can be stored on Google Sheets
It's got basic spreadsheet application functions
Google Sheets only integrates with other programs connected to Google
Pricing
There are three different plans for Google Sheets. As well as a free version which has limitations, there is a basic at $6 per month, a business one at $12 a month and then an enterprise level at $25.
LibreOffice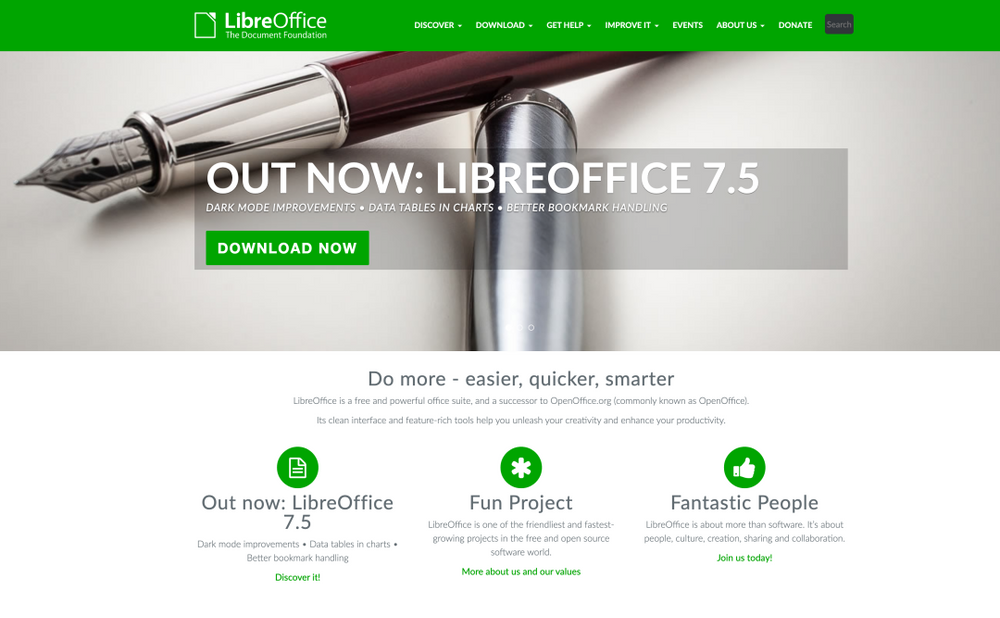 Libre Office offers an office suite that is a similar option to the Microsoft Office software. As part of the suite, there is Calc which is an Excel alternative. Through this spreadsheet program, you can perform calculations of your data and you can also create pivot tables and in general use as you would Excel, so it ahs the same limitations.
Pros
You can filter your data using the spreadsheet filters
It's easy to compile your data into dynamic charts
You can convert the work to Microsoft Excel format
Cons
You can't collaborate using Calc
It doesn't have advanced features
Requires a standalone app to be installed
Not great integrations
No mobile apps
It's not designed specifically for project management
Pricing
LibreOffice is free to use
Zoho Sheet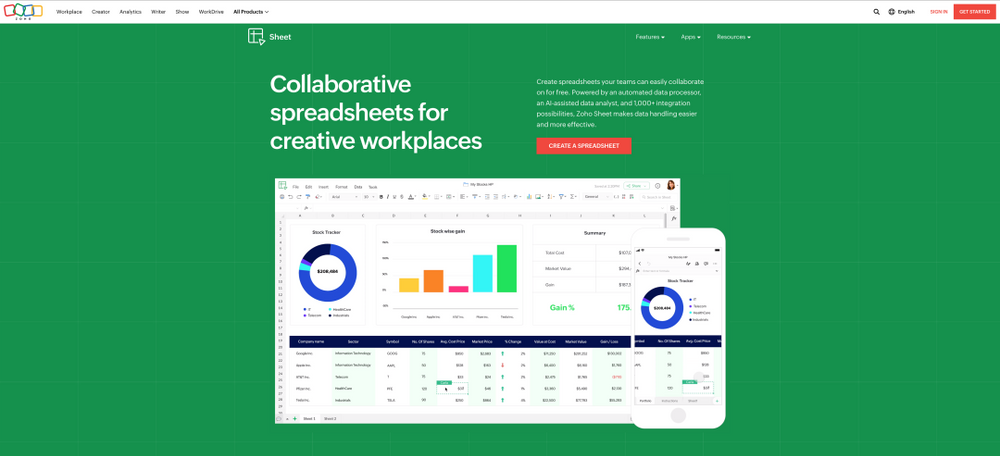 This application allows individuals to create and edit spreadsheets. It offers the ability to analyze data and collaborate with others with multiple users able to work on the same document. It's an easy-to-use software that also offers visualization and has the feature of automation. Zoho Sheet offers integration and is available to use in a browser.
Pros
You can analyze data using the software and convert this into charts and graphs
It's easy to use and navigate
With the collaboration feature, real-time updates can occur and documents can easily be shared
Users can create customizable templates
It's easy to integrate with other products
Cons
There are not as many features as other applications
It requires the Internet to work effectively
It can be difficult to learn and apply formulas effectively
Hard to use on mobile devices
Pricing
A free version of Zoho Sheet is available. If you require integrations with other tools from Zoho portfolio you might have to discuss a paid plan with customer support, as there are multiple plans and options available.
Numbers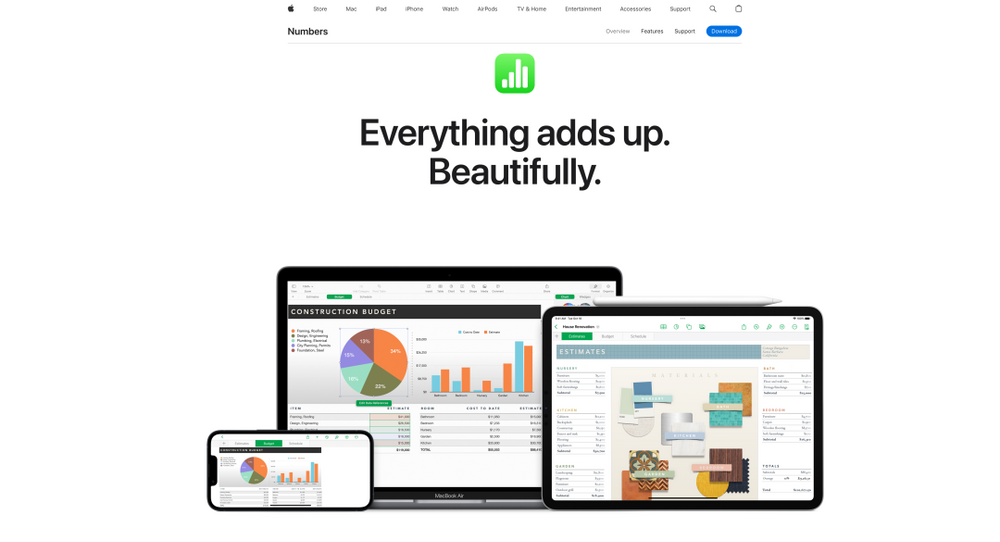 The Apple Numbers application is a great spreadsheet tool for independent contractors to use for their project management. It's a great way to collate numbers and share sheets with each other using the Apple format. The application is designed for Mac and iOS devices.
Pros
You can create charts and pivot tables using the data collated on the spreadsheet
It's possible to add interactive features to the spreadsheets
You can create and customize your templates
The security is provided by the giant Apple
It integrates well with other Apple software
Cons
It lacks some of the functionality that other applications have
Takes time to learn how to use it
It's not designed specifically for project management
Pricing
Apple Numbers is free software that comes with the purchase of Apple computers.
Apache OpenOffice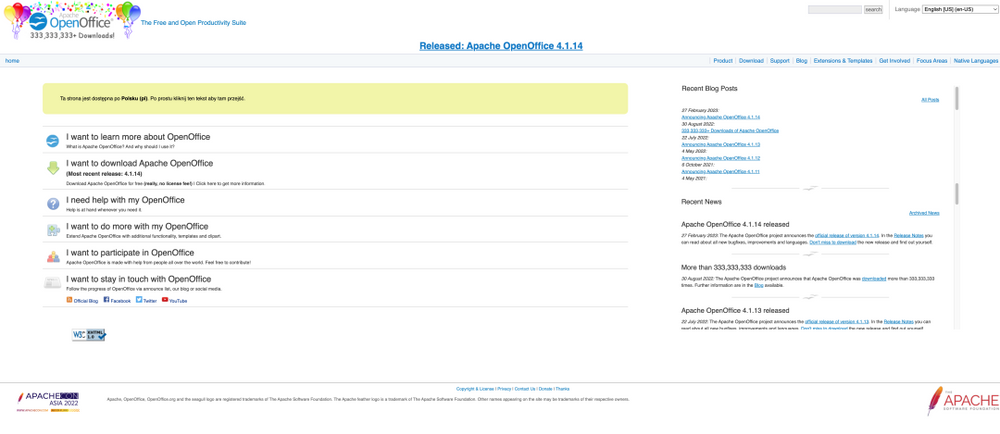 This is a great tool with an office suite like Microsoft Office, that includes a spreadsheet option that works for project management. The spreadsheet option is an Excel alternative and is like Apache Open Office's own spreadsheet version. Apache OpenOffice supports various formats and you can use data you have from the other Apache Open Office products.
Pros
Spreadsheets creation is easy
You can save the files in multiple formats including PDF and XLSX
It offers similar functionality to Excel
Cons
It has higher memory use than other applications
Requires a standalone app
It doesn't offer collaboration tools
It doesn't integrate well with other software
It's not designed specifically for project management
Pricing
It is free to download to use.
Conclusion
While Excel is a useful, excellent tool for conducting project management for freelancers and independent contractors with the ability to import data, collate data and create advanced pivot tables and charts, our article shows there are many different Excel alternative options, although few of them are useful for project management.
On the other hand, Indy is a suite of tools with a wide range of functions that will make a freelancer's project management easier and smoother. You can streamline the process and ensure your business runs more effectively. You can start with Indy today with an easy sign-up process with a free trial to see why it will work well with your project management.