As project management software tools continue to grow and evolve, two popular choices remain at the forefront: ClickUp and Asana. Both offer unique features and benefits, but how do you decide which is best for your team? In this comprehensive comparison, we'll break down everything you need to know about ClickUp and Asana, from customization and ease of use to pricing and integrations.
For freelancers, choosing the right project management tool is very important. Keeping your work organized is a big part of running an efficient business. Asana and ClickUp are two project management tools that can help with managing projects. Indy is another great choice for freelancers. As we explore these options, we'll help you decide which of the three is a better project management tool for your freelance work.
Introducing ClickUp and Asana
ClickUp, founded in 2017, and Asana, founded in 2008, are both leading project management tools designed to help teams collaborate effectively and manage their tasks efficiently. While they share some common features, each project management platform has its unique strengths and weaknesses that cater to different team needs and preferences.
Overview: ClickUp and Asana at a Glance
Before diving into the details, let's take a high-level look at the differences between ClickUp and Asana.
ClickUp
Highly customizable with a steep learning curve
Robust free plan with unlimited tasks and users
Customizable automations available on the free plan
50+ native integrations, plus Zapier integration
Asana
Simple and intuitive with an easy learning curve
Free tier limited to 15 users with basic features
Automation options available only on paid plans
200+ native integrations, plus Zapier integration
Asana: Leader in Project Management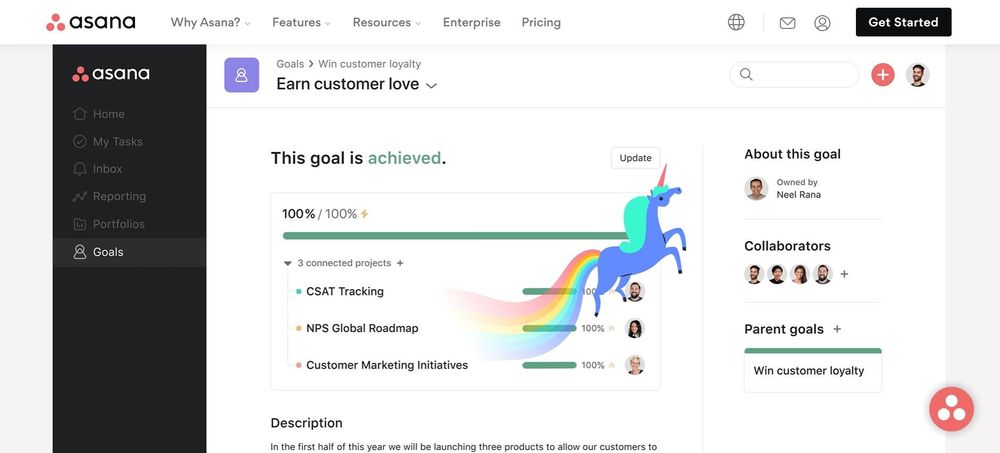 Asana is a leading work management platform, renowned for its ability to streamline projects, enhance collaboration, and improve productivity across teams of all sizes. Chosen by 80% of Fortune 100 companies, Asana provides a comprehensive suite of features that support a wide range of industries and workflows. With its robust capabilities, Asana helps organizations optimize their work processes, align their teams, and achieve their goals effectively and efficiently.
Top three features of Asana for project management:
Versatile project views: Asana offers Timeline, Board, and List views, enabling teams to visualize their projects in a way that best suits their needs and preferences.
Automation and integrations: Workflow Builder, Forms, and over 200 native integrations streamline processes, reduce manual work, and keep everything connected in one place.
Real-time insights and reporting: Custom Fields, Charts, and a robust template library provide teams with up-to-date data and insights on project progress and performance.
Asana is widely used across various industries, including marketing, operations, IT, product development, and sales. Its versatile feature set and adaptability make it an ideal solution for managing complex, cross-team work in a diverse range of sectors. Asana empowers organizations to execute their campaigns, IT projects, product launches, and operational plans seamlessly, helping teams stay aligned on their priorities and deliver fast results.
ClickUp: Challenging the Leaders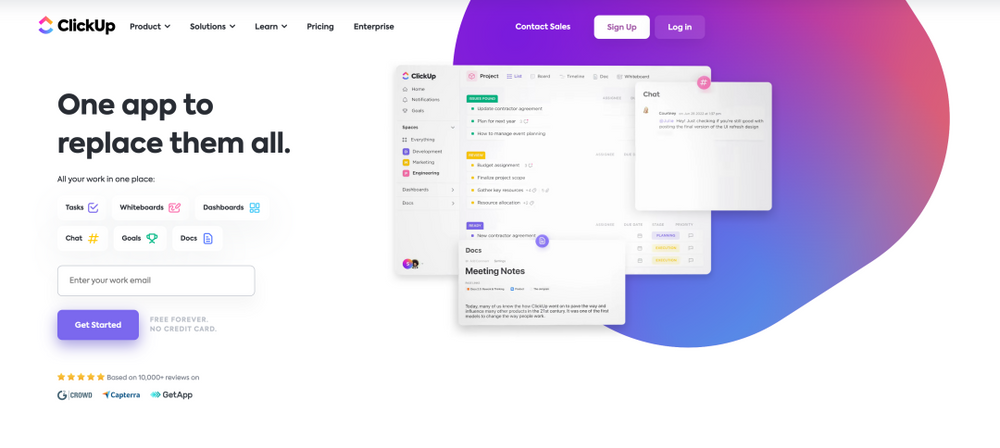 ClickUp is a powerful, all-in-one productivity platform that attracts teams seeking to optimize their work processes and improve collaboration. Combining tasks, docs, goals, and chat in a single, user-friendly app, ClickUp offers a seamless work experience for teams of all sizes. With customizable views, real-time collaboration tools, and robust security measures, ClickUp enables organizations across various industries to work more efficiently and effectively, making it a popular choice for those looking to revolutionize their work. ClickUp also offers comprehensive spreadsheet functionality, which may be appealing to people used to working in spreadsheets.
Top three key features of ClickUp for project management:
Customizable views: ClickUp provides highly adaptable views, making project planning and management a breeze for any team.
Real-time collaboration: With chat, comments, and notifications, ClickUp ensures seamless teamwork and communication, keeping everyone in the loop.
Visual progress tracking: ClickUp offers visual widgets for tracking tasks, sprints, time, and more, making it easy to monitor project progress and streamline workflows.
ClickUp is a project management solution widely used across diverse industries, including project management, engineering, sales, marketing, product development, design, finance, HR, and IT. Its versatile features and adaptability make it an ideal solution for managing complex projects and fostering collaboration in a wide range of sectors. ClickUp empowers organizations to plan, execute, and monitor their projects with ease, ensuring alignment and productivity across the board.
Customization and Flexibility: ClickUp's Strength
One of ClickUp's standout features is its extensive customization options. With the ability to create custom dashboards, embed views from other apps, and organize tasks with multiple hierarchy levels, ClickUp aims to be a one-stop workspace for all your project management needs.
However, this level of customization comes with a steeper learning curve, which may be overwhelming for new users or those seeking a more traditional project management tool experience.
Asana, on the other hand, offers a simpler approach, with a more streamlined interface and less customization options. It may not have all the bells and whistles of ClickUp, but it's more than sufficient for effective project management solutions.
Ease of Use: Asana's Advantage
Asana excels in its user-friendly interface, with clear navigation and labels, making it easy for team members to find their way around. The intuitive design allows users to quickly add and manage tasks, subtasks, and assign tasks to deadlines.
ClickUp's interface, while feature-rich, can be less intuitive due to its extensive customization options and a more cluttered layout. However, once users overcome the learning curve, they may appreciate the depth of features available in ClickUp.
Automation: ClickUp Takes the Lead
When it comes to automation, ClickUp has a clear advantage, offering customizable automations even on its free plan. With pre-built templates and the ability to create custom workflows, ClickUp makes it simple to streamline your team's processes.
Asana's, on the other hand, are only available on paid plans. Although Asana offers a few pre-set rules, forms, and templates on its Premium plan, you'll need to upgrade to the Business plan for complete access to custom automation workflows. For teams on a budget or those with small teams who prioritize automation features, ClickUp's offering is more attractive.
Pricing: Comparing ClickUp and Asana Plans
ClickUp offers a generous free plan and two paid plans: Unlimited ($5/user/month) and Business ($9/user/month). ClickUp's paid plans unlock additional features such as unlimited storage, advanced reporting, time tracking, and unlimited integrations.
Asana's free plan covers up to 15 users. There are three paid plans: Premium ($10.99/user/month), Business ($24.99/user/month), and Enterprise (custom pricing). Paid plans provide more features, like advanced search, custom fields, and priority support.
Integrations: Asana's Extensive List
Both Asana and ClickUp offer native integrations, with Asana boasting an impressive list of over 200 apps, while ClickUp has around 50 native integrations. This difference means that using Asana vs ClickUp is likely to cover more of your team's specific software needs out of the box.
However, both Asana and ClickUp integrate with Zapier, allowing you to connect to thousands of other tools and automate workflows across your tech stack. This means that even with fewer native integrations, ClickUp still offers significant connectivity options.
Customer Support: ClickUp and Asana Options
Both ClickUp and Asana offer various customer support options to help users navigate their platforms effectively. ClickUp provides a help center, ample support documentation, video tutorials, live chat support, and email support. Asana, on the other hand, offers a help center, video tutorials, community forums, and email support. Live chat support is available for Asana's premium users.
The Verdict: ClickUp vs. Asana
Ultimately, the choice between ClickUp and Asana will depend on your other team member's priorities and needs.
Choose ClickUp if:
Customization and flexibility are essential for your workflow
You want to take advantage of robust automation options on a free plan
A comprehensive, all-in-one workspace is a priority for your team
Choose Asana if:
Ease of use and a user-friendly interface are crucial for your team
You require extensive native integrations with other apps
A more traditional and streamlined project management experience is preferred
In summary, both ClickUp and Asana are powerful project management tools, each with their own strengths and weaknesses. By considering your team's specific requirements and preferences, you can make an informed decision and choose the best project management tool that will best support your team's success.
Indy is a Great Alternative to ClickUp and Asana
Indy can revolutionize the way you manage your freelance business by providing an all-in-one platform that streamlines your work processes. By consolidating your proposals, clients, projects, key tasks, contracts, and invoices in one place, Indy makes it simple to stay organized and focused on your creative work. Its intuitive layout, lightweight CRM capabilities, and integrations with popular tools like Zapier and Google Calendar enable you to efficiently manage your contacts and projects without getting bogged down in admin tasks. The platform also offers seamless online payments through PayPal and Stripe, ensuring you get paid on time and with ease.
Stay organized with integrated calendar, tasks, and project management features
Automate workflows and keep everything in one place with popular integrations
Enjoy the support of Indy University with articles, tips, and advice tailored for freelancers
In addition, Indy offers a variety of free resources to support your growth for example as a graphic designer, including templates, calculators, and an invoice generator. By making it simple to stay on top of your work and ensuring you look polished and professional, Indy can help you maintain complete creative control and thrive in your freelance career. With its free plan, you get access to all the necessary tools, while the option to upgrade to Indy Pro offers even more empowerment. Start using Indy today and experience the difference this comprehensive platform can make in your freelancing journey.
Final Thoughts
Organizing your work and being efficient with your time are key success factors for freelancers. While Asana and ClickUp are great options with many advanced features, they might be too much. A freelancer who doesn't need a lot of team collaboration will be better off with Indy. Launch your free trial today!