Finding the best project management software can be like finding a needle in a haystack. Project management is a growing market, meaning more and more competitors are getting in on the act of offering tools for managing projects.
In this article we will look at two of the best solutions on the market, to help you decide which one works best for your requirements. When it comes to project progress you need to pay proper attention to each of the individual tasks. Project management tools allow you to keep them all in one place for effective team collaboration or just project tasks for you as an individual. Let's get the lowdown on Bascecamp and ClickUp - keep reading and a clear winner will come to you.
What is Basecamp?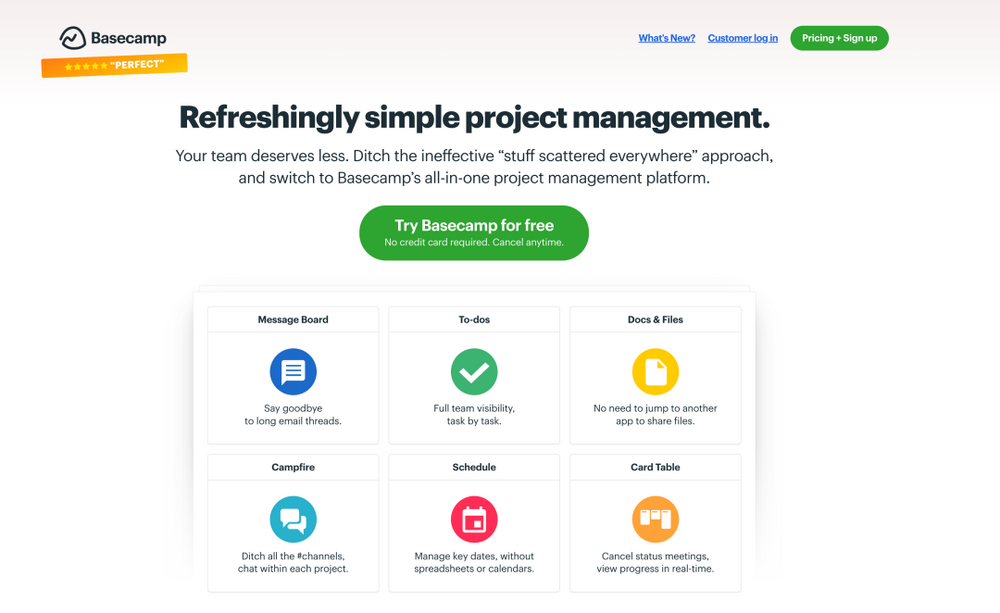 Basecamp is aimed at simplicity; not meaning that it's limited in scope, more that it makes existing tasks for project management user-friendly. Complex projects can be easily managed, and the focus on communication means the entire team can stay involved at all times. The developers behind Basecamp have said that they want to "make project management more of a joy and less of a chore".
Everything is in one place, which means that the project manager can assign tasks to various workers who can see them all in one intuitive location. Software development is a great thing and complexity works well for people who know how to use it, but sometimes the best solutions are the most simple ones. This is where basecamp thrives. Whether you are looking at recurring tasks or new projects, it is so simple to use that anyone can make the best use of its features.
What is ClickUp?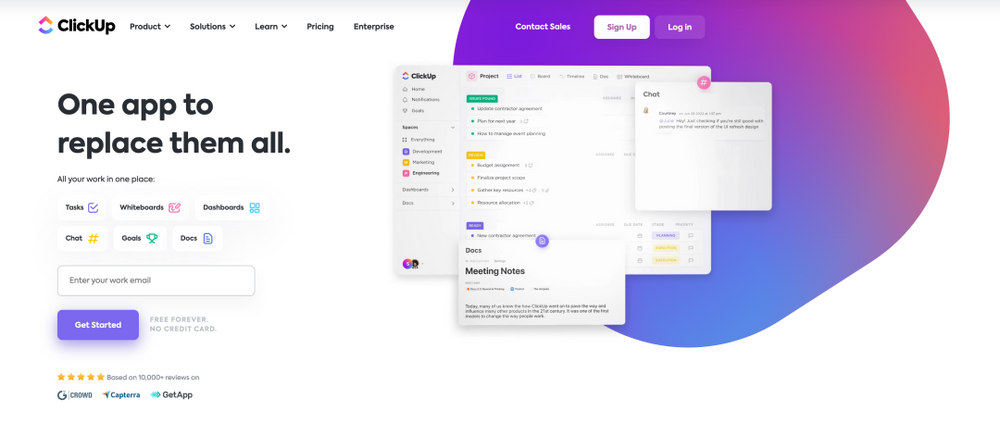 ClickUp is designed with both small and large teams in mind. It can help small teams prioritize tasks but is also highly customizable so can be adapted to be of use for more complex projects. You can work on multiple projects at once, making it an effective collaboration tool.
As with Basecamp, the focus is very much on everything being in one place. You can assign comments to individual tasks so teams can easily collaborate and everyone can stay on track with progress. So what features are available?
Main Features
All project management tools have a whole range of features so for now let's focus in on a few of the main ones for each platform.
Basecamp
Post team announcements and updates on message boards - With this feature you can keep the whole team up to date with progress on different projects without the lengthy process of emails or phone calls. All of the information is right there.
Track team progress using the 'hill charts' feature - The project status can be monitored with this easy to use chart, meaning you can all get on with the tasks at hand but if someone is behind you will know and can contact them for an update.
View upcoming and pending tasks in your project plan - This feature helps you to remind yourself what's on the agenda and when you need to act on different tasks. Think of it like a to-do list in real time.
ClickUp
Different views, including Gantt Chart, Box View, List View, Board View and Calendar View - different people prefer information displayed in different ways so there's something for everyone here. Also, you might want to toggle between different views when different information is needed.
Simplified task hierarchy - This allows you to stay on point with the tasks that are more urgent and helps you rearrange tasks when necessary if priorities change.
Integration with over 1,000 free tools - This way you can have the tools that are most useful to you without anything unnecessary. The drag and drop functionality makes this really straightforward.
Pricing
As a freelancer, one of your first considerations will be "What will this cost me?" There are often hidden costs or the free versions of tools might only give you very basic features that aren't enough for your requirements. Here's a no-nonsense guide to the different pricing plans available.
Basecamp
Basecamp has a free plan with basic features, which may be enough if you're a lone worker or are not trying to do anything too complicated. Aside from this, there is:
Pro plan at $15 per user per month - through this plan you can access all of the features and have 500GB of storage for files and documents.
Basecamp Pro Unlimited at $299 per month - this is a flat fee that is billed annually and allows unlimited users as well as 5TB storage and priority support.
The pro plan should be more than enough for a freelancer unless you're running a large and complex operation.
ClickUp
There are various pricing plans available through ClickUp, none of which will break the bank compared to some other tools. Here's a quick breakdown:
Free plan - 100MB storage, unlimited tasks and some of the features such as whiteboards, calendar view and real time chat.
Unlimited plan at $5 per month - unlimited storage and integrations, form view and agile reporting to name a few features.
Unlimited plus plan at $12 per month - everything you will find in the unlimited plan but with more advanced features, including time tracking and custom exporting.
Business plus plan at $19 per month - more advanced features including team sharing and priority support.
Enterprise plan (contact sales team for pricing) - this version has the most advanced features, as well as the support of a dedicated success manager, to help you get the best out of them all.
Functionality Comparison
Having got an idea of the features and pricing plans, what you really need to know is how are these project management tools in action. Let's take a look at the functionality of them both, so you can actually picture yourself using them.
Basecamp
Basecamp is designed to be user-friendly, which means you do not have to be overly tech-savvy in order to get the best out of it. A helpful team is on hand to demonstrate how it works, so with some basic guidance you will be ready to put it into practice. There are some great features to help with task management so you can track time, post comments and assign specific tasks.
You will be able to generate reports to help you analyze data and improve productivity. If you want to you have the option to use API to connect to other software and increase the functionality of the tool.
ClickUp
ClickUp is also very user friendly, with all features being accessible from the same page. The multiple views on offer mean you can display the information pretty much however you want and the customizable templates will allow you to work in your preferred way.
White the whiteboards you can brainstorm ideas and really come up with entire projects, that will be viewable by specific team members or anyone, depending on who will be involved. The boards can be customized, so people can add any information that is relevant.
There are a lot of features, which can be overwhelming to begin with, but you can choose only those that are most necessary for what you are trying to achieve.
Reviews
To get a feel for what it's really like to use project management tools it's often best to hear from people who have experience of them. Let's take a look at a couple of users' experiences.
Basecamp
"I like the simplicity of Basecamp. I have used many project management tools but after a certain time, it becomes complex to manage a project management tool. It eats up a lot of time of my working hours just to maintain a project management tool. In this particular case, Basecamp kept everything straight forward. It's easy to use and easy to manage. Love it."
_Syed T
"Basecamp does almost everything we need to do, with the ability to use the APIs we've managed to extend Basecamp to work with our internal and some external systems. Every single project is tracked and managed via the app, our project hours are recorded against each project using the API and we can report on these for costings at any point. There are more competent project management software packages out there, but all of these charge per user and would be a lot more expensive."
_ Gavin M
ClickUp
"As a Scrum Master, I feel that ClickUp is a marvelous tool for any Agile marketing teams out there. We have biweekly sprint planning sessions, and using ClickUp makes getting through them a breeze. Custom views can be created at all levels -- for an individual list (we use these to separate business lines within our team), for an entire folder (which we use for a view of all the areas of our team). At the folder level, during grooming, I filter by all items due in the coming two weeks and then we can go through them and groom them. ClickUp allows for custom fields so that any details that are relevant across the board on a task can be filled in. This allows us to keep tasks organized by their values in the custom fields."
_ Sandra D
"I think ClickUp is very good at making large-scale processes visible to a large number of teams and people, and for me, it's been a massive improvement compared to a few project management solutions we've used previously in that aspect, especially since we started remote work. I don't know how I'd be able to keep up with the work of other departments in my company if I didn't have the flexible options of ClickUp, for following only the tasks which are relevant for my team and me."
_ Dimitrije C
How Can Indy Help?

Indy offers a range of tools and features to help with project management, such as time tracking, invoicing, calendar views, and a whole host of free templates to help with different aspects of the freelancing process. Check out these features and more information here.
Indy is designed by freelancers with freelancers in mind so this is a great solution. It is a lot cheaper than most tools and if you're concerned about ease of use, this is something that Indy is best known for.
Conclusion
So, when looking for a project management solution both Basecamp and ClickUp have a lot to offer. Neither is difficult to use and both are focused on keeping everything in one place so project management is simplified as much as possible.
Price-wise there are options for both to suit any budget and the complexity of the features you will need largely depends on the size of your operation. Ultimately, you might find Indy to be a better choice than either for you as a freelancer because everything about it is designed with this in mind.