Coworking spaces are now an integral part of how we live and work in 2022. After the pandemic, the world of work has been revolutionized, and many of us are working in flexible freelance and hybrid roles. Shared office spaces and coworking spaces are the answer to our prayers while we work in these roles.
Want to work remotely but don't want to hear your kids screaming in the background? Head to your local coworking space. Have some hybrid work to finish but fall asleep every time you try to work on your sofa? Make your way over to the best coworking space in your area.
Coworking spaces offer a unique and flexible way to work, and we love it.
Luckily for us, there are now so many great options out there. Sometimes there even feels like too many options for us to pick from. This is a great dilemma to have. To help you out with this decision-making process, we have created this blog to talk about the very best coworking spaces in Austin right now.
12 best coworking spaces in Austin
If you are looking for the best coworking spaces in the city of Austin, look no further than our handy list below. These 12 additions will tell you about an exciting and worthwhile coworking option for you to check out, including their price, location, and main features on offer.
We hope you find your next new spot!
1. Techspace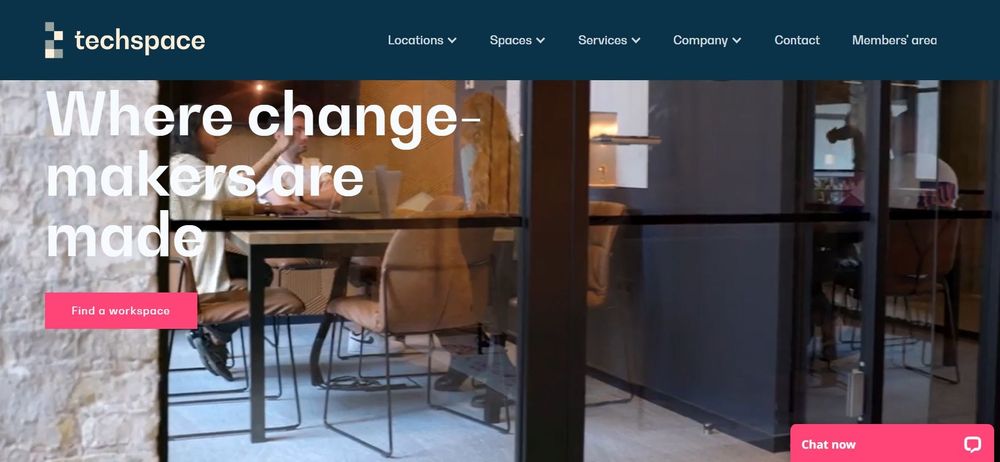 Techspace Austin is an amazingly spacious coworking space on Jacinto Blvd. It is an impressive coworking facility with solo working, group working, seminar, and event options on 28,000 square feet of space. This big coworking space has so much to offer a range of workers, and that is why we have awarded it the number 1 spot on our list. Flexibility and adaptability are both huge advantages in a coworking space.
Additionally, Techspace offers 24/7 access alongside restaurant and gym facilities on site. This means you can work when you want to and look after your body while you're at it. What more could you want?
Price: $25/day drop in and from $375/month plans
Location: 98 Jacinto Blvd, Austin, TX
2. The Commune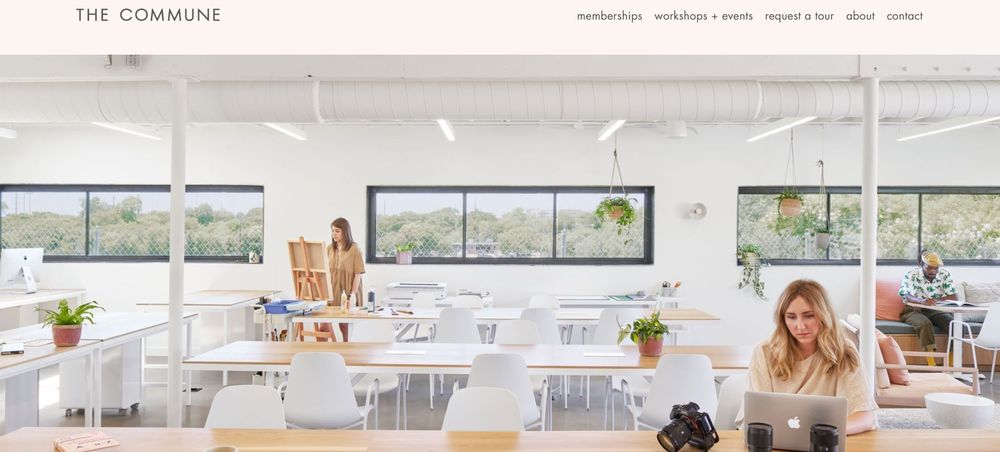 The Commune is a brand new and exciting coworking space in Austin. Moving away from the tech focus of our previous entry, this space is the perfect coworking space for artists and creative professionals.
Geared up for creative work, this space comes complete with typical desk spaces and photo studios, art storage, mess sinks, and an outdoor courtyard. Regardless of what kind of creative work you are doing, you should find that working in the Commune makes that work an awful lot easier. You also have your classic amenities such as private offices, private phone booths, computer monitors, and so on, so don't worry if you aren't into oil paint, either.
For somewhere new and unique to knuckle down, this is the spot.
Price: Coworking: $20o/month, dedicated desks: $475/month, and private studios: $900/month.
Location: 101 E. North Loop Blvd. Austin, TX
3. Impact Hub Austin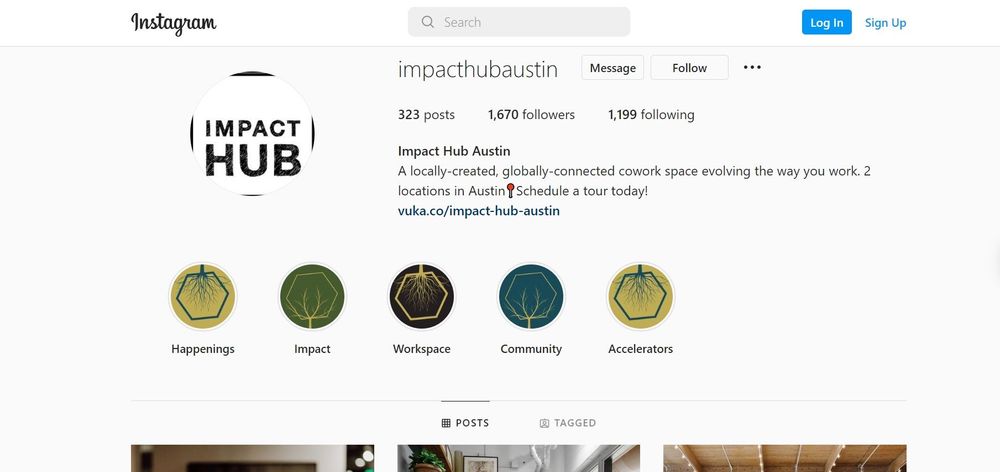 Impact Hub is a chain of coworking spaces that has been around since 2005 and has spread all the way from London across the States and the world. The Impact Hub Austin is a great addition to this track record and it is a space with a lot of value for a range of coworkers.
The space has a wonderful hipster vibe, with a blend of indoor and outdoor spaces and a modern feel. With yoga classes, houseplants, and organic coffee, any trendy person will feel like they are in heaven and not work in this spot. You can bring all of your furry friends along this large coworking space, too, so there is no limit to the fun you can have on any working day.
A wonderful mix of reliable and exciting, this location will be a top pick for many.
Price: Community membership: $35/month, coworking: $300/month, dedicated desks: $500/month, enquire for private studio prices. Free parking.
Location: 411 W. Monroe Street, Austin, TX
4. Industrious 5th and Colorado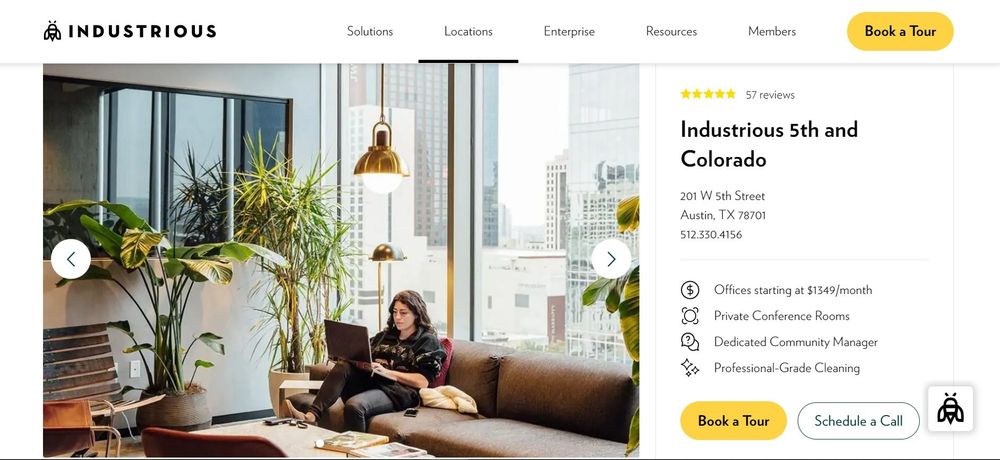 Industrious is a well-known and well-loved coworking space within the Downtown area of Austin. Known for its friendly staff and collaborative events, this spot is perfect for the more social coworking professionals. If you like to chat and connect while you work, Industrious offers you that opportunity.
Industrious offers amazing amenities and services too. Private conference rooms, a dedicated wellness room, mail services, craft coffee, a fitness center, onsite retail options… Just to name a few. It has everything you need to achieve many of your daily goals, all in one location.
There are various ways in which you can use this coworking space, with private office packages, hybrid approaches for individuals and teams, and virtual packages in which you can use the space as your business address and mail depot.
Whatever way you want to use Industrious, you are guaranteed a modern and efficient service.
Price: Offices starting at $1,349, POA for Access and Virtual packages
Location: 201 W 5th Street 11th Floor, Austin, TX 78701
5. WeWork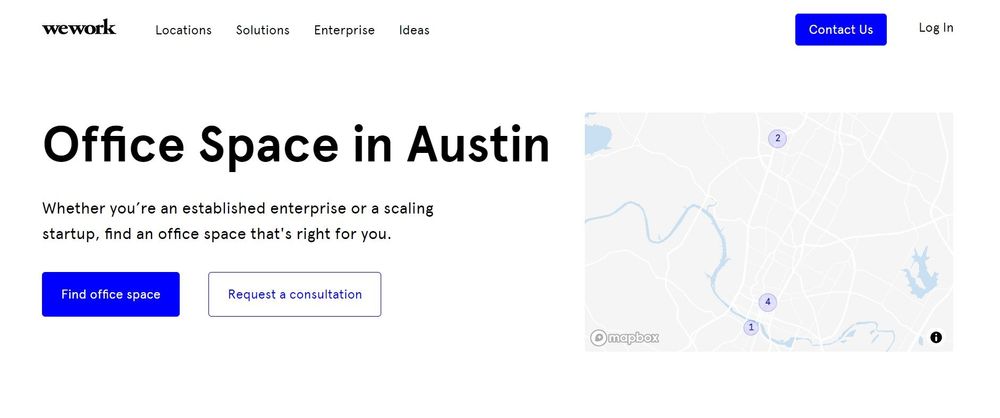 WeWork is a coworking space giant in Austin, with three amazing locations across the city. WeWork has everything you would want and need from a coworking space, alongside a great reputation to go with it.
All 3 Austin WeWork locations are central and connected to the city. They are all within walking distance to restaurants, coffee shops, travel options, and everything you need to pull off a successful coworking day. While you are in the venues, you will receive free beer, coffee, and other refreshments to make your day that little bit easier. You've also got access to great bike storage, and IT support, two integral companions for coworking life.
A cool spot with great backing.
Price: Seats from $300/month, hot desking $410 a month, and private offices for $14,700
Location(s): WeWork Domain, 3rd Floor, 11801 Domain Boulevard. University Park, 3300 N. Interstate 35. Congress, 600 Congress Avenue.
6. Capital Factory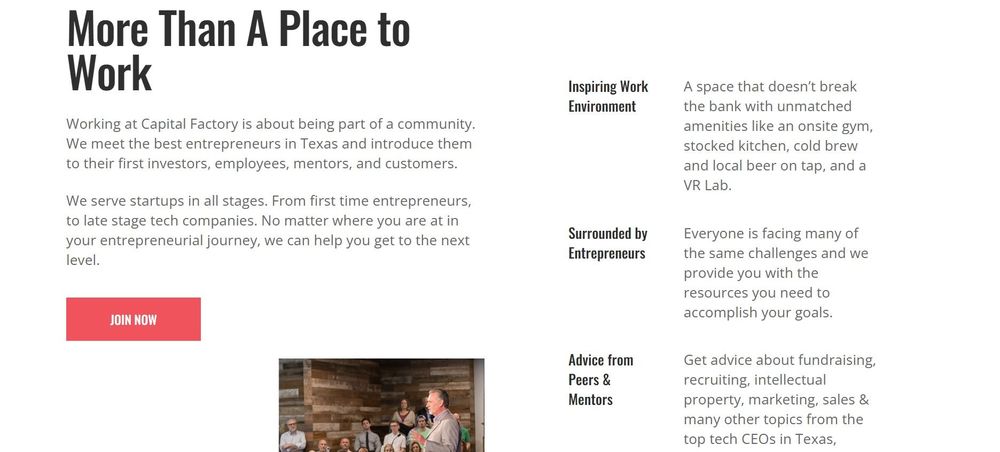 Capital Factory in Austin offers a unique blend of coworking and entrepreneurship in the state. The location has a great reputation for its events and its ability to help fellow entrepreneurs and startup owners to connect with business minds alike.
The space generally tends to those in the tech community and it is created in such a way as to be a working community rather than simply a coworking space. Capital Factory creators state their intention is to allow service users to meet investors, employees, mentors, and customers within the space and through the location's events and networking opportunities.
There are different levels of membership with the Capital Factory, and these determine the services and mentors you have direct access to and how you can make use of them. There are Community, Dedicated Desk, and Dedicated Office packages, which operate in a ranking system from least to most access granted. The Community package is for virtual users, and the latter options offer 24/7 keycard access to the physical location.
Price: Community from $250/month, Dedicated Desk $600/month, and Dedicated Office $2,100/month
Location: 701 Brazos Street, Austin, TX 78701
7. Vessel Coworking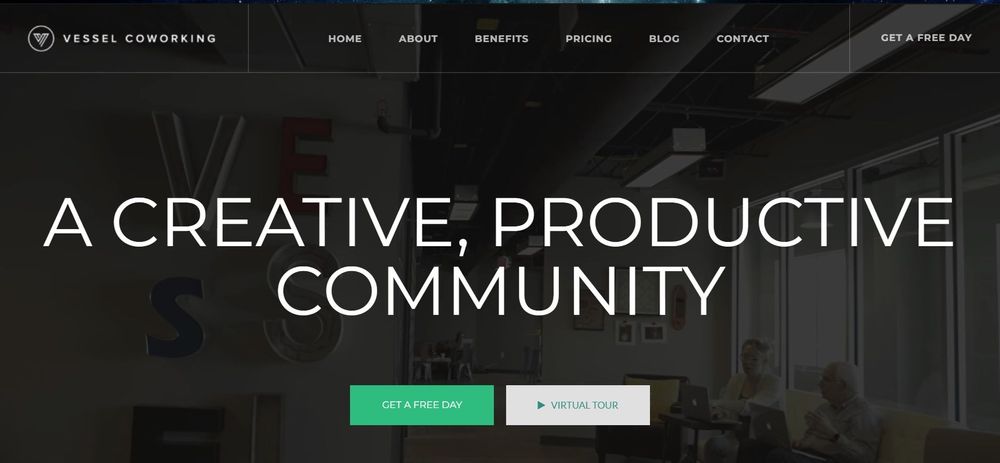 As opposed to the dynamic and entrepreneur-focused additions to our list, Vessel Coworking is a more relaxed and calm working environment. There are private phone booths, spacious shared working spaces, a big conference room, and coffee/snack options on tap. You can get access to the space 24/7, and it is a secure building. For somewhere you can both relax and work, this is it.
Vessel also has a very flexible approach to the packages they offer. There are many ways in which you can enjoy coworking here. There are day passes available, team packages, mailing service only options, flex seating, and dedicated desk choices too. Whatever way works best for you is on offer here. You can also make the most out of the offer for a free day trial, too, so you can check that you really do love the place before you sign any forms.
Chilled but professional, that's the vibe here.
Price: Team packages POA, Mailing address $30/month, Day pass $25/month, 2 days a week $195/month, Flex seating $275/month, and Dedicated desk $375/month
Location: 500 E St Johns Ave Suite 2.620, Austin, TX 78752
8. Createscape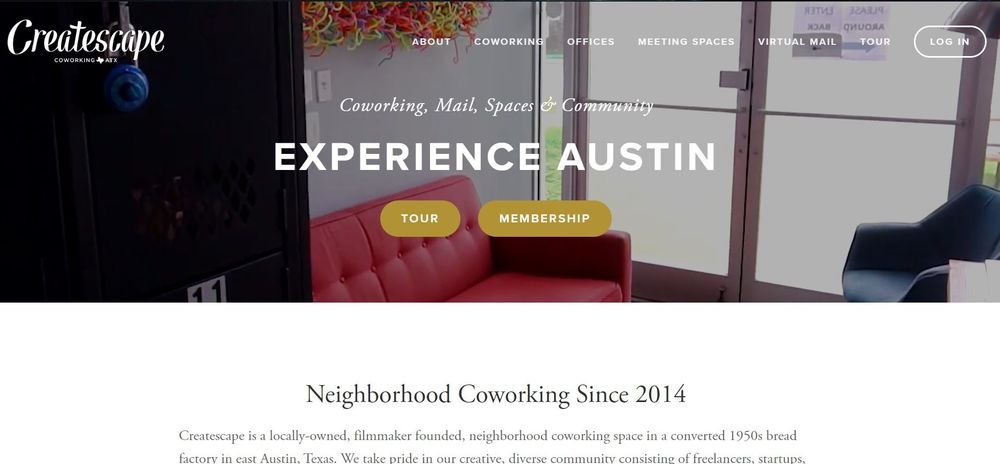 Createscape is the ideal coworking space for creative professionals, especially those who work in photography and film. A variety of equipment rental options are available, as well as designated desks, private offices, and meeting spaces. There are also after-hours events, happy hours, and other opportunities for some creative mingling.
This spot is a really interesting and unique one on our list. It is a dog-friendly environment with its own grocery store. It also has 24/7 access, so it works for creatives who get their inspiration at all hours of the day.
The pricing options for Createscape are also some of the most flexible we have seen on our list, providing more flexibility for your schedule and needs. Createscape understands that all freelancers and remote workers function differently, and they have catered for this in their format.
Somewhere very special indeed.
Price: Day pass: $25, part-time coworking: $100-$120/month, Full-time coworking: $200-$230/month, designated desk: $300-$350/month, and private offices from $900/month
Location: 701 Tillery Street #12, Austin, TX
9. Tech Ranch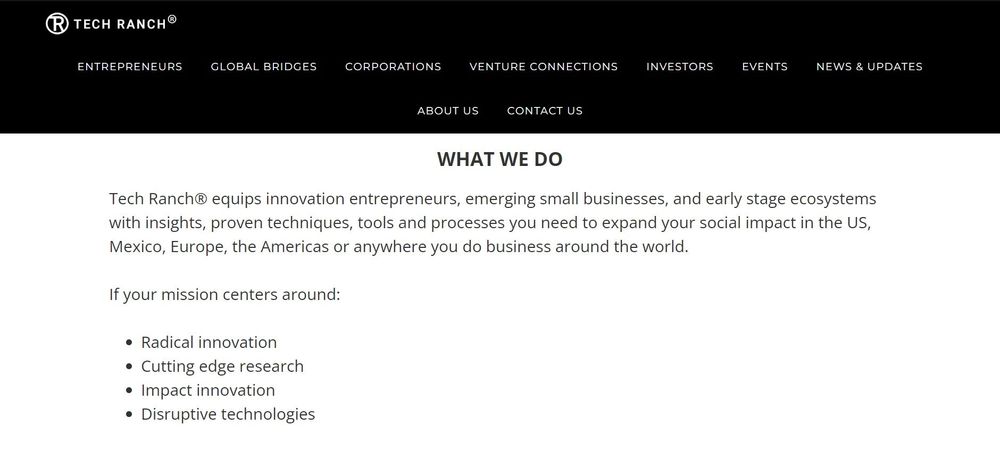 Tech Ranch Austin is part of a startup and entrepreneur community. It is a coworking space that allows you not only to carry out your normal work but also to grow and develop through networking, mentoring, peer learning, and workshops.
Tech Ranch is a big believer in helping people to get started with their business, and so they have some great offers, including free Fridays two weeks a month for beginners. If you are new to coworking and freelance life, Tech Ranch is a great place to begin your journey.
For your first steps in shared working spaces, this is the perfect option in Austin.
Price: Ranging up to $375/month
Location: 8920 Business Park Dr. Suite 250, Austin, TX
10. Relay Coworking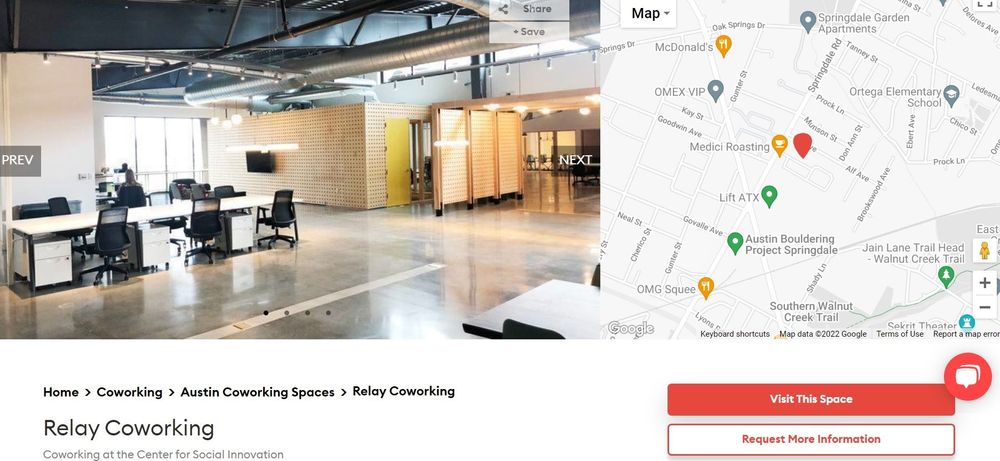 If you like amenities and high-quality services with your coworking office, you are in luck with Relay Coworking. This state-of-the-art space has free Car2Go parking, fiber optic internet, fitness classes, 24-hour access, and onsite options for food and drinks. You won't have to leave the building for anything you need or want throughout your working time.
Standing at an impressive 10,000 square feet, Relay Coworking has plenty of flexible room for working and meeting others. You can have private office space or group-working space, depending on what works for you day to day. Their pricing includes flexible options for hotdesking or designated desks, depending on what you prefer.
Whatever kind of freelancer you are, you can find your place at Relay.
Price: Flexible desk options: $325/month, dedicated desk: $450/month, private studio: starting at $1,500/month
Location: 1023 Springdale Road, Building 1, Suite J, Austin, TX
11. Work and Woof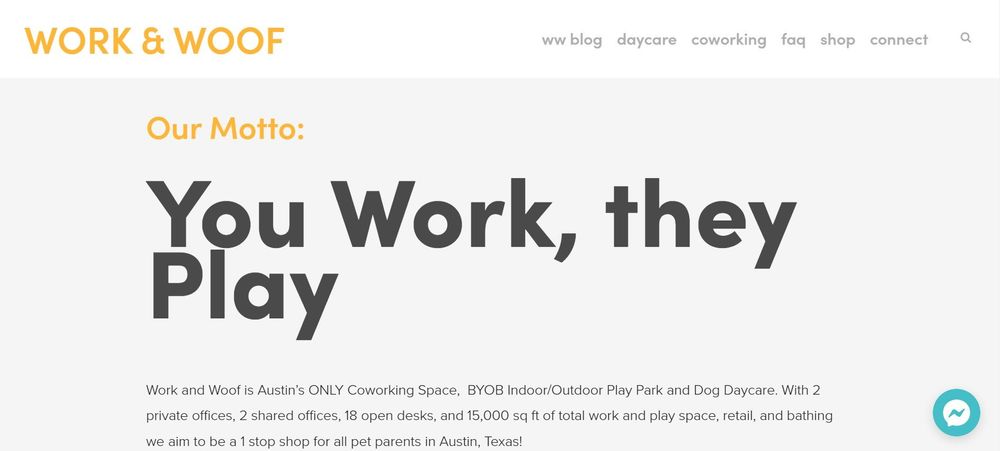 Got a dog and some remote work to do? Work and Woof is the perfect coworking spot for you and your furry companion.
Work and Woof is a 15,000-square-foot coworking space with a range of amenities and luxuries for dogs and their owners. As well as working in their open desks or private offices yourself, your dog can avail of a play park and free dog sitting. Yes, free dog sitting. This means that you can really focus on the work you have to do without being distracted by your dog and its needs throughout the day. But you also don't need to be far away from them or worry about them at home. This provides the perfect solution for dog owners.
The coworking location is comfortable, relaxed, and B.Y.O.B. Pretty great, right?
For something that really stands out from the crowd and that answers a lot of your own problems, this is the one.
Price: Day pass: $30, hot desking $400/month, five pass-pack for $125, ten-pass pack for $200
Location: 4930 S Congress Ave Building A, Austin, TX 78745
12. Fibercove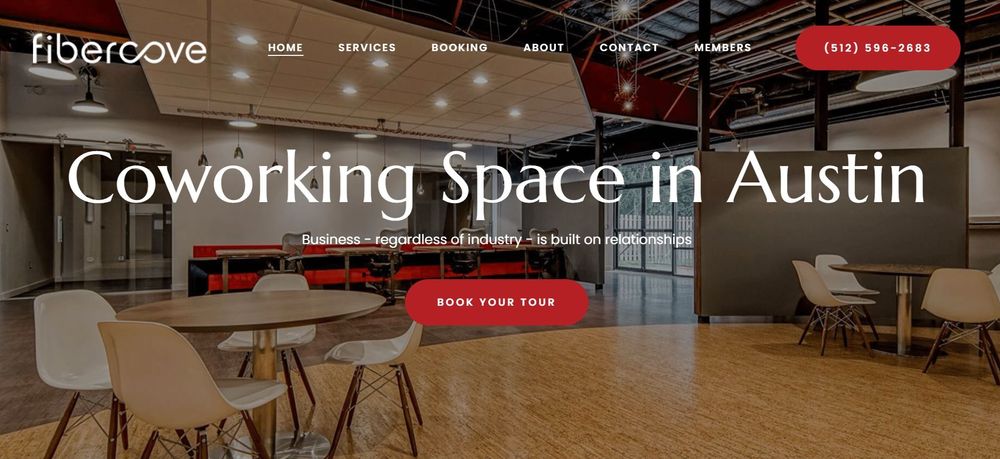 For the final entry on our list, we have Fibercove. Fibercove is a simple and timeless coworking location that allows you to get your work done with no fuss or frills. The office space itself is filled with natural light, soft decor, and office equipment that is available to use.
You can work solo, or you can work in a private office space with others. Whatever works for your particular work can be supported in Fibercove. There is no particular job type or role that is better suited to the space; it is whatever works for you.
The location saves you a lot of hassle during the day, too, with a self-serve cafe available to all, high-speed internet, and their very own beer tap. There is certainly no inconvenience or stress to be had here.
Price: Day pass: $35, monthly membership $400 upwards
Location: 1700 S. Lamar Blvd #338
Final thoughts
Well, what did you think?
We hope this list of the very best coworking spaces in Austin has provided you with some great new options for your new spot to work. Everyone needs somewhere they can rely on to knock out some productive work hours, and hopefully, this list has given you some idea of where to look!
There is so much fun, connection, and good work to be found in coworking spaces...and in Austin. So get out there and find it!
And as your independent business grows, you'll need a way to organize and manage your work in one place. Indy has productivity tools that help make freelancing simple, such as proposals if you want to turn leads into clients, contracts to help you protect your work, and invoices to get paid fast. Try Indy today for free!