Brighton is a seaside city popular with students, families, and professionals – not to mention one of the most attractive locations in the region.
Within Brighton's eclectic mix of people and shops, you'll also find a vibrant coworking community made up of freelancers, entrepreneurs and small business owners. This is why there are so many unique coworking spaces in Brighton offering dedicated desks, private offices, meeting rooms, and phone booths! That, plus high-speed broadband and free coffee, of course.
At Indy, we understand networking is an essential part of every freelancer's life; this is why we have prepared this guide containing all the options for working alongside others here. So, let's take a look at the best Brighton coworking spaces and what makes them unique.
1 . Spaces - Brighton, Trafalgar Place
Source: Spaces Trafalgar Square
Spaces Trafalgar Square is a calm and creative place in the heart of Brighton's south coast. This coworking space is very easy to find; just five minutes from the railway station and near excellent restaurants and cafes. If you need a break, the beach is also just a few steps away and, if you want to do some shopping, you can go for a walk on the Lanes, too. Spaces Trafalgar Square's perks include four meeting rooms, super fast WiFi, showers, a coffee and sandwich bar, breakout areas, showers, and 45 parking spots.
2. Projects Beach
Source: Projects Beach
Projects Beach is a coworking community with curated workspaces and serviced offices in Brighton. Situated just moments from the beach, this space offers several membership options (including day passes) to support creativity, productivity, and wellness. The innovation hub is distributed on four luxurious floors that include serviced offices, meeting rooms, event rooms, and even a wellness studio. Other amenities include showers, a roof terrace, phone booths, a quiet room, bike storage, and state-of-the-art tech facilities.
3. Plus X Brighton
Source: Plus X Brighton
Plus X Brighton is a seven-story innovation hub ideal for anything from freelancers to corporates. This space supports several innovation programs, design workshops, media suits, podcast studios, meeting rooms, hardware and prototyping workshops, and event spaces. Its well-being services also include yoga classes and a nutritional cafe. You can try this attractive working environment using a desk membership or move into one of Plus X's office spaces (which can fit 3 to 150 people).
4. Regus Coworking Space Brighton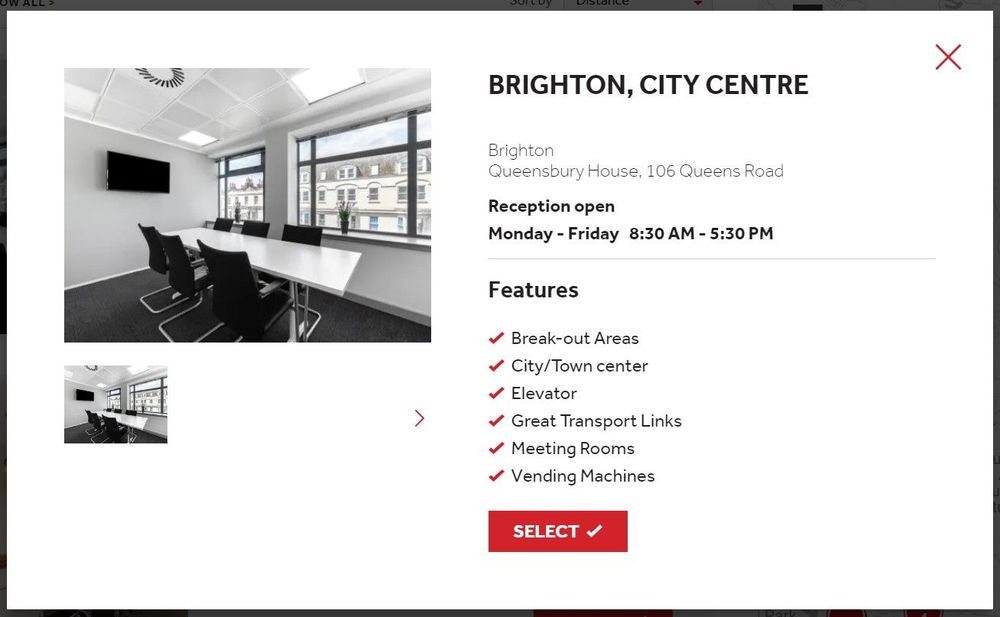 Source: Regus
Regus offers private office space in Brighton. There are two locations: Queensberry House (on Queens Road) and Mocatta House (on Trafalgar Place). Both offer serviced offices with everything you might need as a freelancer, start-up, or medium-sized company, from high-speed WiFi to all furniture, as well as flexible terms so you can rent spaces from an hour to years. You can also customize your office with your own branding and layout.
5. PLATF9RM
Source: PLATF9RM
PLATF9RM is a joyful, colourful, and thoughtful reimagining of work. This stylish coworking location offers private offices and shared spaces ideal for freelancers, flexible workers, and work-from-home fugitives. It's also an excellent choice for start-ups, scale-ups, and satellites. There are also frequent community events, workshops, and wellness activities like yoga, boxing, and wine tasting. PLATF9RM has a good variety of memberships (including day passes) to meet your specific needs.
6. The Skiff
Source: The Skiff
The Skiff is Brighton's oldest coworking space and one people keep returning to – for a good reason! The Skiff doesn't do private offices; they are all about the individual and the individual needs. For example, there's the Engine Room, where you can join others and adapt the layout of the tables to what works for you. There's also the Skiffmates Mess (a dedicated social space), the Sail Loft (a quiet space with no phone calls allowed), a meeting room, and phone booths. People here are friendly and motivated, and you'll find plenty of spaces to meet others and hang out.
7. Brighton Junction
Source: Brighton Junction
Brighton Junction is a modern coworking centre with floating desks and office workspaces available to anyone who wants to make a positive impact (particularly social enterprises, charities, non-profits, ethical businesses, and community organisations). Their offices can fit 2 to 15 people and range from 13m² to 72m² in size. All offices have natural light, and there's 24/7 secure access, bike storage, kitchen facilities, and a communal garden. Brighton Junction is situated at the base of the eco-village One Brighton, which has plenty of cafes, restaurants, and shops.
8. WRAP Brighton
Source: Wrap Brighton
WRAP Brighton is a rather unique coworking space because, unlike many of its counterparts, it actually offers childcare. So, this can be an excellent option if you're looking for a way to improve your work and life balance. WRAP offers several work modes, from shared coworking spaces to fixed desks, meeting rooms, and private offices. Members get priority access to the WRAP nursery, 20% off food and drinks at the cafe, 10% off events, and 24/7 secure access so you can work on your own terms. Plus, there's a roof terrace, breakout areas, private phone booths, and quiet sitting places.
9. Barclays Eagle Labs Brighton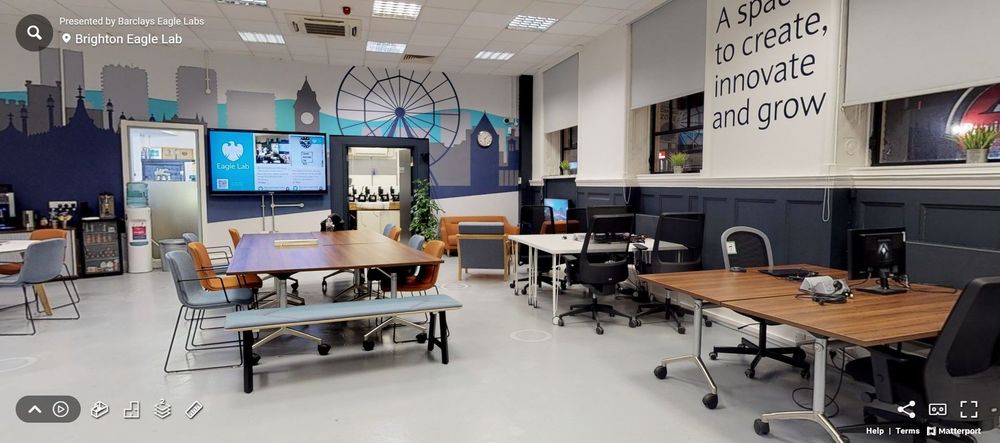 Source: Eagle Labs Brighton
Barclays is committed to investing in the future of Brighton, so they have opened a coworking space to accelerate UK scale-ups and support entrepreneurs and businesses. Their Eagle Labs promote innovative collaboration and enable access to new and emerging technologies. You can buy day passes for hot desks or join part-time or full-time memberships. Eagle Labs' facilities include superfast WiFi, complimentary refreshments, a kitchen, bike storage, lockers, meeting rooms, printing facilities, showers, and event space. Many growth programs, investor connectivity, workshops, and mentoring, are also available.
10. Serendipity Meeting Room
Source: Serendipity Meeting Room
Serendipity is an innovative environment designed for holding board meetings, workshops, team training, and catch-ups. This stylish and contemporary coworking space is in the heart of the Lanes and can be accessed through a secret door within the popular 'Franco's Barbers' shop. The space offers a large rustic wooden table and comfy chairs for up to 8 people. There's also an additional chill area (ideal for smaller gatherings or interviews) and tea and coffee-making facilities. Serendipity includes secure superfast WiFi connectivity and unisex WCs.
12. WERKS Coworking Spaces
Source: WERKS
WERKS provides dedicated offices, maker spaces, coworking areas, meeting rooms, music studios, and more for creative individuals and businesses in Brighton. WERKS has a vibrant community and locations across ten different areas of the city; many of them including creative cafes, receptions, dedicated desk spaces, and meeting rooms. If you're looking for a coworking space that can boost your creativity and expose you to valuable collaboration opportunities, these Brighton spaces are open 9 to 5, have super-speedy WiFi, and offer on-site printing services.
13. The FuseBox
Source: The FuseBox
The FuseBox is a collaborative R&D space for creative technology innovators and businesses. This coworking space offers residencies that allow you to become part of a thriving community and connect with other tech visionaries. The space welcomes individuals, start-ups, and any company or group that wishes to develop new digital products or services. With a residency, you will be able to access their central Brighton Hub and Immersive Lab, attend community events, and get expertise and support for your creative enterprises. The FuseBox is just a 5-minute walk from Brighton Station and the North Laine. You can use hot desking, private pods, demo spaces, meeting rooms, and workshopping areas.
14. Brighton Eco Centre
Source: Brighton Eco Centre
Brighton Eco Centre is an eco workspace located near the Brighton seafront. The offices here are available for individuals and companies wishing to make a positive impact, such as social enterprises, ethical businesses, non-profits, and charities. This space, which is 234m², also has a beautiful and secluded communal terrace garden for all members to enjoy. You can use a wide range of meeting rooms, and there's a wide selection of cafes and restaurants in the area (not to mention the seafront is just a short walk away).
15. The Wings Workspace
Source: The Wings
The Wings is a workspace designed for parents with children attending nursery or school (although this is not a requirement as the facilities are open to anyone who needs a quiet space to work). All bookings include complimentary Hoogly tea, and you can book as many visits as you want in a day or week. The Wings is open from 8 am to 6 pm, and all you need to use the nursery is to register and book first. This coworking space also includes a Nest Playgroup and a toddler gym.
16. BizSpace Hove
Source: BizSpace Hove
BizSpace Hove Business Centre is an ample coworking space providing business accommodation to all types of organisations and companies. BizSpace offers offices to rent, studios, light industrial units, and storage or mailboxes for those who need temporary or shared space. The Hove building used to be a boy's school and still keeps a lot of its original character (albeit it has been modernised to the comforts of the 21st century). All units are available under a one-page licence, so you can choose how long you want to stay. Plus, you get a great community atmosphere and excellent transport links.
17. CoWorking at St Julians Hall
Source: CoWorking at St Julians Hall
St Julians Hall is right opposite Shoreham Harbour. This rather impressive coworking space in Brighton has a large, open environment, a parquet floor, and a vaulted wooden ceiling with remarkable views of the harbour. St Julians doesn't only offer a place where you can work; there's also everything you need to prepare tea or coffee, sofas, and a charming historical environment. You can rent a designated full-time desk or get a part-time desk.
18. JetSpace
Source: JetSpace 23 Grand Parade
JetSpace offers serviced offices and office accommodations in Brighton and Shoreham. These are tailored to growing and established businesses on the south coast and are all-inclusive, meaning you will get everything you need before moving to a larger space. JetSpace is in the city centre and close to Brighton Station and services such as GWR, Gatwick Express, and Thameslink. All office spaces are flexible. At the time of writing this article, JetSpace has two main offices: 23 Grand Parade and Hangar 4 in Brighton City Airport.
19. The Studio Yard
Source: The Studio Yard
The Studio Yard is a workshop, studio, and creative coworking space just ten minutes from Brighton. This location offers all the tranquillity of a rural setting (as it's situated in what used to be the stable yard of a working farm) with the latest comforts and technology. The available spaces have stunning views all around and wildlife right on the other side of the door. In the coming months, the Studio Yard plans to open new opportunities for art group meetings and crafts workshops.
20. Bonus: Wired Sussex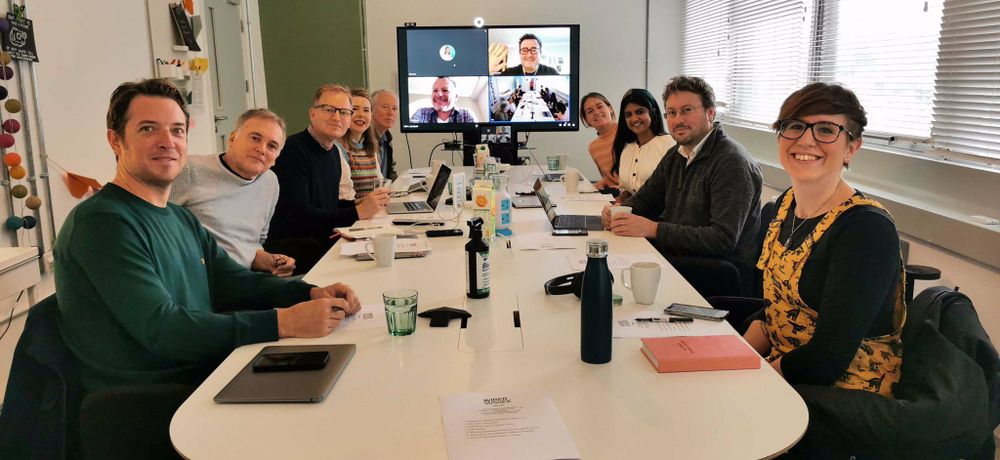 Source: Wired Sussex
While not a coworking space per se, Wired Sussex is based in Brighton and supports the area's digital, media, and technology sectors. This regional network gathers thousands of freelancers and companies and has agreements with various workspaces, innovation hubs, and offices so you can create, innovate, and grow your business. Plus, you can search for a job (and post your own) and connect with hundreds of people who are also working towards independence and success.
Coworking in Brighton: Final thoughts
With so many options available in Brighton, choosing the best coworking space can feel a little daunting. Some things to consider include the work mode (floating desks, private offices, etc.), as well as the atmosphere and the aesthetics of the place. Of course, location matters, too, especially when the beach is so close! It's always a good idea to ensure the coworking space you're interested in offers day trials (most do), so you can get a taste for it before committing to a long contract.
Once you've picked your preferred coworking space in Brighton, make sure you have a system that can help you keep your work organised. Indy has all the tools you will need to manage your freelance business – from contracts and proposals to invoices and time tracking. Check out how Indy can help you grow your business.