The city of Indianapolis fosters a culture of innovation and advanced technology. This exciting trend continues with the increasing popularity of coworking spaces. Entrepreneurs, freelancers, and remote workers love working in these collaborative workspaces where they can bounce ideas off each other and grow their businesses.
However, with so many coworking spaces in Indianapolis, finding the right fit can feel overwhelming. Never fear; we've done the hard work for you. At Indy, we've made a list of the best coworking spaces. We've covered all types of places where you will find everything, from a dedicated desk in a shared space to a private suite.
The top 12 coworking spaces in Indianapolis
Recent estimates show that over 1 million people work in coworking spaces across the U.S., which is only increasing. The appeal is clear. For an affordable price, you get access to high-speed internet, conference rooms, and other amenities perfect for productivity and collaboration.
Check out our best 12 picks of coworking space in Indianapolis:
1. Cowork 1010
If you're looking for an affordable workspace that offers more than your standard office setting, look no further than Cowork 1010. This great place in the heart of downtown Indianapolis provides everything you need to get work done and then some.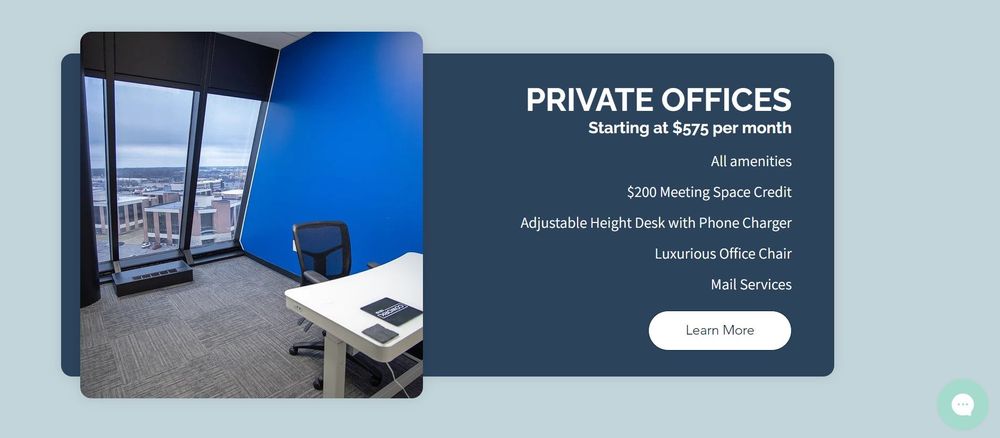 Cowork 1010 is home to an active, diverse community of seasoned professionals representing various industries. Enjoy complimentary Wi-Fi, ergonomic furniture, and high-quality conference rooms designed with productivity in mind. You will get everything from dedicated desks to private offices and a place to host a quick meeting.
The good location and inspiring atmosphere make it easy to have a great workday every day. Plus, collaborating and connecting with other members will boost your creativity and business.
For an energizing workspace on a budget, Cowork 1010 is an excellent choice. Drop by or get a virtual tour to see why remote workers and entrepreneurs love calling it their office.
Location: 3500 Depauw Blvd, Suite 1110, Indianapolis, IN 46268
Price: Starting from $99/month
2. The Speak Easy
Is the daily grind getting you down? Escape the gloom of your home office or Starbucks squatting by joining Speak Easy. This innovative coworking space in Indianapolis is where freelancers, new entrepreneurs, and small businesses collaborate to work on projects.
With a sleek, functional design and shared and private areas, Speak Easy offers the ideal environment for impacting Indy's business scene. Entrepreneurs and freelancers can feed off the energy of other professionals in the open space, get feedback on their latest projects, and find new opportunities for collaboration.
To take your business to the next level, surround yourself with the right people to make that happen. A trip to Speak Easy will show you why it's the coworking space of choice for those shaping the future of Indianapolis.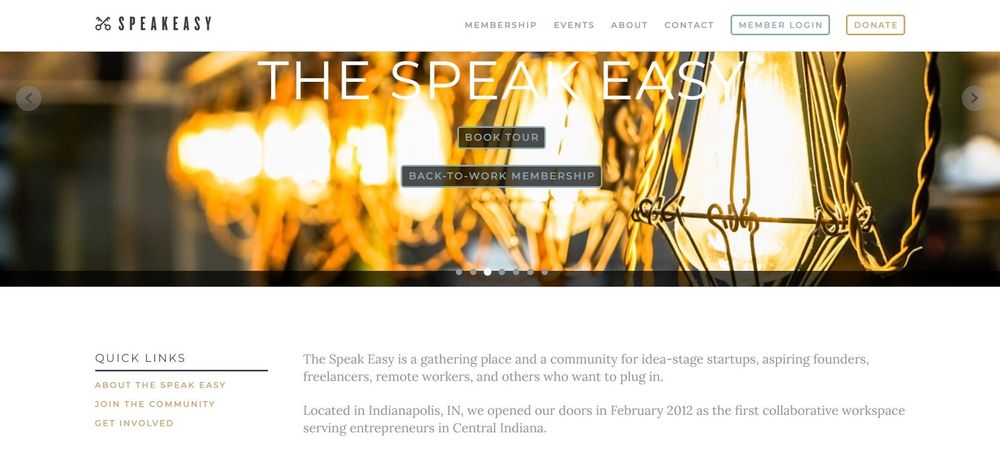 Location: 5255 North Winthrop Avenue, Indianapolis, Indiana 46220
Price: Starting from $75/month
3. Nexus Impact Center
Nexus Impact Center is the ideal place to grow your business. This beautiful space gives you access to everything you need to collaborate, create, and grow.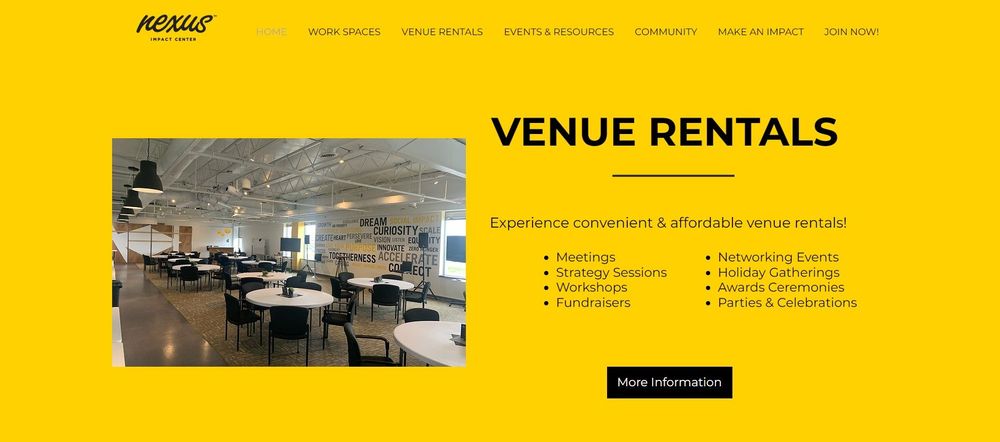 Enjoy unlimited printing as well as high-tech video conferencing and private meeting rooms. With the right mix of dedicated workspace, privacy, and cutting-edge technology at your fingertips, Nexus Impact Center allows you to work in a way that suits your needs.
The place has the space, tools, and the right price to help freelancers and new businesses achieve their goals.
Location: 9511 Angola Court, Indianapolis, Indiana 46268
Price: Starting from $75/month
4. Industrious at Massachusetts Avenue
If you're looking for a coworking space that goes above and beyond, Industrious delivers. The spot offers the modern amenities and top-notch service you need to get work done and thrive.
With flexible options, including shared desks, dedicated desks, and more, Industrious has the ideal shared office space for everyone. The open layout inspires creativity and collaboration, allowing you to connect with professionals from all walks of life.
What sets this coworking space apart is its commitment to wellness. Members can access a dedicated wellness room and deli with fresh, healthy snacks to keep them feeling their best.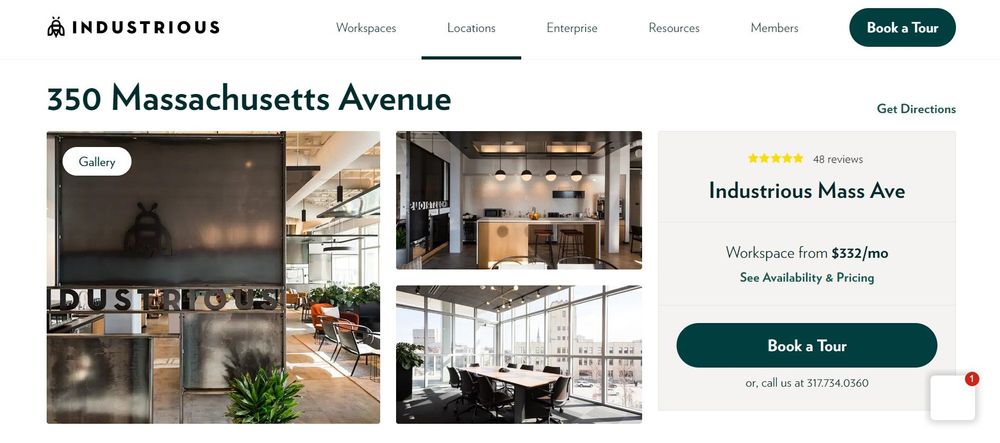 Whether a freelancer or an established business, Industrious provides the environment and experience to take your work to the next level.
Location: 350 Massachusetts Avenue, Indianapolis, IN 46204
Price: Starting from $332/month
5. The Haverstick
The Haverstick is a cutting-edge workspace designed to deliver an unbeatable experience. You will get all accessories, refreshments, and an ideal environment to get your creative juice flowing.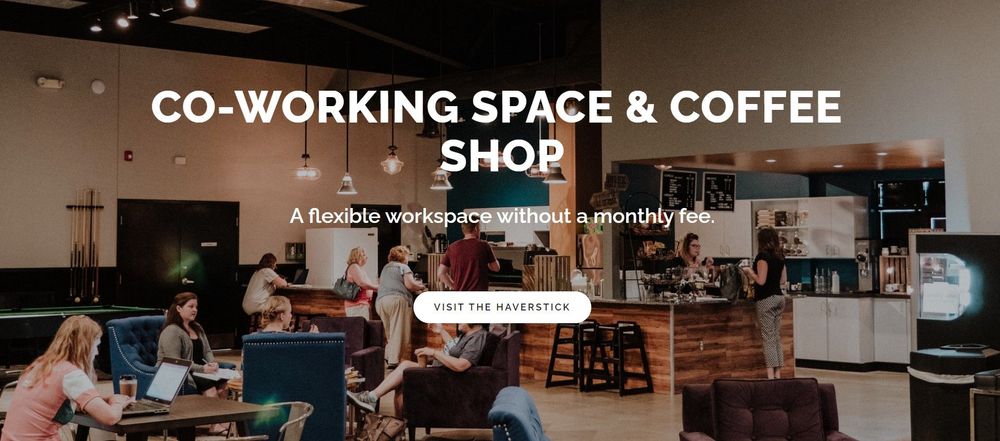 You can choose from different shared office spaces equipped with ergonomic desks and contemporary art on the walls to add an inspiring touch. Stay connected with high-speed internet whether you gather around a conference table or take a meeting outside.
However you work best, the Haverstick provides the amenities and atmosphere to make it happen. It'll give you the experience of a workspace redefining productivity in Indianapolis.
Location: 9111 Haverstick Rd, Indianapolis, United States
Price: Starting from $120/month
6. Expansive
What's in a name? For Expansive, formerly Novel Coworking Space, the answer is limitless growth and opportunity. This coworking community offers entrepreneurs, professionals, and small businesses the workspace and support to achieve more.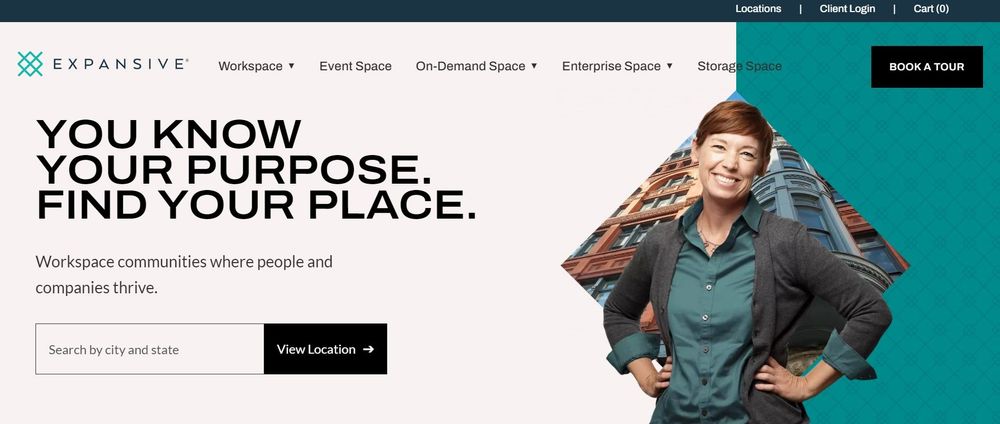 Make yourself home in private offices or dedicated desks, then watch your work and relationships expand. A professional yet comfortable environment fosters collaboration, creativity, and productivity.
Take a breather in lounge areas or the break room, utilize conferencing facilities and business services, and get help anytime from the attentive team. Expansive delivers whatever you need to keep you achieving your goals and feeling part of the community.
Location: 55 Monument Circle, Downtown Indianapolis
Price: Starting from $59/month
7. Switchboard
Ready to boost your business? Switchboard opens the door to your best work and beyond. This great community offers a full circle of services to fuel the growth of entrepreneurs and freelancers.
With a modern touch and unbeatable amenities, Switchboard is the ultimate launchpad for your business. Choose from 22 private offices or flexible workspaces. Brainstorm in meeting rooms, network in communal areas, and use top-notch technology and mail services.
Connect with fellow entrepreneurs and freelancers to spark new ideas and opportunities. Whether you're starting or scaling up, Switchboard provides the environment and helps to accelerate your success.
Location: 735 Shelby St, Indianapolis
Price: Starting from $25/day
8. Refinery46
Think you have to sacrifice comfort for productivity in a coworking space? Refinery46 begs to differ. Here, you have the freedom to work just how you like. You can work in spacious, light-filled areas with a variety of seating. Otherwise, nab a private office when the focus is a must.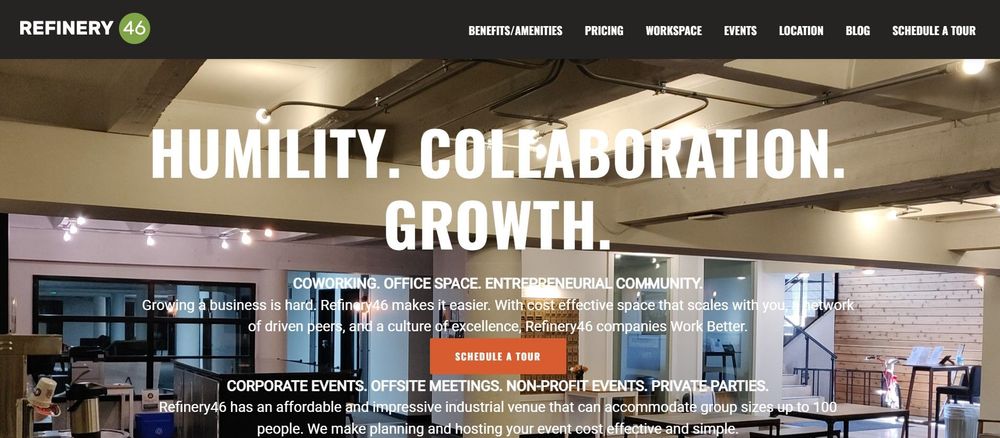 Get to business in high-tech coworking and meeting spaces, or take a short break in the lounge. With a fully equipped kitchenette, coffee shop, and after-hours events, everything is available to make the most of the 9-5 and beyond.
Whether collaboration or isolation is required, Refinery46 delivers the space and perks for your perfect workday. Discover the all-in-one spot that proves work and play pair better than you thought.
Location: 2201 E 46th St, Indianapolis
Price: Starting from $150/month
9. Regus Capital Center
When it comes to coworking spaces, few can match the experience and professionalism of Regus. For over 30 years, the company has been powering the success of startups and entrepreneurs with tailored business support and workspaces designed for productivity and growth.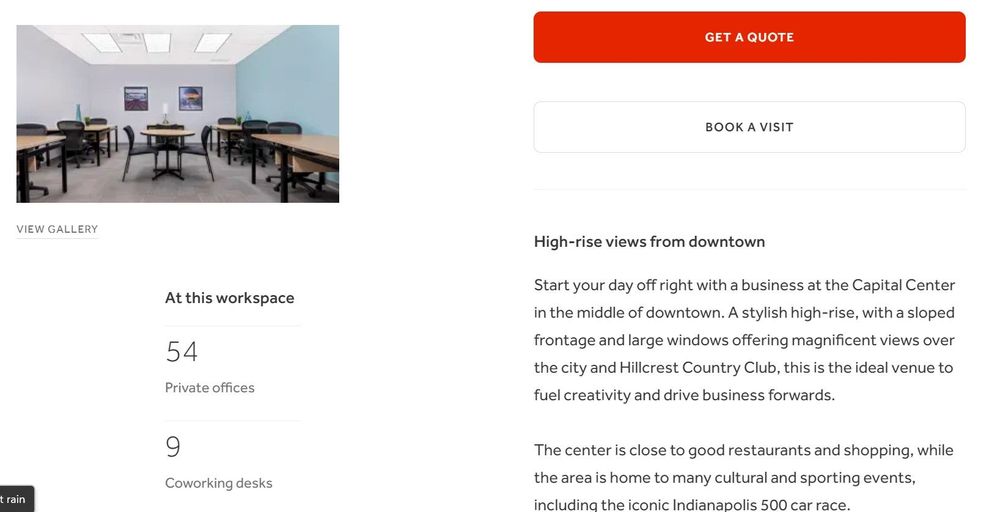 The Capital Center outlet has nine coworking desks and 54 private offices for all types of workers. Need to hold a meeting with your clients? Choose any of the three meeting rooms furnished with modern equipment and tools.
Enjoy premium amenities, including ergonomic furniture, unlimited refreshments, personal storage lockers, and high-speed Wi-Fi. Need professional services to take your business to the next level? Regus offers unbeatable support to help you meet your goals.
Location: 201 North Illinois Street, Indianapolis, IN 46204
Price: Starting from $299/month
10. COhatch Broad Ripple
Regarding coworking spots, COhatch Broad Ripple hits the sweet spot. Conveniently located in Indianapolis with ample parking, getting to the place is a breeze.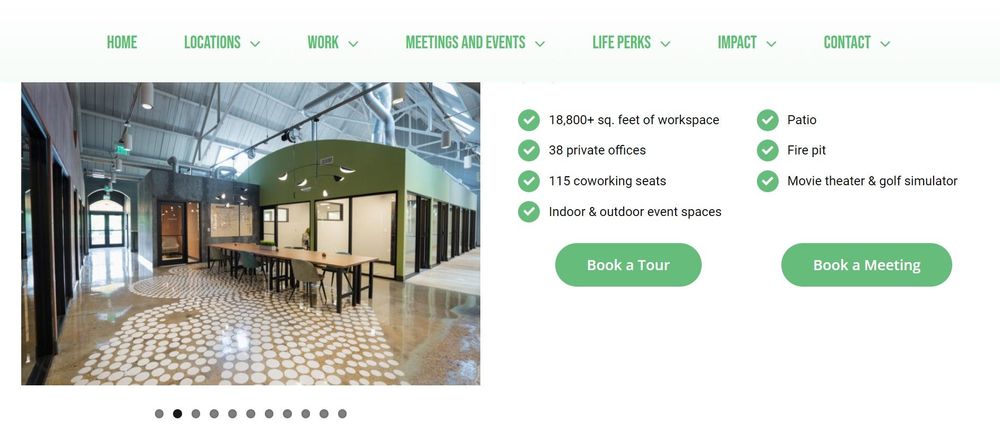 Inside, you'll find a thoughtfully designed space tailored to productivity. The open layout is flooded with natural light, and private suites ensure total quietness. However you work best, state-of-the-art facilities and ergonomic workstations support your flow.
COhatch makes meeting and connecting with others easily with meeting rooms and event spaces. A supportive community manager is there to take care of the problems you face. And when calls are a must, bring them to one of the phone booths for complete privacy.
Work at your peak in a space that gets it right. Experience the coworking community redefining your 9–5 at COhatch Broad Ripple.
Location: 6151 Central Ave., Indianapolis, IN 46220
Price: Starting from $99/month
11. VIP Center
The VIP Center is a space to thrive, by women, for women. The place delivers a coworking experience designed with businesswomen in mind. You'll find a distraction-free environment tailored to your needs and a community for professional business support.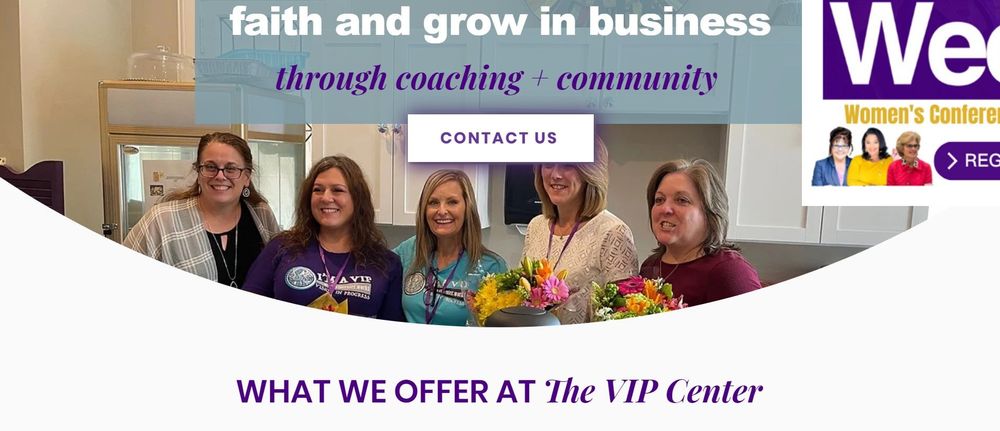 The coworking space has dedicated desks and private booths. Premium amenities and top-notch resources include Wi-Fi and conferencing facilities with all necessary tools.
Beyond the workspace, the VIP Center is a hub for connection and growth. Catch live podcasts and seminars or connect with like-minded women at networking, social events, and workshops. With dedicated event spaces and a calendar packed with inspiration, you'll always find motivation and opportunities to collaborate.
Location: 3755 N, Washington Blvd, Indianapolis
Price: Starting from $59/month
12. Launch Fishers
When it comes to coworking spaces, Launch Fishers goes above and beyond. This impressive 52,000-square-foot space delivers a perfect place for individuals and businesses at every growth stage.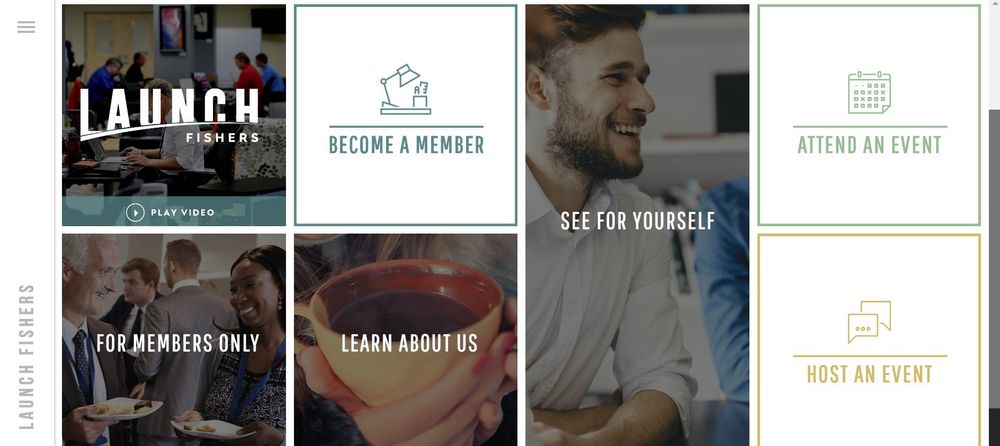 Choose from dedicated desks for heads-down work or communal areas to spark new ideas. Spacious, light-filled spaces and designer touches create an atmosphere as inspiring as it is inviting.
Amenities, including high-speed Wi-Fi, printing, and break areas, are on hand, so you have everything you need to thrive. The community of diverse entrepreneurs, freelancers, and companies is equally outstanding.
Whether starting small or scaling up, Launch Fishers does a fantastic job of providing the necessary facilities.
Location: 12175 Visionary Way, Fishers, IN 46038
Price: Starting from $100/month
Conclusion
Coworking spaces in Indianapolis are a great option for those looking for a professional and productive workspace. The city has abundant collaborative and innovative spaces for those looking to start, grow, or explore new opportunities in their career. Coworking in Indianapolis delivers an experience as unbeatable as the city itself.
And when you're ready to manage the business side with ease, Indy tools could be your best assistant. Our all-in-one platform makes it simple to create professional proposals and invoices, find your next client, collaborate, stay on top of finances, and more. We make it easy for you to focus on what matters: doing your best work.