Las Vegas is best known for its iconic strip and nightlife, but this lively and easy-going city is also a perfect location to develop your career as a freelancer or entrepreneur. Vegas has all the perks of a big city without making you feel instantly overwhelmed. Luckily, alongside casinos and restaurants, there are some excellent coworking spaces.
At Indy, we believe it's essential to find a location where you can do your best work and also network with other professionals. This is why we've created a list of the best Las Vegas coworking spaces and what they offer – from hot desks to private offices and meeting rooms, and of course, whether they offer complimentary coffee and snacks! So, let's get started.
1. The Coop Coworking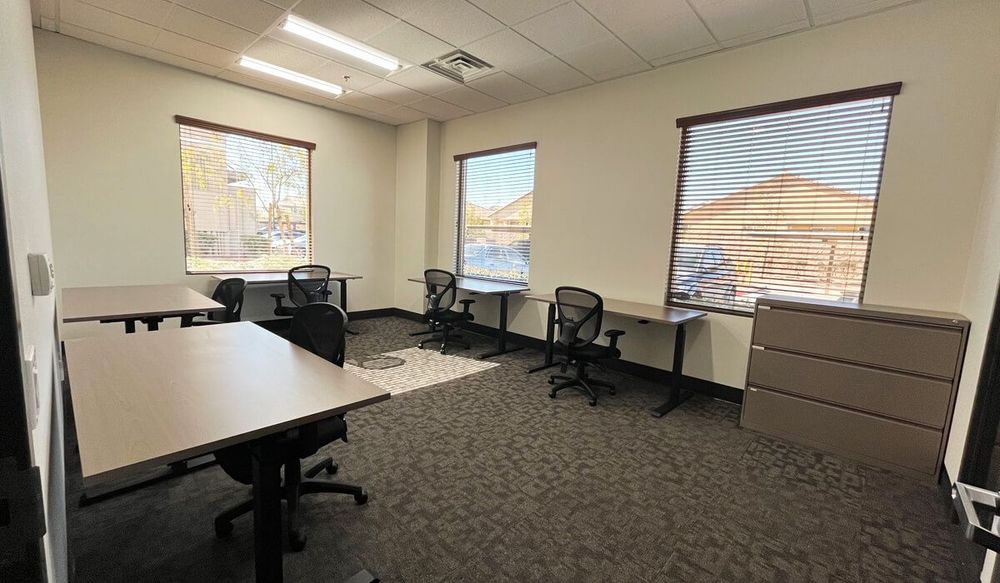 Source: The Coop
The Coop is a coworking space inspired by community, collaboration, and connectivity. This place has everything you need as a freelancer or small business owner to work more efficiently, including various flexible membership options and space you can book just for the day. There are open desks, dedicated desks, private offices, virtual offices, and four different meeting rooms you can use. Some of the amenities included in The Coop are projectors, food and beverages, locally roasted coffee, high-speed wi-fi, and comfortable seating. You can also pick from two locations in Vegas: Coop South (just a ride from the strip) and Coop Summerlin (which also has podcast and photo studios).
2. WeWork Two Summerlin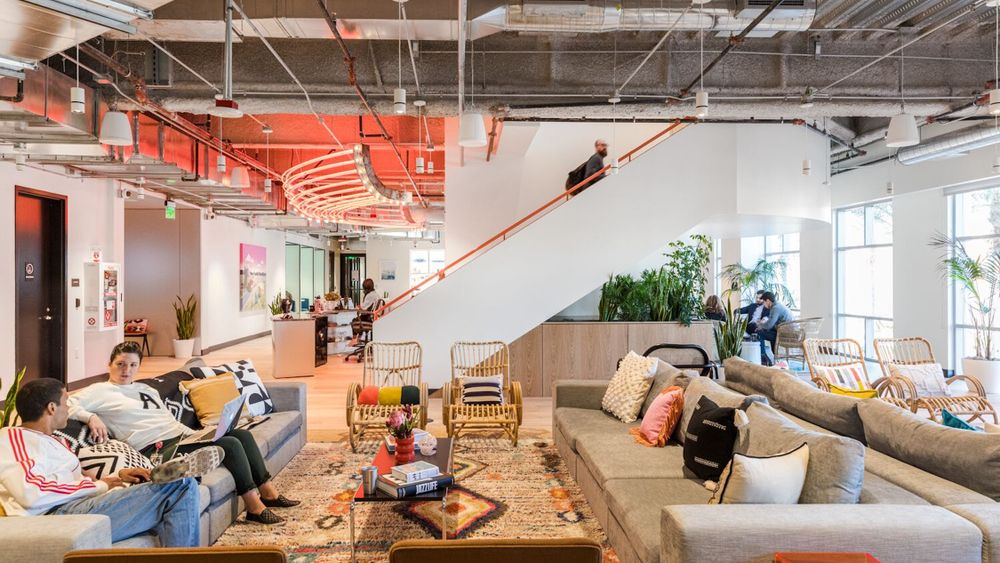 Source: WeWork Two Summerlin
WeWork Two Summerlin location is a coworking space right in Downtown Summerlin. Distributed on two floors, this WeWork office features a lounge filled with light, large conference rooms, dedicated desks, and sleek private offices. Some of its popular amenities include onsite parking, bike storage, a mother's room, a wellness room, event space, tech services, and cleaning services, all just down the road from the Pavilion Center. An overall great location for remote workers, freelancers, entrepreneurs, and small business owners.
3. Work in Progress
Work in Progress offers Las Vegas coworking, meeting, and private spaces you can pay month-to-month. Located right in the heart of Las Vegas, this is much more than a place to put down your laptop. Here, you can rent 24/7 access to coworking spaces, meeting spaces, private offices, and temporary desks. The amenities are just excellent, featuring everything from hot coffee to 3D printers! There's also a receptionist to welcome clients or guests, fast wi-fi, comfortable break-out areas, ping pong for members, and printers. Plus, kitchens, purified water, and a lending library.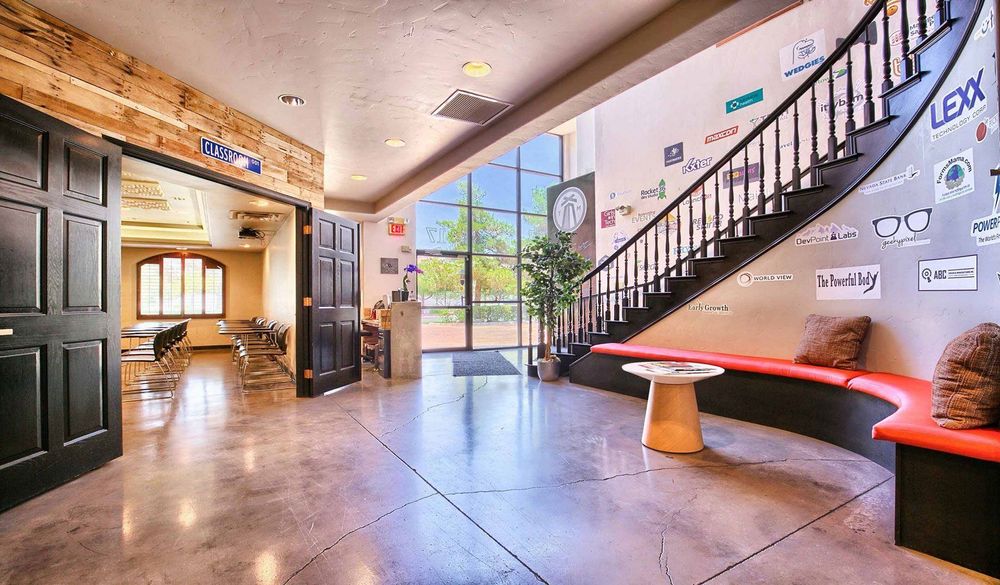 Source: Work in Progress
4. Comuna Coworking Space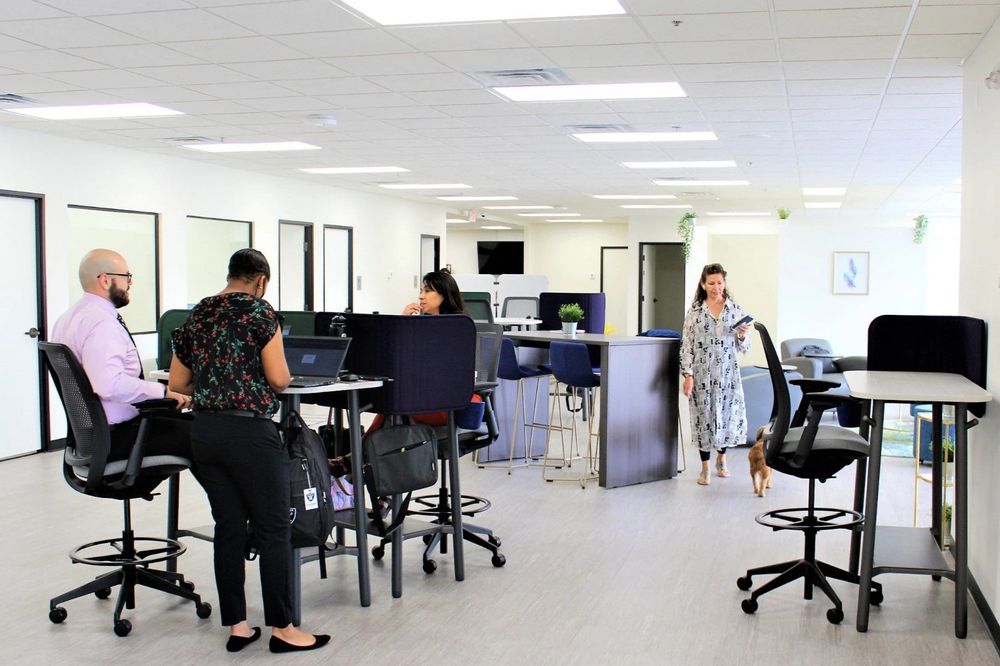 Source: Comuna Coworking Space
Comuna Coworking Space has office-like spaces you can rent by the hour, the day, or the month. If you want a quiet space to work, you can buy a day pass, grab some coffee, and join the communal lounge area. Or you can get a membership to have your own private office. Other spaces include large conference rooms to host meetings and workshops (via zoom, in person, or hybrid) and a versatile area to do events. All of these include high-speed internet, printers, a kitchen area, a relaxation area, janitorial services, utilities, and keycard security.
5. Social Commerce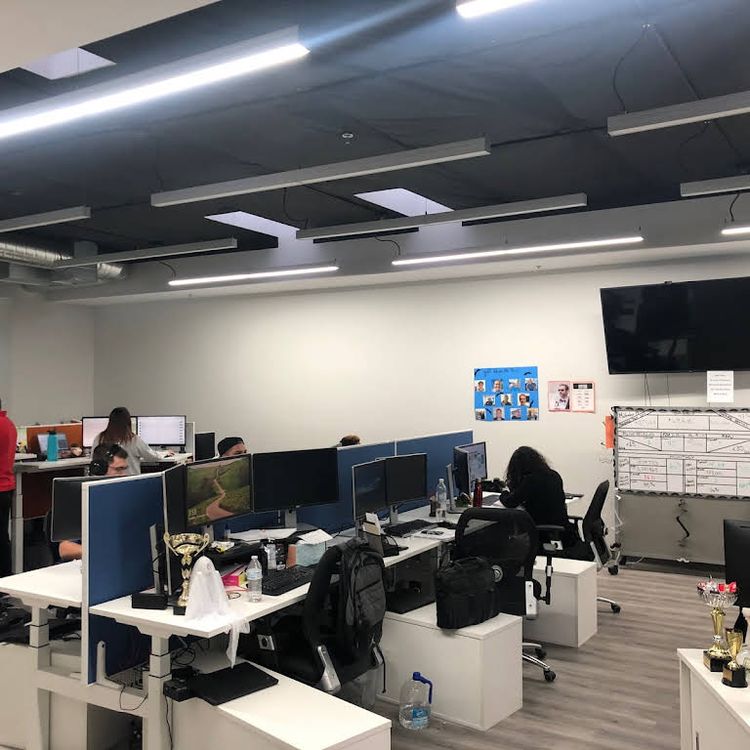 Source: Social Commerce
Social Commerce is a comfortable coworking space in Las Vegas that is open from 7 am. Social Commerce opened its doors in 2019 with the goal of catering to working professionals downtown. The state-of-the-art space, located on the corner of Bridger and Las Vegas Blvd, is 8,500 sq ft and has been recently renovated. Social Commerce had to close its doors during the Covid-19 pandemic but is now open for inquiries.
6. Pacific Workplaces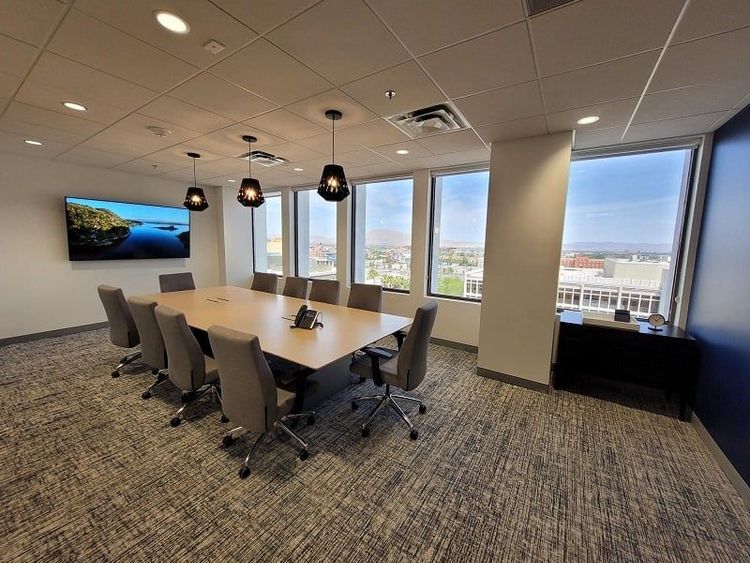 Source: Pacific Workplaces
Pacific Workplaces offers office space, coworking, and meeting rooms in Downtown Las Vegas. This flexible location offers a wide range of furnished mini-suites and offices that can accommodate up to twenty people. There are day passes you can use on your own or to host meetups, happy hours, and events. Additional services include ultra-fast internet, Zoom rooms, live-answering services, and virtual offices. There are also scanners, shredders, flat-screen displays, and all sorts of adaptors. Plus, if you join Pacific Workplaces you can access on-demand workspaces in over 1,000 locations worldwide!
7. Regus 500 North Rainbow Boulevard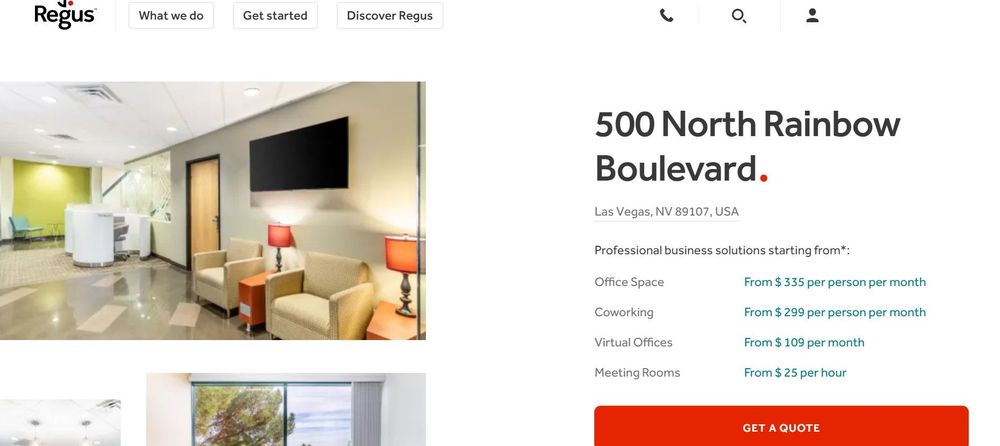 Source: Regus 500 North Rainbow Boulevard
Regus 500 North Rainbow Boulevard is a professional business solution coworking space with inspiring views of Mt. Charleston and the Vegas Strip. This location also offers easy access to the I-215 and I-25 freeways and is minutes from the airport. Here, you will find office space, coworking spaces, and meeting rooms available through different membership options. All of them include the use of break-out areas, global business lounges, phone answering, a reception team, modern, comfortable furniture, and an app to make bookings easy.
8. FeatherNest CoLearning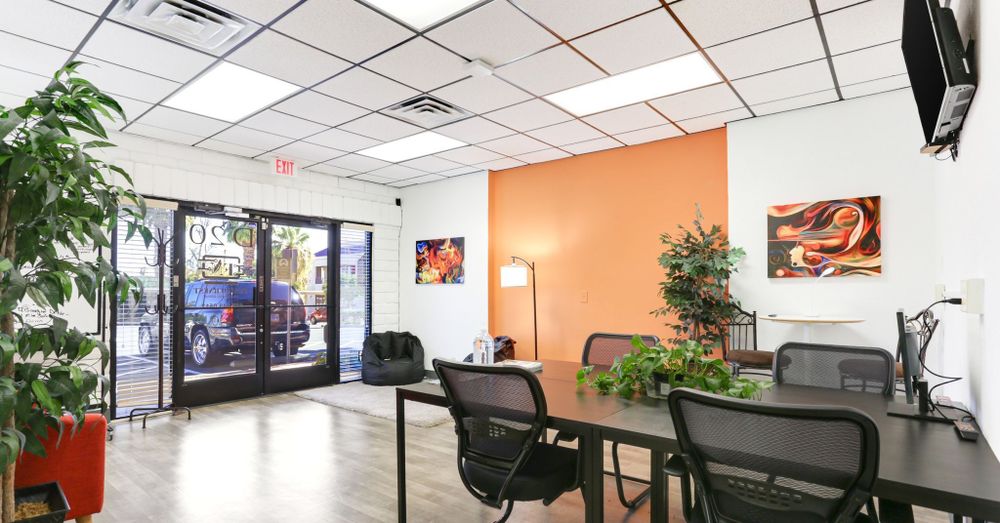 Source: FeatherNest
FeatherNest CoLearning Group offers coworking spaces for remote workers, students, freelancers, and small business owners. Some of this place's features include open-space desks with plenty of natural light, free coffee and snacks, high-speed wi-fi, casual seating areas, and access to collaboration spaces such as meeting rooms and event areas. All are conveniently located near Downtown Las Vegas and close to the Arts District and public transport. You can get day passes to use these coworking spaces or rent offices and rooms by the hour, the day, or the month.
9. Corporate Coworking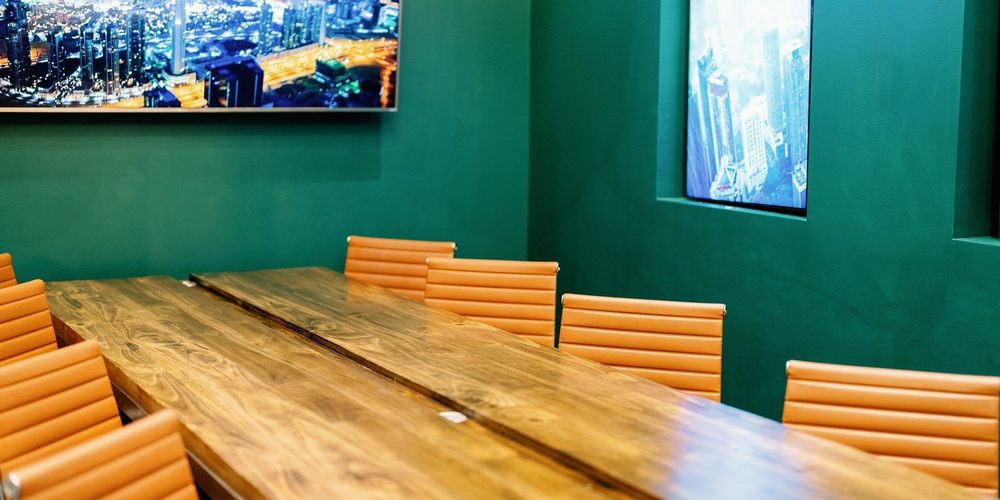 Source: Corporate Coworking
Corporate is a coworking community offering shared spaces, conference rooms, and event areas in Las Vegas. You can choose between hot desks, dedicated desks, private offices, and virtual offices (all charged by the month). You can also buy a day pass as an additional product. This space started as a not-for-profit project by five friends and digital nomads. Now, you can join Corporate and use any of the workstations specifically designed for freelancers, entrepreneurs, gig workers, and anyone who doesn't have a central office.
10. Premier Workspaces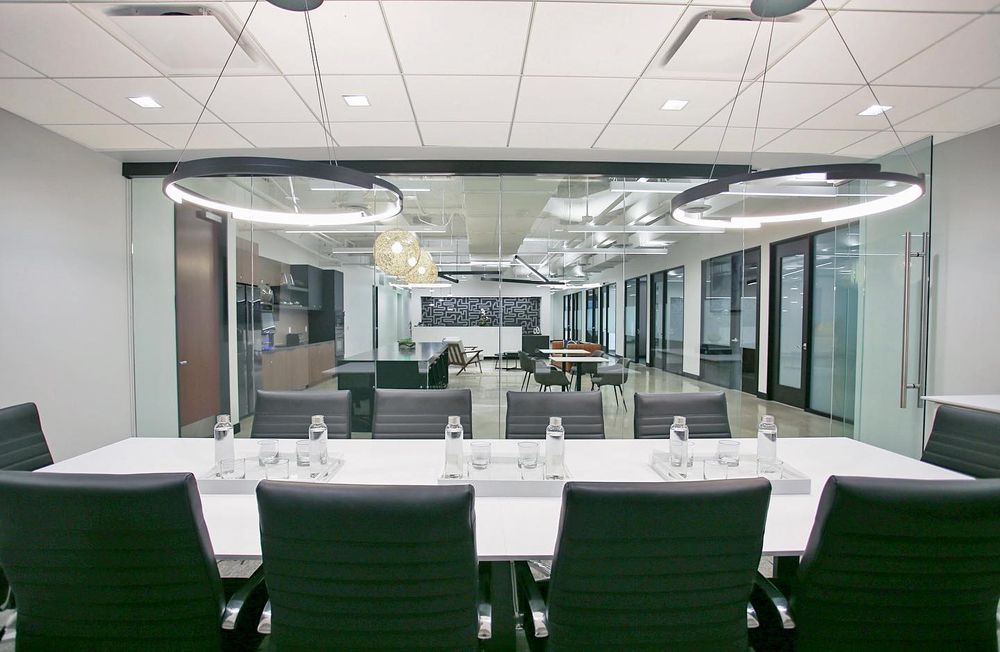 Source: Premier Workspaces
Premier Workspaces offers business workspaces and meeting rooms in the luxurious South Rainbow Business Park. This modern setting has private offices, virtual offices, and meeting rooms you can use by the hour, the day, or the month. Some of the building amenities (which come with all memberships) include furnishings, high-speed internet, telephone answering, professional address, mail collection, support services, and a fully-equipped kitchen.
11. Office Nest Las Vegas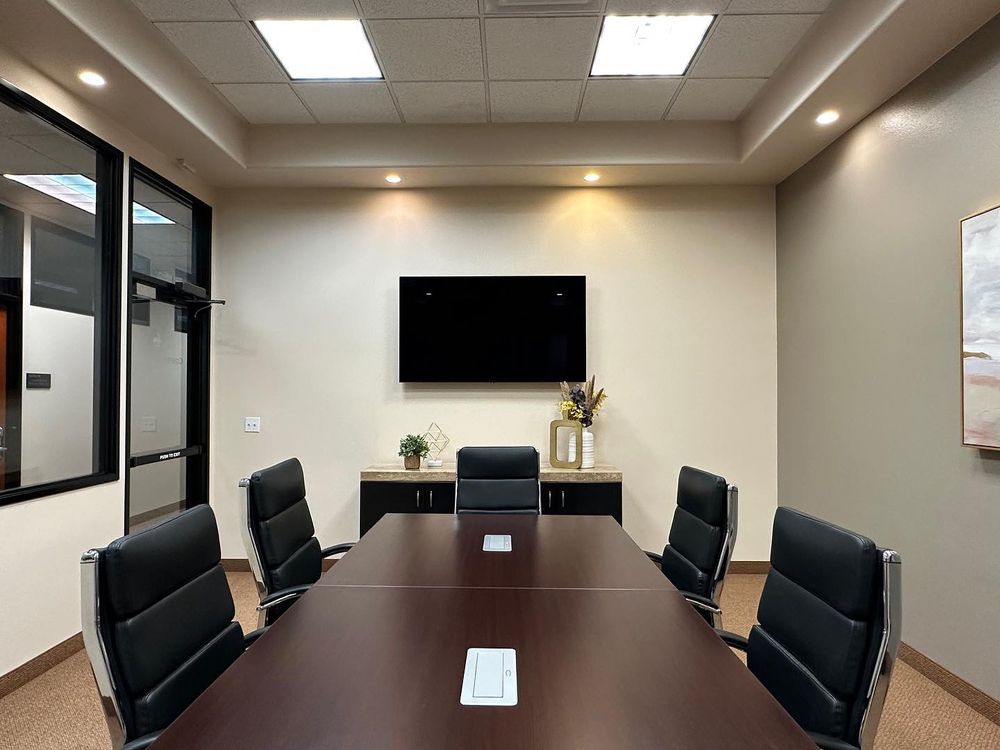 Source: Office Nest Las Vegas
Office Nest Las Vegas is a workspace designed to represent your business in the best possible light. To do this, they offer a diverse selection of solutions, including private offices with flexible terms and virtual offices. Their full-service executive suite offices include all the essentials, such as 24/7 secure access, high-speed internet, call answering services, meeting rooms, trained receptionists, copier access, and more. You also don't need to commit to long contracts; all the spaces can be rented as required. Office Nest has three locations: Las Vegas, Henderson, and Summerlin.
Coworking in Las Vegas: Final thoughts
Las Vegas is an excellent choice if you're looking for an affordable, mild-weathered, lively location where there's never a shortage of things to do. Now, it's your turn to pick the right space for you. Choosing the best coworking space can feel like a big task, but it doesn't have to be a stressful process. Just make sure you visit the spaces and check out what they have to offer. And don't forget to use a day trial to test the place before you commit to a membership!
Once you've found your ideal coworking location in Las Vegas, all you need to do is make sure you have all the tools you'll need to get stuff done. Here's where Indy can help. Indy includes nine tools to save time and money, including proposals, contracts, invoices, and time tracking. Check out how Indy can help you manage your freelance business today!