Leeds is not just a popular UK destination for travellers and tourists; it's also become a freelancer and entrepreneur hotspot. With cool suburbs, lots of independent coffee shops, a water taxi, and excellent connections to Sheffield, Manchester, and York, Leeds has everything you need to feel inspired and motivated.
At Indy, we value having a good coworking space where ideas can flow. This is why we've prepared this guide for freelancers, entrepreneurs, solopreneurs, and small business owners containing the best coworking spaces in Leeds (and what makes each worth a visit). Let's jump right in!
1. Regus Park Row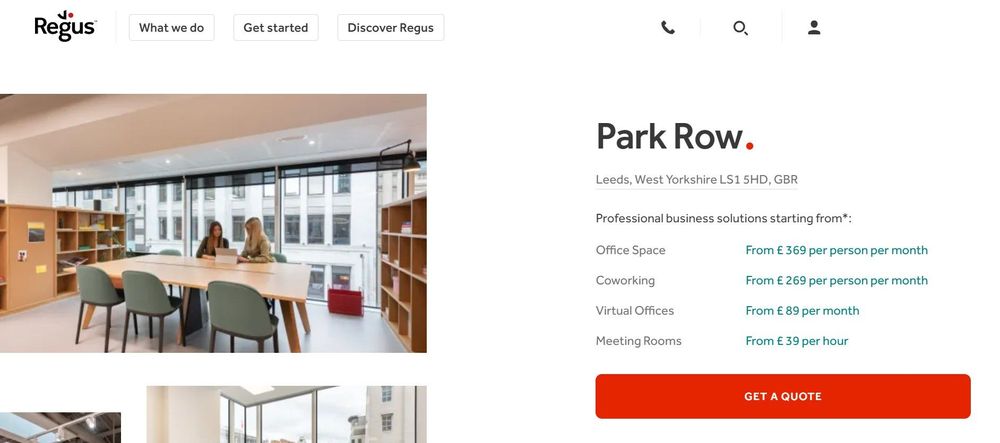 Source: Regus Park Row
Regus Park Row is a vibrant coworking space designed by Regus. Their professional solutions include office space, meeting rooms, coworking areas, and virtual offices in Leed's dynamic central business district, and is just a stone's throw from cultural attractions and some of the best eateries and bars. Regus Park Row has 74 offices and 23 coworking desks and also includes a gym and fitness room, showers, bicycle storage, beautiful breakout areas, and an on-site sandwich and coffee bar.
2. Clockwise Leeds
Clockwise Leeds is a coworking space that supports different working patterns. The building has been through a thorough renovation which saw its architectural nods to modernism incorporate natural light and LED lighting to make things more energy-efficient. Clockwise Leeds has many breakout areas, kitchenettes, club lounges, event spaces, two roof terraces, and two cafes serving hot and cold food and drinks. There's also 24/7 access and unlimited high-speed secure wi-fi. In terms of plans, you can choose between a hot desk membership, dedicated desks, or a fully-furnished, lockable private office.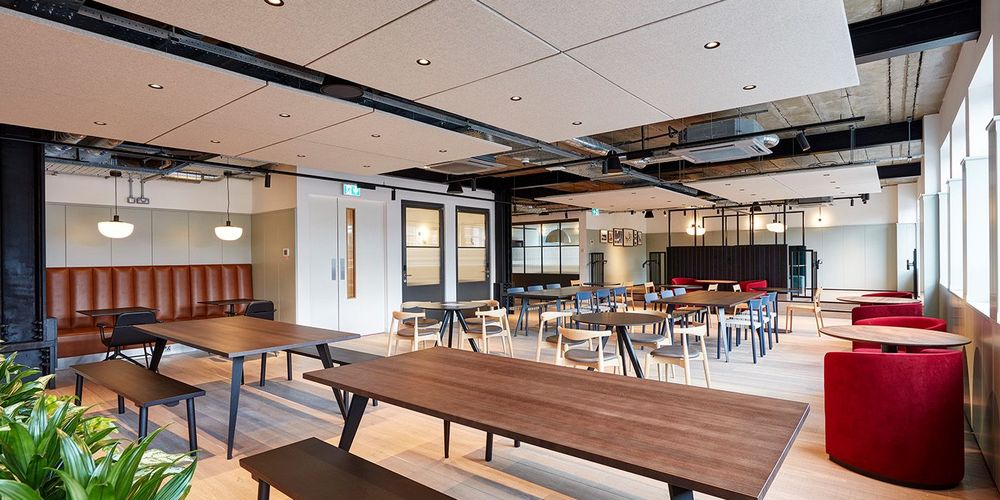 Source: Clockwise Leeds
3. Avenue HQ Leeds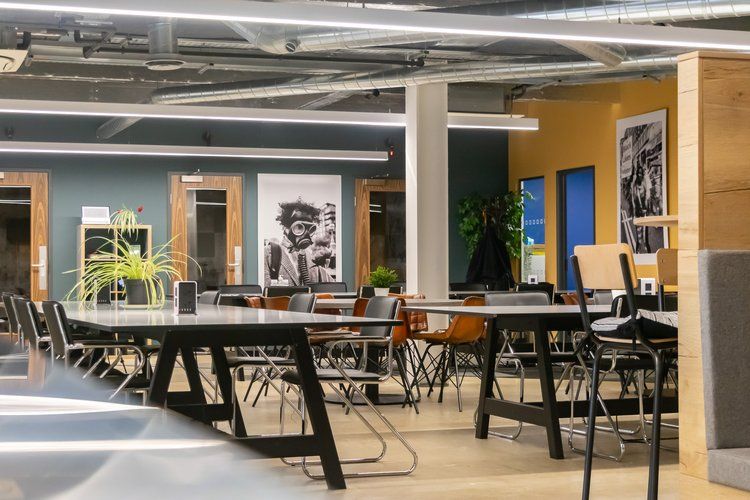 Source: Avenue HQ
Avenue HQ is an award-winning workspace available on demand. No matter if you are a team of one, a new startup, or an established company, Avenue HQ has spacious spaces flooded with natural light and amenities to make your day better. You can choose between spacious, bright, and fully customisable private offices or on-demand spaces with flexible options to work and meet with others. Some of the things included with this coworking option are kitchens and t-points, reception services, meeting rooms, on-site support, and ergonomic furniture. And there's, of course, a great community of like-minded creatives and regular events.
4. Wizu Number Thirty Two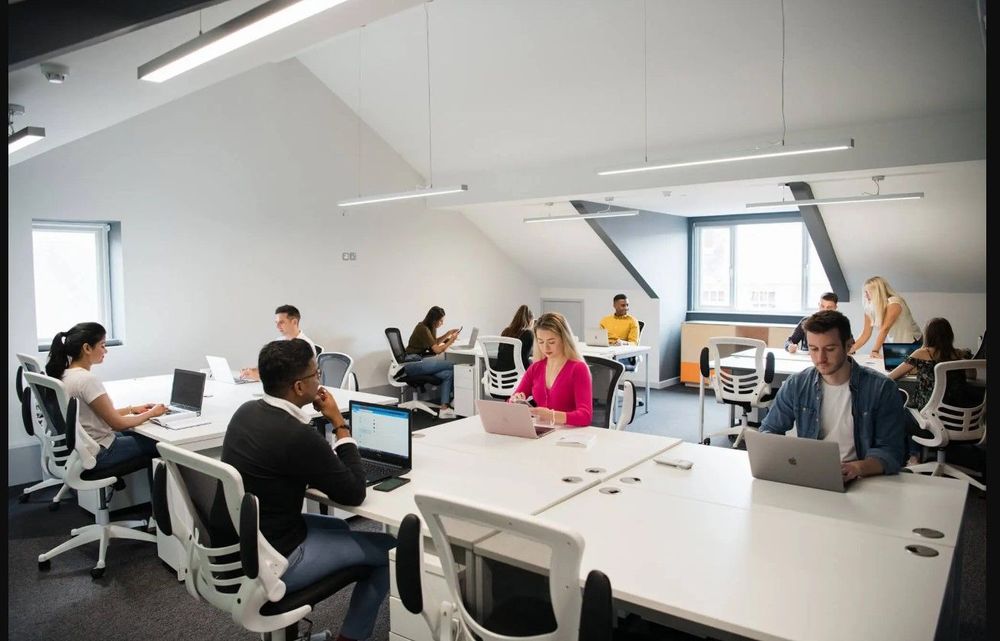 Source: Wizu Number Thirty Two
Wizu Number Thirty Two is a modern and stylish coworking space that promises to go the extra mile to make you feel at home. The place offers modern, clean private offices, meeting rooms, and coworking space just near Leeds train station and bus station. Available services include high-spec serviced offices, hot desks, and virtual offices. You also get super-fast wi-fi, telephone services, climate control, showers, bicycle storage, a fully stocked kitchen, reception, 24/7 access, and, of course, specialty coffee. If you're looking for iconic buildings and prime locations, Wizu is definitely an option worth considering.
5. Spacemade Park House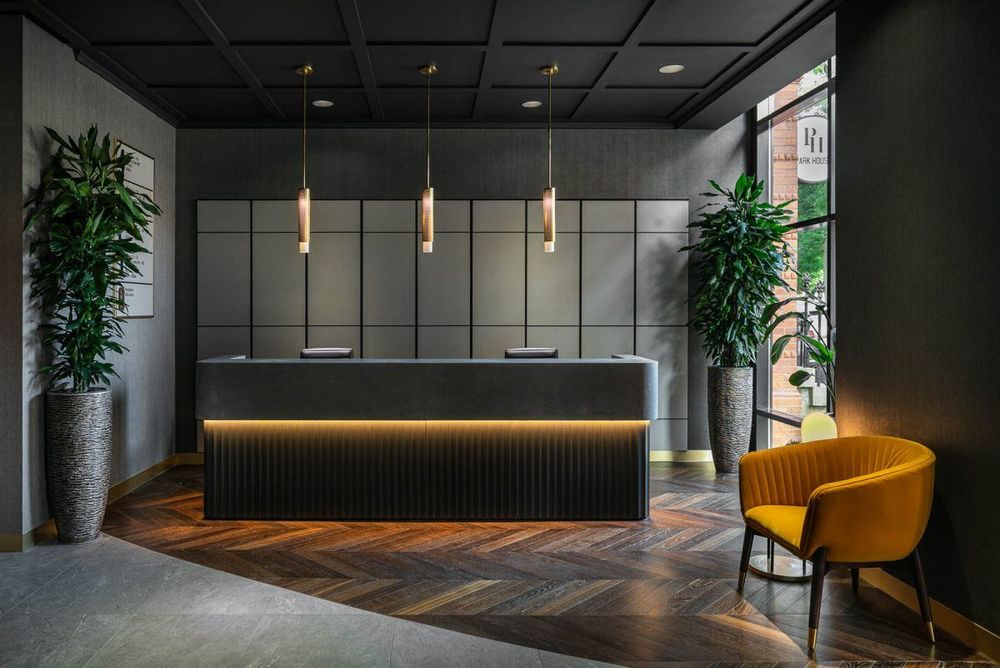 Source: Spacemade Park House
Spacemade Park House offers flexible coworking space in Leeds city centre. Their iconic building overlooking leafy Park Square has been fully transformed into a modern hub where you can find everything you need as a successful freelancer, remote worker, entrepreneur, or startup. Park House offers a variety of spaces, such as hot desks, fixed desks, private work pods, meeting rooms, and Zoom rooms. There's a reason why Park House is one of the most sought-after coworking spaces in Leeds. Here, you will find a fully-equipped kitchen, speedy wi-fi, secure 24/7 access, lockers, bike storage, unlimited tea and La Botega coffee, ergonomic chairs, and plenty of plants! Plus, the space is dog friendly.
6. Duke Studios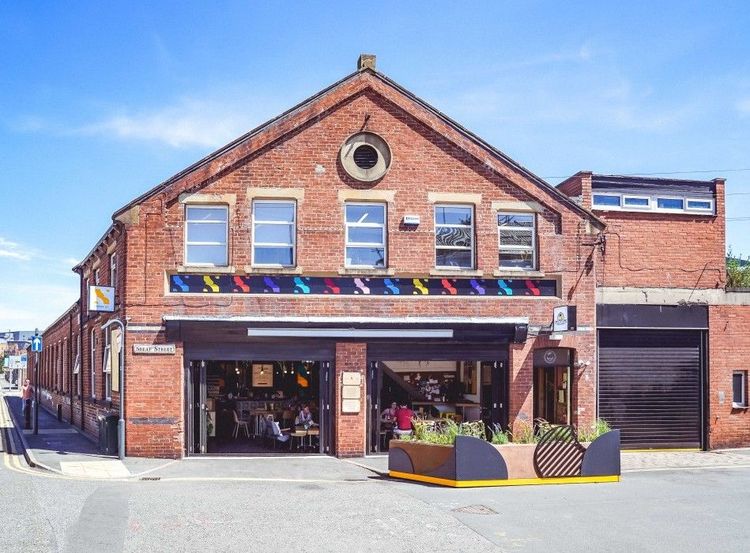 Source: Duke Studios
Duke Studios is a creative, collaborative coworking space that allows you to rent a desk, a studio, or a virtual office space. Duke is located in the city centre and provides a range of services and facilities, including snug space access, soundproof booths, lockable storage, high-speed broadband, free Yorkshire tea, free use of pool bikes, and memberships to Duke Studios' internal networks. There are also four interesting and creative meeting and event spaces: the Draper Room, the Not Bored Room, the Conservatory, and the Event Space.
7. Cubo Wellington Place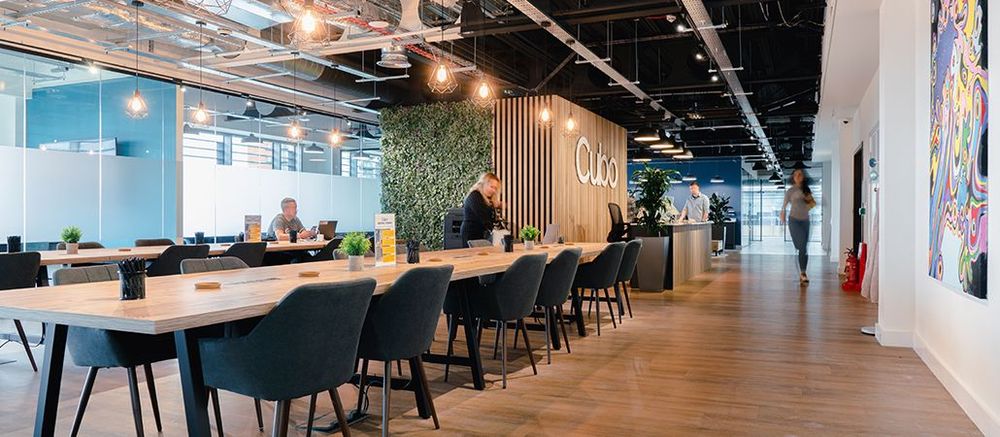 Source: Cubo Wellington Place
Cubo Wellington Place offers workspaces to meet today's changing business. For example, there are flexible desks for hybrid and remote employees, offices of any size, and meeting rooms for all your needs. All memberships include 24/7 access, networking events, barista service, and beer on tap. Cubo's Leeds location opened in February 2022 and is located at Wellington Place. This office also includes water stations, front reception service, business class printers, bike storage, and unique common areas, all in the heart of Leeds. You can try this coworking space using a day pass.
8. 2-Work Leeds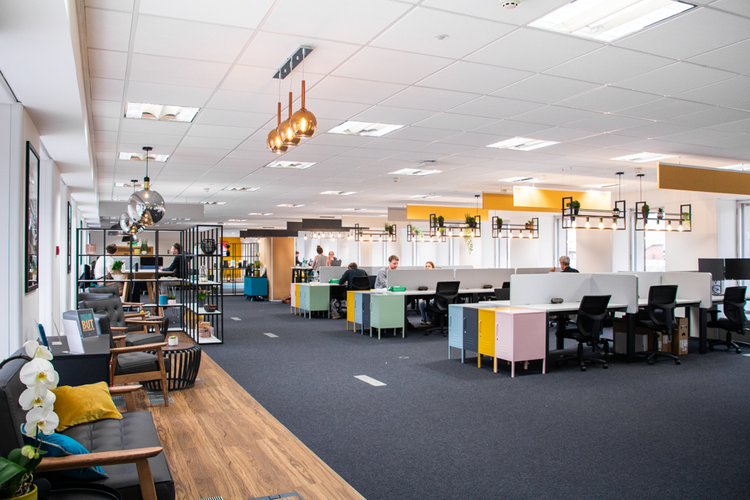 Source: 2-Work
2-Work is the perfect coworking environment for growing startups and established enterprises. This gorgeous space (which at the moment has one office in Bank House but is developing two more in Leeds) offers private office suites, coworking memberships, dedicated desks, and virtual offices. This cost-effective community-driven coworking space gives you complete freedom on how and where to work. Plus, you can customize the offices with the help of in-house designers. Some of the perks and amenities also included with 2-Work are super-fast wi-fi, 24/7 secure access, printing and scanning services, quiet spaces and breakout areas, fully-equipped meeting rooms, quality refreshments, and an interesting calendar with rewards and benefits.
9. Platform Leeds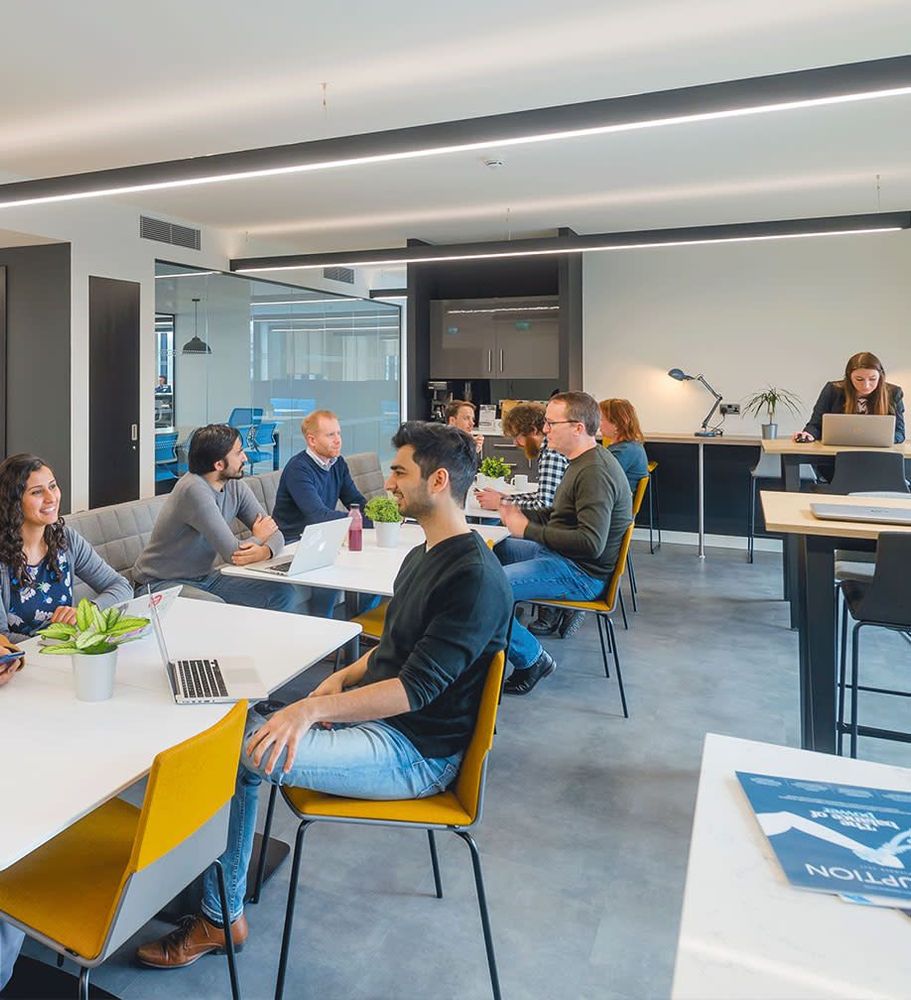 Source: Platform Leeds
Platform Leeds is a coworking space offering serviced offices and leased office space. Part of Bruntwood SciTech's network of districts, Platform is within a cluster of some of the region's most innovative and disruptive startups. This space is ideal for SMEs who want to be part of a specialist incubator. Here, you'll find meeting rooms, breakout space, shard kitchens, event space, high-speed wi-fi, and a roof terrace. Platform is located right next to Leeds train station, and its memberships also include access to a yoga club, a running club, and several mindfulness classes. Definitely worth a visit!
10. Workspace Hub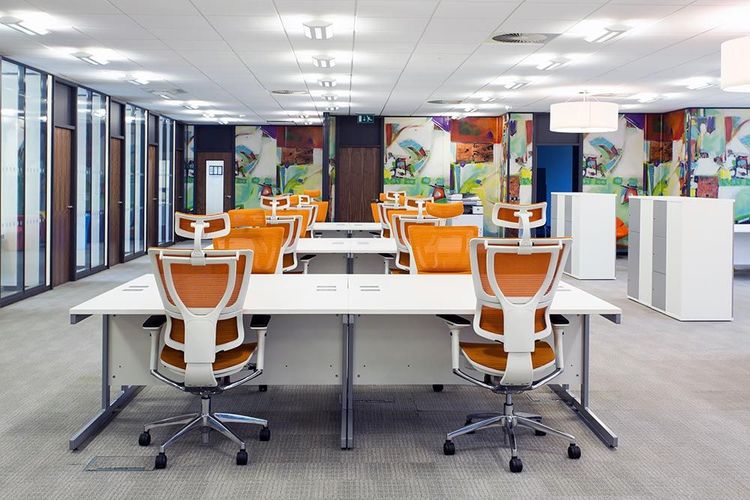 Source: Workspace Hub
Workspace Hub has two locations in Leeds: Northgate and St Andrew's House. Northgate is situated in one of Leeds' most prominent Grade A office buildings and offers private underground parking and secure access. St Andrew's House is an 1882 Yorkshire-stone Grade II listed building and has parking in a closed courtyard. Both provide virtual offices, hot desking, coworking spaces, private office rentals, and meeting rooms – all of which include super-fast wi-fi, AC, complimentary coffee, tea, sugar, and filtered cold water, award-winning ergonomic furniture, and flexible contract terms.
11. Castleton Mill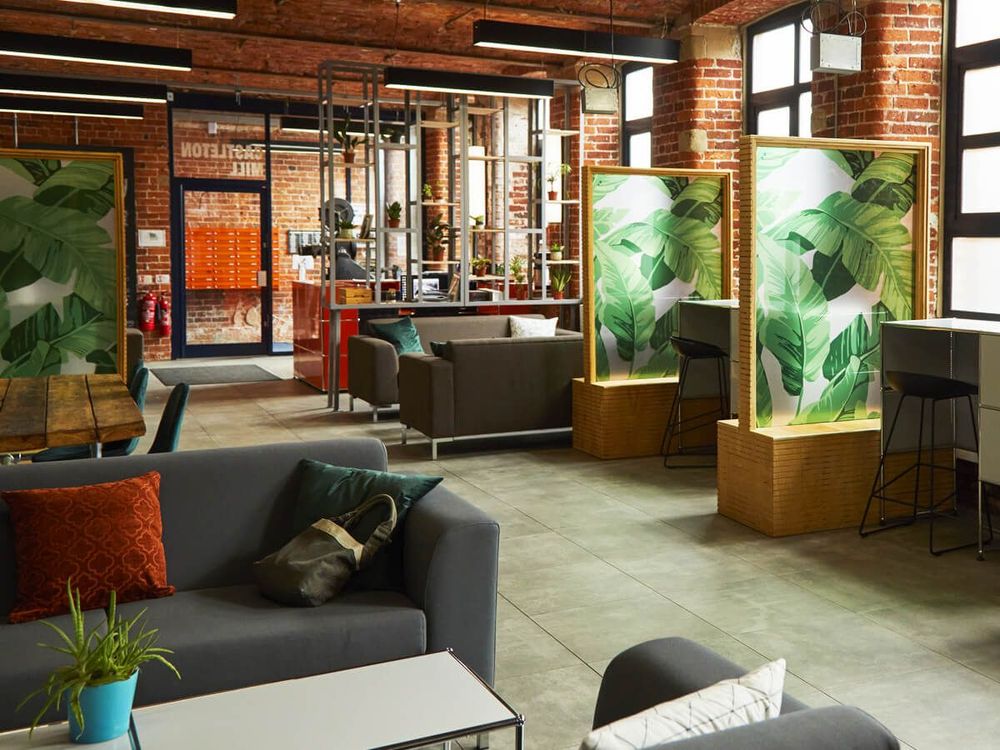 Source: Castleton Mill
Castleton Mill is a flexible coworking space in Leeds offering affordable, evolving, creative solutions for freelancers, remote workers, and business owners. They have offices and studios for those looking for a more permanent home, full-time and part-time desks in shared coworking spaces, and flexible options for those wishing to use daily rates. There are also two large event spaces and a cafe bar you can hire (which has room for up to 80 people). All of this within a former Grade II listed textile mill completed in 1836 – of course, it's been thoroughly renovated to fit today's progressive and creative needs.
12. Graft Coworking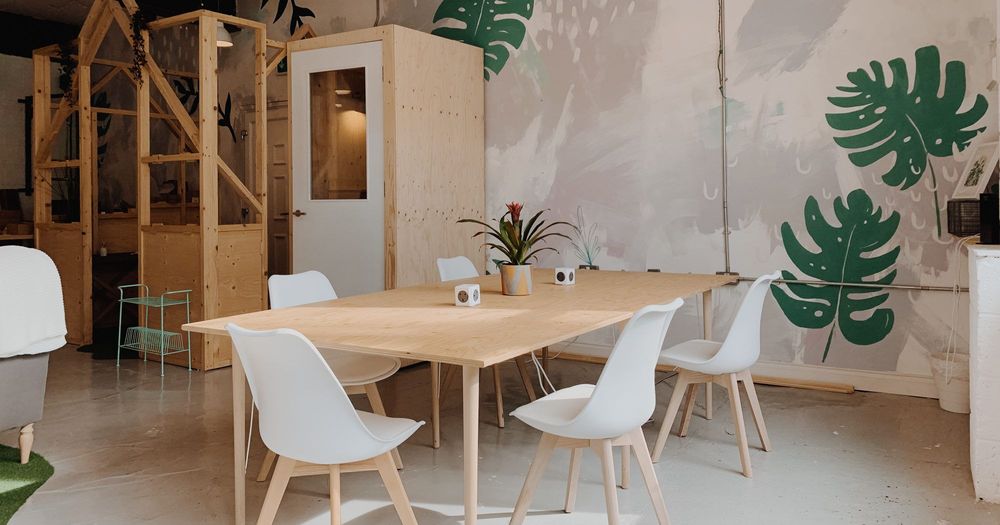 Source: Graft
Graft is a perfect coworking space for freelancers, craftspeople, remote workers, entrepreneurs, and business owners (or anyone who doesn't want to work from home anymore!). This studio and event space offers hotdesking, part-time desk rental, and full-time desk rental. All membership options include free tea and coffee and fibre optic broadband. Designated desk plans also come with free guest passes, storage lockers, and a registered company address. Graft is located on Stonegate Road, Meanwood, Leeds.
13. Yorkshire House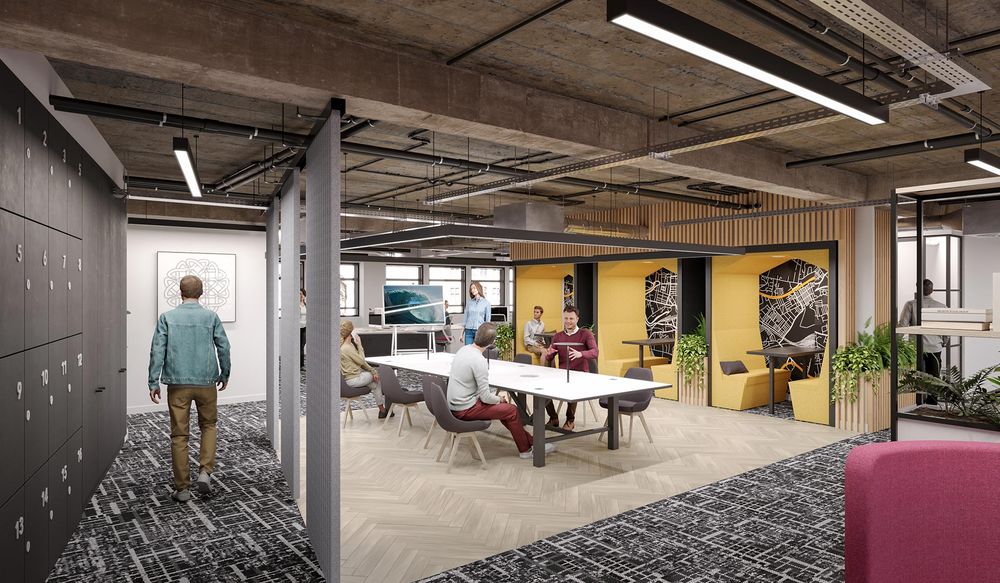 Source: Yorkshire House
Yorkshire House is a flexible, modern workspace designed to cater to Leeds' thriving professional community. They offer offices with plenty of space to grow (there are options from 2,400 sq ft to 10,700 sq ft) and several different modes of working. Distributed on four floors right in Leeds city centre are hot desking areas, designated desks, and private office space – all of which include AC, 24/7 secure access, a brand new reception, wi-fi through all common areas, concierge service, and secure basement parking.
14. Orega Serviced Offices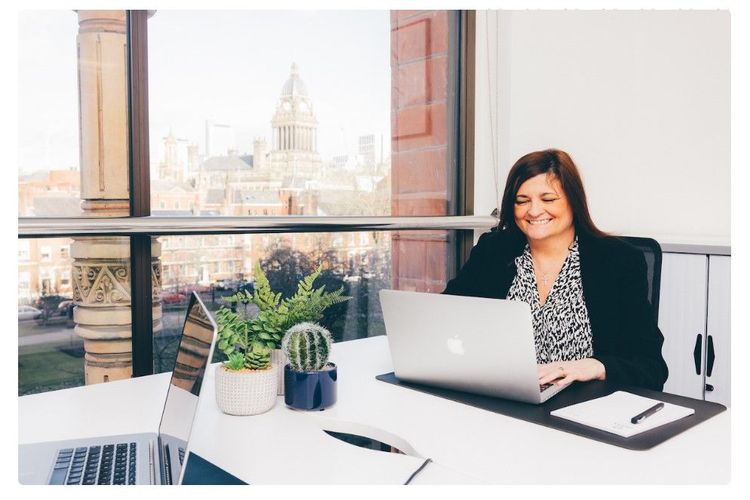 Source: Orega Service Offices
Orega Service Offices Leeds offers fully-serviced offices overlooking St Paul's Square, in the historic St Paul's House. These beautiful workspaces are designed for businesses of any size and in any sector. You can choose from serviced offices, virtual offices, and tech-enabled meeting rooms with smart screens. All of them include supercharged connectivity, concierge service, collaboration spaces, climate control, high-speed wi-fi, shower and changing facilities, secure cycle storage, and barista-style coffee.
Coworking space Leeds: Final thoughts
We've gone through a lot of different options for the perfect Leeds coworking space – from trendy creative spaces to fully-serviced premium offices. Choosing the best coworking space can seem a bit scary if you're new to them, but you shouldn't worry. The most important thing to keep in mind is to make sure the place you pick has the type of service you prefer (like floating desks, dedicated desks, or private offices) and is situated in an area you find easy to reach or interesting.
Once you've found the perfect Leeds coworking space, all you need is to make sure you have the perfect solution to create or grow your business. If you're using Indy, we guarantee you won't have to worry about this aspect of your business. Indy includes nine tools to save time and money, including contracts, invoices, proposals, and a time tracker.