London is famous for many things: London Bridge, Buckingham Palace, and of course, high rents. If you are new to London (and freelancing), you'll be glad to know it is entirely possible for freelancers to thrive in the city. However, you will need to budget wisely and stay focused. Real estate in the city is notoriously expensive. Renting private offices when you are just starting out will likely consume your earnings as quickly as you make them.
There are several coworking spaces in London that are ideal when money is tight. You could work in a café, but unless you have nerves of steel that can tolerate being stared down by an irate café owner eight hours a day (and can afford unlimited coffee and restaurant lunches), it's not a great option. You could work from home, but that may make it harder to enter the mindset you need to succeed. (And you can't exactly invite clients to a meeting in your living room.)
Coworking spaces in London are a happy medium between having your own private office space and the flexibility and low-cost of working from home or in a public space. You'll be able to access bookable meeting rooms, desk space, and quiet and private phone booths. Coworking spaces will also give you access to networking events and, in some cases, wellness facilities when you need a break.
31 Best coworking spaces in London
Where you work can be as important as what you are working on. Whether you are looking for a highly formal and corporate working space or a plant-filled, exposed brick warehouse with natural light and free yoga classes, we'll help you find exactly what you are looking for with our list of the best coworking spaces in London.
1. Huckletree, Various
Source: Huckletree
Huckletree has offices in Soho, Shoreditch, and White City. The space itself uses bold colors and patterns that convey the energy of its space: futurism, innovation, risk taking, and plenty of enthusiasm. Like many modern coworking spaces, they firmly believe in collaboration and create numerous opportunities for members to network. Membership benefits include global access to Huckletree spaces around the world, breakout rooms (including indoor gardens and meditation yurts), and weekly drinks events.
2. Fora, Clerkenwell
Source: Fora
Fora (which is the plural form of forum) is located just nine minutes' walk from the Old Street station. Built in collaboration with Studio RHE, the space takes inspiration from hotels, but with a considerable upgrade in facilities. There's an atrium-style eventing space with a café, superfast Internet, meeting rooms, and breakout services. Membership includes a five-star concierge service, free black and white printing, and 24/7 access to your desk or office. Fora also offers classes, wellness rooms, kitchens, and luxurious showers and bicycle storage.
3. The Ministry, Southwark
Source: The Ministry
Prospective musicians will find themselves at home at The Ministry, which was opened by—you guessed it—the Ministry of Sound. Aside from the usual meeting rooms and desk spaces, there's an on-site studio and tequila bar. The aesthetic embraces exposed brick and industrial beams as an homage to the building's past as a printworks. If you work in the music industry, this may be the perfect home for you. Some of their past tenants include HeyHuman, CrucialFX, and Jukedeck. Who knows who you'll end up collaborating with?
4. Mortimer House, Fitzrovia
Source: Mortimer House
Mortimer House is an Art Deco-style building that has been lovingly restored and converted into a cozy coworking space that's part Mad Men, part Great Gatsby. Members can order room service delivered to their desks, relax in a 1920s-inspired lounge, enjoy yoga or fitness classes, relax in the meditation room, or craft their art as a team in a private study. Custom-made wooden desks, ergonomic chairs, and massive Crittall windows add a special ambience to Mortimer House, while the rooftop bar and exciting roster of House events make it easy to kick off your shoes after a long day of work. The only downside is that you have to go home at the end of the day!
5. Impact Hub‍, King's Cross
Source: Impact Hub
Impact Hub in King's Cross wants to change the world through their workspaces by offering support and networking opportunities to changemakers. As they say on their website, their mission is to "accelerate entrepreneurial action that benefits people and the planet." Impact Hub has a few locations around London (and the world) focusing on activism and the role entrepreneurs can play in combating social and environmental issues. It's a great working space if you are looking for a community to support your cause.
6. AllBright, Bloomsbury
Source: AllBright
AllBright is a female-only coworking spot where women can come together and collaborate. Set inside a beautifully converted Georgian townhouse with velvet sofas and wooden floors, this space offers a welcome break from the cold, corporate world. Members can access a fitness studio and beauty/treatment room.
As co-founder Anna Jones says, "In a female environment, women are more likely to speak up, share experiences, talk about their successes, and be a bit more open and honest about some of the challenges that they face – because frankly, it's quite hard to be the only woman in the room." Members under 27 will also enjoy a £100 discount, which makes the fees more accessible if you are just starting out.
7. Central Working, Various
Source: Central Working
Central Working has seven London bases, including spaces on Clerkenwell Road and Wood Lane in White City. The office space is modern, bright, and airy, but the real benefit is collaboration. According to the website, if you don't make a meaningful connection within the community in the first 30 days, you'll get your money back. There are several options for coworking, including "drop-in" packages for those that need an occasional office when they get tired of the work-from-home lifestyle.
8. Soho Works, Shoreditch
Source: Soho Works, Shoreditch
Soho Works is a 24/7 coworking space that houses both individuals and businesses that work in creative industries. There is an on-site, all-day café, a workshop with crafts and tools (and a 3D printer), a library and reading room, a rooftop terrace, and breakout spaces. Because Soho Works is an initiative by Soho House, members will have direct access to Soho House as well. Events include craft-based workshops, classes on brand building, and trend forecasting.
Located inside the Tea Building, it's decorated with vintage and contemporary furniture, including impressive chandeliers and mid-century sideboards. Soho Works also has a pop-up at 180 The Strand during Fashion Week, so that fashion designers have a place to work between shows, free of charge.
9. De Beauvoir Block, East London
Source: De Beauvoir Block
The De Beauvoir Block comprises a network of 33 workspaces, ranging in size from 300 to 2,500 square feet. Set between Islington and Dalston, De Beauvoir offers gastropubs, lively bars, and vintage shops where you can hunt for treasure to your heart's content. The workspace offers casual and exclusive memberships to meet your every coworking need. There's also a large event space and on-site café to keep the creative juices flowing.
The space itself is dominated by its signature pastel pink, cane furniture and plants, and tea is served in rose-colored teapots and tableware. The real benefit is the price, of course. Casual memberships start at £100 a month, which marks the space very accessible for freelancers that are still on the very cusp of their careers.
10. Tobacco Dock Workspaces, St Katharine's & Wapping
Source: Tobacco Dock
Tobacco Dock is located in a grade I listed building, next to event facilities. There are meeting rooms, 24/7 access to members, and a café/bar on site. Located conveniently near Tower Bridge, the Dock offers work desks, private offices, and meeting rooms to rent. From only £250 per month for a fixed desk, this is a great option for freelancers.
11. LABS, Camden Triangle
Source: LABS
If you are part of a small team of collaborators and need more corporate space to work from, LABS is a great option. Located just four minutes from the station, you can easily walk to work or take a lunchtime stroll through the Camden market. The space itself is perhaps more corporate than some of the other spaces on this list, but the facilities are excellent, with an event space and breakout spaces. LABS are spread across three buildings and 84,000 sq feet of prime real estate, offering beautiful views of the city.
12. Second Home, Clerkenwell Green
Source: Second Home
Conveniently located close to Farringdon station, Second Home is a hub with cultural, educational, and wellness programmes designed to foster entrepreneurs and help them grow their business. It's not all yoga and meditation though—members can enjoy fast Wi-Fi and an in-house coffee shop to ease them through the day. There are only six hot desks available at a mere £235 per month, so space isn't readily available, and you'll need to move fast to snap up your spot.
13. Plexal, Queen Elizabeth Olympic Park
Source: Plexal
Formerly the press and broadcast center of the London Olympics, Plexal is currently the home of more than 4,000 start-ups and social enterprises. Plexal provides a space where freelancers can mingle with government entities, investors, and even corporate giants covering topics like cybersecurity and urban mobility. Members can benefit from business advice and networking events with relevant organizations.
14. Makerversity, Strand
Source: Makerversity
Makerversity is a community of 300 entrepreneurs and creators. Freelancers that work in design, engineering, or digital practices can enjoy access to prototyping facilities, affordable workspaces, and a platform that supports their businesses. There are two residencies on offer as well, including Makers with a Mission and Under 25s, as well as an innovative learning program. Based within Somerset House, a working arts center, Makerversity is a great space for freelancers in the creative arts.
15. The Greenhouse, North & East London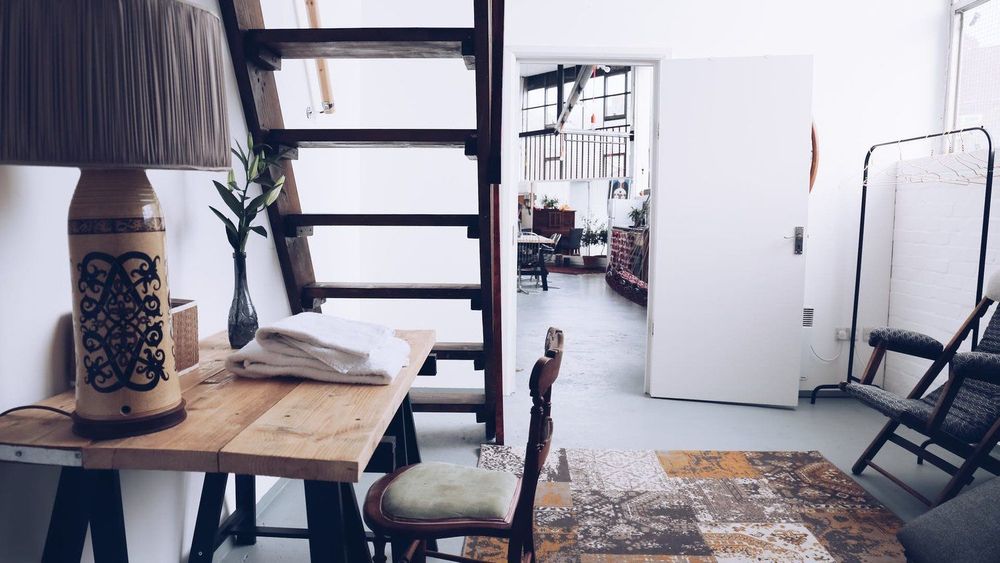 Source: The Greenhouse
The Greenhouse has several locations around London, with beautiful plant-themed and plant-filled spaces where freelancers can work together. Each location features something for everyone, from more corporate offices to very relaxed café-like open working spaces. You can also book a "blank canvas" space where you can host events or training. If you are still testing the waters, you can book a trial day to see if The Greenhouse is a good fit.
16. The Office Group, The Shard, London Bridge
Source: The Office Group
The Office Group has 33 London coworking spaces, but the space in the Shard (located on the 24th and 25th floors) has the most dramatic views you'll find. Members can, of course, use any coworking space they choose, including hubs in Hammersmith's Lyric Square or Waterloo Station. If you need the flexibility to work from different spots in London, The Office Group is your best bet.
17. WeWork, Southwark
Source: WeWork, Southwark
WeWork has 39 locations across London that are either open or will open soon. We like 30 Stamford Street for its relaxed lounges, pet-friendly policies, bike storage, and on-demand booking system. There is easy access to various suburbs and the city center via bridges and the Tube. Boardrooms, phone booths, and shared meeting spaces offer everything you need.
18. Uncommon‍, Holburn
Source: Uncommon, London
As you can probably pick up from the name, Uncommon is not your average working spot. There are all of the amenities you need as a freelancer (standing desks, meeting rooms, coffee lounge, and high-speed Internet), as well as ergonomic furniture, plants, music, and even scents designed to calm your mind and keep you productive. There's even a nutritionist on staff to help you eat healthier. Uncommon Holburn is set between the bustle of the City of London and the glamorous West End, just a few minutes walk from the tube and a short stroll away from the many parks, pubs, and restaurants where you can unwind after a long day.
19. The Clubhouse, Mayfair
Source: The Clubhouse, Mayfair
If you are looking for a luxurious space that will impress your clients, The Clubhouse in Mayfair is it. The Clubhouse offers high-quality workspaces with elegant furniture and minimalist design. There are amenities like an events space, meeting rooms, showers, bike storage, and refreshments on offer. You can also rent private offices or fixed desks if you need to. There are also offices available in Bank and Holburn that adhere to the same design aesthetic.
20. TOG, Borough
Source: TOG
TOG was designed with sustainability in mind. There is a green roof garden, rainwater harvesting, and solar panels for the eco-conscious freelancer. The office in Borough is a mere two-minute walk from the London Bridge Station, which makes it an ideal commute if you live south of the river. There are endless lunch options in the Borough Market. You can rent a private office for up to three people for £2,300 per month, which is very affordable if you split the rent with other freelancers who need a dedicated space.
21. Work.Life, Liverpool Street
Source: Work.Life
Work.Life is a great coworking space for creative freelancers, startups, and even larger, more established companies. Liverpool Street is one of their newest offices, just steps away from Broadgate Circle, trendy Spitalfields, and Shoreditch. You can arrive via the Liverpool Street or Moorgate and Old Street Stations nearby.
There's everything you would expect from a coworking space, including shared lounges, breakout and meeting rooms, and kitchens, but what we really like is that you can rent a desk per hour. For only £6.50, you can access the amenities and fast Wi-Fi (and enjoy discounts on meeting rooms) for a full hour. Alternatively, you can enjoy unlimited coworking space for only £325 per month. Don't worry about missing out if you only come in for a few hours; there's a vibrant online community you can join.
22. eOffice, Soho
Source: eOffice
eOffice in Soho is a beautifully designed space on the edge of the iconic Oxford street, right at the junction of Soho and Fitzrovia, with convenient transport links. The site offers hotdesking from £179 per month, advanced IT infrastructure, stylish conference rooms, and plenty of additional services to make coworking worth your while.
23. Mindspace, Shoreditch
Source: Mindspace
Whether renting a private office or coworking at the high-end designed open space, Mindspace Shoreditch weaves together the core of Tech City and the artistic East End charm. Nestled behind Liverpool Street Station, this flexible office space is a constant source of inspiration, innovation, and creativity. Ethnic street food options and restaurants, independent cafes, eclectic boutiques, vintage gems on Brick Lane, and an abundance of street art create a diverse backdrop for the many companies that call Mindspace home.
24. The Workers' League, Shoreditch
Source: The Workers' League
The Workers' League has free-to-use high-tech meeting rooms, breakout areas, and a garden where freelancers can network over lunch. There are several membership options that cover several working patterns to suit your needs. There are day passes, 4-day passes, and 10-day passes, but you can choose any configuration of days you require.
Membership perks include showers, free tea and coffee, and a once-a-week retro drinks trolley. The Bonhill branch is located in trendy Shoreditch, a short walk from the Old Street and Liverpool Street stations.
25. Landmark, Bishopsgate
Source: Landmark Bishopsgate
Located in Heron Tower (sometimes called Salesforce Tower), Landmark Bishopsgate may be one of the most impressive coworking spaces in London, with a triple-height atrium spread over the 17th–19th floors. The views are beautiful, and the entire shared workspace buzzes with communal spirit. It's close to the rail and tube station for easy commuting, and there is a professional team on-site to answer any questions you may have, at any time.
26. FBC Studio 7, Clerkenwell
Source: FBC's Studio 7 in Clerkenwell
FBC's coworking spaces are the perfect blend of corporate and comforting design aesthetics, and Studio 7 is one of the best-looking offices in their portfolio. The office is wholly self-contained, with a kitchen, toilets, and breakout spaces. An event venue can be rented at an additional cost. There are meeting pods, phone booths, day beds, and a beautiful terrace where informal meetings can be hosted with ease. Access is limited to 9 to 5, but it's nonetheless perfect for freelancers that need a few hours of peace and focused time at their work every day.
27. The Neighbourhood Office, Southwark
Source: The Neighbourhood Office
Located just five minutes from the London Bridge station, this coworking space offers plenty of seating and a modern, calming interior with trendy exposed ceilings and high-speed Internet. The Neighbourhood Office is equipped with meeting rooms, boardrooms, bike storage, showers, informal seating spaces, and even catering on request. You can choose between a membership or just hire a desk for the day, starting at just £30 per day.
28. Accelerator London, Haggerston
Source: Accelerator London
An initiative of the London Metropolitan University, this hotdesking space focuses on young entrepreneurs and startups. Accelerator London is equipped with showers, a kitchen, storage for bikes, and fast Internet. If you like working alongside your furry companions, you'll be glad to know this space is pet friendly. You can also organize late stays when you need to burn the midnight oil. Event space can be rented at an additional cost as well, and you can rent office space when your freelancing gig turns into a full-time company!
29. Podium Space Chiswick, Turnham Green
Source: Podium Space
Podium Space offers virtual offices for freelancers that want to achieve a professional image at a low cost. There is a three-month minimum contract to consider, which comes with mail handling, a dedicated phone line, discounted hot desks, meeting rooms, and coworking spaces that can be accessed on a pay-as-you-go basis.
30. easyHub Chelsea, Redcliffe
Source: easyHub in Chelsea
The interior design of easyHub's office and workspaces in Chelseaare not nearly as inspired as some of the coworking spaces on this list, but not everyone needs Victorian furniture and potted plants to get the job done, right? What easyHub offers instead is convenience and affordability. There are large offices, small shared workspaces, and functional facilities that meet your every need. When you need to collaborate, you can switch to the easyGroup model to keep your costs low. You can choose between renting private offices at £50 per desk per month, or a monthly easyLounge membership at £50 that gives you access to an open-plan workspace.
31. Citibase, Uxbridge
Source: Citibase
Citibase Uxbridge is located close to the Uxbridge station, housed inside the bustling Atrium building. There are beautiful views over North-West London, a welcoming reception area, and wonderful meeting rooms. The breakout spaces are located in a central atrium, with an open park-themed communal area that brings the outdoors indoors. There are two floors featuring brightly lit offices, and the building itself is located close to the high street, with shops, bars, and restaurants to enjoy. If you drive to work, you'll be pleased with the ample parking spaces and the proximity to the M40 and M25 motorways.
Conclusion
Coworking spaces offer more than a place to plug in your laptop and work for the day. They can offer wellness support, classes, and all-important networking opportunities. There are even coworking spaces that focus on supporting freelancers who work in specific industries.
Your coworking space can provide the environment you need to thrive as a freelancer. Indy will provide the tools you need to manage everything else.