Manchester is full of culture, entertainment, and endless things to experience and do. The city also has plenty of work opportunities other places in the United Kingdom can't match, and this is one of the reasons businesses and people flock to Manchester in search of networking and a better work-life balance.
At Indy, we are convinced having a great space to work is essential to a successful freelancer or professional career. If you're an entrepreneur, founder, or small business owner tired of working from home, you should consider joining a coworking space. There are plenty of excellent options in Manchester, so we've compiled them all in this handy list. So, let's see what the city has to offer in terms of private offices, permanent desks, hot desks, and on-demand meeting rooms.
1. Regus Manchester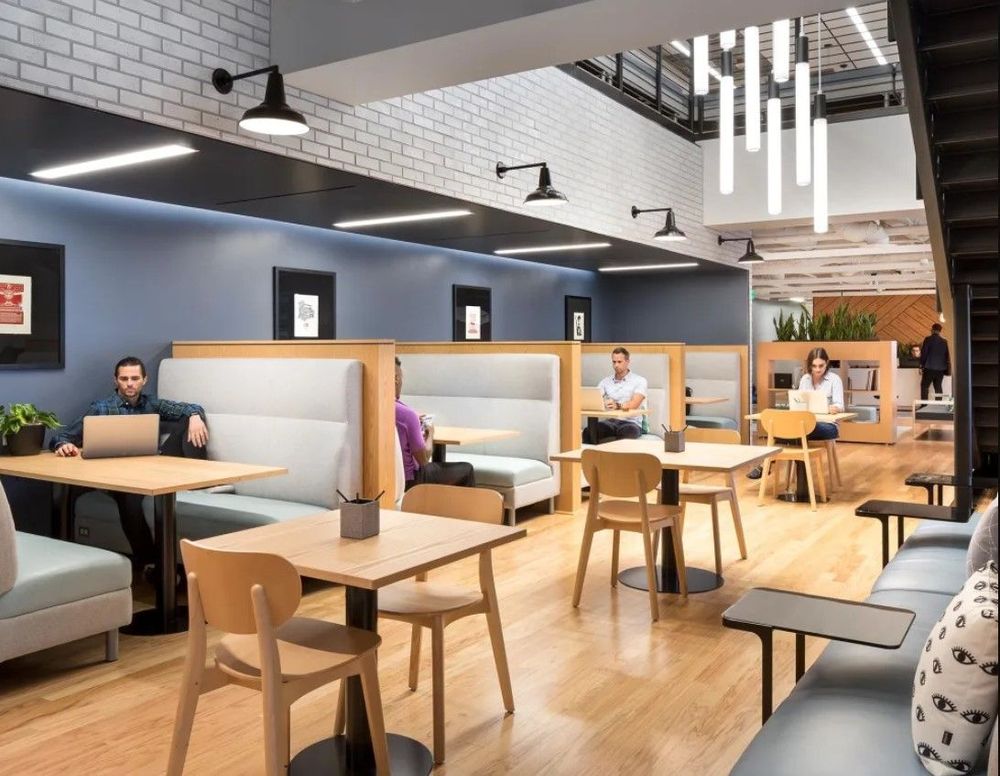 Source: Regus Manchester
Regus Manchester is a series of vibrant coworking spaces with various break-out areas and networking events. Regus has, in fact, 13 locations in the Manchester area, all of which offer coworking memberships (charged by the day, 5, 10, or unlimited days a month), dedicated desks in open-plan workspaces, and private offices. You also get access to meeting rooms and several amenities and services, including business-grade internet, ergonomic furniture, business lounges, and discounts from Regus' health and lifestyle partners. You can arrange a viewing to get an on-site team to show you around any of the company's Manchester locations.
2. Bruntwood Workspaces
Bruntwood offers several coworking spaces and offices to rent in Manchester. With over 40 years of experience, this company has more than 25 properties supporting businesses, entrepreneurs, freelancers, and remote workers of all industries. Here, you will find office space, coworking space, lab space, retail space, meeting rooms, and virtual offices to suit your needs. All locations are well-connected and surrounded by the best of art, food, and entertainment Manchester has to offer. All coworking contracts are flexible and give you access to lounges and facilities in selected Burntwood buildings.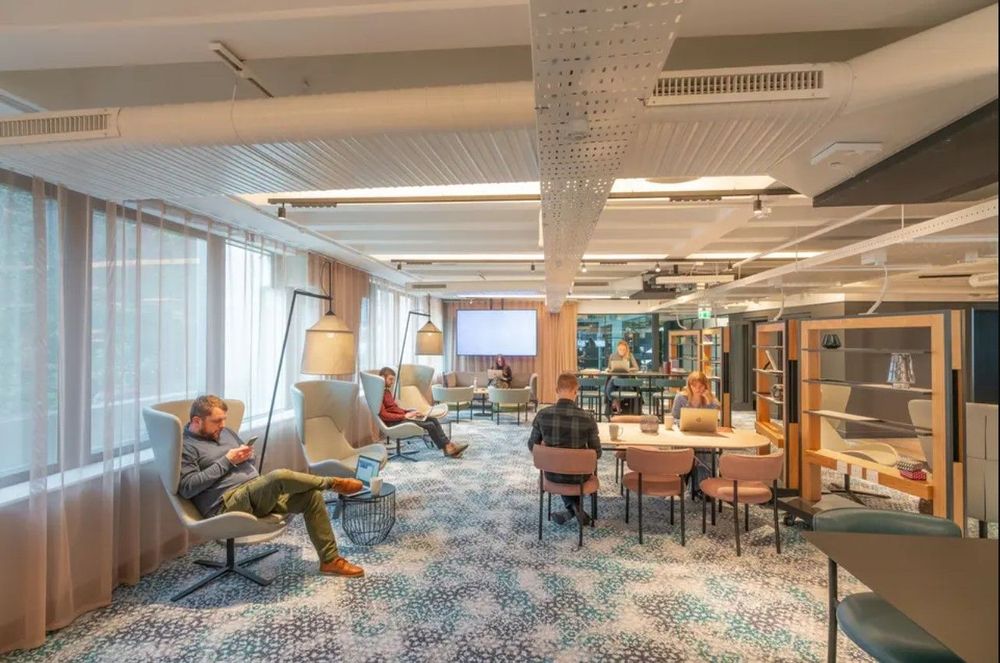 Source: Bruntwood
3. WeWork No. 1 Spinningfields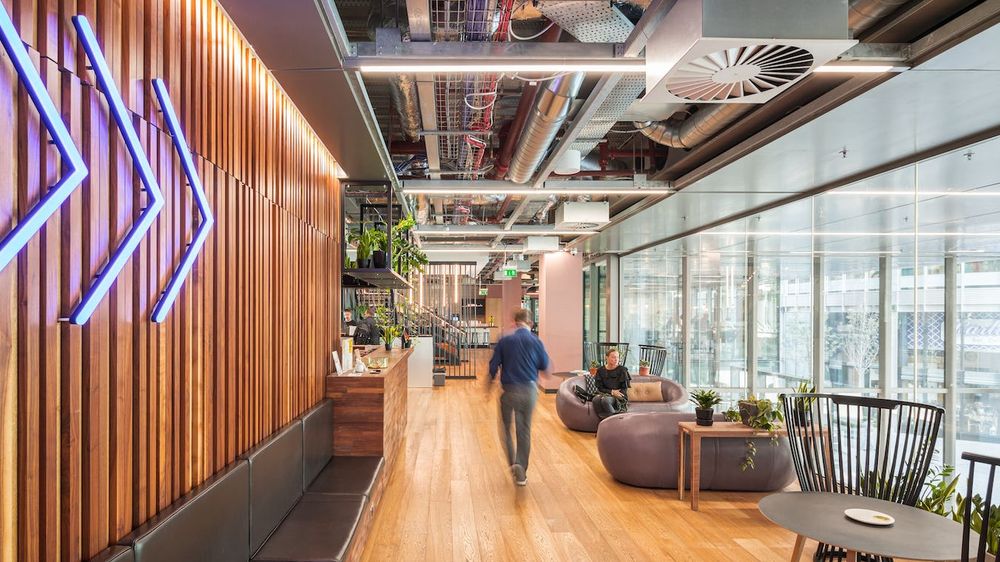 Source: WeWork No. 1 Spinningfields
WeWork No. 1 Spinningfields offers private offices and coworking space in the heart of Manchester. This location has pay-as-you-go features, so you can use hot desks and meeting rooms by the hour or the day. As we've become accustomed to with WeWork, this Manchester coworking space also includes cleaning services, bike storage, event space, a wellness room, showers, a barista, and tech services, and it is dog-friendly. Plus, No. 1 Spinningfields spans three floors on one of the city's newest high-rise buildings - so you get excellent views of the Manchester skyline. Metrolink, Metroshuttle, and Greater Manchester Rail links are all just moments from the door.
4. Work.Life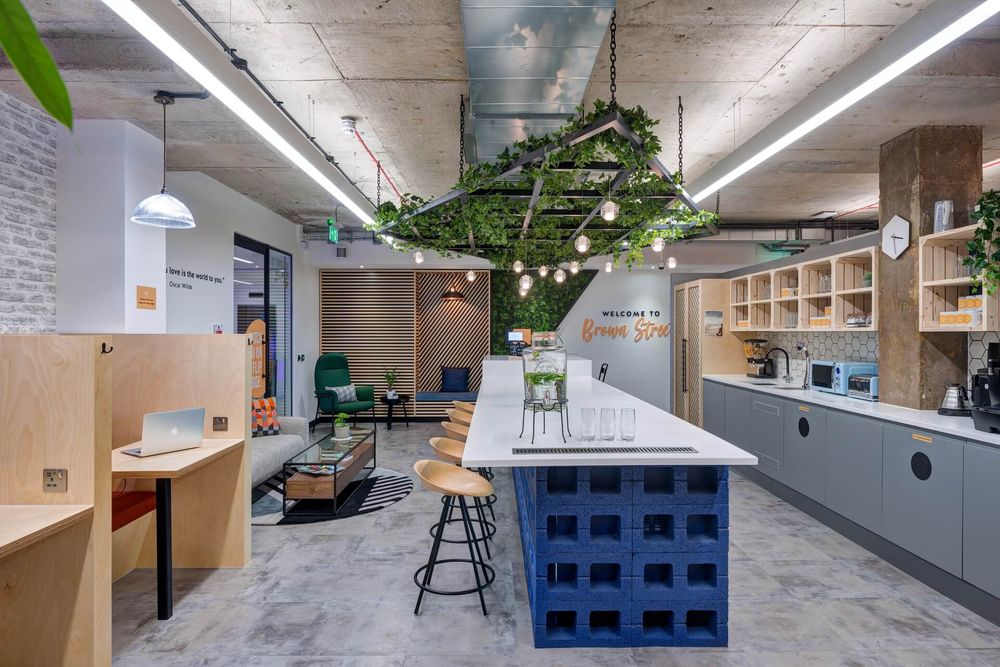 Source: Work.Life
Work.Life is a flexible workspace in Manchester's North West. Situated in the Core building and just off King Street, Work.Life is set over two floors and features natural light, modern design, and various coworking modalities – including hot desk plans, dedicated desk plans, private office plans, meeting rooms, and gorgeous break-out areas. All contracts are flexible, and you get the following perks and amenities: showers, free workout classes, weekly free breakfasts, weekly beer and pizza nights, regular social events, free tea, coffee, and snacks, and wellness discounts. Plus, high-speed internet, private phone booths, and secure bike storage. Pets are welcome, too.
5. Beehive Lofts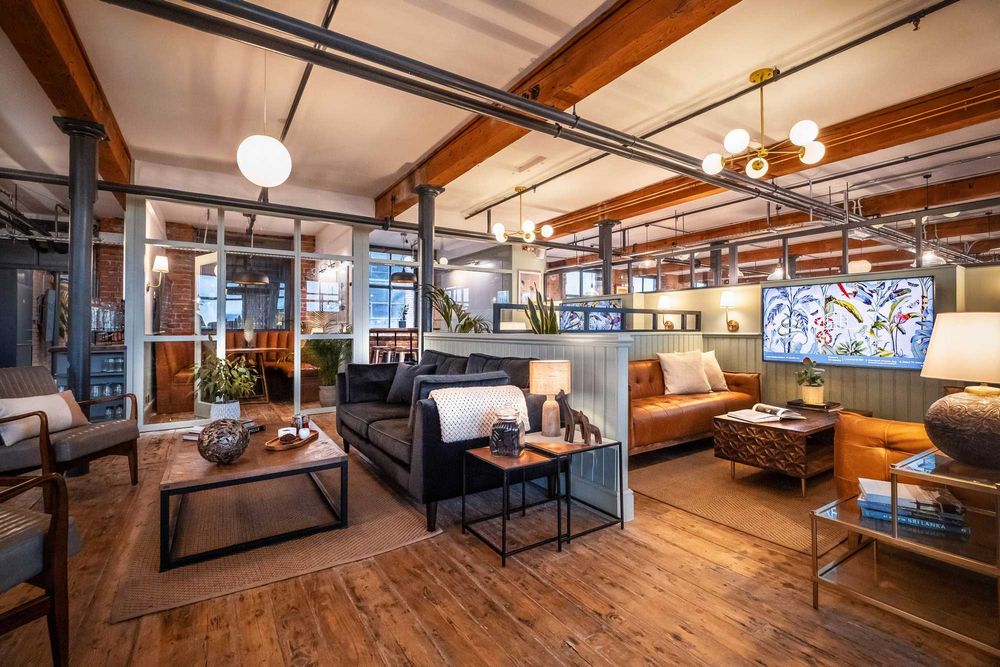 Source: Beehive Lofts
Beehive Lofts is one of Manchester's most luxurious shared workspaces. With a welcoming community, a stunning environment, and some of the best amenities in the city, joining the Beehive will give you access to a myriad of benefits. You can opt for an all-inclusive membership that gives you access to all facilities 24/7 and use any of the lofts, which are located within a unique 18th-century building with exposed beams and brick walls. Memberships here are flexible and can be as short as a month. Every day of the week, you'll also be able to get food delivered directly to your desk and treat yourself to coffee and hand-blended teas. Beehive Lofts is also pet-friendly.
6. Colony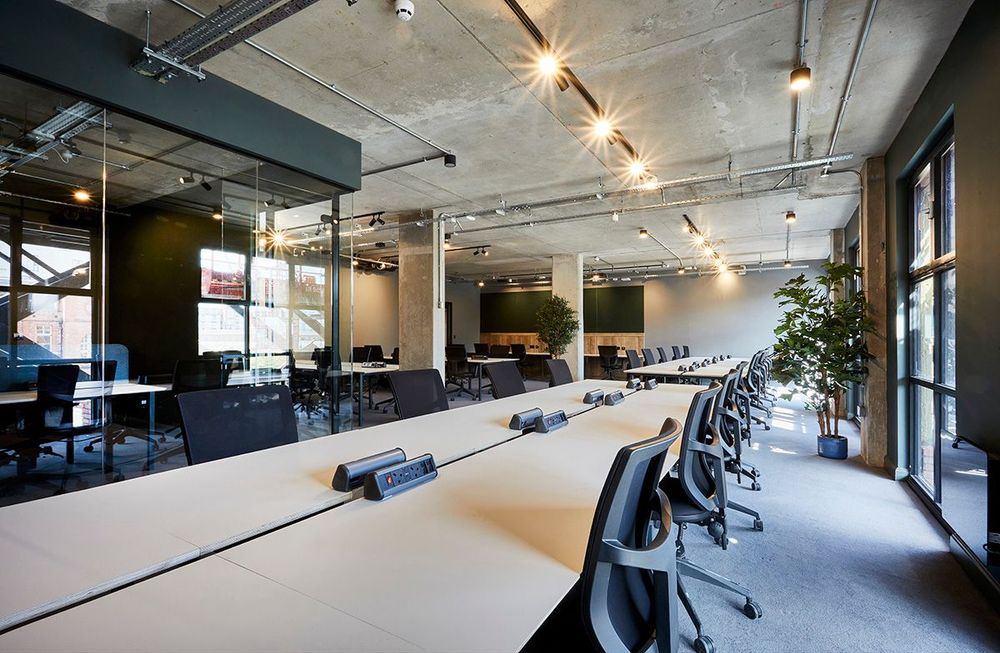 Source: Colony
Colony is a flexible workspace for freelancers, creators, and startups. This expanding network of Manchester coworking spaces offers private offices, shared open areas, and over 20 meeting rooms across many central locations. Each building has been carefully designed to inspire and pollinate ideas and has abundant natural light. You can book a desk with a day pass or get a membership that gives you 24/7 access to all spaces, including your own dedicated desk. All Colony venues are also wheelchair accessible and dog friendly and offer complimentary snacks, teas, coffees, and fruits. Plus, of course, state-of-the-art internet, hot taps, printers, phone booths, and (in the Jactin House and Silk St venues) showers.
7. Use.Space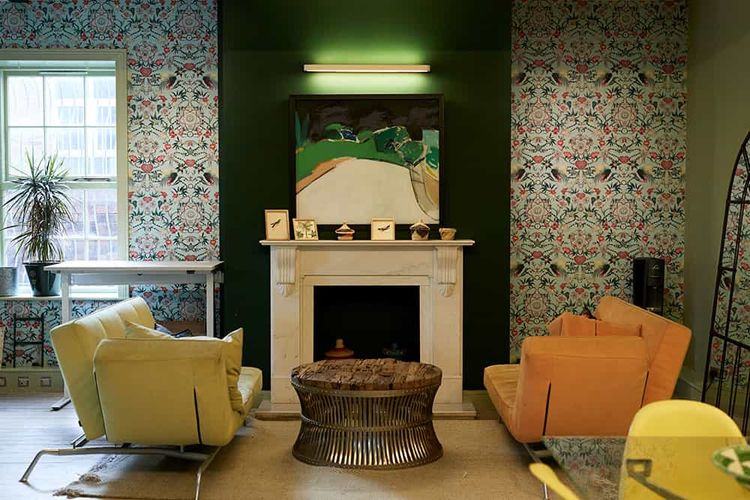 Source: Use.Space
Use.Space is an innovative coworking ecosystem in Manchester that is privately owned. Its environments have been created with individuals, startups, and SMEs in mind and are planned to foster collaboration, inspiration, and community. Here, you'll be able to rent coworking spaces, private offices, and meeting rooms. All memberships include free car parking, use of kitchens and microwaves, access to events and break-out areas, high-speed internet, business-class printers, cafes, garden spaces, and free tea and coffee. Use.Space is also dog friendly and has its own incubator to support ambitious startups and businesses. All in the city centre and available 24/7.
8. Huckletree Manchester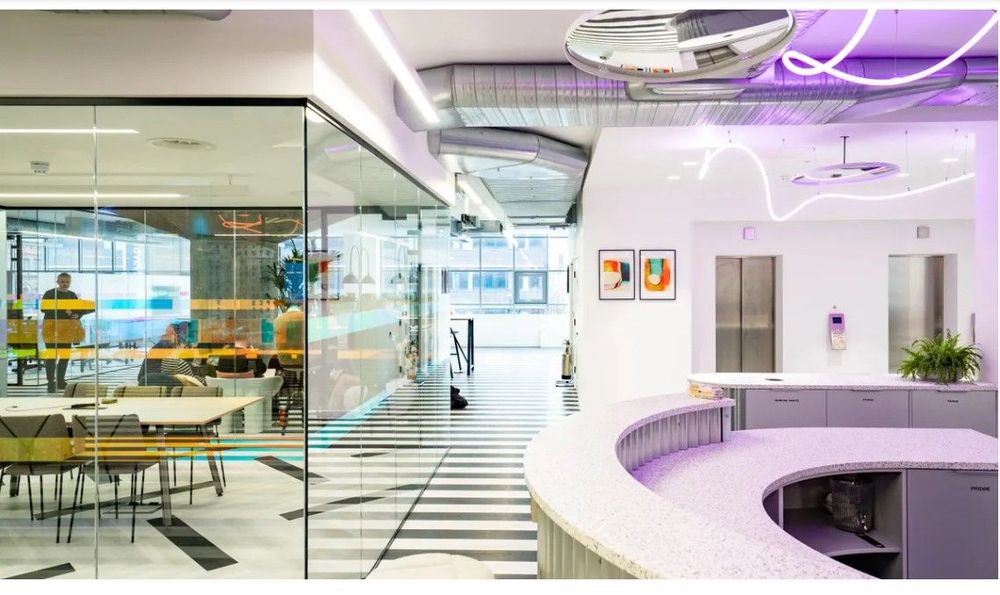 Source: Huckletree Manchester
Huckletree Manchester is an Ancoats workspace in the historical Old Express Building in Manchester. This coworking space is chosen by many next-gen media companies and disrupting retail brands and includes community members like Depop, Thirdfort, and Regital. Huckletree also has a podcast studio space, a live lounge, privacy booths, collaboration zones, and something called the Imaginarium (a meditation space where you recharge away from your screen). There are several memberships to choose from, including private studios, resident desks, floating desks, and a light membership, as well as meeting rooms for up to 10 people.
9. Flagship Spaces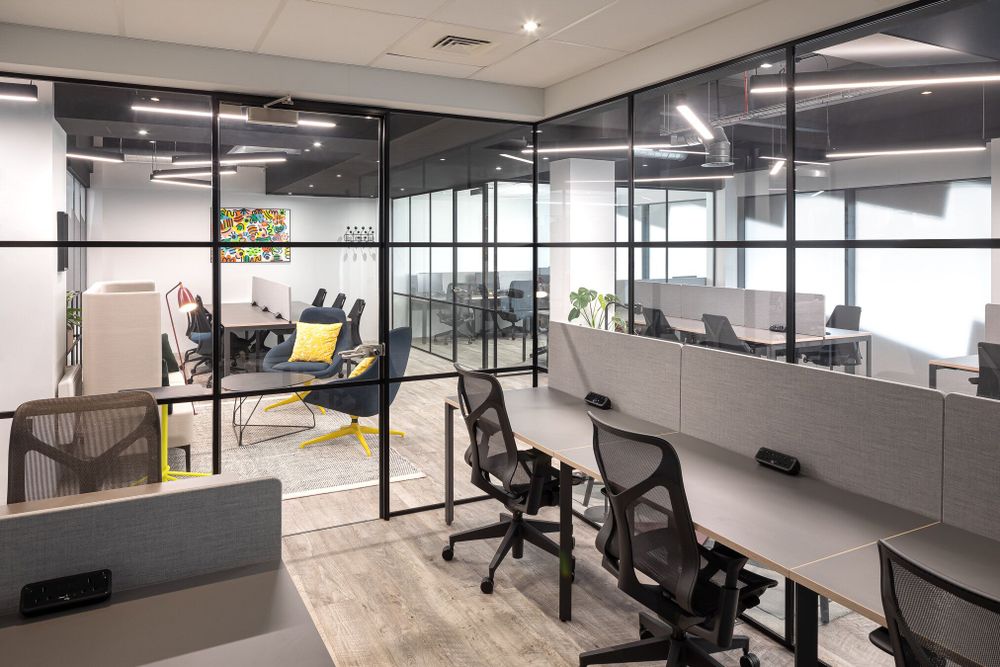 Source: Flagship spaces
Flagship Spaces offers flexible workspaces for businesses in the Manchester area. Located in the vibrant Northern Quarter, this place is just ten minutes from Piccadilly station and surrounded by some of the best food, drink, arts, and culture the city has to offer. Flagship has private offices, dedicated desks, and coworking areas designed to help you thrive, as well as pleasant break-out areas, quiet spaces, and phone booths. All offices are furnished with Herman Miller furniture, and a couple of them have sit/stand desks. This coworking space also has state-of-the-art facilities, including a fully-equipped kitchen and partnerships with local cafes and gyms.
10. Department Manchester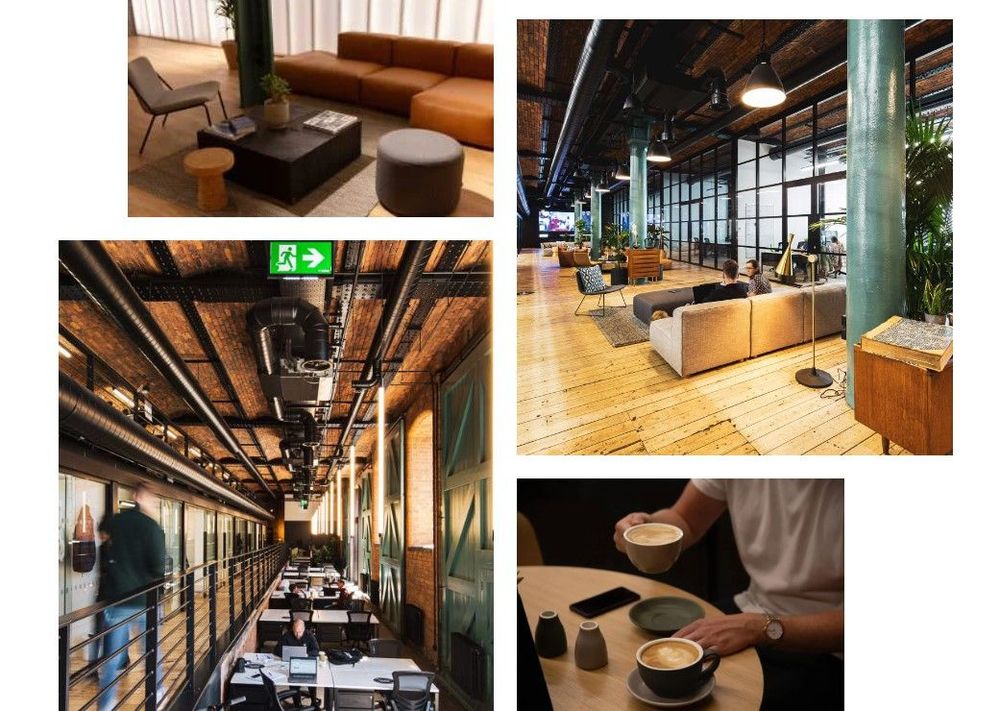 Source: Department
Department is a collection of iconic destinations and experiences that combine wellness with workspaces. You read that right! Department has hot desk, resident desk, and private studio plans, as well as meeting rooms and creative studios, all fully equipped and ready to be used for daily work, team-building exercises, or conferences. Membership amenities include 24/7 access, bike storage, a coffee shop, lounges, high-speed internet, a conditioning gym, yoga and meditation classes, and lockers. Department also holds regular member events. All of this is distributed along six floors or social spaces and vibrant backdrops.
11. Sevendale House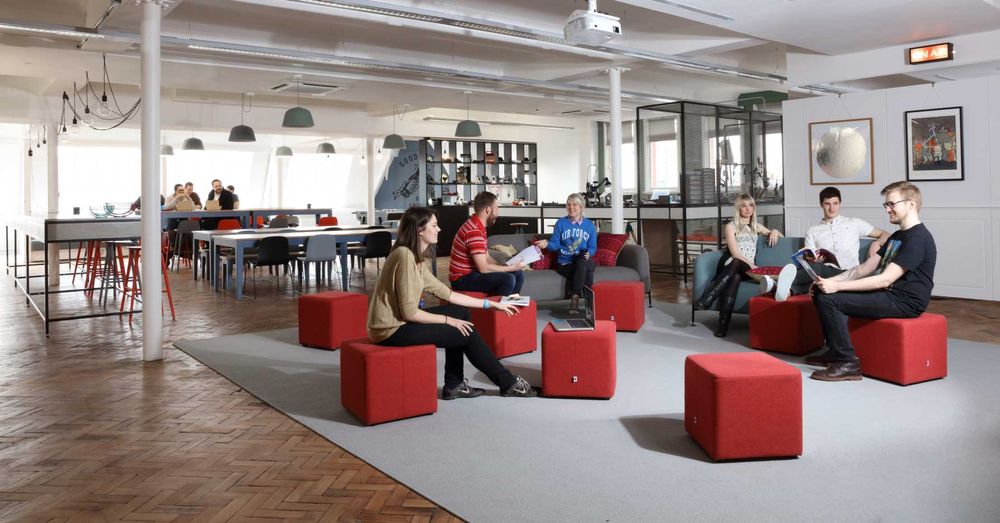 Source: Sevendale House
Sevendale House is a modern workspace designed to stimulate and inspire. This Listed Grade II character building in Manchester's Northern Quarter offers cutting-edge connectivity and all the quality standards you would expect of a novel coworking endeavour. Sevendale House offers office space and retail office space on its five floors. Members get a Daylight Saving Card with discounts for shops, bars, and eateries in the Northern Quarter.
12. Dalton Place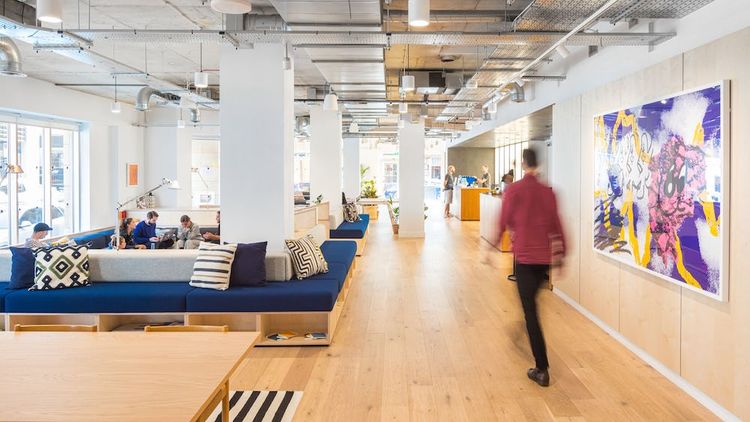 Source: Dalton Place
Dalton Place is located just a stone's throw from Spinningfields and the Tram at St Peter's Square, right in the heart of the city centre. Dalton Place features five floors of coworking spaces, serviced office suites, and meeting rooms, all of which include meeting room credits. On top of hot-desking plans and day passes, you'll get a kitchen area with a bar, coffee and beer machines, printing services, mail handling, and a variety of events designed to network and socialise. This six-floor building is imbued with natural light and has a roof terrace ideal for relaxing at lunch or after a hard day's work. Perks include 24/7 access, CCTV security, showers, bike storage, call answering, accessible facilities, and a staffed reception. All spaces are also pet friendly.
13. Burntwood Neo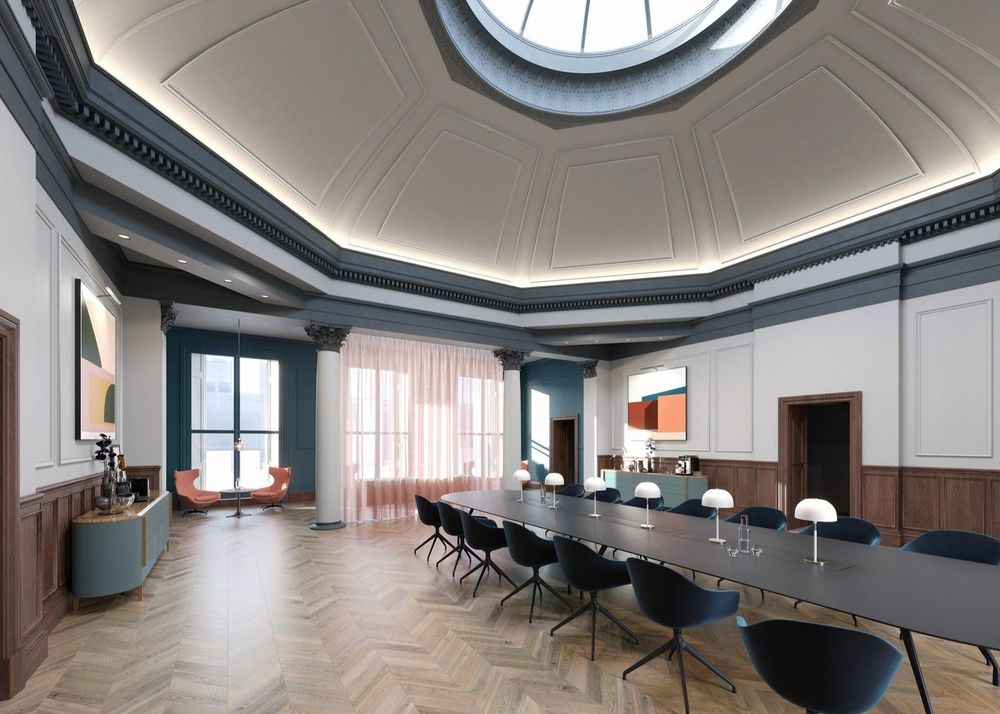 Source: Bruntwood Neo
Bruntwood Neo is a forward-thinking coworking space in Manchester welcoming businesses of all sizes. The Bruntwood community holds regular community events (including socials on the beautiful roof terrace and digital art spaces on the ground floor) and will give you access to business support programs. Located in the heart of the city and just five minutes from Picadilly, this flexible workspace has a diverse mix of businesses and entrepreneurs. Here, you'll be able to rent serviced all-inclusive office spaces (you won't have to worry about electricity, insurance, or service charges, and there are no hidden fees). Bruntwood Neo also includes showers, on-site wellness and fitness classes, and a dedicated community manager.
14. Ducie House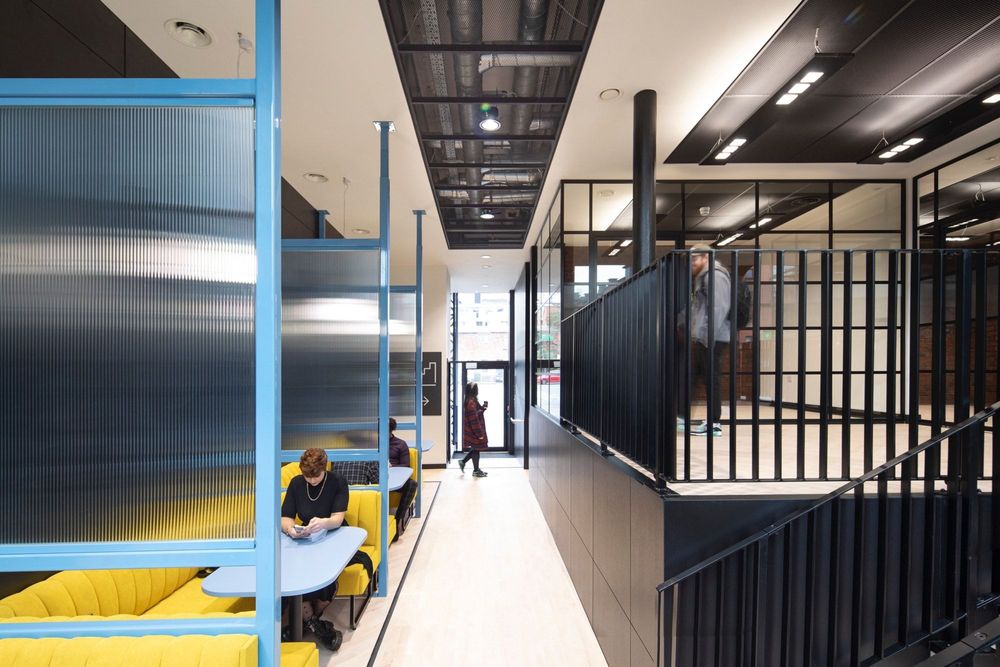 Source: Ducie House
Ducie House is a flexible workspace running from a refurbished office conversion located adjacent to New Islington, right in the heart of Manchester. Ducie House offers starter suites and large combined office plates with first-class facilities. Here, you'll find meeting rooms, phone booths, cycle storage, balcony break-out areas, shower facilities, and outdoor space. Plus, super-fast wi-fi, contactless door access, showers, contract parking on request, and AC - all steps from Picadilly. Kitchens are available on all levels, with the more prominent private offices featuring their own facilities.
Coworking spaces Manchester: Final thoughts
Manchester has plenty of excellent options when it comes to finding workplaces. Choosing the best coworking space, though, doesn't have to be difficult. We've covered the different membership options and shown you the perks these locations have to offer. Some spaces will be better suited for hot desking, while others might specialise in private offices. In all cases, always make sure you check what perks are included.
Once you've made a decision about your perfect coworking space, the next step is to make sure you have all the tools required to do the job. Here's where Indy can help! Indy comes with nine exclusive and powerful tools that will help you save time and money, including contracts, invoices, proposals, and time trackers.