At least 36% of the global workforce identifies itself as full-time freelancers. But as freelancing becomes more popular, it is essential to note that working for yourself comes with more responsibilities as you have to do most of the work yourself.
However, things are always much more manageable with proper productivity tools. These tools will help you with the following and much more:
Enhance client relationships
Automate project management
Optimize the time spent on something for maximum productivity
Manage finances and reduce costs
Learn by getting a constant flow of insights
While there is no doubt that tools and apps are handy for freelancers, getting the right ones is even more important. This article looks at 20 productivity tools and apps that make life easier for freelancers.
Let's jump straight in!
20 Best Productivity Tools and Apps
1. Indy - All-in-one Freelancing App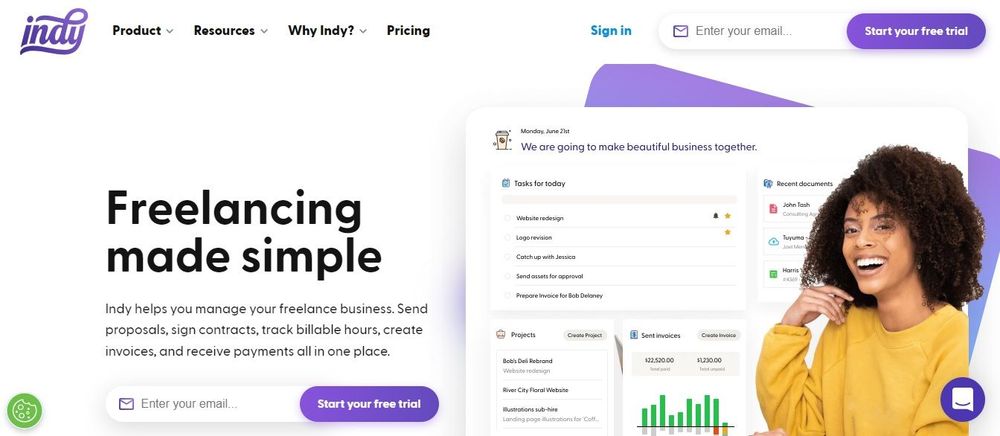 Indy tops our list as it is an all-in-one freelancing app that manages almost all aspects of freelance work. The online tool will help you with proposal creation, invoice generation, project management, contract signing, etc.
Indy provides dozens of proposal and invoice templates to help save freelancers time as they will not need to create these essential documents from scratch. Also, their templates ensure that freelancers present clients with professional-looking documents that can help them win more business.
You can also track your billable hours with indy and even get payment without using any other tool. Indy has a built-in time tracking software and supports online payment gateways like Stripe and Paypal.
Pricing
Indy's Free plan gives you free unlimited access to all the basic tools you need to manage your business. However, to get full access to the platform and use all the features they offer, you should go for their paid plan. The plan starts at $9/month for annual billing and $12/month for monthly billing.
Summary of Key Features
Chat function for real-time client communication
Calendar function to help schedule meetings
Contract creation, editing, and signing
Invoice and proposal templates
Task management
Time tracker
2. Zoom - Meeting and Conference Call Tool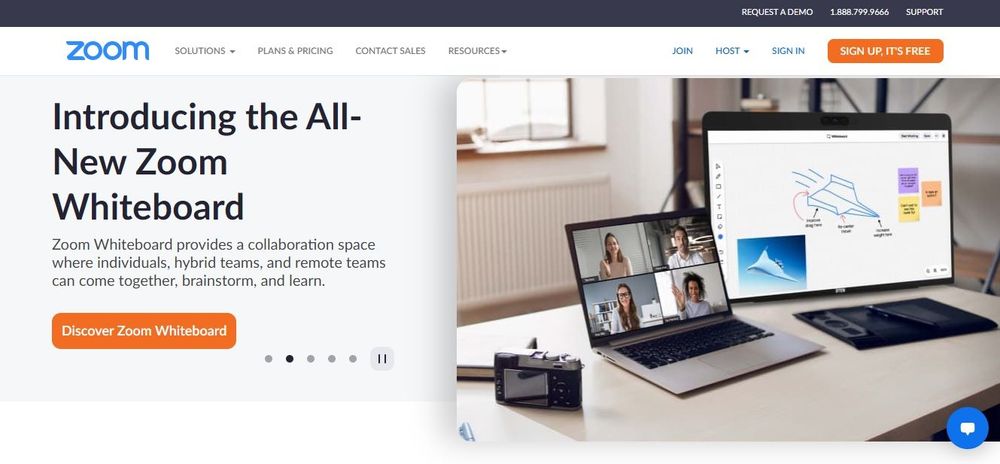 Communication is one of the biggest challenges that freelancers and remote teams face. Poor communication can affect collaboration and productivity, hence the need for a reliable communication tool like Zoom.
Zoom allows freelancers to collaborate by holding meetings and conferences. Also, freelancers can host webinars, which are helpful in building their freelance business.
Besides video conferencing, Zoom also has a chat functionality to further foster collaborations and lots of integrations to ensure you can easily integrate it with your other freelancing tools.
You can use Zoom on all your devices as it is available for the common operating systems, including Android, iOS, Linux, and Windows.
Pricing
Zoom is free for personal use, but you should get the paid plan if you want to get all the collaboration tools it offers for your freelance business. The plan starts at $149.90 /year/license for the Pro package that includes social media streaming.
Summary of Key Features
HD video/audio collaborations
Full-featured webinars
Cloud phone system
Chat functionality
Multiple integrations and bots
Editable whiteboards
Social media streaming
3. Google Drive - File Sync Tool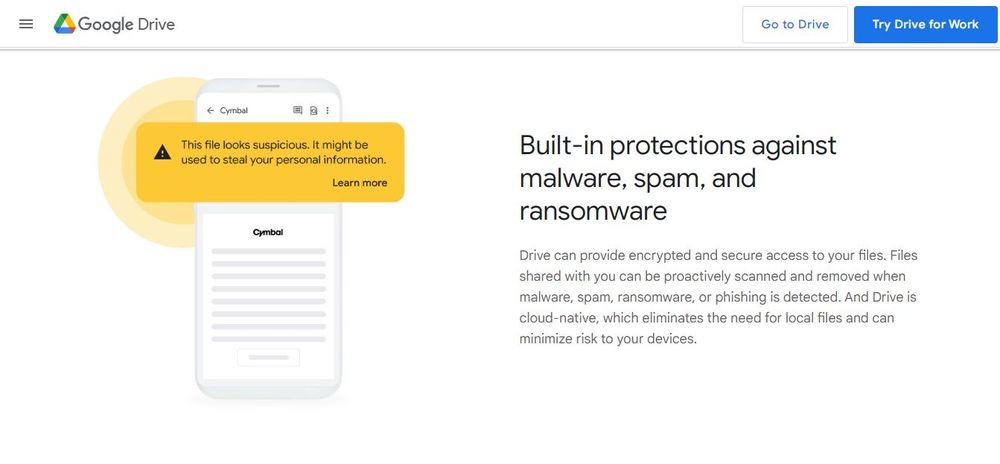 Chances are you are already using Google Drive for almost all your projects as a freelancer, given its high resourcefulness.
Google Drive makes it easy to collaborate with a team on any project as you can easily create documents, spreadsheets, and slides and share them with your team.
Anyone with the Google Drive link can view, edit or add suggestions to what you share, depending on the permission you assign them. Therefore, with Google Drive, you can collaborate and work on the same document in real-time, which speeds up project delivery.
Pricing
Google Drive offers most of its functionalities for free. However, you only get up to 15 GB of storage space for your documents, images, and videos. If you want more space, you can upgrade to one of their paid plans that start at $12/user/month and get up to 2 TB of storage.
Summary of Key Features
Doc, sheets, forms, and slides creation
Secure cloud storage
Drive search chips
Built-in protection against spam/malware
Comprehensive integrations with other apps and tools
4. Google Calendar - Simple Online Calendar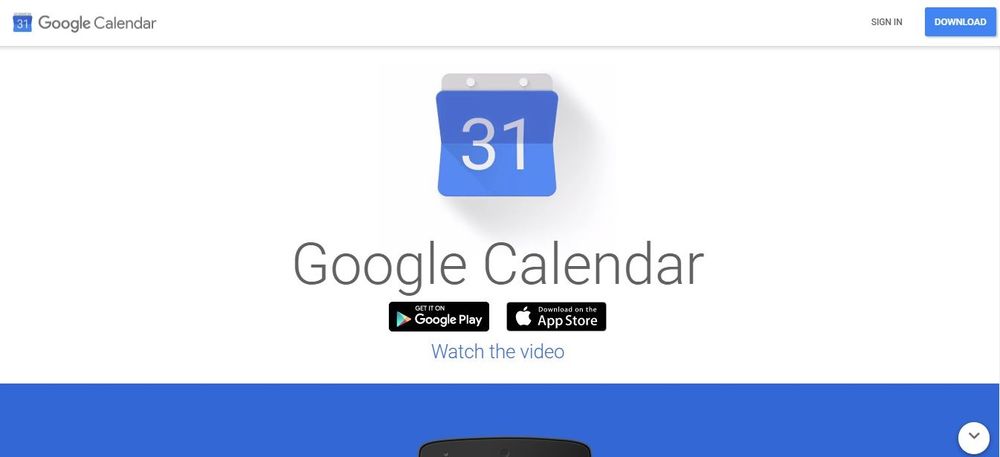 Google Calendar is another must-have tool by Google that will be useful for freelancers. The simple online calendar helps create and maintain schedules, and you can set it up quickly in just a few clicks.
Google Calendar allows you to create schedules for yourself and your remote teams. Also, the tool is aligned with Google Tasks, meaning it will also help plan your to-do lists and repetitive tasks.
You can also schedule meetings, make Google Meet calls, and organize events using Google Calendar.
Other Google Calendar features that users like include out-of-office that lets others in your team know you will be away, advanced search that enables you to find anything, and a time tracker.
Pricing
Google Calendar is a free tool for personal use. However, if you want the business version, you have to pay $5/month/user or $50 per year if you prefer annual billing.
Summary of Key Features
Meeting scheduling
Upcoming events reminders
Out of office feature
Advanced search
Year view
World clock for time tracking
5. Dropbox - File Hosting and Smart Workspace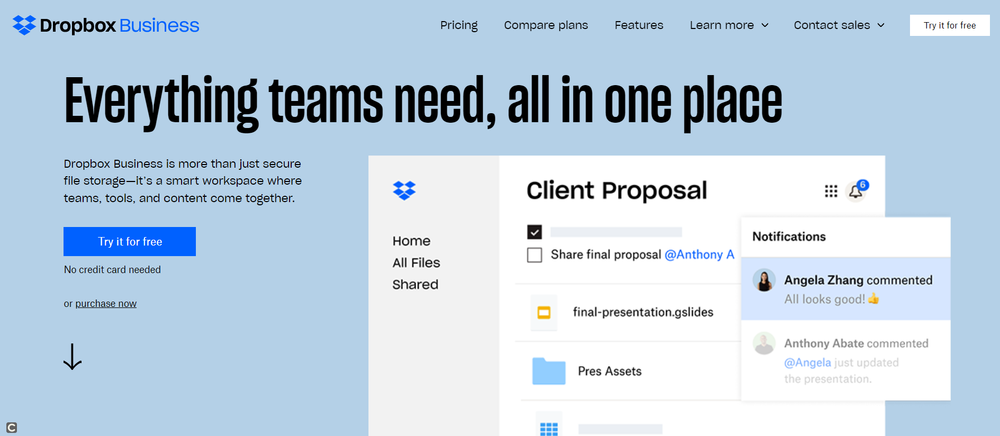 As a freelancer, you will need to manage a hefty amount of documents, and in such situations, you need a tool like Dropbox. The tool allows you to store and sync all your important files securely in one place.
You get up to 2 GB of free storage space, and you can increase the allocation when you get more files by using the paid version. Dropbox also makes it easy and safe to share your files with your team with options like download permissions and password protection.
Additionally, freelancers can use Dropbox to manage tasks, track files, and sync files, drawings, and Powerpoint presentations across multiple devices. And since Dropbox is a cloud service, you can access your files from anywhere using almost any device.
Pricing
Dropbox has plans for both personal and business use. The personal plans start at $9.99/month, and the business plans with more functionalities and larger cloud storage space start at $16.58/month for individual users and $12.50/user/month for smaller teams.
Summary of Key Features
File storage and organization
Device sync
File share and tracking
e-signature
Team collaboration
Automatic backup
6. Evernote - Note Taking and Info Sharing App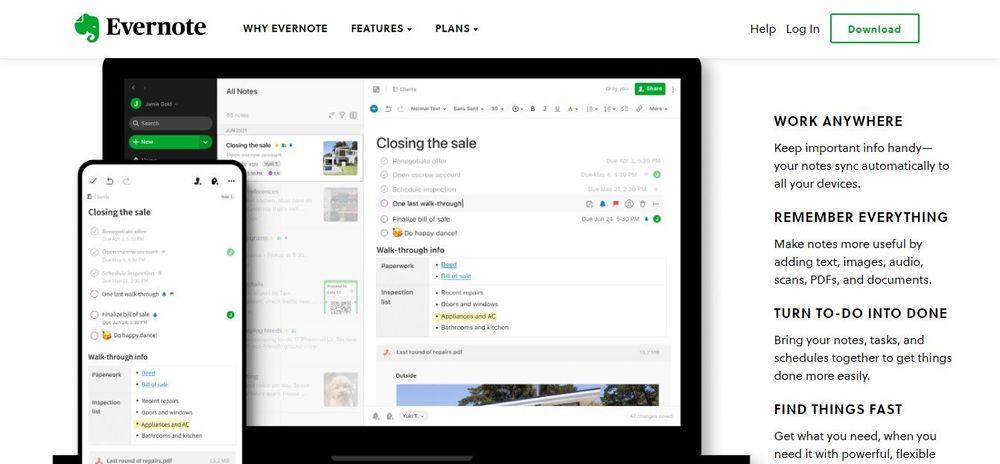 Evernote is a note-taking app that will ensure you do not miss recording anything vital you may need for your project later on. Also, it is a helpful app for organizing tasks, scheduling, and sharing information with team members.
You can take notes in the form of simple scribbles, audio, video, images, and web pages. It is also possible to draw diagrams, make charts, and include arrows in your diagrams to ensure more conciseness.
With Evernote, you can also prioritize tasks, create to-do lists, and use one of their many templates to create business plans. Also, the tool has a handy project tracker and can even allow you to scan important documents.
Evernote integrates with other useful tools like Clockify to allow easy and precise time tracking and Google Calendar to help with scheduling.
Pricing
There is a free version that allows you to capture notes for free and sync them across a maximum of 2 devices. However, if you want more, you should go for the paid plans that start at $7.99/month for the personal plan and $9.99/month for the professional package.
Summary of Key Features
Notes sync and organization
Templates
Document scanning
Google Calendar integration
Cloud sync
Search function
7. Trello - To-do List and Project Management Tool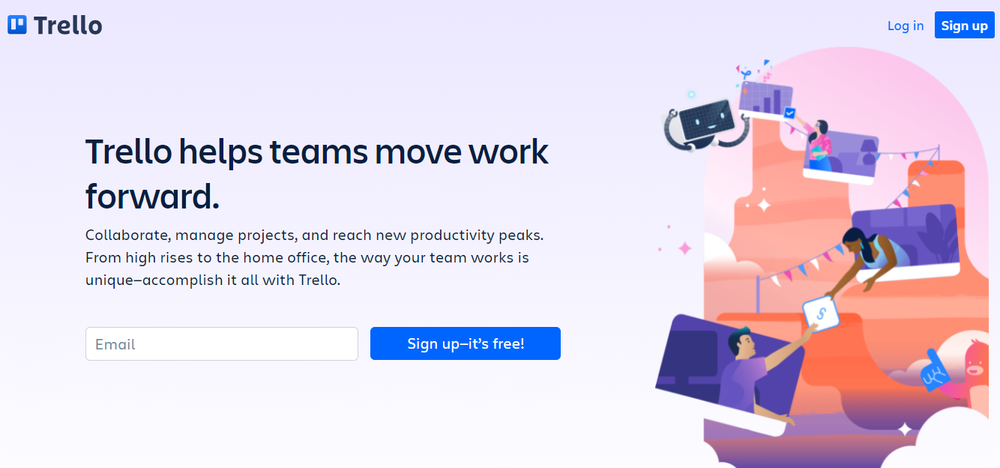 Trello is a web app designed to help you manage your freelance tasks and projects. However, it goes beyond this by providing a complete team collaboration and communication platform and will be very useful for freelancers working with a team.
When using Trello, you get boards that represent different projects, and you can then add cards that will serve as the tasks for the project.
You can then add the individuals you want to collaborate with to these tasks and track their progress. Also, Trello allows you to create to-do lists, highlight the tasks you are working on and mark them as "done" when you finish.
Trello has built-in automation that reduces the number of tedious tasks you have to do on your board and helps speed up project implementation.
The app is also easy to make part of your overall business structure as it integrates with most other apps that you need to streamline workflows, such as Google Drive, Slack, and Dropbox.
Pricing
All the basic Trello features are free, and you only need to sign up to start using them quickly. However, if you want the more advanced business/enterprise features, the plans will start at $10/user/month.
Summary of Key Features
Boards, lists, and cards
Tasks assignments
Productivity metrics
No-code automation
Integration with top work tools
Drag and drop support
8. TeamViewer - Desktop Sharing Tool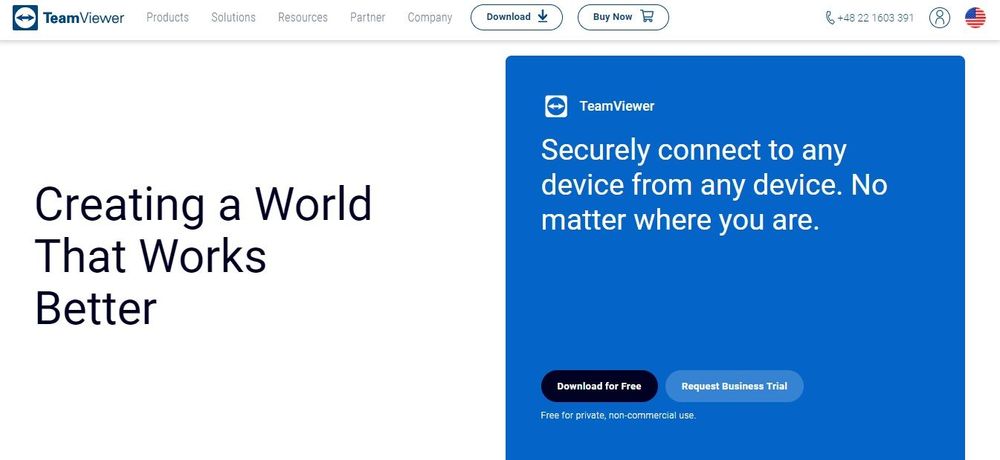 TeamViewer is one of the most widely used collaboration tools, and you can almost be sure you will need it at some point for desktop sharing and remote control.
Teams can connect remotely with TeamViewer and share documents on their computers without sending them. Once you have permission to access a team member's desktop, you can view all the documents you want without bothering them.
TeamViewer also supports online meetings and will allow you to make online presentations and engage your remote workers.
And there is also a handy whiteboard that can be highly useful for the team's brainstorming sessions.
Pricing
You can use TeamViewer for free with limited functionalities. However, if you want the full version with all the features, including TeamViewer Meetings, you have to pay for the $23.99/month business license, $47.99/month premium version, or $93.90/month corporate license.
Summary of Key Features
Remote PC control
Desktop and file sharing
Online whiteboard
Online meetings
Remote and hybrid classrooms
9. Hootsuite - Social Media Accounts Management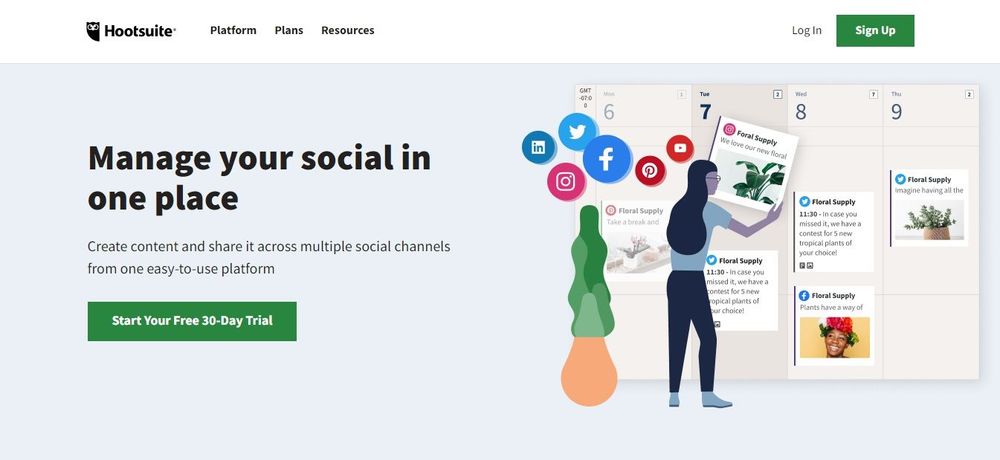 As a freelancer, you need to have a good presence across multiple social media platforms to market your services and engage clients. Having many social media accounts can be hectic, but Hootsuite will make them easy to manage from one location.
Besides managing your accounts, Hootsuite will help you monitor activities in your social channels, automate processes and measure your influence.
The easy-to-use Hootsuite dashboard lets you get complete visibility and control your social media accounts. Also, you can post and schedule future postings from the tool to ensure you always deliver content to your followers consistently.
Hootsuite will keep you informed on market trends and provide insights into your competitor's social media activities to give you an edge.
Pricing
Hootsuite is free for individuals, but if you want it for business and enterprise use, the plans start at $49/month for professionals and $129/month for teams.
Summary of Key Features
Posts scheduling
Message view and reply
Market trends and competitor monitoring
Organic content promotion and paid ad management
Social media performance analysis
10. Calendly - Meeting/Appointment Scheduling App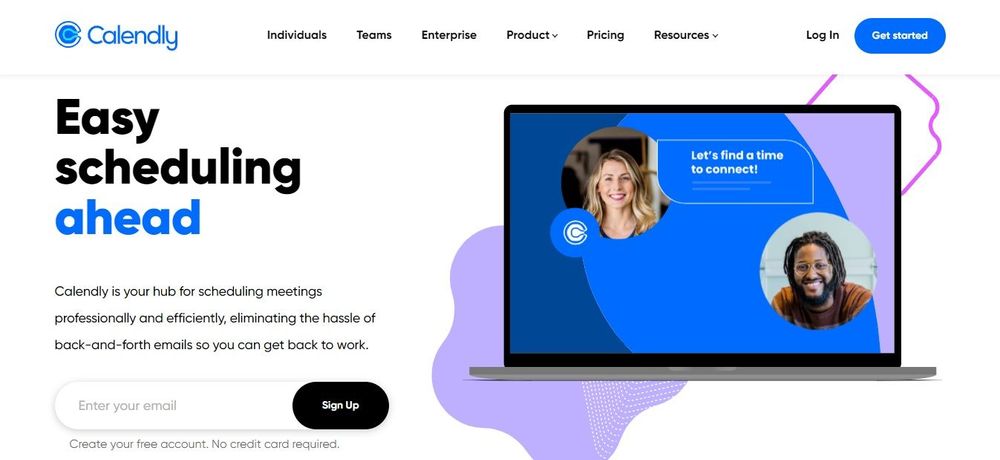 If your freelance work requires you to set meetings and appointments and plan events regularly, Calendly will be a handy productivity tool.
Calendly makes scheduling meetings a breeze and eliminates the tedious back and forth emails so you can concentrate more on work.
You will only need to set the hours you will be available during the week, and anyone that wants to book a meeting or appointment can then see when you can meet them.
And you can be sure that your clients and prospects will not have any difficulties scheduling the meetings as the tool has a clean and user-friendly interface that makes everything easy and smooth.
Additionally, you can integrate it with other tools you use, such as Zoom, Slack, and Zapier. And you can even embed Calendly on your websites to ensure even smoother meeting scheduling.
Pricing
You can use Calendly for free if you just want the basic scheduling functions. However, their paid plans start at $8/user/month. Also, they can create a custom plan for larger enterprises with more than 30 users, and the exact charges will depend on what the package entails.
Summary of Key Features
Automatic reminders/follow-ups
Clean and intuitive interface
Team scheduling
Website embed
Calendar connections
Meeting polls
11. Canva - Visual Content Creation App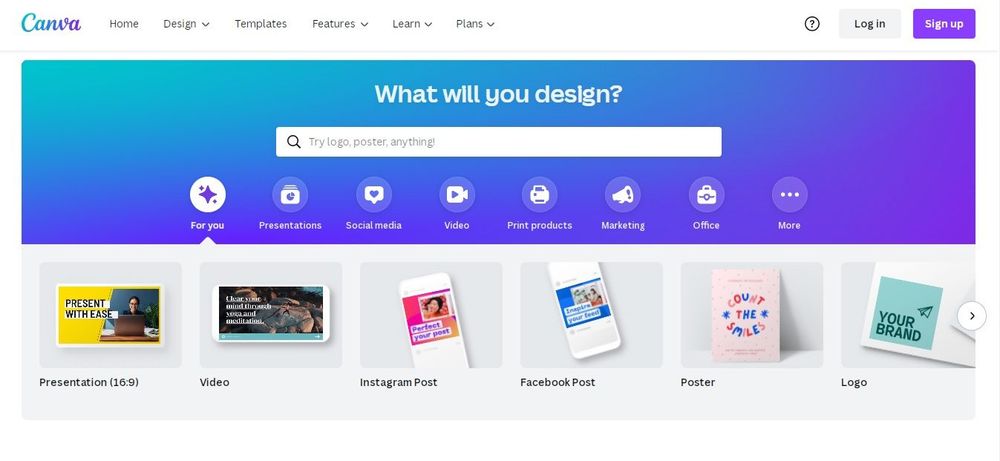 Canva is the go-to tool when you need to create images fast and efficiently. You can use Canva to create images and design infographics of GIFs for social media postings, presentations, marketing, and much more.
You can invite people to collaborate with you when designing something on Canva or set up your entire team on the platform. Hence, it will be easy to get feedback on your visual content when working with a group.
Canva has an easy-to-use interface for simple operation and will include a drag and drop library to speed up your visuals creation process. Moreover, Canva also has templates for almost anything that requires visuals.
Pricing
Canva will give you everything you need to start designing for free. However, they also have two paid plans for those that prefer more: the Pro plan for $119.99/year and the Enterprise plan for $30/month.
Summary of Key Features
Photo editor
Real-time collaboration
Drag and drop library
Built-in comments
Graphs and charts
12. Slack - Team Communication App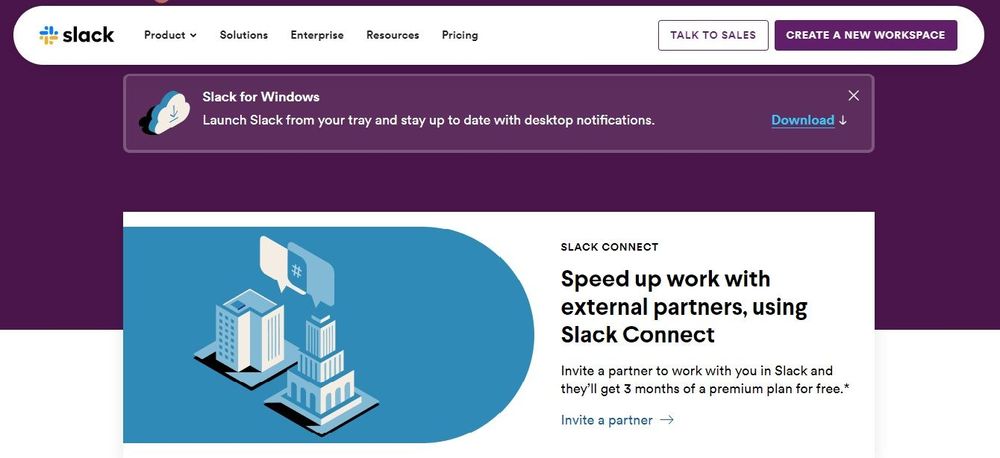 As a freelancer, you typically need to work with a team on various projects, and so you need a reliable tool for communication such as Slack.
Slack helps you get everyone on your team on the same page quickly. It does this by making it easier for people to communicate. Proper communication makes it easier to collaborate and work together.
Slack is also one of the best productivity apps for organizing groups and tasks, as you can use channels to centralize all the notes and files. You can have a different channel for everything you are working on, and you can also share channels with specific individuals, groups, or stakeholders.
File sharing is much easier and quicker with Slack, thanks to the drag and drop capability. Many freelancers will love its multi-platform functionality as it means they can use it on almost any device.
You can integrate Slack with all the common productivity tools and platforms, including Trello, Google Drive, and Salesforce, to further streamline how you run your freelance business.
Pricing
Slack has a free plan for starters, and the paid packages start at $6.67/month for the Pro plan. Also, they have a custom Enterprise plan for more demanding teams.
Summary of Key Features
Project/task-specific channels
Real-time collaborations
Workflow builder
Drag and drop file sharing
Multiple platforms functionality
Wide integrations
13. IFTTT - Connectivity Platform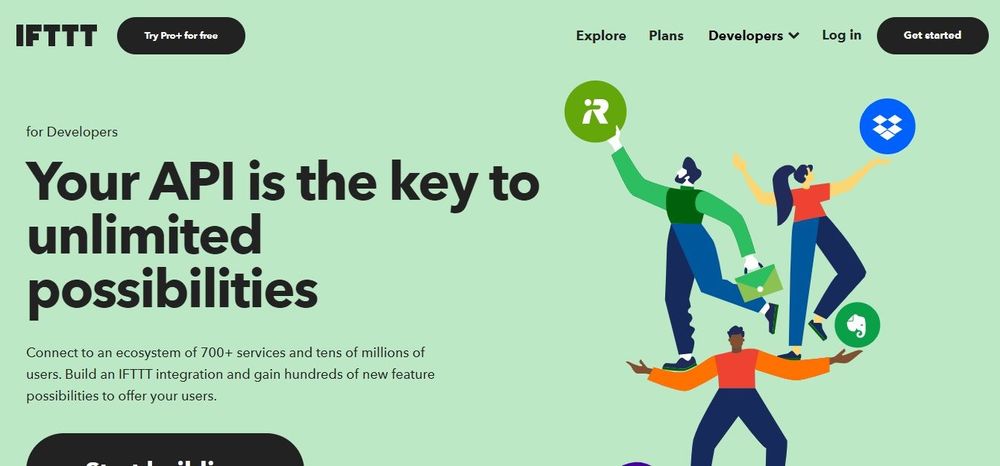 IFTTT is one of the world's leading connectivity platforms, and it is meant to help you optimize the potential of all your digital tools. You can use the tool to sync two apps to ensure smooth operation.
For example, you can use it to ensure that when one app completes its task, the other starts working on its task. This way, you ensure a smooth flow of things by prompting your digital tools to perform tasks when you need them.
With IFTTT, you can continuously improve your services and product offering using features from the apps you integrate. Also, the tool will be a low-code alternative to in-house integrations building.
Pricing
The standard IFTTT plan is free, and you only need to sign up to use it. Their paid plans include Pro for $3.99/month and Developer for $199/month.
Summary of Key Features
Integrations customization and control
No-code platform
Android and iOS device support
Real-time behavioral insights
14. Todoist - Task Management Tool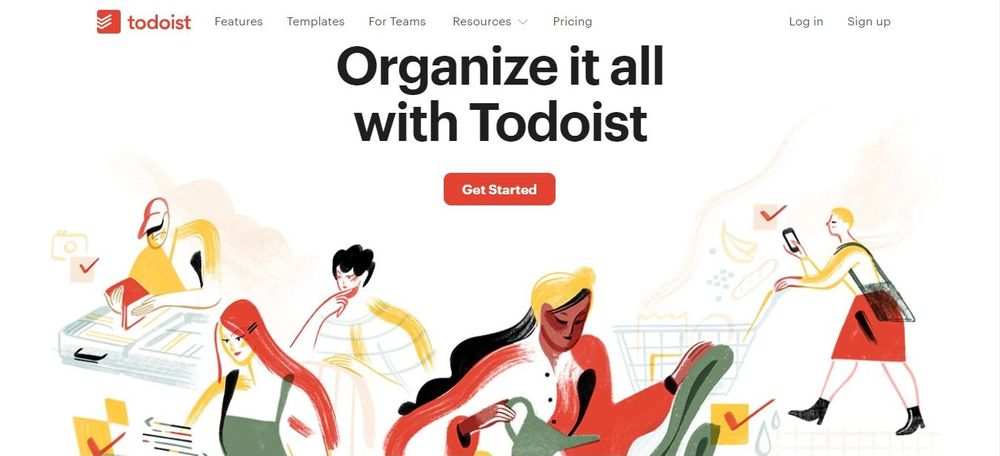 Todoist is a productivity app for managing tasks and tracking your productivity. You can also use the time tracking tool to create a to-do list, and it has some elements of project management, making it highly resourceful for freelancers.
Although it seems to touch on multiple genres, Todoist is still relatively easy to use, and you can even use it to manage several tasks and projects at once and determine what you still need to do.
You can get a daily and weekly overview of what you need with Todoist. Hence it will be easier to delegate some tasks to others if you are working with a group if you find you have too much to do for the day or week.
Todoist will integrate neatly with other productivity tools, ensuring it fits perfectly with your existing workflow to help streamline how you do things.
Pricing
Todoist has a free basic plan and two paid plans. The paid plans are the $3/month/user Pro plan and the $5/month/user Business package.
Summary of Key Features
Subtasks and sub-projects
Recurring tasks
Delegate tasks
Tasks personalization (labels, filter, themes, and more)
Notifications
Dozens of integrations
15. Asana -Team Project Management Tool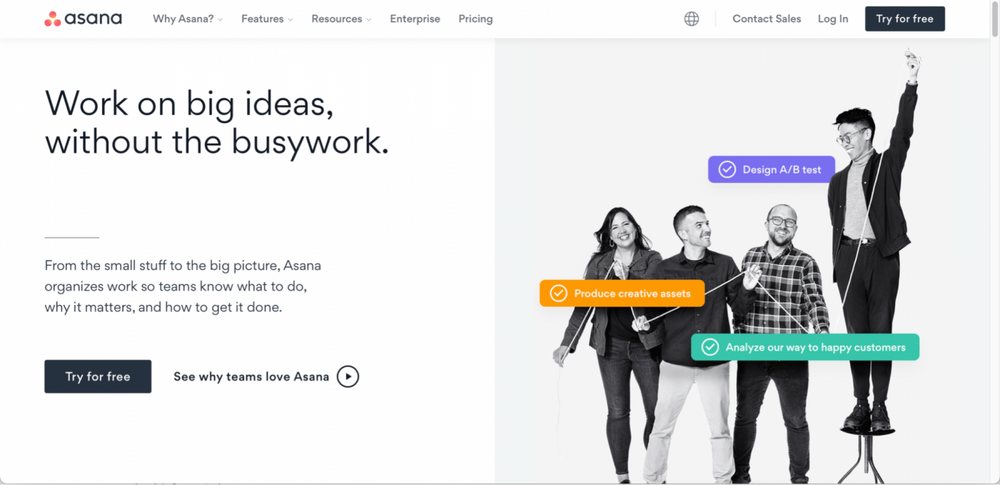 Managing projects does not have to be hectic even when you have a large team, as you only need the right tool, and Asana is one of the best here. Asana makes it easy for teams to manage and track projects, processes, and tasks.
Asana allows you to assign team members specific tasks within a project using cards and create to-dos for specific individuals from your project lists. You also have the option to add attachments, lists, subtasks, descriptions, and comments to the tasks and projects.
There is also a search function that you can use to locate specific tasks and projects from your boards and lists. And you get to choose a project view that best suits your style and business theme.
Pricing
The basic plan is free, and it will be ideal for freelancers and teams just starting. Other plans include the $10.99/month Premium and $24.99 Business plans.
Summary of Key Features
Projects tracking
Task management
Workflow builder
App integrations
Real-time insights
Desktop and mobile apps
16. Microsoft 365 - Comprehensive Productivity Suite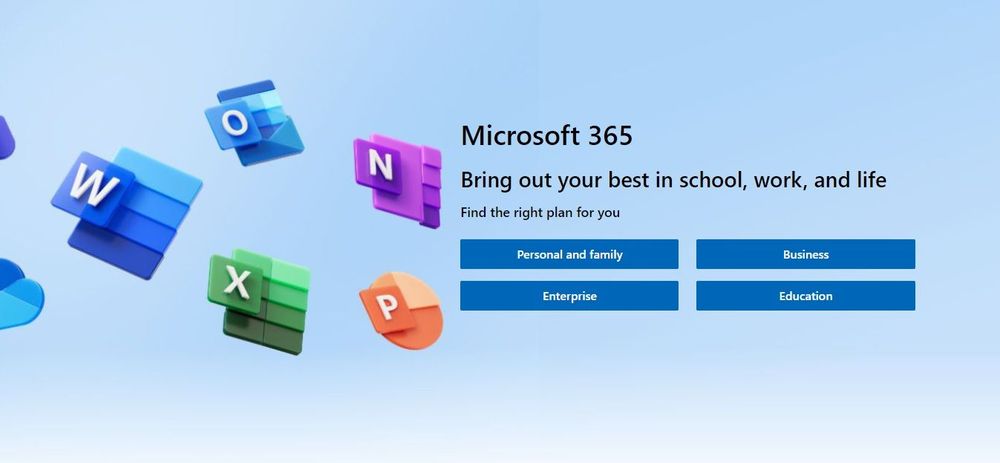 Microsoft 365 is one of the original and most popular productivity suites, and it will also be helpful for freelancers looking to enhance their overall productivity. The suite includes all the apps you need to get things done, from MS Office to MS Teams and OneDrive.
The apps you get with the Microsoft 365 suite will help with all your office needs, from document creation and management to presentations and email.
You also get a cloud storage solution with OneDrive and Microsoft Teams makes team meetings and communications a breeze.
Pricing
Microsoft 365 price depends on whether you are buying it for personal or business use. Personal plans start at $6/user/month, while business plans start at $8.25/user/month.
Summary of Key Features
Team connection and collaboration with MS Teams
Document and spreadsheet processing
Enterprise-grade security features
Ad-free email and calendar
17. RescueTime - Background Activity Tracker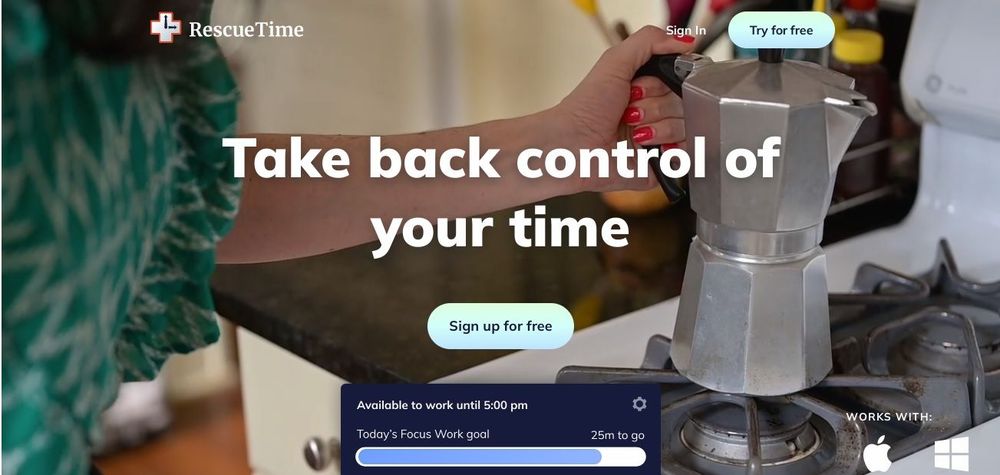 RescueTime, just as the name suggests, is meant to help you minimize time wastage to focus on your core responsibilities to increase your productivity.
The tool keeps track of your activity in the background when working on your computer to ensure it does not distract you. The tool lets you know exactly how much time you spend on the actual tasks and how much you waste.
Unlike other apps you use to track time, RescueTime identifies inefficiencies in how you use your time and provides helpful insights on what you can do to get more productive.
You can also set yourself targets and alerts to help you develop better working habits that ensure you make the best use of the limited work time you have every day.
Pricing
RescueTime has a free lite version with the basic functions to get you started, and their paid plans will start at $9/month.
Summary of Key Features
Accurate time inefficiencies detection
Cross-platform usage
Discrete background time tracking
Focus sessions
Detailed time use reports
18. nTask - Task Planning and Management App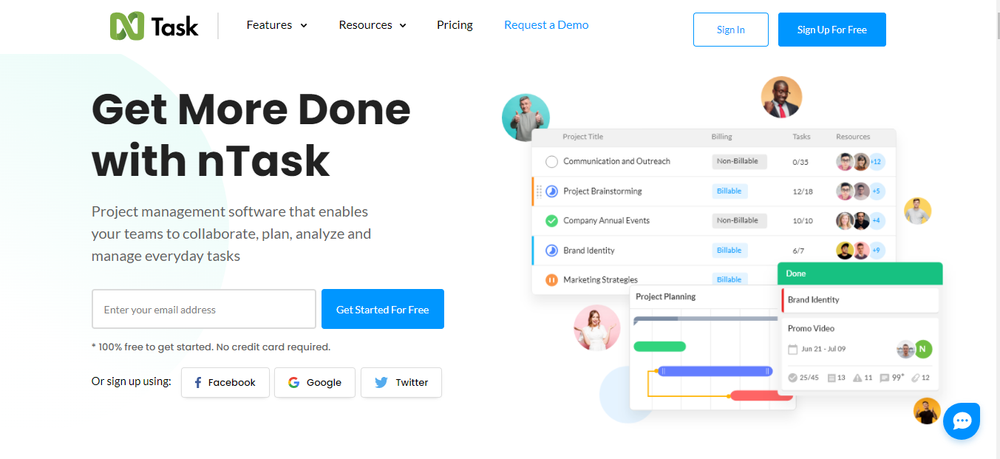 nTask is an online productivity app that will help with project and task management. The tool is also handy when planning both projects and tasks.
You can create a workspace on nTask and use it to organize all your files, create tasks lists, manage projects and do much more. Also, as a project manager, the tool will give you the ability to estimate budgets and allocate resources to different projects.
nTask makes it easy to organize your repetitive tasks, and you can see the project progress by adding due dates for various tasks and projects. Like many other productivity tools, nTask is highly effective at ensuring your team remains cohesive and on the right path toward success.
It is also possible to integrate nTask with other third-party apps to ensure smooth workflow and that you finish projects on time.
Pricing
nTask has three pricing plans: $3/month Premium plan, $8/month Business plan, and Enterprise plan for teams looking for a custom plan with enterprise-grade security standards. You can also try the Premium and Business plans free for 14 days.
Summary of Key Features
Task and project management
Kanban board
Gantt chart
Online team collaboration
Time tracking and timesheet
Online issue/bug tracking
19. Right Inbox- Email Management and Tracking Tool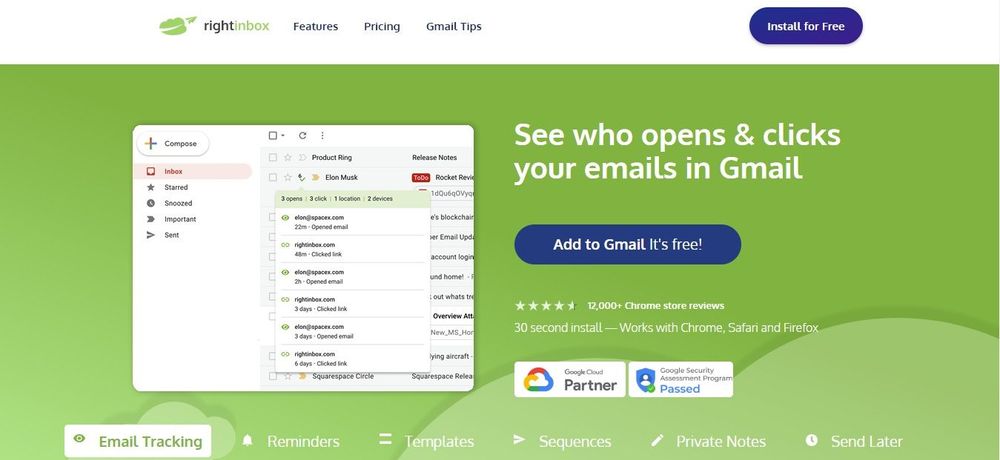 Right Inbox is a browser extension that will help you manage and track the pile of emails you get every day.
With this extension, you get complete control over when and how you send emails, as you can write and schedule them to be sent at a particular time or day. Also, you can set the extension to give you reminders for important emails and conversations that you need to attend to for the day.
Right Inbox includes private notes to allow you to jot down ideas without having to clutter your emails or being forced to share with others.
Other things like email templates, sequencing, and signatures make this an even more helpful tool for your email management.
Pricing
You can install and use the Right Inbox extension for free. However, the free plan has limited functions, such as 10 email reminders and 5 email tracking per month. For unlimited use of the platform, you can choose to pay $5.95/month when getting billed annually or $7.95/month if you pay every month.
Summary of Key Features
Email templates
Scheduling and reminders
Email signatures
CRM sync
Email tracking
Embedded GIFs
Private notes
20. Tettra - Online Knowledge Management Tool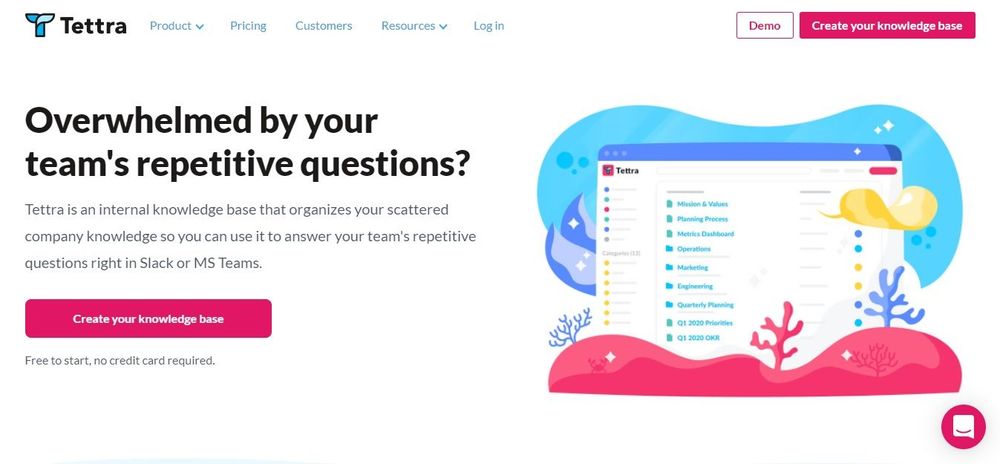 Knowledge management can also help you improve productivity, and the good news is that there is also a tool that can help with this: Tettra.
Tettra might not help you manage everyday tasks, but it will help streamline your workflow by collecting crucial information like policies in one place.
It also makes it easy to answer important questions and organize scattered business information so that it will be easily accessible by individuals in your team.
The simple design of Tettra makes it easy to navigate even for new employees, and the team behind it is always adding more features to make it more helpful in increasing productivity.
Tettra integrates easily with other tools you often use, such as Slack, MS Teams, and GitHub. You can even use the tool to answer questions from your team on these platforms.
Pricing
If you are a small team just starting your knowledge sharing, Tettra has a free basic plan. However, as your knowledge sharing needs continue to increase, you should pay for one of their 2 plans: the $8.33/user/month Scaling plan and the $16.66/user/month Enterprise plan.
Summary of Key Features
Content clutter cleanup
Full-featured API
Usage analytics
Permissions
Integrates with multiple software
FAQs
What are productivity tools?
Productivity tools are apps and tools designed to help you work more efficiently to retain high productivity levels. These tools automate processes so that they are easier and quicker to accomplish.
Also, some help you focus on the core task at hand instead of other non-core but still important tasks that you need to do. This way, you can put enough effort into your core mandate to ensure greater success and faster delivery.
Why do freelancers need to measure their productivity?
Measuring productivity allows freelancers to determine how much work they can handle daily or weekly. This way, they know how much to charge per project/hour to maximize income.
Also, measuring productivity provides essential insights for freelancers, making it easy to tell areas they need to improve.
For example, when using RescueTime to track your productivity, it is easy to tell how much time you are dedicating to the actual work and what time you are wasting on other things. With this insight, you can plan your time better to ensure maximum productivity.
How can productivity tools help freelancers?
Productivity tools help measure your productivity levels to know what you have to improve to maximize earnings. However, they can also help streamline workflows and make your work easy by automating many processes.
With the right productivity apps, you can finally achieve the work-life balance you desire as a freelancer. The tools allow you to free up a lot of time for other things through automation and proper time usage.
What are the best ways to improve productivity?
There are many ways freelancers can increase their productivity levels, and in most cases, it takes more than just one method as you have to change how you do things almost completely.
Some of the most common ways to increase productivity are:
Set small goals and targets that are easier to achieve
Avoid multitasking or taking too many projects at a go
Work on the biggest and most important tasks when you are most alert (for example, early in the morning)
Avoid distractions and things that lead to a lot of time wastage, like watching funny social media videos
Get a team to help you out and delegate or outsource some of the tasks
Take regular breaks and make sure you always get enough sleep
Bottom Line
Productivity tools and apps can be very useful in ensuring you focus on what needs to be done to ensure you get maximum value from the time, energy, and money you spend doing your freelance work.
However, no one tool will help solve all your productivity issues, so you often need to use a combination of several of them through integrations. For example, you will need a time management app to track time and something else for project and task management.
The good news is that there is a tool out there to help you manage everything that affects your productivity, and you just need to find it. Our 20 productivity tools and apps above will be the perfect starting point for your hunt for the best tools to streamline your freelance work.