For consultants, the best time tracking software can be one of the essential tools in their business. An accurate software for time tracking ensures that the consultant gets a fair compensation and that the client gets exact billing hours.
A time tracking software can also help to increase transparency between the consultant and client.
Time tracking for workflow optimization
In addition to tracking the time the consultant spends on their project, the apps and software can also provide essential insights into time-management skills and productivity. This allows the consultant to optimize their workflow.
Choosing the best time tracking app for consultants requires background research and evaluation of needs and goals.
Before choosing software and signing up, it is vital to consider a few key aspects.
The best time tracking app for consultants has many features and services the consultant in the best possible way.
How to choose the best time tracking apps for consultants
Before deciding which time tracking app is the best, consultants should consider the nature of work, technical requirements, usability, and budget.
The nature of work
One of the most important things to consider when choosing the best software for consultants is the nature of the work.
For instance, if the consultant travels a lot, location tracking software and time tracking may be needed.
Also, many consultants who travel may need to bill travel time or off-site meetings.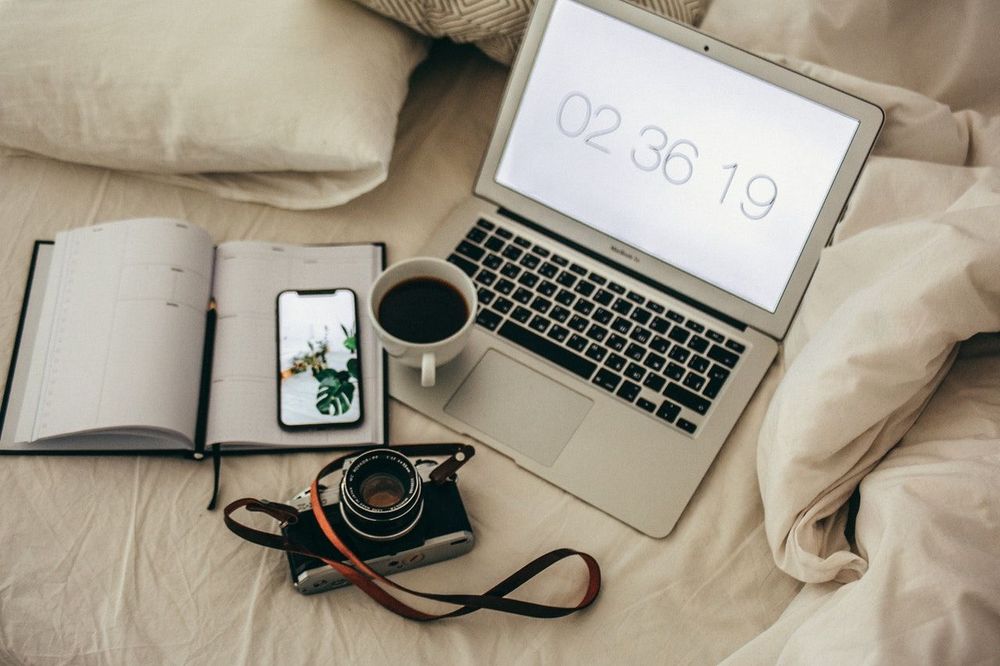 Technical requirements
The consultant should consider the type of platform and devices the software should be able to support. They might also need to get software that integrates with other apps, such as payroll or invoicing.
Usability and ease
As consultants will use their time tracking apps often, perhaps even daily, the ease of use is one of the most important things to consider.
The software should be simple and easy to use across devices.
Budget
The best tracking app for consultants can be priced differently depending on its features.
Usually, the software subscription is paid monthly or annually, though sometimes getting a free, limited trial may be possible.
The best time tracking software for consultants in 2022: top choices
Ultimately, the best tracking software is the one that fulfills all the needs of the consultant, such as the ones listed above.
As the tracking app is possibly the most used tool in consulting business, choosing the right one can greatly impact business.
Time Doctor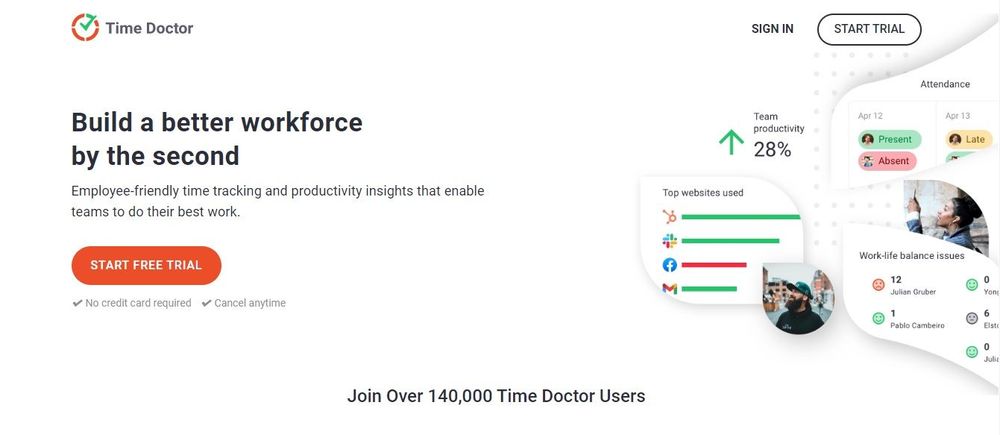 Time Doctor is one of the most popular employee management tools in the market, and many major companies and small businesses use it every day for tracking, payroll, and even invoicing.
It is number one on the list because of the number of features it offers.
Key features:
Accurate time tracking
Offline tracking for time spent working online
Mobile usage
Project and task management
Payroll
Productivity reports
Unlimited projects
Toggl Track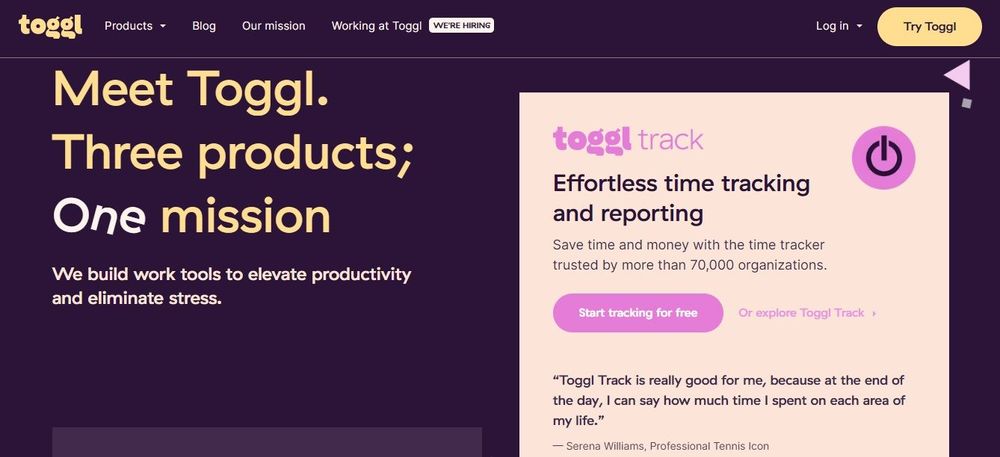 Toggl Track is a time tracking software that allows the consultant to track their time spent on a browser without a separate download. It also offers task management and timesheets.
You can download the app on iOS and Android. Toggl Track also integrates with various add-on CRM apps.
Key features:
Interactive dashboards for budgets, timelines, and track task progress
Timesheet export
Built-in Pomodoro time tracking
Integrated project management tools
The Toggl Track app is a browser-based software. It is easy to use and allows different apps to be downloaded if needed.
This app is seamless and straightforward to use on the go and is an excellent option for consultants who travel.
RescueTime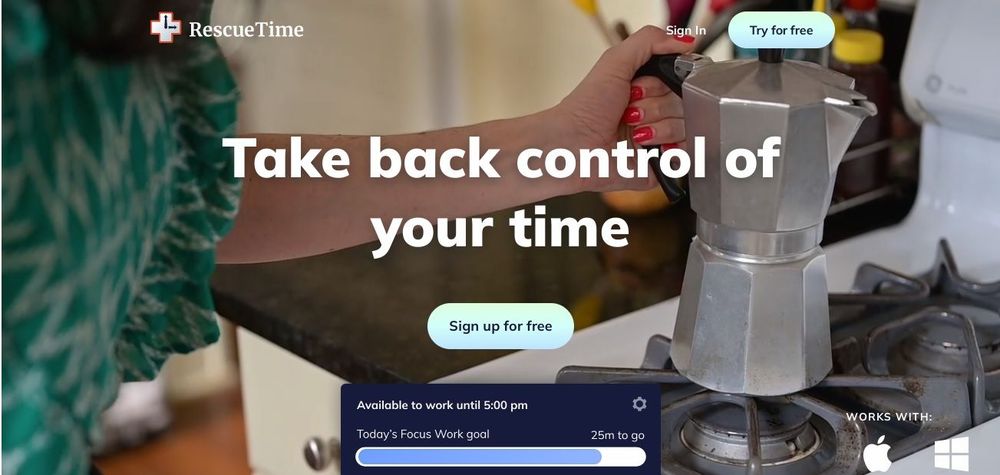 RescueTime is a time tracking software that tracks both time and productivity. It allows the consultant to analyze comprehensive reports and data, and it is also suitable for employers who want to know how their freelancers and employees use their time.
The consultant can also create defined time sessions, which can help to increase productivity.
Key features:
Time tracker that uses automatic tracking without manually entering time into the timesheet
Offline tracking
Integrated Google Calendar and third-party task management tools
Time limit settings for specific websites
Consultants looking to track time and analyze productivity will find that RescueTime can be a great tool.
One of the best features of this software is the integrated Google Calendar which also allows the consultant to save time and effort.
Clockify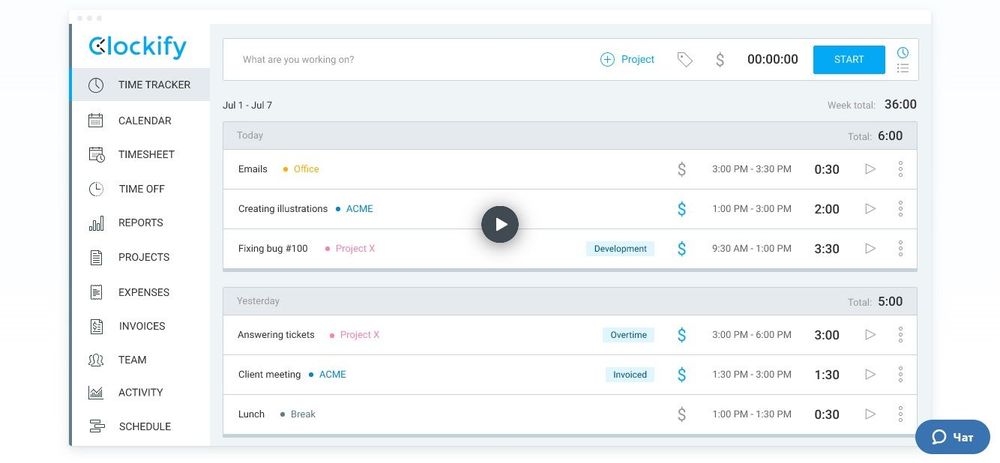 Clockify is an excellent choice for consultants who are on a tight budget. It also suits companies of all sizes and offers project management features and productivity insights.
It is easy to track employees' schedules and habits with Clockify.
Key features:
Track hours automatically or with a manual timesheet
Interactive dashboard with timeline views
More than fifty third-party integrations
Invoicing and billable hours through the app
When the ability to integrate with many third-party apps is at the top of the priority list, Clockify can be an efficient choice.
Harvest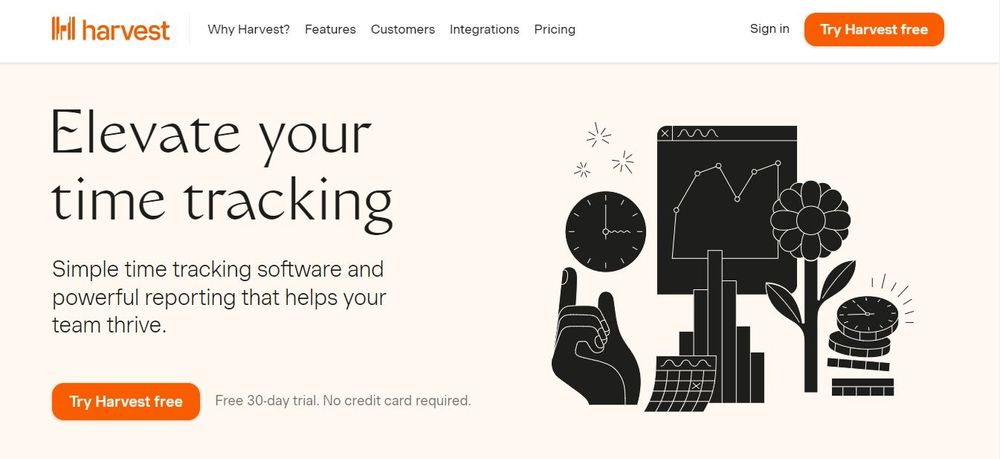 Harvest is the best time tracking tool for consultants who want to work with a cloud-based tool. It allows tracking and employee monitoring for businesses and individual consultants.
It features payroll and invoicing tools that integrate seamlessly with many third-party applications, thus allowing quick and easy payments.
Key features:
Time budgets for individual consultants
Monitoring of employee's clock-in and clock-out habits
Automatic time tracker and manual timesheet
Comprehensive time logs that allow for the analysis of work hours and workflows
Create invoices and handle billing through PayPal and Stripe
Cloud-based software is a great choice, especially for those who work from multiple devices or use mobile devices. Also, one of the ways this software stands out is by allowing Paypal and Stripe invoicing.
Replicon TimeAttend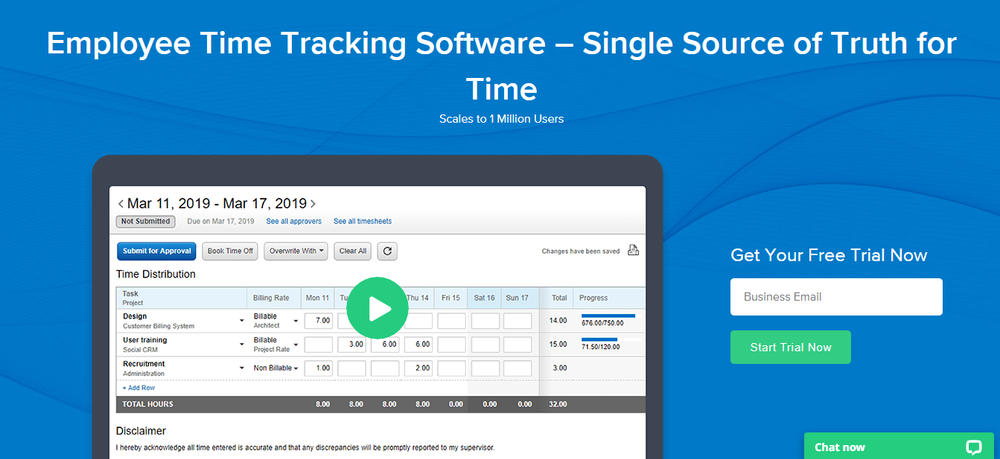 Replicon has created a management and tracking tool called TimeAttend, directed toward businesses and individual consultants.
It allows for time tracking, automated reports, and easy invoicing processes.
Key features:
Timesheet submission and approval request alerts and notifications in real-time
Monitoring of user activity
Screenshots and recording features
Ability to track billable and non-billable hours
Mobile app
GPS tracking for off-site client visits
This software also offers a 14-day free trial, which is great for consultants who are on a tight budget and want to make their choices carefully.
Zoho Projects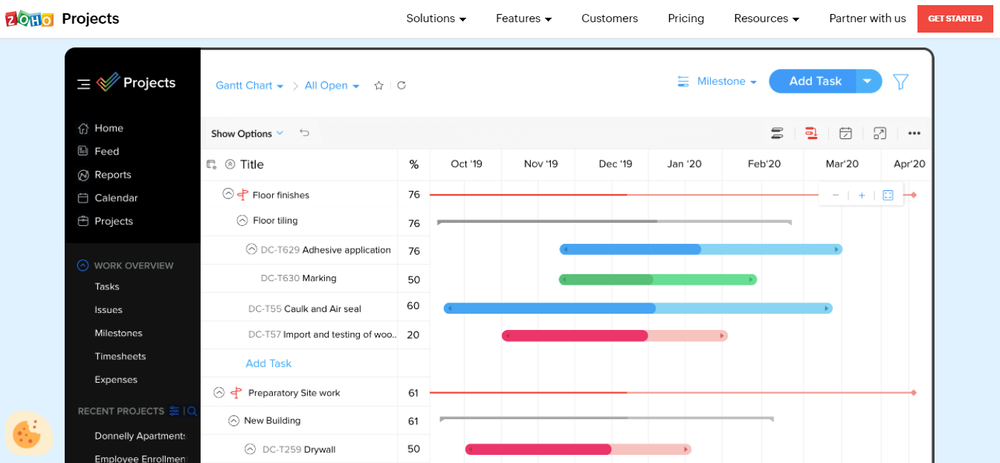 In addition to Harvest, Zoho Projects is another time and task management app that works seamlessly with iOS and Android in a cloud-based environment, which is excellent for consultants who work using mobile devices and PCs.
Key features:
Automatic and manual timers
Project managers receive complete control over timesheet approvals
Expense report export
Helps with time management by using "Planned vs. actual time" view
This is a wonderful choice for individual consultants on a budget because it offers two free projects at a time. The consultant can set up two different projects for two separate clients to work on at the same time, for instance. This is great for consultants who are only starting out and have a client or two.
The "Planned vs. actual time" view can help consultants examine their used time and make more efficient and accurate schedules in the future.
TimeCamp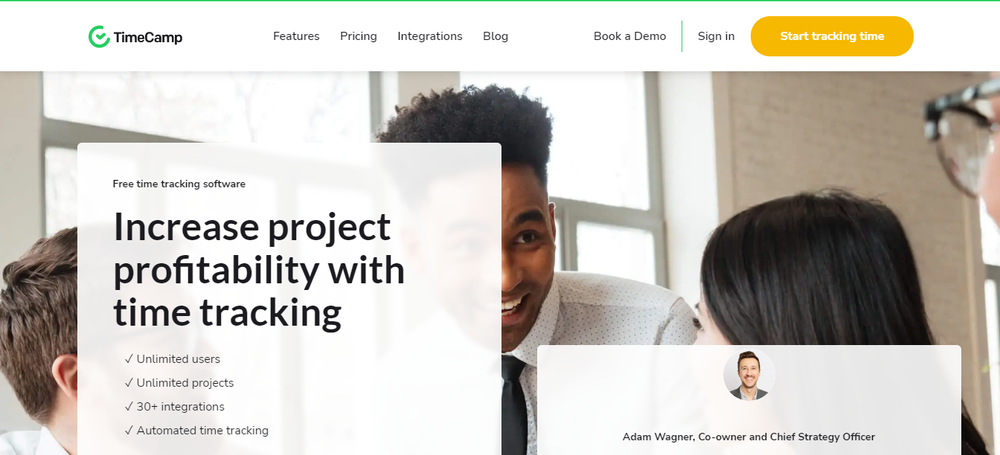 TimeCamp is a free time tracking and management tool. It allows companies to practice more efficient time management. It can also help to boost employee productivity. In addition, it integrates with many third-party apps.
Key features:
Time tracking per project
Speedy invoicing process
Automated weekly emails that notify users about hours tracked
Workflow monitoring
QuickBooks Time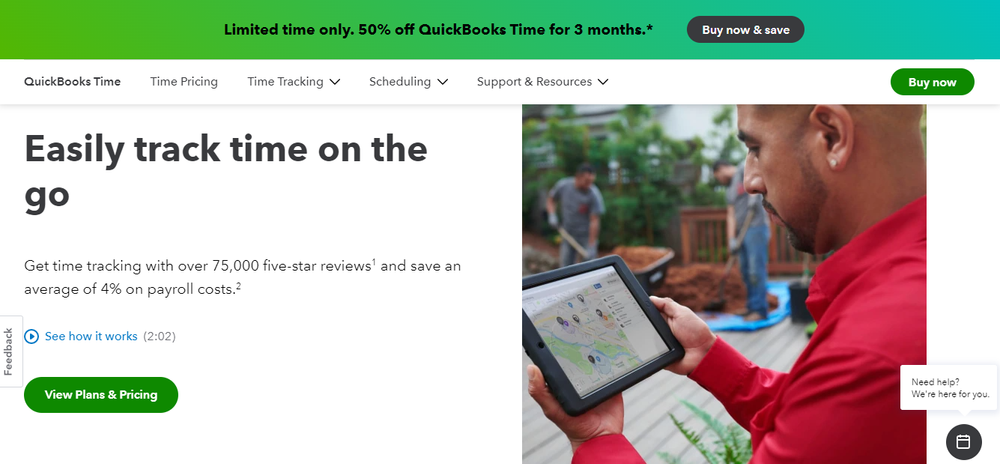 QuickBooks Time is an efficient time tracker and management software that works well in an in-office environment as well as in remote work. It is embedded with QuickBooks, which allows seamless management of payroll and job costing, for instance.
Key features:
Creation of timesheets and time invoices for tracked time
Automated payroll processes
Assignment of time budgets and monitoring progress
Creation of employee schedules and assigned work shifts
Desktop and mobile app
GPS tracking and geofencing
ProofHub
ProofHub is a robust time tracking and project management tool that makes tracking time effortless and accurate. It comes with advanced time-tracking features to streamline the process of tracking time and managing projects. It is extremely easy to use and lets you track the time of ongoing projects, add multiple users, set permissions, log time on the go, create timesheets, and a lot more.
Key features:
Assign tasks to your team, and track hours spent on each task by each member.
Create timesheets and track time by project and task.
Get a birds-eye view of your projects in a Kanban board.
Gantt chart view lets users keep a tab on the progress of their projects and tasks.
Add billable amounts for every entry on your timesheet.
ProofHub is a wonderful solution for teams who are looking for an affordable yet powerful time tracking tool that saves time, money, and effort. You can also use it to track time spent on various tasks, so you can get a better understanding of which ones take up most of your day. From there, you can set realistic timelines for yourself based on how long tasks take (as opposed to how long you think they should take).
Hours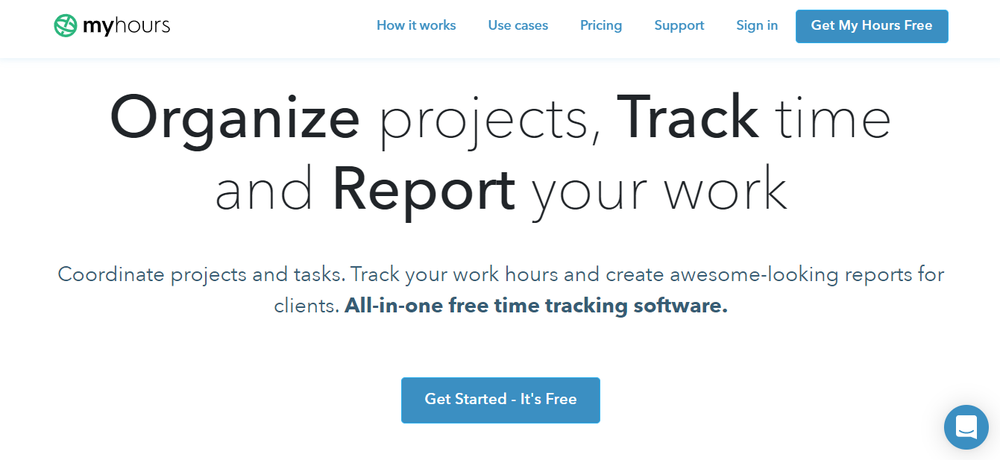 Hours is an easy-to-use time tracking and expense tracking app, and it is available as a downloadable app and a browser extension. Keeping track of working hours under each task allows freelancers and consultants to bill their clients accordingly.
Key features:
Easy payroll and invoicing
Smart reminders for time tracking and scheduled breaks
Detailed reports
Analyzing tracked hours
Hours is great for those who want to focus on time tracking and reports and do not need many integrated third-party apps.
Three practical tips for consultants: efficient time tracking and management
For consultants, tracking work hours and analyzing productivity is an important, if not vital, part of the business. With some easy and practical tips, getting started with time tracking is seamless.
Always track work hours
Efficient tracking of work hours is important from the billing aspect, and it also prevents the consultant from overworking themselves. The best time tracking software for consultants shows when it is time to take breaks and when an eight-hour workday is up.
Practice tracking work hours
There are several ways to track work hours, including segregating projects into time-based tasks.
Experiment with different techniques
While a good time tracker is vital for a consultant, it is also important to experiment with different techniques, which can help to improve productivity.
Experiment with analysis
Analyzing worked hours, billable hours, and non-billable hours helps consultants see where they can improve.
Analyze time reports
Consultants should take time to analyze their time tracking and productivity reports. It allows consultants to optimize time during each task and project and get more done in a shorter amount of time without getting burned out.
Different time tracking software includes additional features and reports, so comparing available options before choosing one to subscribe to is essential.
Indy will help you to track time and manage clients
For an intuitive and convenient alternative to the time trackers above, Indy offers a comprehensive CRM system that includes a Time Tracker, along with 8 other productivity tools to manage clients and message them, conduct invoicing, manage tasks, store files, and more. With the Time Tracker tool, you can:
Record time with a click
Input your time manually
Organize your time
Add time to invoices for easy billing
Contact Indy today to get started with your free trial!