Business cards are funny, because it's easy to forget that you might need them until the opportunity arises.
Imagine this: You're at a networking event and you strike up a conversation with a really interesting potential client. She has to run to a session, but before she goes, she asks if you have a business card.
So…do you have one? And if you do happen to have one with you, are you proud to hand it out to potential clients and collaborators?
They may seem like a small thing, but your business cards are a reflection of your business and your personal brand.
In fact, according to data from the Statistic Brain Research Institute, 72% of people judge a person or company based on the quality of their business cards. And 39% of people would choose not to do business with someone if they have a "cheap looking" business card. So even though business cards are small, their impact is mighty.
Let's take a look at some ways to make your business card stand out from the crowd and help you win more business.
Use a card with color
According to Adobe, 88% of business cards get thrown away in less than a week. And while this statistic is kind of depressing, there's a silver lining—colored cards are 10x more likely to stick around. That's a huge difference. And when you're paying to produce a card to represent your business, you'd rather it stick around. So experiment with using colors other than white as your main card background.
Try different shapes
Most standard business cards are 3.5" x 2", but that doesn't mean you have to stick to those dimensions when designing your card. Explore designs with rounded edges, square or circular designs that stand out from others.You can also use creative cuts to emphasize your brand, like these cards from London-based agency Chomp.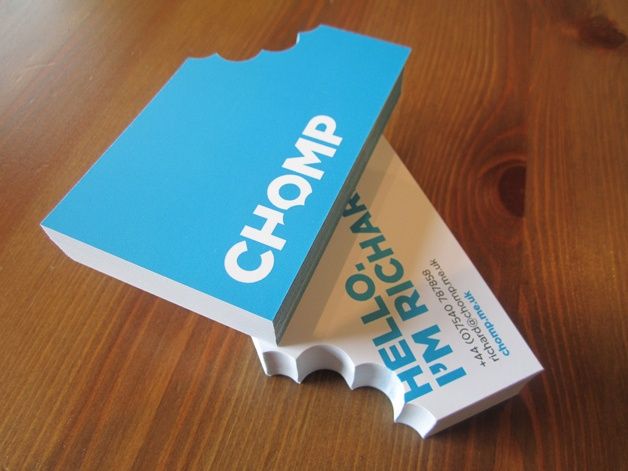 Cardstock matters
Take some time to seriously consider your options for card stock. Thicker business cards can help make your brand feel more important and encourage people to hold onto them for longer. Another thing to consider is your personal brand and what sort of cardstock reflects that. Does your business have a glossy feel? Or should you look into matte options? Most major printers will send paper samples so you can interact with the card before you place your order.
Proofread, proofread, proofread!
Make sure you double check (and then triple check) that all of your data is correct before you print your business cards. The last thing you want is 10,000 business cards with the wrong email address on them. If may help to have a friend or family member look them over again before you place your order. Even if you're 99.99% sure that they are correct, sometimes it's easy to overlook fine details.
Be creative to really stand out
If you want to take your cards to the next level, brainstorm different non-traditional materials for your business card, or even create cards that have more function than a standard business card. For instance, this cheese company created a business card that is also a cheese grater!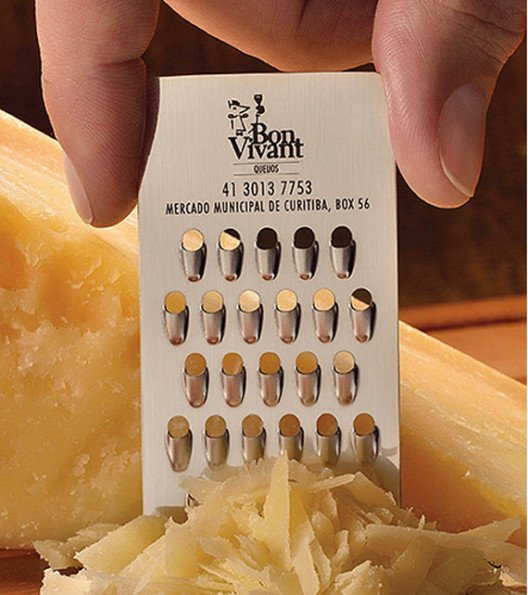 Depending on your industry, you can come up with a variety of memorable cards. Maybe they'll feature something functional like a ruler or bottle opener, or you can use paper that can be planted to grow wildflowers—the possibilities are endless! While these types of cards will cost more than the traditional business card, consider the lasting impact they will have on the people who receive them.
Try it for yourself
No matter what type of industry you're in, having business cards that reflect your brand in a clear and memorable way can be a winning tool in finding new work. So take some time to think about your brand and what sort of card would fit you best. Then take the plunge and order some. So the next time someone asks you for your card, you'll be proud to give it to them.