Ok, time for a quick history lesson. As a freelancer you must have heard the phrase 'time is money' more times than you care to remember. What you may be less aware of is that some say the term was originally popularised by none other than Benjamin Franklin! In terms of tracking time, let's take a look at Clockify vs Toggl,
The point is that the importance of time tracking has been recognized since long before it became one of the key project management features today. We used to have to track time manually using pens, paper, stopwatches etc. but now tracking time can be an automated process. You may have guessed that there is not just one solution, and now we will compare two of the leading time tracking tools on the market. Read on about clockify and toggl; it is worth your time to do so!
What is Clockify?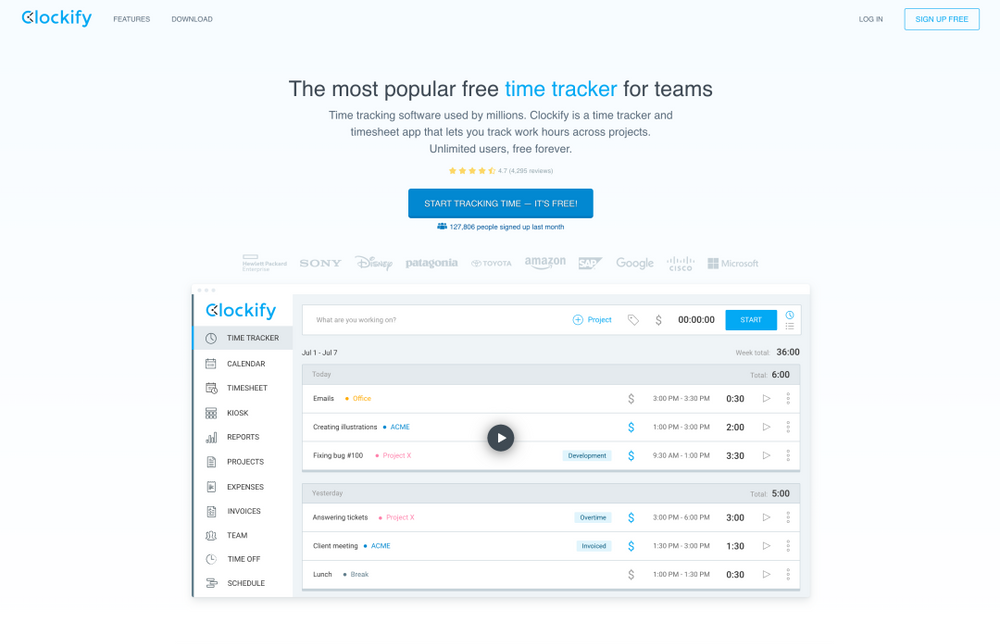 Clockify is a popular time tracking app and is frequently used by large businesses due to its project management capabilities. With features such as timesheets, billing, client portals and notifications it suits larger teams down to the ground. If you are heading up a team of freelancers then it offers great team management features to help productivity across the board.
You can access a Pomodoro timer. The Pomodoro technique is about allowing a set amount of time to really focus on a certain task so there is maximum productivity for it. Also, there are timesheets to help keep track of various projects at the same time. You get what you pay for in terms of the features available through the different plans, although it is worth noting that through every plan you can pay a fixed fee to allow unlimited users.
What is Toggl?

Toggl prides itself on its ease of use, which is an immediate attraction for freelancers. You do not need much in the way of training to use this software effectively. You can set multiple timers to track different tasks at the same time and the breakdown of this will help you identify areas for improvement.
It is a cloud-based time tracking app so can be used across a number of devices at once. One of the key features is the Pomodoro timer, like in the main competitor. There are also many integration possibilities with other tools.
Main Features
As with all project management tools, these two have a wealth of features. It can be a minefield trying to sort through them all to try and work out which one is best so let's focus in on some of the key features of each. Remember that these represent a snapshot of the full range of features on offer but are those most relevant to time tracking.
Clockify Features
Time Tracking - This can be set up with automatic time tracking reminders or you can manually enter the time employees spend on different tasks.
Calendar Management - You can time block different activities, which is a big help with project tracking.
Timesheets - This time tracking tool allows you to log weekly activities.
Task and Project Monitoring - You can monitor project progress, budgets and billable hours.
Dashboards and Reports - A project dashboard can keep a number of different tasks in one place and reports will help you to analyze your time management.
Toggl Features
Time Tracking - You can view time entries for different projects and tasks, which will help you to manage future productivity.
Integration With Other Tools - You can use the Toggl browser extension to integrate with over 100 additional time tracking tools.
Calendar Integration - Keep multiple projects on track by syncing them with your calendar.
Reporting - Get detailed reports on the tracked time of different projects to help you increase productivity going forward.
Email Reminders - Send saved reports or task reminders via email to help your team keep track of their time management.
Pricing Comparison
Perhaps the most important consideration is always the cost. Time is money, but in more simple terms money is money! If you are paying out for anything for your business you need to be sure you will see a return. Can a free time tracking tool give you most of the features you need? Will you have to pay a lot for the advanced features that will help you get the most out of these tools? Let's take a look at a pricing comparison and you can find out.
Clockify Pricing
Clockify does offer a free plan through which you can have unlimited projects, time tracking and reporting but if you want to unlock extra features you will have to pay. Here are the plans available:
Basic plan ($3.99 per user) - This will give you extra administration features.
Standard plan ($5.49 per user) - Through this plan you have additional timesheet and billing features.
PRO plan ($7.99 per user) - Has extra productivity features that will help you make better use of your time.
Enterprise plan ($11.99 per user) - This has advanced security features that will be necessary if you are handling sensitive information especially.
Toggl Pricing
Toggl does also have a free plan - the paid-for plans are more expensive than Clockify but is the extra money worth it? Let's take a look:
Free plan - Includes the basic features necessary to get started, can accommodate up to five users and time tracking.
Starter plan ($10 per user, per month) - Includes a range of project templates, project time estimates and alerts and billable hours.
Premium plan ($20 per user, per month) - Can accommodate multiple teams with features such as project dashboard, tracking audits and scheduled reports.
Enterprise plan (Contact Toggl for cost) - This plan is for large companies - priority support and expert training are available, plus unlimited users can be accommodated.
Time Tracking Comparison
Time tracking is central to both Clockify and Toggl, but the methods and features available differ across the two platforms. Let's go into a little more depth with them both.
Clockify
Clockify is one of the best time tracking apps on the market; it makes use of a stopwatch, which you can start and stop while you work on a task or can enter it in manually afterwards. This timer also enables you to:
See the time that employees spend working on each task.
View the total time that has been spent on each task day by day.
Make an employee's work measurable in terms of success.
Add notices to any task - reminders or prompts.
Identify each task that is billable for invoicing.
Toggl
Toggl allows you to track time either manually or automatically, depending on your preference. You are able to:
Start and stop time yourself to keep track of how long you are spending on tasks.
Set an automatic start for your timer for different tasks on your calendar.
Enter your hours retrospectively if you have not done so already.
Toggl will remind you when you forget to start your timer and can be installed as an app on your phone so it is always close to hand.
Reporting and Analytics Comparison
In addition to time tracking alone, you can determine productivity through reporting and analysis. The right data and the right tools to provide reports on it can help you make effective plans going forward, based on accurate data. Let's see how this looks for the different platforms:
Clockify
There are three different types of reports you can access through Clockify. They are:
Summary - A breakdown by day, time, task and user that allows you to have an overview of all activities.
Detailed - More advanced data such as billable hours, clocked hours and amount of time spent on each task by session.
Weekly - The time tracked across a whole week, which enables you to see productivity over a longer period of time and get the bigger picture.
You can break down each of these reports further based on the data you need and can share it with clients via Excel or PDF.
Toggl
Toggl has very similar reporting capabilities with summary, detailed and weekly reports available. The main difference is that with the premium version you can schedule the most valuable reports to your email and can get updates on projects without having to be logged in.
Platform Compatibility
There is little to choose between the two when it comes to compatibility. Both Clockify and Toggl are compatible with all major operating systems and devices. There are apps that will work with Mac, Windows or Linux platforms as well as mobile apps for IOS or Android devices so you can effectively track time wherever you are.
User Reviews
Don't just take our word for it; let's see what some real, actual customers had to say about the two. There are many glowing reviews on the websites for both, as you would expect, but what is said is of substance being that it is from people who have used the tools for their own businesses.
Clockify
"Excellent, Excellent, Excellent
I have been using it for a week now and rolling it out to our 7 person team. Response has been very good. The software answers the 3 key questions we have about our team. 1.) What did you work on today? 2) How much time have you been spending on any one project? 3) What projects are in the mix? Having the ability to mark billable vs. non-billable is a feature we will use as well. It had all the features I needed AND NONE of the ones I did not want. So it was not unnecessarily complicated. Thus the ease of use and intuitive nature of the software was excellent. The free price tag for these basic functions was a bonus. Overall, perfect for our needs."
- Justin N
"Clockify is ideal for my needs. I work part-time for a client working as his executive assistant and his bookkeeper. I was getting myself in a mess just using a timesheet created in MS Excel and when I discovered Clockify I was over the moon with joy. I keep Clockify open in the background and I switch projects when I start the work and when I finish the work. I used to under invoice for my time and lose income but now I can bill for every second I work on his projects. Also, it has great reporting function and can either print off or save as a PDF or Excel etc. So not only do I invoice my client, I've also got exact data for the time I carry out each of his tasks."
- Ruth M.
Toggl
"I have been using Toggl for about seven years now, and I absolutely love it. It keeps me on track with the tasks I complete throughout the day. Tracking my time makes me more accountable for the work I produce and how much time my work takes. Having the breakdown of my tasks helps inform decisions on hiring support staff. I can see exactly where my time goes and then formulate a strategy to either bring in more help, delegate work, or re-prioritize. When coupled with other productivity apps (I particularly use ToDoist), you can unlock even more of Toggl's power. Toggl Track isn't so much a checklist tool--it's a time tracker; but when I integrate my to-do app with the time tracking, I can quickly and easily switch between tasks without disrupting workflow."
- Caleb T.
"Toggl has been absolutely critical to keep track of our time on various projects. As both an independent consultant, and a manager for a small business team, we have found toggl to be important in both situations. The reporting feature is so easy to see where your time went and the ability to go back and forth between mobile and the desktop app is so helpful. For freelance consultants who charge hourly - this is a no-brainer!"
- Spud M.
How Can Indy Help

Indy has a range of templates and tools to help with every aspect of the freelance working life. What's more, it has a free time tracking tool that will enable you to record your time with the click of a button, allowing you to pause when you need to take a break. You can also add time tracks to projects and add them to your invoicing so you can easily bill clients.
Indy is designed for freelancers by freelancers so all of the tools are relevant to this way of working. Ease of use is key so you can spend more time just getting on with your tasks.
Conclusion
Clockify and Toggl both have a range of features that will enable effective time management and if you are running a large operation they may be just what you need. However, the expense of Toggl and the complexity of Clockify could mean a third option is staring you in the face as a freelancer. Indy may be a simpler way of accessing the features you need without any unnecessary extras.
The key takeaway is that time tracking is a vital part of your working life. Do it effectively and you will be way more productive.